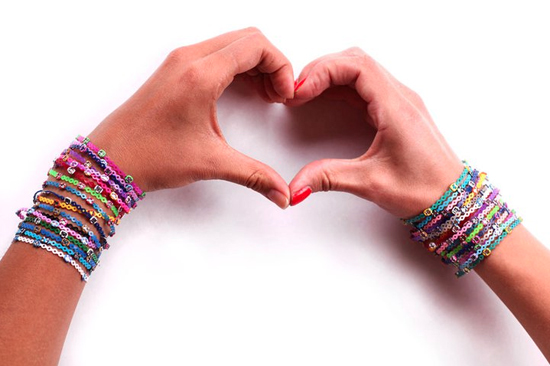 Everything old is new again, and everything that was classically geeky is now tres chic. If your lil one's arms were loaded up with
Silly Bandz last Summer
, be prepared to do a double-take when your tot sports the latest jewelry fad. Made from real orthodontic materials,
Braced-Lets
($5 each) are a combination of colored rubber bands for braces, metal brackets, and power chains. With bright color combinations and unique designs, tots are stacking the dental adornments up their arms with no end in sight.
The multicolored bangles are the brainchild of two orthodontists and one of their jewelry-designing sisters, Lisa Salzer of Lulu Frost, meaning the bracelets have a bit more fashion credence than last Summer's rubber-band fad. That also may be the reason many mamas are snatching up the arm adornment for themselves as well as their tots. Are you or your kids taking part in this Summer's hot trend?