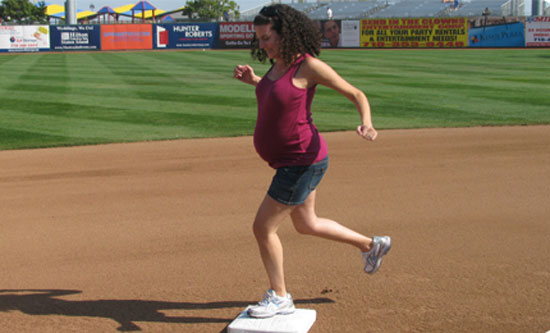 The New York Yankees and Mets may have no problem filling their seats but the city's minor league team, the Brooklyn Cyclones, may steal mamas' hearts all over the Manhattan area. In a tribute to expectant ladies, the team hosted an unusual, but incredibly awesome event:
Bellies and
Baseball
: A Salute to Pregnancy.
Before last night's game, the team offered a Lamaze class in center field and allowed pregnant women to run the bases barefoot! Women in their third trimesters threw out the first pitch while the seventh-inning stretch included a chorus of bellilicious mamas crooning on the field. Instead of hot dogs and beers, the women in waiting indulged in concession stands full of ice cream, pickles and pizza. And here's a bonus — fanatics can secure themselves with a lifetime's worth of season tickets if they name their unborn child Brooklyn or Cy! The Cyclones are definitely in a league of their own!