There's something unpleasant about being in the car with children. Whether it's a 15-minute trip to grandma's or a cross-country road trip, the routine is always the same. They complain about boredom, whine about upset stomachs, and make a huge mess. While we may not have the solution for their tummy troubles (yet!), we do have some ways to keep them entertained and keep your car clean. Thanks to these 11 tips, riding in cars with kids just got a whole lot easier.
Source: Shutterstock [1]
Sheets on Seats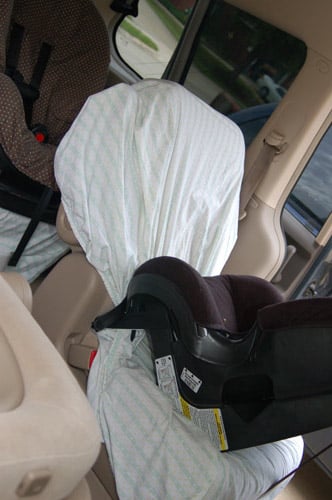 Sick of cleaning crumbs out of the car cushions? Next time you travel, place a fitted sheet over the seat. Then if your tot spills, all you have to do is remove the sheet and shake out the mess.
Source: Kids Activities Blog [2]
Cup Coverage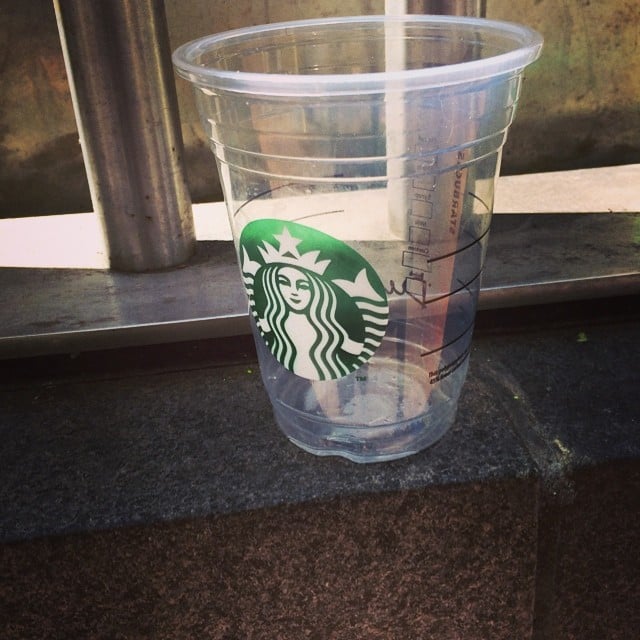 Place a plastic cup over seat belts to keep kids from unbuckling them. Simply trim down the cup, place it over the buckle, and cut a small slit at the base so the latch can fit through. No matter how hard they push, they won't be able to escape.
Source: Instagram user squaresweep [3]
Cleaner Cupholders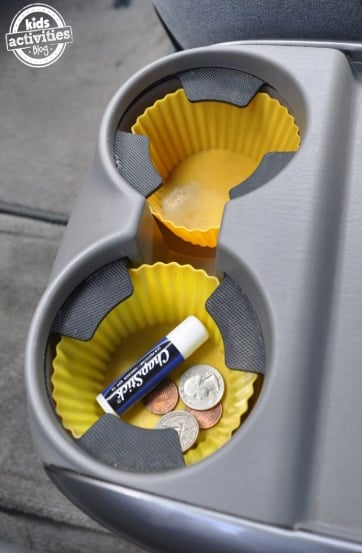 Between food and drinks, cupholders are often a sticky, crumb-coated disaster. Place cupcake liners in the holes to contain the mess.
Source: Kids Activities Blog [4]
Spill-Free Sips
No more juice stains! Insert a crazy straw into a cup upside down. The wild, wide design makes it impossible for kids to pull the straw out, thereby keeping the drink inside the cup.
Source: Instagram user tabid [5]
Storage Wars
Place an over-the-door shoe organizer on the passenger seat to store toys, books, emergency supplies, and more.
Source: Instagram user sonaturallyme [6]
Snack Attack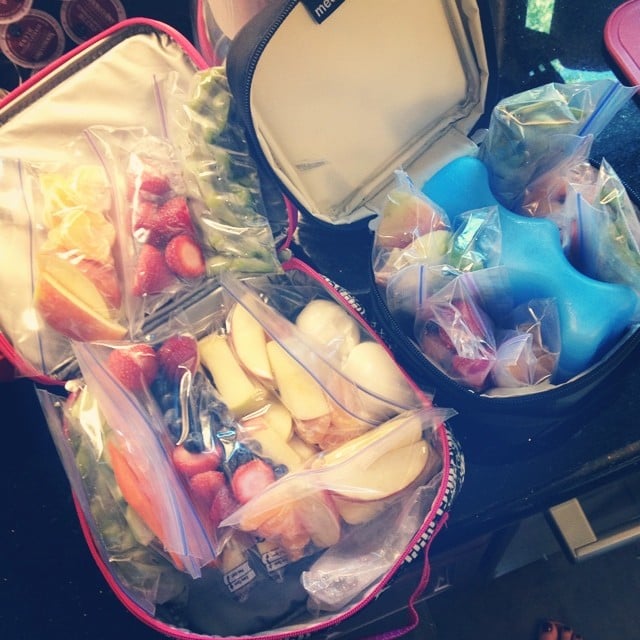 Rather than toting along a giant cooler, store snacks in sandwich bags and lunch boxes.
Source: Instagram user nomsforsofia [7]
Car Caddy
Keep kids' supplies within arm's reach by attaching suction cups to a shower caddy and mounting it onto the window.
Source: Instagram user alliaars [8]
Meals on the Go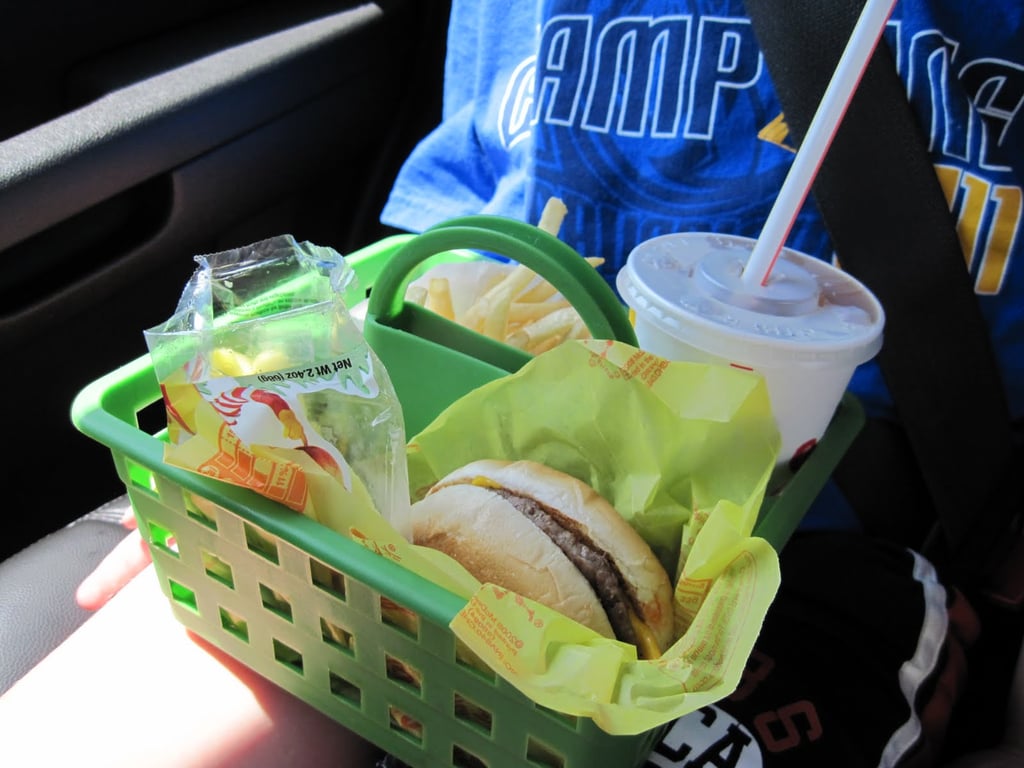 Don't let fast food ruin your car floors. Shower caddies are a simple solution to keeping kids' meals in place during a bumpy ride.
Source: Lookie What I Did [9]
Easy Entertainment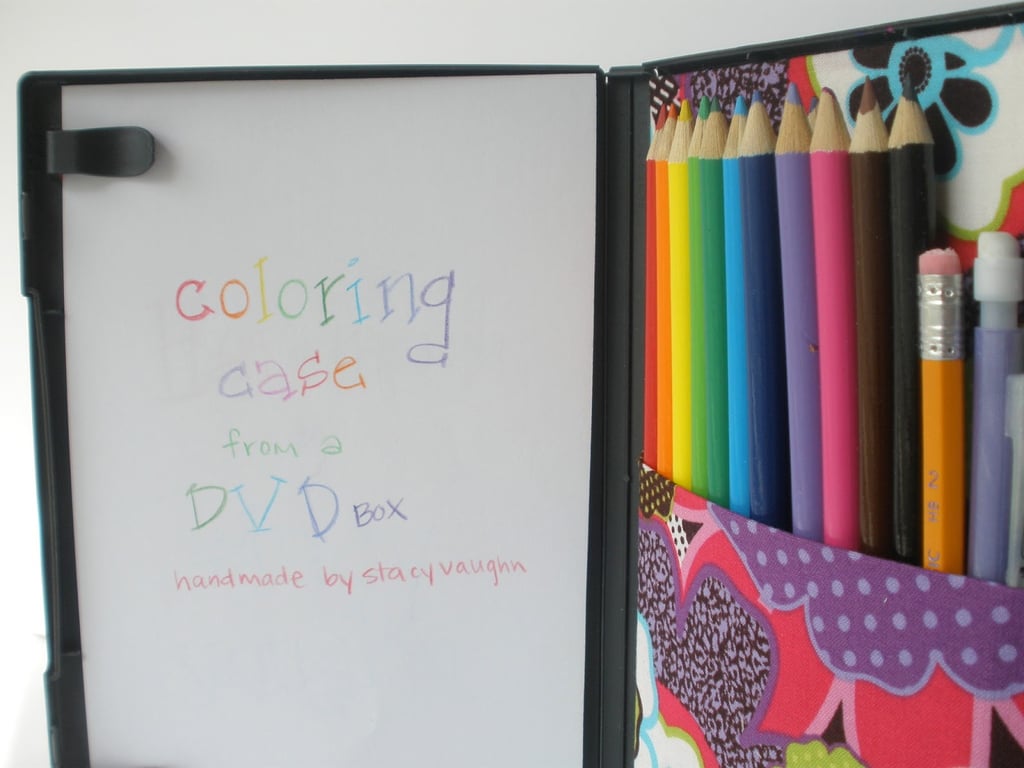 Future artists will love this hack from Stacy Vaughn [10]. Simply add some paper and colored pencils to an old DVD case for an easel your child can take anywhere.
Source: Stacy Vaughn [11]
Dinner For One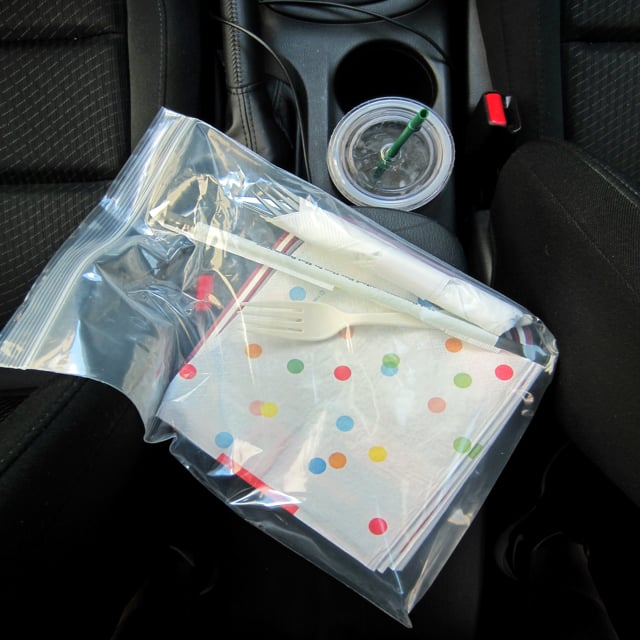 You never know when you'll stop for a sit-down dinner. Keep a set of baby-sized utensils in the car so your little one can eat too.
Source: Modern Parents, Messy Kids [12]
Frozen Treats
A road trip wouldn't be complete without some sweets. To keep your treats from melting, store them in the AC vents.
Source: Instagram user pkpstar [13]