Molly Sims officially welcomed baby number three [1] and the first snapshot of the beautiful baby boy is beyond precious. The model took to her Instagram account to introduce her and husband Scott Stuber's [2] newborn to the world (of social media!) with a sweet snapshot of the swaddled babe. "💙💙💙Welcome to the world Grey Douglas Stuber 1.10.17 Words do not express how grateful and happy we are to have another piece of magic added to our little tribe! #blessed 😇#tribeof5," the glowing mama wrote.
Although this baby's debut was a low-key one, for a long time running, it seemed People had a monopoly on introductory celebrity baby photos. Nicole Richie [3], Christina Aguilera [4], Jennifer Lopez [5], and the Jolie-Pitts all turned to the well-established magazine to show off their newest family members. However, today, many celebs are turning to competitors who are doling out generous offerings to new parents. Others like Kim Kardashian [6] are releasing their own photos — either on their own or through photo agencies — to bypass the whole magazine scenario.
Scroll through to see how your favorite celebrity parents debuted their little ones!
York Banks Asla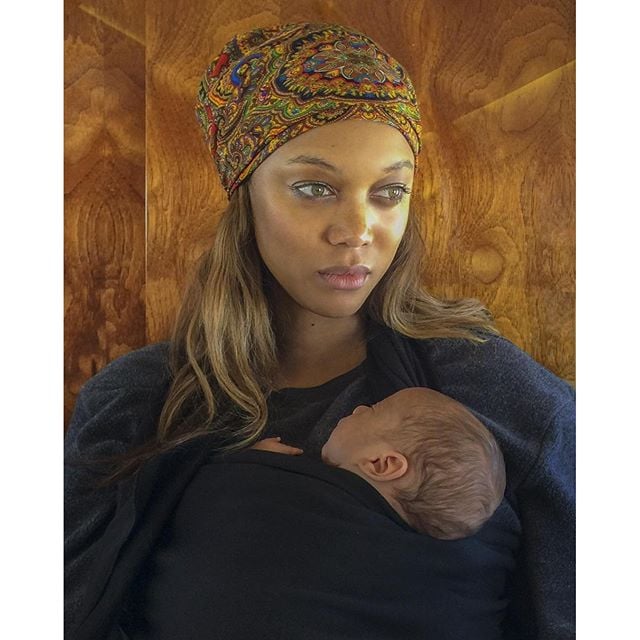 Two weeks after Tyra Banks [7] announced the arrival of her son, York Banks Asla, via a gestational carrier, she shared a photo of herself and baby York via Instagram [8]. The proud mom captioned the photo [9] with sweet sentiments, writing, "This is the Happiest Valentine's Day of my life. York, Daddy @erikasla and I send you so much love."
Saint West
Kim Kardashian [10] and Kanye West [11] welcomed their son in December 2015 but waited almost three months to reveal the first photo of their baby boy. The proud mama shared the precious snapshot on her app with the caption, "Today is my dad's birthday. I know there's nothing more in the world he would have wanted than to meet his grandchildren. So I wanted to share this pic of Saint with you all."
Chanel Nicole
Coco Austin and Ice T took to Instagram [12] to show off their bundle of joy, Chanel Nicole. In addition to sharing a family selfie taken just minutes after Chanel's arrival, Coco also posted a slew of pictures on their daughter's own accounts.
Boomer Robert Phelps
A few days after Michael Phelps [13]'s fiancée, Nicole Johnson, give birth to their first child, the 18-time Olympic gold medalist publicly shared the exciting news with a touching black-and-white photo on Instagram. "Welcome Boomer Robert Phelps into the world!!! Born 5-5-2016 at 7:21 pm !!! Healthy and happy!!!" Phelps captioned the intimate snapshot. "Best feeling I have ever felt in my life!!! @nicole.m.johnson and Boomer both healthy!!! #boomerphelps 📷 @boonestudios."
Theodore James Kushner
Ivanka Trump and Jared Kushner revealed the birth of their third child via Twitter on Easter Sunday. "Jared and I feel incredibly blessed to announce the arrival of Theodore James Kushner," the fashion designer and entrepreneur posted on Twitter [14].
Dusty Rose Levine
Behati Prinsloo introduced her and Adam Levine's first child [15], Dusty Rose Levine, to the world by sharing a sweet black-and-white snapshot of the newborn cradled on her dad's chest. "Words can't describe," Behati wrote.
Journey River Green
Megan Fox [16] didn't need a caption when she shared the first photo of her and Brian Austin Green [17]'s third son, Journey River.
Luna Simone Stephens
Chrissy Teigen, who gave birth to daughter Luna Simone on April 14 with husband John Legend [18], took to Instagram on Tuesday to share the first photo of her little bundle of joy. In the precious shot — which Chrissy captioned, "Hi my lulu!" — the new mother is pictured cradling Luna while sitting outside.
Daisy Josephine Sudeikis
Olivia Wilde [19] introduced her second child — a baby girl — with partner Jason Sudeikis through a sweet Instagram snap of the sleeping babe [20]. "Daisy Josephine Sudeikis," Wilde wrote in the caption. "Born, like a boss, on #internationaldayofthegirl."
Grey Douglas Stuber
After giving birth to her third baby, Molly posted a sweet selfie on her social media accounts of her precious son, Grey Douglas. "💙💙💙Welcome to the world Grey Douglas Stuber 1.10.17 Words do not express how grateful and happy we are to have another piece of magic added to our little tribe! #blessed 😇#tribeof5," the model wrote [21].
.
Leonardo Ángel Charles Baldwin
Hilaria Baldwin shared the news that she and her husband, Alec Baldwin [22], officially welcomed their third child together on Instagram, writing, "We are so pleased to introduce you to our new baby, Leonardo Ángel Charles Baldwin. It was such a special day bringing him into this world."
Genesis Ali Dean (Mom's Take)
Alicia Keys [23] and Swizz Beatz welcomed Genesis Ali Dean into the world in December 2014, and two months later, the proud mama shared this beautiful family photo on Instagram, along with the caption, "Blessings and love!! #GenesisAliDean."
Genesis Ali Dean (Dad's Take)
Shortly after Alicia Keys [24] shared her first full-family photo including baby Genesis Ali, hubby Swizz Beatz Instagrammed another beautiful picture from the same photo shoot. "Blessings #GenesisAliDean #Deanboyz," he wrote.
Summer Rain Rutler
It was six months before Christina Aguilera [25] showed off her darling little diva, Summer Rain Rutler. Rather than turn to People magazine for a cover shoot like she did when she had Max Bratman, this time around, Aguilera introduced her daughter via a photo posted on Twitter [26] with the caption: "Watch out...another one's getting ready to conquer the world! #driven #diva2."
Frances Cole Fallon
Jimmy Fallon [27] released four cell phone pictures of his new baby girl, Frances Cole, less than a week after she was born. He joked that he was back to work but exhausted!
Source: Twitter user FallonTonight [28]
Reign Aston Disick
Kourtney Kardashian shared this sweet snap of baby #3, Reign, on Instagram a week after his birth.
Frankie Kopelman
Drew Barrymore [29] followed the traditional path of turning to People to introduce her second daughter, Frankie, to the world. One month after welcoming Frankie, she told the magazine, "I knew that I have two kids to take care of now and just kicked my own butt to get back into the swing of things immediately."
Source: People [30]
Hazel Krasinski
John Krasinski and Emily Blunt welcomed baby Hazel [31] to the world back in February, and the couple has just released the first photo of their beautiful baby girl via proud dad John's Twitter account. "Pics of kids should only come direct from parents. So I'm thrilled to introduce you guys to Hazel," Krasinski tweeted to his fans [32].
Source: Twitter user johnkrasinski [33]
Otis Alexander Sudeikis
An eager Olivia Wilde [34] announced the birth of her son with fiancé Jason Sudeikis via Twitter and shared this sweet photo of the newborn. In classic comedic form, the new mom tweeted [35], "Ladies and gentlemen, Otis Alexander Sudeikis has LEFT the building! (I'm the building)."
Source: Twitter user oliviawilde [36]
Joseph Frederick Kushner
Ivanka Trump and Jared Kushner welcomed their second child, a baby boy, to the world on Oct. 14, and the enterprising businesswoman and proud mama was quick to share the news with her fans and followers. "Please join in our joy as we welcome Joseph Frederick Kushner, named after each of our paternal grandfathers, both master builders of their generation and inspiring patriarchs of their families," Trump wrote on her Tumblr page. Joseph will join his big sister, 2-year-old Arabella Rose, who's clearly been practicing on her baby dolls!
Source: The Art of Ivanka Trump [37]
Sebastian Zincone
Children's Hospital star Malin Akerman first took to Instagram to introduce her baby boy, Sebastian Zincone, with the caption "did my hair today and this was my son's reaction... I think he likes it."

Source: Instagram user therealmalinakerman [38]
Axl Jack Duhamel
Proud new parents Josh Duhamel [39] and Fergie [40] took matters into their own hands when it came to the very important matter of introducing their son, Axl Jack, to the public. Earlier today, Josh and Fergie [41] each posted one of the corresponding photos to their Facebook pages. Josh's snap (on the left) was paired with the caption: "Axl Jack Duhamel. Day. 1 Life is good. #paparazziyoucanleaveourhousenow." Mom Fergie's (right) commentary read: "Axl Jack Duhamel. Day 2 of life. Hearing test complete. All systems go. #chillin."
Source: Facebook user Josh Duhamel [42], Facebook user Fergie [43]
Mabel Ray Willis
Bruce Willis [44] and Emma Heming waited until baby Mabel was 6 weeks old before sharing her photo via Emma's Twitter account. The proud mama tweeted [45], "A beautiful day in Budapest with the loves of my life. Daddy and Mabel cracking each other up!"
Ace Knute Johnson
Jessica Simpson [46] took to the cover of Us Weekly to introduce baby Ace to the world [47]! Simpson's second child is nearly 2 months old and appears on the magazine's cover with his 15-month-old sister, Maxwell, and the proud mama. "With two kids, we have our hands full, but every day is a new adventure," Simpson told Us. "I have this huge sense of accomplishment, and I feel in my heart that I'm done. But obviously, accidents do happen!"
Noah Bublé
Michael Bublé is a dad! The singer and his wife, Luisana Lopilato, welcomed baby Noah to the world on Aug. 27, 2013. The proud papa posted baby Bublé's handsome first photo [48] to his Instagram account along with the message: "Overjoyed and filled with gratitude at the arrival of our son Noah Bublè. Born this morning, August 27th at 2:26 am in Vancouver, Canada." Congrats to the proud new parents!
Source: Instagram user michaelbuble [49]
North West
Meet North West! Proud dad Kanye West [50] debuted the first photo of his baby girl, North, who is now 2 months old, during a special stop by Kris Jenner's talk show, Kris, which was filmed earlier this week. Mom Kim Kardashian [51] and Kanye reportedly call their little bundle of joy "Nori."
Baby Girl Philipps-Silverstein
Busy Philipps shared her new daughter's first picture [52] on Twitter on July 3, captioned, "So this happened . . . "
Busy is no stranger to sharing her baby news [53] through social media, where she also shared her pregnancy announcement, ultrasound image, and several baby bump snaps. Busy is already a mom to 4-year-old daughter Birdie with her husband, Marc Silverstein, and this new girl makes a family of four.
Source: Twitter user Busyphilipps25 [54]
Everly Tatum
Two weeks after Everly Tatum's birth, Channing Tatum [55] and Jenna Dewan shared their baby with the world via posts on both of their Facebook pages on Father's Day [56]. Jenna's caption [57] gushed about their "lil angel," while Channing's bragged [58] about celebrating his first Father's Day with his "girls."
Source: Facebook user Channing Tatum [59]
Milan Piqué Mebarak
Shakira [60] went the charity route when she was ready to share her first photo of 2-week-old Milan Piqué Mebarak. She teamed up with UNICEF for a virtual baby shower [61], encouraging fans to donate items such as ready-to-eat therapeutic food ($110) and polio vaccines ($10) in order to gain a glimpse of her little one. About the decision, she and boyfriend Gerard Piqué said, "We hope that, in his name, other less privileged children in the world can have their basic needs covered through gifts and donations."
Source: Twitter user shakira [62]
Olive Kopelman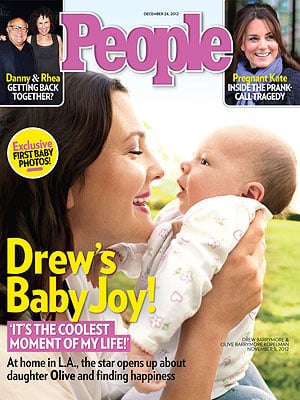 Drew Barrymore [63] introduced baby Olive to the world on the cover of People magazine [64]. Nine weeks after welcoming her daughter, Drew said, "It's like the biggest crush I've ever had in my life."
Source: People magazine [65]
Vivian Lake Brady
Proud mama Gisele Bündchen [66] shared this precious photo of her and Tom Brady's baby girl, Vivian Lake [67], on Facebook, along with the caption, "Love is everything!!! Happy friday, much love to all." Vivian was born on Dec. 5, 2012, and joined big brothers Benjamin, 2, and John, 5.
Source: Facebook user Gisele Bündchen [68]
Finn Davey McDermott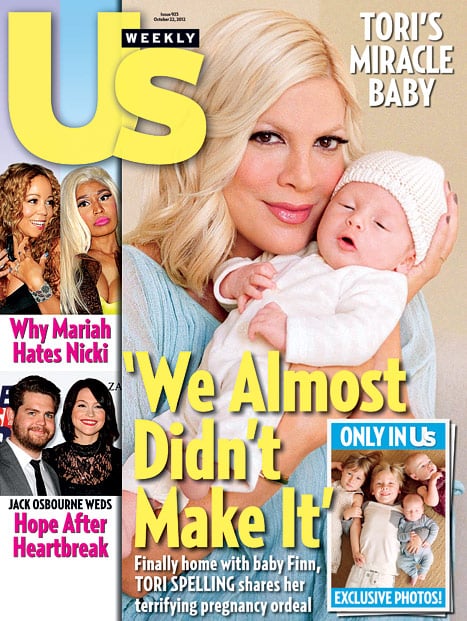 Tori Spelling [69] waited until her fourth child, Finn, was a month old before agreeing to a multipage spread in Us Weekly [70]. The cover story was also her first interview after her recovery from emergency surgery following the little one's birth.
Source: Us Weekly [71]
Brooks Stuber
Molly Sims welcomed baby Brooks to the world and shared the first photos of the adorable tot on her website [72] with a few details about life with her new son.
Source: MollySims.com [73]
Penelope Scotland Disick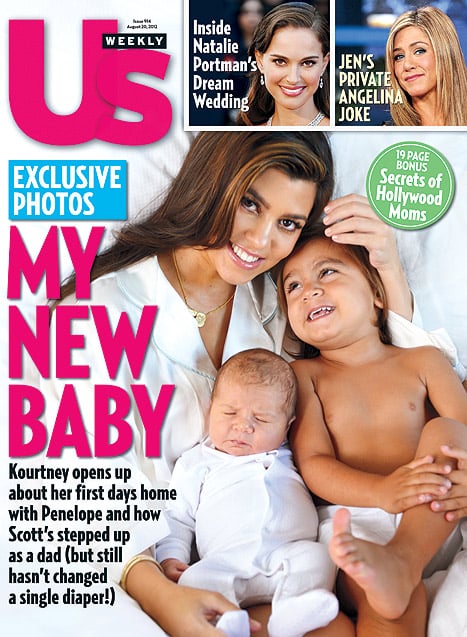 Kourtney Kardashian and Scott Disick chose Us Weekly to show off the first photo of Penelope Scotland Disick, after going with Life and Style when the couple's son, Mason, was born. This week's cover story featured a photo of the reality star in bed snuggling with both her tots.
Source: Us Weekly [74]
Noah Phoenix Mazur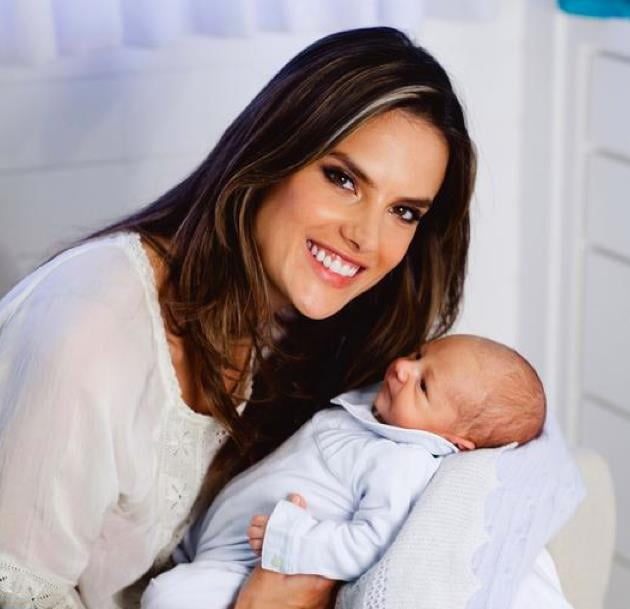 Seven weeks after welcoming little Noah Phoenix Mazur to the world, Alessandra Ambrosio proudly showed off the tot on her Facebook page [75]. The photos were part of a photo shoot the Victoria's Secret model did with Pampers to raise money for UNICEF.
Maxwell Drew Johnson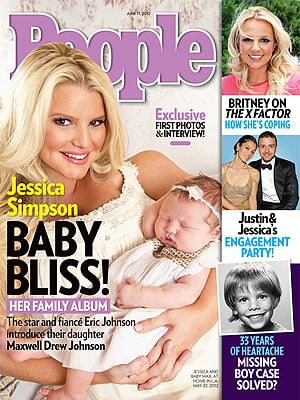 A smiling Jessica Simpson [76] appeared on the cover of People [77] along with her and Eric Johnson's month-old daughter, Maxwell Drew. The magazine paid a reported $800,000 to get exclusive rights to the celeb tot's first photos.
Luca Cruz Comrie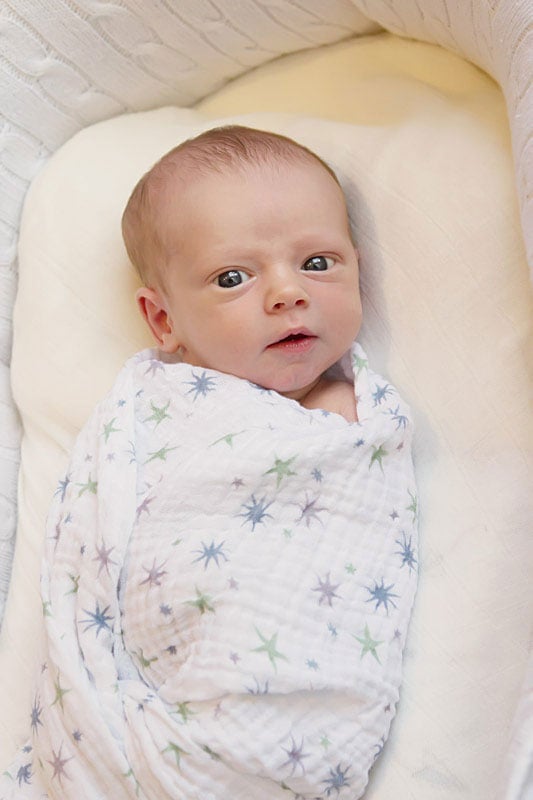 Two weeks after giving birth to little Luca Cruz Comrie, proud mama Hilary Duff [78] showed the tot off for the first time, releasing this picture on Twitter [79] and tweeting, "Baby Luca, 2 weeks old :)" The previous day, Hilary gave fans a sneak peek with a Twitpic of baby Luca's feet [80].
Max Bratman
Christina Aguilera [81]'s baby, Max, was paid $1.5 million for his People cover.
Zuma Rossdale
Though Gwen Stefani [82] and Gavin Rossdale [83] worked with OK! to share their first photo of Kingston, they released this image of a newborn Zuma on the singer's website.
Hazel and Phinnaeus Moder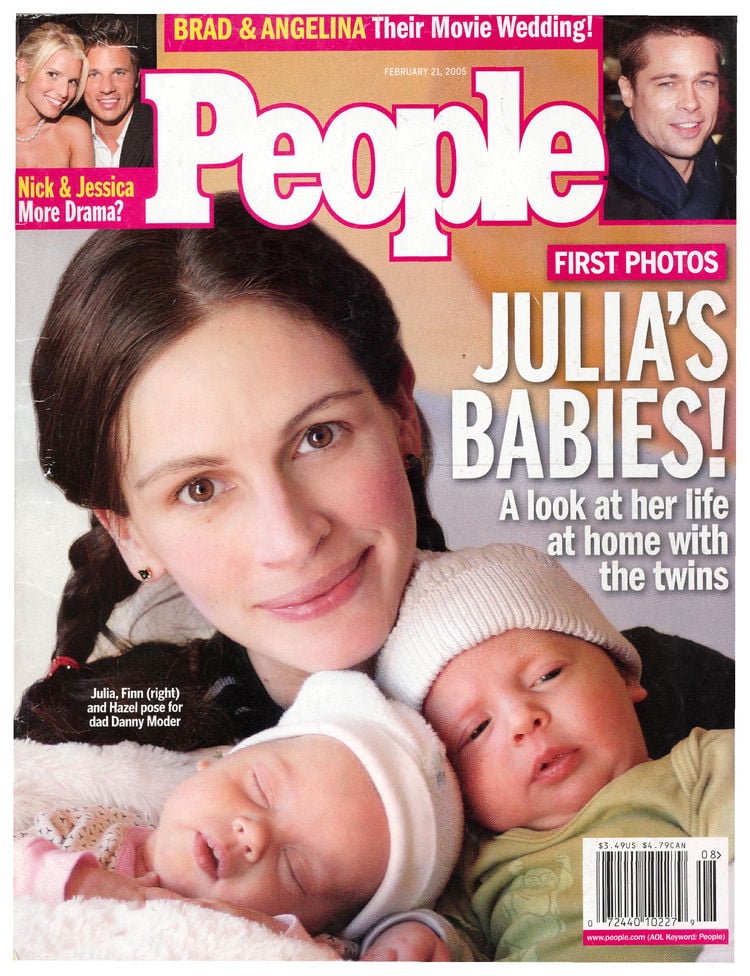 Julia Roberts [84] also turned to People magazine when she was ready to show off her twins.
Jasper Warren Paisley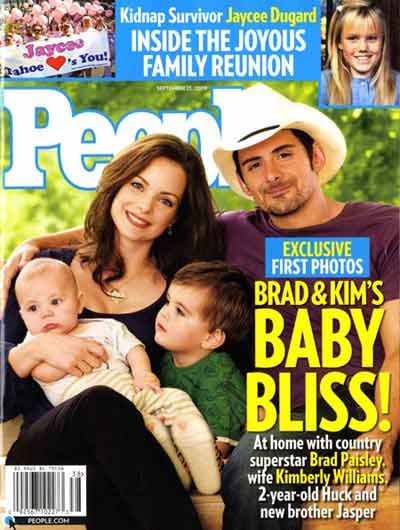 Kimberly Williams and Brad Paisley showed off their new family of four on the cover of People.
Grier Henchy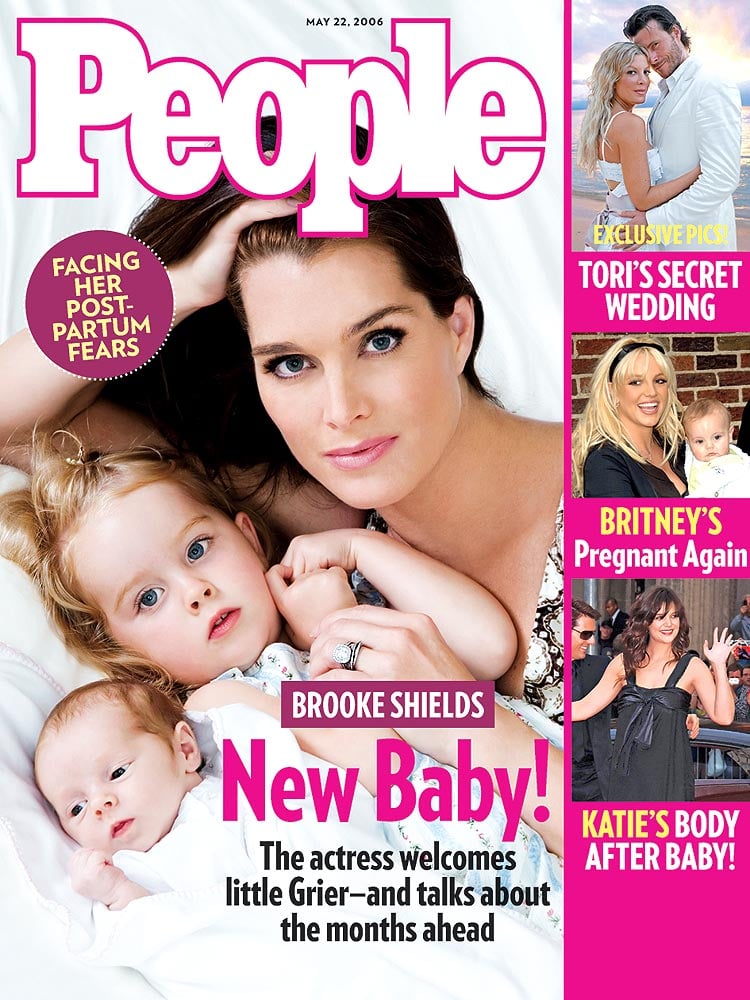 Brooke Shields [85] debuted her youngest daughter, Grier, on the cover of People.
Vivienne and Knox Jolie-Pitt
Angelina Jolie [86] and Brad Pitt [87] returned to People when they were ready to reveal the first photos of their twins, Vivienne and Knox Jolie-Pitt. The photo spread is believed to be priciest of baby photos, going for about $16 million.
Blue Ivy Carter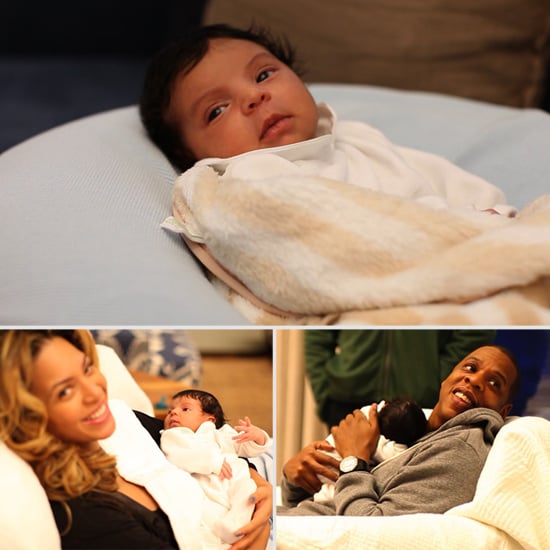 One month after Blue Ivy Carter's birth, Beyoncé and Jay-Z released five photos of the little one [88] on the proud papa's site, Life + Times [89]. With photos of both mom and dad holding the newborn, as well as a few glamour shots, the world got their first look at the hip hop princess's tiny hands, full head of hair, and Aiden + Anais swaddle blanket, thus avoiding the crush of paparazzi and introducing their daughter on their own terms.
Sadie LeNoble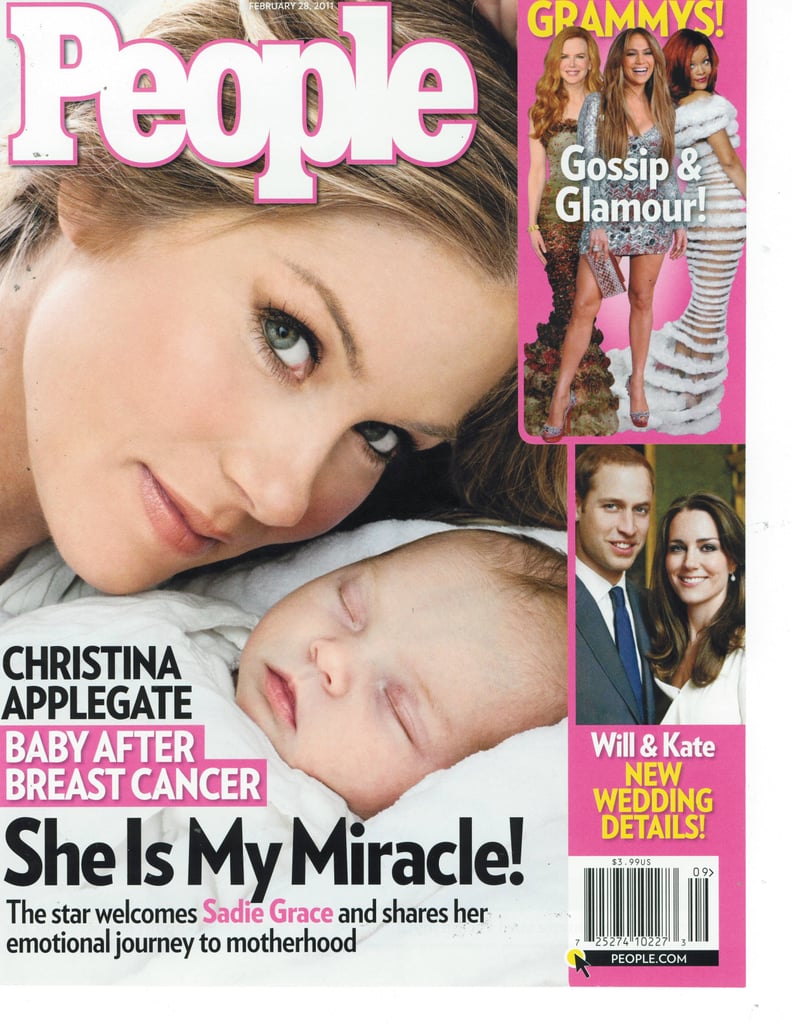 Christina Applegate [90] sat down with People to introduce the world to little Sadie LeNoble and discuss life after breast cancer.
Levi McConaughey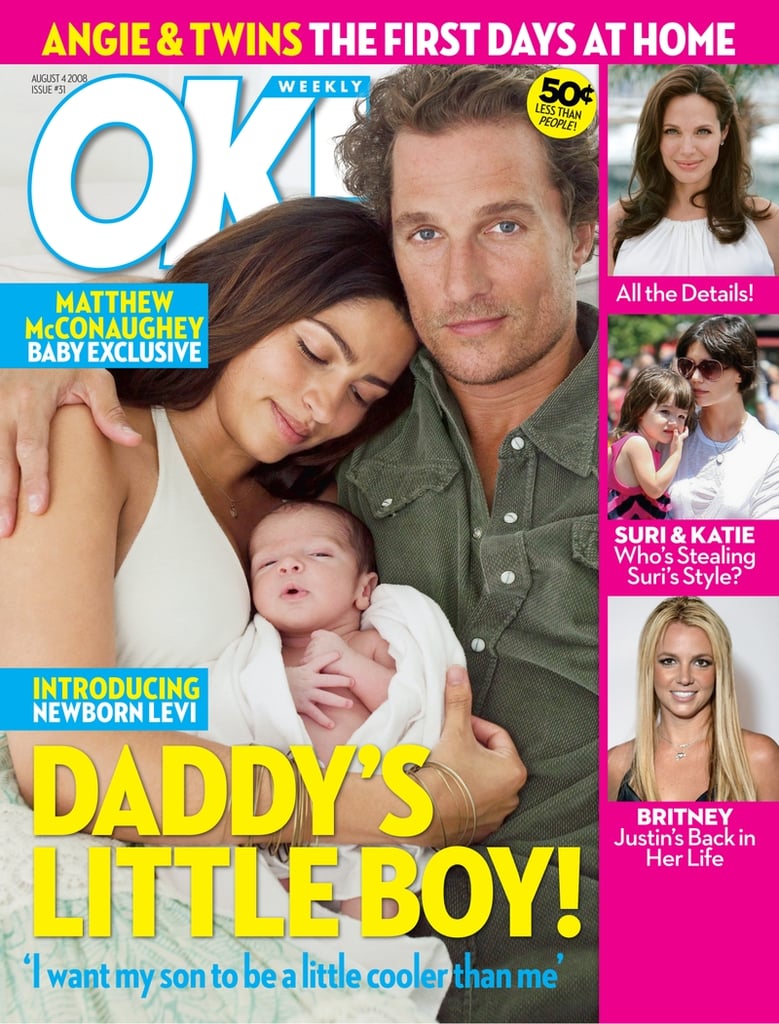 Matthew McConaughey [91] and Camila Alves settled for a cool $3 million for Levi's first photo.
Shiloh Jolie-Pitt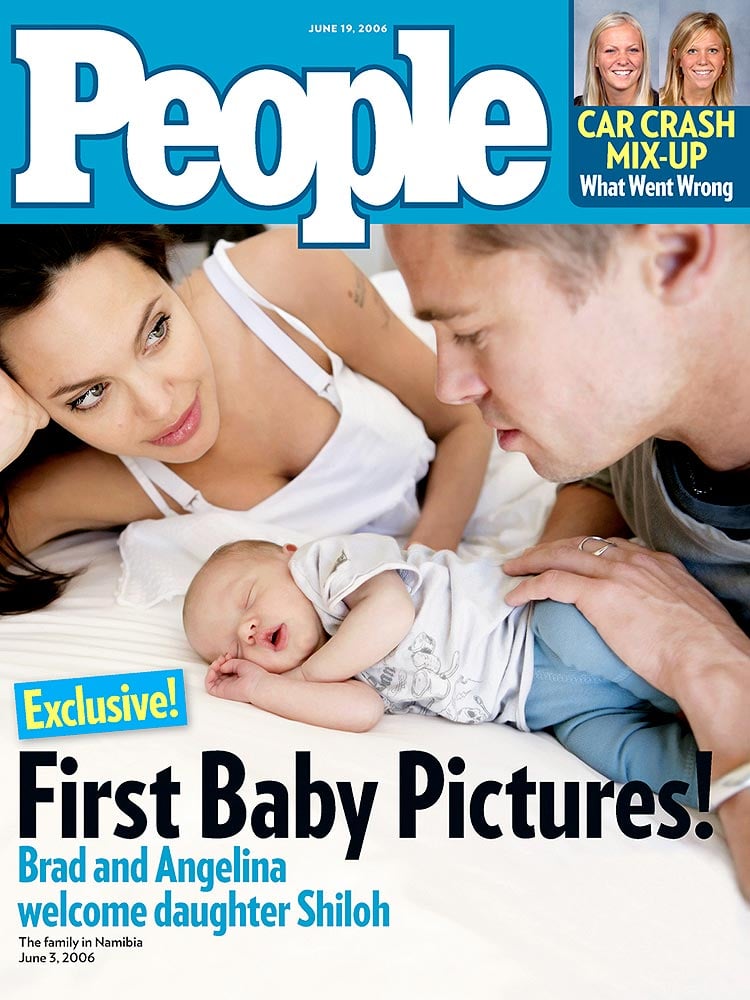 After giving birth to baby Shiloh, Angelina Jolie [92] and Brad Pitt [93] shared their photos exclusively with People.
Sparrow Madden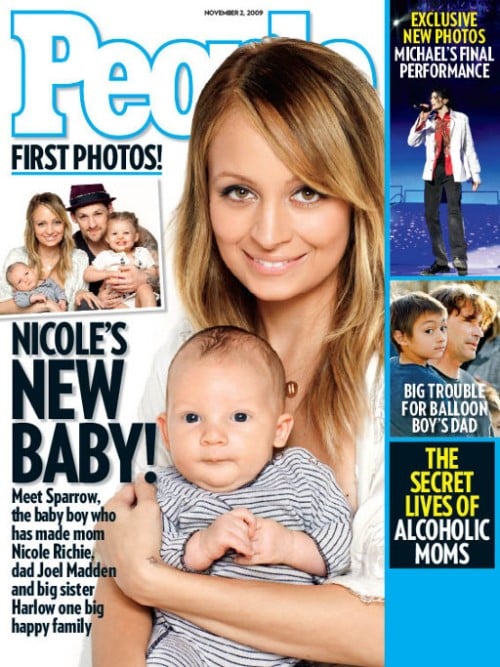 Just like she did with baby Harlow, Nicole Richie [94] worked with People to show off her son, Sparrow Madden.
Benjamin Brady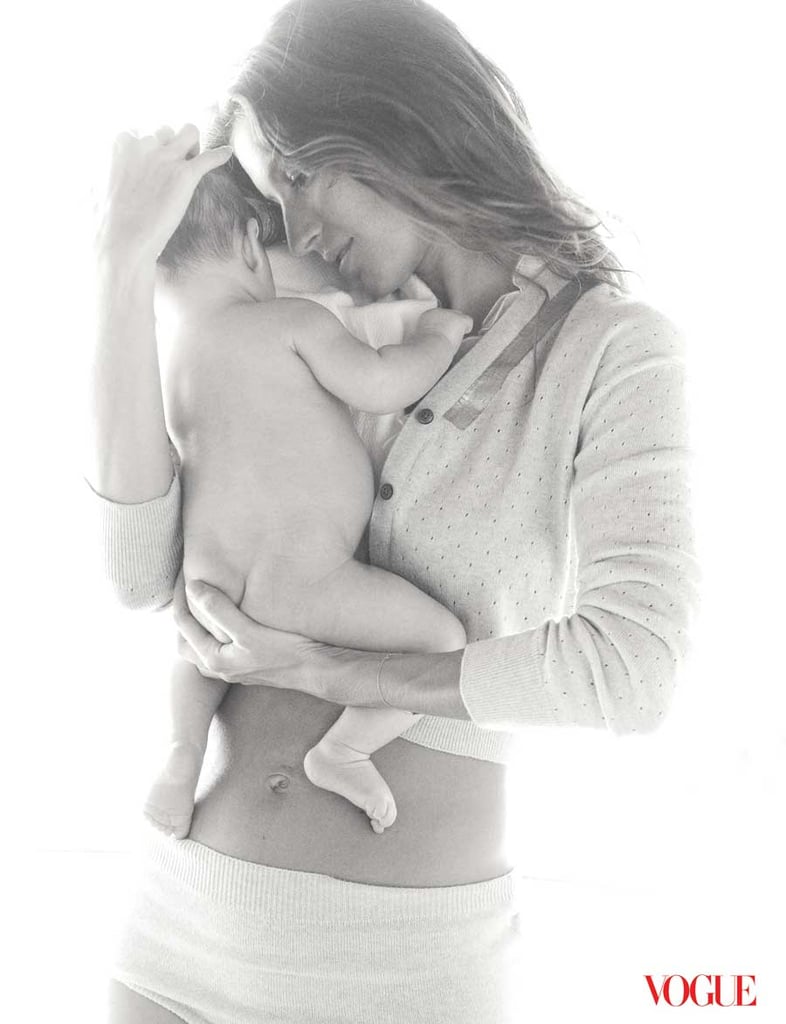 Though Gisele Bündchen [95] first introduced the world to baby Benjamin Brady through a Brazilian magazine cover photo, the model turned to her modeling roots for the first US photo of her son, including him in a photo shoot she was doing with Vogue.
Exton Elias Downey
Robert Downey Jr. appeared on The Tonight Show With Jay Leno to promote The Avengers, but ended up spending most of his segment showing off his baby boy Exton Elias [96]. The proud father allowed the host to show off the first photo of the 8-week-old tot and wife Susan, saying, "He's so darn cute, isn't he?"
Ben Travolta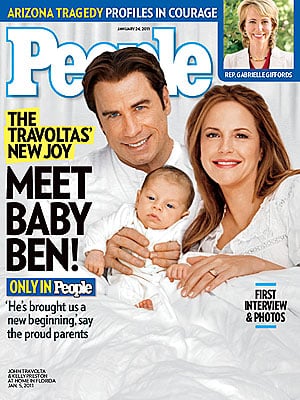 John Travolta [97] and Kelly Preston sat down with People to introduce the world to baby Ben.
Sean Preston Federline
Britney Spears [98] introduced the world to baby Sean Preston through a People magazine cover story.
Marion and Tabitha Broderick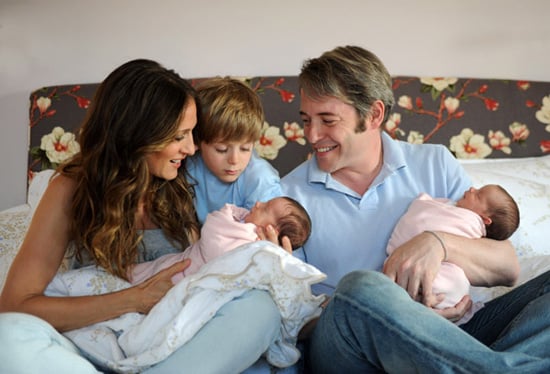 Sarah Jessica Parker [99] and Matthew Broderick [100] introduced Marion Loretta Elwell and Tabitha Hodge via a photo that was released to news agencies, rather than booking a session with a magazine.
Honor Warren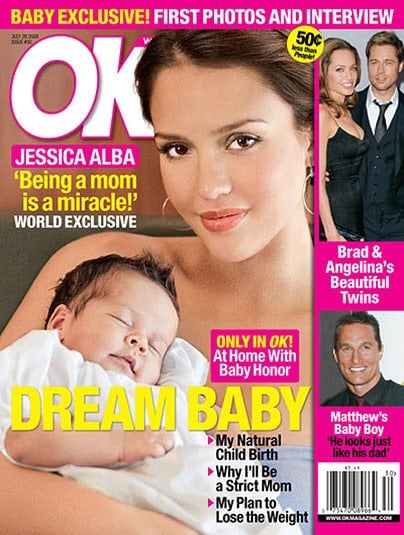 Jessica Alba [101] and Cash Warren received a reported $1.5 million to show off baby Honor. We bet their second baby would have brought in more.
Harlow Madden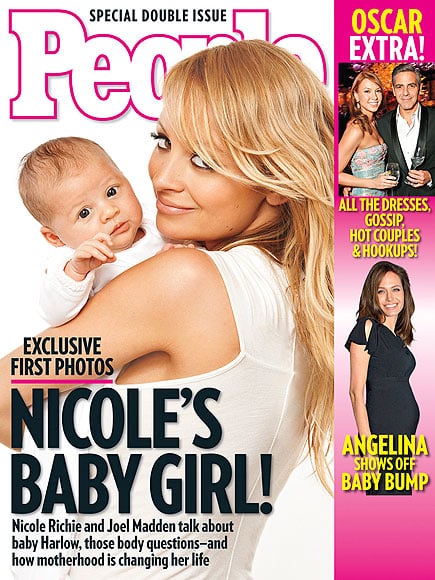 Nicole Richie [102]'s little Harlow earned $1 million for her first photo shoot.
Harper Beckham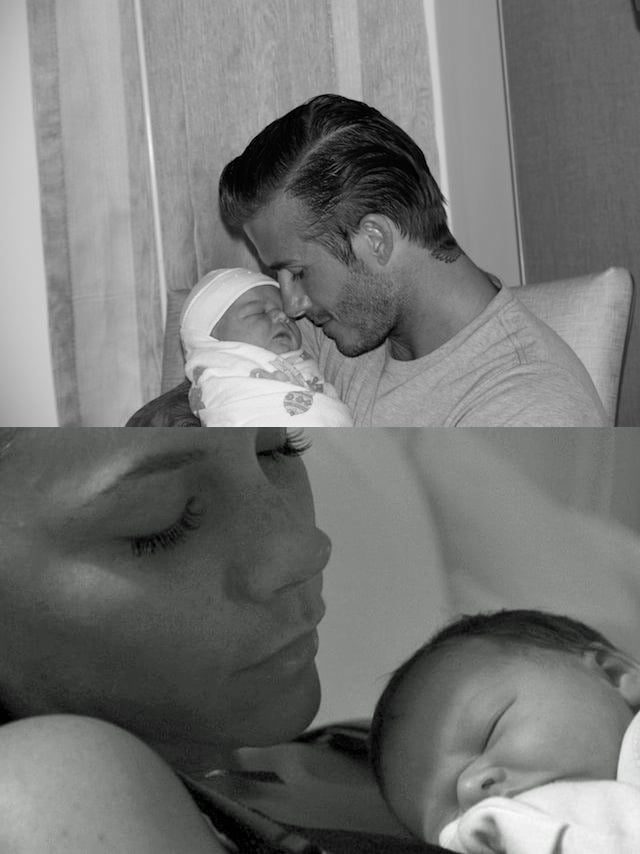 A week after David and Victoria Beckham [103]'s daughter was born, the proud parents posted home photos of the little one on their respective Facebook and Twitter accounts, avoiding the magazine route that many fans expected them to follow.
Naleigh Kelley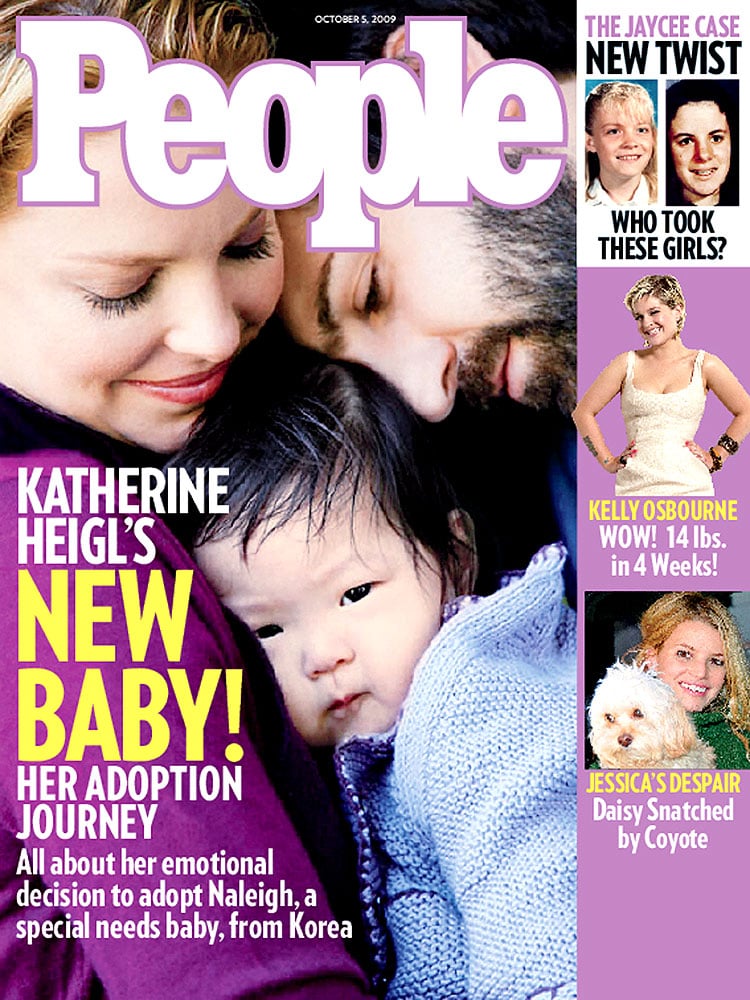 Katherine Heigl [104] and Josh Kelley showed off their newly adopted daughter Naleigh on the cover of People.
Sullivan Patrick and Darby Galen Dempsey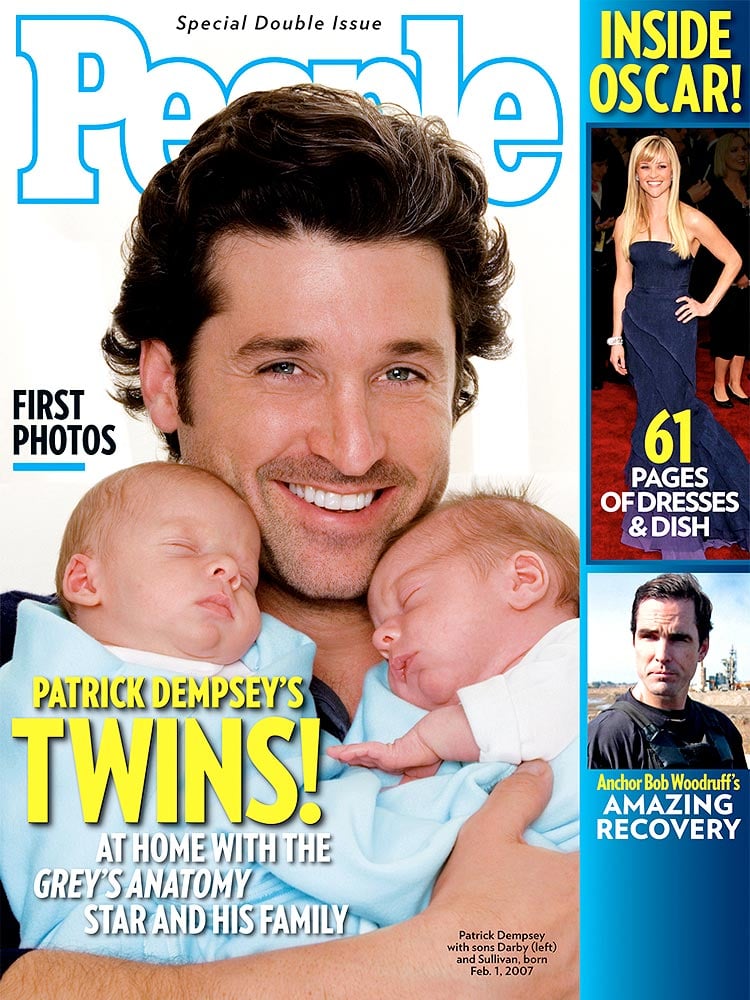 Patrick Dempsey [105] showed off his twins on the cover of People.
Louis Bullock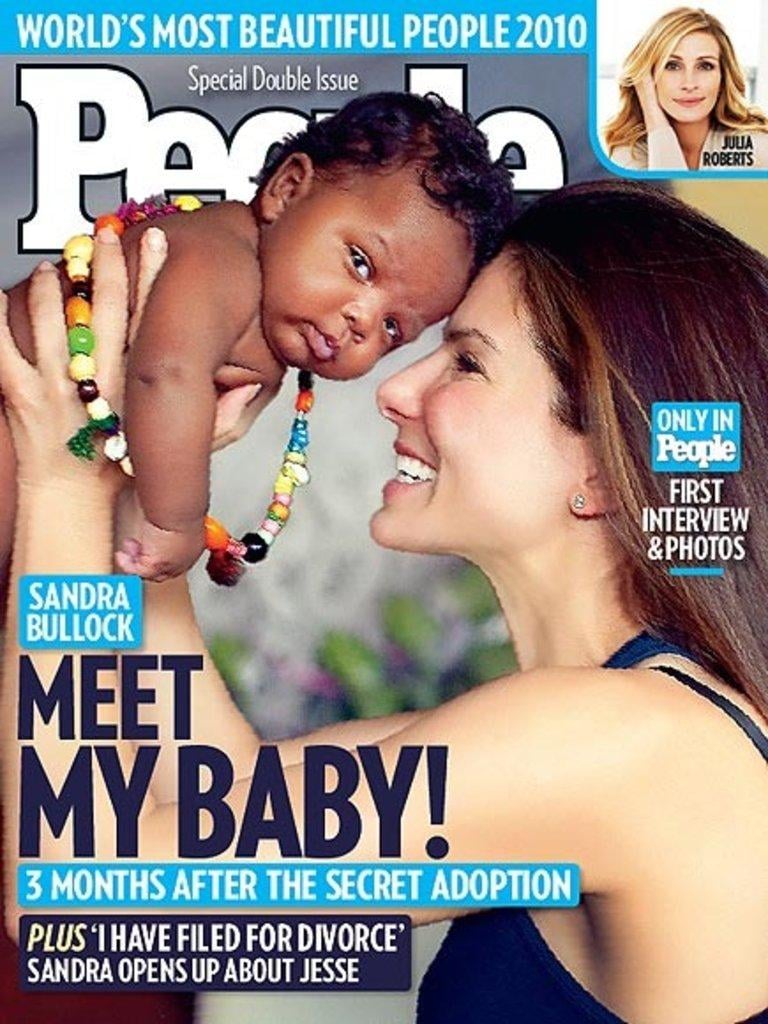 Sandra Bullock [106] shocked the world when she appeared on the cover of People with her newly adopted son, Louis.
Eden and Savannah Mahoney
Marcia Cross [107]'s sleeping twins made their debut on the cover of People.
Emme and Max Anthony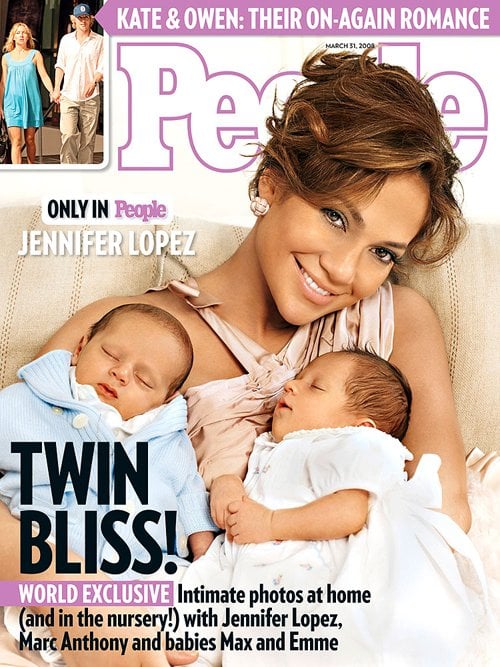 Jennifer Lopez [108]'s twins, Emme and Max Anthony, cashed in for a cool $6 million for their first photo op.
Pauline Sinclair
Vin Diesel shared the news of the birth of his third child via a sweet Facebook post [109]. The actor captioned the photo with lyrics from Louis Armstrong's classic "What a Wonderful World," writing, "I hear babies crying, I watch them grow. They'll learn much more, Than I'll ever know. And I think to myself, What a wonderful world..."
Scarlett May Stuber
Molly Sims announced the birth of her daughter, Scarlett May Stuber, via Instagram and her blog, on March 26. She wrote [110], "We welcome Scarlett May Stuber into our family. Our hearts are bigger with you here."
Reign Aston Disick
Though she turned to US Magazine to introduce Penelope, Kourtney Kardashian and Scott Disick introduced their third child, Reign, via mama's Instagram account [111] almost four months after the baby's birth.
Silas Timberlake
Just one week after Justin Timberlake [112] and Jessica Biel [113] welcomed baby Silas, the proud dad introduced the tot via an Instagram post [114]. The photo, showing a beaming Jessica and a Memphis Grizzlies t-shirt-clad Silas, was captioned, "The Timberlakes are ready!!! GO GRIZZ! #GritNGrind #Playoffs #BabyGrizzROAR."
James Reynolds
Six months after welcoming baby James to the world, Ryan Reynolds [115] and Blake Lively [116] shared the first photo of their little one. Ryan used his three-day-old Instagram account to show off his little one [117] "thumb wrestling" with him, captioning the photo, "Thumb wrestling isn't always fair. Curiously, my hand is the small one." Blake then regrammed the photo, adding [118], "and with that, my husband @vancityreynolds joins Insta."
Ryan Curry
Two days after welcoming his new baby girl, Golden State Warriors star Stephen Curry introduced via his Instagram account [119]. Captioning the photo, "I'm wayyyyy up I feel Blessed! God is Great. Thanks to the doctors and staff at Alta Bates for taking care of my girls, especially Dr. Poddatori. Healthy baby and @ayeshacurry is all I prayed for. #prouddaddy." Given big sister Riley's attention-grabbing antics, we're pretty sure Ryan will be a viral star of her own following this photo!
Leo Thames Newman
Four days after welcoming a baby boy [120], Jaime King introduced him to the world — well, introduced his feet, because he was busy nursing. The Instagram-loving mom used a casual family photo from the hospital to announce her news, captioning it with [121], "We are SO happy to welcome to the world our new baby boy! Born Thursday, July 16th! Xx"
Eric Thomas Decker II
Four days after welcoming her first son, Jessie James Decker introduced Eric Thomas Decker II to the world [122] with a supersweet Instagram photo of the newborn and his dad sharing some skin-to-skin time.
Jagger Snow Ross
Three months after welcoming her second daughter, Ashlee Simpson showed her off to the world [123]! In a photo she posted to Instagram [124], the newlywed (she married Evan Ross in 2014) introduced us to Jagger Snow Ross! She captioned the photo with an ultra-sweet message, "Jagger Snow Ross !! We love her so much!!! She is beyond everything!!! I have the best baby daddy @realevanross In the world. Love you."
James Lauren
Lauren Bush Lauren and David Lauren shared the news of their first child's arrival via Instagram [125]. The photo shows little James sleeping and was captioned, "Welcome to the world sweet baby James, born yesterday morning on November 21st at 8:19am! @davidlauren and I are beyond thrilled and in love!"
Saylor Cutler
Kristin Cavallari [126] and her husband, Jay Cutler, welcomed their third child, a baby girl named Saylor James Cutler and six days later introduced her to the world via Instagram [127]. Kristin took to Instagram to explain why she was unable to attend her high school reunion, writing, "Really sad about missing my 10 year high school reunion last night...so many people I wanted to see...but at least I have a good excuse."
Max Zuckerberg
With a prolific letter written by Mark Zuckerberg and his wife, Priscilla Chan, the Facebook founder officially welcomed baby Max to the world — where else, but on Facebook! The heartfelt letter focuses on how the world is becoming a better place and how the social media darling's parents are donating the bulk of their wealth to charity.
Jasmine Johnson
Dwayne Johnson and his girlfriend, Lauren Hashian, welcomed their first child together, a baby girl named Jasmine [128], and four days later the proud father introduced her to the world via Instagram [129]. The Rock also shared a lengthy heartfelt message, writing, "Kinda crazy but in this cool and powerful skin to skin bonding moment with my newborn baby Jasmine, I had just one wish I asked the universe... Give me the strength to be a better man today than I was yesterday. If I can accomplish that, then I'd have a good shot at being a great father."
Leo Pasutto
A couple of days after Jillian Harris gave birth to her first child with partner Justin Pasutto [130], the Bachelorette star shared the exciting news with an adorable photo on Instagram. "World, meet little Leo . . . (Queue [sic] heart explosion)," Harris captioned the snapshot. "The last 48 hours have been the best of our lives. Thank you @slipperygoose for giving me the greatest gift of all."