Ever wonder how celebs celebrate their impending arrivals? With baby showers just like us! From luxurious events at fancy hotels to backyard luncheons with crafts and games, celebrity moms-to-be love to be feted. As we continue our month of real baby showers, we're taking a look back at 20 showers that celebrated some of our favorite Hollywood moms-to-be. Check them out!
Kim Kardashian
Kim Kardashian [1] was the guest of honor at a garden-themed brunch in Beverly Hills prior to baby North's birth last June. The shower brought out celebrity pals Nicole Richie [2], Kelly Osbourne, Mel B, and trainer Tracy Anderson, as well as Kim's family. Her sisters Khloé and Kourtney were on hand, and proud papa Kanye West [3] made an appearance despite reportedly being nervous about being the only guy at the party. It was an especially exciting day for the Kardashian family since it coincided with the season premiere of Keeping Up With the Kardashians, during which the sex of Kim and Kanye's baby was revealed. Kim shared that she's having a girl during the episode, adding, "That's really what Kanye has always wanted — he wanted a little girl."
Source: Instagram user KimKardashian [4], Instagram user KhloeKardashian [5], Twitter user OfficialMelB [6], and FameFlynet [7]
Fergie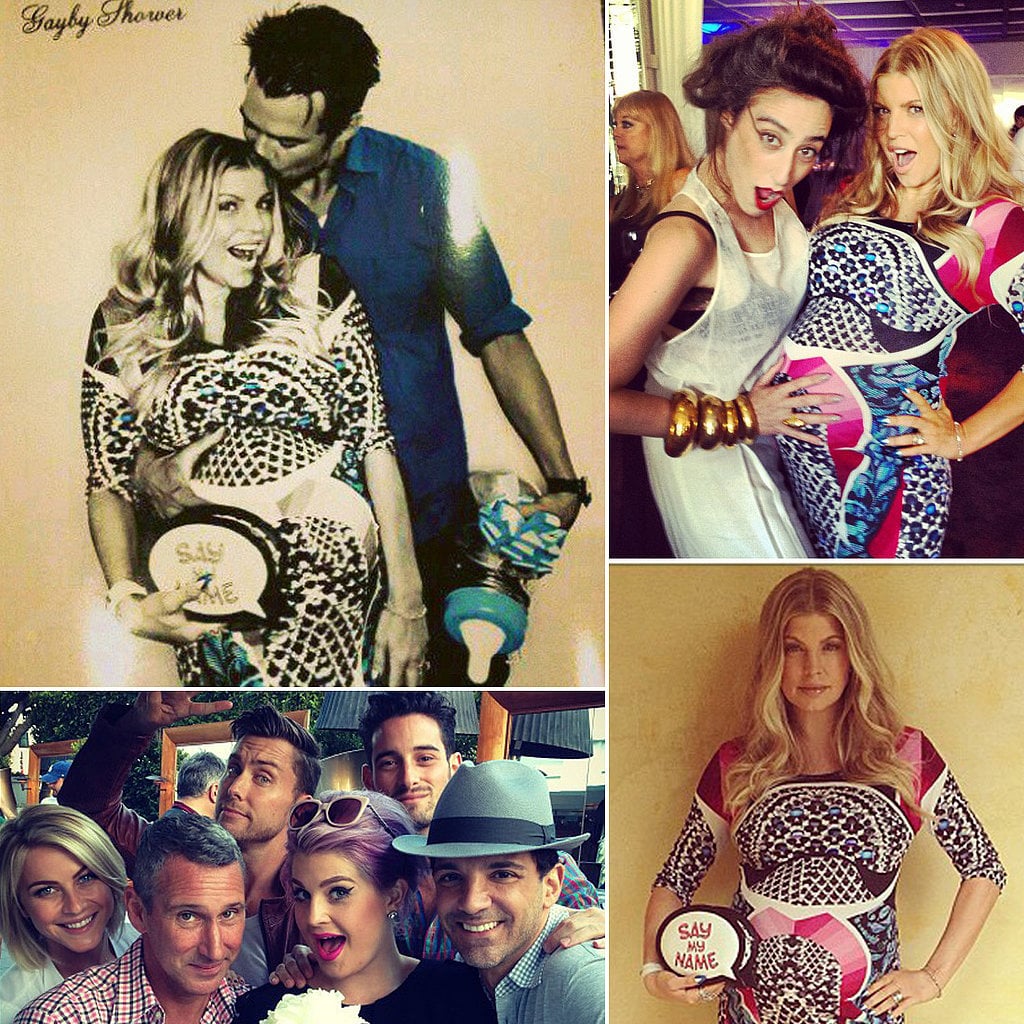 Fergie [8] and Josh Duhamel [9] celebrated the impending arrival of baby Axl Jack with a star-studded baby shower in LA. The party's hosts, Dean and Dan Caten (the designers from Dsquared2) and hairdresser Andy Lecompte, called it a "gayby" shower! Other celebrity guests included Kelly Osbourne, Julianne Hough, and Lance Bass.
Source: Instagram users joshduhamel [10], kellyosbourne [11], ladyf*g [12], and fergie [13]
Molly Mesnick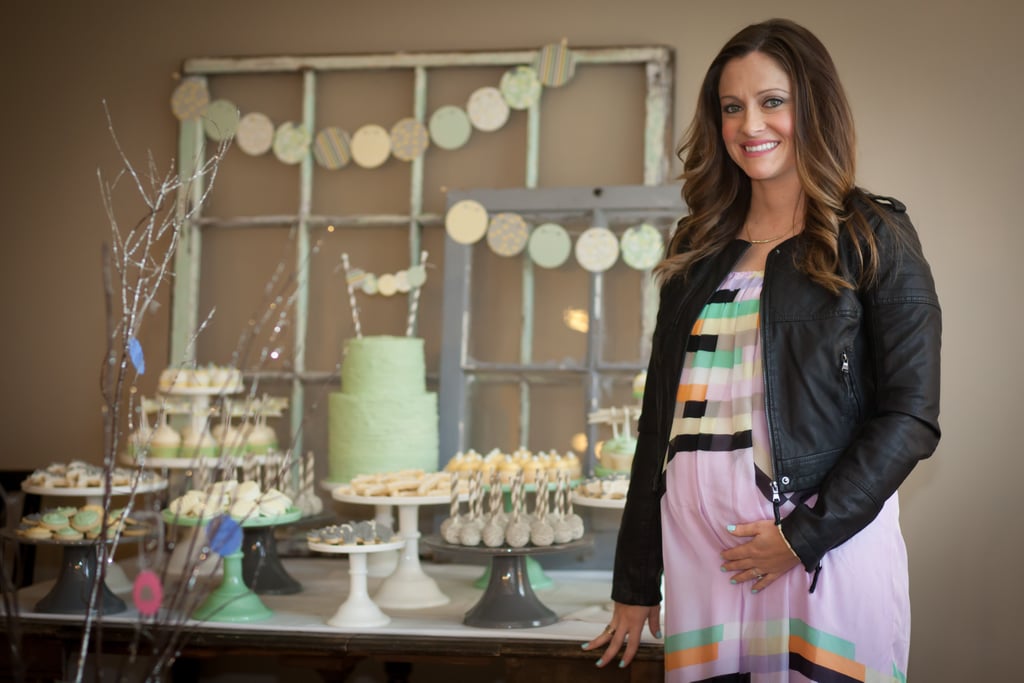 Former Bachelor contestant Molly Mesnick didn't want a "traditional" baby shower, so her sister-in-law threw her a baby party [14] filled with on-theme sweets from one of our favorite West Coast bakers, Jenny Keller from Jenny Cookies; creative paper goods from Minted's new party suite offerings; fun games; and sexy favors for her guests.
Source: Lisi Wolf Photography [15]
Molly Sims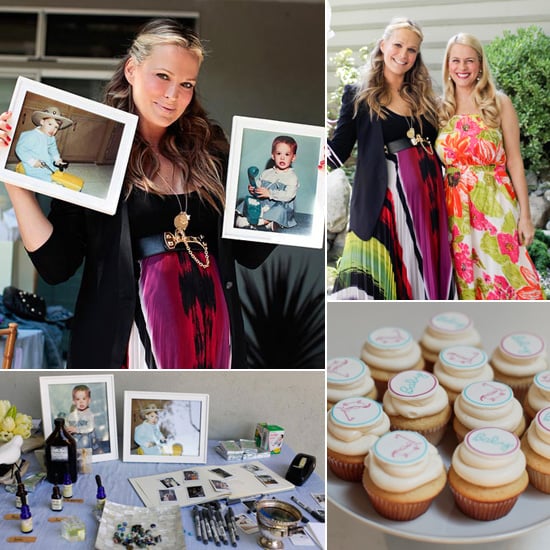 Molly Sims's garden baby shower [16] was as unique as the actress is herself. Rather than play traditional baby games, Molly had her guests create their own signature scents (including one she could take to the hospital for her delivery) at an essential-oil perfume station, write letters to the baby-to-be to be opened on each of his birthdays for the next 50 years, and start a bead project where each attendee brought a bead symbolizing something that meant a lot to them as a mother. The beads were then strung together to create a necklace for the mom-to-be.
Source: Gia Canali for MollySims.com [17]
Hilary Duff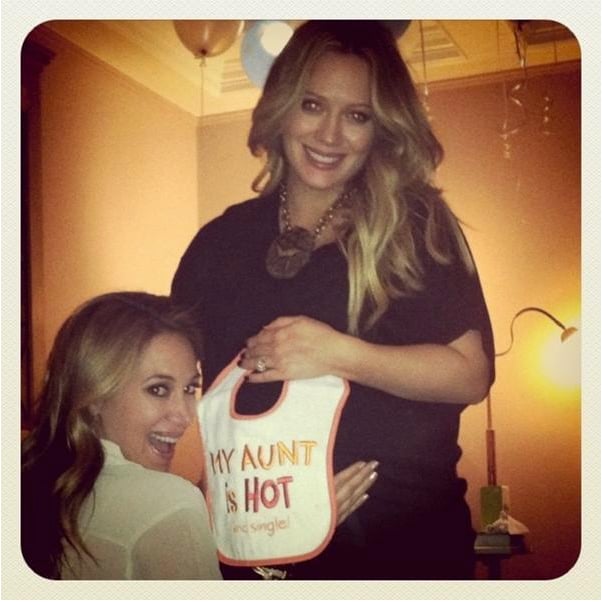 Haylie Duff hosted an intimate baby shower for her sister, Hilary, before baby Luca's arrival. The party, held in the mom-to-be's home, included 19 of Hilary's closest friends and family.
Source: Twitter user HaylieDuff [18]
Alyssa Milano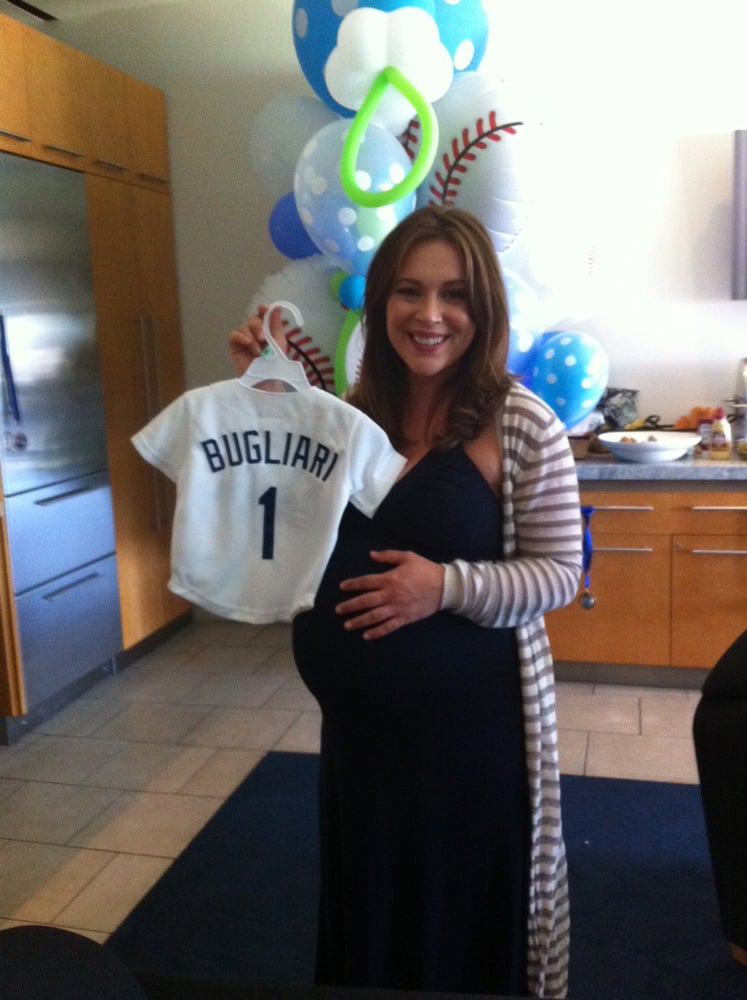 Forgoing a traditional setting altogether, Alyssa Milano [19]'s baby shower reflected her true love — baseball. Thrown in a private suite during an LA Dodgers game, the party included Dodgers cupcakes from Crumbs Bakery [20], an arts and crafts table, centerpieces full of underwater orchids and baseballs, and "Baby Bugliari" medals for each guest.
Source: Alyssa.com [21]
Gwen Stefani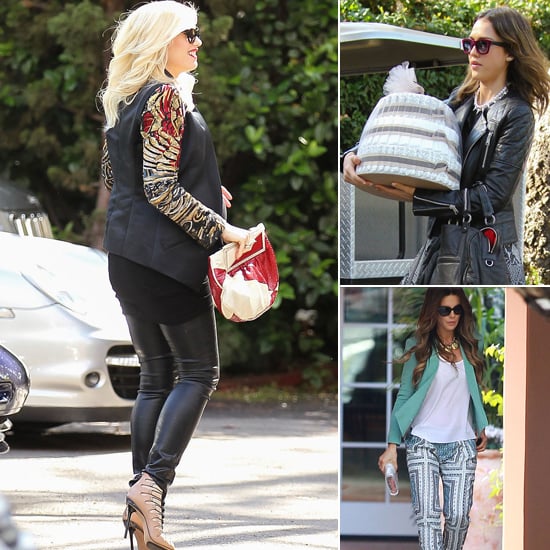 To celebrate the upcoming arrival of baby boy number three, Gwen Stefani [22]'s A-list friends gathered at the Hotel Bel-Air in February. Jessica Alba [23] (bearing an Honest Co. diaper cake!), Gwyneth Paltrow [24], and Kate Beckinsale [25] were all on hand for Stefani's glamorous affair.
Ciara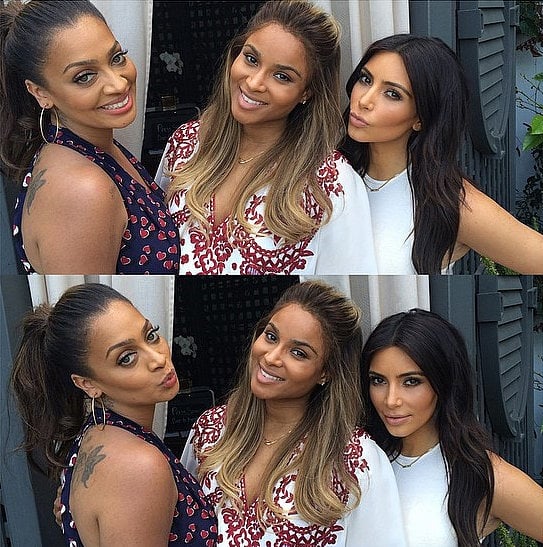 Mom-to-be Ciara was honored with a shower in Beverly Hills last month. "BFFs," Kim Kardashian [26] wrote in the caption for this Instagram photo she shared of herself with the mom-to-be and Lala Anthony.
Source: Instagram user kimkardashian [27]
Bethenny Frankel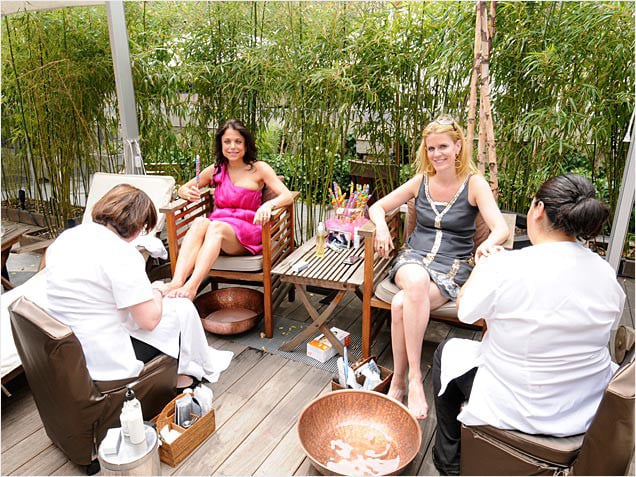 Bethenny Frankel's baby shower was shown on the season finale of Bravo's Bethenny Getting Married? [28]. The fete, thrown at NYC restaurant Bagatelle, included manicures and pedicures for the guests, as well as plenty of dancing throughout the afternoon.
Source: Bravo TV [29]
Drew Barrymore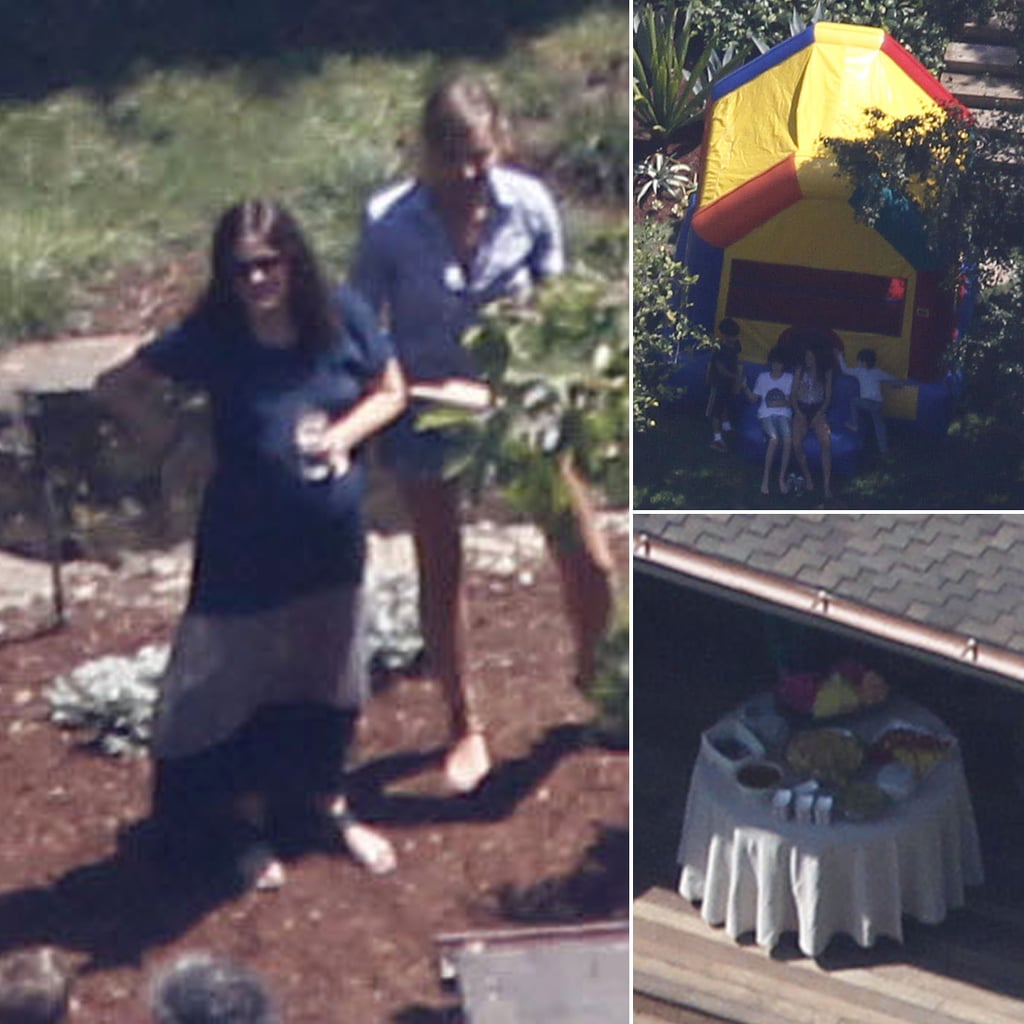 Baby showers don't necessarily have to be all-girl affairs. To celebrate Drew Barrymore [30]'s baby, Olive, Cameron Diaz [31] threw her best friend a coed backyard baby shower [32] complete with a bouncy house for the kids, pool games for the guests, and chips and salsa for everyone to munch on throughout the afternoon.
Jessica Alba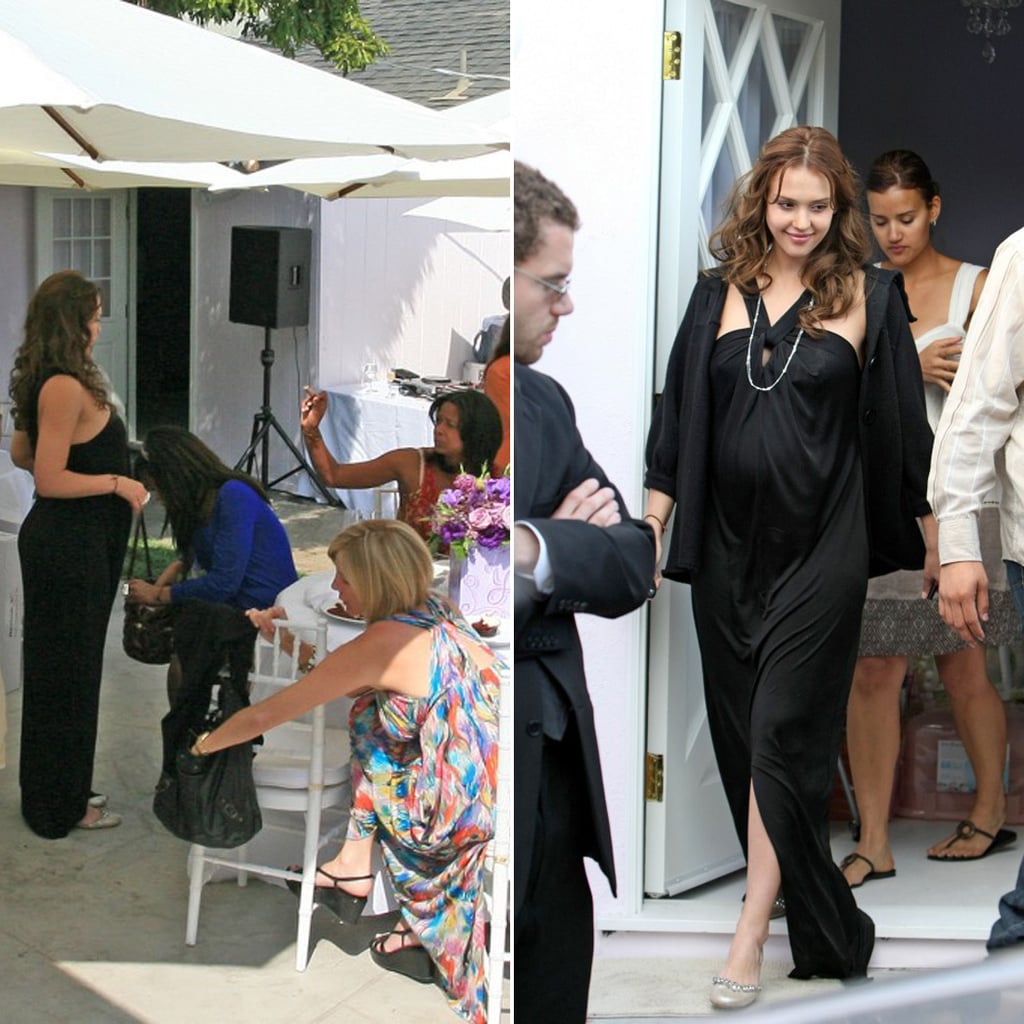 While pregnant with her first daughter, Honor, Jessica Alba [33] was feted with a shower at the Ever After Teahouse in Los Angeles. Guests at the beautiful party left with goodie bags filled with organic baby food.
Britney Spears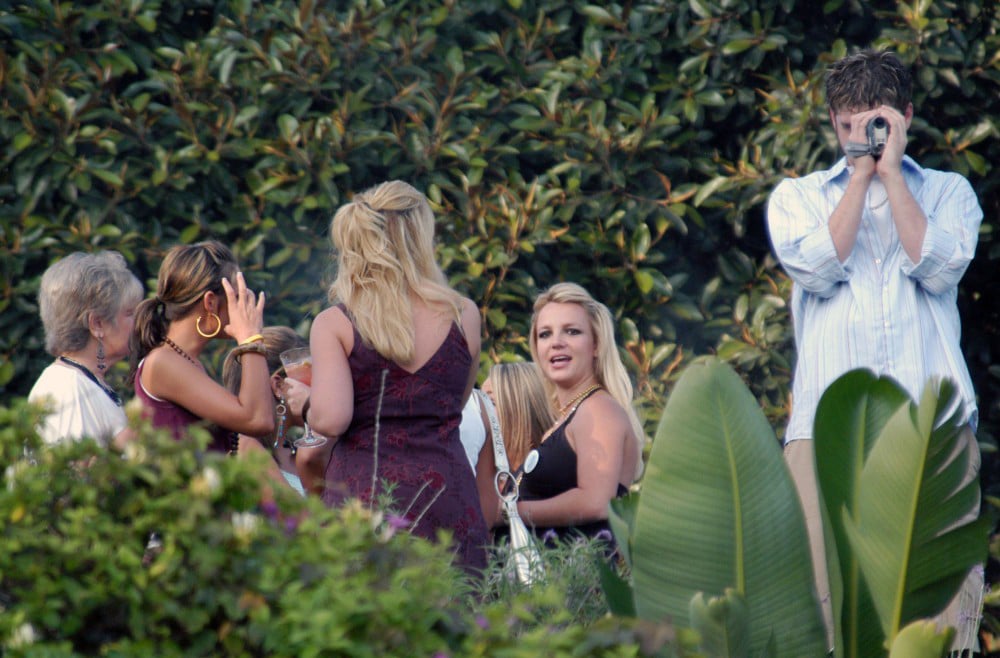 Before giving birth for the first time, Britney Spears [34] was feted with a Moroccan-themed baby shower [35] at her Malibu home. Event planners transformed her backyard with a bamboo tent and hundreds of candles to celebrate the mom-to-be. Guests played word scrambles, had to memorize baby-related items on a tray, and played "guess how big Britney's belly is" during the event, which they were instructed to attend "barefoot and beautiful."
Giuliana Rancic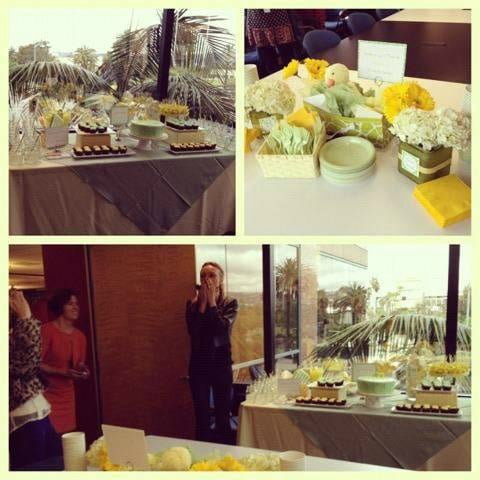 Though Giuliana and Bill Rancic threw themselves a gender-reveal party [36], the mom-to-be was feted with a surprise baby shower thrown by her colleagues in their E! TV offices. The party was a complete surprise [37] for the usually-in-the-know TV host.
Source: Twitter user GiulianaRancic [38]
Jamie-Lynn Sigler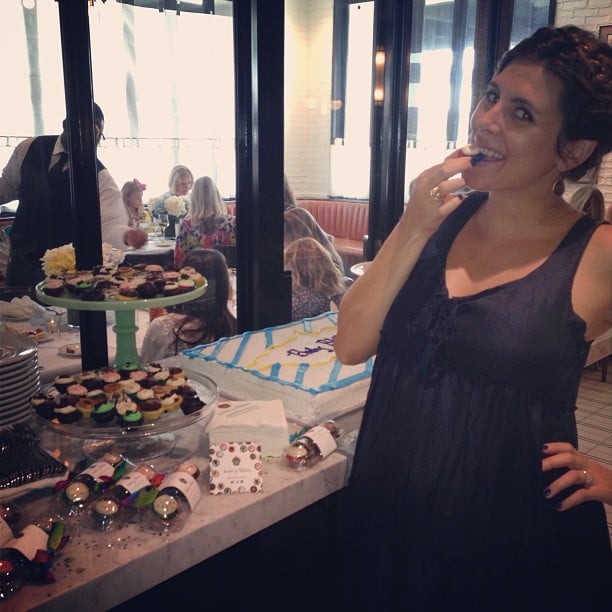 Jamie-Lynn Sigler and hubby Cutter Dykstra were feted at the Thompson Hotel in Beverly Hills prior to the arrival of baby Beau. The former Sopranos star shared pics from her shower showcasing Baked by Melissa mini cupcakes and party favors by Dulce Luna Bags.
Source: Instagram user Jamie-Lynn Sigler [39]
Naomi Watts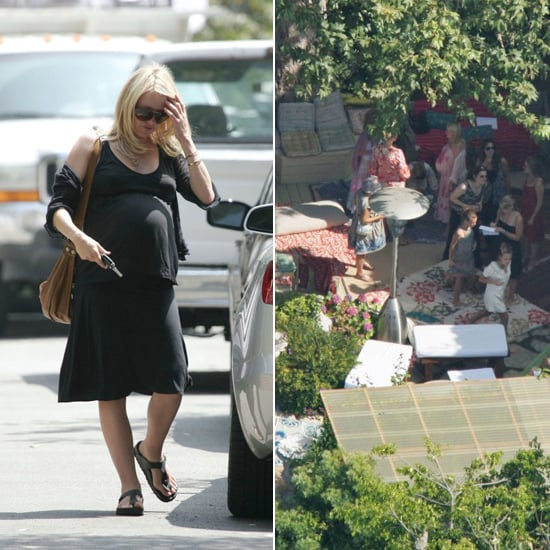 Back in 2007, Naomi Watts [40] celebrated her impending arrival with a shower at her home that included 40-plus friends and family. From the looks of things, the backyard was covered with quilts and pillows to keep guests comfortable throughout the afternoon.
Jessica Simpson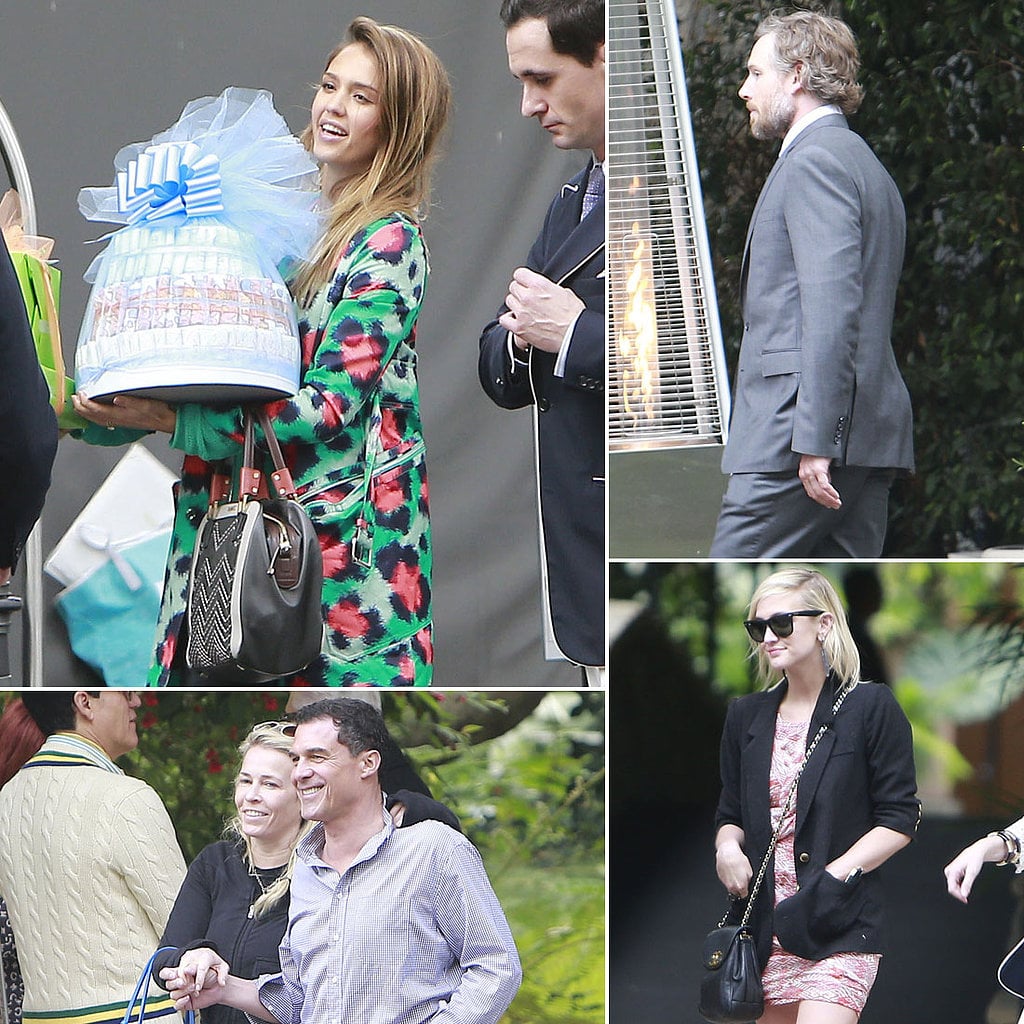 Prior to the arrival of baby Ace, Jessica Simpson was the guest of honor [41] at a Tom Sawyer-themed shower at the Hotel Bel-Air. The guest list included celeb friends like Jessica Alba [42], Chelsea Handler, and of course aunt Ashlee Simpson [43].
Nicole Richie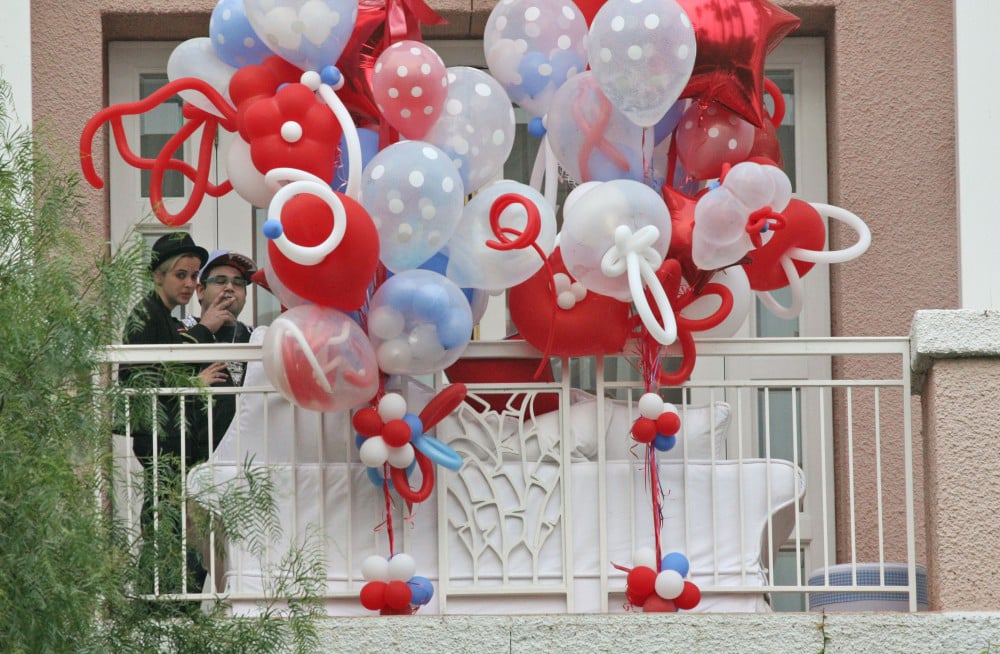 Nicole Richie [44] turned to celebrity event planner Mindy Weiss to plan her spectacular Wizard of Oz-themed baby shower. Held at the Beverly Hills hotel, the celeb-studded event featured ruby-slipper centerpieces, a yellow brick road lined with candy, and a band playing classic songs from the movie.
Victoria Beckham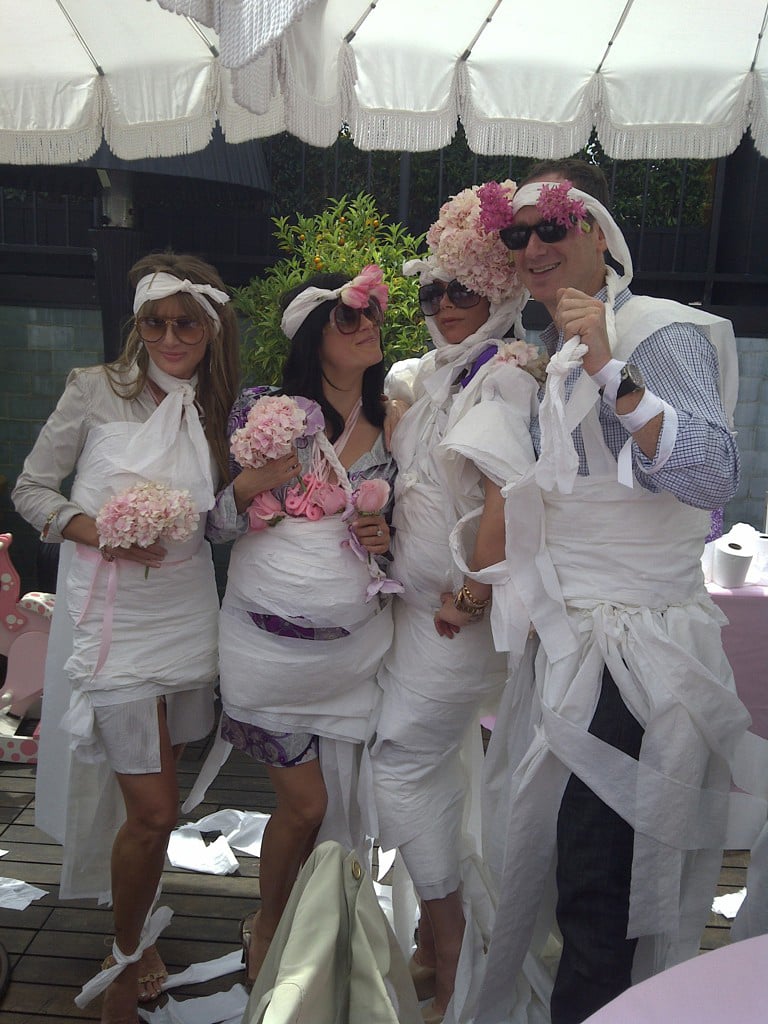 Victoria Beckham [45] was kept completely in the dark about her baby shower (thrown by Eva Longoria [46] and Ken Paves) and tweeted just how nervous [47] she was when she received some instructions: "I have been told to wear something waterproof for my baby shower!!!!I'm now very nervous!!!!x vb." But it appears she had little to be scared of at the actual event. The pink-themed party (for her first baby girl after having three boys) included plenty of celeb guests and a toilet-paper-dress-making game [48] that the mom-to-be happily shared photos of after the fete.
Source: Twitter user victoriabeckham [49]
Denise Richards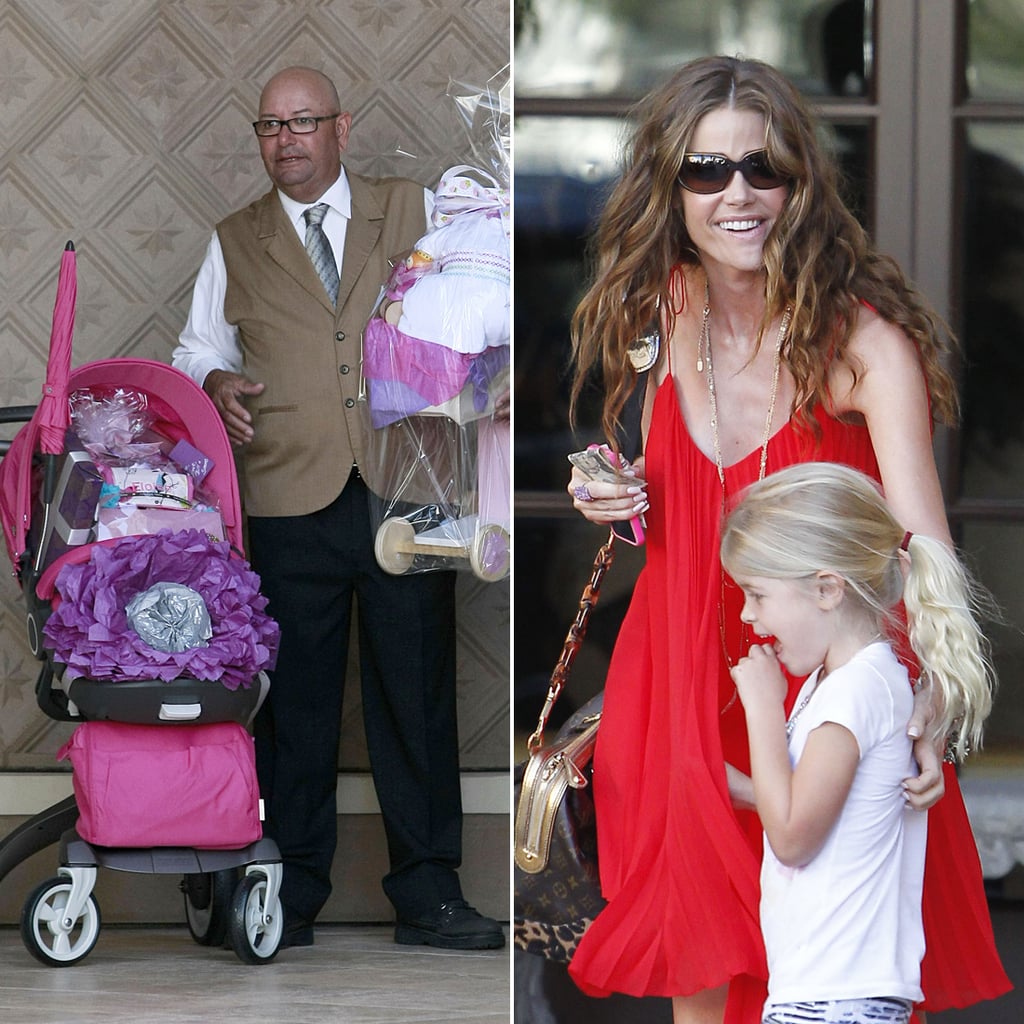 After adopting baby Eloise in 2011, Denise Richards [50] turned to celeb party planner Mindy Weiss to throw a baby shower based on the books [51] with the same name. The party included pink and black flowers (like the illustrations in the book) and a three-tier cake topped off with three figurines made to look like the guest of honor and her two big sisters.
Jessica Simpson
Jessica Simpson [52]'s Charlotte's Web-themed baby shower [53] for baby Maxwell was nothing short of spectacular. The rustic pink party included everything from white picket fences and cutout farm animals to diaper-pin necklaces and a knitting station (such a cute idea!). Guests — including Jessica Alba [54] and Haven Warren, Ashlee Simpson [55], and CaCee Cobb — drank down pink lemonade out of mason jars (with old-fashioned striped straws) and ate gourmet ice cream.