Celebrities had their little ones on hand for fancy events, fun at the park, and flights out of town this weekend. Yesterday, Angelina Jolie [1] and Brad Pitt [2] walked the red carpet for his World War Z London premiere with their sons, Maddox and Pax, while back in the states the Bündchen-Brady clan took to a routine trip to a Boston park. Reese Witherspoon [3]'s daughter, Ava Phillippe, was her spitting image as the two boarded a flight in LA on Friday, and Victoria Beckham [4] continued her jet-setting lifestyle on Saturday with her entire brood. Click through to find out what other celebrity families were up to this weekend!
Ben Affleck [5] and Jennifer Garner [6] took their daughters, Violet and Seraphina, to a wildlife exhibit in LA on Saturday.
Victoria Beckham [7] huddled up to Harper and Brooklyn before taking a flight out of LA on Saturday.
Reese Witherspoon [8] and her look-alike daughter Ava Phillippe toted their bags through LAX on Friday.
Tom Brady [9] gave his son Ben a push on the swings in Boston on Sunday.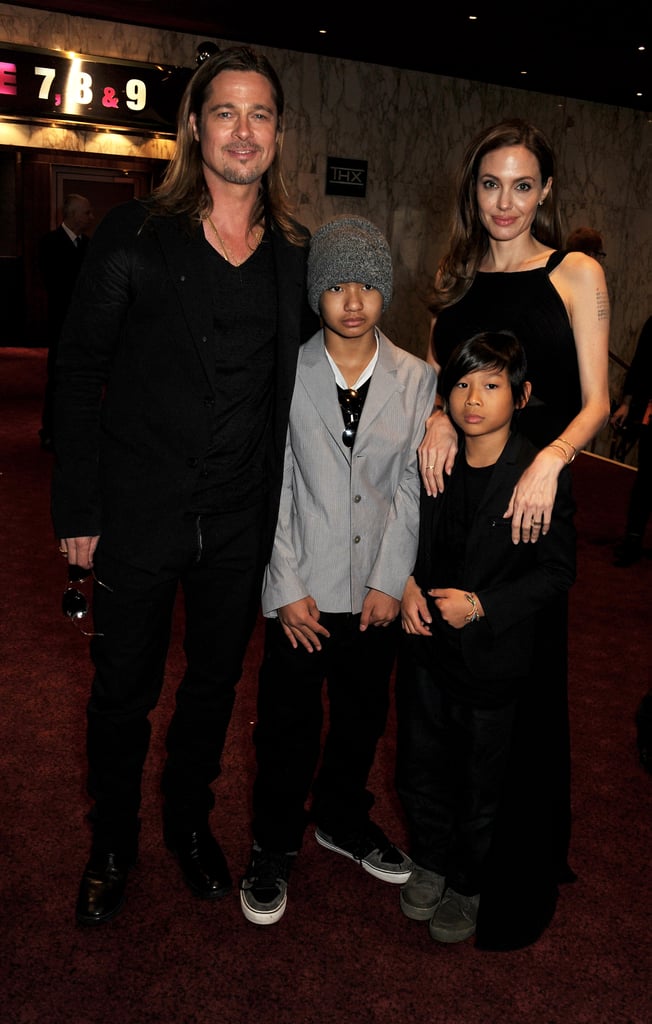 Brad Pitt [10] and Angelina Jolie [11] walked the red carpet with Maddox and Pax for Sunday's World War Z London premiere.
Gwen Stefani [12] and Gavin Rossdale [13] were out and about in LA on Saturday with Kingston.
Sandra Bullock [14] held hands with her son Louis in Malibu, CA, while on their way to a birthday party on Saturday.
Heidi Klum [15] kicked off her 40th birthday over breakfast with her children and boyfriend Martin Kristen, in LA on Saturday.
Nicole Richie [16] and her little ones, Sparrow and Harlow, jetted out of LA on Friday.
Gisele Bündchen [17] spent time at the park with her kids on Sunday in Boston.
Jim Belushi watched his son Jared's football game on Saturday afternoon in LA.
Jane Krakowski and her son Bennett went for a walk in NYC on Saturday.
Sylvester Stallone and his daughters Sistine and Scarlet went to lunch in LA on Saturday.
Martin Kristen matched with his girlfriend Heidi Klum [18]'s sons, Henry and Johan, for her birthday celebrations in LA on Saturday.