Think the breastfeeding selfie trend [1] is just a thing for your Instagram friends to share with each other? Not quite! While the women in your new-moms class are sharing pics of themselves and their nursing tots with family and friends, celebrity moms are sharing theirs with millions of fans around the world. While some say they are sharing the images to show something "natural and beautiful," others are doing it to show their political views.
Padma Lakshmi is the latest celebrity mom to show herself doing the deed, even though her daughter is no longer a baby. Sharing a "Throwback Thursday" photo on Instagram [2], the Top Chef host gave "A shout out to working Moms everywhere!" with a behind-the-scenes shot of her getting glam and nursing now-6-year-old Krishna simultaneously.
Read on to see who else has shared their breastfeeding photos with their fans.
Julie Bowen
Breastfeeding twins is no easy feat, but Julie Bowen showed how it's done during an appearance on Lopez Tonight back in 2010. She shared a picture of herself nursing twins John and Gustav and said [3]:

"It's like two little liposuction machines on you. They suck the fat out of you. They call it the 'double football hold.' You hold one here, and here [gesturing to her breasts], like two footballs . . . They're doing God's work right there, helping me return to my birth weight."
Angelina Jolie
Soon after giving birth to twins Knox and Vivienne Jolie-Pitt, Angelina Jolie posed for a series of intimate portraits for her then-boyfriend, Brad Pitt. W magazine featured several of them in the November 2008 issue, including one of actress nursing, on the cover.
Angelina spoke about her breastfeeding experience [4], saying:
"I had lost my mum, I'd had a baby, and I'd been breastfeeding, and I was in a very emotional place as a woman. I knew instinctually and talked to Brad about it, that if I could find something that would get me physical again, it would be like therapy, because everything was making me cry."
Mayim Bialik
Mayim Bialik has been an outspoken advocate for extended breastfeeding and attachment parenting, going so far as to share an image of herself nursing her 3-year-old son Fred on a New York City subway. She accompanied the photo with an essay about her decision [5], saying:
"I have written about my now-3-year-old son Fred and his nursing rhythms before. To recap: Fred nursed for a solid 12 months with no supplements, no solid foods, and not even a sip of water. He got the hang of eating solids around 18 months, but continued to nurse all day (with bottles of pumped breast milk when I was at work) and on demand all night. A typical night involved no less than four wake-ups and sometimes six (every two hours on the clock for 12 hours of bed time was not unusual). This went on for almost three years."
Gisele Bündchen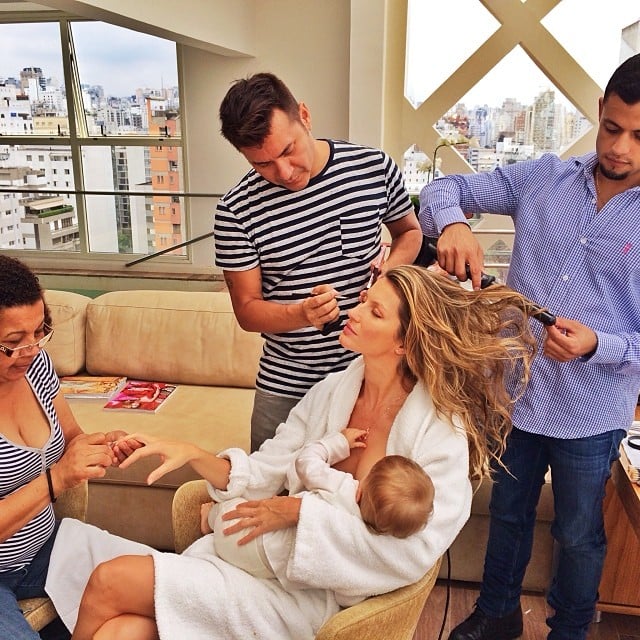 Supermodel Gisele Bündchen was the picture of a pampered, multitasking mom when she shared a picture of herself [6] getting her hair, makeup, and nails done, all while breastfeeding little Vivian. She wrote, "What would I do without this beauty squad after the 15 hours flying and only 3 hours of sleep"?
Miranda Kerr
It was just another day at the office for Victoria's Secret model Miranda Kerr [7] when she showed off how she breastfed little Flynn during a photo shoot. All made up for an underwear shoot, the model mom captioned the photo [8], "Another day in the office."
Doutzen Kroes
Back to work after welcoming baby Phyllon, Doutzen Kroes shared this photo of herself [9] nursing her son while on a L'Oreal shoot, captioning it, "Working mom;) feeding my precious baby between pictures..."
Jaime King
A proud breastfeeding mom, Jaime King posted this sweet photo [10] to her Instagram account over the weekend, saying, "#JamesKnight is now 8 months old! These are the moments a mother lives for. Breastfeeding should not be taboo- and bottle feeding should not be judged- it's ALL fun for the whole family:)"
Pink
An album photo shoot could not come between Pink and her breastfeeding daughter, Willow. The rocker shared this image [11] with her Twitter fans, saying, "Lunchtime at my album photoshoot. Deborah Anderson takes some purty pictures:)"
Natalia Vodianova
Russian model Natalia Vodianova just posted this beautiful photo of herself nursing her 1-month-old son, Maxim, on Instagram.
Gwen Stefani
Rocker Gwen Stefani [12] showed off her beautiful breastfeeding scene with a selfie of 5-month-old Apollo Rossdale nursing in Switzerland.
Alanis Morissette
For a recent "throwback Thursday," Alanis Morissette shared a sweet picture of then-2-year-old Ever nursing in the car while his mom was on tour in Europe.
Olivia Wilde
Olivia Wilde has been careful about sharing photos of her son, Otis. But when Glamour came calling, she not only included her son in the photo shoot, but decided to nurse him in the spread. About the decision to do so, she said [13]:
"Being shot with Otis is so perfect because any portrait of me right now isn't complete without my identity as a mother being a part of that. Breastfeeding is the most natural thing. I don't know, now it feels like Otis should always be on my breast. It felt like we were capturing that multifaceted woman we've been discussing — that we know we can be. You can be someone who is at once maternal and professional and sexy and self-possessed. [But] I mean, I certainly don't really look like that when I'm [typically] breastfeeding. And there's usually a diaper involved."
Alyssa Milano
Alyssa Milano [14] shared a poignant photo of her almost-3-month-old daughter, Elizabella, nursing along with a quote from Czech and French writer Milan Kundera that said, "Ah, the joy of suckling! She lovingly watched the fishlike motions of the toothless mouth and she imagined that with her milk there flowed into her little son her deepest thoughts, concepts, and dreams."
Alyssa Milano
Alyssa Milano [15] was multitasking by breastfeeding, getting glammed-up, and speaking with her producer while prepping for her guest-hosting duties on The Talk.
Alyssa Milano
No stranger to sharing her breastfeeding photos, Alyssa Milano [16] really was Wonder Woman last year when she juggled Halloween [17] duties with feeding her infant daughter, Elizabella.
Blake Lively
Blake Lively [18] shared a photo of her off-camera nursing daughter, James, in a tropical locale, captioning it, "The PERKS of breastfeeding.
Padma Lakshmi
In honor of "Throwback Thursday," Padma Lakshmi shared an old photo of herself multitasking on the set of Top Chef. The new mom at the time pulled a Gisele [19] getting camera-ready while nursing baby Krishna.