Children Destroy Home with Bag of Flour, Caught on Camera (VIDEO)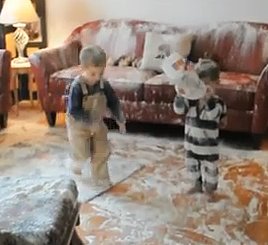 This kid video below is not your typical giggling baby caught on camera interlude. Thunder-struck, a mom-of-two captures the aftermath of her two young boys destroying the family's living room with a five pound bag of flour. She remains amazingly calm while her sons continue to innocently play with "the snowman's puke." But as she discovers the extent of the mess she repeats, "Oh my gosh, oh my gosh."
Here it is. Do you think you would have remained as calm as this mom?