Mama can never go wrong with pancakes! Kids love them, and they're quick and easy to make — so why not prepare a very special holiday-themed pancake breakfast for Christmas morning? From Santa, snowmen, and reindeer to peppermint-flavored pancakes, we've rounded up nine festive Christmas pancakes kids will love. They're all so fun and creative, mama might love these sweet morning treats even more than the kiddos — if that's possible!
Snowman Pancakes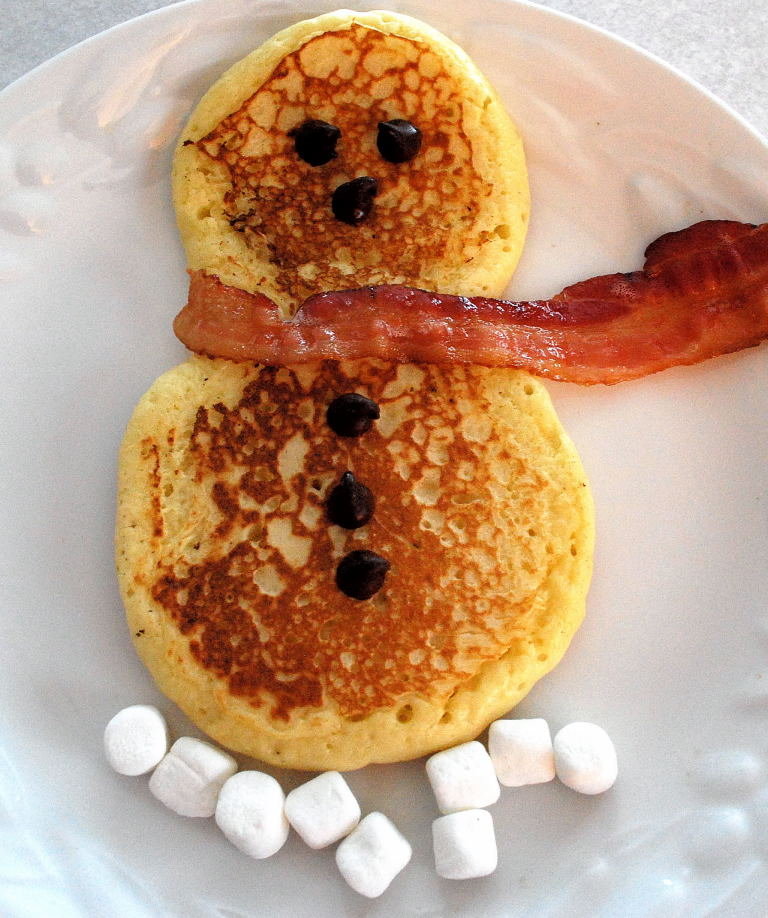 Kiddos will love the idea of snowman-shaped pancakes on Christmas Day. Use blueberries for the eyes, nose and buttons — and bacon as a scarf! If you have marshmallows handy, place them under the pancake to simulate snow.
Source: The Shabby Nest [1]
Merry Christmas! Tree and Snowman Pancakes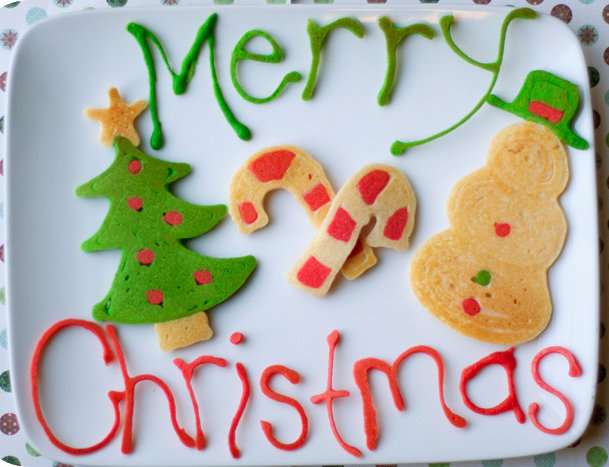 Festive and yummy! Christmas trees, candy canes, and snowmen pancakes for breakfast will ensure a very merry Christmas morning. Mama can also write out words with pancake batter to make a "Merry Christmas" sign out of pancakes!
Source: Bento Mama [2]
Christmas Pancakes and Waffles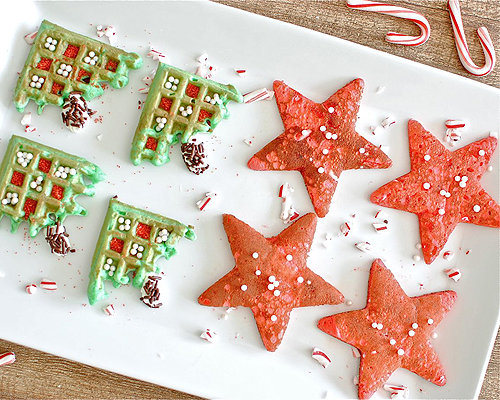 Pancake stars and waffle Christmas trees will dazzle the entire family. So creative — and delicious!
Source: Tablespoon [3]
Christmas Pancakes With Candy Cane Chocolate Syrup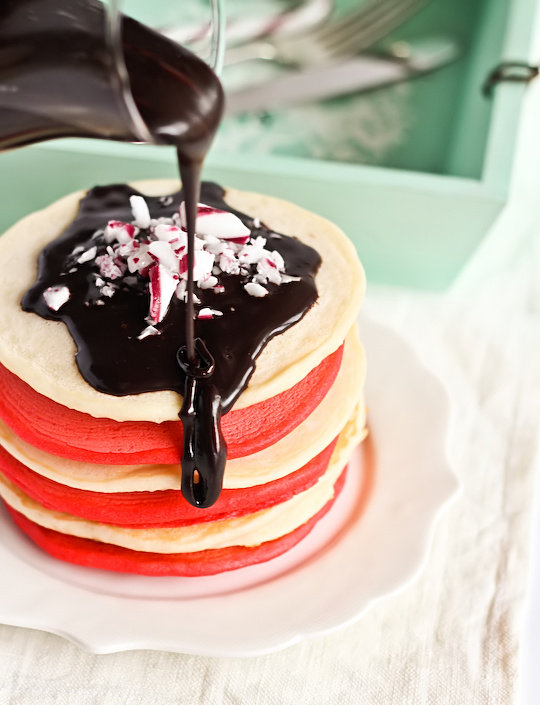 These spectacular red and white Christmas pancakes drizzled with chocolate syrup are not only beautiful — they're delicious too! Stir in some crushed candy canes into the chocolate syrup for a taste of peppermint.
Source: Raspberri Cupcakes [4]
Ginger and Pumpkin Gingerbread Man Pancakes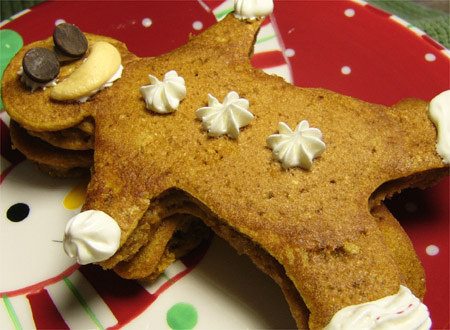 A healthy sweet alternative! Ginger, pumpkin puree, and whole wheat flour are the main ingredients for this very special Christmas breakfast.
Source: Wing-It Vegan [5]
Candy Cane Pancakes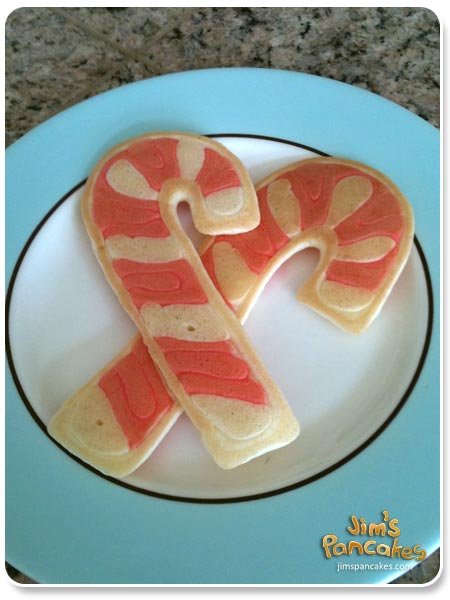 Peppermint sweetness! Prepare some candy cane pancakes for your little one of Christmas morning — with some peppermint oil blended into the batter. Yum!
Source: Jim's Pancakes [6]
Reindeer Pancakes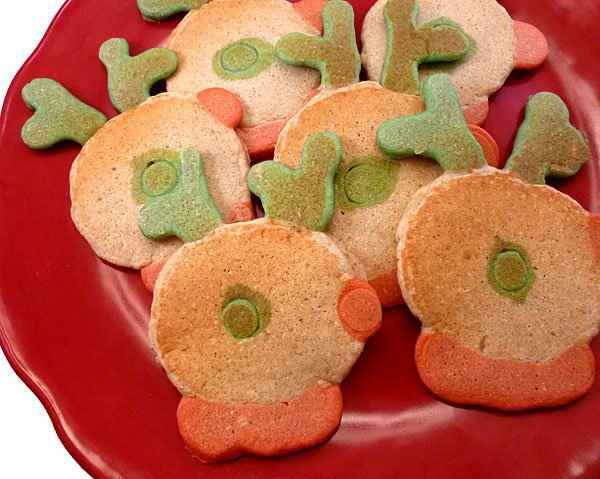 Some food coloring and a little artistic flare can result in some super-cute reindeer pancakes for all to enjoy on Christmas morning.
Source: Ziggity Zoom [7]
Santa Pancakes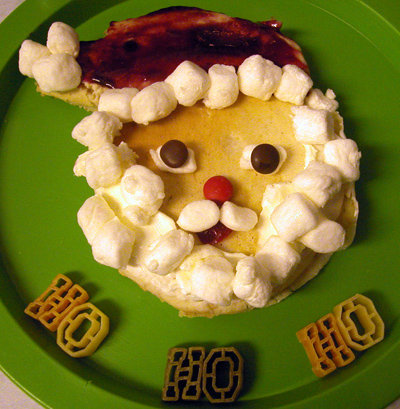 Ho! Ho! Ho! Pancakes as cute as this jolly old Saint Nick — with a marshmallow beard — will have kiddos jumping for joy as they unwrap their Christmas presents.
Source: Little Nummies [8]
Holiday Pancakes Pan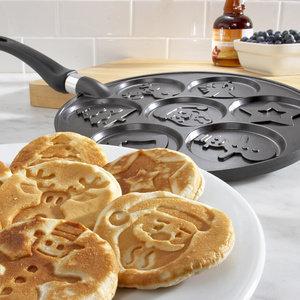 For the "undomestic" mama, check out the NordicWare Holiday Pancake Pan [9] ($17, originally $38) for picture-perfect pancakes for the kiddos on Christmas morning.