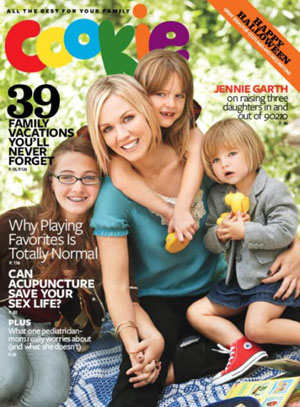 There are some magazines that define a generation.
Good Housekeeping
has been a long time friend of baby booming moms as the articles deem certain toys or household gadgets acceptable with their seal of approval.
Parenting
gives fabulous tips on
breastfeeding
, play dates and other mom dilemmas while
Fit Pregnancy
gets mothers-to-be ready for those same activities. When
Cookie
entered the baby and parenting category four years ago, savvy and hip mums signed up for the Condé Nast rag expecting the best of the best motherhood coverage. And for the most part, that's what they got.
The bright publication offers mums a rainbow of treats from interviews with pop culture's famous mothers to the trendtotting looks of tomorrow and vacation hot spots. Unfortunately the magazine has seen better days and will be closing its doors along with some other Condé staples. The absence of the digest will leave many a mom wondering where to turn for contemporary and chic bebe products and tips. Since Cookie clearly won't be the title to carry the Gen-Moms through motherhood, which publication will you turn to?