Congratulations, you've made it through the first year of parenthood! Ask any new mama — who feels like just yesterday she brought home a newborn and is now planning baby's first birthday bash [1] — and she'll tell you how fast a year can fly by. Baby's first birthday is a once-in-a-lifetime affair, and as parents, we all want to make it a memorable one — but where to start? From smash cakes [2] to party favors, we've got you covered. Put on your party-planning hat and get inspired to throw the party of the year with these creative first birthday party ideas [3].
Modern Camp-Inspired First Birthday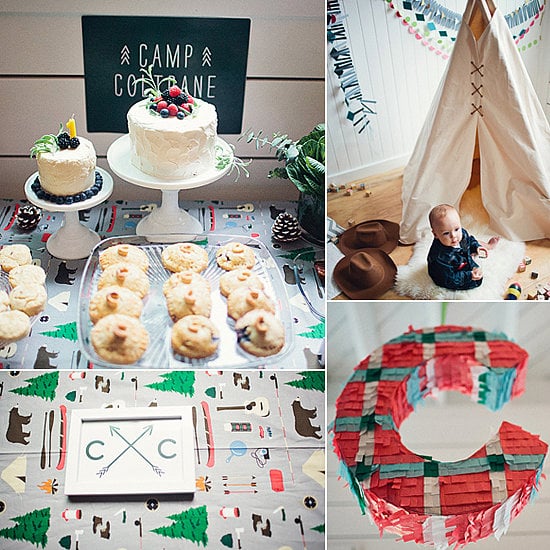 For mom Sarah Jurado, founder of Lightness Creative [4], her idea of a first birthday party was to set up an indoor camp for her son Coltrane. "The party theme was inspired by the fact that we just wanted the babies to have FUN," Sarah says. "And what's more fun than Summer camp?
The fun elements included a mini ball pit and a teepee full of toys. Keep clicking to check out all the details [5], including the gorgeous sweet and savory snacks at the party.
Cute as a Bow-Tie First Birthday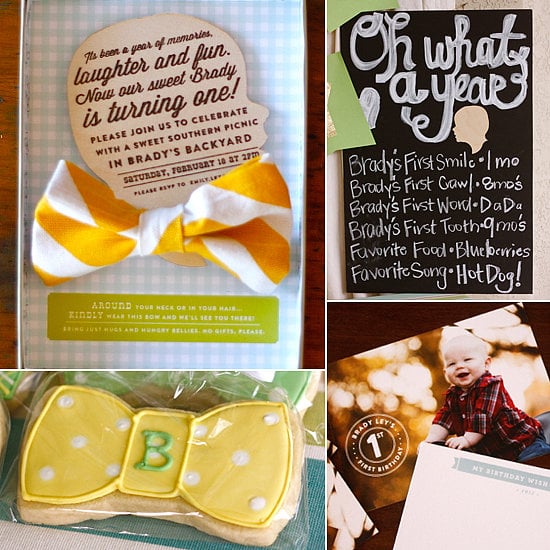 Nothing says Southern charm for a birthday party than one with bow-ties. For mom and designer Emily Ley, she wanted to throw a creative and playful party. With the help of her talented friends, including Amber Moon of Pitbulls and Posies [6], they came up with adorable silhouette invites. "We decided we wanted it to be sweet and young and classic . . . so we chose a Southern Picnic theme and used bow ties to tie the entire affair together," Emily says. Click to see how all the parts of the party came together [7].
An Animal-Themed Birthday By Martha Stewart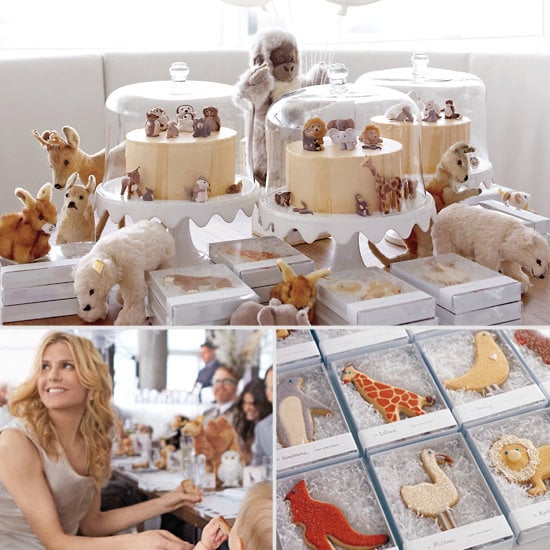 When you're Martha Stewart [8]'s first grandaughter, you can bet your first birthday will be amazing. For little Jude Stewart, turning one meant a more sophisticated route and Grandma put a special spin on the animal-themed party. It was held at one of the family's favorite NYC restaurants, Perry Street, and guests received sweet treats like these animal sugar cookies [9] before they left.
One Year In a Flash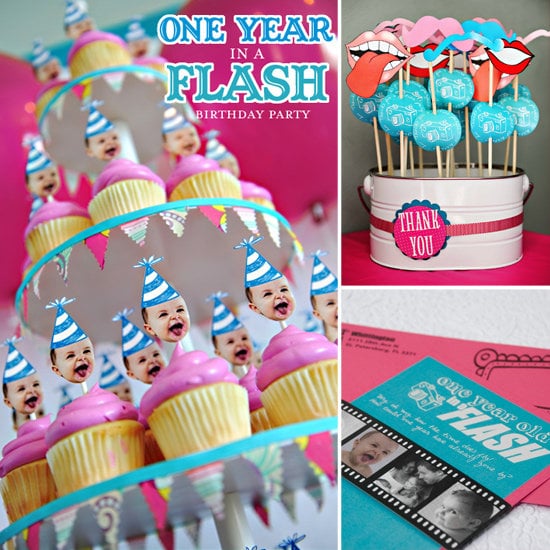 A child's first year flies by in a flash and one creative mama used this theme for her daughter's first birthday. From custom invitations to one-of-a-kind portrait party favors, every detail of this "flashback" gathering was super sweet! Guests also had their pictures taken by a professional photographer — and there were lots of photo props for all to play with. Check out out to re-create these mustaches and mouths on sticks. [10]
Ringling Bros. and Barnum & Bailey Circus Party
When your mom's the head of marketing for Ringling Bros. and Barnum & Bailey Circus, you can be sure that your first birthday party will be nothing short of a three-ring circus. While there weren't roaring lions, skilled tightrope walkers, or dancing dogs in sight, birthday boy Brooks was dressed as a ringmaster, his big sister was dressed as a circus performer, and a face painter named Mollie the Clown transformed guests into circus-goers.
A makeshift tent, which you have to see [11], also housed a magic show by a circus clown, and traditional circus favorites — animal crackers, popcorn, cotton candy, corn dogs, and candy peanuts — covered the treats tables.
Animals on Parade!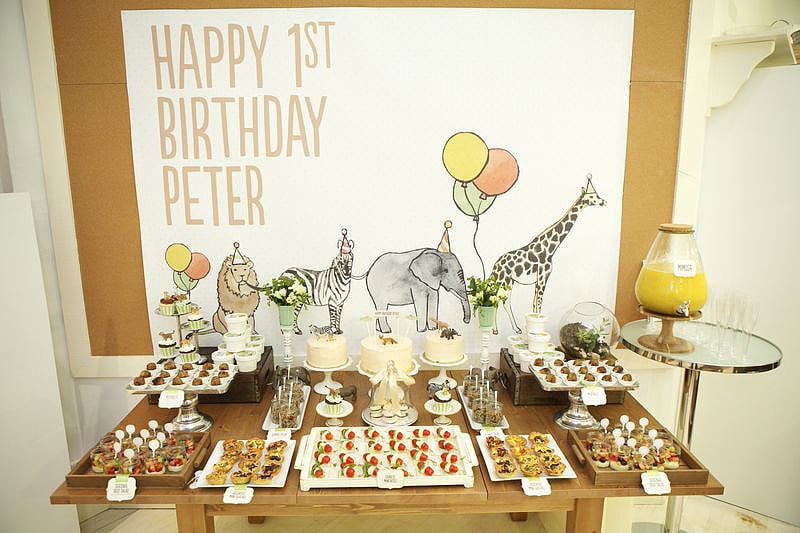 For Peter's first birthday in Manhattan, event designer Keren Precel planned an animal parade-themed party at Freshmade NYC, a kids' cooking studio and event space. Utilizing a mix of high (custom-printed goods) and low (plastic toy animals) elements, Peter's party struck just the right balance of being baby-friendly while still sophisticated.
"We started out using a watercolor drawing of an animal parade and an earthy color palette that included green, yellow, and orange," Keren said. For lunch, the Baby Bar was designed to display "nibble dishes" like soft pasta, fruits and veggies, and tea sandwiches. See how all the pieces of this kid-friendly party [12] came together.
A Whimsical Birthday Party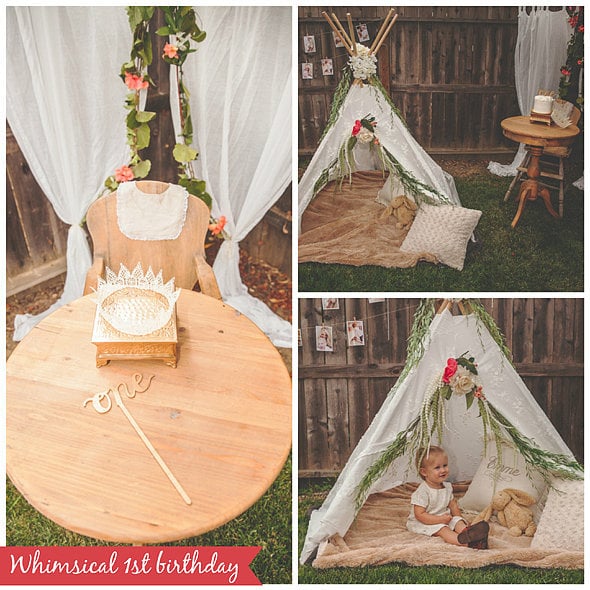 First-time mom and event designer and coordinator, Brittany Hitch, decided to celebrate her daughter's one year in style by turning her suburban-bungalow backyard into a sweet dream for Emme. The decor for the event was rustic yet elegant. Emme's dad also got in on the action by sewing and assembling her first teepee to play in for the day.
The birthday girl also had a throne for her birthday cake and the elegant white backdrop provided the finishing touches to this simple, whimsical party. Click to see how Emme's parents threw her soiree together [13].
A Sweet Bumblebee Birthday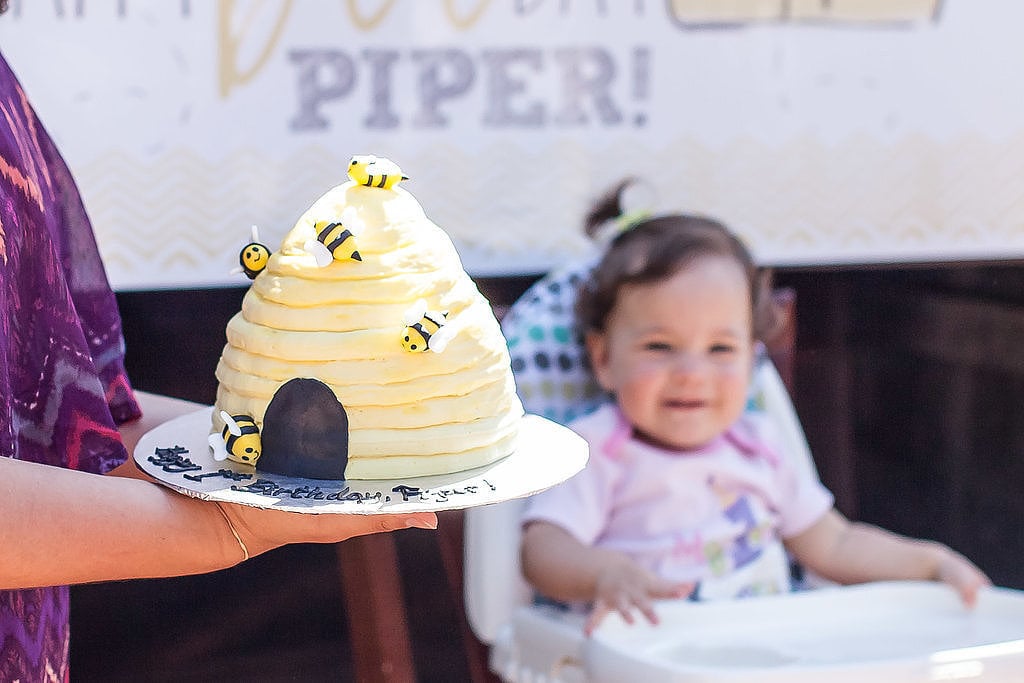 When Anna Nodolf of ADN Designs [14] was asked by her good friend to design a bumblebee-themed party for her little girl's first birthday, she delivered with the sweetest bumblebee birthday party we've ever seen! From the beehive to bee-themed desserts, the graphic designer and photographer wanted the party to be unbeelievable. Anna said, "We had so much fun coming up with the cute little bumblebee-themed sayings and playful vibe for the party." Click to see how they pulled off this sweet first birthday [15] and how the girl of the moment reacted.
A Supercool Race Car Party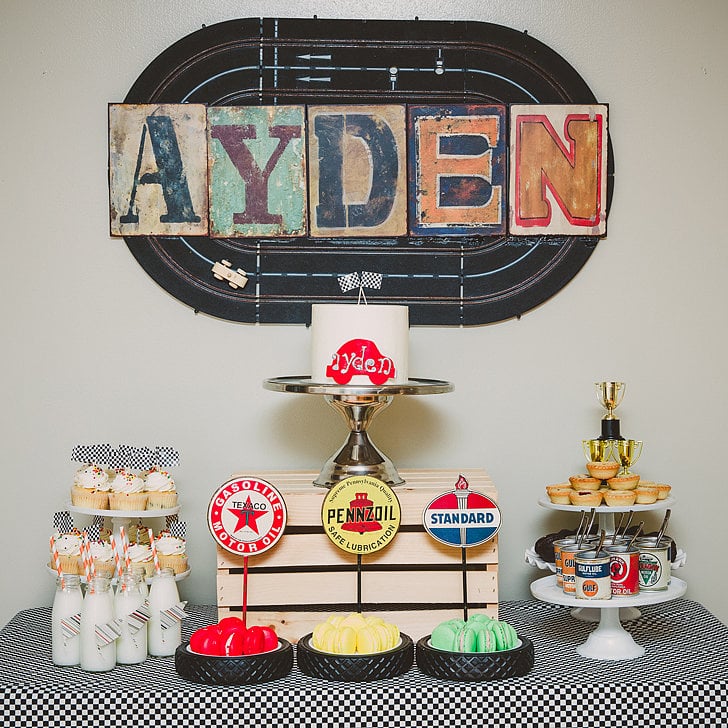 When photographer Gus Dizon and his wife found out their adopted son was on his way, their good friend Hilary Freeman of The Sugar Studio [16] immediately started planning the little one's first birthday party. Inspired by the birthday boy's dad's love of race cars and the parent's actual race to the hospital,
Hilary came up with a speedy theme.
Her vision included a "pit crew" play area, a race car decorating station, a license plate welcome sign, and even a "parking area for strollers." See how she pulled off this celebratory first birthday [17] without any bumps in the road.
Vintage Airplane Birthday Bash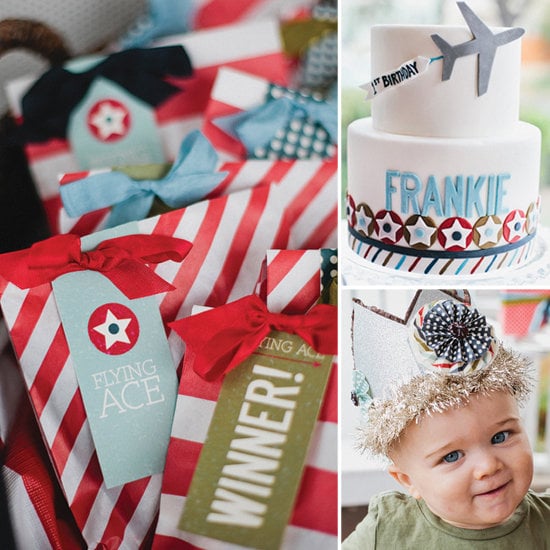 Spirits were soaring at Frankie's first birthday thanks to a vintage-airplane-inspired soiree. For one member of the Posh Paperie [18] team, her son's birthday included supercute plane-inspired snacks, some awesome parting gifts for party "passengers," and of course, some incredible paper details. Keep reading for all the high-flying details [19]!
A Very Hoppy Birthday Party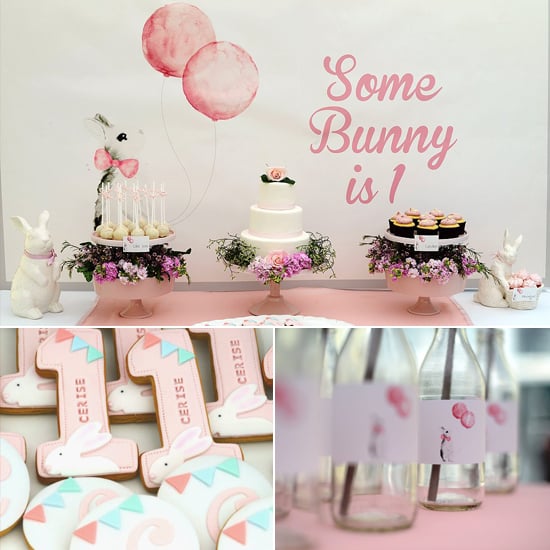 "The inspiration for Cerise's first birthday party theme, 'Some Bunny Is One,' came from her nickname, Bun," says her mom, party planner Jade McKenzie of Australia's Event Head [20]. "Ever since she was born, she has been like a cute little bunny rabbit, and her nursery is adorned with little woodland creatures; soft, girlie colors; and vintage finds. For her birthday, I definitely wanted the party to reflect my supersweet and loveable girl's first year!" Jade accomplished that through sweet bunny graphics from Etsy's Billy & Scarlet [21], lots of pink details, and some of the cutest bunny and woodland-themed cookies we've ever seen. Click here [22]to check out all the beautiful bunny details.
Source: Event Head [23]
An Office-Inspired First Birthday Party
Even if your little one's first job is still decades away, this office-inspired party is an adorable way to celebrate a first birthday! "The theme was inspired by this onesie my son, Lucas, wears that has a tie embroidered on it," says Jesi Celeita of My Dolce Designs [24]. "Every time he would wear it, people would comment how handsome he looked. So I knew I wanted to use ties and possibly mustaches. I started looking online and found another office party that I loved. So I put it all together: an office party with lots of ties, mustaches, and newspaper!"
Jesi went all-out with the theme, creating an incredible dessert table with an impressive cake, mustache cake pops, tie-shaped cookies, and much more. A water cooler beverage table, complete with milk bottles that said "don't talk to me before I've had my milk," is another element we're really loving. Keep clicking [25] for all the details, and get to work!
Source: My Dolce Designs [26]
A Celestial First Birthday Bash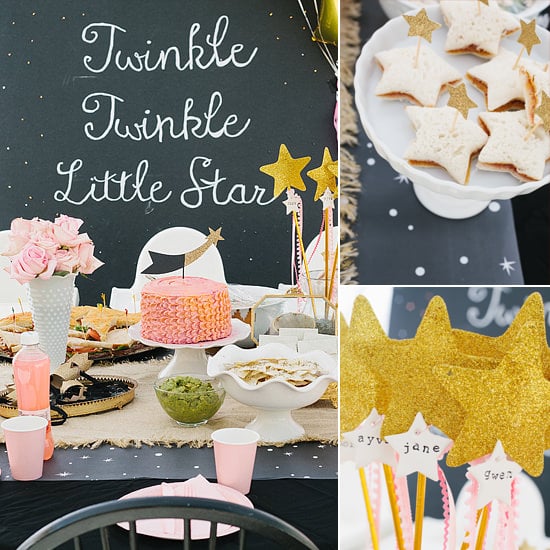 This "twinkle twinkle little star" first birthday bash might just be our ideal party: it looks small and pretty simple to execute, but it has a handful of special details, great style, and a mom who's not afraid to be totally real. "Although the party was a blast, the setup was crazy; I mean seriously so many things kept going wrong," says mom, interior designer, and blogger Kirsten Karson [27].
"I had two hours to get everything ready, which seemed like plenty of time, but I probably should have given myself six hours! The slight breeze kept making the balloons go crazy, and my twinkle twinkle sign fell on the table at one point, almost crashing into the cake! I think it was at that point that I turned to my friend Erin and said, 'let's just bag the whole thing and run away.' Luckily, my friends came to the rescue, and we got everything set up just in the knick of the time for the party to start. We may have had sweat pouring down our faces, but we were at least able to spend a good 30 minutes enjoying the party." And what a cute party it was! Check out all the details [28], which, we must say, look picture perfect!
Source: 6th Street Design School [29]
A Vintage Circus Meets Traditional Korean First Birthday Party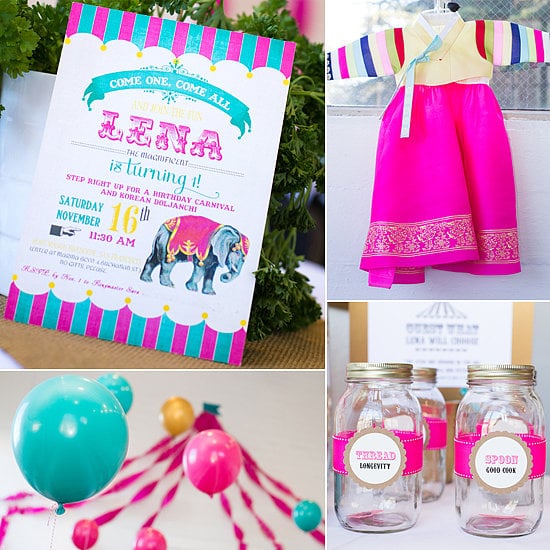 Come one, come all; this circus-themed first birthday bash mixes colorful vintage fun with some old-school tradition. "I have a thing for vintage circus fonts, which I discovered while designing a piece of wall art for Lena's nursery," says mom and POPSUGAR editor Sara Yoo. "And Lena — unlike her parents — has such an expressive, outgoing personality, we joke that every day is another opportunity for her to take center stage . . . or the center ring, in this case! A vintage carnival seemed like a great way to showcase her bright and bubbly nature while giving all the kids an environment to be creative and to have fun."
Sara and event planner Ashley Wong had a blast with the circus theme, but since Lena is half Korean, they also wanted to pay tribute to her ancestry with a Korean doljabi ceremony. The Korean tradition came about during a time when it was rare for children to survive the first year, so celebrations included a feast and a ceremony in which the baby chooses an item that is thought to foretell her future. Keep clicking [30] to see how Sara and Ashley seamlessly and beautifully mixed the two themes — and what little Lena's future holds.
Source: Jane Sha Photography [31]
A Winter Candy Land First Birthday
Is Mama's little angel a December baby? Planning a birthday during the holidays can be downright exhausting. You've got a million things to do — and buy! We're loving the idea of a Winter candy land theme for your baby's birthday, since you can have your holiday decor double as party decor — and save some time and money. That also means you can justify spending a little extra on holiday decor this year — it's for the baby's birthday!
Check out [32] this Winter candy-land-themed first birthday, and get inspired to put together your baby's own Winter wonderland.
Photos by Jackie Lindfors Photography [33] via Petite Party Studio [34]
A Modern Cowboys and Indians Birthday Party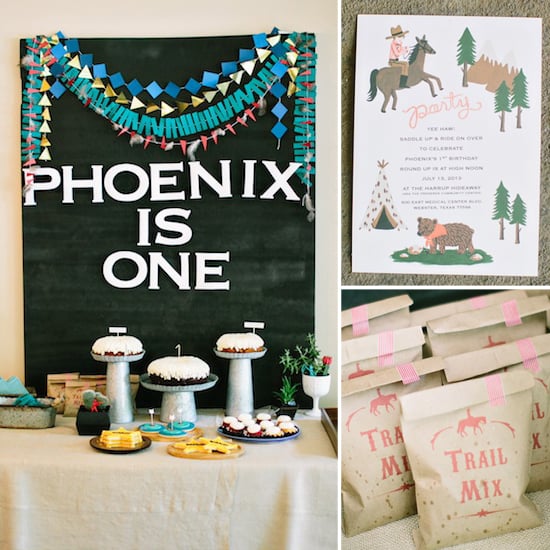 Social implications and controversies aside, cowboys, Indians, and little boys have gone together like bows and arrows or boots and spurs since our grandparents were kids. But this party, thrown by event designer Jennifer Laura [35] for her 1-year-old son, Phoenix, proves that the pairing can look incredibly modern — and violence-free. "The cowboys and Indians theme came about when I found these invitations [36] from Rifle Paper Co.," Jennifer says. "I mean anything that Anna Bond does is just amazing, so of course I had to snatch those bad boys up." But it isn't just the invites that make this party extremely stylish. Add in an awesome backdrop, details galore ("I just can't get enough," Jennifer says), and one adorable birthday boy (or should we say cowboy?), and you have the coolest kids' party in the Wild West. Click here [37] for all the details.
Source: Jennifer Laura Design [38]
Sweet and Saucy! A Bow-Filled First Birthday Party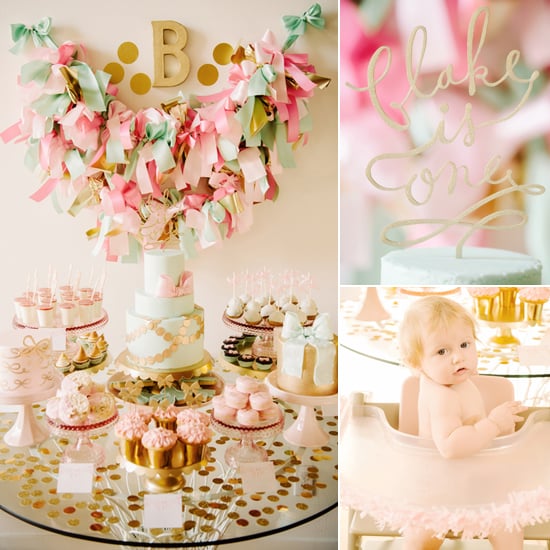 Pastry chef Melody Brandon of Sweet & Saucy Shop [39] has been the sugar-loving mind behind some of our favorite parties ever, so when Melody's little lady Blake celebrated her first birthday, of course she had to do it with sweet and saucy style!
"I have always loved putting bows and headbands on Blake since the day she was born, so I thought the Bows For Blake theme would be fitting and lots of fun," Melody says.
Melody went big with the bow theme, enlisting her sister to help create an incredible bow backdrop, dressing up almost all the amazing dessert selections with bows, and, of course, putting a bow on Blake! Add in the pink-and-gold color scheme, a gorgeous photo display of Blake's first year, and one happy birthday girl, and you have one sweet party. Click here [40] to check out all the details.
Photo by Krista Mason [41] via Sweet & Saucy Shop [42]
A Colorful Up-Inspired Party With DIY Details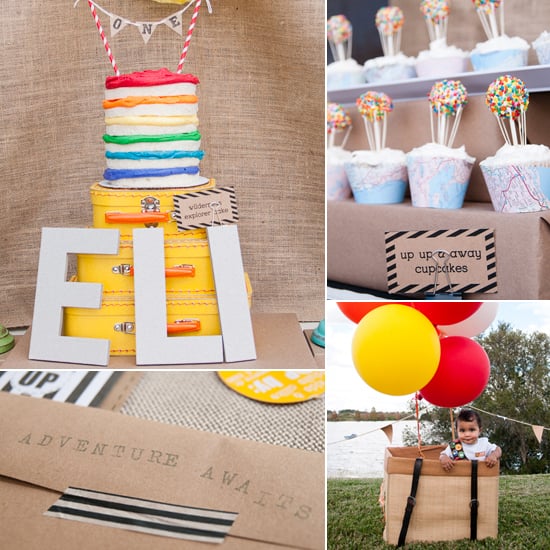 This isn't the first time we've fallen for an Up-inspired birthday party [43], but we're completely smitten with the first birthday party created by Siuleth Rivera of stationery and event styling company Eleven Note [44] for her son, Eli.
Colorful DIY [45] details — including a rainbow-frosted layered cake, bright animal magnet favors, and a fingerprints-as-balloons guest "book" — abound at this creative bash. "Up is about adventure and love," Siuleth says, "and little Eli is both our greatest adventure and our greatest love!" Click here [46] for all the details.
Source: LH Photography [47]
A Dreamy Under-the-Sea Birthday Party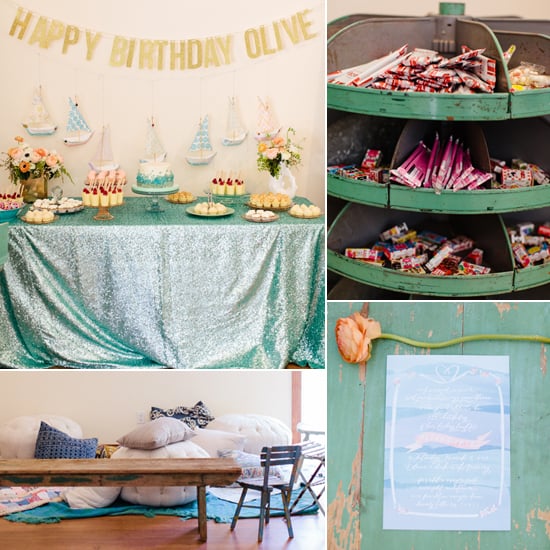 What do you get when you put together an event planner mama (Angel Swanson of Love & Splendor [48]), the Korean tradition of a doljanchi (an over-the-top first birthday celebration), and a whimsical under-the-sea party theme? Party perfection! This party, thrown for little Olive, has something for everyone: a baby lounge, kid-friendly entertainment including an amazing bubble show, plenty of sweet treats, and gorgeous decor in shades of mint and pink. Click here [49] to check out all the details of this dreamy party!
Source: Love & Splendor [50]
Frankie's Vintage Airplane Birthday Bash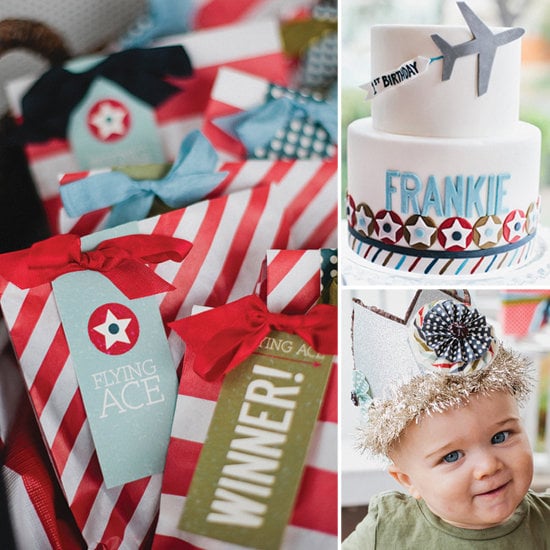 We love an adorable first birthday party, and the vintage-airplane-inspired soiree thrown by one-half of the team behind Posh Paperie [51] for her 1-year-old son, Frankie, is certainly no exception. Featuring supercute plane-inspired snacks, some awesome parting gifts for party "passengers," and, of course, some incredible paper details, this birthday is totally inspirational. Click here [52] for all the high-flying details!
Source: Posh Paperie [53]
A Modern Ice Cream Social First Birthday Party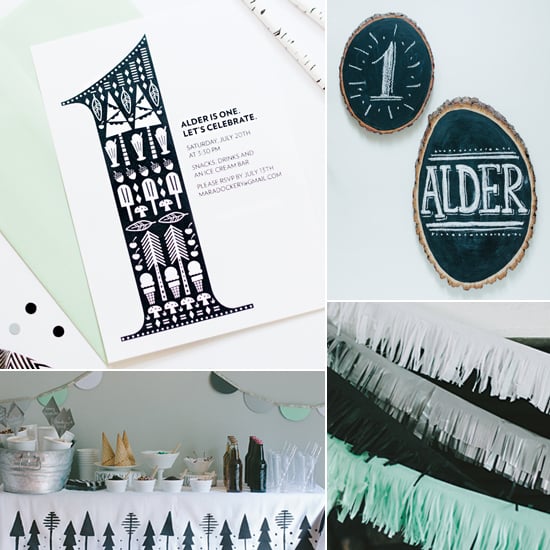 Graphic designer Mara Dawn Dockery [54] is one stylish momma, so when it came time to plan her son Alder's first birthday, no typical party would do. "We decided to do something a little different than the typical Summer barbecue and opted for an ice cream party," Mara says. "Since Alder is named after a type of tree, I decided to work a bit of a woodland theme into the party but wanted to keep things more in line with the simple, Scandinavian look I gravitate toward."
"I think the clean lines play well with the cool tones of ice cream. The look is modern and graphic yet is also somewhat reminiscent of a retro ice cream parlor. I deem it sugar, Scandinavian spice, and all things nice." DIY [55] decor, delicious ice cream flavors (cake batter, honey lavender, salted caramel, and strawberry basil), and one cute birthday boy add up to a simple but memorable party that was as much fun for the adults as it was for the babies! Click here [56] to check out all the details.
Source: Mara Dawn [57]
Martha Stewart's Sophisticated and Sweet Animal Party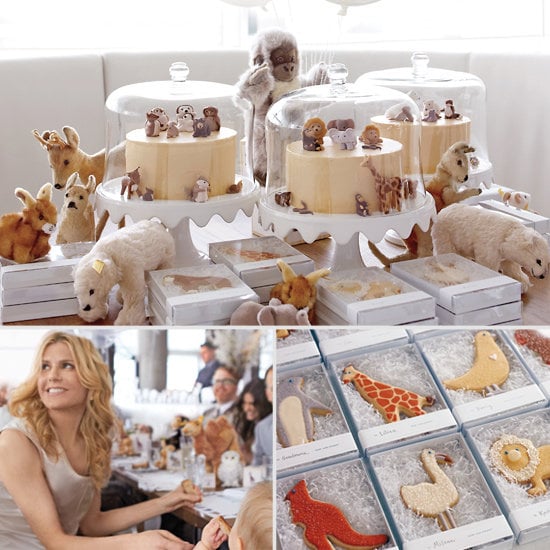 It's no surprise that little Jude Stewart's first birthday celebration wasn't filled with the typical smash cake and bumbling clown. When you're Martha Stewart's first (and only) granddaughter, your party is sure to take a more sophisticated route (just peek into the tot's Arctic-inspired bedroom [58] and a colorful playroom). So when it came time to plan Alexis Stewart's daughter's first birthday — just two days after she welcomed her son, Truman — Grandma put her special spin on it and created a whimsical stuffed-animal-themed party [59].
Photos by Francesco Lagnese. Courtesy of
Martha Stewart
Living. Copyright © 2012. Originally published in the October issue of
Martha Stewart Living magazine
[60]
A Colorful Summer Circus First Birthday Party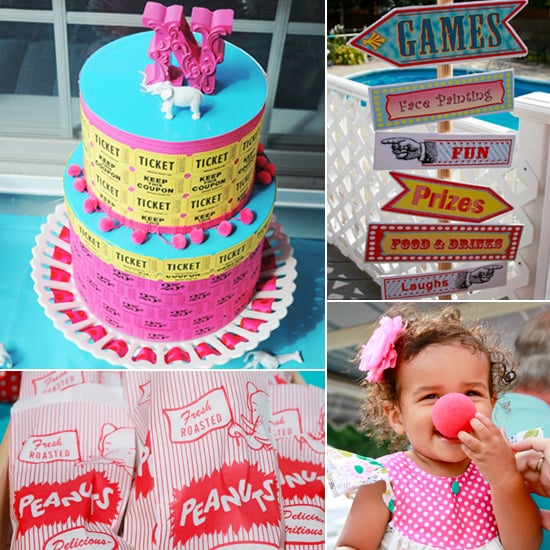 Mom, blogger, and DIY [61] queen Tiffany DeLangie of The TasteFull Life [62] went with a circus theme for her youngest daughter Nadia's first birthday, and bright and bold was the order of her day. Hot pink, yellow, and aqua showed up on a cool ticket-wrapped faux cake, on Nadia's special seat of honor, and on the DIY elephant backdrop. Cool decor; circus-themed party games; face painting; and one adorable, cake-loving birthday girl make this party an elephant-size hit! Click here [63] for all the details.
Source: The TasteFull Life [64]
A Safari Birthday Party For an Animal-Lovin' Little Lady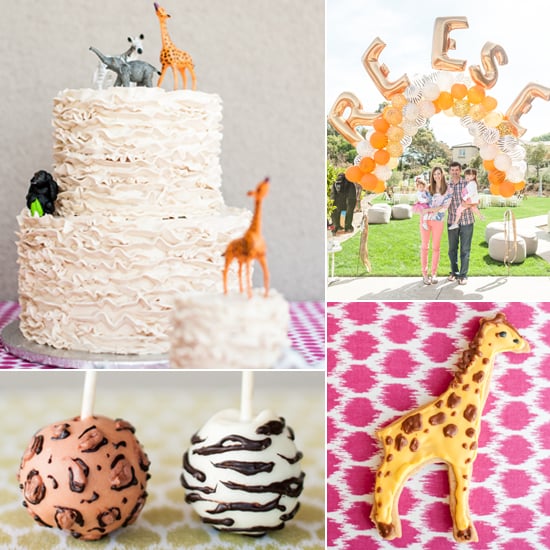 We see a lot of adventurous birthday party themes for little boys, but who says girls can't also get in on the action? For little Reese's first birthday bash, her parents decided a safari theme was the only way to go.
"Reese loves animals," says Kelly McLeskey-Dolata of A Little Savvy Event [65], the party planners hired to execute the kiddie event. "The greatest activity of the day had to be the live safari animals. Reese loved seeing the snakes and baby alligators, and it added an unexpected and lively aspect to the day." Click here [66] to see all the sweet safari details!
Source: A Little Savvy Event [67]
A Chic, Tiffany's-Inspired Party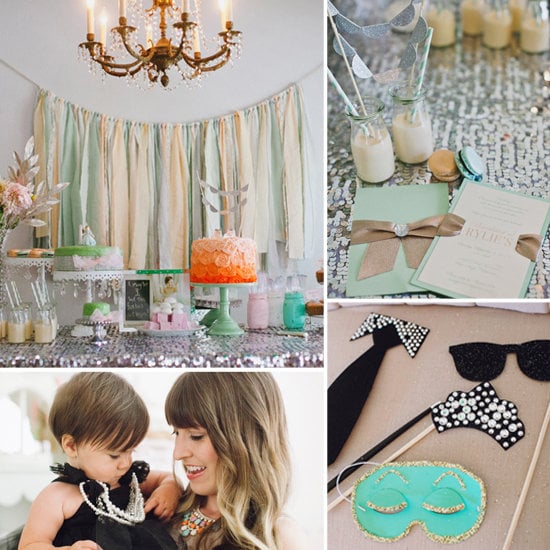 This Breakfast at Tiffany's-inspired party [68] for 1-year-old Riley manages to be both girlie and chic, much like style icon Audrey Hepburn herself. "I wanted something that was ultimately fun and glamorous, and nothing was better than Breakfast at Tiffany's!" says Riley's mom, Cassidy Freitas. "Also, the theme would combine two of my all-time favorite things: diamonds and breakfast. I felt the theme had been done before, and I wanted to change it up and make it a little more youthful, so we went with the color scheme of mint, peach, and silver instead of the traditional Tiffany blue." A stylish DIY [69] photo booth, a yummy breakfast buffet, and one scrumptious birthday girl dressed as Holly Golightly add to the appeal of this simply stunning party.
Source: En Point Photography [70]
A Modern Chevron, Elephant, and Balloon First Birthday Party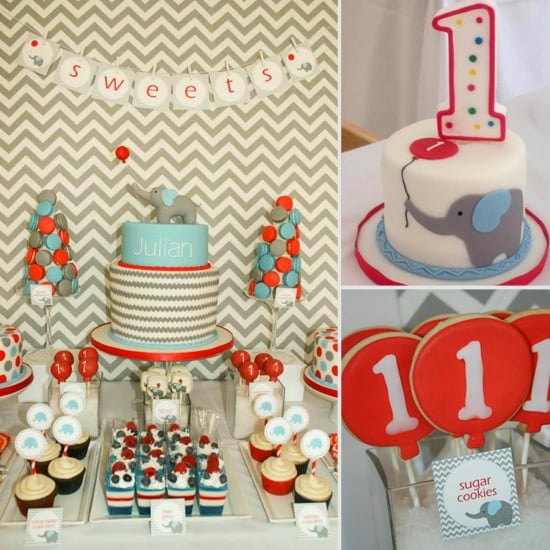 Magdalena Czerny of Oh So Chic Celebrations [71] gladly rose to the challenge when tasked with creating a modern red, gray, and blue party for 1-year-old Julian. "His mommy is a wonderful lady with a great sense of style," Magdalena says. "When I showed her the chevron fabric I had just purchased, she loved it. We found an invitation with an elephant, a red balloon, and a chevron pattern, and the rest of it just flowed from that." We're loving the modern color combination, along with the adorable cake, macaron towers, and awesome balloon cookies and cake pops. Click here [72] to check out all of this party's awesome details!
Source: Oh So Chic Celebrations [73]
A Glitter-Filled Silver and Peach Party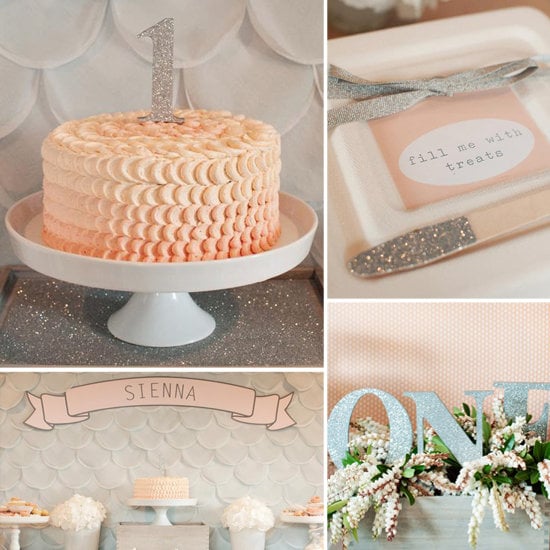 Melanie Holt of New Zealand-based event design company All the Frills [74] designs gorgeous, whimsical events for grown-ups, so it's no surprise her kids' parties are equally lovely and elegant. That sophistication — combined with a heavy dose of sparkle — had us falling head over heels for the adorable peach-and-silver party Melanie planned for her 1-year-old daughter, Sienna. "Almost everything turned out as I expected, and the color scheme was a perfect mix of silver and peach," Melanie says. "Peach wasn't the easiest color to find, but it was well worth the search!" Click here [75] to see all the beyond-beautiful details, including the amazing DIY [76] scalloped backdrop.
Source: All the Frills [77]
An Election-Inspired Party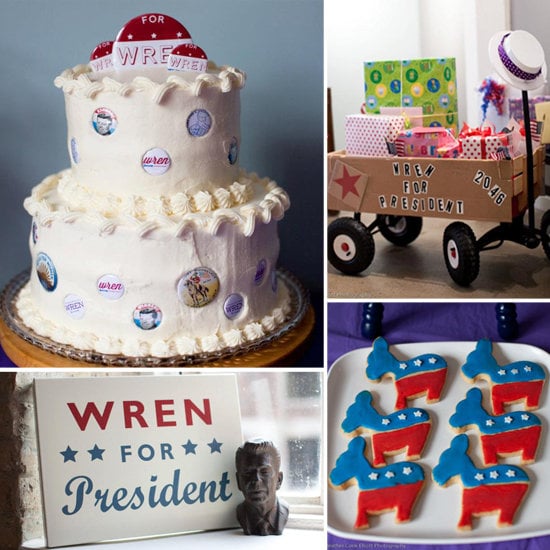 This election-inspired party [78] thrown for 1-year-old Wren is getting our vote for creativity and cuteness. "We've discussed her platform at length, and I'm proud to endorse her as the bipartisan, all-American candidate for people who believe we should all just get along. She's No. 1 in 2012," says her mom, Heather Cook Elliott [79], a photographer who also created Wren's global, industrial nursery [80]. Full of presidential details, an awesome cake dotted with campaign buttons, and one adorable candidate, Wren's first birthday bash is pure political genius!
Source: Heather Cook Elliott [81]
A Bold, Candy-Colored Birthday Party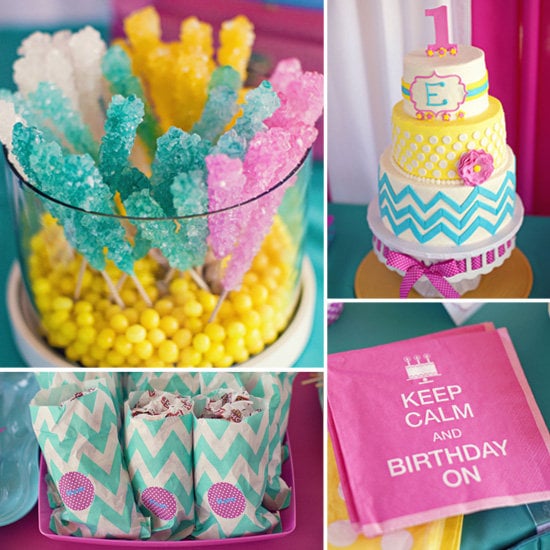 A summertime bash calls for bright colors and outdoor games, and this first birthday party for adorable little Emily didn't disappoint on either front. Full of candy colors and treats, bold patterns, and plenty of backyard fun, this is one party that's guaranteed to put a smile on your face. "I found my inspiration to the party when I spotted the invite on Etsy [82], and I instantly fell in love with the modern chevron pattern and color scheme," says Emily's mom, Jill Hill. "This was my first time throwing a birthday party, so I just decided to have fun with it — make it bright with colors and fun with lots of kids' activities." Click here [83] for all the bright birthday details!
Source: Wendy Updegraff Photography [84]
A Birthday Garden Party Starring Peter Rabbit
We're totally smitten with this sweet garden setting, clever desserts, and cute birthday boy, 1-year-old Henry. "When I started brainstorming ideas for Henry's birthday, the idea to use Peter Rabbit was almost a given," says his mom, Alex Dovel of Alex Michele Photography [85]. "Henry is such a little Peter Rabbit himself: spunky, mischievous, far too clever for his own good, and totally naughty in every single, perfect way."
Alex wanted Henry's first birthday party to be special, "filled with color and sweetness, perfect little details, treats and laughter, awesome party favors, and a few games and surprises! Yes, I even got him a real Peter Rabbit! I wanted to celebrate my little bunny with happiness and style," Alex continues. She definitely succeeded! Click here [86] for all the special, sweet, and "hoppy" birthday details!
Source: Alex Michele Photography [87]
A Little Man Retro Manhattan Party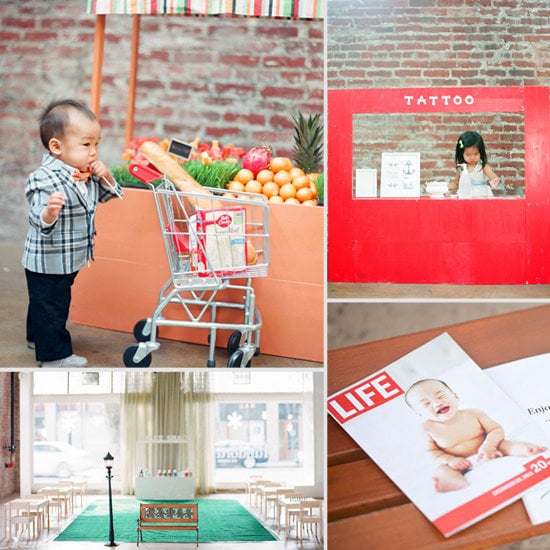 For a globetrotting tot, the sky's the limit when it comes to a first birthday party. Caroline Tran [88], a Los Angeles-based photographer, has traveled the country with her tot in tow and paid tribute to their favorite destination for her little one's soiree. With '60s-era Manhattan all the rage — thanks to the likes of Mad Men — she set out to create a miniaturized version of the Big Apple. Using her father's carpentry talents and the expertise of Grand Soirées [89] and Skybox Event Productions [90], Caroline crafted her own little piece of NYC in the heart of LA. Click here [91] to see all the details.
Source: Caroline Tran [92]
It's a (Lovely) Small World Party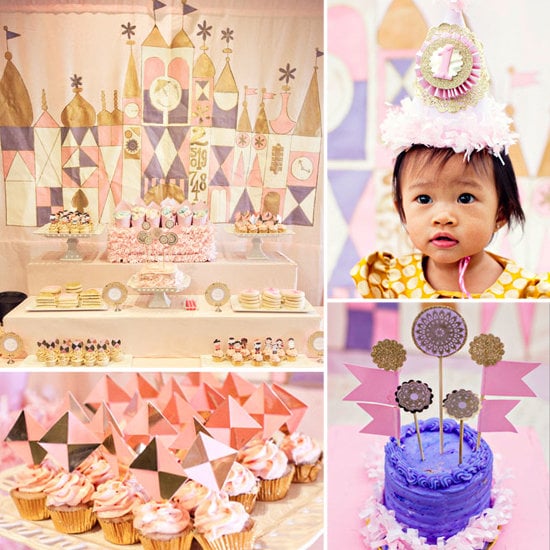 Created by Linsey Latimer's Lux Events & Design [93] for the first birthday party of photographer Kristine Atienza [94]'s daughter Eva, the It's a Small World-inspired party [95] is full of pink, purple, and gold details. "Kristine choose It's a Small World as the theme because it was the birthday girl's first-ever ride at Disneyland and because the family loves to travel," Linsey says. "I took all my inspiration for this party from the Small World castle. I just love how all of the elements played off of the building!"
Source: Kristine Atienza [96]
A Blue Ombré Surf Birthday Brunch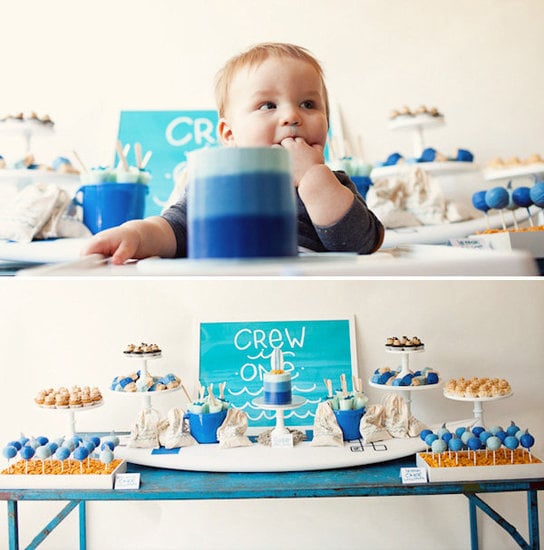 With fun food stations like cereal and pancake bars and a cute drink area featuring chocolate milk shots for kiddos and mimosas for their chaperones, this party really has everything, in terms of both food and decor. Ombré, hand-painted place settings and cutlery, a kraft paper photo collage, and shark-fin cake pops are all inspirational ideas, and if you need any other proof that this is one lucky 1-year-old, then check out his new surfboard on the dessert bar; it was specially made for the birthday boy as a present from his mom and surf-loving dad. Click here [97] for all the amazing details!
Source: Hostess With the Mostess [98]
Cute, Camping-Inspired Party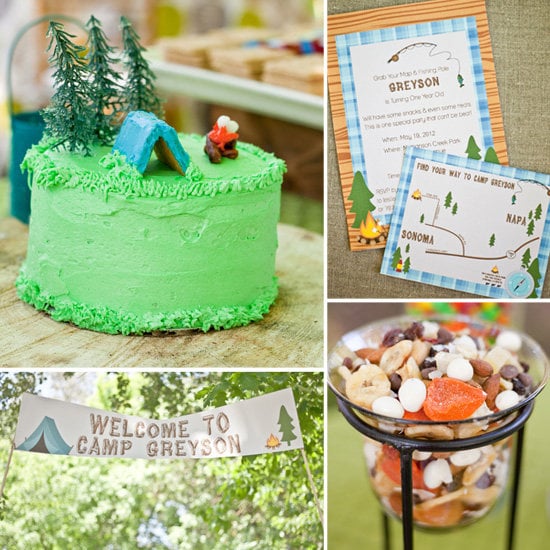 Summer is the season for camping, and A Little Savvy Event [99] used every kid's favorite outdoor overnight experience as a jumping-off point for this cute camping first birthday party. Thrown for little Greyson, this party (from the brains who also came up with this sweet puppy birthday party [100] and this vintage-map baby shower [101]) is superclever, using a tree round as a cake stand, fun paper products and signage, and lots of yummy, camping-inspired eats. My favorite element? Mini bundt cakes in two flavors: s'mores and pancake with maple-syrup buttercream and bacon topping. Click here [102] for all the camp-tastic details.
Source: A Little Savvy Event [103]
A Pretty in Pink and Gold First Birthday Party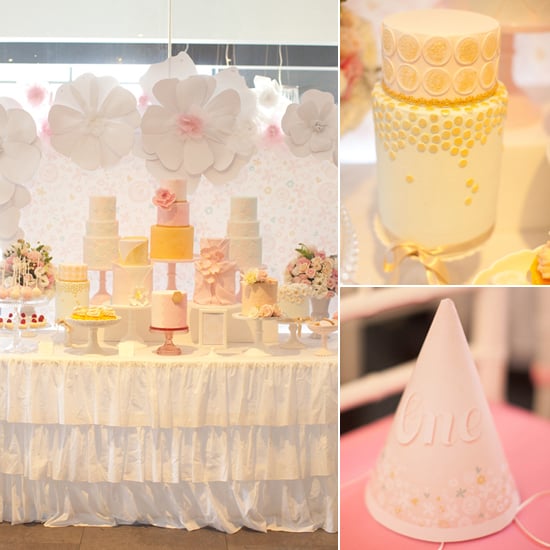 Sometimes "pretty" is enough of a birthday party theme, as proven by this gorgeous flower- and cake-filled birthday party thrown by Leanne Ambrogio of Australian event company Sweet Style [104] for 1-year-old Mariette. "The color palette was soft pinks and blues with a hint of gold, which always look so elegant together," Leanne says. But the stars of this show (beyond the birthday girl, of course) were the nine — yes, nine! — gorgeous birthday cakes, all uniquely decorated with beautiful blooms. Click here [105] to find your favorite and check out all the other lovely details at this oh-so-sweet soiree.
Source: Sweet Style [106]
Four-Leg-Friendly Birthday Party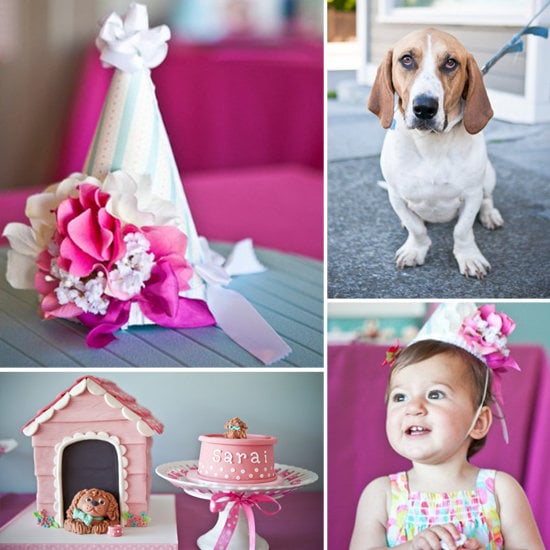 Bow wow indeed! You don't have to have a pet dog at home to love them — but it certainly helps for the pictures! This first birthday party, thrown at Modern Cookie in Marin, CA, by A Little Savvy Event [107] wowed us with its sweet paper goods [108], cute puppy-inspired cakes [109], and awesome gift bags that were stocked with faux-fur hats [110]! Click here [111] to check out the puppy power!
Source: A Little Savvy Event [112]
Magical Winter Wonderland Party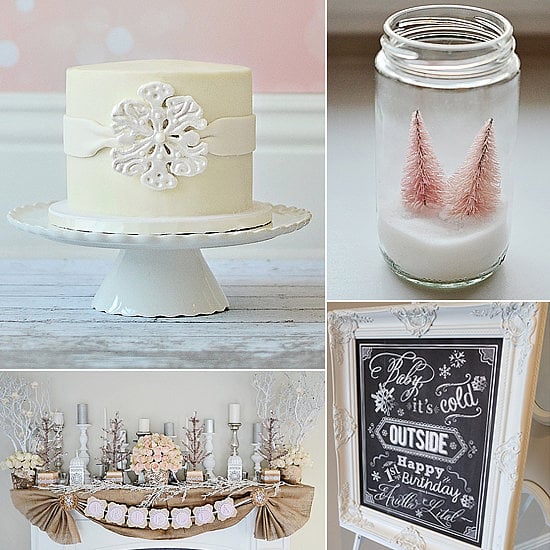 With gorgeous and cozy details including Manzanita branch centerpieces, glittery snowflakes, a sweet hot cocoa bar, and lots of sparkly silver and pink trees, this Winter Wonderland party [113] makes us wish it was Winter all year round (minus the freezing temperatures, of course). "I didn't want to re-create those typical Winter parties with penguins, polar bears, and igloos. Instead, I had the idea in my head for a rustic, shabby-chic party that had the Winter feel but was a bit more girlie and sophisticated — just like our little girl!" says Emily Klaparda, mom of two and the creative mind behind Emily K Paperie.
Source: Emily K Paperie
A Backyard, Bedtime-Inspired First Birthday Party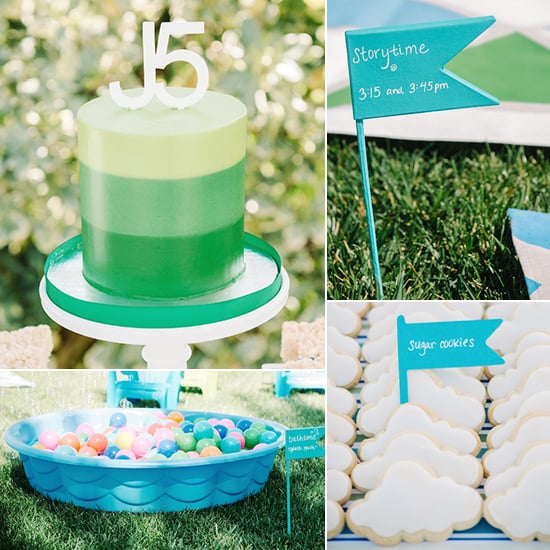 Christina Wright of Simply Modern Weddings [114] chose to theme her son's first birthday bash around pajamas and bedtime stories, her son James's favorite thing, and set up a "bathtub" and story-time stations.
"We've been reading James (also known as J5, since he's the fifth) bedtime stories since before he was born, and it's become something very special," Christina says. "It's the time where we wind down from playing, he snuggles up in our arms with his cozy pajamas, and we are then transported to a land of imagination in his stories." Click here [115] to check out all the details of this creative party, which takes bedtime outside!
Source: Simply Modern Weddings [116]
A Blabla-Inspired First Birthday Party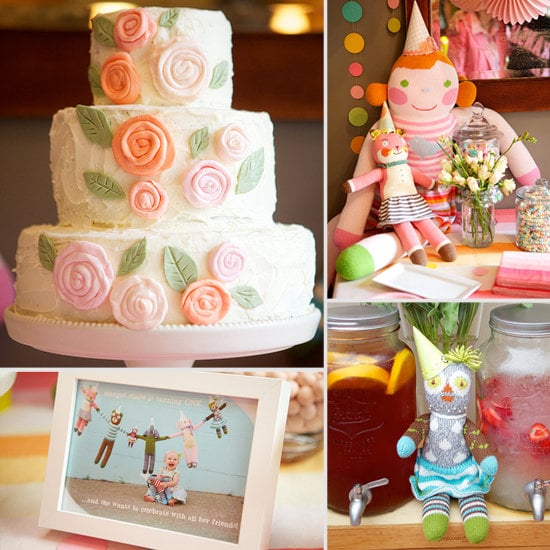 Blabla's adorable stuffed animals and dolls are among our favorite kid finds ever [117], so we were instantly enamored when we discovered the Blabla-themed birthday bash thrown for 1-year-old Margot. The pastel-popping party was dotted with Blabla dolls wearing birthday hats! "The charming toys were baby gifts, Christmas gifts, Easter bunny gifts, and 'just because' gifts . . . and she adores them all (and so does Mom)!" says photographer and family friend Lucinda Newby [118]. "The fun palette and cute striped wardrobe of the classic dolls made a colorful backdrop for a celebration." We love the idea of taking a simple, already-on-hand inspiration point and running with it, and we bet you'll agree after you check out this party [119].
Source: Portraits by Lucinda [120]
A Parisian Red-Balloon Party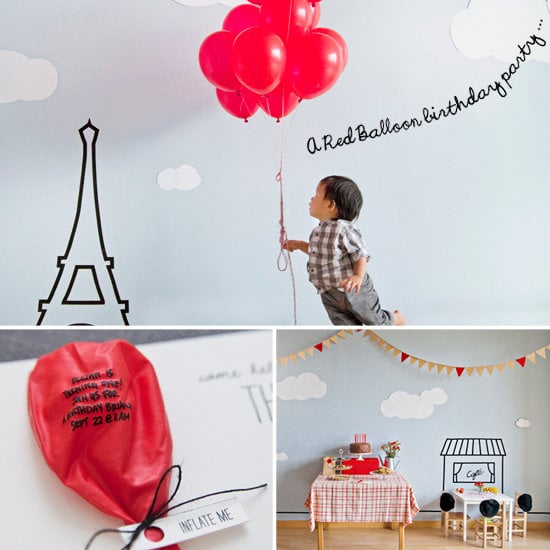 Becca, the design-minded creator of the cool blog Lavender's Blue [121], has an international family. So to help celebrate her nephew's first birthday, she left her island home of Grenada and traveled to Beijing to throw a party with a French theme (and one cool Chinese tradition thrown in for good measure). "My sister is a major Francophile. She lived there for a year, fell in love with her husband there, and just returned there for the first time this past Spring with Elijah! How appropriate it is that the inspiration for Elijah's first birthday party came from the classic French film The Red Balloon?" Becca says. With an awesome invitation; simple, chic party details; and a heavy dose of whimsy, this red-balloon party [122] can be described in two words: c'est magnifique!
Source: Lavender's Blue [123]
Vintage Tricycle Birthday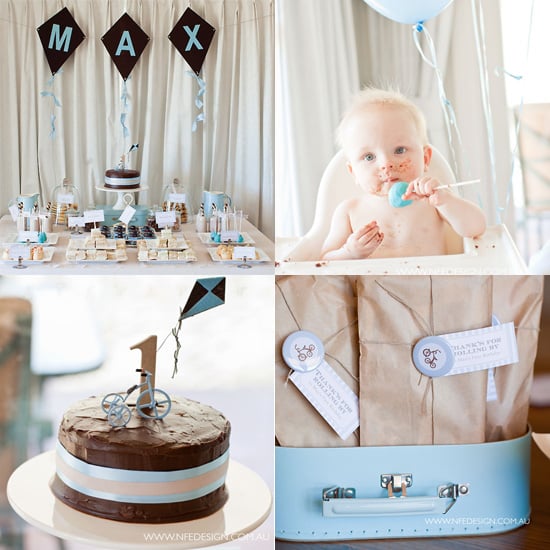 Evoke nostalgia with a vintage-inspired birthday. Custom-printed party decorations and labels make this bash even more special.
Source: Style Me Gorgeous [124]
Pretty in Pink!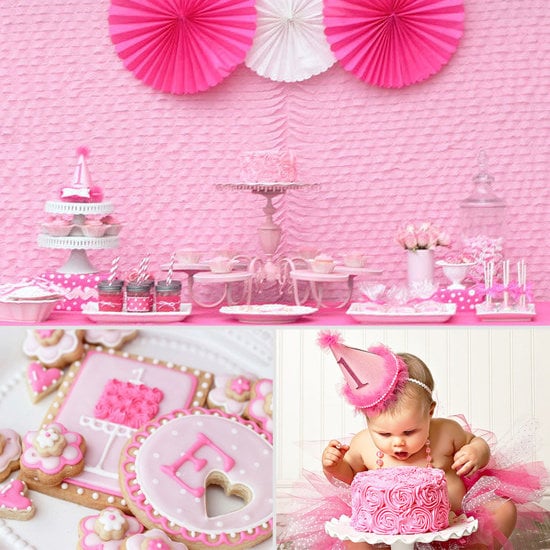 When we found the pink-inspired bash Jamielyn Nye of I Heart Nap Time [125] recently threw for her daughter's first birthday [126], we fell in serious love. Emmalyn's beautiful birthday party is as girlie as it gets, with a sweet dessert table, the prettiest rose-covered cake, and one seriously adorable birthday girl. While the party offers lots of inspiration (check out the chandelier-turned-cake-stand), there are many completely doable ideas (lemonade in mason jars, a cute ribbon border for the dessert table) for mamas who weren't blessed with Jamielyn's awesome creativity. Click here [127] for all the pink, girlie party perfection!
Source: I Heart Nap Time [128]
One Year in a Flash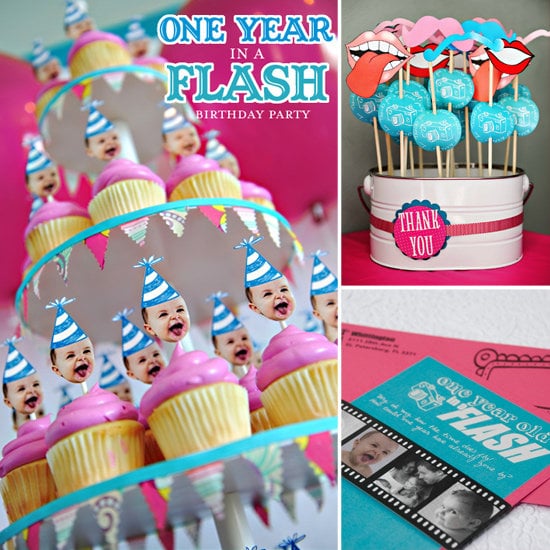 Baby's first year of life flies by in a flash — and what better way to celebrate a first birthday [129] than to take a look back at the past 12 months? One Year in a Flash was this creative mama's theme for her daughter's first birthday party [130]. From custom invitations to one-of-a-kind portrait party favors, every detail of this "flashback" party was supersweet! Click here [131] to see how she put it together and get inspired to celebrate your little one's first year of life.
Source: Hostess With the Mostess [132]
Vintage County Fair Party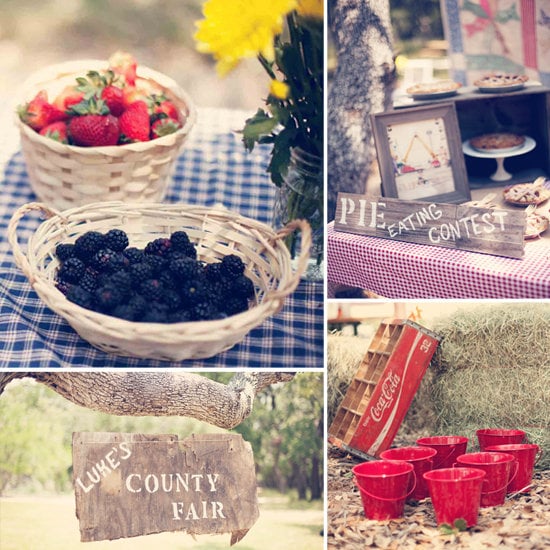 When it came time to throw her son's first birthday party, PR pro Tori Johnson [133] couldn't hold back. "When you are a mom who does events for a living, you can pretty much guarantee that you are going to go over the top for your firstborn's first birthday party," she says. "And that is exactly what I did! I just couldn't help myself!" The vintage-county-fair-inspired party contained an incredible amount of details, including cleverly named food and drink tables ("Farmers Market," "Bake Sale," "Pie-Eating Contest"); classic fair games like the beanbag toss, ringtoss, and goldfish bowl game; and adorable extras like gingham tablecloths, mason jars, and hand-painted wood signs. Click here [134] to get inspired!
Photos by Rhobin Tudyk [135] via The sTORIbook [136]
Ice Cream Social Birthday Party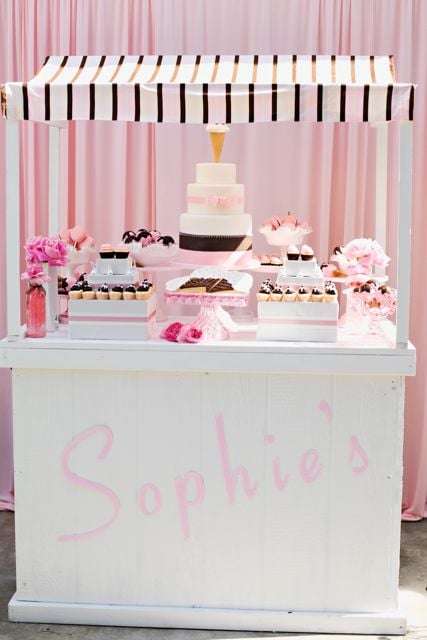 Nothing compares to the sweetness of a little baby girl — but an ice cream social first birthday party comes pretty close! Set the stage with an ice cream and cake bar for your little guests.
Photo by Trista Lerit [137] via Grand Soirees [138]
Nautical Pirate Birthday Party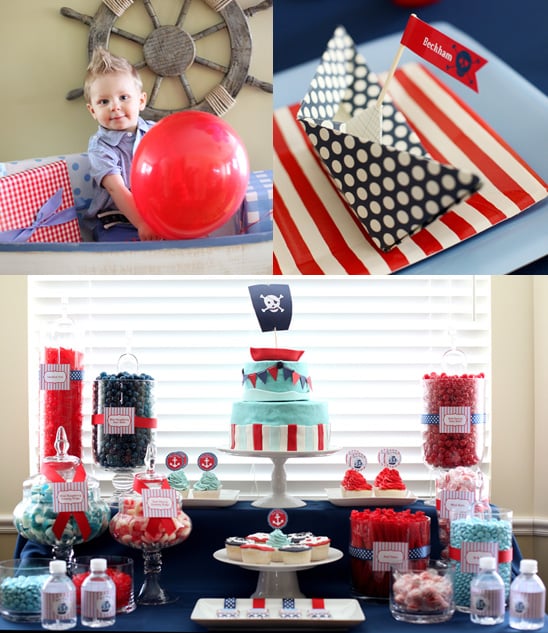 Ahoy, mateys! A blue-and-red "sweets bar" with color-coordinating candies, cupcakes, and a pirate birthday cake are a must have for a nautical pirate birthday party.
Source: Pink Piggy Design [139]
Modern Elephant Balloon Birthday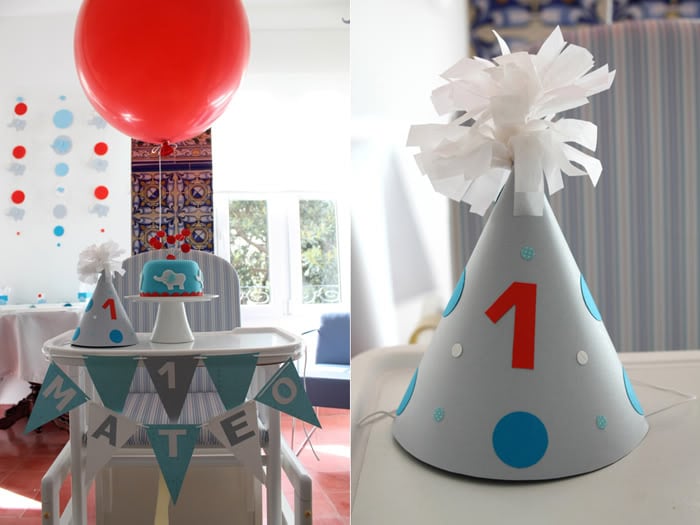 Can a first birthday party be modern, fun, and sophisticated all at once? Oh, yeah! All the party details were handmade — from the garlands to the party hats — and the birthday boy had his own little minicake.
Source: Dulce Sobre Mesa [140]
Peace, Love, and Owls Birthday
Look "whooo" is turning 1! Bright funky patterns, tulle, and plenty of owls made for a hoot of a party.
Source: Sweets Indeed [141]
Girlie-Chic Animal Parade Birthday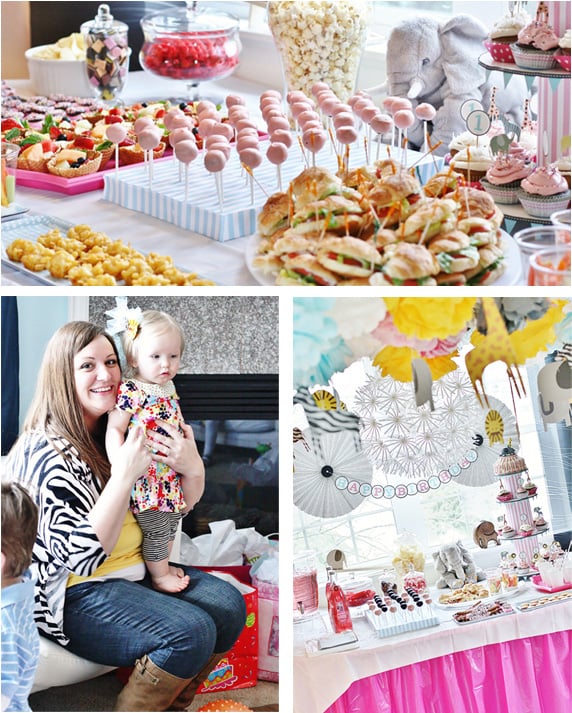 An animal parade birthday party gets a girlie makeover for a swingin' — and fabulous — first birthday bash!
Source: Paper & Ink [142]
Curious George Birthday Party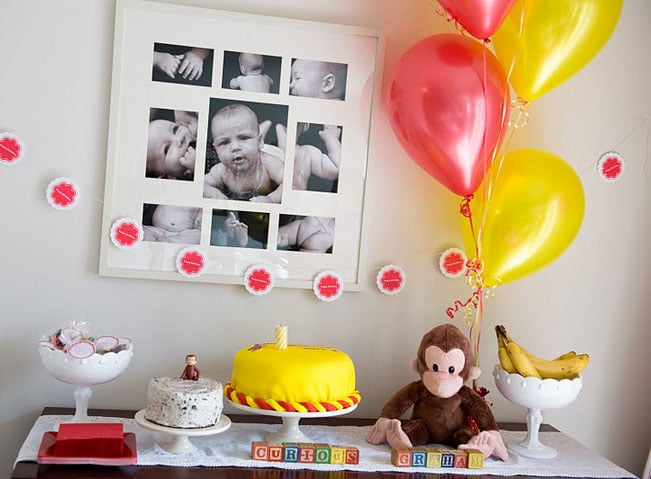 Let's go bananas! A Curious George-themed birthday is easy to pull off. Red-and-yellow party decorations and a few plush monkeys are all you need.
Source: Living the Swell Life [143]
A Colorful Birthday Parade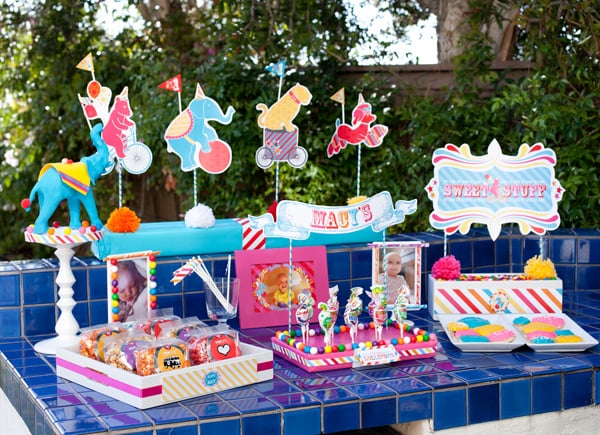 Take a hint from a party planning pro! Jennifer Sbranti of Hostess With the Mostess [144] threw a colorful circus/carnival-themed bash with eye candy — and real candy! — as far as the eye can see for her daughter's first birthday.
Source: Hostess With the Mostess [145]
Bee-Themed First Birthday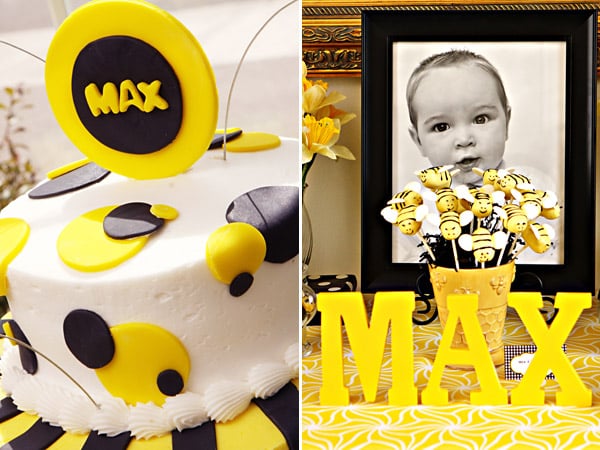 Bumble bee cake pops [146] and a custom black-and-yellow cake are just two of the many buzz-worthy treats available at this bee-day party!
Source: The Carver Crew [147]
Happy Birthday, Sunshine!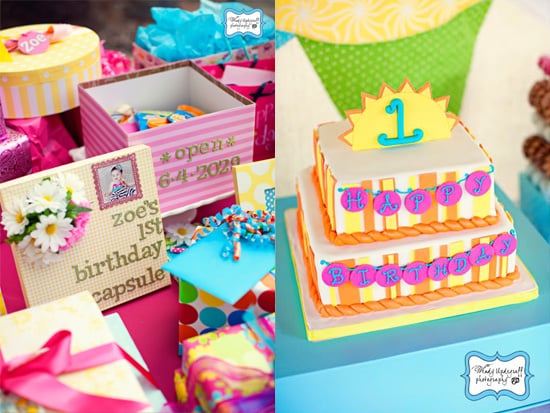 A chic and happy soiree to celebrate the light in your life! We love the special first birthday time capsule idea.
Source: Wendy Updegraff Photography [148]
It's a Shark Attack!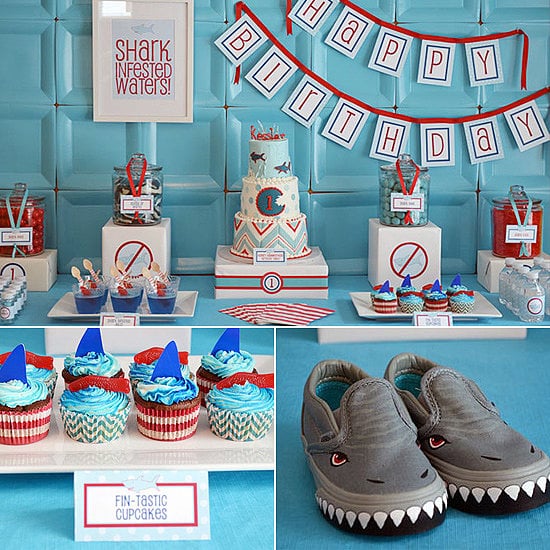 Happy Shark Week! In honor of one of the most popular weeks on the Discovery Channel, we're making the great white shark a bit more kid-friendly. Ready to witness the least scary shark attack known to man? Then plunge into the fin-infested waters of this adorable baby boy's first birthday party. Styled by his mom, Rachel, of PARTePRINTS [149], the event featured tons of thoughtful details, like bottled "ocean water" and shark tooth necklaces. Click through to see how whole party came to life!
Charlotte's Web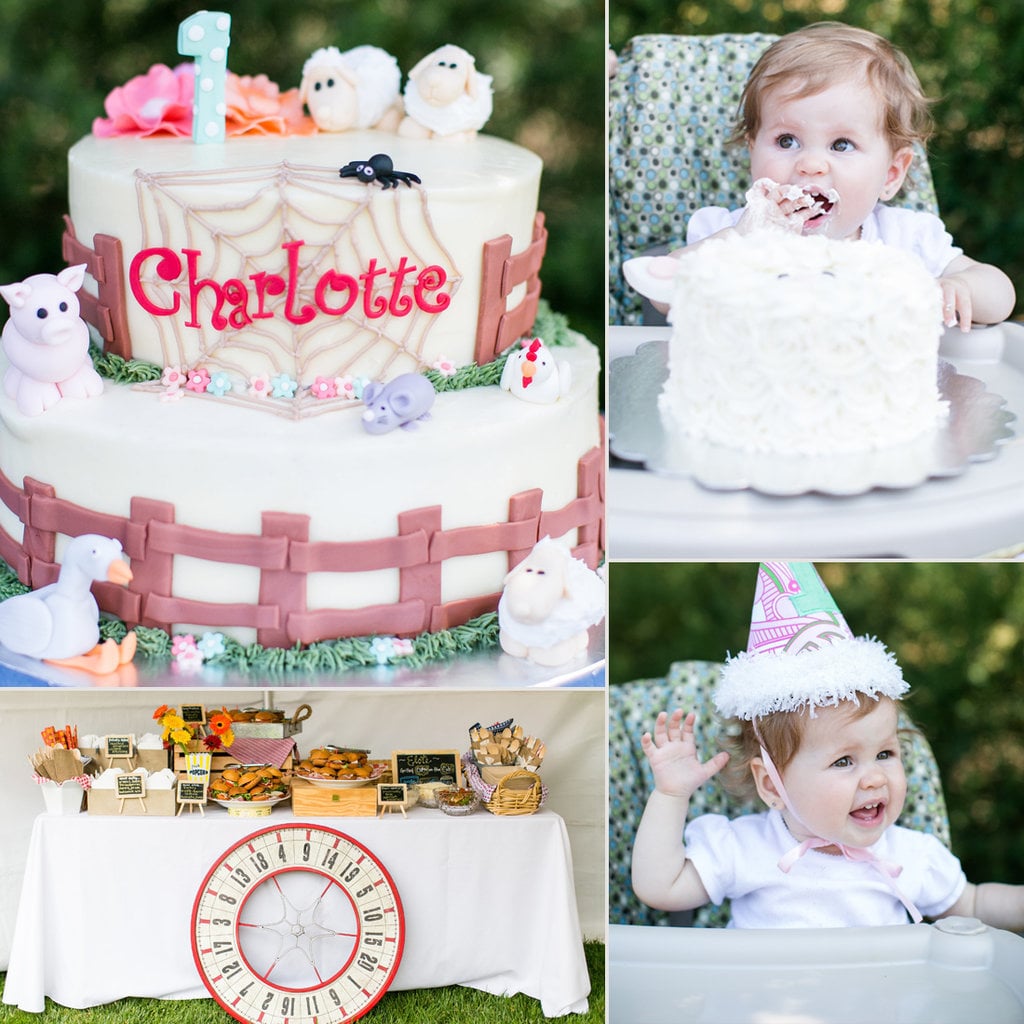 Charlotte's Web is a classic story that's read to just about every girl and boy in school and at home. When it came time for tiny tot Charlotte's first birthday bash, the team at Katie Rebecca Events [150] knew they wanted to throw her an unforgettable party centered around sweet treats and colorful decor. The theme was a Charlotte's Web state fair, set in San Francisco.
There were delicious carnival-themed treats like pretzel bites, sliders, tater tots, grilled corn on the cob, and even a flavored popcorn bar. Moms and dads were also treated to refreshing slushy sangria. When the children were not enjoying their yummy snacks, they participated in face-painting and a ringtoss game. There was even a board with a large collection of toys for the winners of the games. Baby Charlotte also had a blast, especially while eating her little sheep cake. Read on to see how you can throw your little one a Charlotte's Web-themed party too!
Vintage Train Birthday Party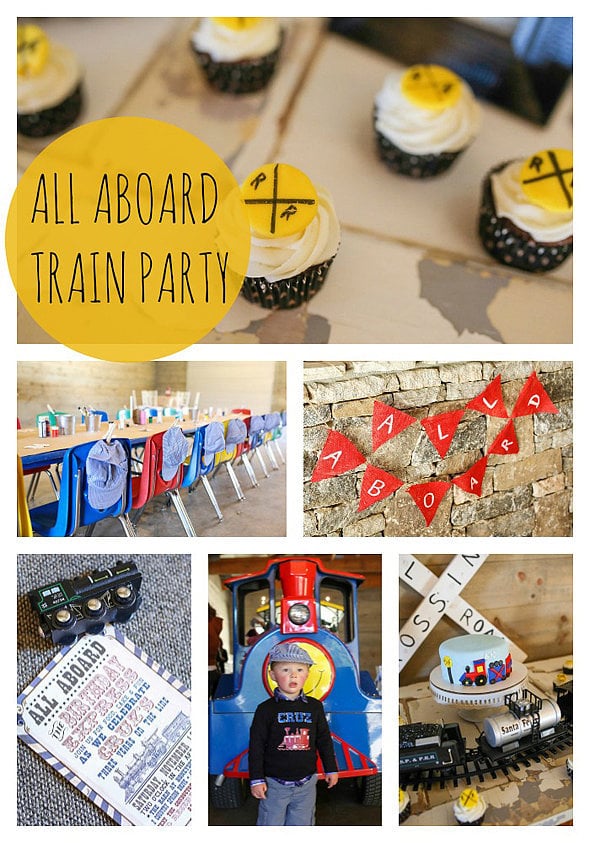 The following post was originally featured on Pretty My Party [151] and written by Cristy Mishkula [152], who is part of POPSUGAR Select Moms [153].
All aboard this adorable Vintage Train Birthday Party complete with a colorful train ride for all! What little boy doesn't LOVE trains?! Well, this lucky guy definitely had the party of his dreams thanks to some talented vendors who put together the best train party ever!
Candace is the owner of Mingle Events & Vintage Rentals [154] and this is what she had to say about Cruz's 3rd Birthday Party: all aboard for a fun ride on the Cruz Express! What better way to celebrate a precious 3-year-old who loves trains than with a birthday party full of just that! Mingle Events designed a vintage inspired travel themed party complete with vintage luggage, a rotating globe, and a vintage motorized train set. Guests of all ages enjoyed fueling up on "Choo, Choo Chicken," "Smokestack Sandwiches," and "Freight Car Fruit Skewers." After the wee ones [155] munched, they all dove into the dessert "station," which included brownies, creatively named "coal," and railroad crossing cupcakes that were too cute to eat. At the "steam engine workshop," the kiddos painted and decorated their own wooden trains to take home and enjoy, but the biggest surprise came when a life-size train pulled up! All the guests hopped on the colorful train for a ride on the Cruz Express, but not without their conductor hats, of course. Upon their departure, the party-goers took home a wooden train whistle from "baggage claim" with a note from Cruz, "Thank Choo for coming." What a magical day for a special birthday boy!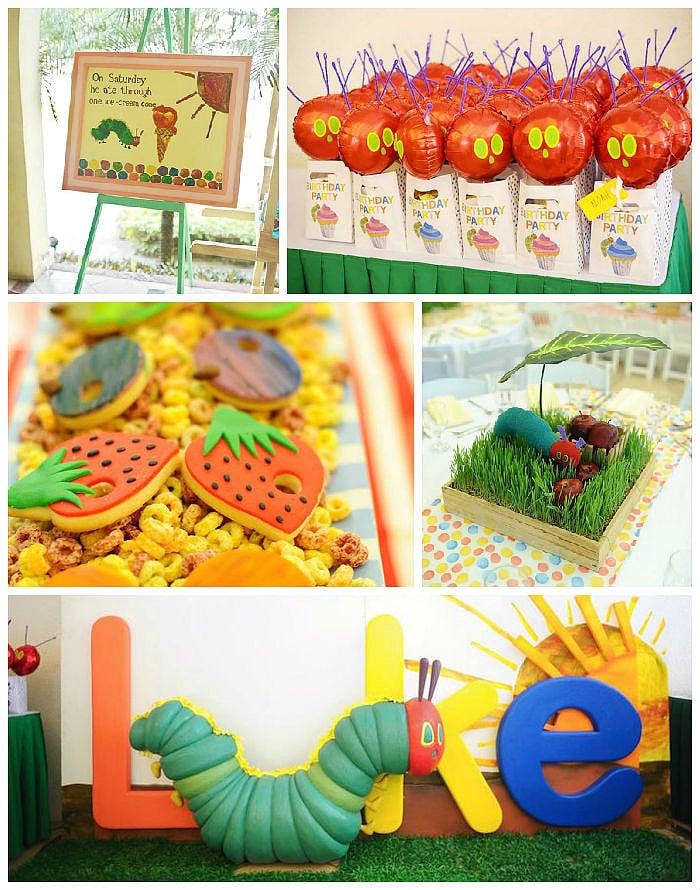 The following post was originally featured on Kara's Party Ideas [156] and written by Kara Allen [157], who is part of POPSUGAR Select Moms [158].
This darling Very Hungry Caterpillar birthday party was submitted by Sara Martinez of Passion Cooks Catering [159].
If you love the tale of The Very Hungry Caterpillar, then you will most definitely enjoy this party! From the darling caterpillar cupcake cake to the fun caterpillar crawling through the grass table centerpieces, this party is so darling and is full of ideas that you could use for either a boy or girl!
The Very Hungry Caterpillar party ideas and elements that you won't want to miss from this fabulous birthday bash are:
The darling fruit sugar cookies
The cute Hungry Caterpillar cake
The fun Hungry Caterpillar crawling through the grass table centerpieces
The awesome Very Hungry Caterpillar dessert table banner/chandelier made from paper lanterns
The darling Very Hungry Caterpillar stationery
and MORE!