Welcome to our guide to Back-to-School Success: 31 days of tips, apps, recipes, and more to help you make this your family's best school year yet. Today, we're sharing some inspiration for your first day of school photos.
It's coming! Back-to-school season [1] is in full swing, and both moms and tots are getting ready for the big day. School supplies are bought, tees and socks are in good supply, and mom's even preparing a few special surprises for the kids' first day at school. Now's the time to get the cameras ready to capture the special occasion for memory books, grandparents, and (of course) mom's Facebook page. Check out these creative ideas to make your back-to-school photo session a memorable one.
Create a Record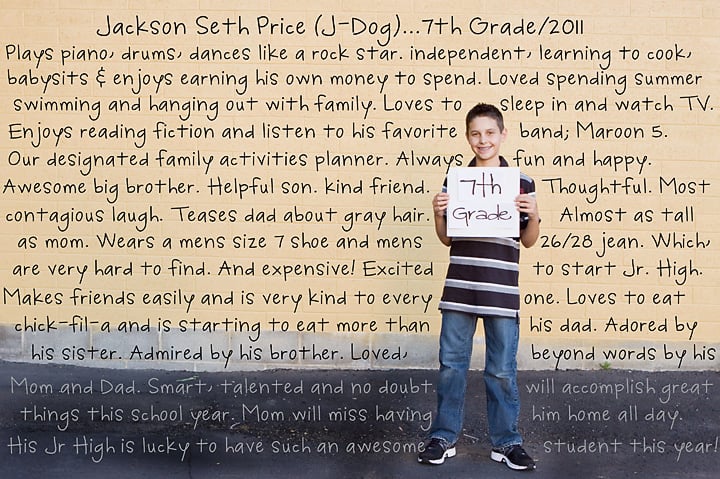 The first day of school is the perfect time to capture a moment of your little one's life. Use the photo as an opportunity to record all of his favorites in one space. Just be sure to take the photo in a location that leaves a bit of a blank canvas on which mama can do her writing.
>Source: Priceless Impressions [2]
Capture Candid Moments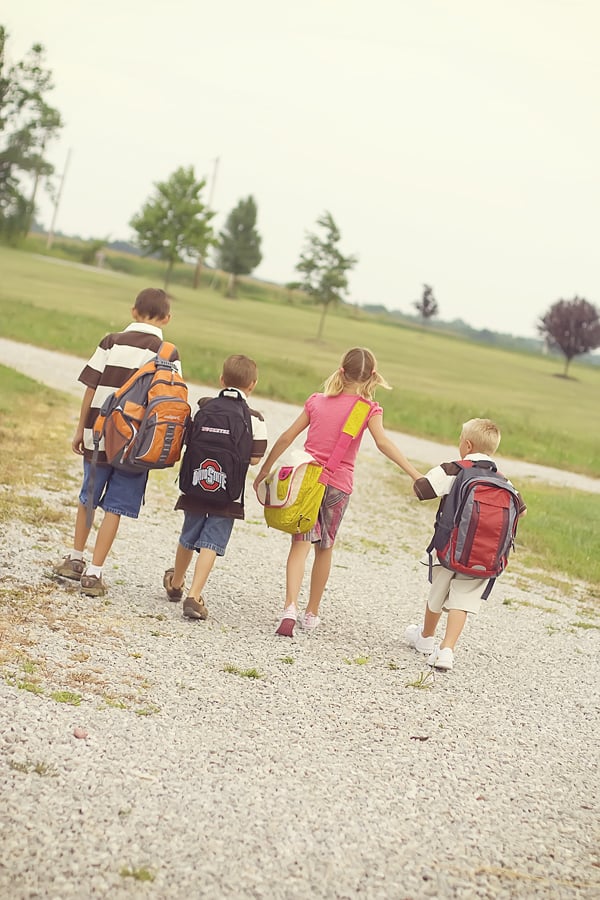 Posed pictures are great, but candid shots are priceless! Step back, and capture your little ones engaging with their peers or siblings.
Source: Angie Arthur [3]
Books Galore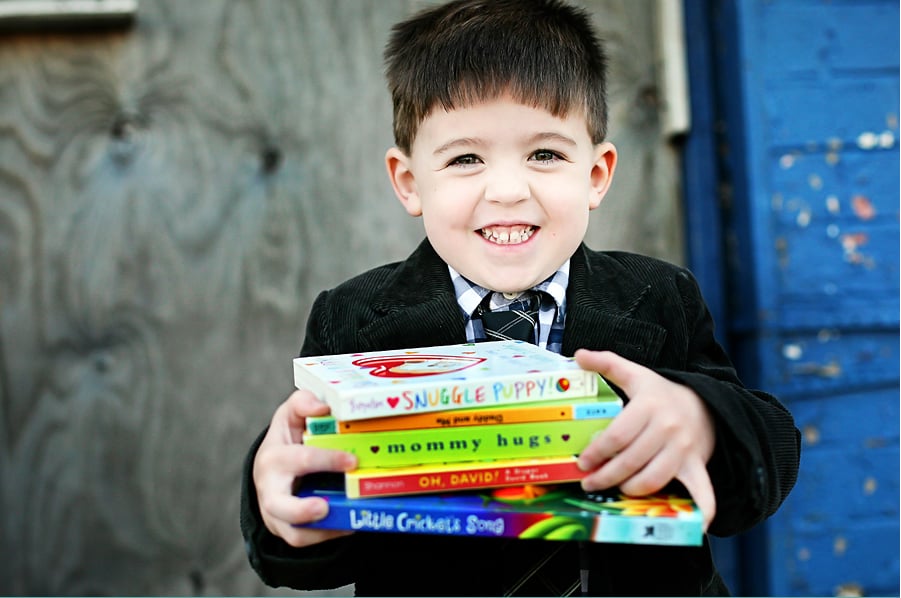 Every tot has his favorite books, so why not celebrate them during back-to-school season? Kim Haynes's photo [4] of a boy and his tomes is a great way to do so!
Source: Kim Haynes Photography [5]
Meet the Teacher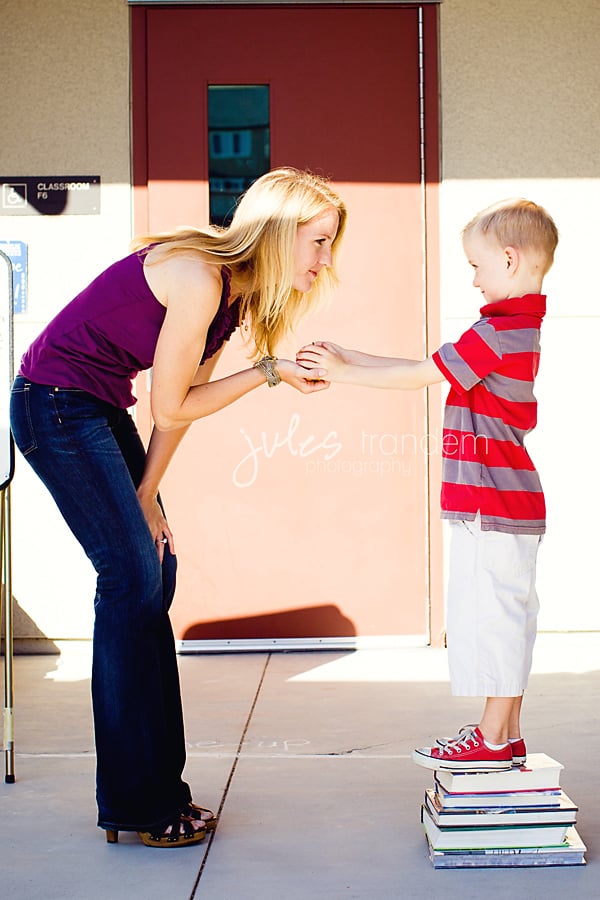 New school year = new school teacher. Snap a photo of your child meeting his or her teacher on the first day of school.
Source: Jules Trandem Photography [6]
Best Friends Forever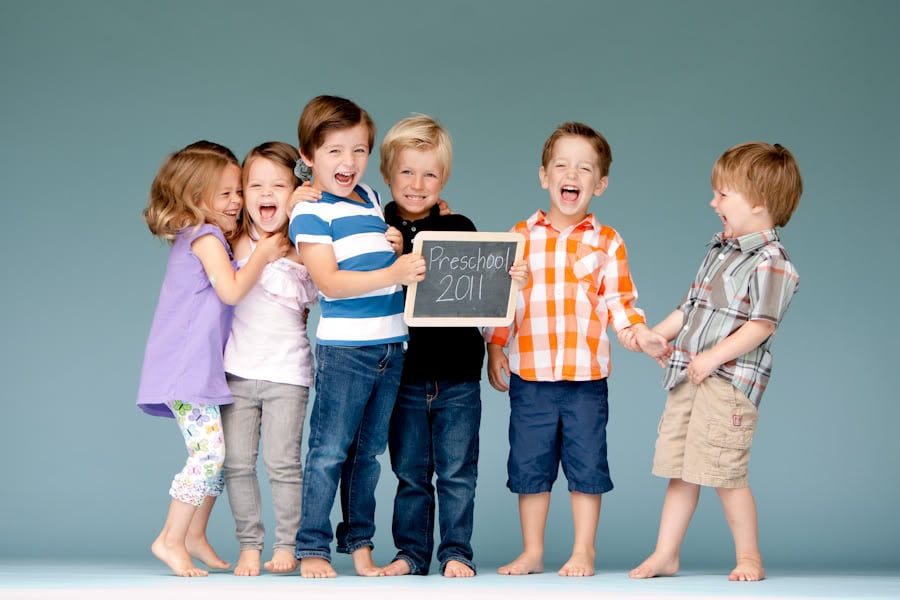 A kid can't get through the school year without his best buddies. Gather the group before the first day for a few sweet shots.
Source: Ashlee Raubach Photography [7]
Can I Graduate?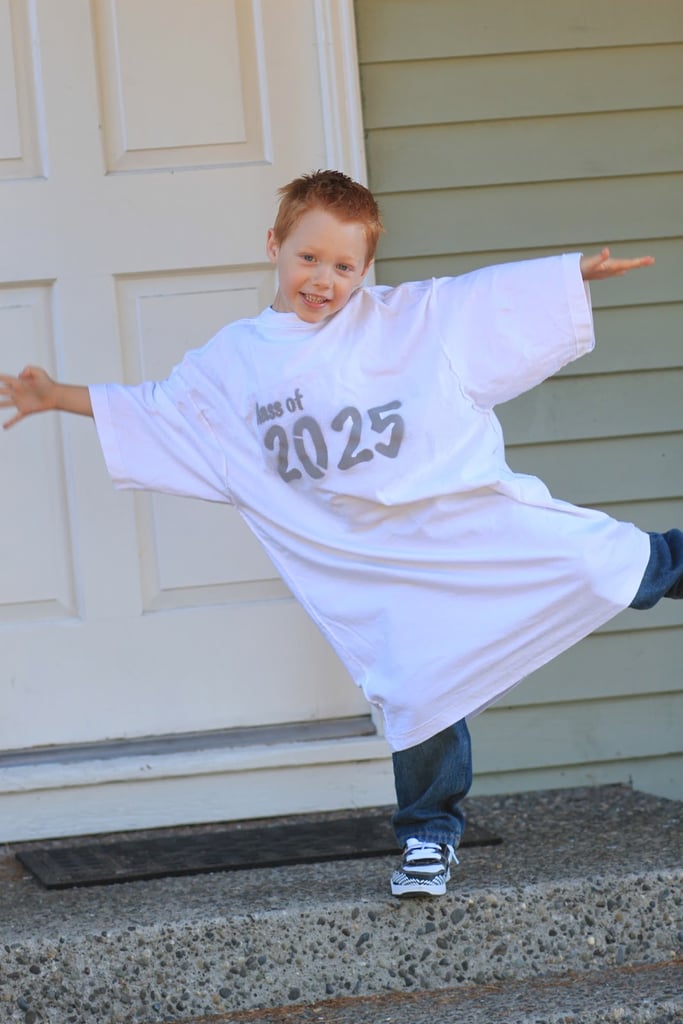 Count down the time to their graduation with this DIY t-shirt [8] from Watch Out For the Woestmans. When the big day arrives, the top is sure to fit!
Source: Watch Out For the Woestmans [9]
Ham It Up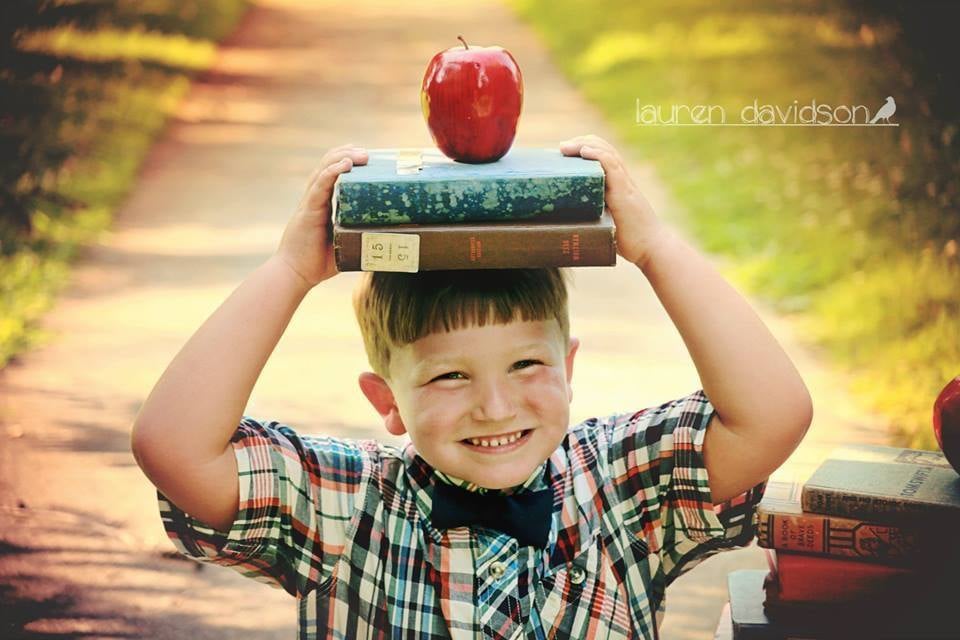 With vintage styling, a sweet bow tie, and an apple for the teacher, Lauren Davidson's back-to-school photo [10] is a fun way to tie the day back to traditional first-day-of-school images.
Source: Facebook user Lauren Davidson Photography [11]
Frame It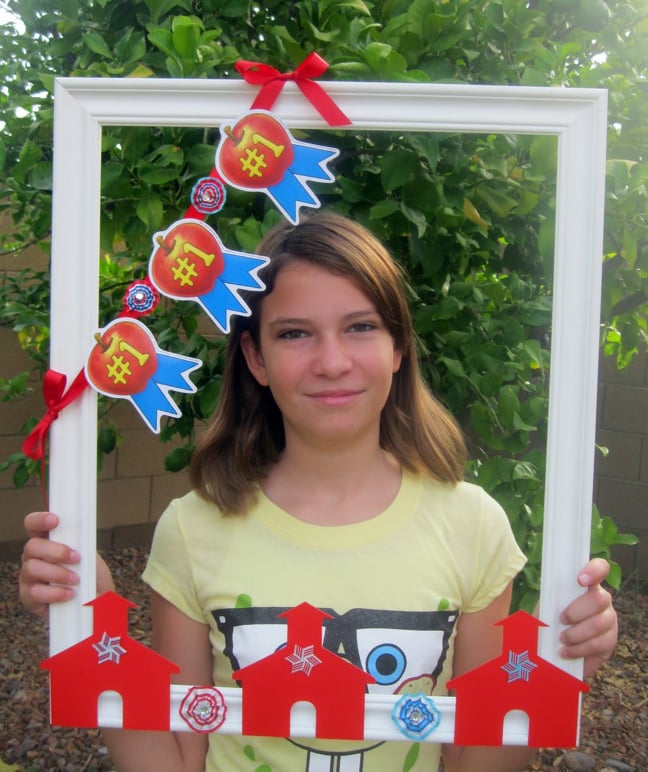 There's no need to buy a special frame when you can make one that's used as a prop in the photo. Over at Chrissy Crafts [12], Cris shows you how to craft one out of some teaching supplies.
Source: Chrissy Crafts [13]

Set the Stage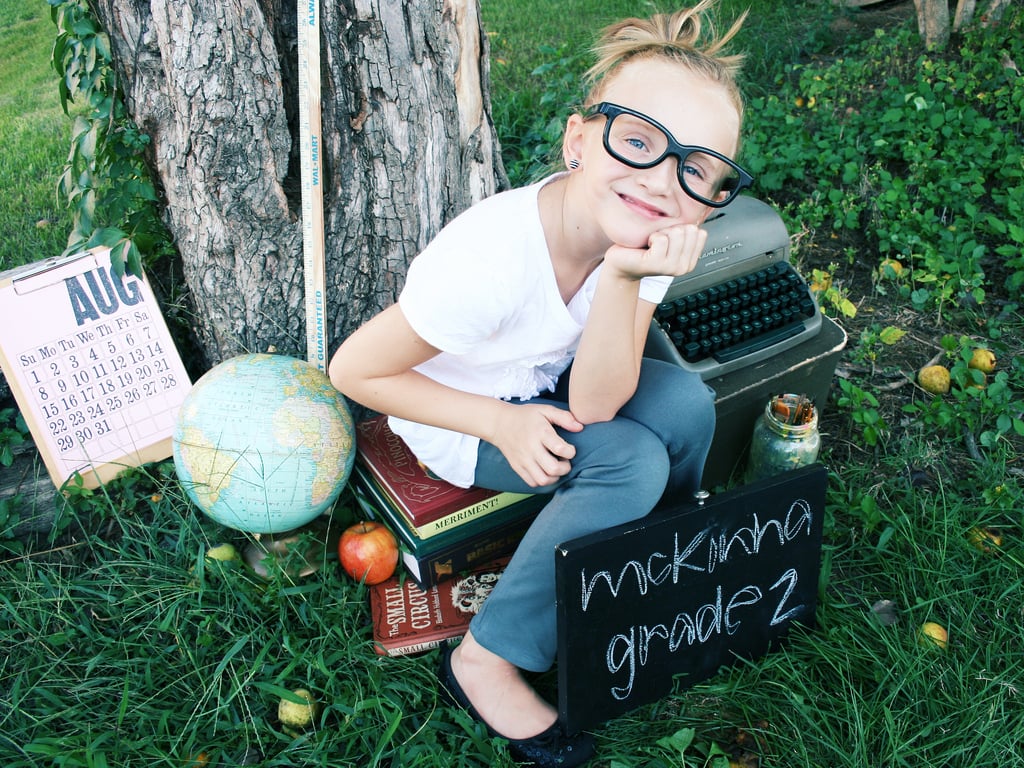 Set up a mini back-to-school photo session with your tot the weekend before school starts. Use your child's new school supplies as props and play professional photographer for a day.
Source: Flickr user emilyonasunday [14]
Chalk It Up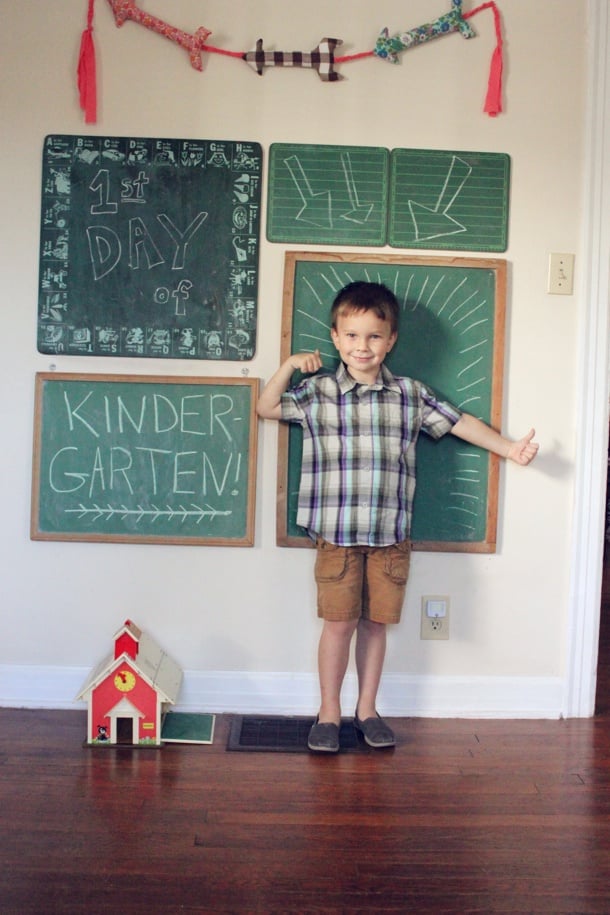 Need some photo inspiration for that back-to-school picture? We love Smile and Wave's [15] chalkboard photo props. Imagine using them on a yearly basis. They'd make a fun archive of your little one's first days of school.
Source: Smile and Wave [16]

Start a Tradition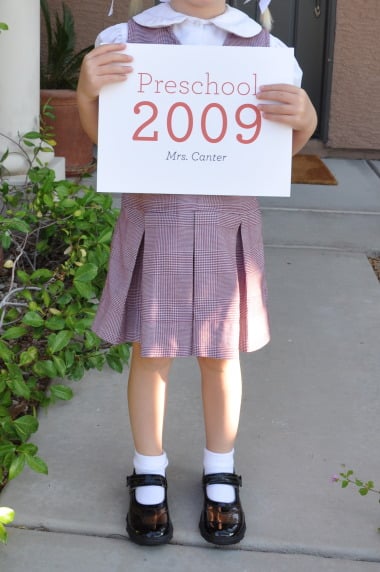 Taking the same back-to-school [17] picture every year is a great way to document your child's growth. A printed sign that includes the grade, the year, the school, and the teacher's name works well as a prop.
Source: Blonde Designs [18]
ABC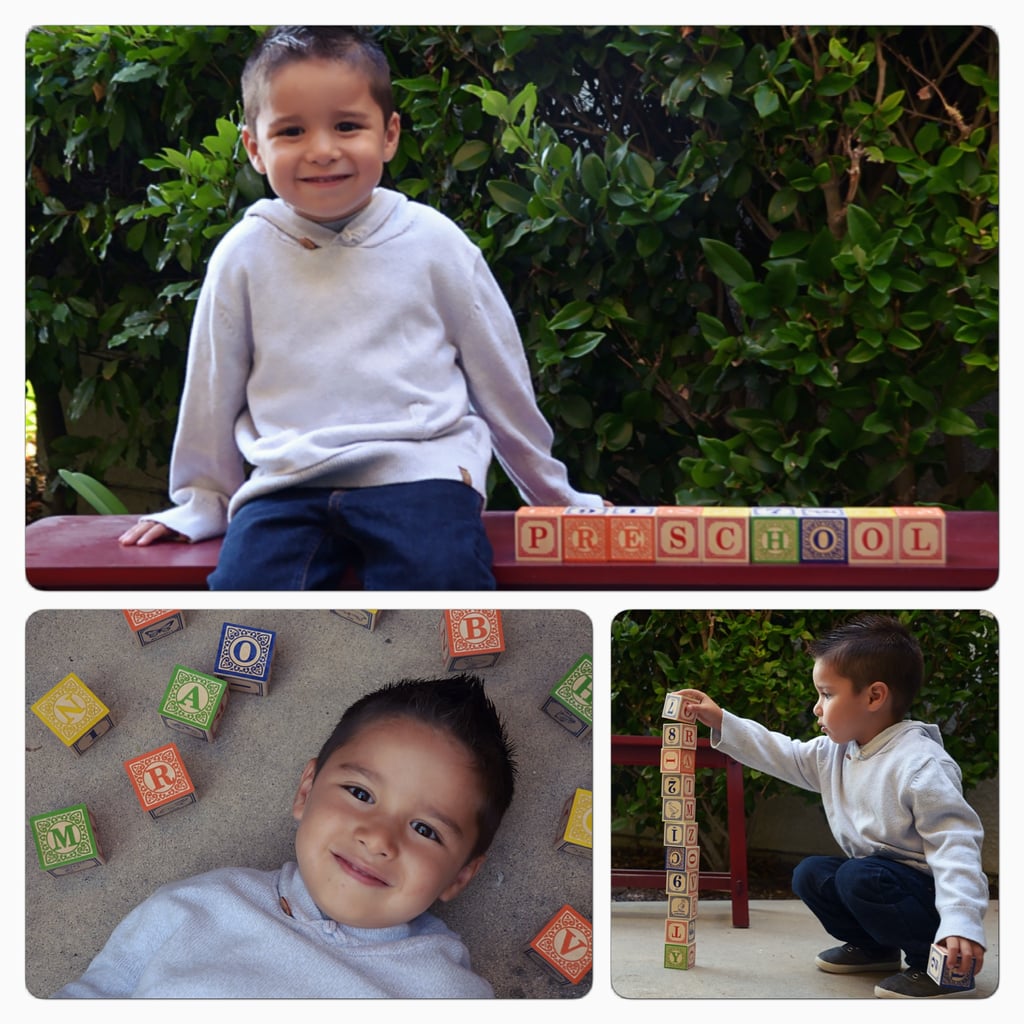 Building blocks are not only the key to a successful life, but also to a great photo [19], as evident in this shot from Yellow Bliss Road.
Source: Yellow Bliss Road [20]
Take Pictures in the Classroom
Get to school early and snap a few pictures of your tot in their new classroom.
Source: Stills by Hill Photography [21]
Photo in a Photo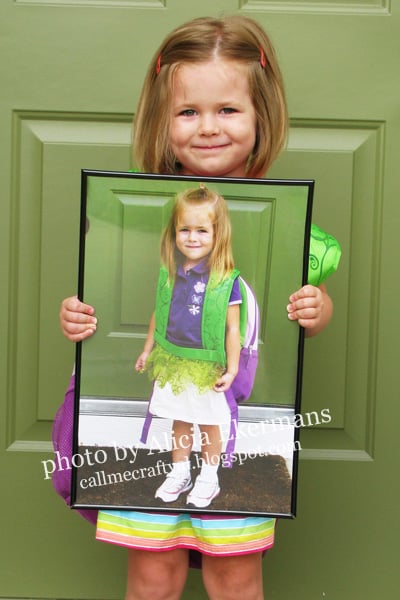 Take a cue from Call Me Crafty Al, and snap a few shots of your child holding a photo of themselves [22] from the previous year. Continue this tradition till they graduate high school, and you'll have quite an impressive picture.
Source: Call Me Crafty Al [23]
Snap Pictures of Details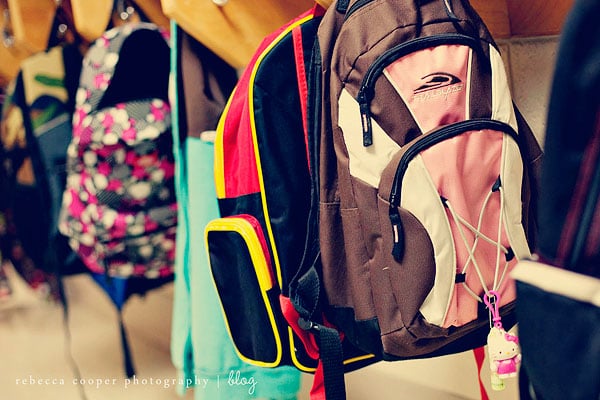 Think about the bigger picture. Snap some detail shots of everything that goes into going back to school — like backpacks and school supplies. They're part of your tot's back-to-school story too.
Source: Rebecca Cooper [24]
When I Grow Up . . .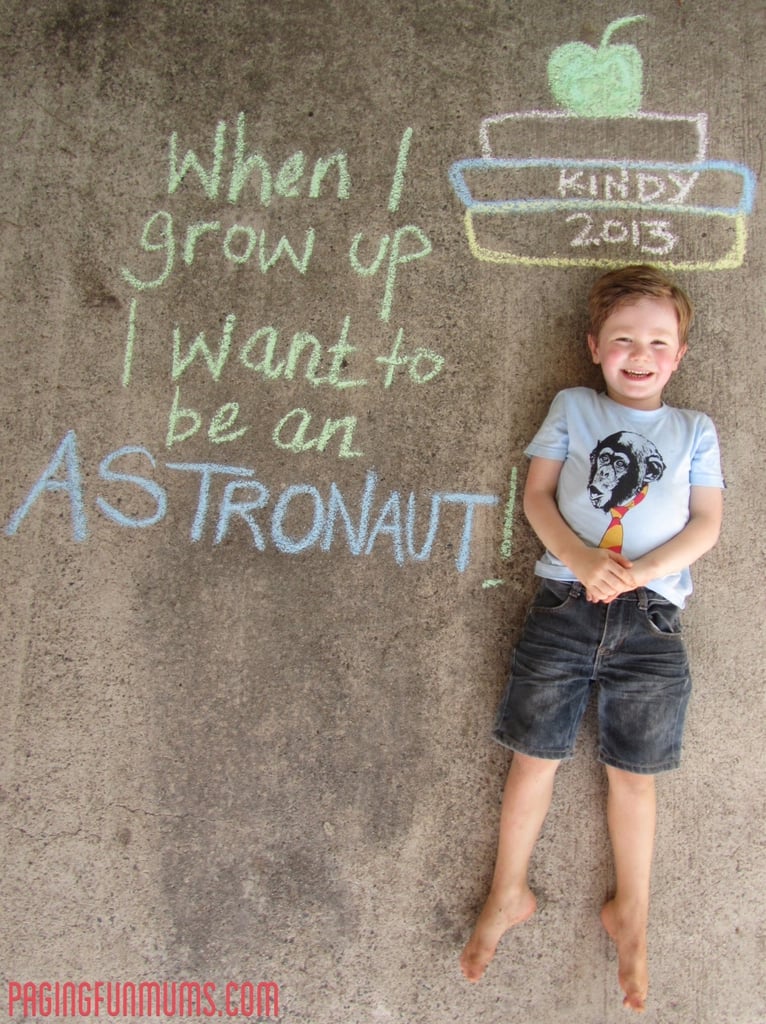 Document your child's career-related dreams with this adorable idea [25] from Paging Fun Mums.
Source: Paging Fun Mums [26]
Get Goofy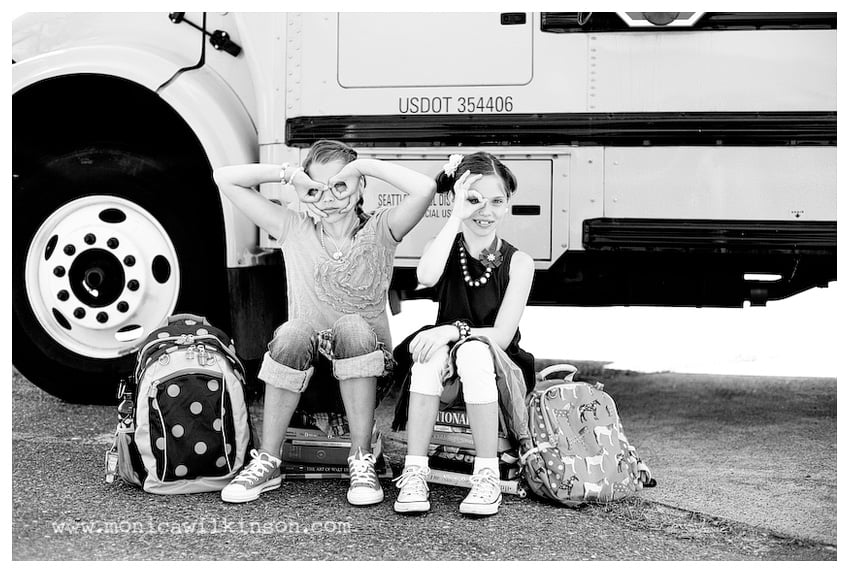 Don't take the first day back to school too seriously. Capture your kiddos being their silly selves!
Source: Monica Wilkinson Photography [27]
The Bus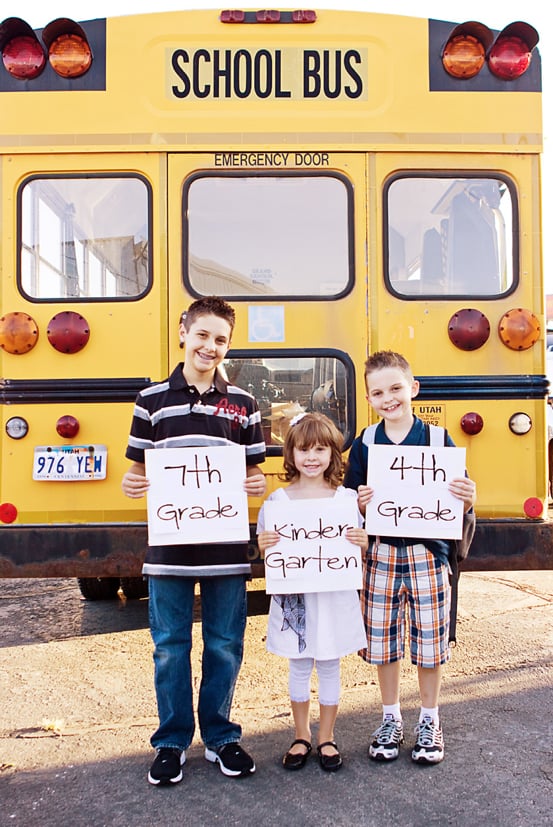 There's no surer sign that school's back in session than seeing yellow school buses roll through town. Before the kids get on the bus, snap a quick picture of them posing with it.
Source: Priceless Impressions [28]

Capture the Excitement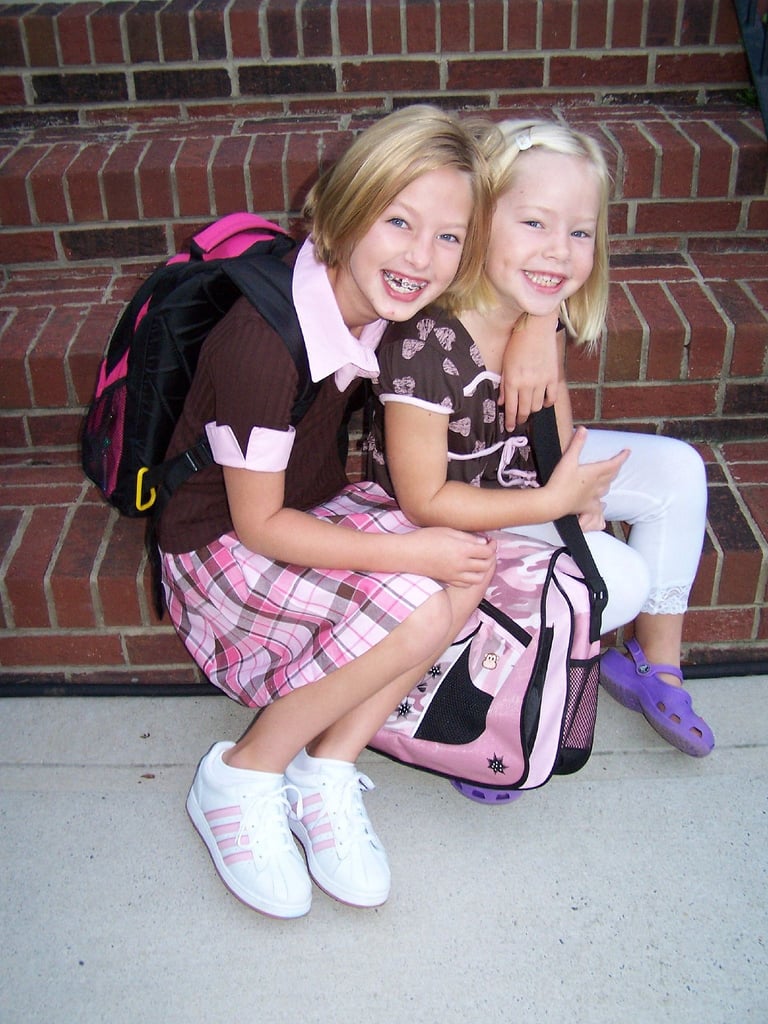 Back to school is an exciting time for kids. They haven't seen some of their friends since the last school year. If you can, snap a few pictures of your children with their friends!
Source: Flickr user flattop341 [29]
Back-to-School Outfit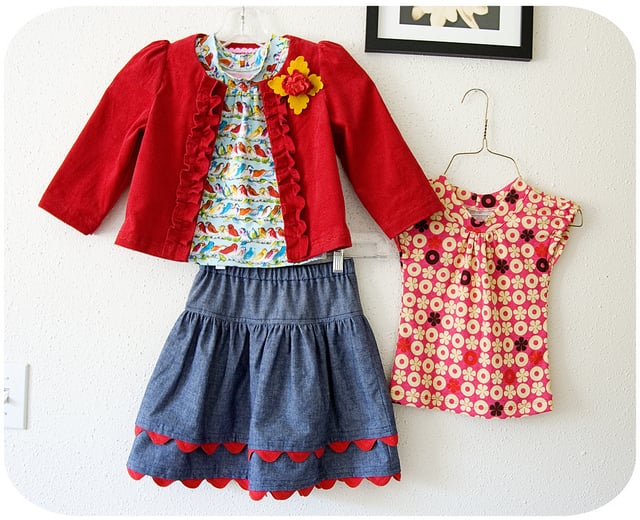 Do you have a special outfit picked out for the first day of school? Hang it or place it on the bed, and take a few pictures to capture every detail.
Source: A Fashionable Stitch [30]
Get Serious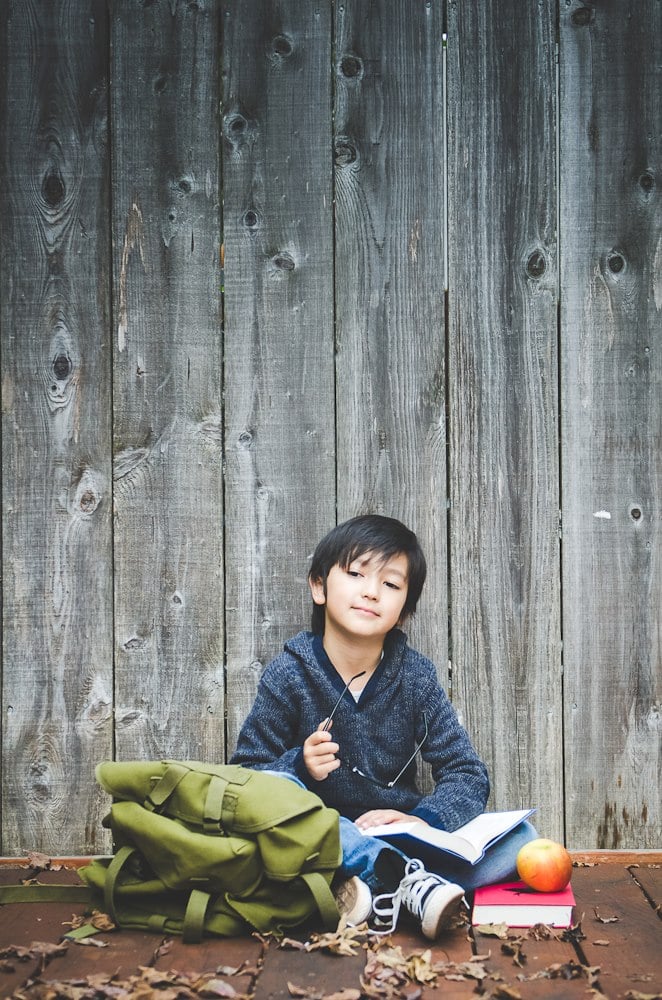 Back-to-school time is serious business in some families. That's the angle Four in the City [31] used for this shot that's sure to become a classic.
Source: Facebook user Four in the City [32]
Spell It Out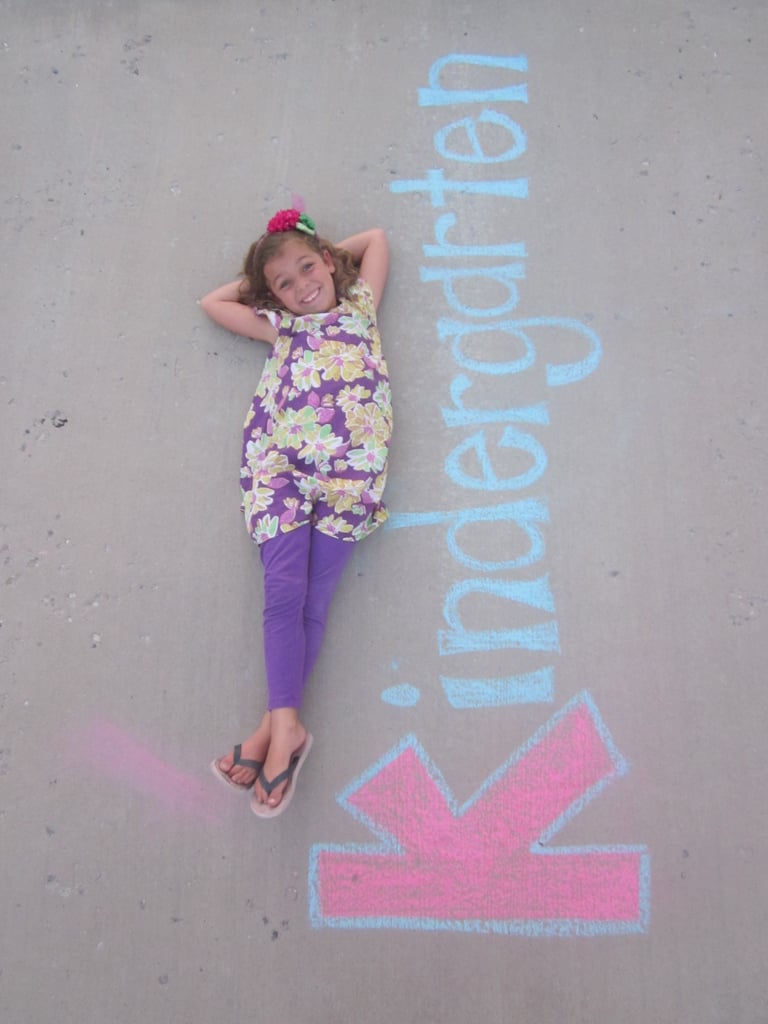 Sidewalk chalk art is all the rage, and photos of the work are equally popular. Before heading off to school, take a moment to write out your little one's new grade and then snap a photo of them with it. The cute photo will definitely be one for the memory book!
Source: Blue Cricket Design [33]

Go Classic and Colorful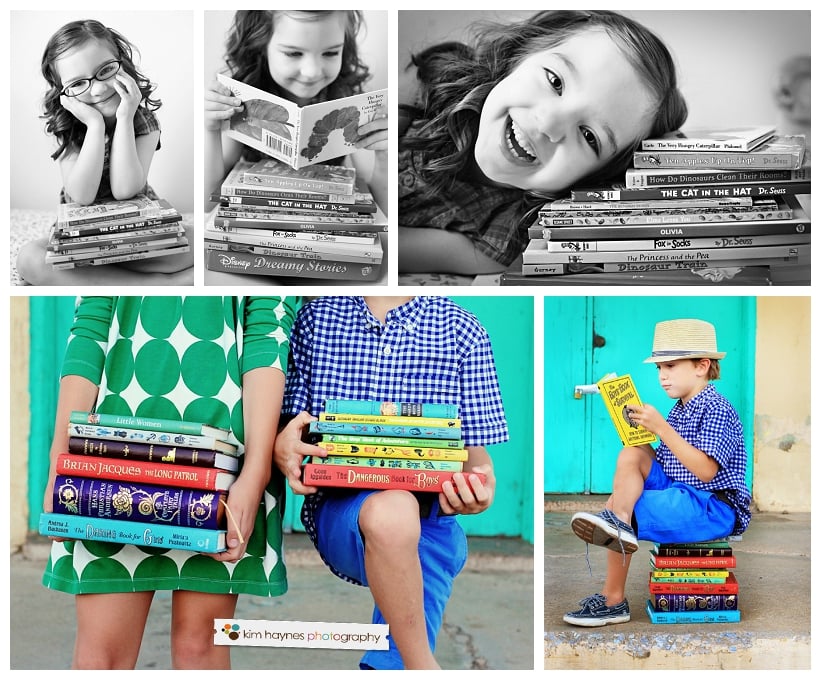 There's a lot to be said for a classic black and white shot, but shooting some in black and white and others in bright colors, as Kim Haynes did [34], gives you options when you go to put your annual album together.
Source: Kim Haynes Photography [35]
Dry Your Eyes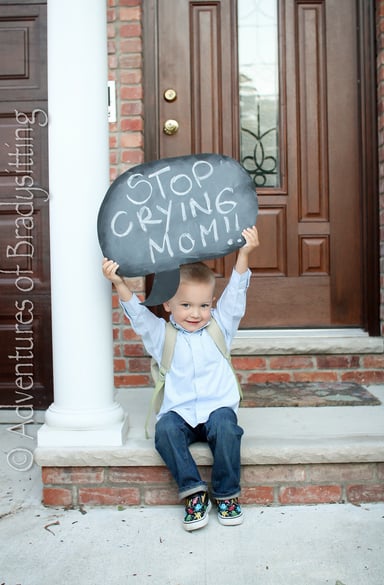 If it's your little one's first day of school ever, you may be a bit emotional. But this photo idea from Banana Pancakes Blog [36] is an easy way to keep you from crying.
Source: Banana Pancakes Blog [37]
Don't Forget the Parents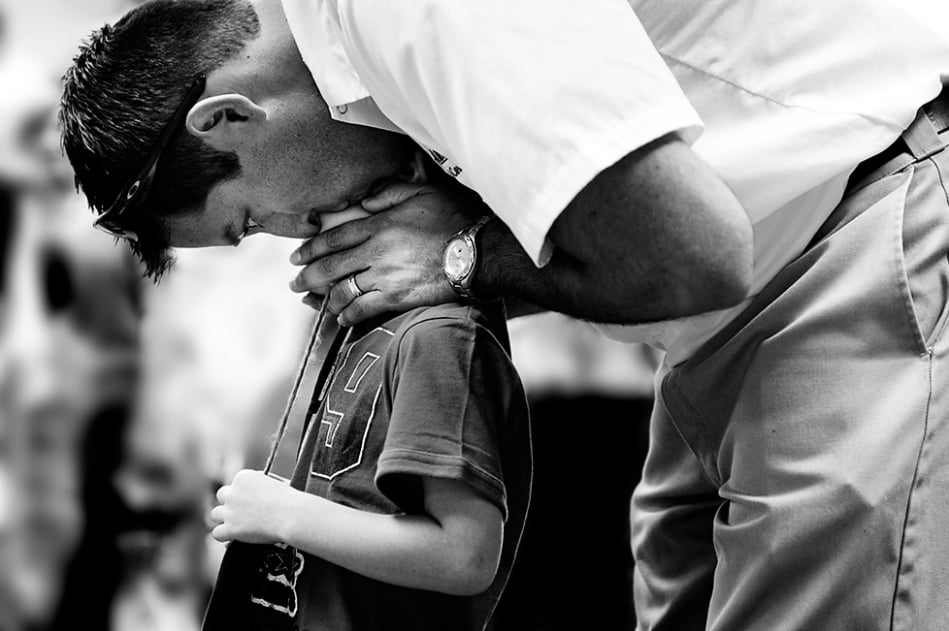 Back to school time is an emotional one for parents too. If you have a moment, step back and capture their emotions on the big day like Stacey Haslem [38] did — the pictures are certain to become keepsakes.
Source: Stacey Haslem [39]
[40]