Creative Ways to Photograph a Baby Bump
7 Creative Ways to Photograph Your Growing Bump
Like us on Facebook
We're excited to bring you a new post from mother and actress Tori Spelling and her ediTORIal by Tori Spelling blog. This week, Tori shares seven ways to photograph your baby bump.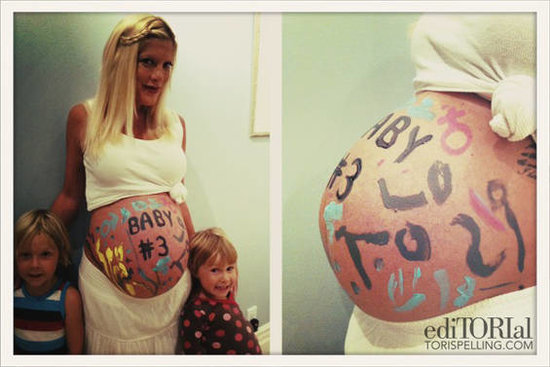 When I was pregnant for the first time, I had Elizabeth Messina of Kiss The Groom capture the most stunning bump photos. Starting with Liam, Elizabeth's photos became a family tradition, and I am so grateful to have her gorgeous belly shots for all four babes. These photos hold so many precious memories for me. It was a great way to document our growing family and the extraordinary experience of being preggers.
Here's the shot I did with Liam and Stella with Hattie in my belly. To include them I let them make my belly bump their canvas. They loved it! And the finished abstract artwork was priceless. When I was pregnant with Finn, my three older babes left their handprints on my bump.
Related: Tori's Method For Managing the Bedtime Routine and School Lunches
Lately, mamas are coming up with all sorts of cute and creative ways to capture the bump. So today I wanted to share a few ideas that I really love. I can't say whether there will be another bump shoot in my own future, but these photos certainly provide some fun inspiration. Check them out and tell me which one is your favorite…
The Before, During, and After Shot
Keep reading for more inspiring bump shots!
Air Pump Bump
Curves Ahead
Telephone With Your Toddler
Baby, Apple Juice, Beer Bellies
Bump Smooch
Big Brother-to-Be
Did you do a maternity photoshoot when you were preggers?
Let me know below.
Love,
T
More great reads from Tori Spelling:
How to Make DIY Temporary Tattoos
Tori's Message to Moms Everywhere
Tori's Favorite Summer Fruit
An Afternoon of Seaside Crafting