If you're planning to decorate for Halloween [1] and want to keep things more cute than spooky, we've found some sweet decorations that won't scare your tot. When you've got little ones at home, it's a great idea to keep holiday decorations up high and out of reach from inquisitive hands. If you're feeling crafty, we've included a few simple adornments Mom can create with her child, too. Click through for a few decorating ideas that are sure to get the whole family in the Halloween spirit!
Halloween Luminaries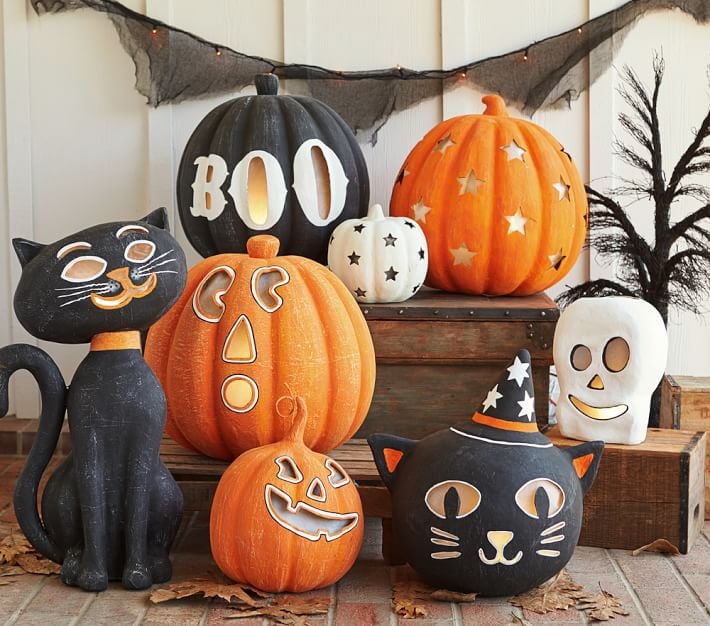 Pottery Barn Kids' Galvi Luminary Pumpkins [2] ($29 - $89) are a perfectly cute way to light the path to your front door. Also available in other designs [3], like a cute little skull or black cat.
Mummy!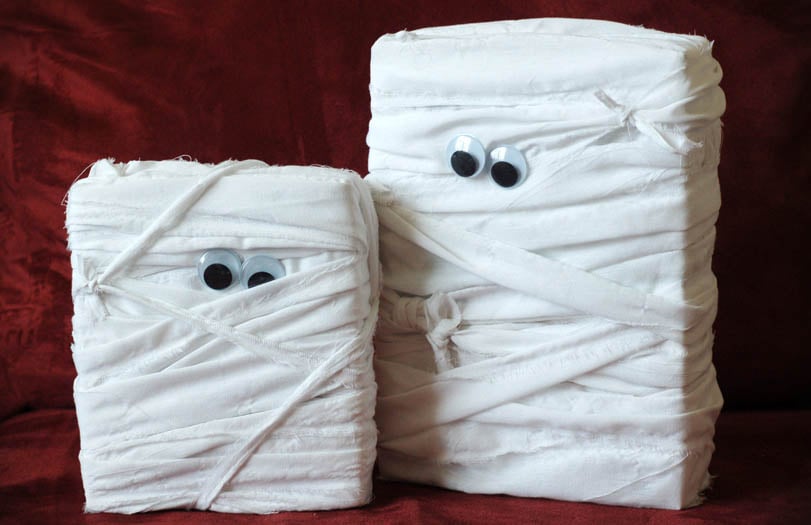 Transform old cereal boxes into an adorable mummy decoration [4] from Then She Made... with the help of white fabric strips and googly eyes. And they're easier to make than you think, making these fun mummies a great Halloween [5] craft to tackle with your tot.
Spider Circle Garland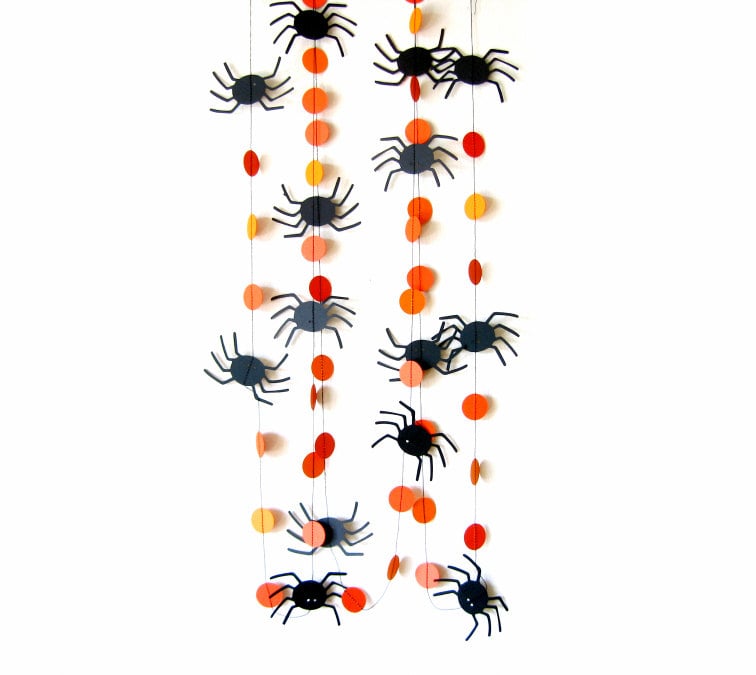 Etsy seller Pelemele's spider circle garland [6] ($14) is a great way to dress up your doorway, window, or wall this Halloween [7]!
Juice Box Monsters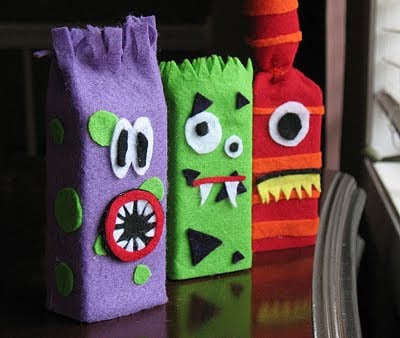 Repurpose juice boxes into these fuzzy felt monsters [8] that you can make with your child. Get creative with the designs to make monsters perfect for your home this Halloween [9]. Follow the simple directions from Crafts by Amanda.
Halloween Decorations
The Land of Nod's Halloween Party Collection [10] ($4.50 — $13) includes everything you need to make a kid-friendly Halloween [11] party.
Colorful Sugar Skull Garland
Etsy vendor The Doll City Rocker's sugar skull garland [12] ($75) comes with eight colorful felt skulls that you'll want to hang year after year.
Homemade Treat Dishes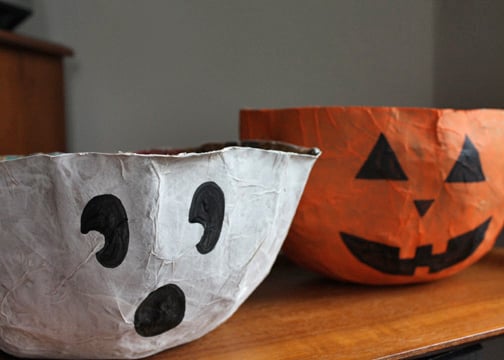 Repurpose old paper bags into something sweet with your tot that will hold lots of Halloween [13] treats. These homemade treat dishes [14] from The Long Thread come together with the help of some glue and strips of paper and are finished with paint.
Felt Halloween Elements
Etsy seller GinghamFlower's Halloween ornaments [15] ($10) come with three decorations, which can also be made into keychains or brooches.
Halloween Pumpkin Craft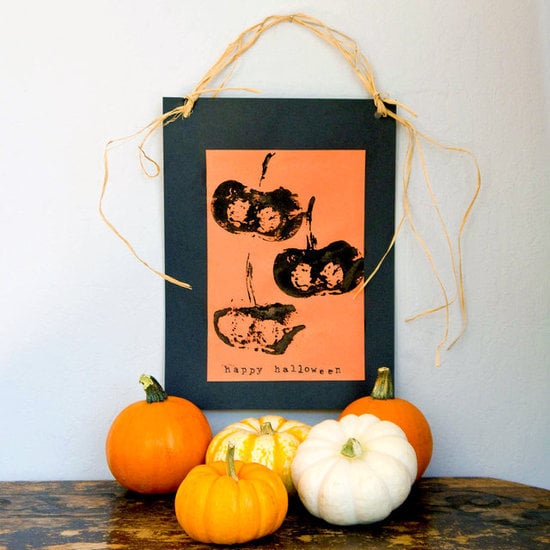 A cut pumpkin turns into a fun stamp that your little one can use for creating this easy Halloween pumpkin craft [16]. And this project is perfect for kids of all ages without being too scary.
Monster Tooth Cushion
Etsy vendor Monster Orphanage's hanging monster tooth cushions [17] ($13) are a cute way to decorate for the Halloween [18]. They also work as tooth fairy pillows all year long!
Orange and Black Garland
If you're not feeling crafty but still want a pop of Halloween [19] decor, this orange and black garland [20] ($8+) makes a really sweet spook-tacular decoration.
Wooden Halloween Decoration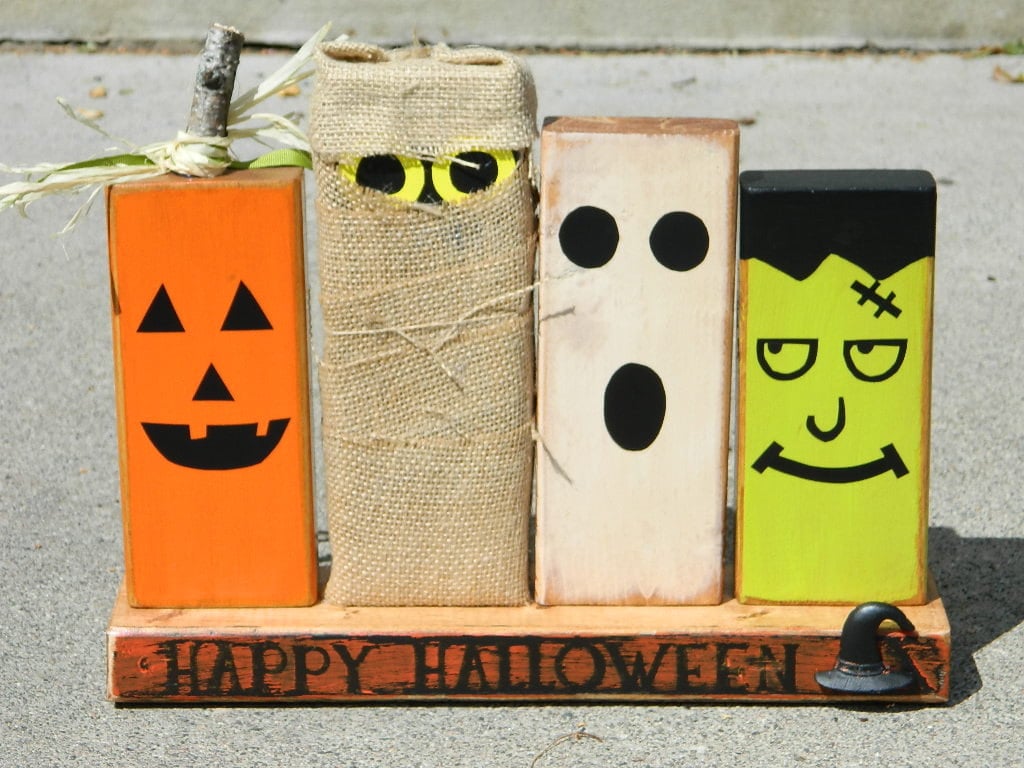 Wooden blocks featuring a pumpkin, mummy, ghost, and Frankenstein on this Halloween decoration [21] ($34) are more silly than scary!
Halloween Bat Cutouts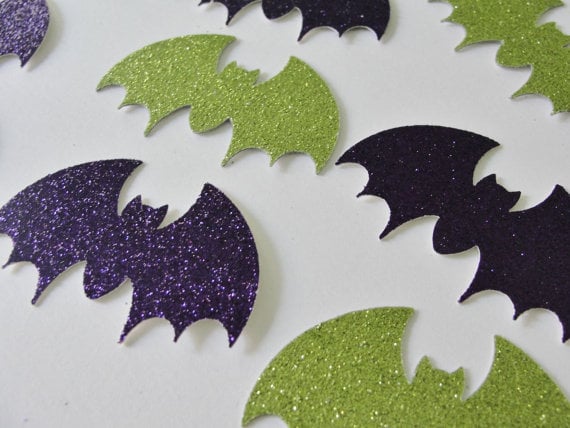 Cut from heavy colorful paper, with just a bit of glitter, these Halloween bats [22] (12 for $4) are fun for decorating any room. String in a garland, hang from windows, or stick to walls.
Happy Halloween Banner
This Happy Halloween banner [23] ($20) would be great on the front door for greeting trick-or-treaters or to decorate the fireplace.
Eat, Drink, and Be Scary Poster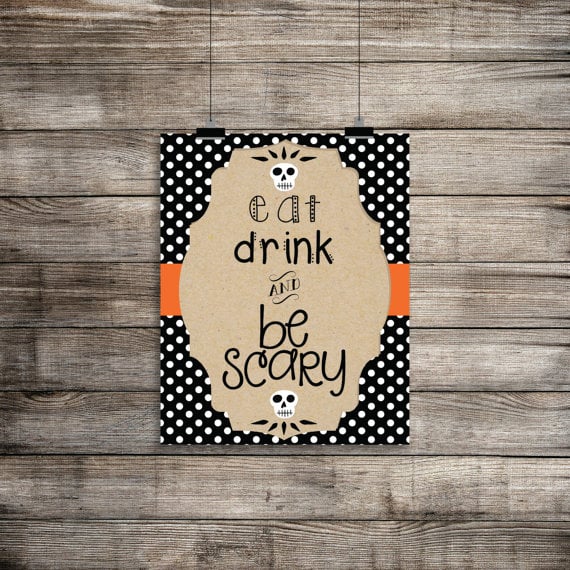 This printable poster [24] ($5) would work well in a frame or posted up on the wall to remind Halloween [25] party guests of their Halloween [26] obligations.
Candy Corn Mason Jars
Whether they feature a Halloween-themed bouquet or a variety of snacks, these adorable candy corn jars [27] ($23+) are cute and colorful, not spooky.
Paper Mache Treat Buckets
When the candy is overflowing, pile it into some of these darling paper mache treat buckets [28] ($29-$29) from Pottery Barn.
Trick-or-Treat Garland
It'll be hard for kiddos — and you — not to break out into the ever-popular "Trick or Treat" song every time they pass this cute garland [29] ($24).