Whether you're bringing home baby to a house in the suburbs or a studio apartment, chances are, there's a time you've wished for just a little more square footage than what you currently have. We're here to tell you that it's not about the space itself, rather how you use it. Some of the most beautifully designed nurseries we've seen are those that take advantage of every square foot — and do so in style.
Source: A Cup of Jo [1]
Go Vertical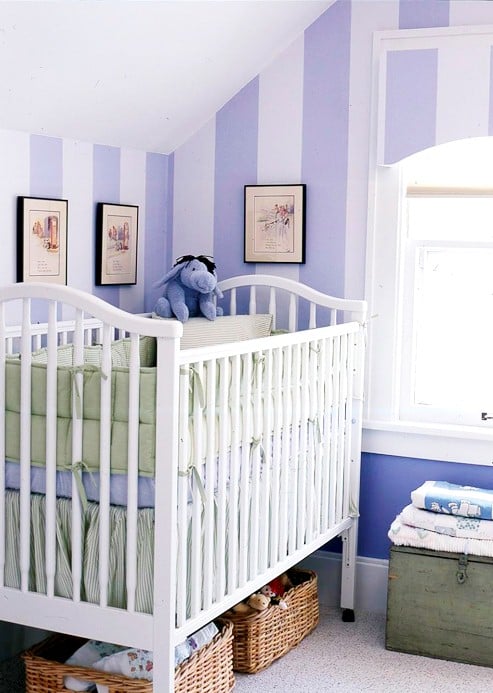 This little boy's room gets its dose of big design from its wide, vertical wall stripes. A darker hue of solid blue below the chair rail anchors the room, and a window shade that blends in with the walls makes them look even longer.
Source: Better Homes and Gardens [2]
Don't Be Afraid of the Dark
Black walls in a nursery might sound dark and dreary, but baby Oliver's dramatic room is simply stunning. Believe it or not, the wall is actually hand-stenciled by a supertalented dad (the room's other walls are solid black).
Source: A Little Glass Box [3]
An Out-of-the-Way Focal Point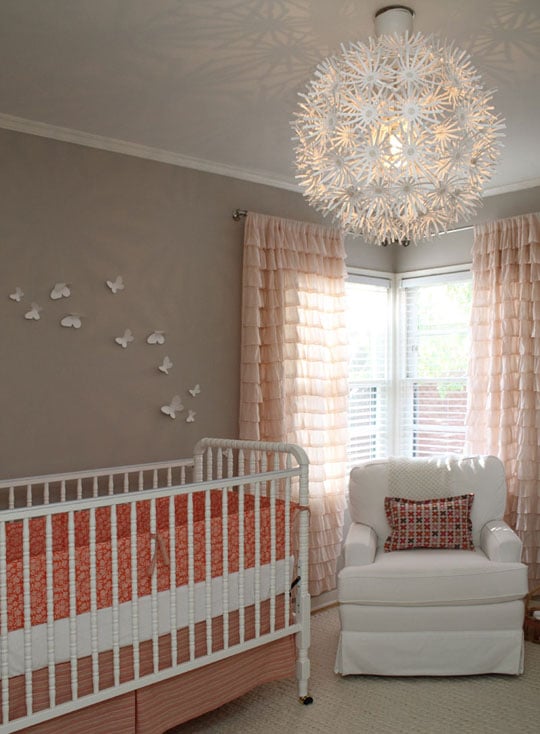 In Ave Rose's minimalist nursery, the focal point hangs from the ceiling. The Ikea Pendant Lamp [4] ($90) is a relative steal, and it serves a purpose while also adding excitement to the room without taking up an inch of floor space.
Source: Apartment Therapy [5]
Add Interest on Each Wall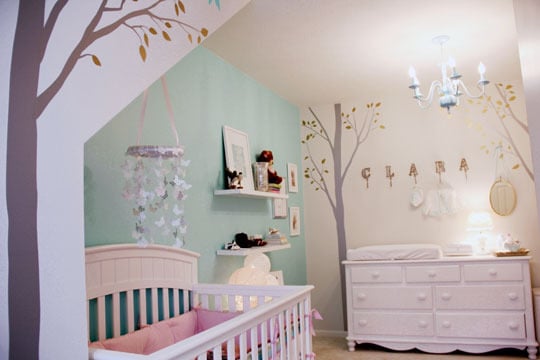 This vintage-y, whimsical little room offers something different from every angle. The soft palette allows for variety on each wall, and the tree decals (doesn't their scale make it look like they're hand-painted?) draw the eye upward.
Source: Apartment Therapy [6]
Turn a Closet Into a Cozy Alcove
In this Brooklyn apartment, mom-to-be's closet was transformed into a petite, pretty baby nook. Removing poles for hanging clothes made the perfect indentation for a crib, and the placement of curtains and a mobile make the space look intentional.
Source: Lovely Morning [7]
Less Is More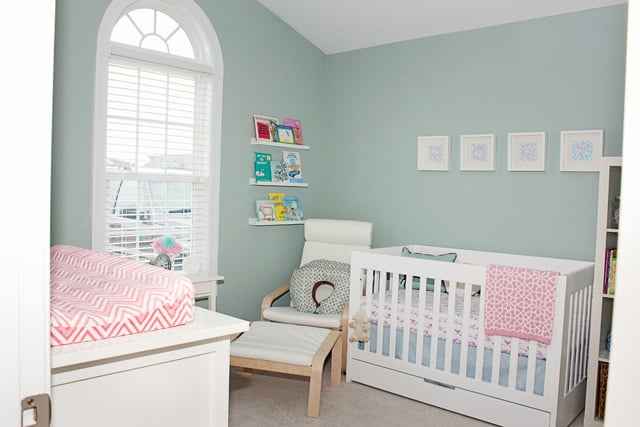 In baby Rory's nursery, shades of soothing seafoam green, salmon, and cream anchor the room. Careful attention is paid to what's put on display, and everything else is neatly stored away in an oversize dresser (beneath the pink chevron changing area on the left).
Source: Project Nursery [8]
Keep It Simple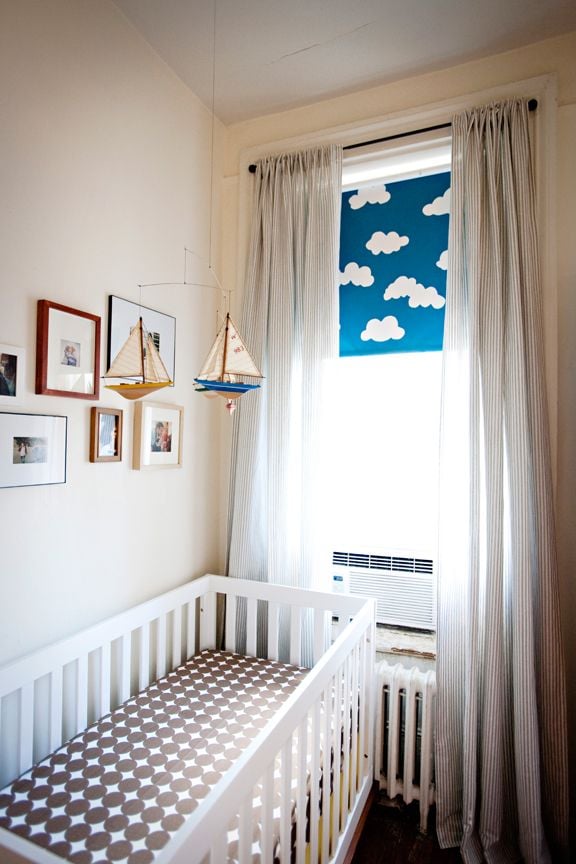 In this small space, designer Jenny Komenda [9] maximized baby Toby's big window with floor-length sheer curtains and a hand-painted blackout shade (the clouds are so much cuter than solid white!). Keeping a gallery wall of family photos at one level creates a focal point without too much clutter.
Source: A Cup of Jo [10]
Lighten Up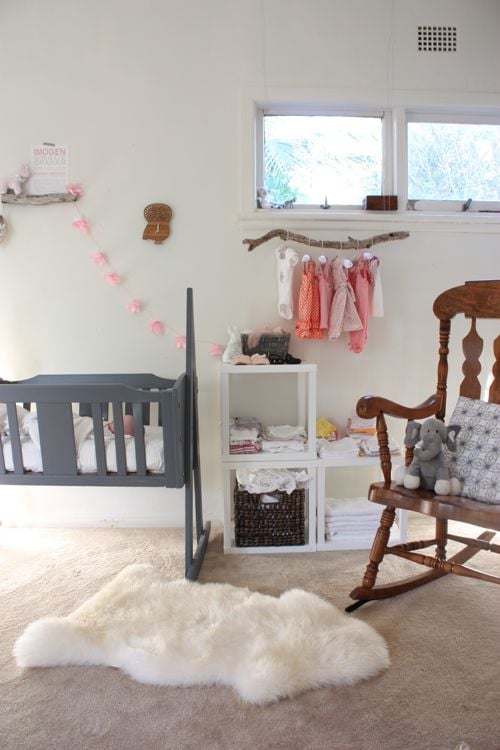 The thing that keeps this sweet space looking so light and breezy is that it's completely devoid of any bulky furniture or clunky toys (which is admittedly easier to maintain when the baby's a newborn as opposed to a toddler). A carefully edited selection of baby Imogen's dresses and toys keeps the room from feeling too cold or minimalistic.
Source: The Happy Home [11]
Big Bursts of Color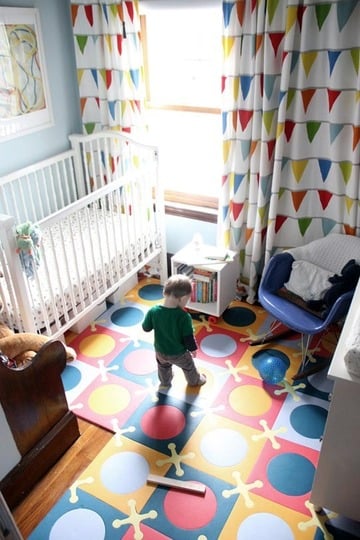 Baby Wyatt's tiny room (it was formerly a closet) presented a bit of a decorating challenge for his mom, but she clearly passed with flying colors. Using the large piece of art above the crib as inspiration, she played up primary colors in a big way.
Source: Apartment Therapy [12]