Delilicious: Monster Candy Eyeballs
Like us on Facebook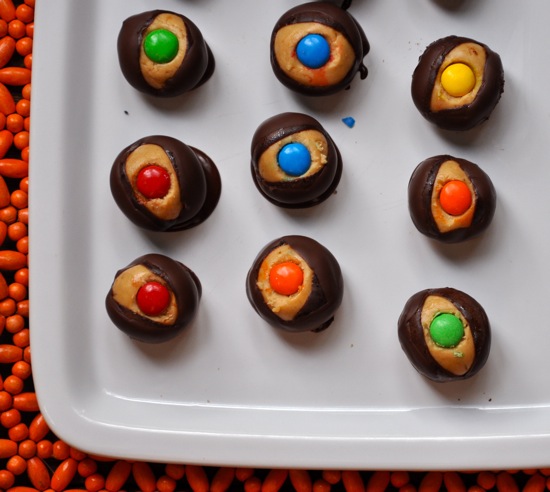 I know it is only a short while before my lil ones come home with bags of treats, so I wanted to try to make my own candy! Epicurious had a great recipe for a frightful version of buckeye candy; traditionally it is a peanut butter ball that is then coated in a thin layer of chocolate. With a little creative dunking and a bag of M&M's, these candies are transformed into a spooky, yet, scrumptious monster eyeball.

Kids can definitely help with the whole process because the recipe only requires a microwave. You might even be grateful as mixing the peanut butter and powdered sugar is best done by hand and can be a pretty messy job! The finished candies would be cute packaged in small gifts bags as a ghoulish treat for your kids' friends! Children of all ages (including adults) are bound to love this classic combination, so if you want to get started on your own eye-poppingly delicious candy for Halloween keep reading for my tips and recipe.

Tips
Use an M&M to create an indentation in each peanut butter ball to create a place for the cornea prior to freezing.
Freeze the peanut butter balls prior to dipping. I found out the hard way, the refrigerator ones slide around on the toothpick making coating in the chocolate difficult.
Don't freeze after inserting the M&M as the color can often bleed into the peanut butter.
Ingredients
1 1/2 cups creamy peanut butter
1/2 cup (1 stick) butter, at room temperature
1 (1-pound) package confectioners' sugar (about 4 cups)
1 teaspoon vanilla extract
1 (12-ounce) package semisweet chocolate chips (2 cups)
2 tablespoons solid vegetable shortening
1 package M&Ms
Directions
Blend the peanut butter with the butter, sugar, and vanilla in a medium bowl. It may be easiest to use your hands (kids love doing this).
Line a rimmed baking sheet with wax paper. Roll the peanut butter mixture by teaspoons into small balls and place on the baking sheet. Refrigerate for at least 1 hour to firm up the eyeballs.
Put the chocolate chips and shortening in a microwave-safe bowl and melt the chocolate in the microwave: Heat on high for 60 seconds, and then stir well. If it's not quite smooth, heat in two or three 10-second bursts, stirring well after each burst. (Alternatively, you can melt the chocolate, stirring frequently, in a double boiler, over just-simmering water. Avoid overheating, which can cause chocolate to seize up into a stiff mass.)
Take the sheet of balls from the refrigerator; use a fork or a toothpick to dip each one most of the way into the chocolate, leaving a round or oval opening of undipped peanut butter on top. (This opening in the chocolate will be the cornea.) Hold each ball over the chocolate to catch the drips, and then return to the wax paper, cornea side up.
Place an M&M in the center of the peanut butter cornea to make an iris. Refrigerate for at least 1 hour before serving. Store the eyeballs in the refrigerator or freezer and serve chilled.

Makes 48 peanut butter eyeballs.
Information
Category

Desserts, Candy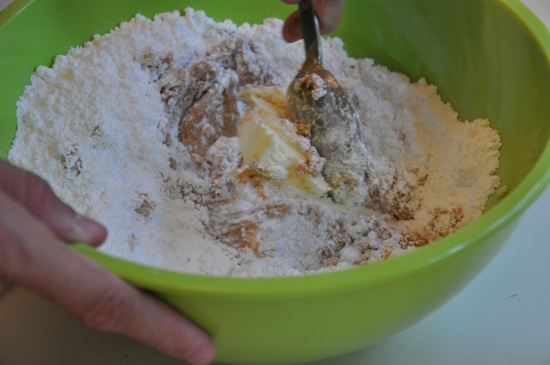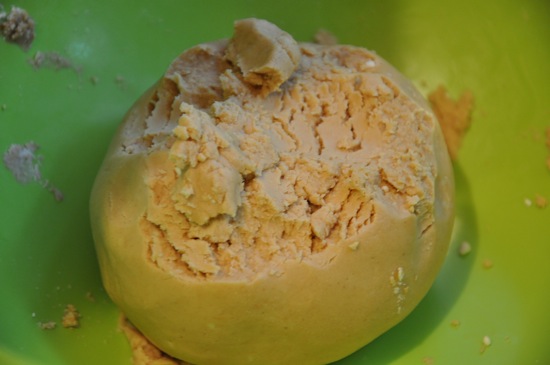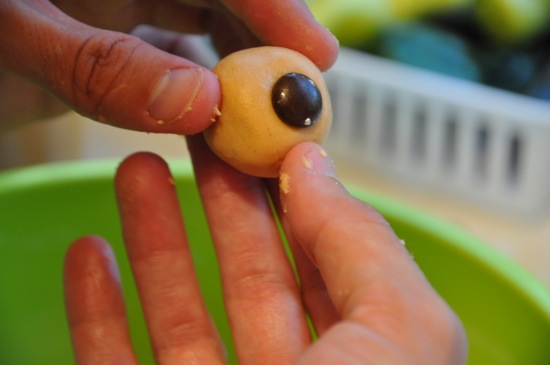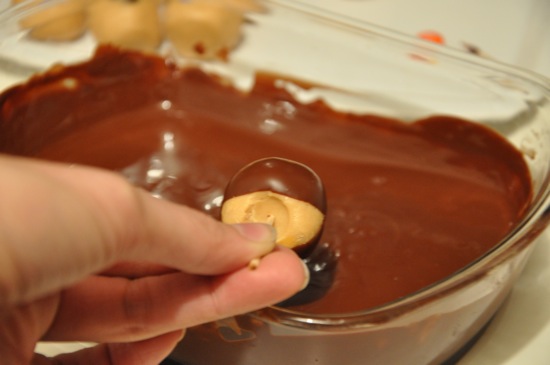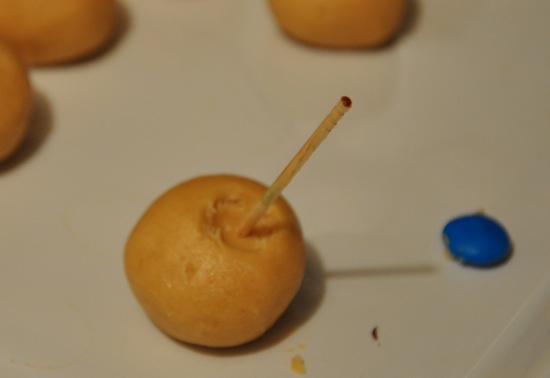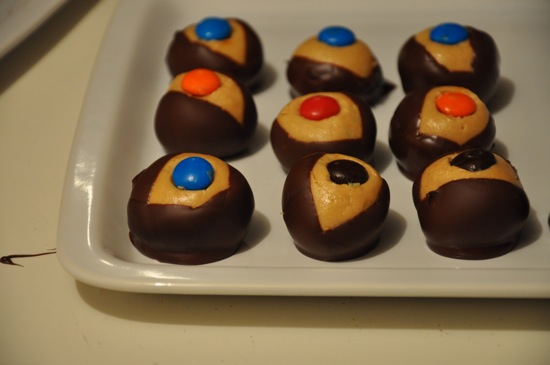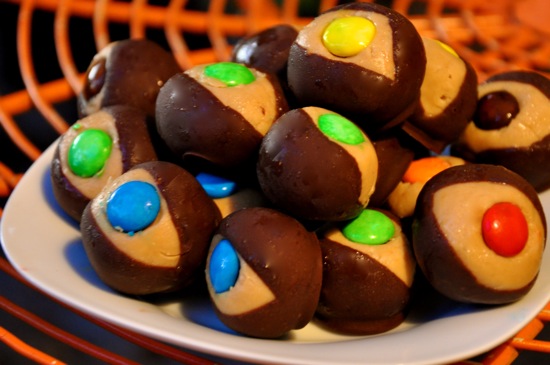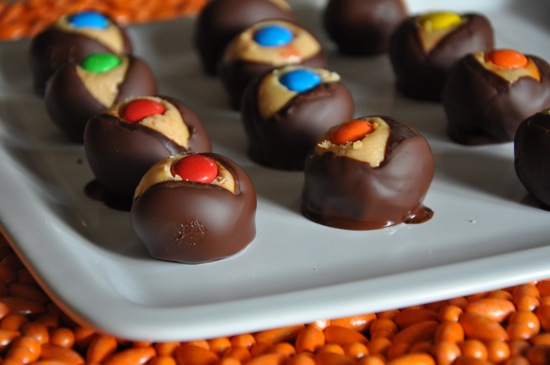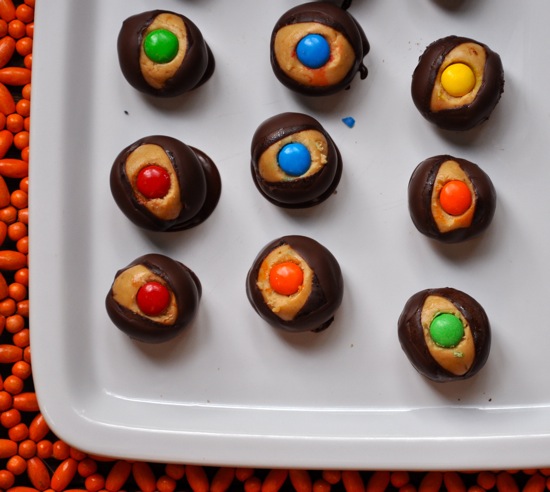 Do you have a scary or sweet recipe that your tots love? Share it with other mamas in The Children's Table group over in the LilSugar Community!