If there's one thing that most of our favorite baby showers [1] and parties have in common, it's that they have amazing dessert tables. A place to really pull together a theme, present a beautiful backdrop, and just delight your guests with inventive treats, the dessert table has become a chic party standard. Need some inspiration for your baby shower's dessert display? We found 20 amazing sweet tables that feature creative ideas as tempting as the yummy treats that lie on top. Keep reading to find the sweet table that speaks to you.
A Breakfast Buffet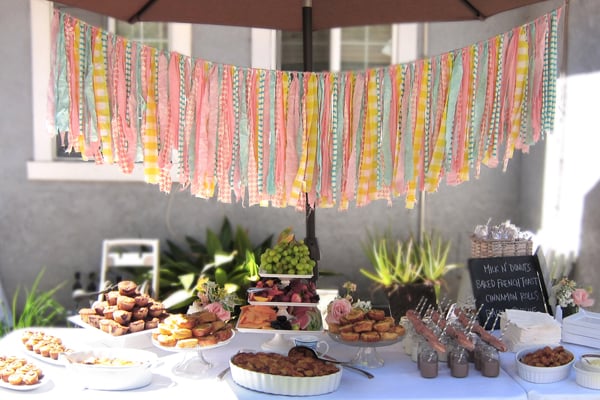 For this early afternoon shower, a buffet of brunch foods [2] pleased guests and the mom-to-be alike. "All of the food and cake was homemade by myself and a few close friends, except for the Krispy Kreme doughnuts, of course," says Kiira, the party hostess. "On the menu was sausage and egg strata, muffins, a brown-sugar french toast bake, Tater Tots, mini quiches, cinnamon rolls, and fresh fruit."
Source: Eye Heart Pretty Things [3]
Bun in the Oven Baby Shower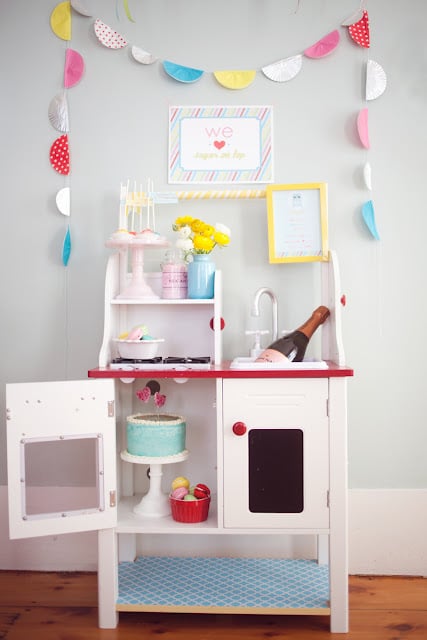 For this bun in the oven baby shower [4], the hostess used two kid-size kitchens (one a gift for the baby) to display Champagne and desserts. How clever!
Source: Meredith Nelson Photography for Lil Hoot [5]
Cowboy Baby Shower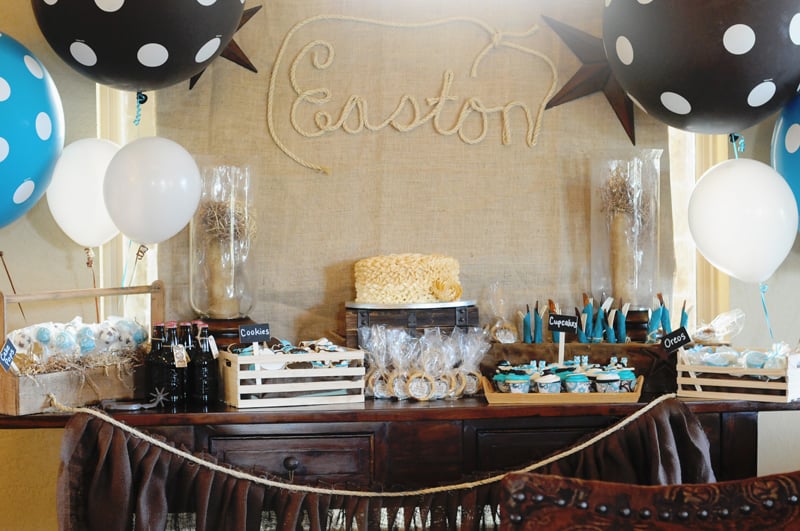 It was all about the backdrop at this cowboy baby shower [6]. Host Miranda Konieczny of Whimsical Printables made her own braided rope sign [7] to anchor the dessert table, which also featured oversize, polka-dot balloons and an abundance of sweets.
Source: Whimsical Printables [8]
Lullaby Baby Shower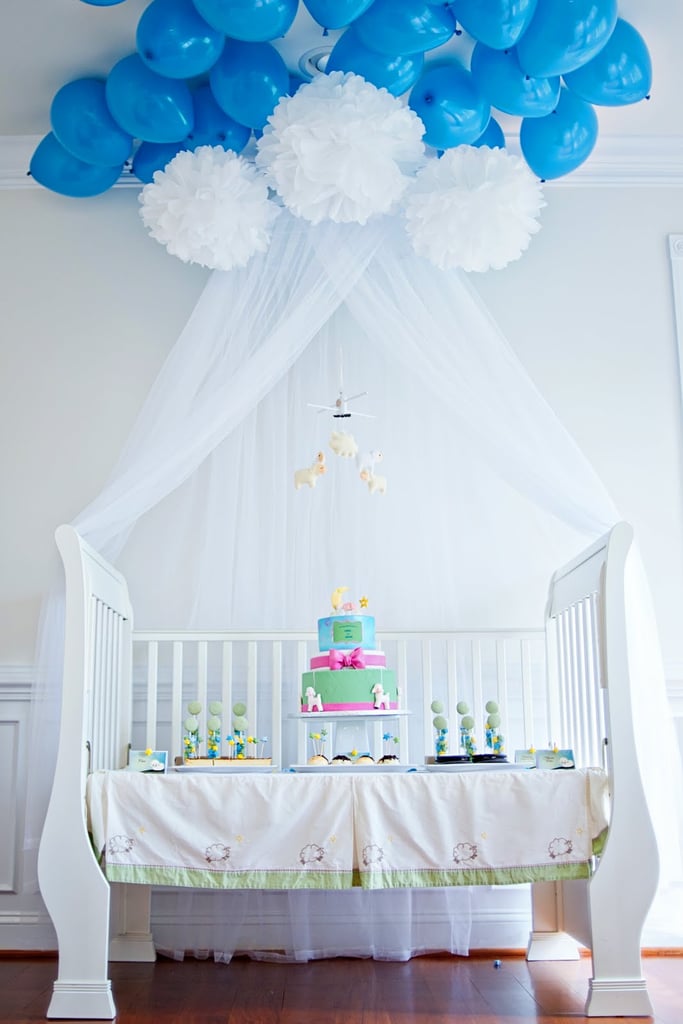 To carry out the lullaby theme of this shower [9], the dessert display was placed on a sleigh crib with a coordinating crib skirt. White canopy netting, pom-pom clouds, and two dozen sky-blue balloons created a dreamy effect. The highlight: a handmade Gifts Define [10] counting sheep mobile was suspended above a three-tier banana and caramel cake.
Source: Rebecca Watkins Photography for Pure Joy Events [11]
Owl Baby Shower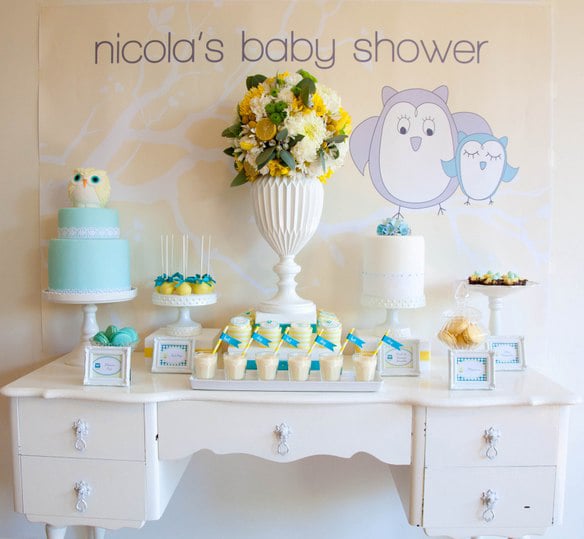 Not only was the owl-topped cake at this yellow and blue shower incredible, but it also was joined by an awesome retro flower display, a personalized backdrop, and a host of treats, including mini chocolate nests (mini cheesecake in a handmade chocolate nest topped with sugar eggs), passion fruit and vanilla macarons, Oreo and lemon pops, and peach and banana smoothies.
Source: The TomKat Studio [12]
Little Man Mustache Baby Shower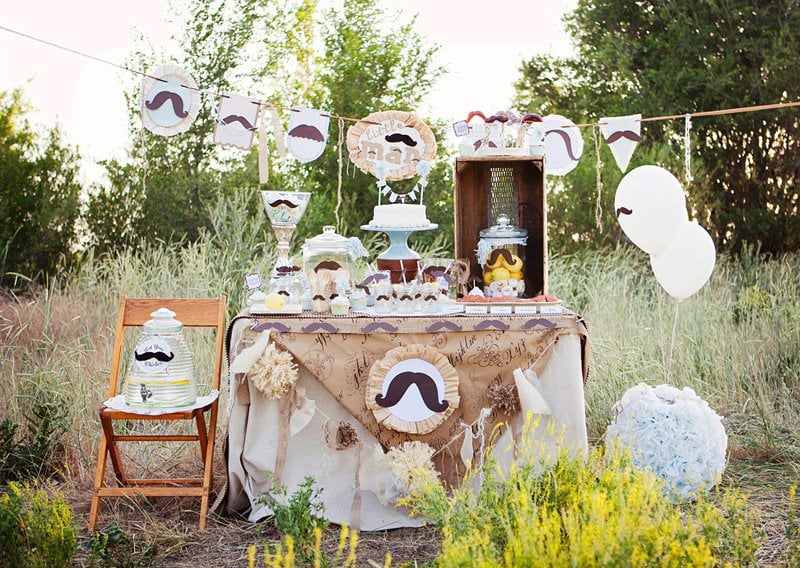 A handmade banner hung above the dessert table at this little man mustache baby shower. "I love using old things and giving new things that old feel," party planner Jessica says. "I also like to throw in the unexpected — like using corrugated cardboard as my table runner and an antique wooden crate for height and visual interest. The rough edges of rope and cardboard combined with the feminine softness of the doilies and yarn pom-poms make this overall look! A great juxtaposition of old, new, unpredicted, and functional."
Source: Quilted Polka Dot [13]
Georgetown Cupcakes' Rubber Duck Shower

Yellow candy and treats filled up an extralong banquet table to add to this yellow, rubber-duck-themed shower [14] thrown for Georgetown Cupcakes founder Katherine Kallinis Berman. Also on the table: prebaked (but not yet iced) cupcakes for guests to decorate. The yellow and pastel-themed bar also included buttercream, fondant, and sugar decorations for guests to use while decorating their own cupcakes.
Source: Elizabeth Messina [15]
Goodnight Moon Dessert Table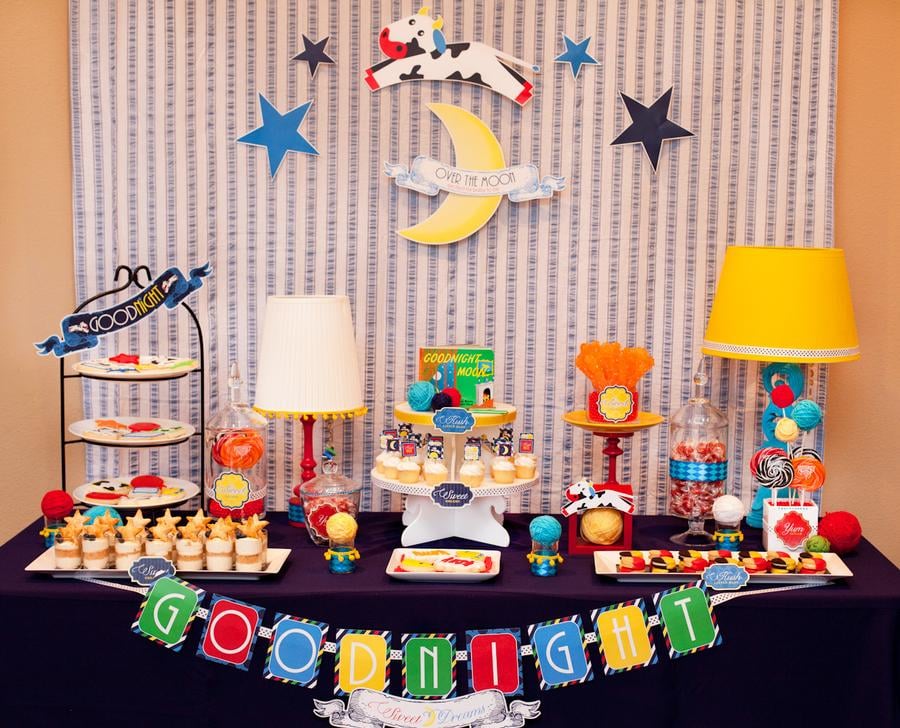 For this colorful dessert table, a striped backdrop — an inexpensive shower curtain from Target — and a navy-blue linen worked well with the Goodnight Moon theme [16] and made the bright table details and desserts really pop. A cow jumping over the moon was hung with fishing wire for a whimsical touch hanging above the table — another inexpensive and fabulous touch, since the art file was downloaded [17] and printed at home.
Source: Hostess with the Mostess [18]
Little Birdies Shower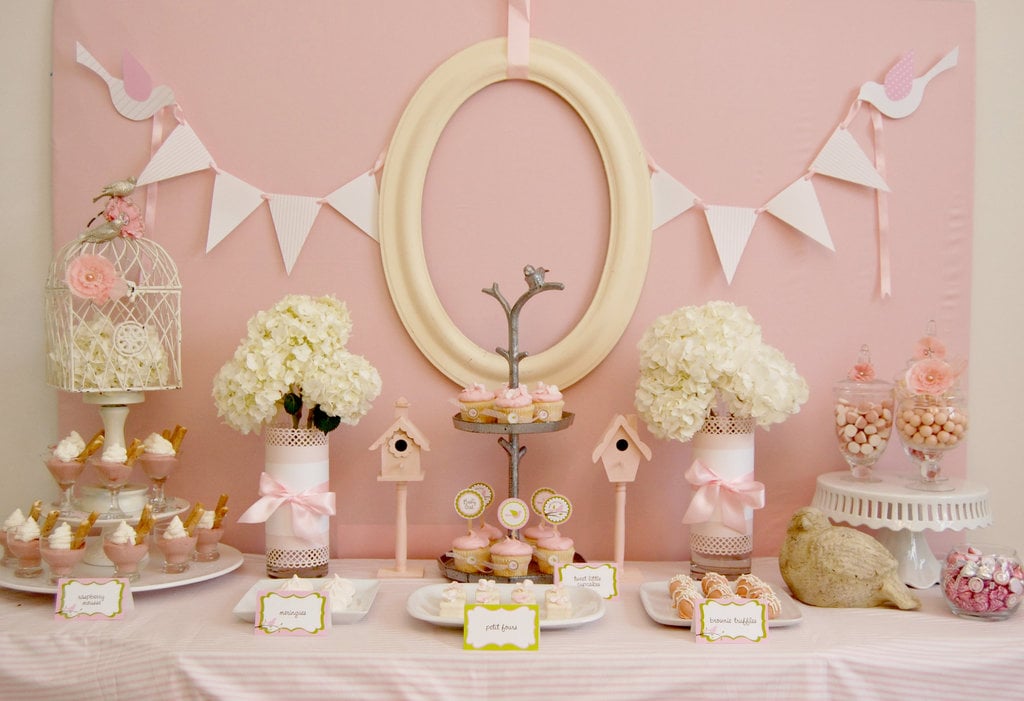 The dessert table at this little-birdies-themed shower [19] was created in a palette of soft pinks for a girlie yet elegant look. A plain pink fabric served as the table backdrop, with a large oval hanging wooden frame and pink paper pennants hanging from each side. Small pink birdhouses and fluffy flowers served as decor for this sweets table, while inexpensive glass jars held colored candies for all to enjoy.
Source: Frog Prince Paperie [20]
A Vintage-Filled Baby Shower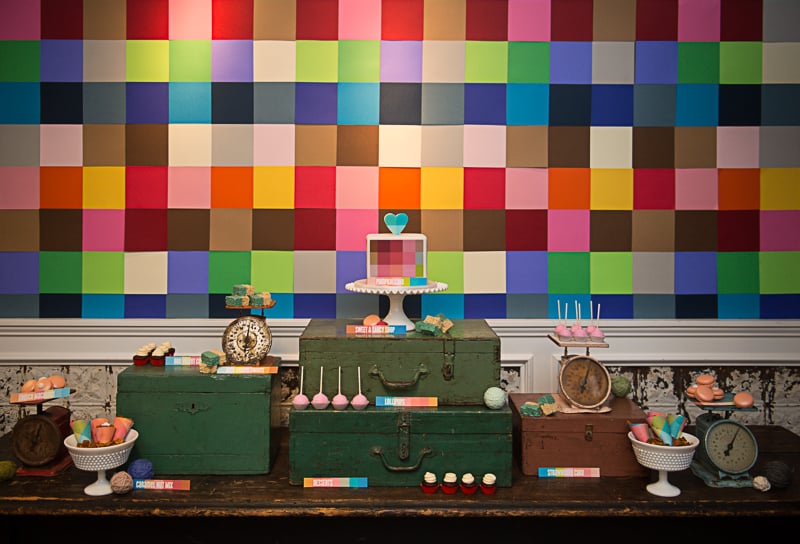 Although the sweets at this vintage-inspired shower [21] were cute enough on their own, displaying them on old-school scales and suitcases added to the appeal. An awesome graphic backdrop was another major highlight.
Source: Found Vintage Rentals [22]
Showered With Love Brunch Shower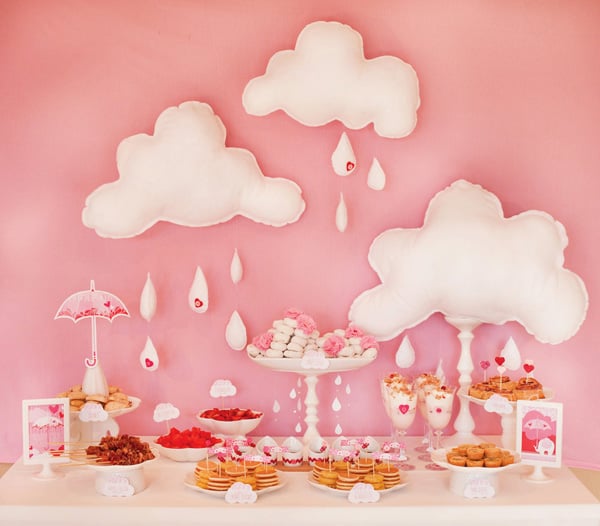 Felt clouds and raindrops made a sweet backdrop for Hostess With the Mostess's Showered With Love baby shower [23]. The brunch shower's "dessert" table also featured stacks of mini donuts, waffles, and pancakes, cut-up fruit, bacon, cinnamon buns, and more.
Source: Hostess With the Mostess [24]
Ruffle and Ribbon Baby Shower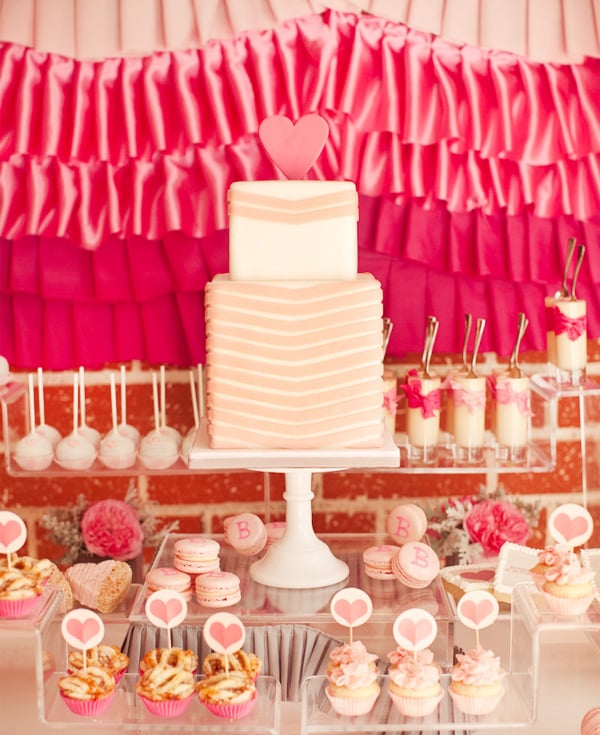 When the guest of honor is a pastry chef, you know the dessert table is going to be gorgeous, and the ruffle-backed table at this pink-filled baby shower [25] was no exception. Mom-to-be Melody Brandon [26] created all the custom desserts, while Jesi Haack [27] made the awesome ruffle backdrop.
Source: Gabriel Ryan Photographers for Hostess With the Mostess [28]
A Sprinkle Baby Shower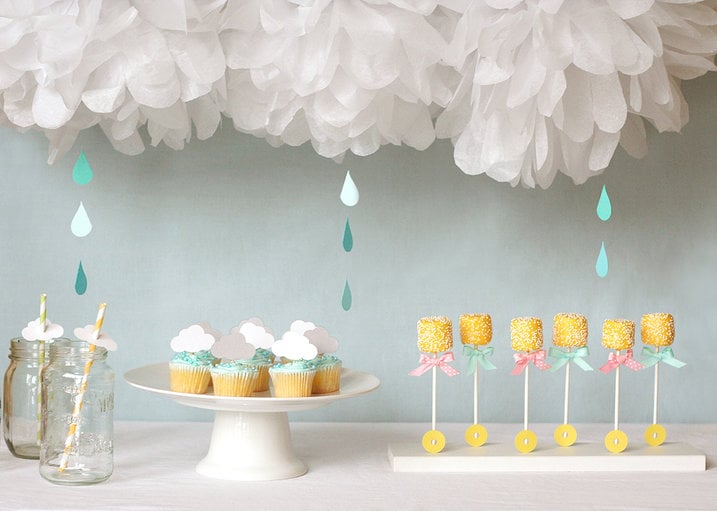 Tissue-paper clouds with raindrops and cloud-topped cupcakes made for a simple but sweet dessert display at this sprinkle-themed baby shower [29].
Source: Lisa Storms [30]
Lavendar "Baby Love" Shower
Not one, not two, but five cakes graced the dessert table created for this "baby love" shower [31]. Made for a cake-craving mom-to-be, the flavor choices included chocolate, lemon with blackberry crème, Baileys-soaked La Reine, coconut, and plain white cake with Swiss meringue frosting. Also displayed: macarons, sugar cookies, and chocolate-covered Oreos.
Source: John McLaughlin for Frog Prince Paperie [32]
Ready to Pop Shower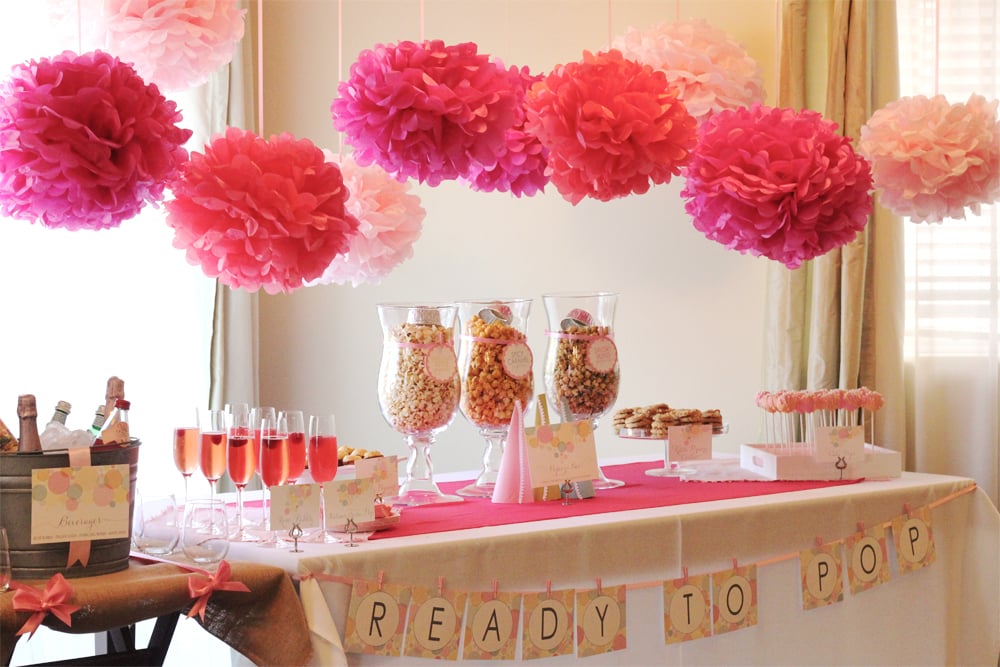 This "ready to pop" shower's [33] dessert table followed the theme with popcorn, cake pops, kettle-popcorn cookies, and bubbly beverages.
Source: Le Partie Sugar [34]
A Craving Station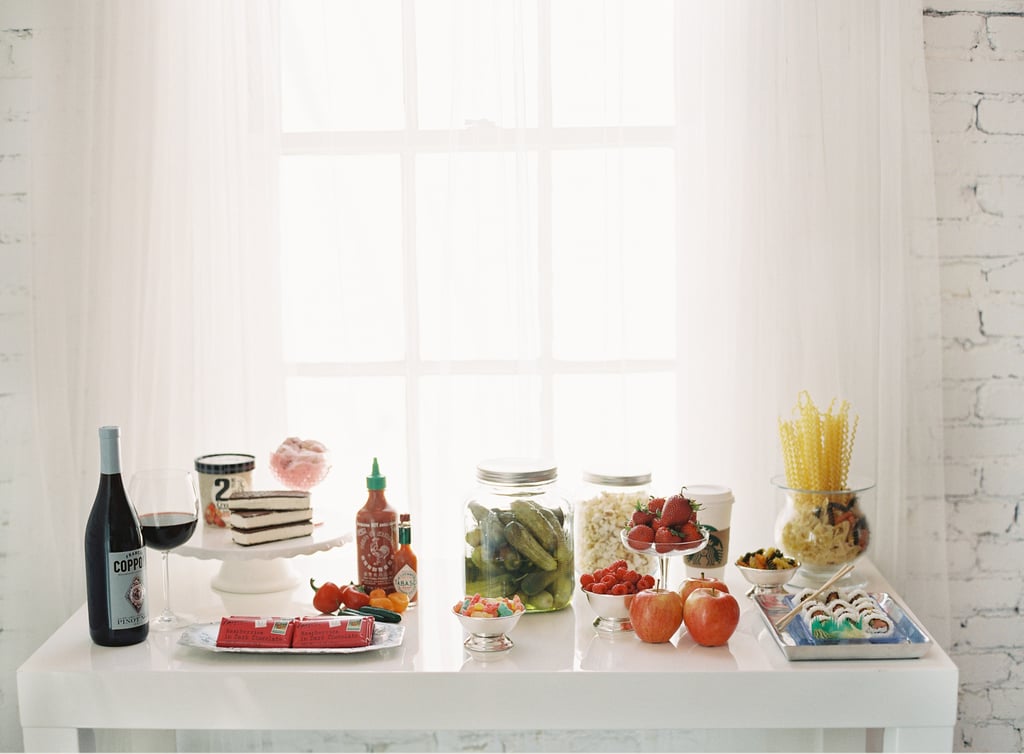 Karson Butler Events [35] created a "craving station" for this baby shower with a sense of a humor. Guests ranked the order of the items they thought mom-to-be Sandie would crave the most. Guests were surprised her top craving was fruit!
Source: Karson Butler Events [36]
Gold and Pink Circus Shower
For this luxe gold and pink circus-themed shower [37], the host made her own DIY crepe fringe backdrop [38] to hang behind the dessert table. Table highlights included XOXO candy dishes [39] from Ivy Lane Designs filled with pearlized sixlets from A Candy Store [40] and pearlized gumballs and rock candy from Oh Nuts [41].
Source: Canary Grey Photography for Somewhere Splendid [42]
"Ahoy!" A Nautical Dessert Table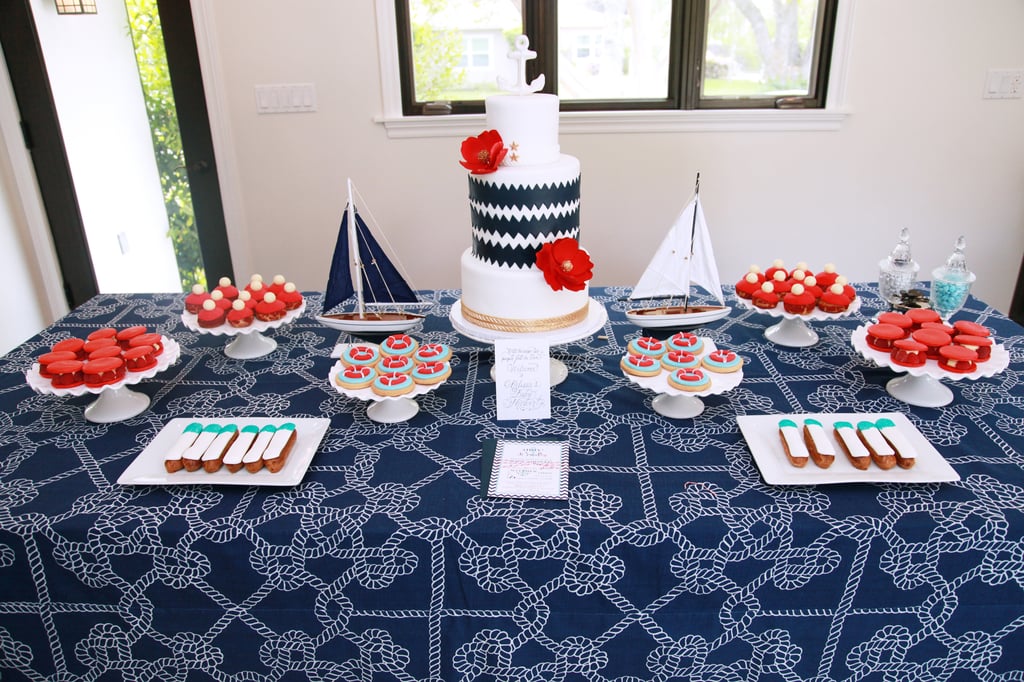 A variety of red, white, and blue nautical-inspired desserts, including a beautiful cake from Cake Studio LA [43], lined the dessert table at this "Ahoy Baby Boy!" shower [44].
Source: Fancy That! Events [45]
Springtime Baby Sprinkle
For this springtime baby sprinkle [46], the dessert table was decked out in real grass table runners and featured an array of pastel sweet treats that looked (almost) too good to eat. The surprisingly simple centerpiece? An upside-down umbrella with glass globe "raindrops" (actually Christmas ornaments) hanging from it.
Photography by: Carly Taylor Photography [47]
Birds and Bees Baby Shower Buffet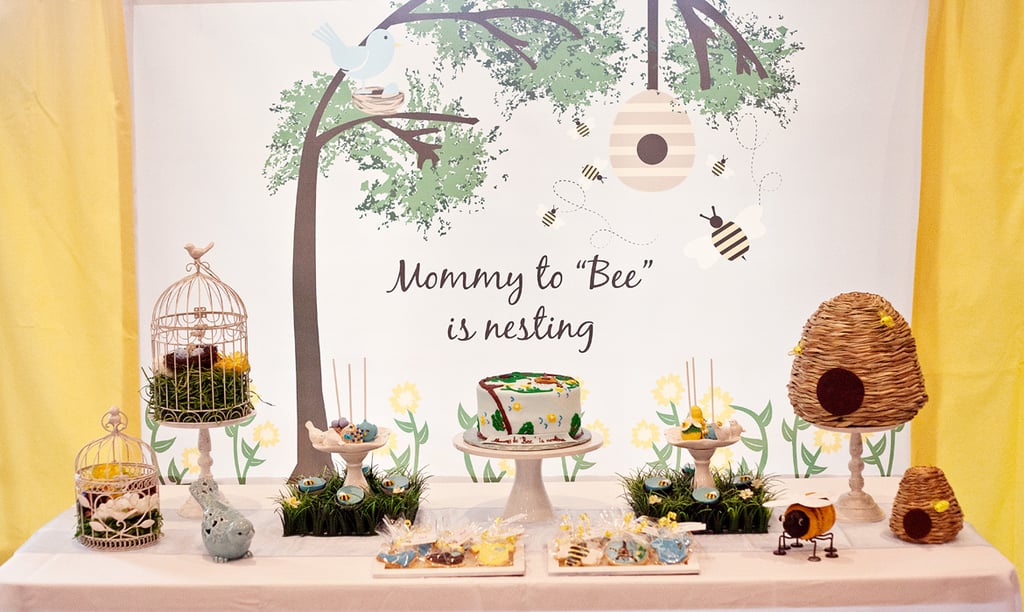 At this "Birds and the Bees" shower, the theme was executed through the use of birdcage and honeycomb props on the dessert table. The woodland look is right on trend, and you can borrow the idea of using additional home decor accessories for your own shower.
Source: Alyson Sivek Photography [48]