We all know that when it comes to kids' birthday bashes [1], the options (and Pinterest ideas) are absolutely endless. But if your little one's specifically requested a Disney-themed celebration this year, you're in luck. From Mickey to Peter Pan to Frozen, and everything in between, we've rounded up 16 of our favorite Disney party themes for kids. If you're inspired enough to customize one of these themes as your kiddo's own (or if have your own ideas, which you haven't already seen here), we'd love to see your snaps. Share them with on Instagram [2] by tagging us (@POPSUGARMoms), and however you celebrate, make it a magical (birth)day!
Source: Michelle's Party Plan-It [3]
Disney Cars Party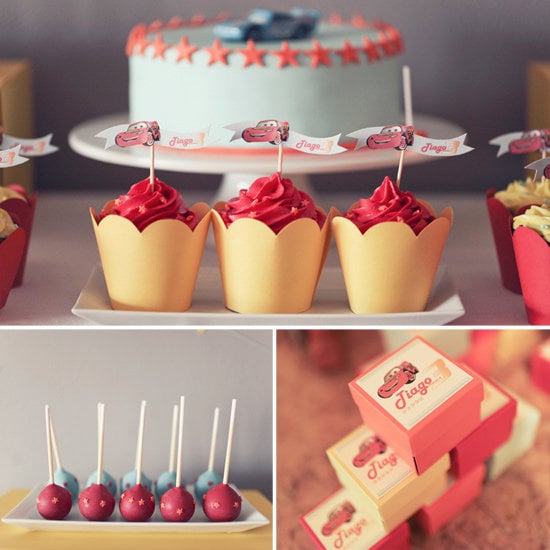 Start your engines! Boys, both big and small, tend to love "things that go" — and it's almost certain that your little man also loves the movie Cars. Throw him a "wheelie" cool party [4] for his next birthday, inspired by the movie.
Source: Branco Prata [5]
A Pink and Blue Sleeping Beauty Party
Suzanne Olvey of Fanciful Events [6] used the Princess Aurora as the fanciful inspiration for her daughter's birthday party, full of rose-topped sweets, a cake fit for royalty, and an awesome design-your-own-tutu station.
"I wanted to incorporate the famous pink vs. blue fight between the fairies," Suzanne says. "The party turned out really special and so magical." Click here [7] for all the princess-perfect details!
Source: Fanciful Events [8]
A Peter Pan Party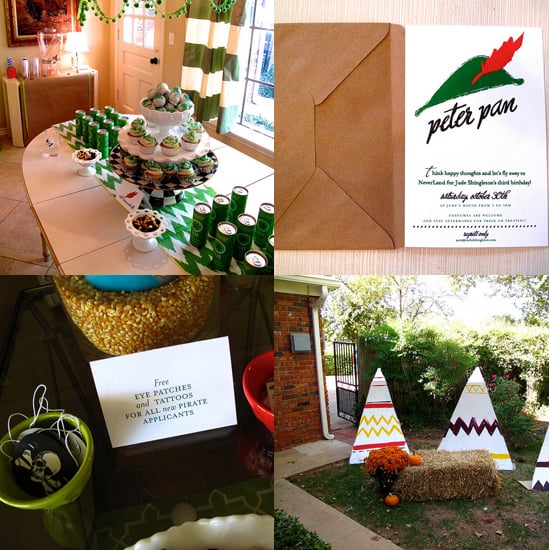 When Rachel Shingleton's son turned 3, she transformed her home into Never Never Land [9], complete with eye patches, tattoos, pixie dust, and tepee photo stations for the lost boys attending in their best Peter Pan costumes.
Source: Pencil Shavings [10]
A Pirates of the Caribbean Party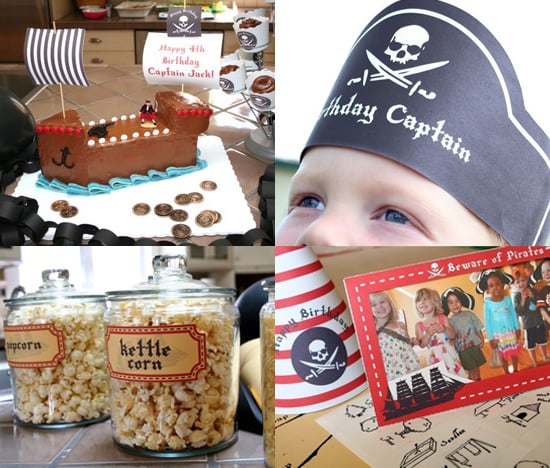 Ahoy, mate! Little pirates will love boarding your backyard pirate ship [11] to set sail for hidden treasures.
Source: Piece of Cake Parties [12]
Another Up-Inspired Party (This One With Vibrant DIY Details)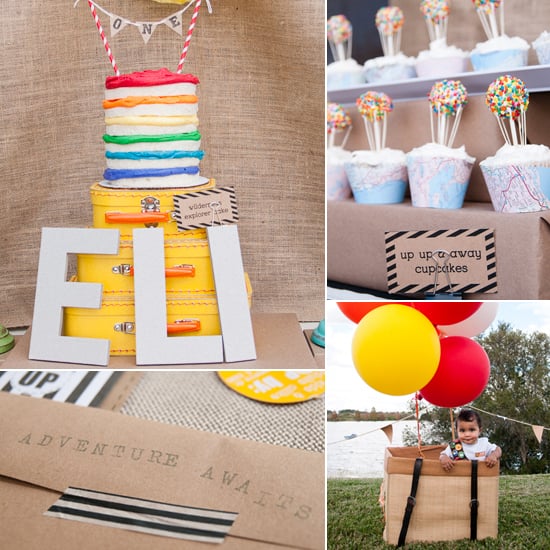 We're completely smitten with the first birthday party created by Siuleth Rivera of stationery and event styling company Eleven Note [13] for her son, Eli.
Colorful DIY [14] details — including a rainbow-frosted layered cake, bright animal magnet favors, and a fingerprints-as-balloons guest "book" — abounded at this creative bash. "Up is about adventure and love," Siuleth says, "and little Eli is both our greatest adventure and our greatest love!" Click here [15] for all the details.
Source: LH Photography [16]
A Mermaid Birthday Party Fit For Ariel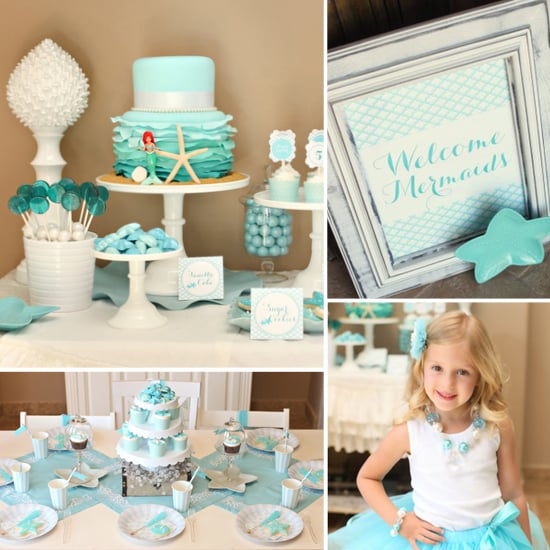 Kim Stoegbauer of The TomKat Studio [17] throws an abundance of inspired parties [18], but the mermaid bash she created for her daughter Kate's fifth birthday is one of our all-time favorites and would be just the thing for your Little Mermaid fan. Eight of Kate's friends attended the sweet party, full of blue-and-aqua, pearl, and iridescent accents (all available through TomKat's shop [19]), one of the prettiest cakes we've ever seen, and of course, an appearance by Ariel. Click here [20] for all the undersea birthday beauty, captured by photographer Vicki Lynn [21]!
Source: The TomKat Studio [22]
A Snow White Birthday Party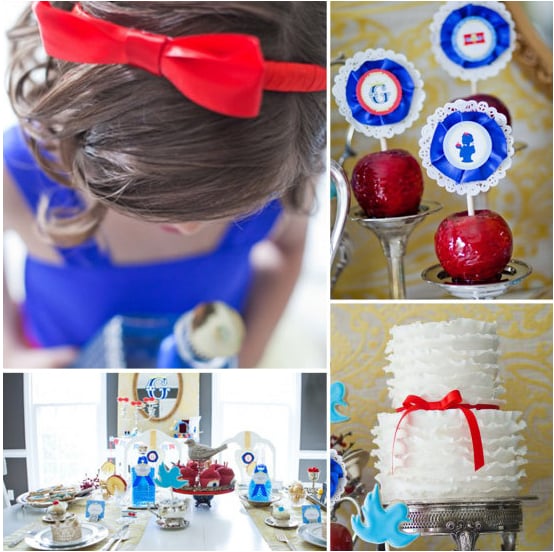 With "poisonous" candy apples, fairy-tale bluebird cookies, candy-gem-embellished cupcakes, a white ruffle cake, and make-your-own bejeweled mirrors, this royal Snow White birthday affair [23] is fairy-tale perfection.


Source: Becca Bond for Anders Ruff [24]
A Supersweet Up-Inspired Party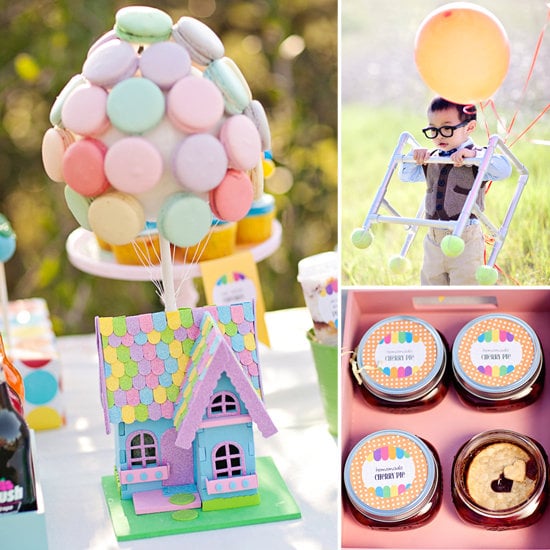 Majell del Castillo [25] designs absolutely beautiful events, but we were blown away (up, up, and away, that is) when we spotted the Up-inspired birthday bash [26] she recently created. "We were mostly inspired by vintage details from the first 15 minutes of the movie," Majell says. "The props were mostly DIY [27] projects that were on the vintage side, from globes to grape soda and 'Ellie badges.'" But our favorite details have to be the balloon-inspired sweets, including an awesome house with macaron balloons and the cutest cupcakes around.
Source: Majell del Castillo Events [28]
A Royal Cinderella Birthday Party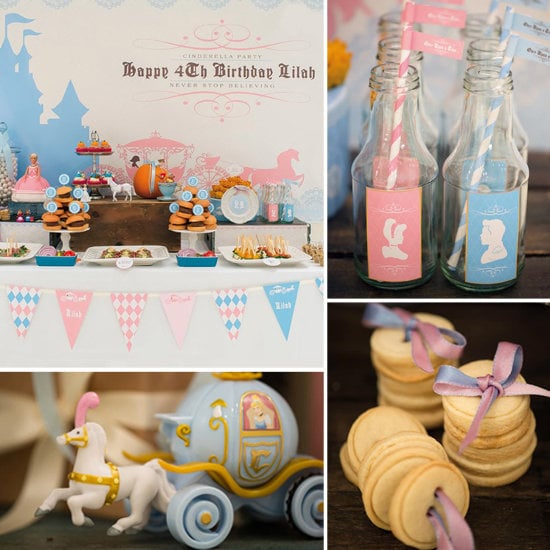 Event planner Keren Precel's [29] Cinderella-themed party [30], thrown for 4-year-old Lilah, goes beyond the typical Disney-purchased fare. "We wanted to create a Cinderella theme with our own designed elements, rather than using the obvious store-bought items," Keren says. "We started off by creating a one-of-a-kind, custom-made logo for the party: a pink princess carriage decorated with blue lace." Graphic elements combined with a doll-topped cake, lots of little characters from the movie, a fairy godmother wishing tree, and some awesome frilly paper products to make this one party Lilah will never forget!
Source: Keren Precel Events [31]
A Nautical Mickey Mouse Party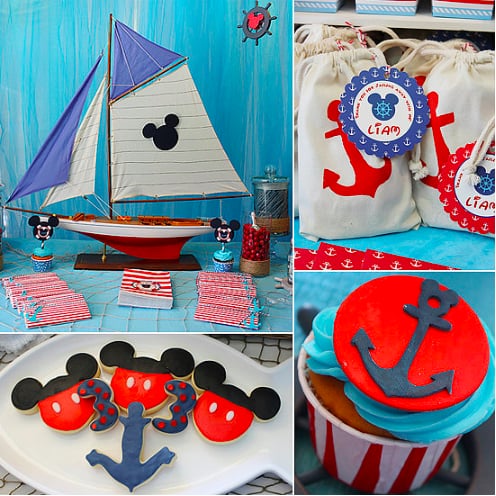 Party planner and mom Michelle Stewart of Michelle's Party Plan-It [32] knows how to create a standout event, and when it came time to plan her son Liam's third birthday party, she decided to take to the high seas . . . and bring Mickey Mouse on board! "My son's love of Mickey Mouse, and anything water-related, but especially boats, inspired the theme," Michelle says of the event, which she crafted in shades of red, blue, and aqua. "With the nautical theme being trendy right now, it was easy to find decorative items to coordinate." Nautical decor including seagulls, lobsters, and boats, Mickey-themed desserts, and DIY [33] sailor hats were just some of this party's awesome elements, but keep clicking to see them all [34]!
Source: Michelle's Party Plan-It [35]
An Alice in Wonderland Birthday Party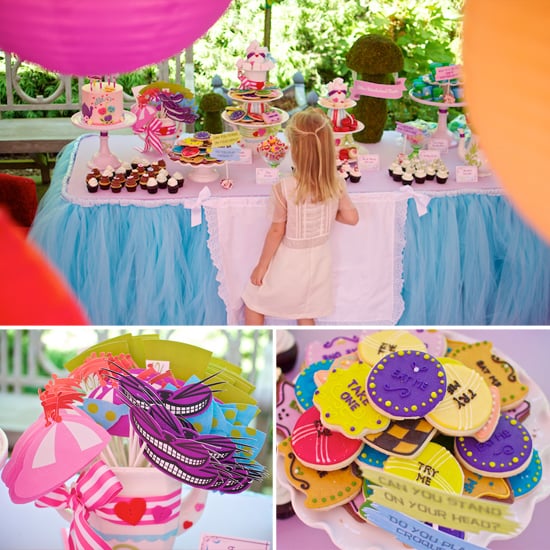 Fall down the rabbit hole and into this
Alice in Wonderland birthday party [36]! With Lewis Carroll's classic tale (and the beloved animated film) as your guide, a magical afternoon tea party in Wonderland will delight at your girl's next birthday celebration.
Source: Sweets Indeed [37]
A (Lovely) Small World First Birthday Party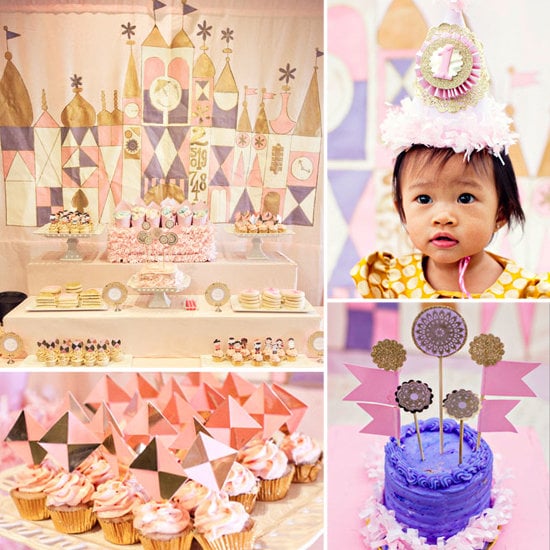 Created by Linsey Latimer's Lux Events & Design [38] for the first birthday party of photographer Kristine Atienza's [39] daughter Eva, this It's a Small World party [40] is full of pink, purple, and gold global details. "Kristine choose It's a Small World as the theme because it was the birthday girl's first-ever ride at Disneyland and because the family loves to travel," Linsey says "I took all of my inspiration for this party from the Small World castle. I just love how all the elements played off of the building!"
Source: Kristine Atienza [41]
A Dreamy Under the Sea Party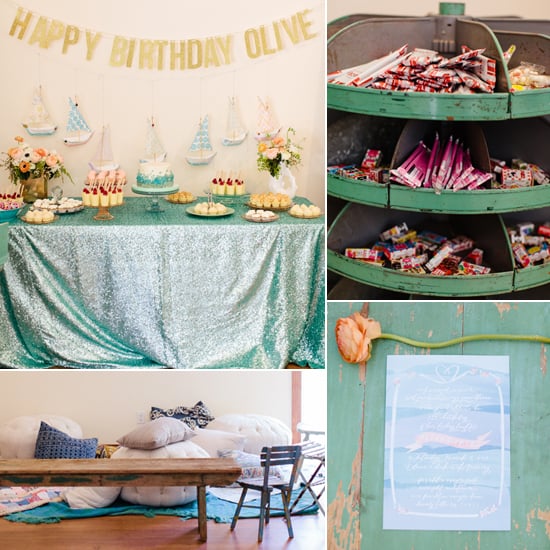 What do you get when you put together an event planner mama (Angel Swanson of Love & Splendor [42]), the Korean tradition of a Dol (an over-the-top first birthday celebration), and a whimsical under-the-sea party theme? Party perfection! This soiree, thrown for little Olive, has something for everyone: a baby lounge, kid-friendly entertainment, including an amazing bubble show, plenty of sweet treats, and gorgeous decor in shades of mint and pink. Click here [43] to check out all the details of this dreamy party that Sebastian would surely approve of.
Source: Love & Splendor [44]
A Frozen-Inspired Birthday Bash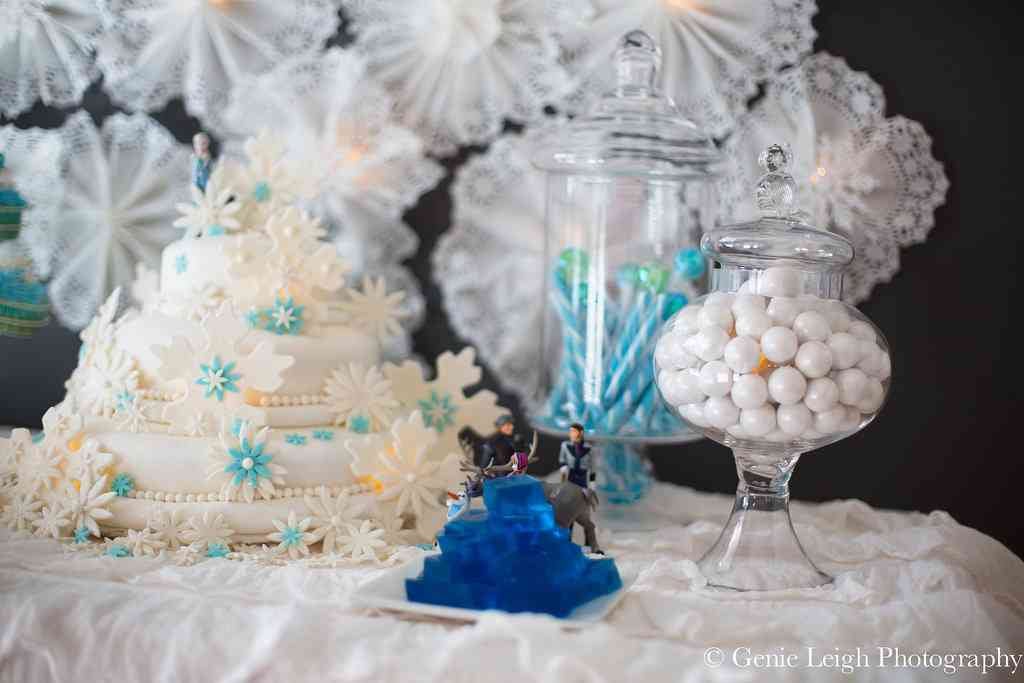 Megan Leigh, mom and photographer of Genie Leigh Photography, has seen Disney's Frozen with her daughter three times. So it's no surprise that her budding 5-year-old wanted her birthday party to feature Elsa, her favorite character from the animated film.
Luckily, paired with some creativity, the icy songstress's look provides for wonderfully delightful party decor: blue and white, snowflakes, and sparkles. Check out the Winter wonderland details [45] right here!
Source: Genie Leigh Photography [46]
A Minnie Mouse Party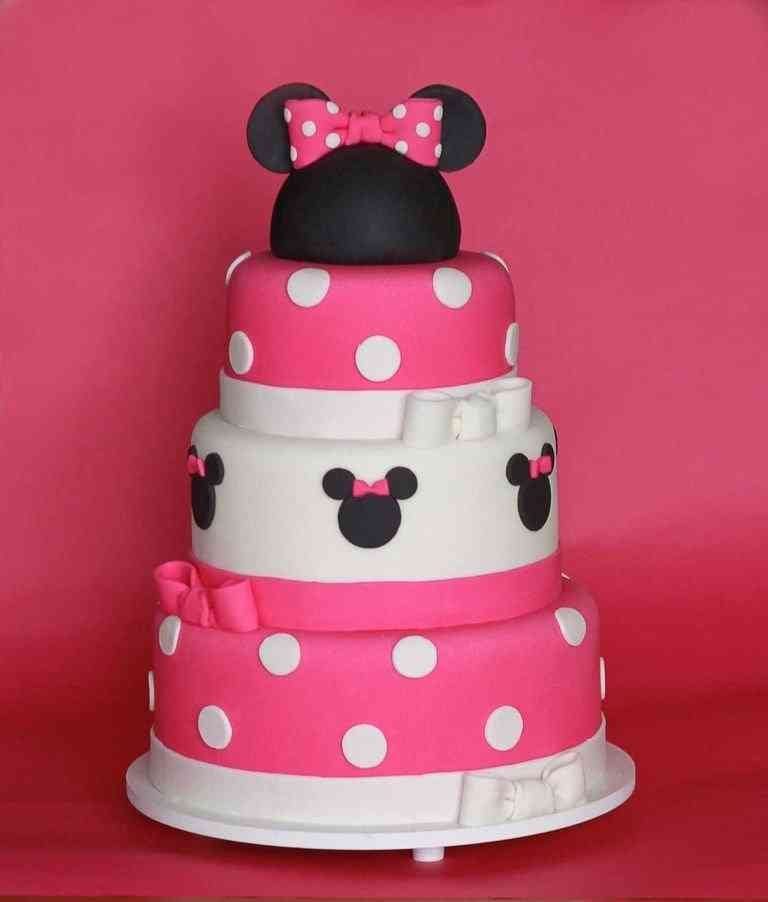 If mama's little girl is turning a year older and all she wants is a Minnie Mouse-themed birthday bash [47], then that's exactly what she'll get — and we've got some great party planning ideas to get you started!
Source: The Cookie Shop [48]
A Brave Birthday Party
Inspired by her daughter Ella's love of Disney film Brave, Hana Lynch — a mom, blogger [49], and photographer [50] — created a whimsical fifth birthday party that appeals to the inner rebel-princess in all of us. "I wanted the party table to evoke a sense of being within the enchanting forest that Merida encounters during her adventure," Hana says. "I created this feeling using natural elements like moss and tree stumps to display the food. The light-up 'wisps' gave it a magical touch." Add in an incredible cake; gender-neutral activities including a "haggis" toss, archery, and design-your-own coats of arms; and one adorable birthday girl — and you have one adventurous birthday bash! Click here [51] for all the incredible details.
Source: The MomTog Diaries [52]