Drew Barrymore is the proud mom of a second baby girl [1]! Barrymore and her husband, Will Kopelman, announced the birth of their latest addition to PEOPLE earlier today: "Happy to announce that today we are the proud parents of our second daughter, Frankie Barrymore Kopelman. Olive has a new little sister, and everyone is healthy and happy."
While we wait to see baby Frankie's first photo [2], we're taking a look back at mom Drew's beautiful, Boho chic maternity fashion. Throughout her first pregnancy, Drew stayed true to her eclectic, laid-back style, featuring belly-covering, stylish t-shirts and oversize jackets. But Drew is no fashion slouch, and she amped up her casual clothing with designer pieces like an amazing Dries Van Noten jacket, some on-trend accessories, and one amazing custom Chanel wedding [3] dress.
Caftan-Clad Chic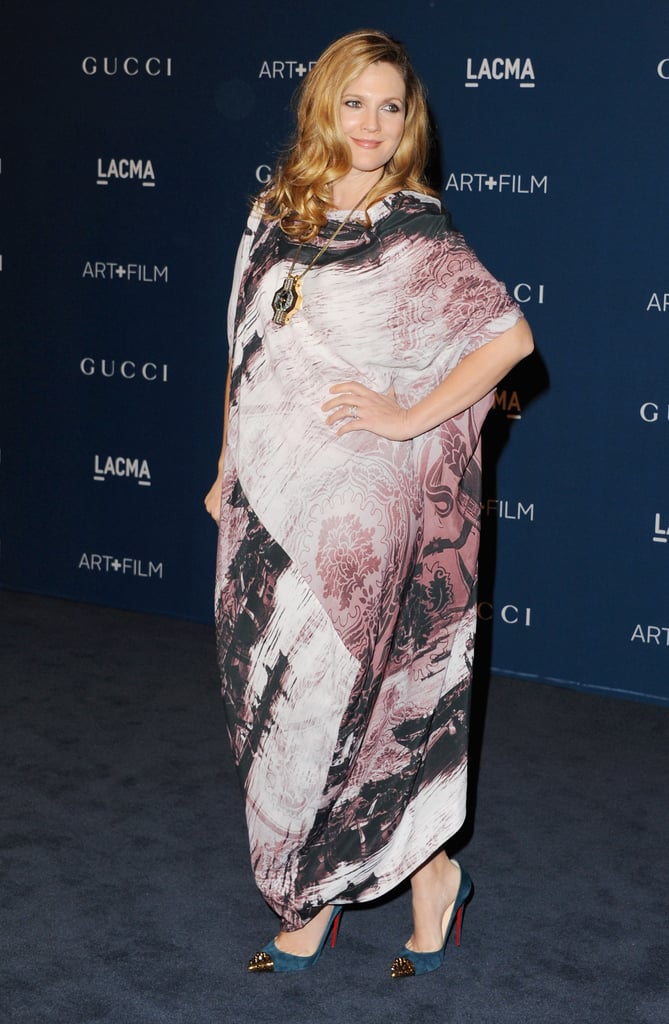 Drew stepped out at the star-studded LACMA 2013 Art + Film Gala in a Gucci caftan-style gown and gorgeous oversize pendant. Her smoky eye look [4] was right on trend in the beauty department!
Ladylike and Lovely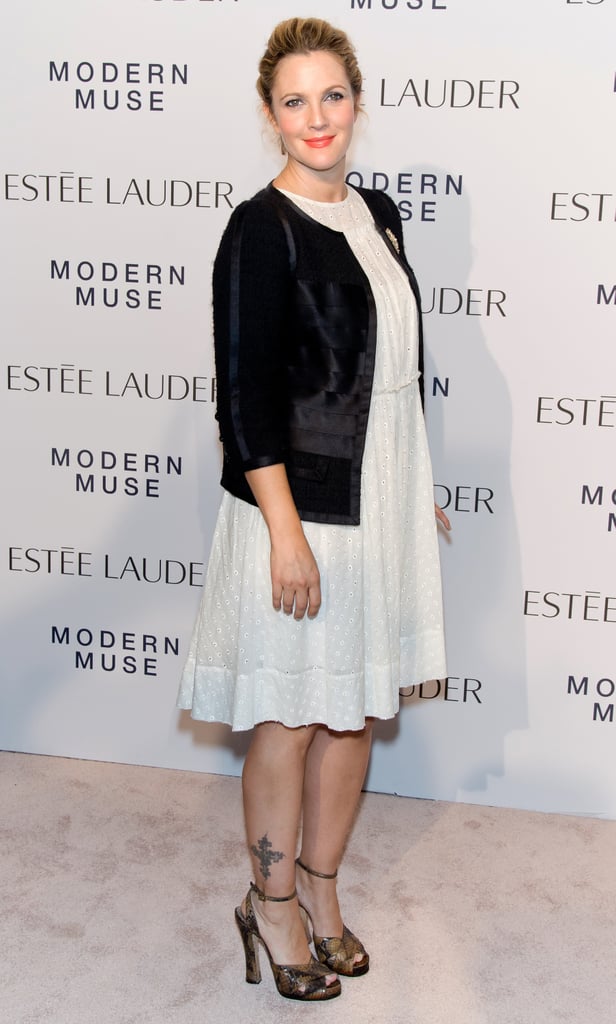 At the launch of Estée Lauder's Modern Muse fragrance in September, Drew wore a white knee-length dress with an easy black cardigan.
Red Carpet Glam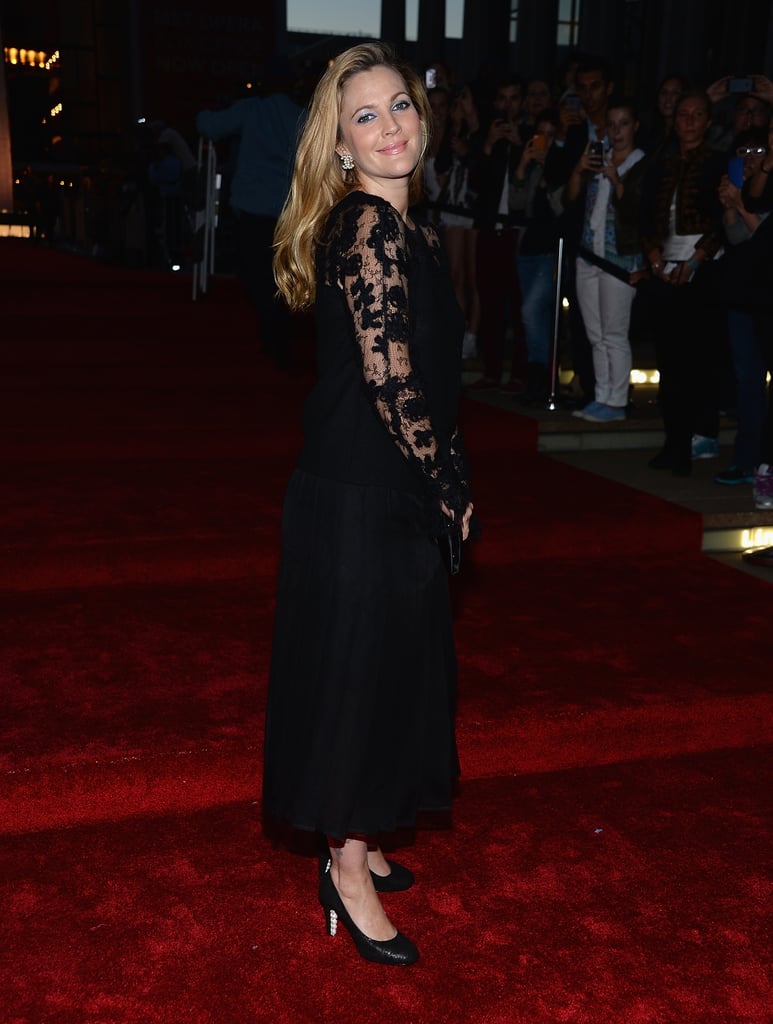 At the NYC Ballet's 2013 Fall Gala in September, Drew looked lovely in a black lace Chanel gown with sheer sleeves.
Lady in Black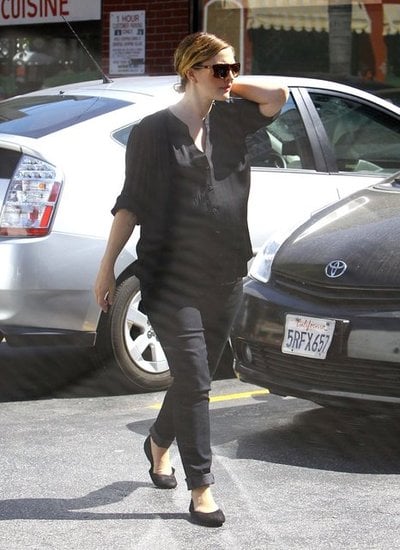 Drew was in head-to-toe black in June as she headed out in LA to meet up with friends.
Mama Mani
Drew left a nail salon in LA in July, wearing a casual tee-and-khaki combo, after getting a tangerine-colored manicure and pedicure.
Bride With Bump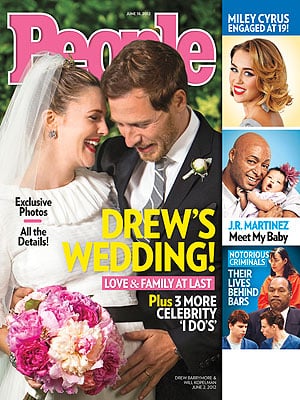 Drew wore an embroidered floral Chanel gown designed especially for her by Karl Lagerfeld for her wedding [5] to Will Kopelman, held at her Montecito, CA, estate.
Source: People Magazine [6]
At the Ballet
For the May 10 New York City Ballet Spring Gala, Drew Barrymore [7] wore a white Chanel dress paired with a black blazer. Though not quite a wedding [8] gown, rumor has it that the expectant mama is heading down the aisle soon!
Party Hopping
For an evening out in the Big Apple on Mother's Day [9], Drew chose a loose and flowing look topped off with an unstructured blazer for a more formal look.
Photo Shoot Prep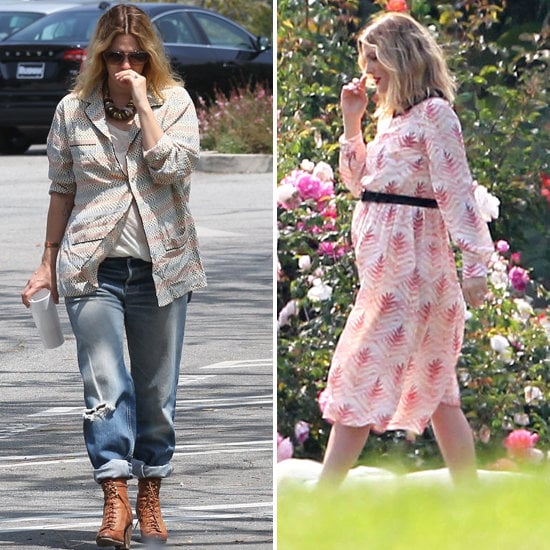 Drew Barrymore [10] looked laid-back in boyfriend jeans and a pajama-esque top in Santa Monica on April 30. Later, she dressed up for a photo shoot at the Huntington Library in San Marino.
Laid-Back Saturday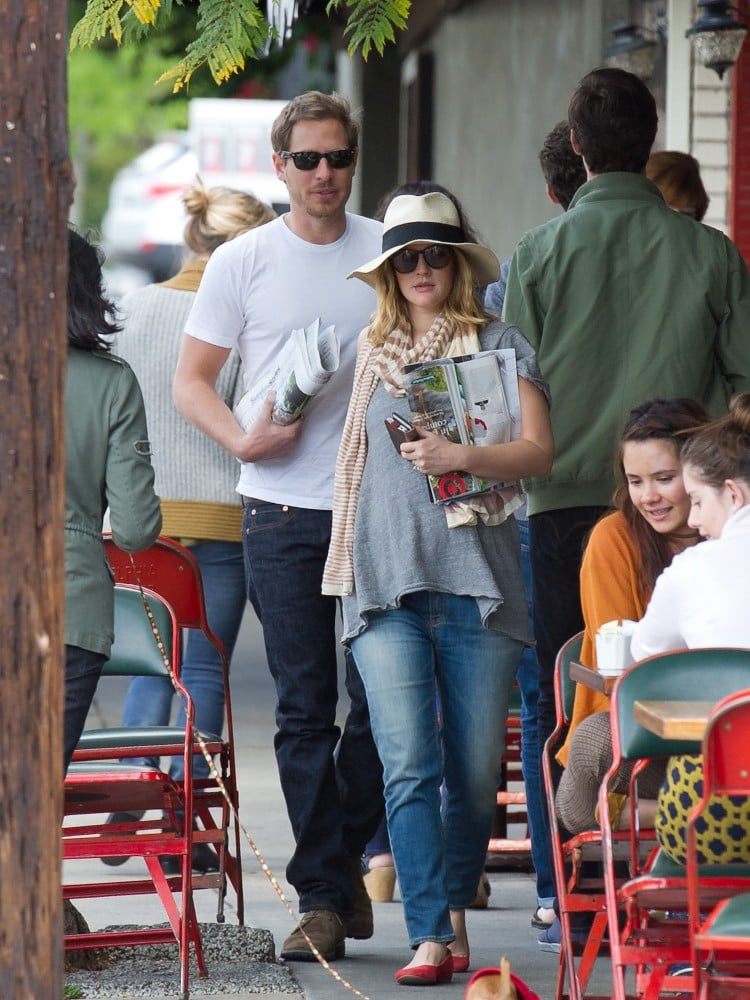 Drew Barrymore [11] and Will Kopelman had a sweet outing in LA on April 14. The couple stopped off for lunch, then grabbed drinks at Intelligentsia coffee and, later, Pazzo Gelato. Drew was armed with a copy of The New York Times for their Saturday a.m. lounging session.
Sweet Shades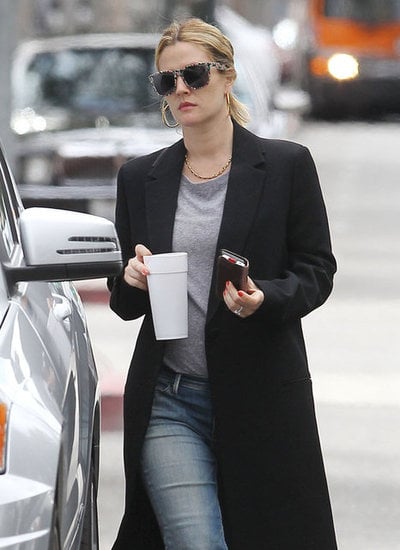 On April 26, Drew stopped by her LA office in a long coat, gray t-shirt, jeans, and some stylin' shades.
Drew in Dries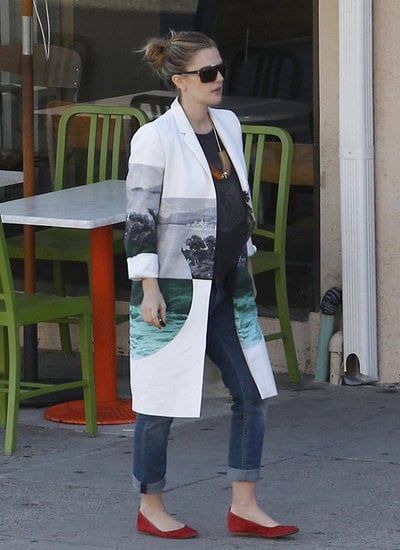 On April 20, Drew looked like the chic movie star she is in a Dries Van Noten jacket and red flats in Beverly Hills.
Star in Stripes
Drew wore a striped t-shirt and jeans for a walk around her LA neighborhood on April 10 with her fiancé Will Kopelman.
Sporty Style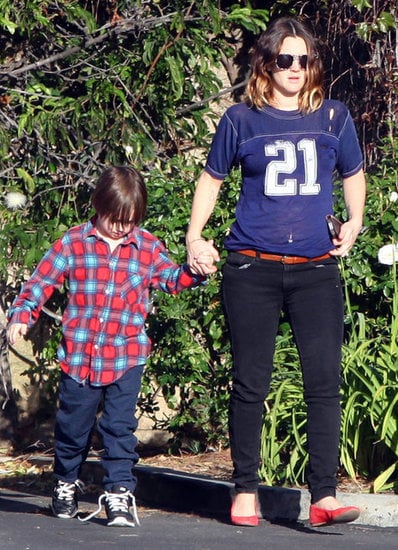 On April 4, Drew and a young friend took a walk in LA. Drew wore her favorite red flats and a vintage-style football tee.
A Walk in Paris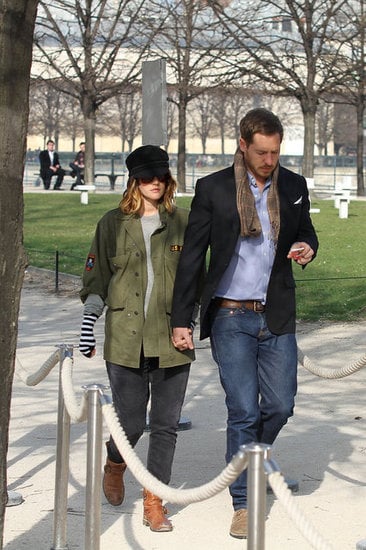 Drew and Will Kopelman took a trip to Paris in March, strolling around the Tuileries Gardens. Drew hid her bump in a military jacket and kept warm with striped fingerless gloves.
Très Chic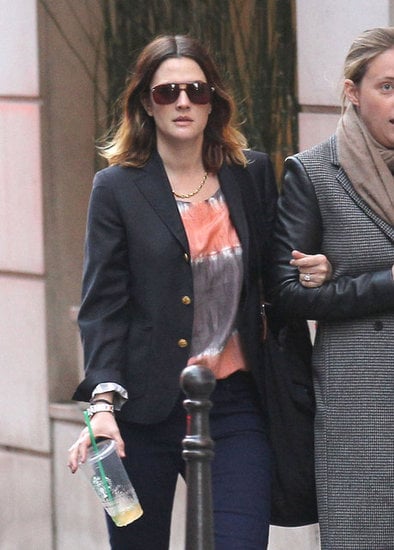 Drew Barrymore [12] spent some time shopping at Chanel in Paris while wearing jeans, a boyfriend blazer, and a loose-fitting tie-dye t-shirt.
Marni For H&M
Just a few days before being photographed with an ultrasound picture, Drew looked chic at the Marni for H&M launch in LA.