Easter is this weekend, and we're rounding up all of our best ideas to make this your kids' favorite holiday ever. From printables and cute crafts to awesome gifts and, of course, lots of cupcakes, cake pops, and cookies, these (150-plus!) Easter ideas are guaranteed to spark your creativity and inspire you to make this Easter a "hoppy" one!
Happy Easter, Mouse!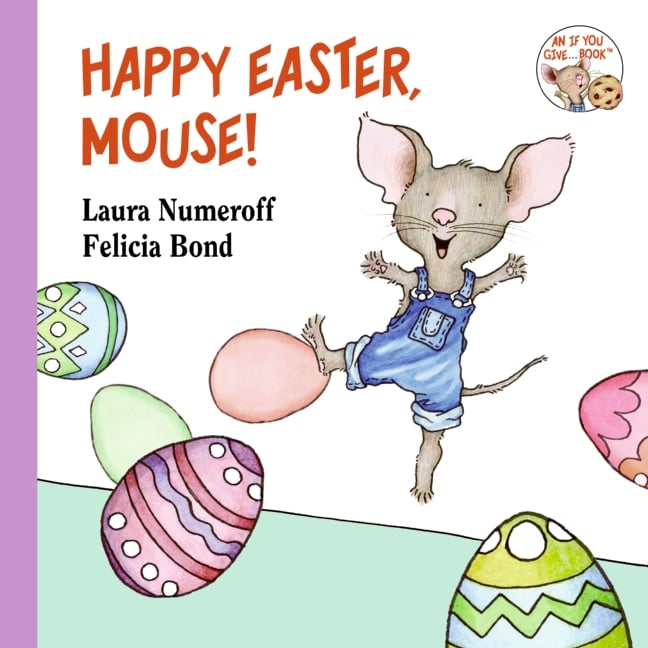 Happy Easter, Mouse! [1] ($7) comes from Laura Numeroff, the author of the If You Give a Mouse series. In this holiday book, the mouse tries to figure out who's leaving Easter eggs all over his house!
For Your Boy to Wear: His First Neckwear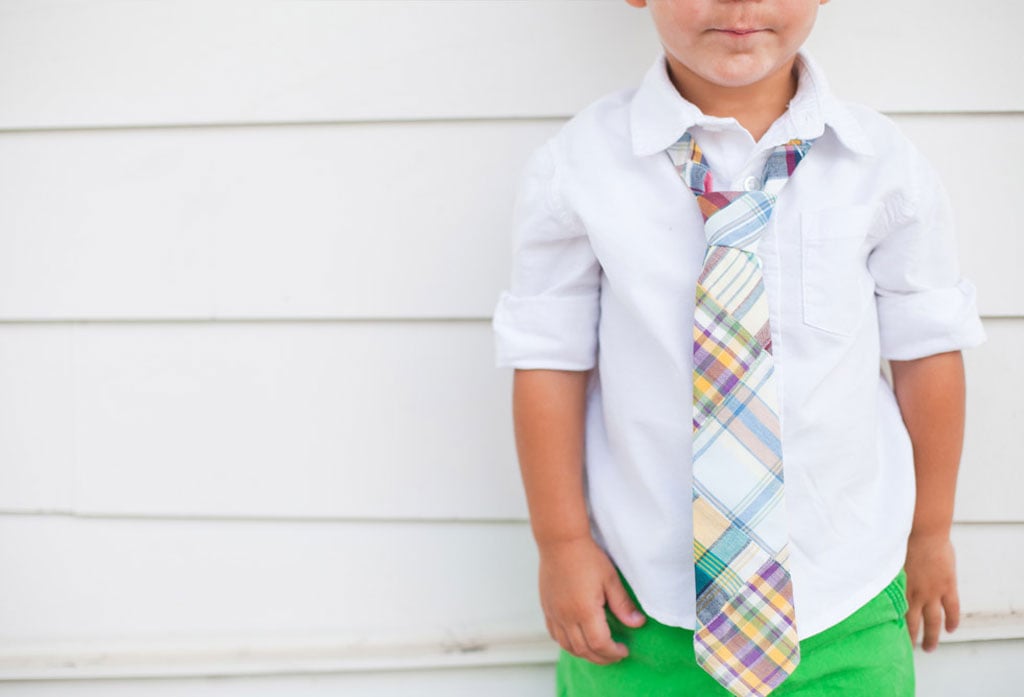 Little boys in grown-up neckwear can look off-kilter. Tadpole & Lily averts that problem by scaling its neck and bow ties down to an age-appropriate size and style [2] ($30).
Bon Voyage Suitcase Set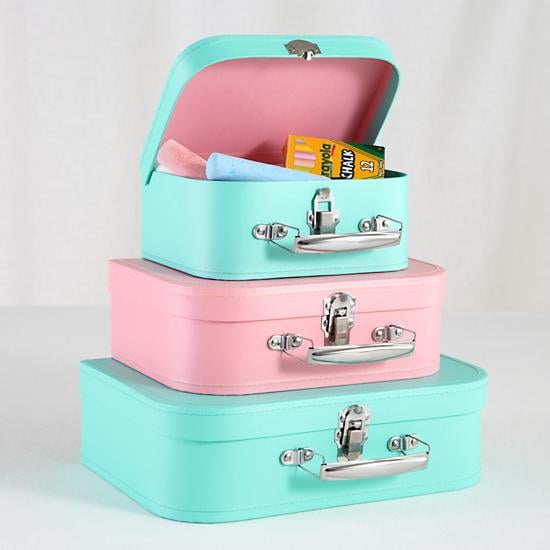 Who says your Easter basket has to be of the traditional variety? The Land of Nod's Bon Voyage Suitcase Set [3] ($20 for three) is ready for Spring in contrasting pastel shades and serves as great storage and room decor after the holiday is over.
Chocolate-Covered Peeps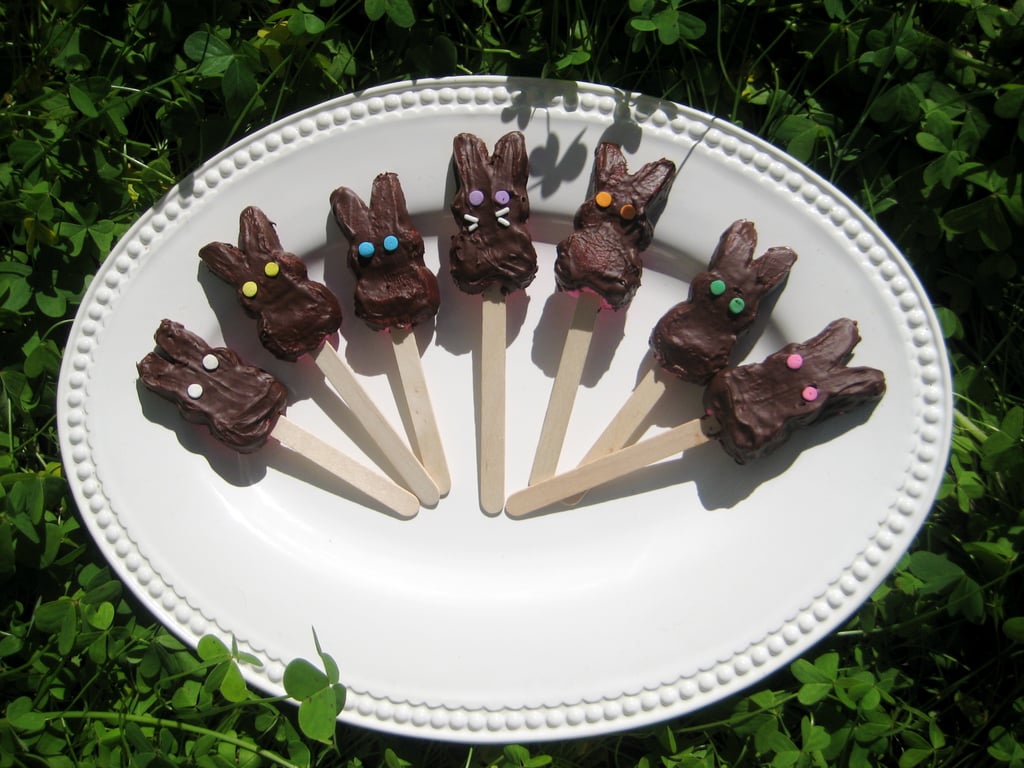 By heating chocolate chips in a double boiler, scooping the chocolate into a bowl, and helping her little ones spread it on Peeps impaled on Popsicle sticks, our own Peep baker [4] created a semihomemade treat that would be perfect for a family garden party, playdate, or preschool celebration.
My Little Easter Egg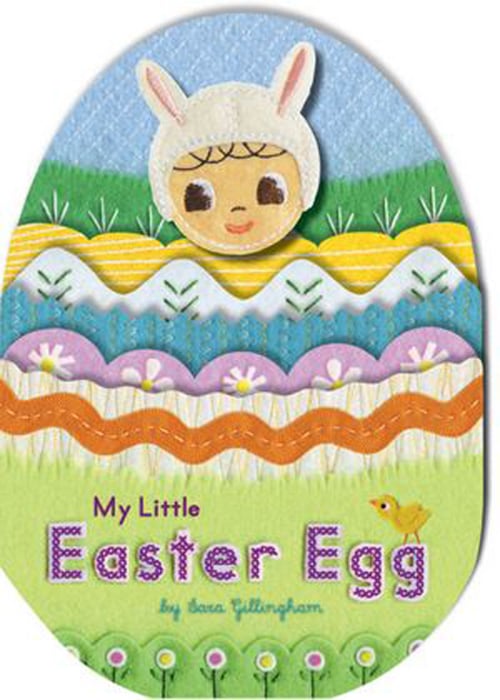 Author and illustrator Sara Gillingham created the cute new board book My Little Easter Egg [5] ($10). Kids will love the die-cut pages, the colorful artwork, and the playful felt finger puppet, all designed to help answer one question: where are the Easter eggs hiding?
Ralph Lauren Ruffled Floral Chiffon Dress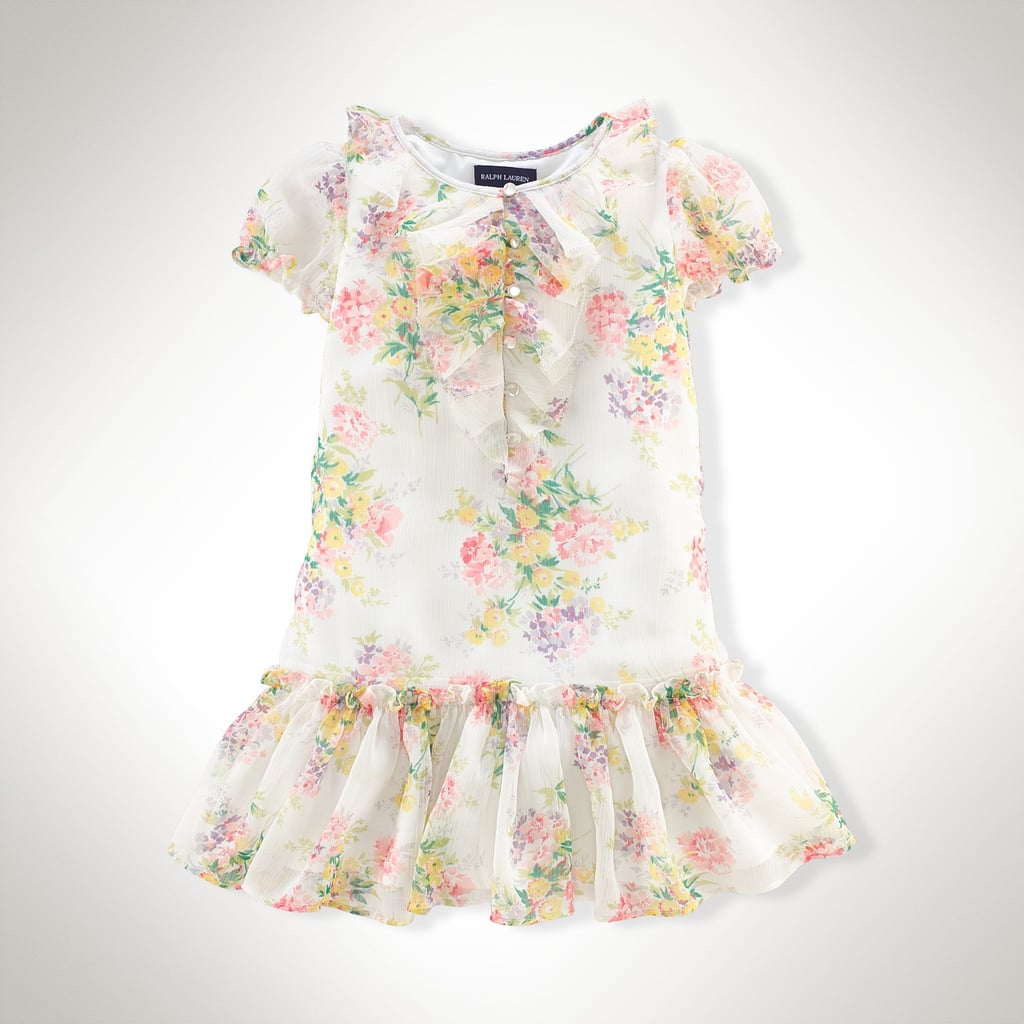 A classic Ralph Lauren floral chiffon dress [6] ($60) gets a modern twist from its stylish drop waist.
Paper Flower Wreath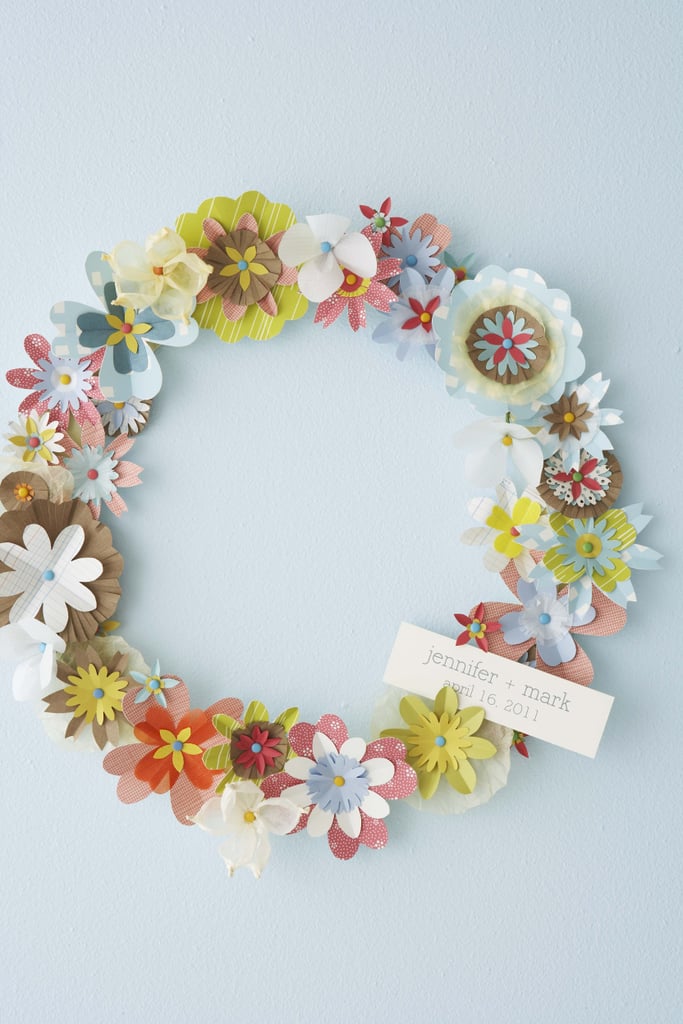 Upcycle old greeting cards and wrapping paper by turning them into a paper flower wreath with instructions from Hello! Lucky [7].
Source: Hello! Lucky [8]
The Runaway Bunny
A Margaret Wise Brown standard, The Runaway Bunny [9] ($18) tells the comforting story of a bunny's imaginary game of hide-and-seek and his loving mother who promises to find him no matter where he goes. Since its first publication in 1942, The Runaway Bunny has never been out of print.
The Easter Egg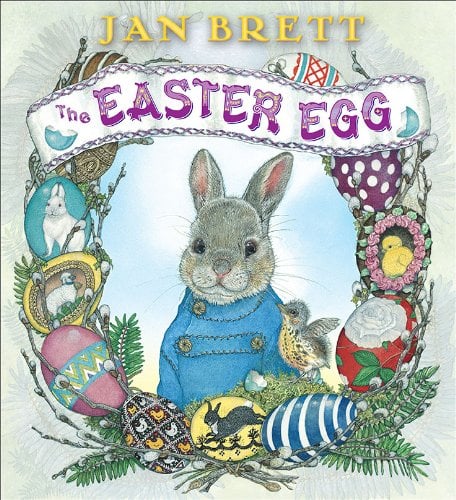 The Easter Egg [10] ($18) is a beautifully illustrated tale about Hoppi, a lovable bunny hero who's attempting to make the best Easter egg to earn the honor of helping the Easter Bunny deliver eggs. But his goal isn't as easy as he thought.
Easter Paper Dolls
Illustrator Jennifer A. Bell created these sweet Easter paper dolls [11], which would be a fun addition to your holiday kids' table.
Source: Jennifer Bell Studio [12]
Bunny Love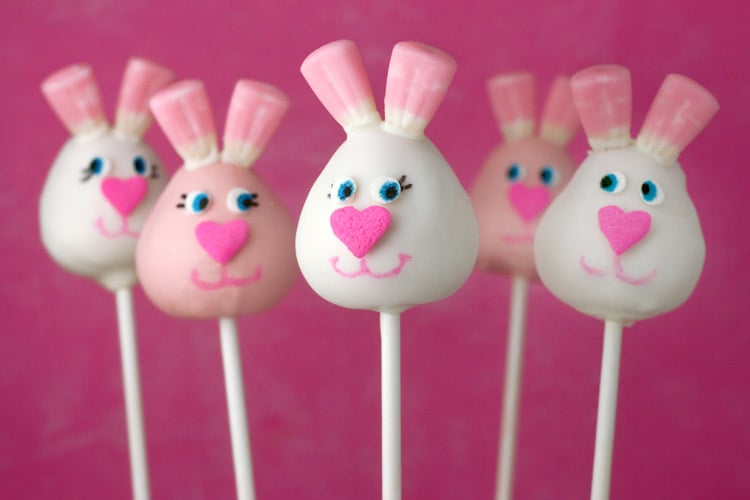 Bakerella's bunny cake pops [13] feature strawberry cake and pink candy corn ears.
Source: Bakerella [14]
The Golden Egg Book
Margaret Wise Brown's classic The Golden Egg Book [15] ($9) was originally published in 1947, but the story still resonates. "Once there was a little bunny. He was all alone. One day he found an egg. He could hear something moving inside the egg. What was it?" begins the story about a bunny and a little duck that's about to hatch.
Spring Subway Art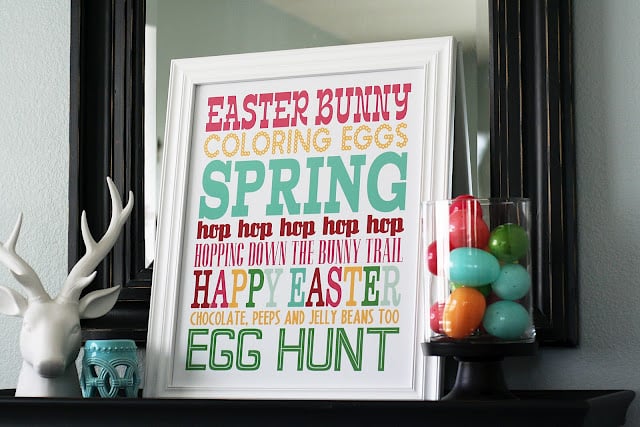 The ladies behind design blog Eighteen25 created a modern, fun print [16] inspired by old-fashioned subway art to ring in Easter. Print, frame, and you're done — what could be easier?!
Source: Eighteen25 [17]
Duck & Goose: Here Comes the Easter Bunny!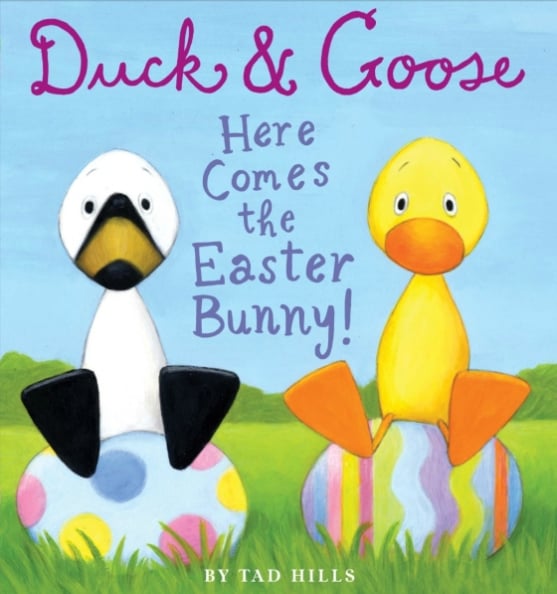 Tad Hills, a New York Times bestselling author and illustrator, brings feathered friends Duck and Goose back to celebrate Spring in the sturdy board book Duck & Goose: Here Comes the Easter Bunny! [18] ($7). The silly duo has lots of ideas about how to find the Easter Bunny, but will they succeed? Preschoolers will love the colorful eggs.
Daffodils and Ducks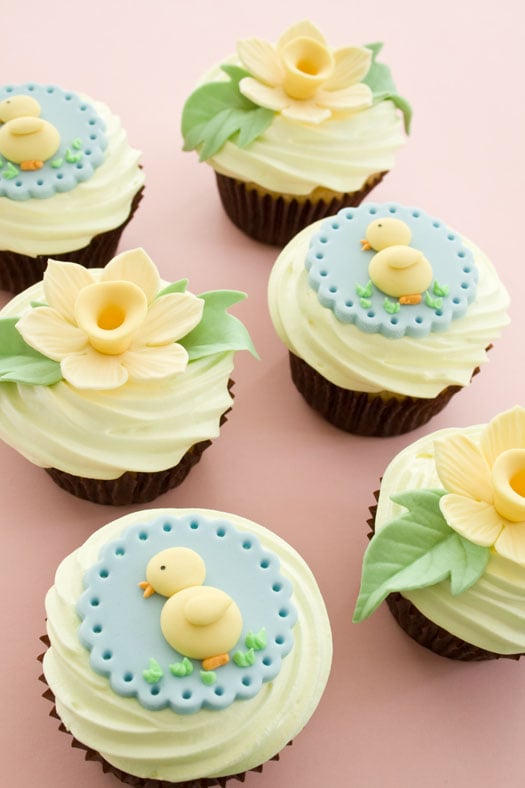 Fondant cake toppers give a special finish to soft yellow cupcakes [19].
Source: Cake Journal [20]
Floral Hat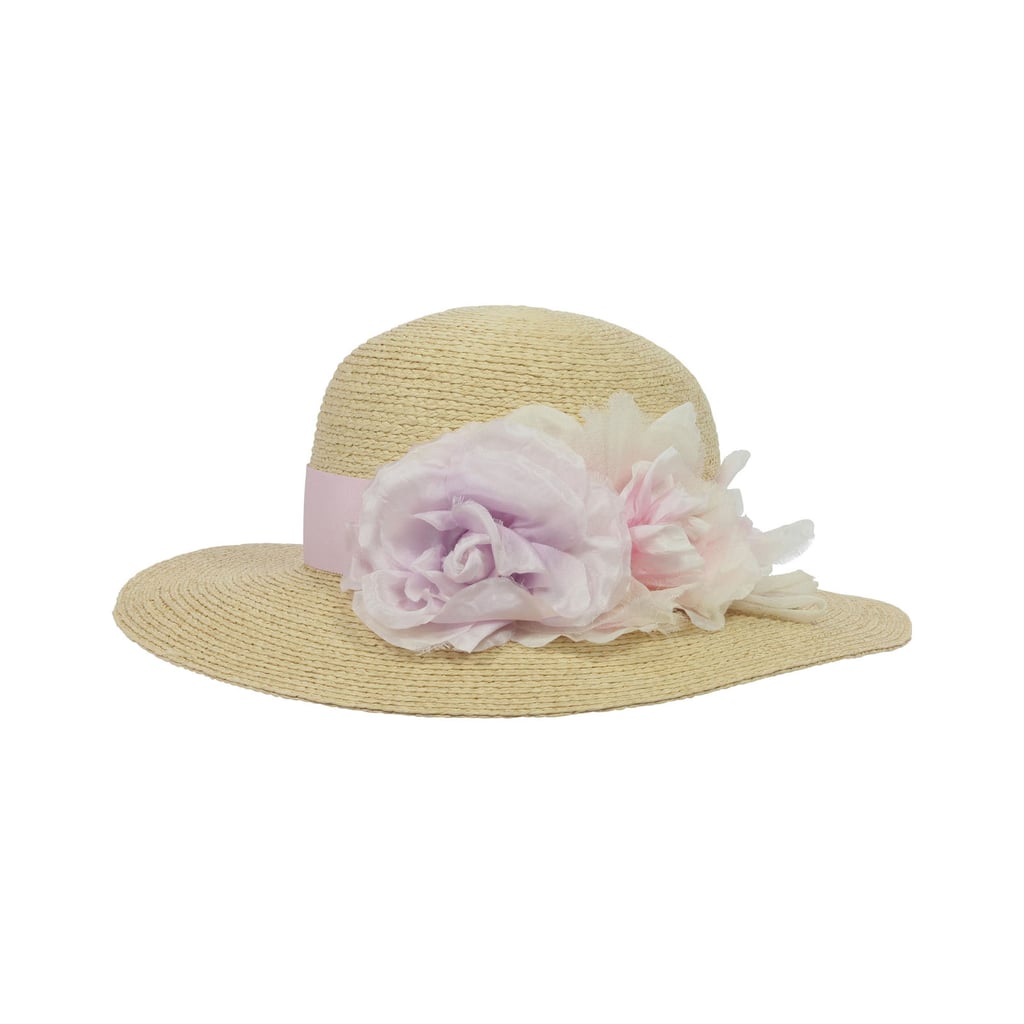 An old-fashioned take, this feminine bonnet [21] ($50) is accented with pink ribbon and larger-than-life blossoms.
An Easter Bunny Egg Hunt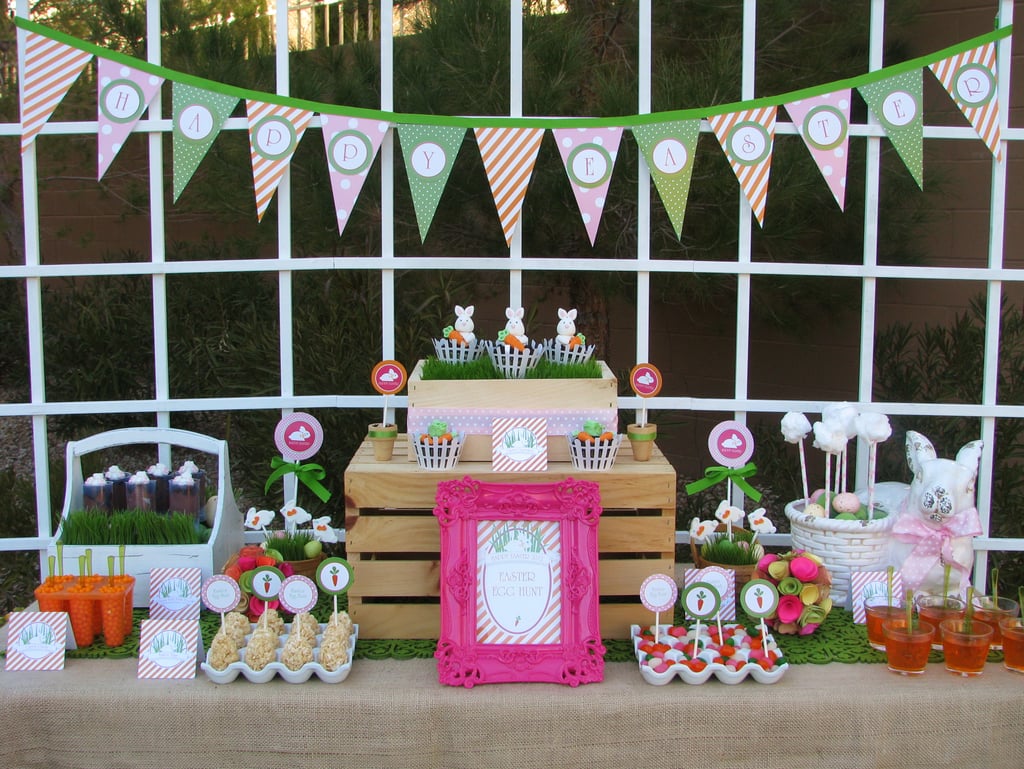 It will be tough to get the little ones out searching for eggs with all of the adorable sweets at this Easter egg hunt! Las Vegas-based Lynlee's Petite Cakes [22] used WH Hostess's Easter Bunny party printables [23] as the inspiration for her festive luncheon. The bunny designs and vibrant colors lent themselves perfectly to a kid-friendly afternoon of lunch and backyard play. Check out all of the details [24] of this bunny patch party — and then hop to it and start planning your own!
Source: Lynlee's Petite Cakes [25]
Chick: A Pop-Up Book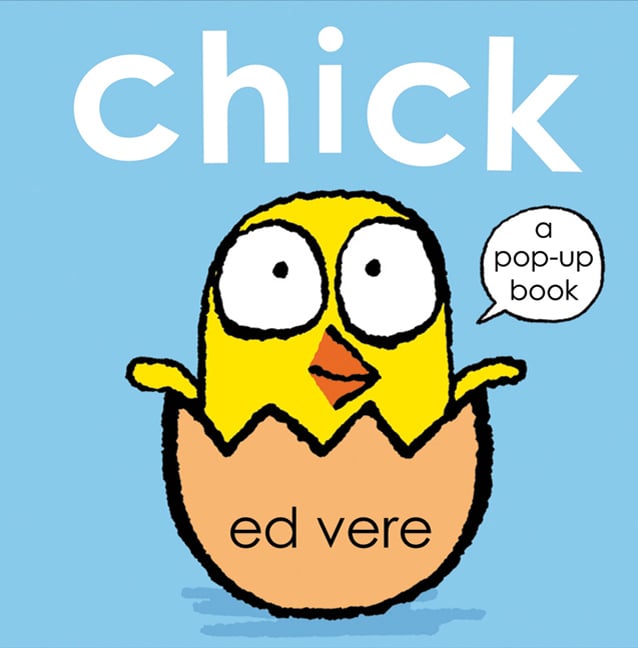 Chick: A Pop-Up Book [26] ($10) will appeal to little kids with its bright colors and fun pop-up pages, which follow a chick as he pops out of an egg, peeps, cheeps, eats, and at the end sleeps under his mama's wing.
Hatching Chicks Cake Pops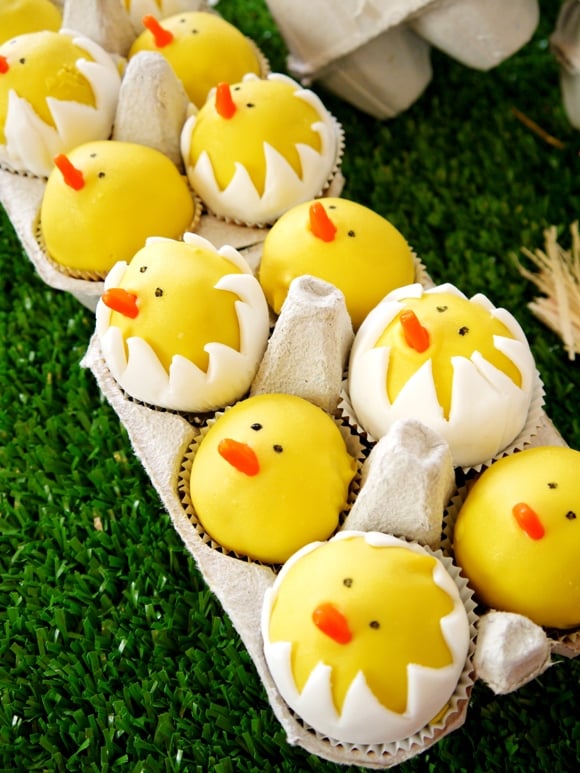 Bird's Party's hatching chicks cake pops [27] are almost too cute to eat, especially displayed in an egg carton.
Source: Bird's Party [28]
Personalized Easter Basket Pail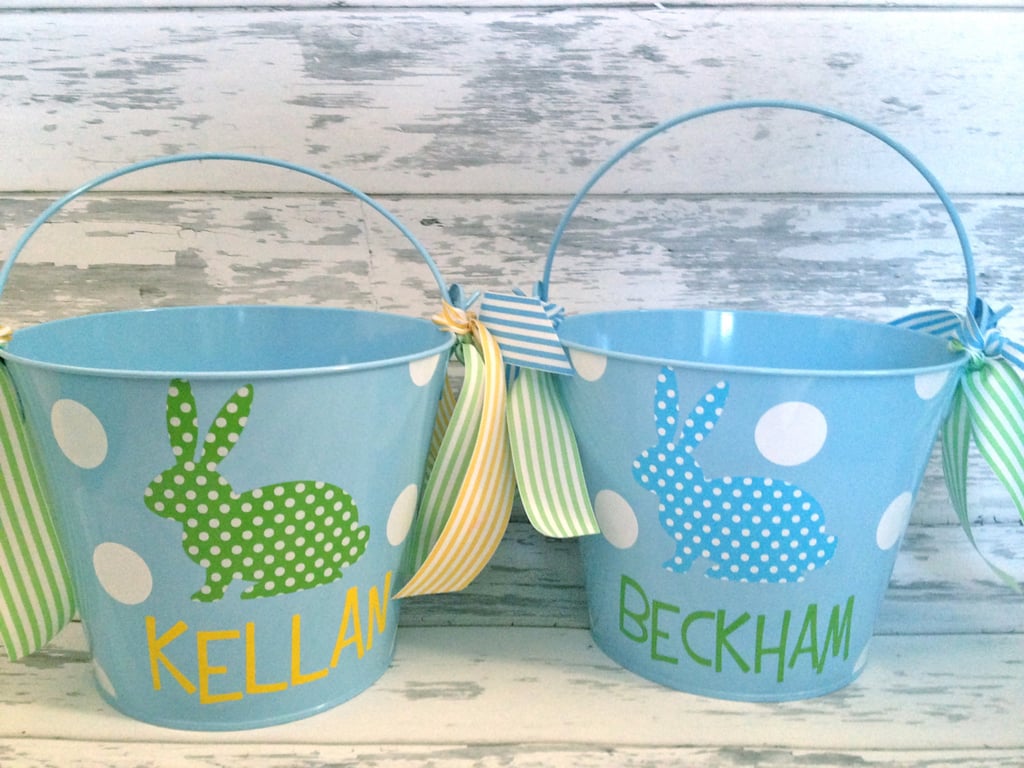 These sturdy Easter Bunny pails [29] ($24) can be personalized for your child in the colors, ribbon, and font of your choosing.
For Your Boy to Wear: The Artsy Kind of Guy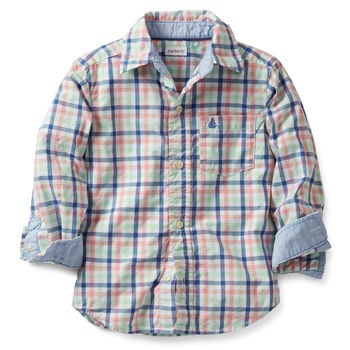 Carter's takes the classic oxford and tones it down [30] ($8) with a chambray collar and cuffs.
Carrot Cake Pops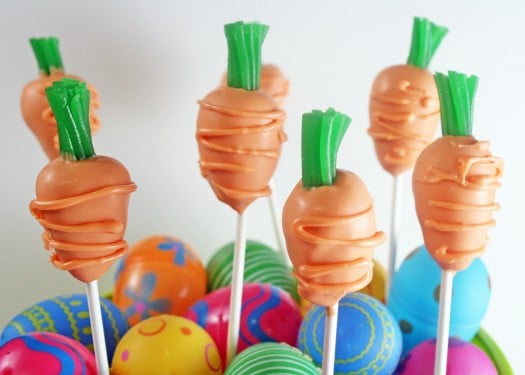 The perfect treat for your little Easter bunnies, Cake Journal's carrot cake pops [31] use green licorice to make those cute carrot tops.
Source: Cake Journal [32]
Basic With a Bow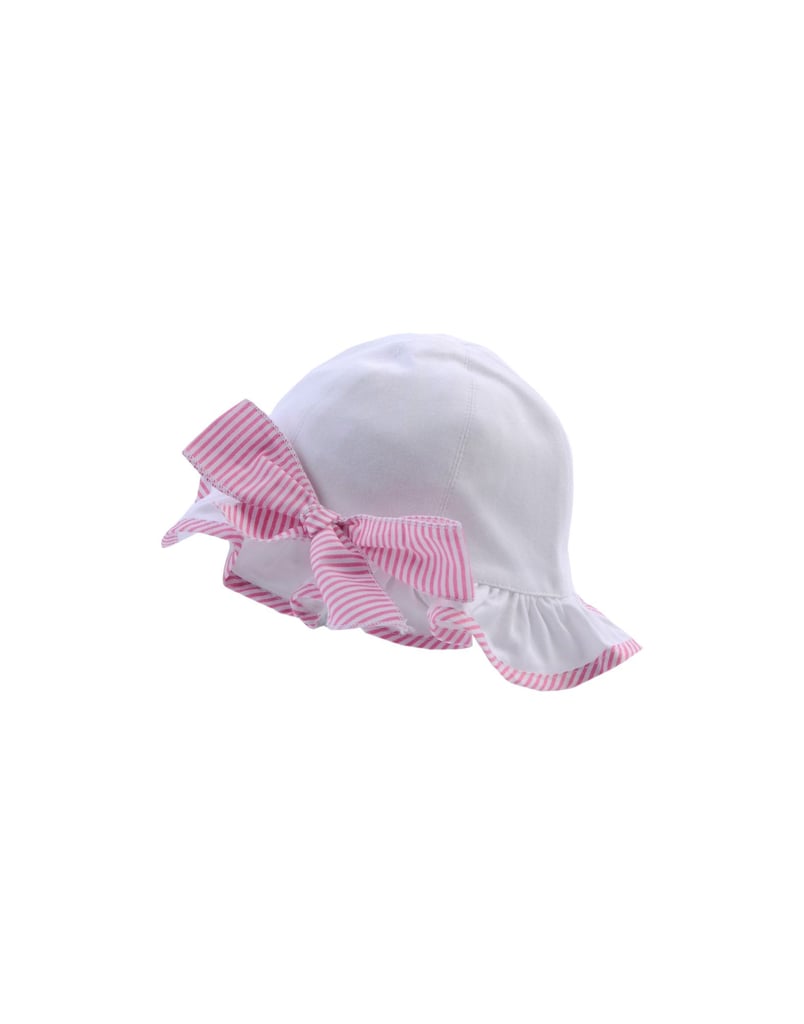 It may be simple, but this white headpiece [33] ($35) gets a stylish twist with the addition of a pink bow.
Lilly Pulitzer Classic Shift Dress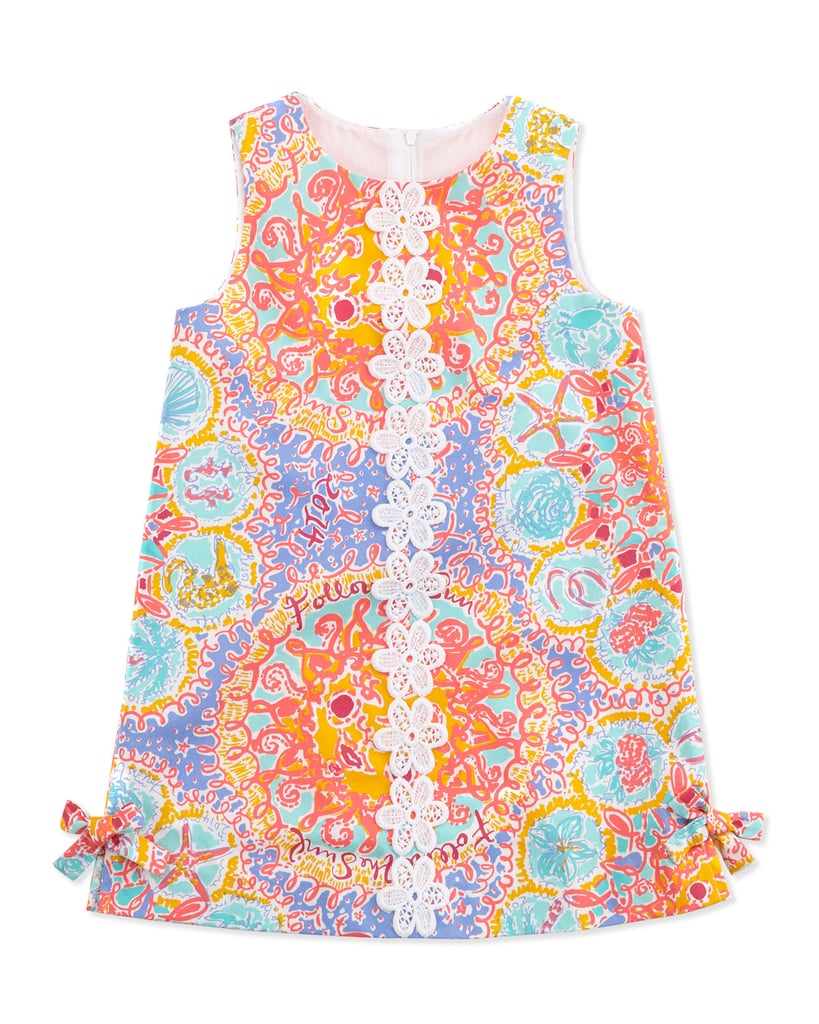 Everything about Lilly Pulitzer's classic floral and coral-print shift dress [34] ($48) screams Spring! It's the ultimate little prepster uniform.
Pat the Bunny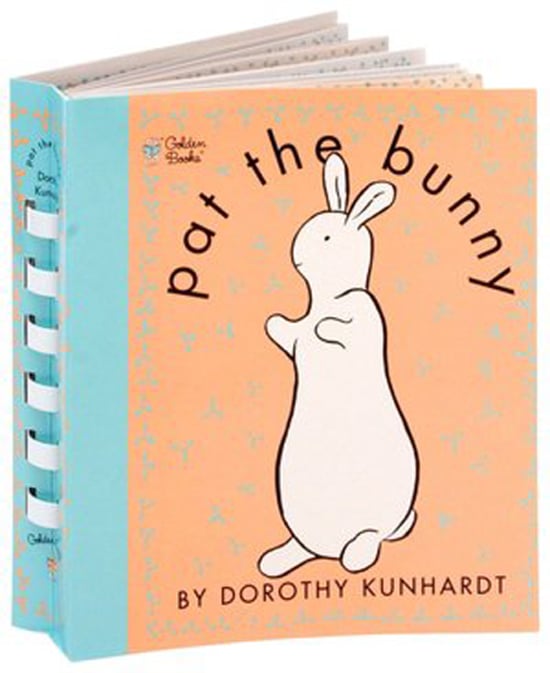 Classic touch-and-feel book Pat the Bunny [35] ($9) by Dorothy Kunhardt has been a staple in nurseries for more than 60 years, entertaining babies who love feeling different textures, playing peekaboo, and sniffing flowers.
Peter Rabbit Easter Basket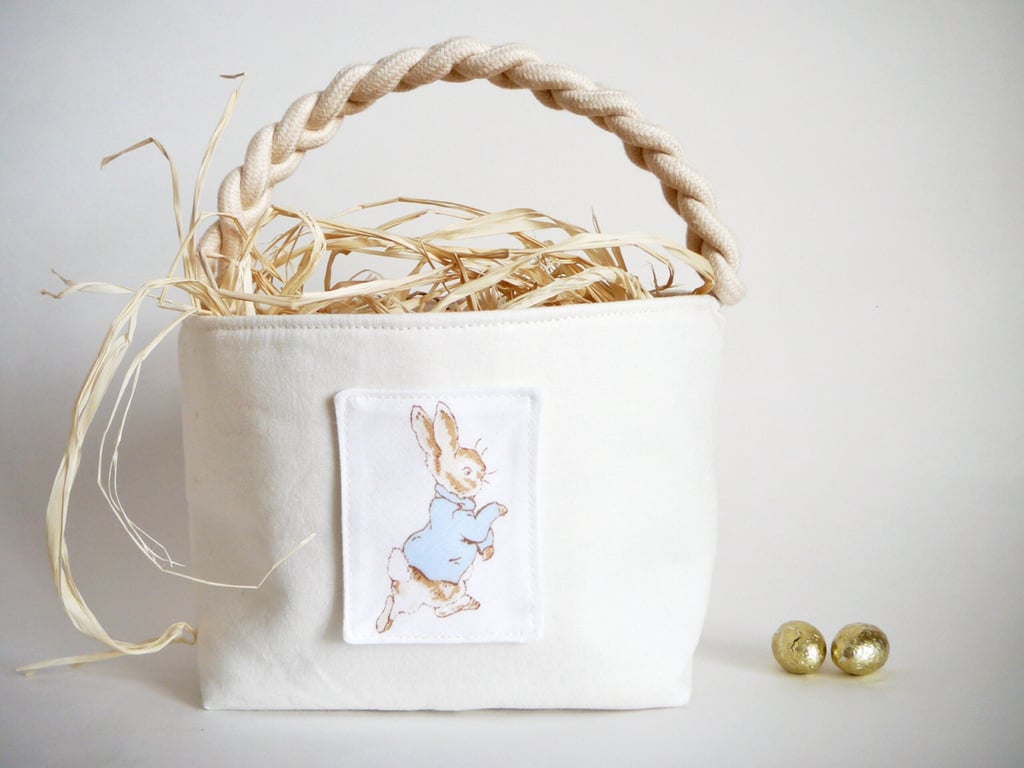 Etsy seller Good Wishes Quilts' vintage Beatrix Potter Easter baskets [36] ($37) are incredibly sweet in their simplicity.
Mud Pie Easter Hats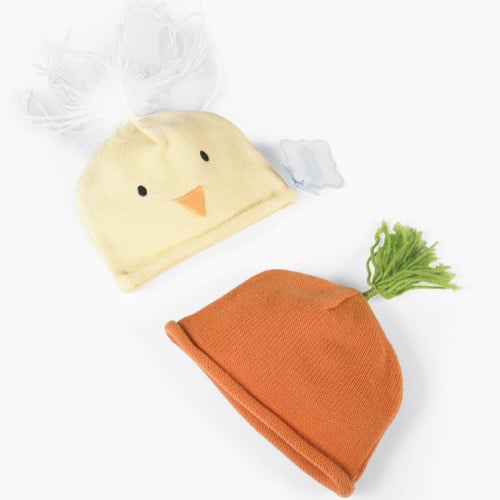 Soft knit hats [37] in chick and carrot designs ($14 each, originally $18) fit infants ages 0 to 12 months. The chick hat features a marabou top and the carrot a green yarn "stem."
Lace Hat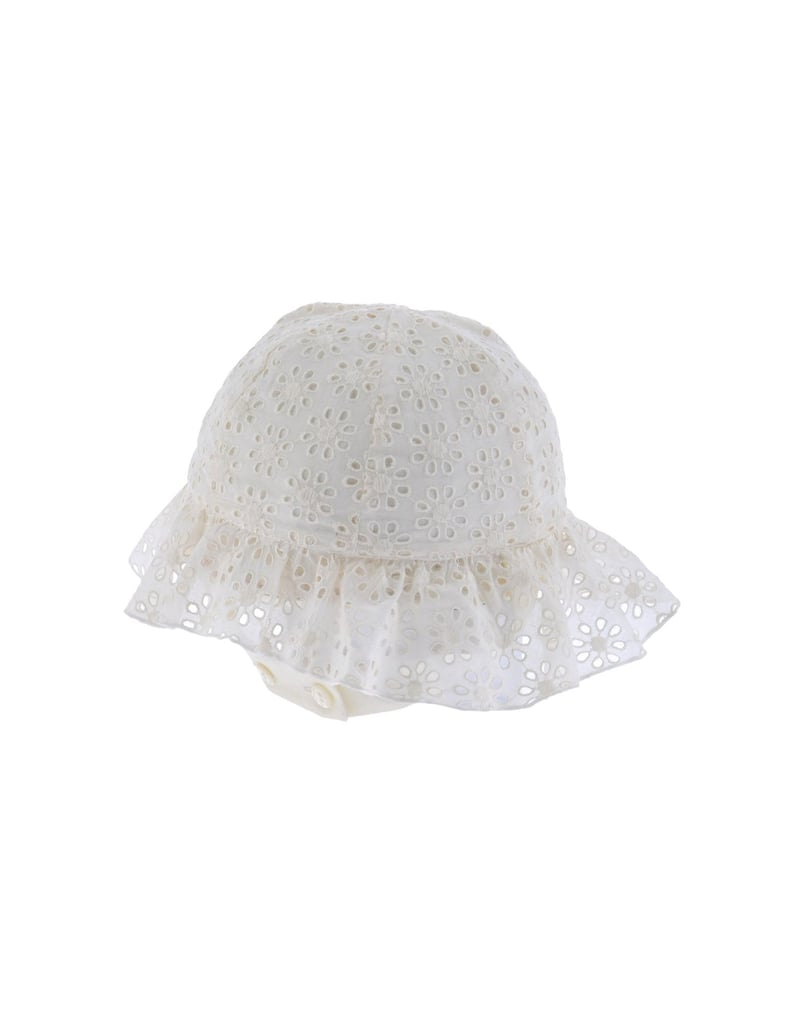 Ooh la la! She'll be très chic in La Stupenderia's delicate white sun hat [38] ($59) with a lace overlay.
Patchwork Easter Eggs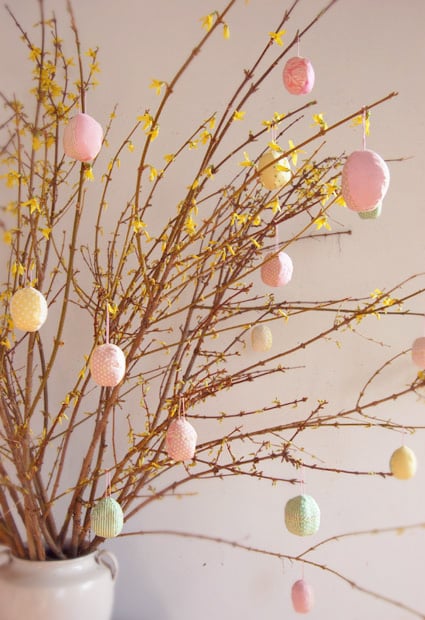 The Purl Bee's patchwork fabric Easter eggs [39] are perfect for hanging off potted Spring blooms.
Source: Purl Bee [40]
Cadbury Egg Cookies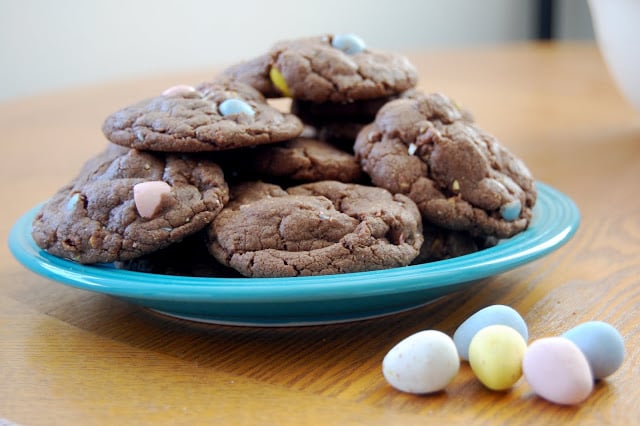 Crispy, chocolatey cookies with Cadbury Mini Egg crunch [41] inside will be the hit of your Easter celebration!
Source: Project Bake Blog [42]
For Your Boy to Wear: The Well-Tailored Tot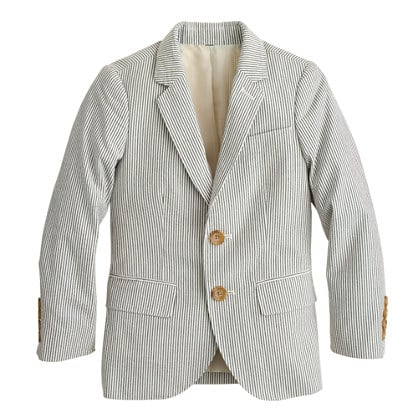 Forget cutesy — for this kid, posh and tailored is essential. Celebrate the Easter holiday in Crewcuts' handsome Ludlow Suit Jacket [43] ($128).
Fairyfolk Needle-Felted Easter Bunny Rabbits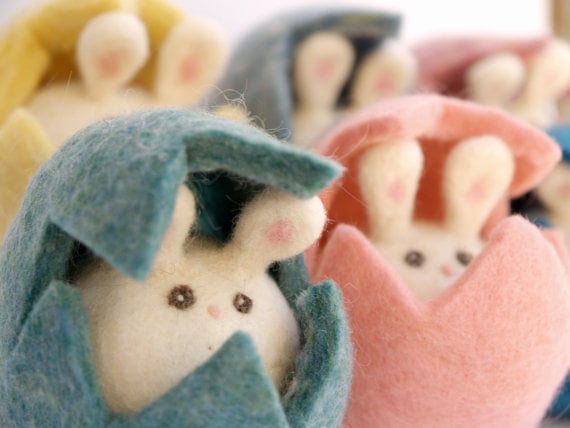 A gorgeous little needle-felted wool bunny [44] ($35) nestled in a pretty pastel egg makes a sweet treat for babes and bigger kids alike.
Easter Bunny Pops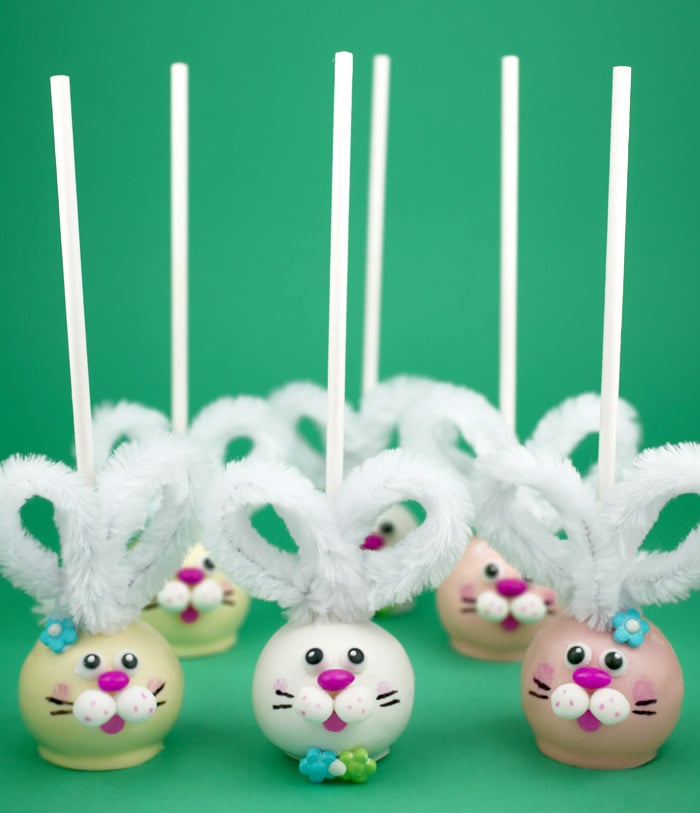 Bakerella's Easter bunny pops [45] use pipe cleaners to create fluffy ears. We love the three-dimensional detail on the sweet face!
Source: Bakerella [46]
Peep Houses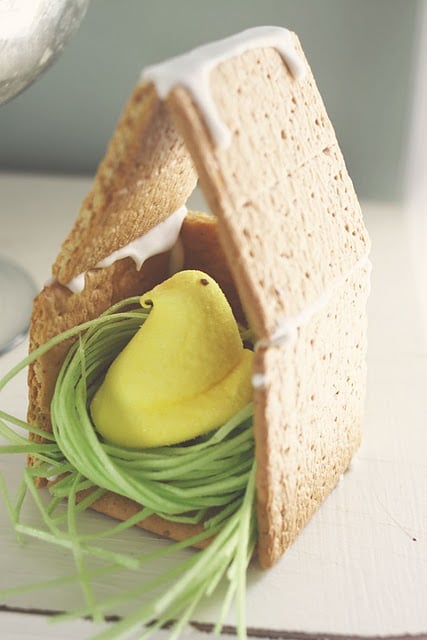 Every chick needs its roost, and Peeps are no different! These easy-to-construct Peep houses [47] make a fun activity for little ones.
Source: One Girl Talks [48]
Peeps S'Mores Favor Toppers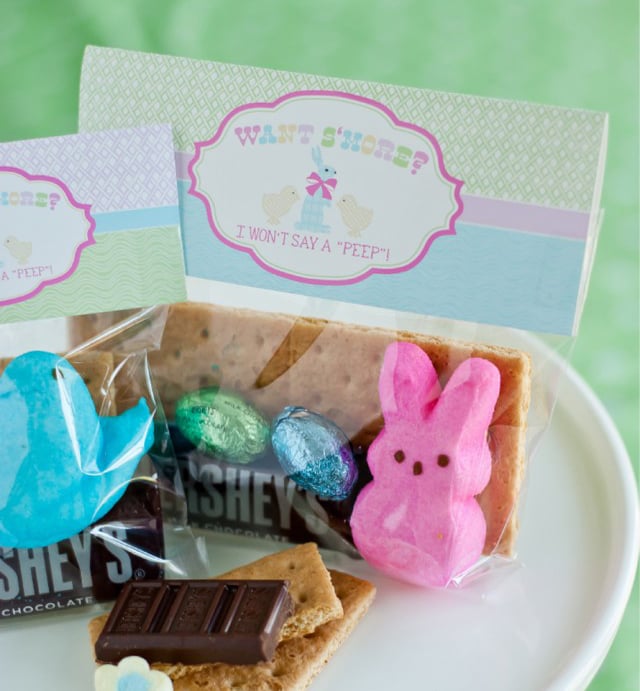 Anders Ruff's clever printable Easter favor toppers [49] introduce one amazing treat: s'mores made with graham crackers, chocolate, and Peeps. Yum!
Source: Anders Ruff [50]
Plastic Easter Egg Tea Cups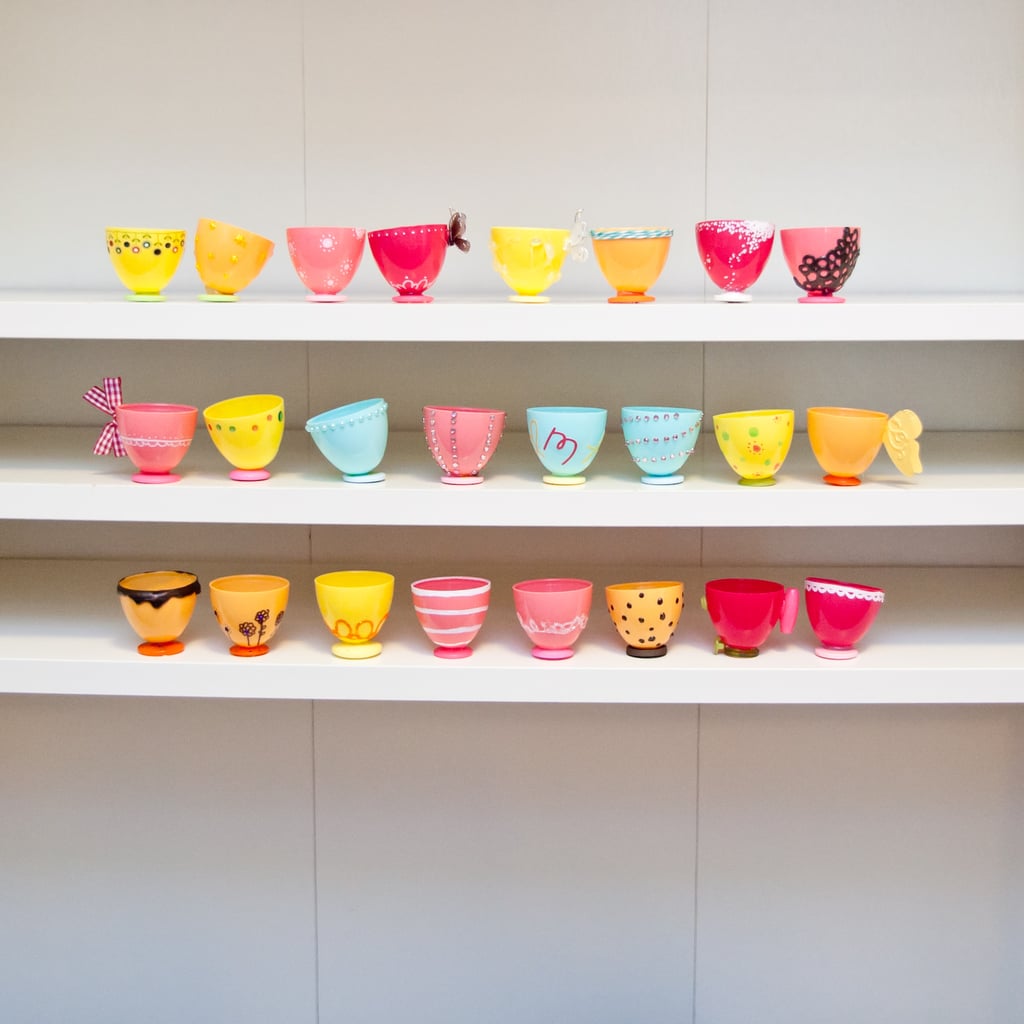 Designs by Sunghee took a creative approach to recycling plastic Easter eggs — how sweet are these tiny tea cups [51]?
Source: Creativity in Progress [52]
Oscar de la Renta Etched Rose Dress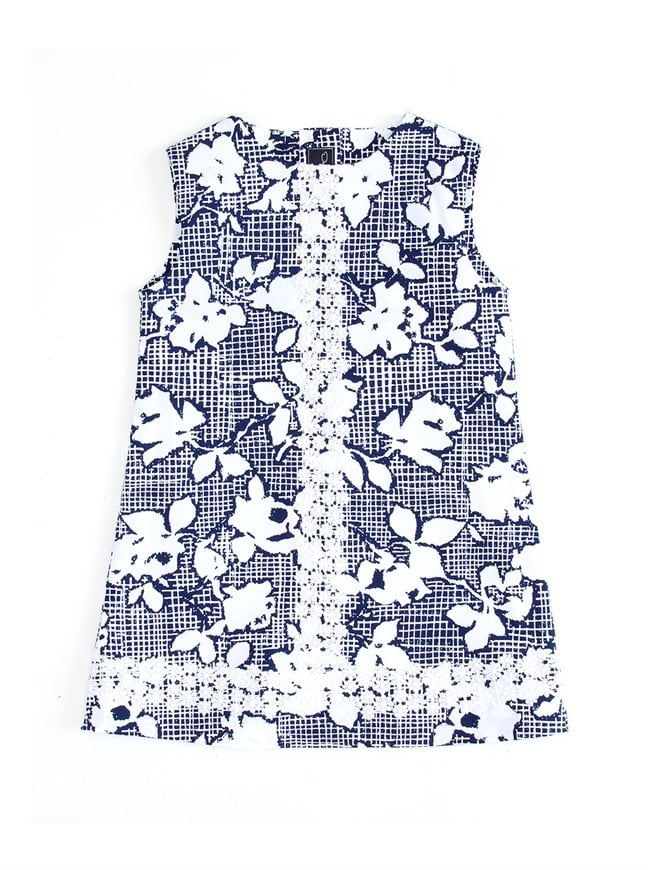 Sure, it's a splurge, but Oscar de la Renta's etched rose dress [53] ($195) is positively timeless — one that can be passed down for generations.
Easter Egg Sculptures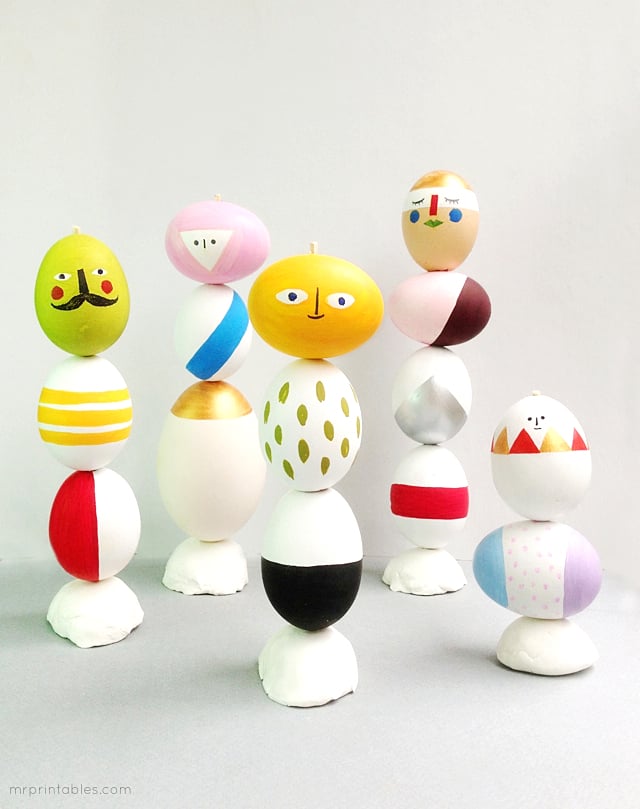 How cool are Mr. Printables' mix-and-match Easter egg sculptures [54]? Craft clay and skewer stands mean you can create a ton of different stacked sculpture combos with your decorated eggs. It's a project the whole family will enjoy!
Source: Mr. Printables [55]
Romp Chicky Pull Toy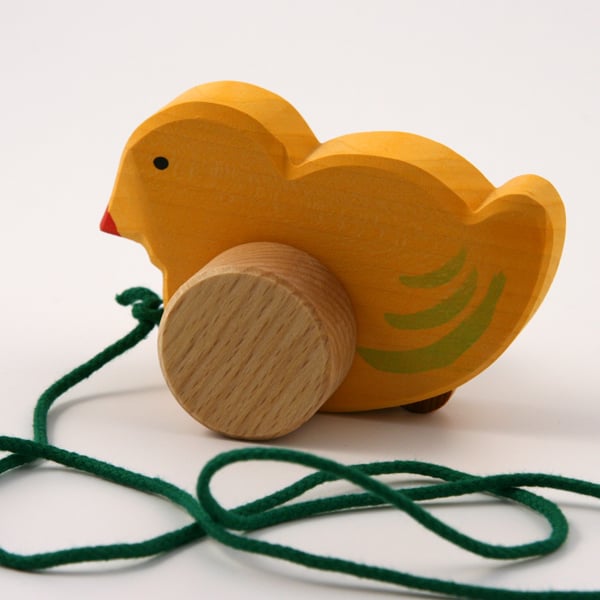 Here, chicky, chicky! Perfect for early walkers and toddlers, this solid wood chicky pull toy [56] ($28) features a head that bobs up and down as he's pulled along.
Straw Cowgirl Hat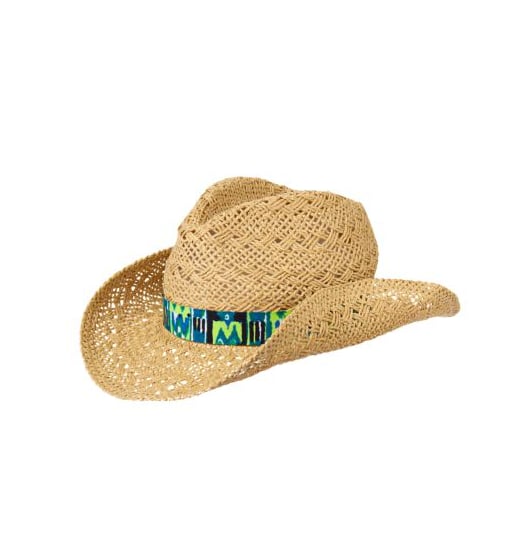 A woven cowgirl hat [57] ($15) is an unexpected twist on tradition for the girl who does things her own way.
Push-Pop Peeps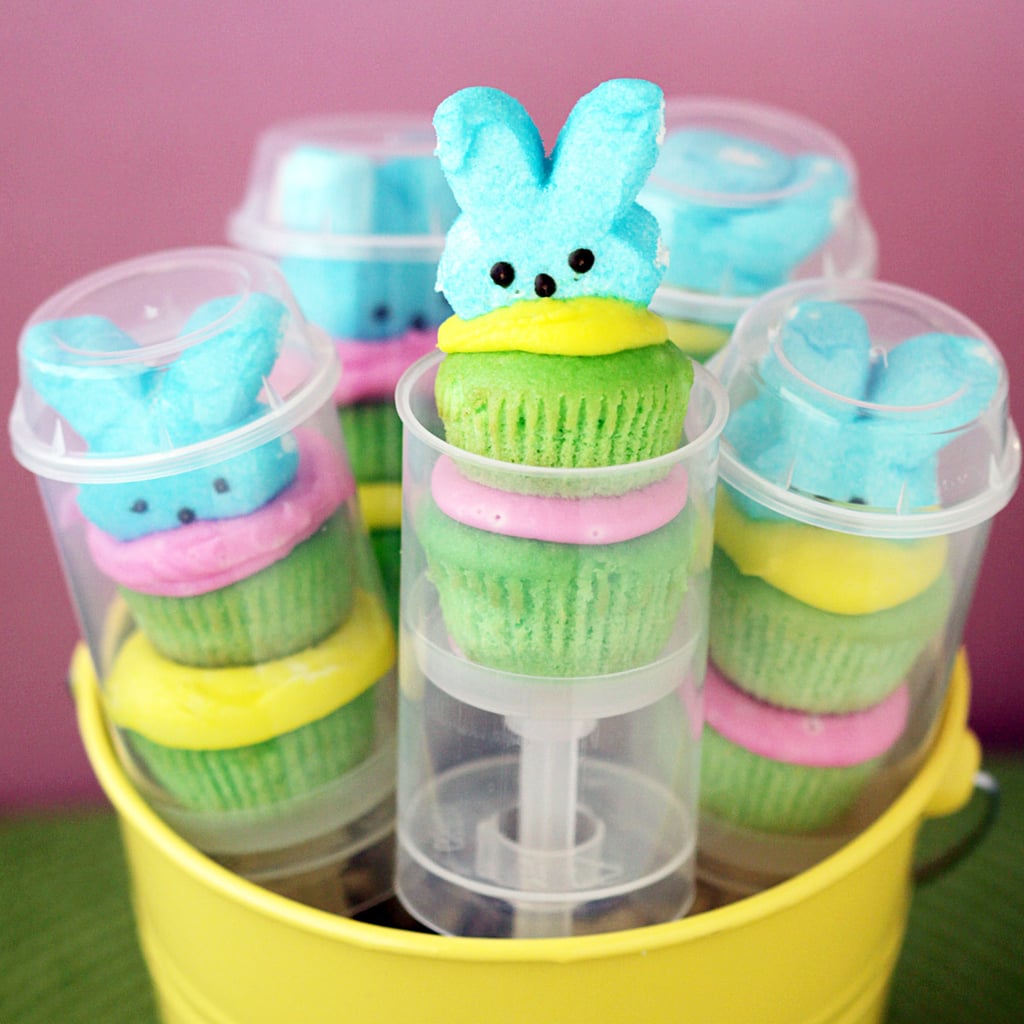 Peekaboo, these cupcake push-pop Peeps [58] want to see you! Adding mini cupcakes, some icing, and Peeps heads to plastic push-pop cases is all it takes for these fun Easter desserts.
Source: Love From the Oven [59]
Bunny Finger Puppets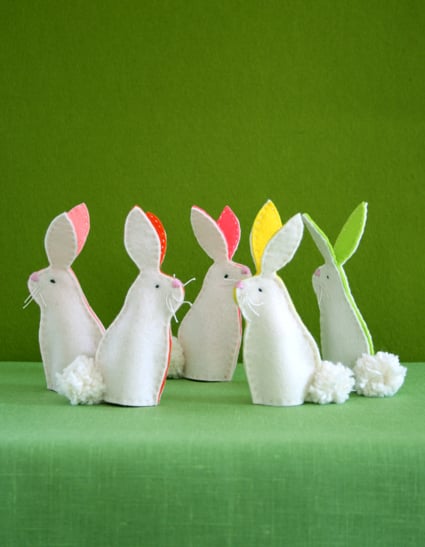 Adorable bunny finger puppets [60] by The Purl Bee make for a high-fiving good time!
Source: The Purl Bee [61]
Wild Things Dresses' Spring Chick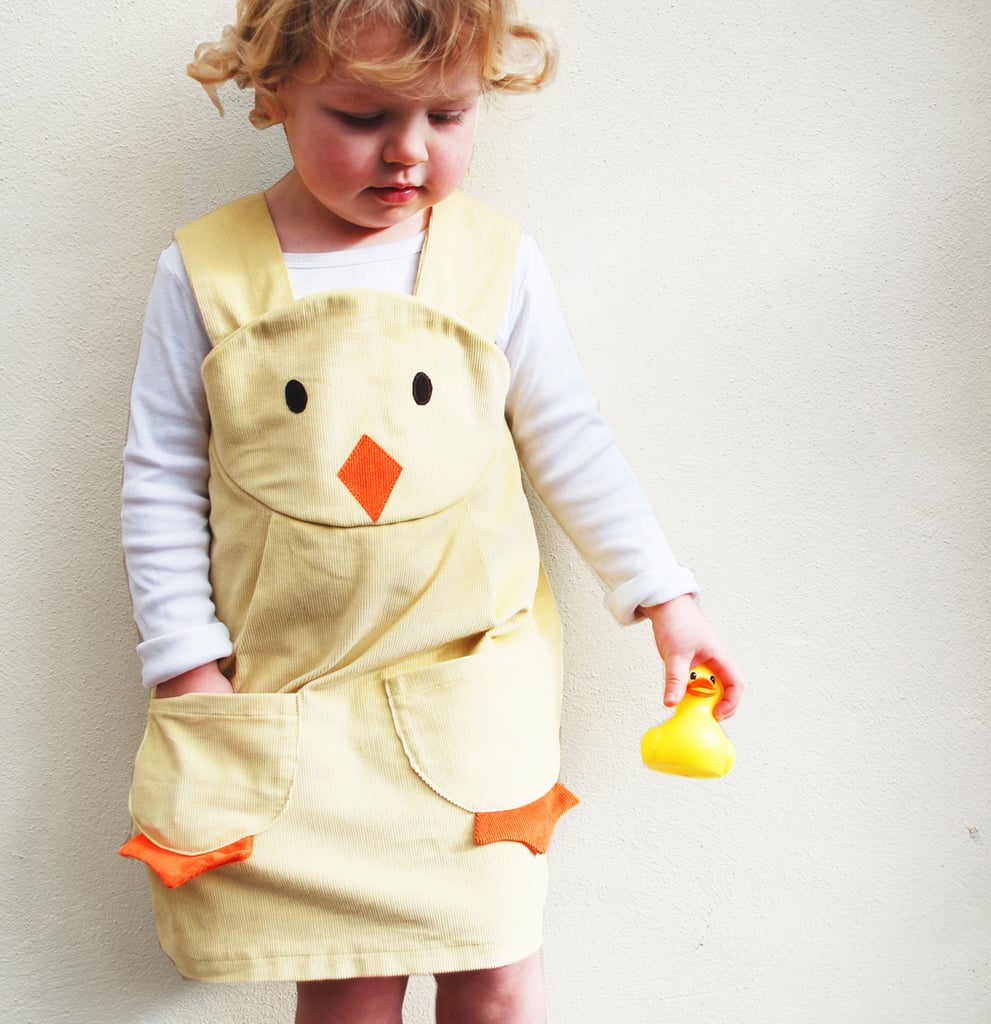 Available in sizes for girls 3 months to 6 years old, Wild Things Dresses' Spring chick dress [62] ($72) has a classic pinafore shape made of soft yellow corduroy and featuring a chick face appliqué on the front yoke and matching duckling feet pockets. Button straps fasten on the inside yellow-gingham yoke.
Peeps Topiary
With a Styrofoam ball, a few packages of Peeps, and some toothpicks, tots can create their own Peeps topiary [63]. It's so cute that Mama will have a tough time not eating the treats herself!
Source: The Hungry Mouse [64]
Salt Dough Easter Egg Garland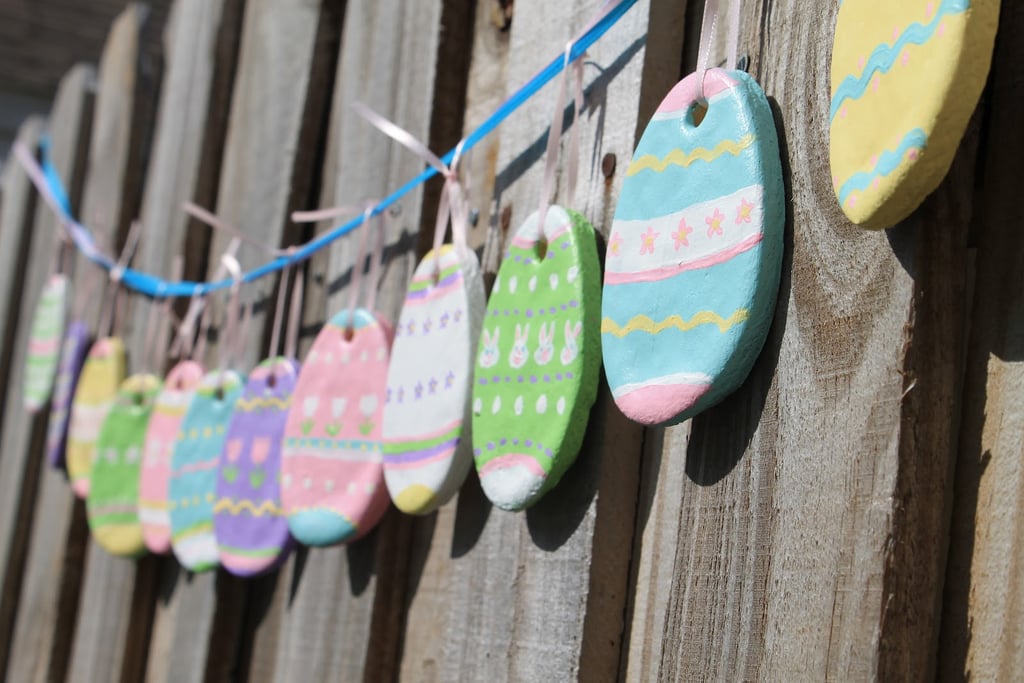 You may already be familiar with kid-friendly, easy-to-make salt dough, and Desperate Craftwives offers easy instructions [65] on how to turn it into an Easter garland.
Source: Desperate Craftwives [66]
Burlap Easter Basket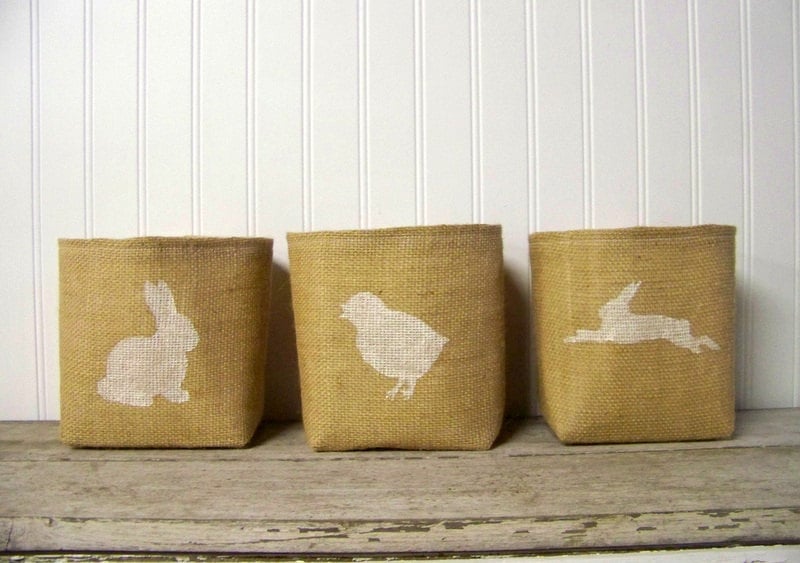 Choose from the silhouette of a seated bunny, a jumping bunny, or a chick to be stenciled onto your rustic yet chic burlap basket [67] ($20). These would look great stuffed with pastel tissue or shredded paper (and, of course, Easter eggs)!
Cottontails
Cotton-candy tails and paper bunny ears make these vanilla cupcakes [68] anything but basic!
Source: One Charming Party [69]
Navy Gingham Easter Basket Liners and Baskets
Pottery Barn Kids' woven baskets and liners [70] ($13) make for the most beautiful traditional Easter baskets. The liners come in an array of color and design options — perfect for little boys and girls to take out at Easter year after year.
Cadbury Egg Cookie Cake Bars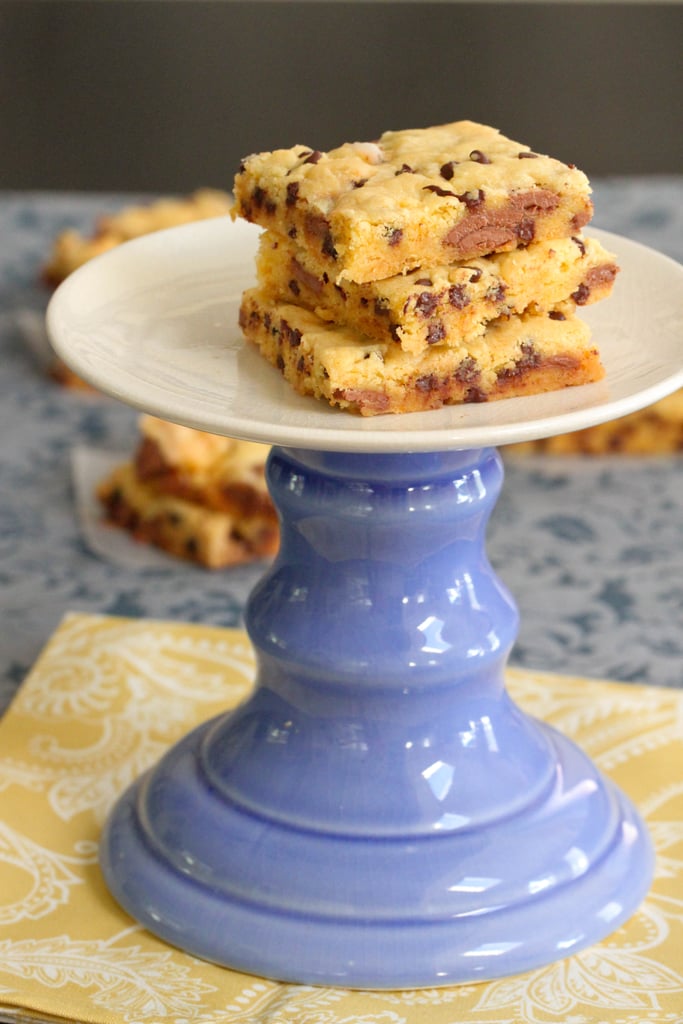 The addition of Cadbury Creme Eggs gives Picky Palate's cookie cake bars [71] a marshmallow-like consistency. Yum!
Source: Picky Palate [72]
Easter Bunny Garland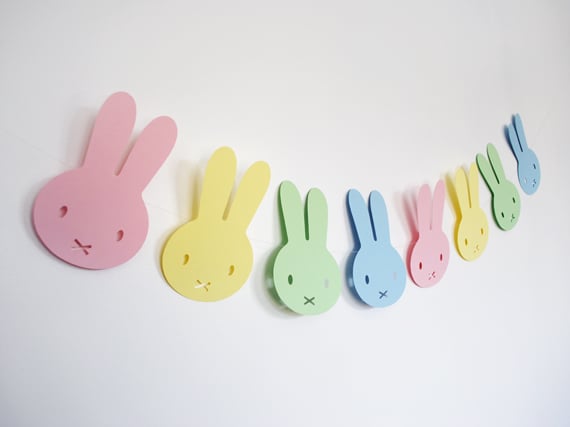 Mod moms will love Mini-eco's bunny garland [73] — a sweet decoration for Easter or year-round in baby's room.
Source: Mini-eco [74]
The Easter Bunny's Assistant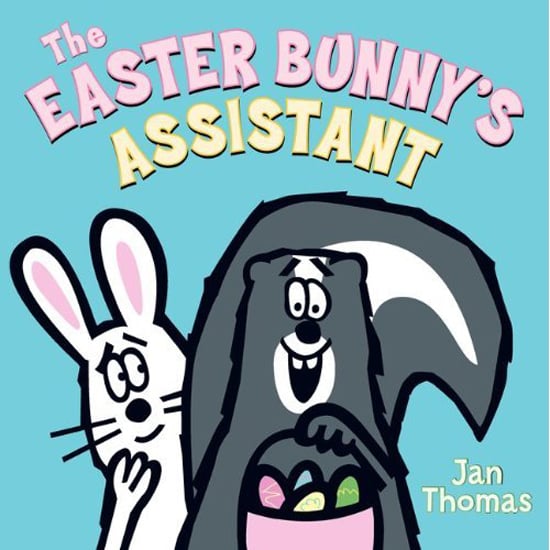 Jan Thomas fans will love her book The Easter Bunny's Assistant [75] ($13). This story features two characters, the Easter Bunny and a skunk whose enthusiasm leads to some unfortunate, odoriferous results. The book also includes step-by-step instructions on how to make Easter eggs!
Easter Egg Bunting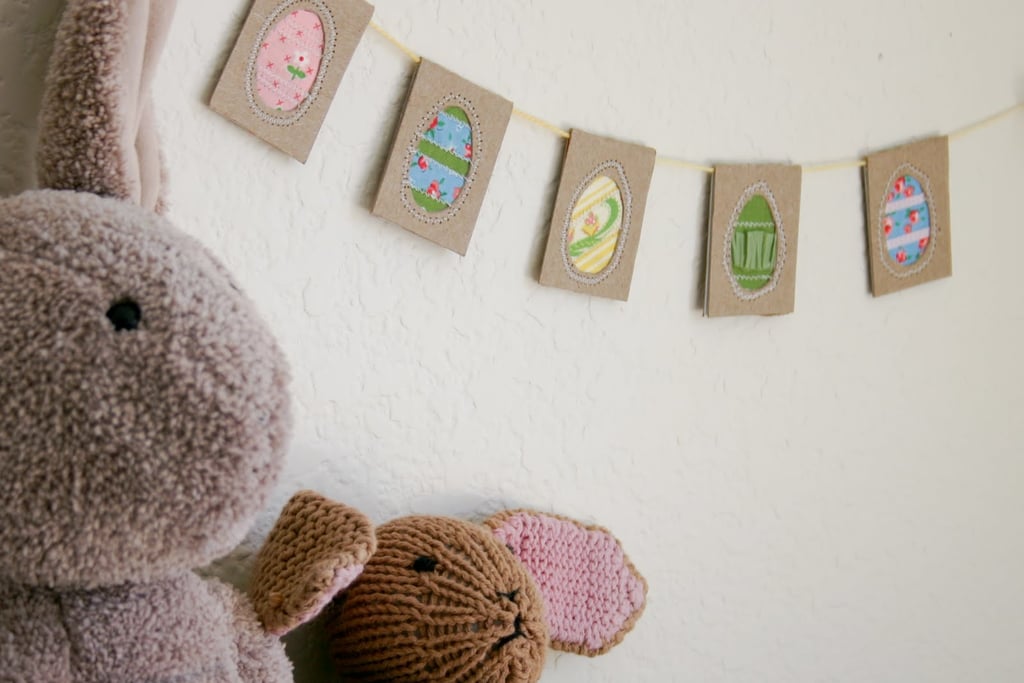 A charming DIY upcycled Easter egg bunting [76] by Flax & Twine is a beautiful way to reuse paperboard and scraps of fabric and trim.
Source: Flax & Twine [77]
Simple and Sweet Easter Card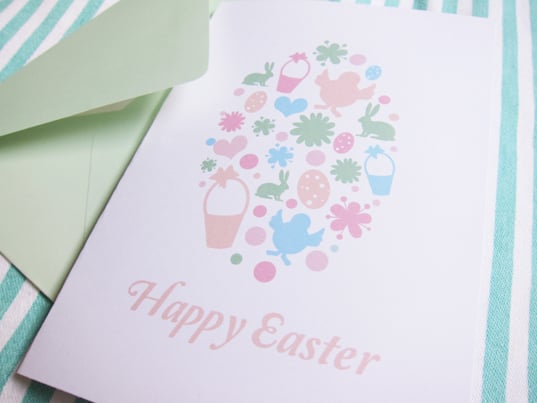 The Pretty Blog's Easter card design [78] is elegant and simple, with a blank interior so that you can share your own greetings with the recipient.
Source: The Pretty Blog [79]
Peeps Wreath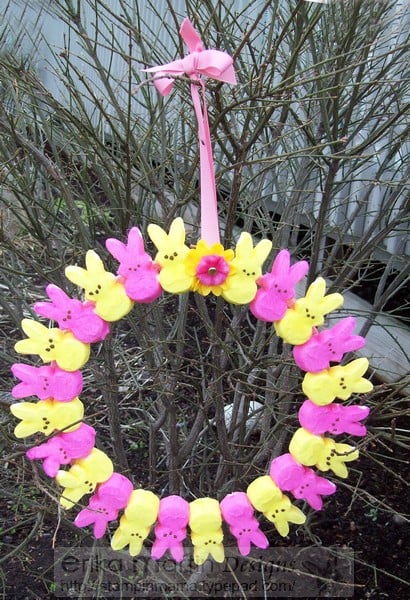 Welcome guests to your home as sweetly as possible with a Peeps wreath [80]. With just an embroidery hoop, ribbon, glue, and Peeps, you've got yourself a festive way to celebrate the season.
Source: Living the Creative Life [81]
Q-Tip Bunny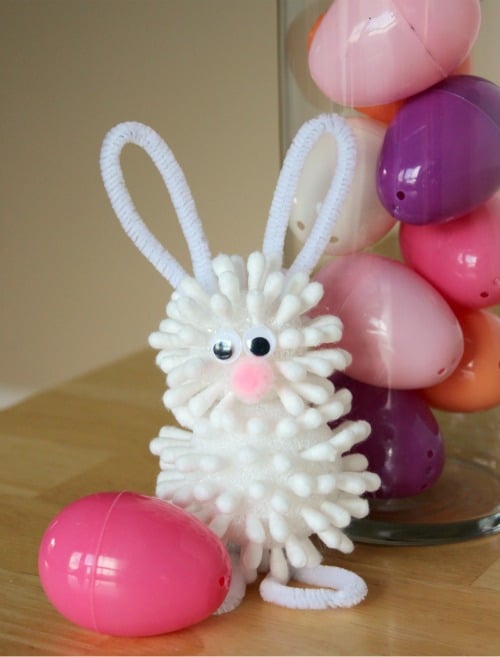 Make and Takes' Q-tip bunny [82] is a fun project for older kids to make during your Easter meal! Younger kids can help and will love playing with the completed bunny.
Source: Make and Takes [83]
Pastel Bunnies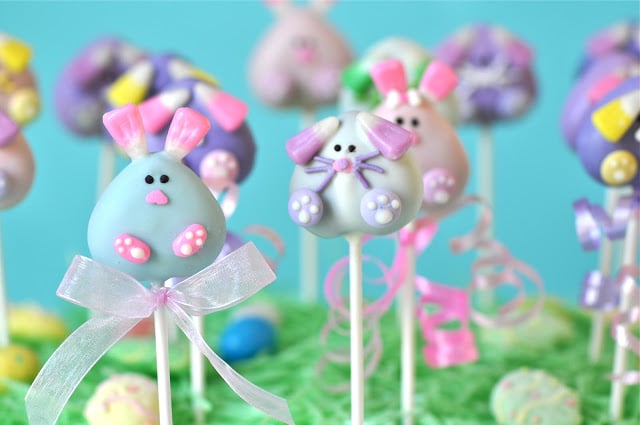 My Little Cupcake's bunny cake pops [84] use pastel candy corn to create some seriously cute ears.
Source: My Little Cupcake Blog [85]
Florence Eiseman Blue Ribbon Bow Dress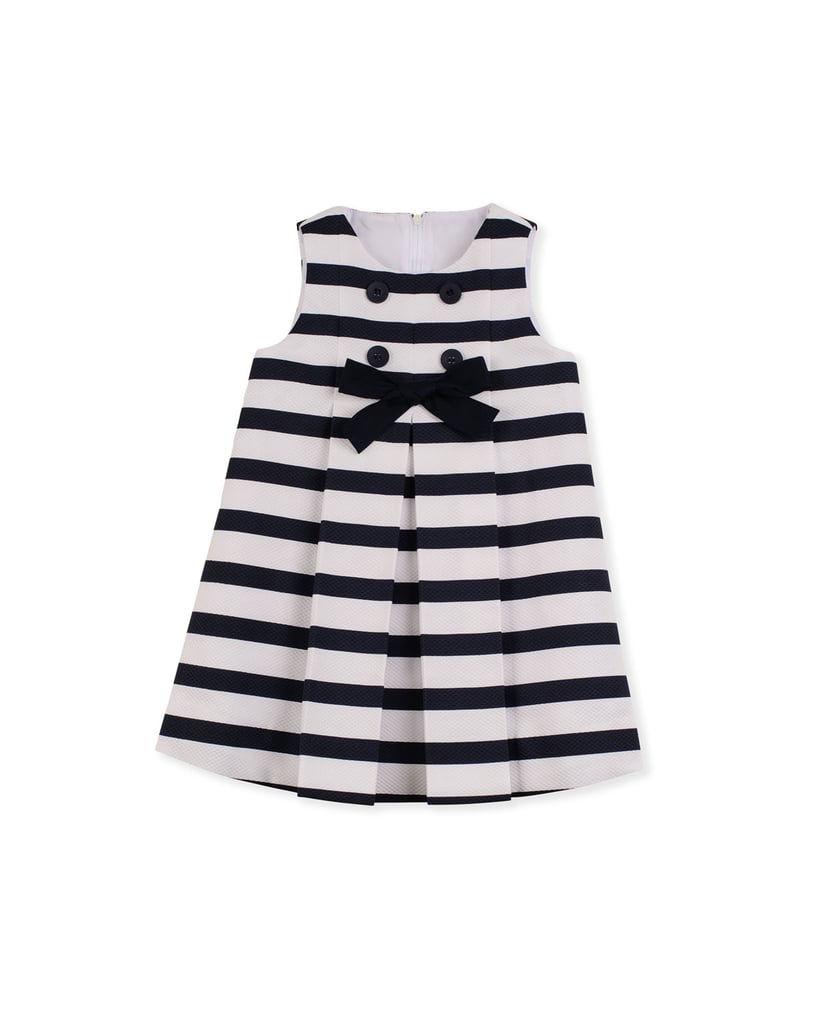 Ahoy, little one! With a flair for the nautical, Florence Eiseman's Blue Ribbon Bow Dress [86] ($82) features chic pleats and an easy A-line silhouette.
Easter Egg Pops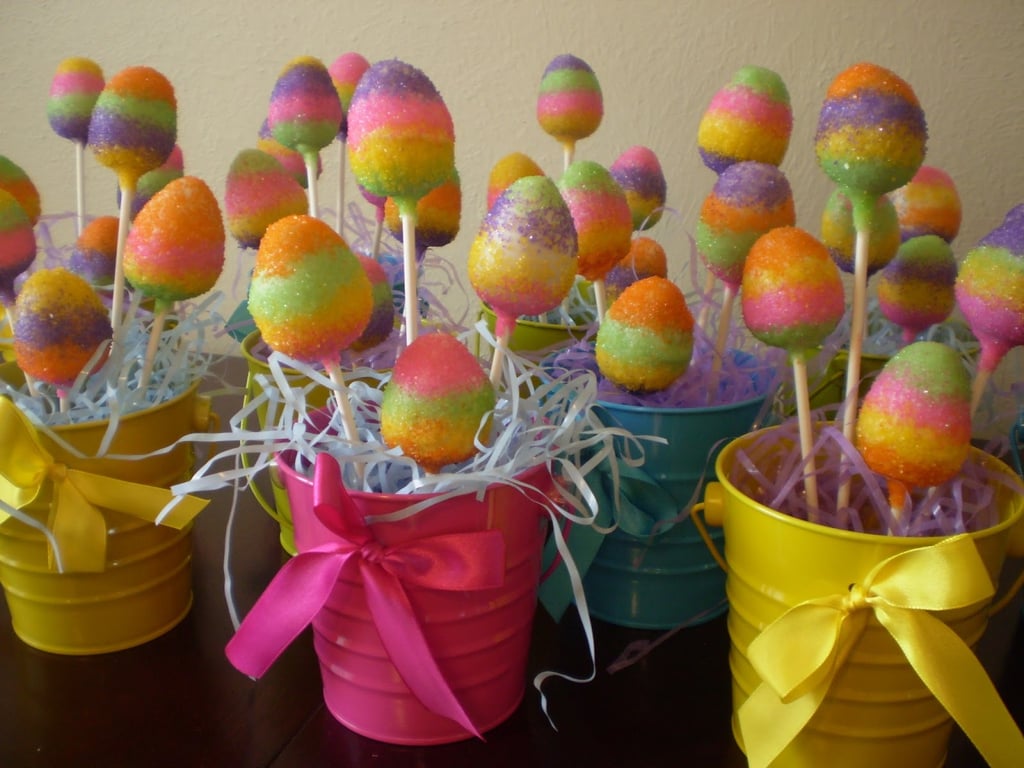 Natalie's Cake Pops' Easter eggs [87] are covered in sparkly pastel sugar for a cake pop that would melt any girl's heart.
Source: Natalie's Cake Pops [88]
For Your Boy to Wear: The Little Hipster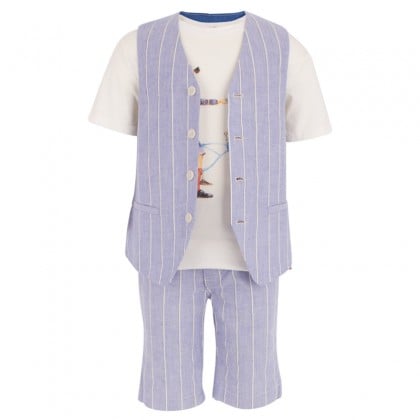 La Miniatura's striped shorts [89] ($99) pair with a coordinating vest and cool graphic tee. Who says dressy has to mean traditional?
Easter Egg Hunt Cookies
There's a surprise waiting in these adorable Easter Egg Hunt Cookies [90] from In Katrina's Kitchen — a mini Cadbury Creme Egg!
Source: In Katrina's Kitchen [91]
Custom Wool Felt Easter Basket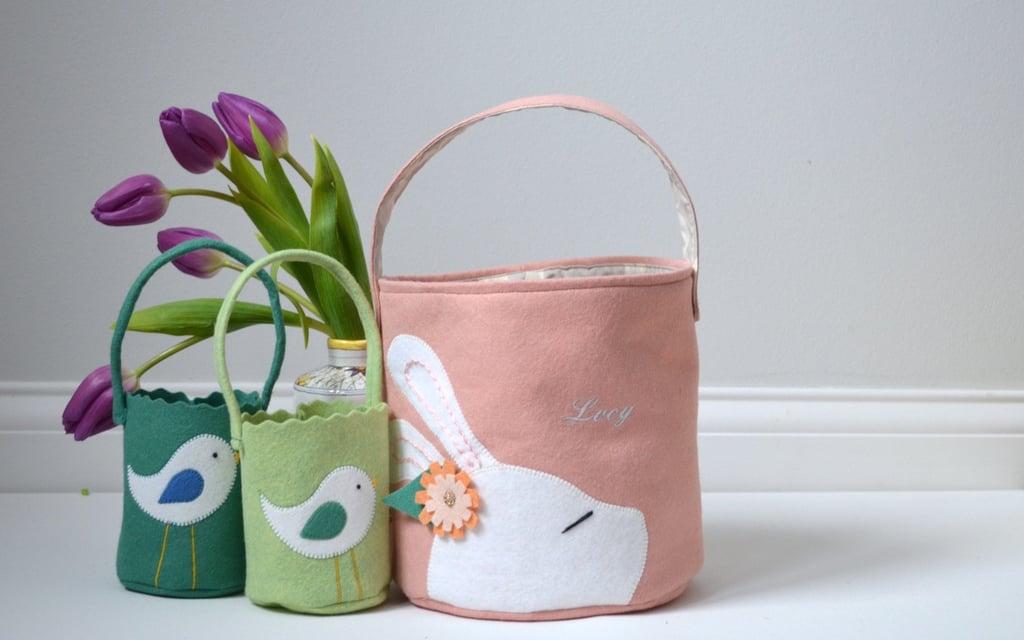 These soft felt baskets [92] ($40) come in a range of colors and are adorned with either a bunny or chick appliqué, plus your tot's name or initials.
For Your Boy to Wear: Posh Prepster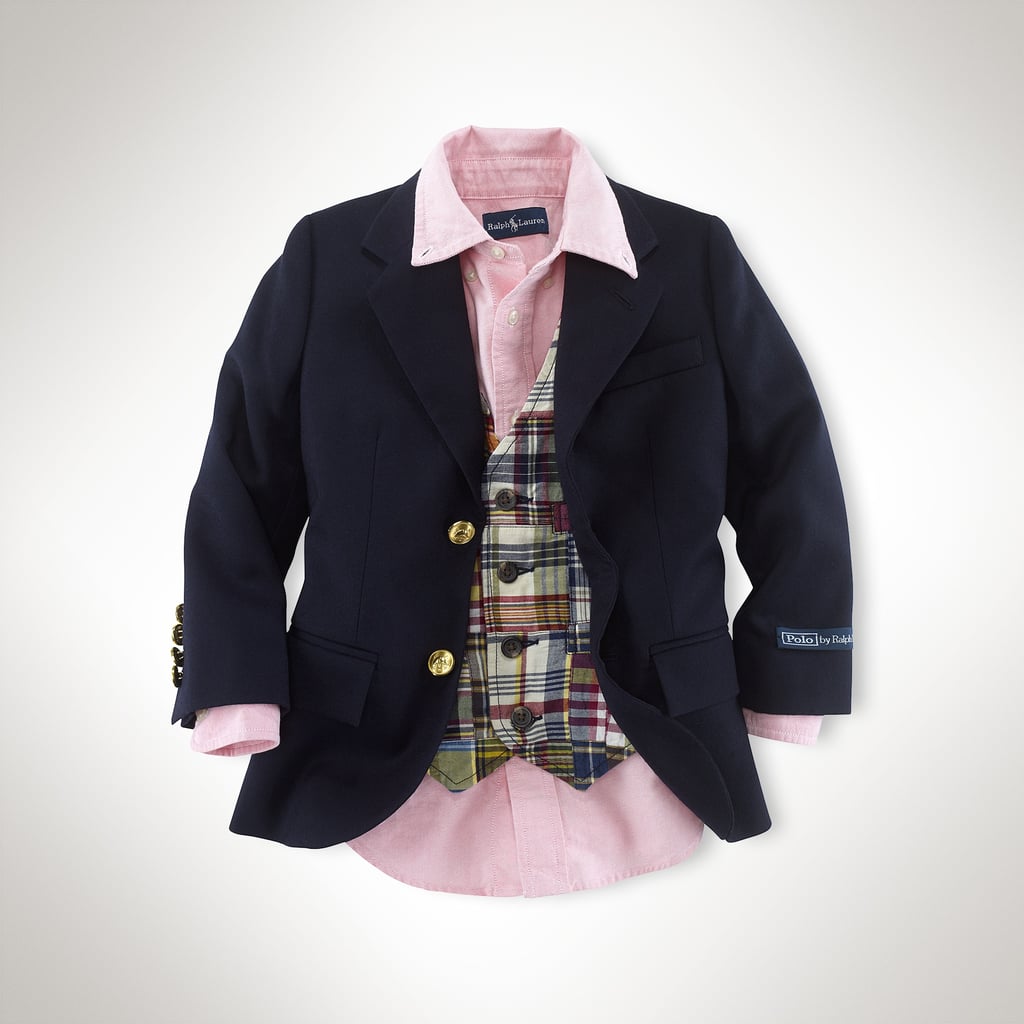 The layered look of Ralph Lauren's Solid Cotton Blake Shirt [93] ($25, originally $40), Madras Surfside Vest [94] ($55, originally $90), and Navy Wool Blazer [95] ($195, originally $260) is supersophisticated.
Easter Egg Flower Pots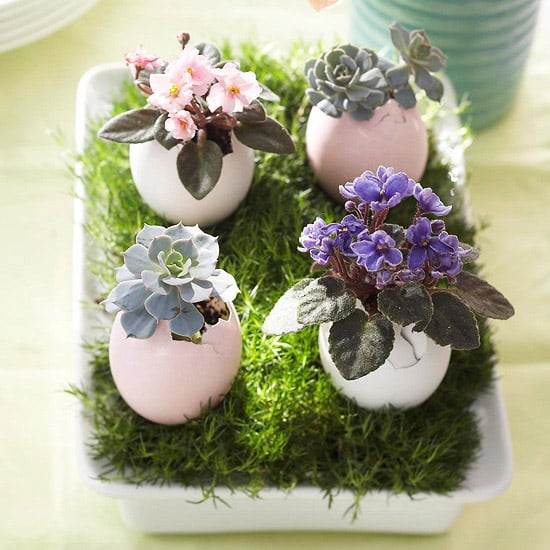 Create a sophisticated centerpiece for your Easter table from Better Homes and Gardens [96].
Source: Better Homes and Gardens [97]
Peepsqueak!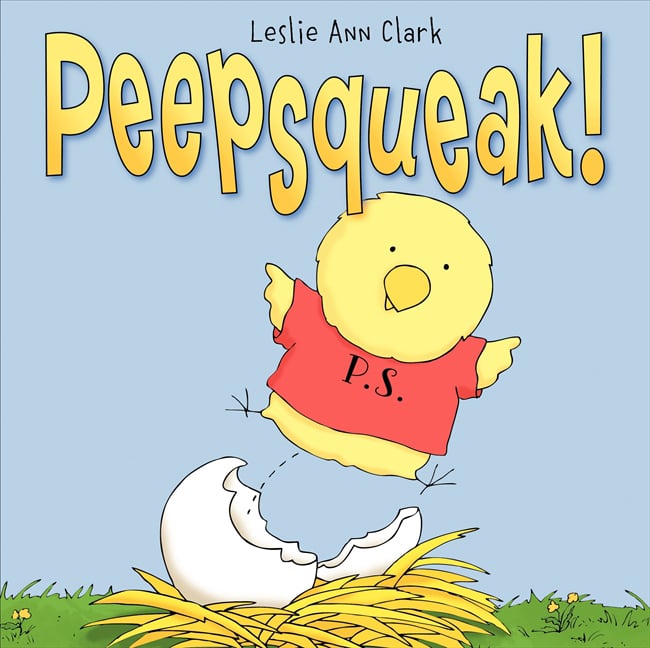 New author Leslie Ann Clark delights with the story of Peepsqueak! [98] ($13), a lively, just-born chick who refuses to give up, no matter what. As soon as he bursts out of his shell, he is on the move and determined to fly.
Wonderworld Chicky Memory Game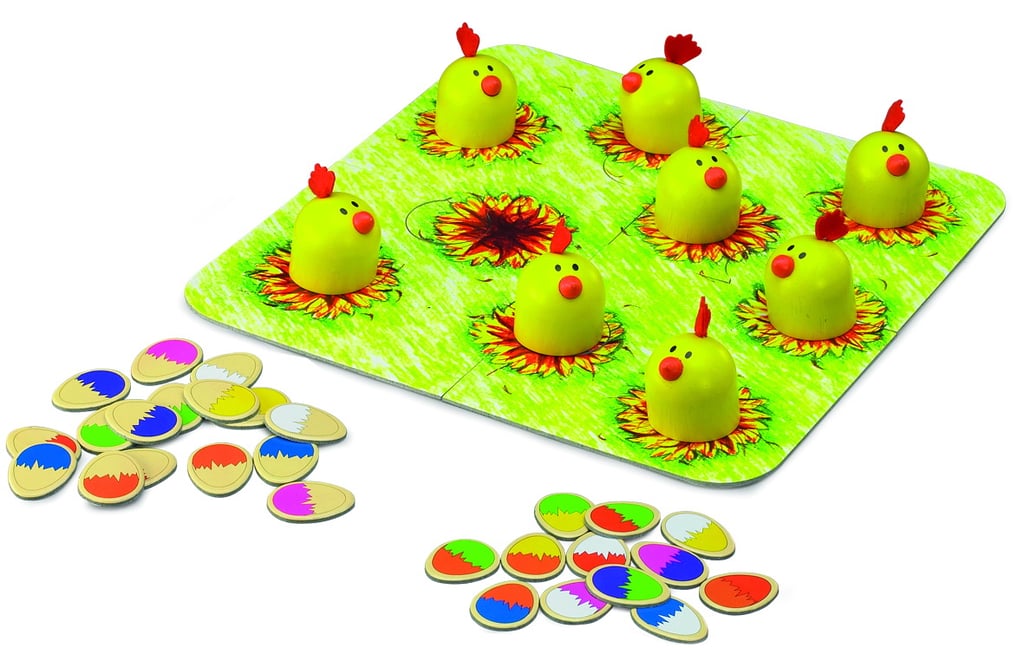 An Easter-themed memory game [99] ($28) may help develop your kids' memory and logic skills, but all they'll notice is how much fun it is.
Easter Basket Cake Pops
From 365 Days of Cake Pops, these Easter baskets [100] take some skill to re-create, but they're worth the effort.
Source: 365 Days of Cake Pops [101]
Washi Tape Easter Eggs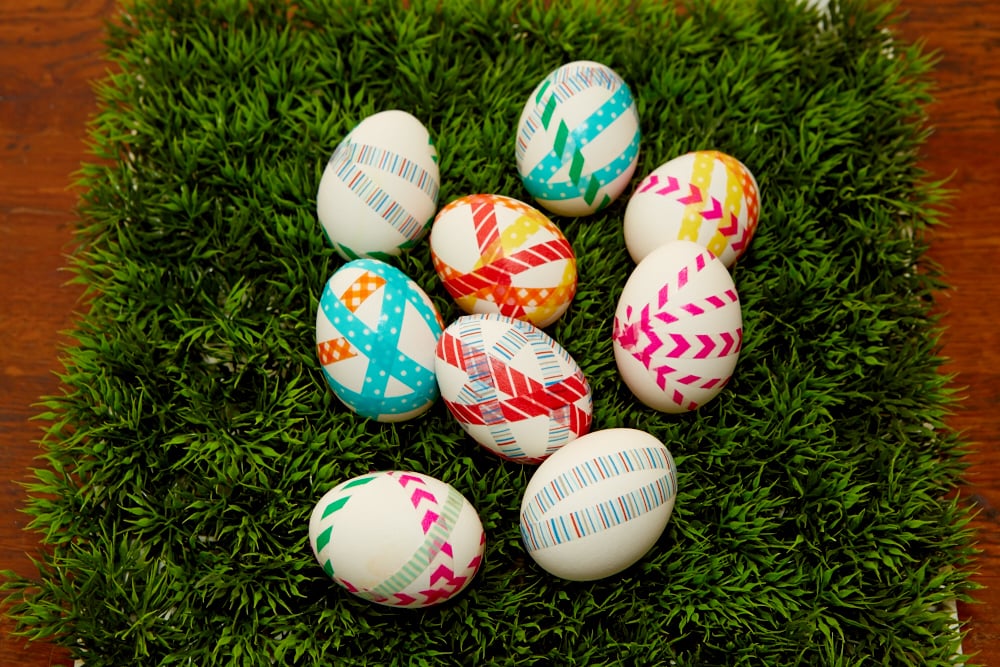 For these low-maintenance eggs inspired by the stars of HGTV's Home by Novogratz [102], simply take rolls of Japanese Washi tape and start wrapping. Mix and match different colors and patterns of tape to give eggs a modern edge.
Source: HGTV.com/Home by Novogratz [103]
Marshmallow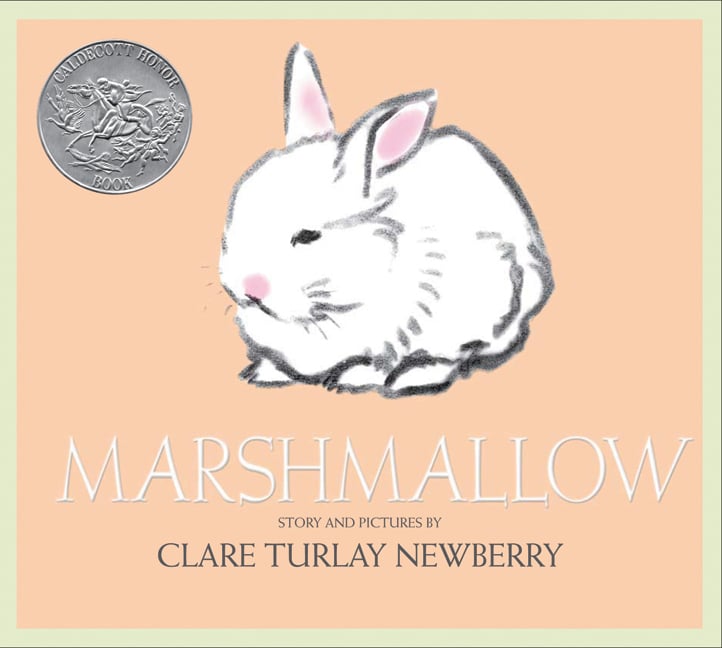 Clare Turlay Newberry's Marshmallow [104] ($7) won the 1943 Caldecott Honor. The story follows the unlikely friendship between Oliver, a tabby cat who's used to being the center of attention, and Marshmallow, a charming baby rabbit who moves into his home.
Crewcuts Floral Embroidered Dress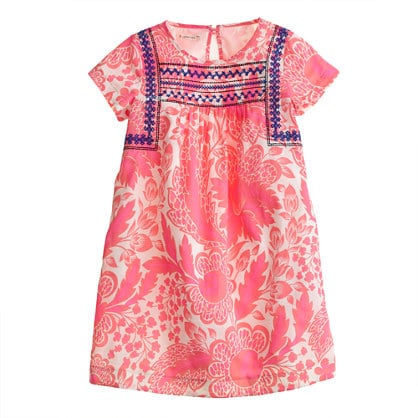 The perfect pick for the girl who'd rather be in jeans, Crewcuts' embroidered floral dress [105] ($84) is easy, breezy, and supercomfy.
Photo Print Easter Eggs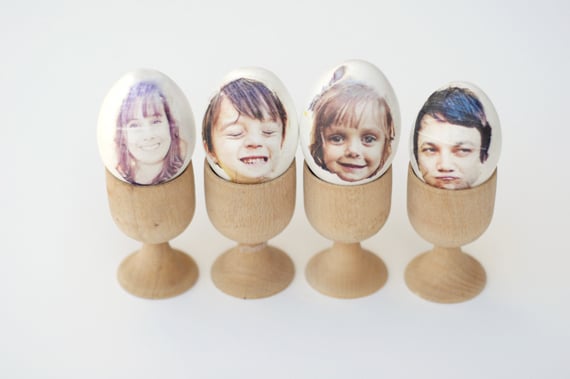 A Subtle Revelry came up with these clever photo print Easter eggs [106]. Make your own with a dozen eggs, photos that you love, an inkjet printer, masking tape, and tissues.
Source: A Subtle Revelry [107]
Just a Little Bit Loopy . . . Party Ensemble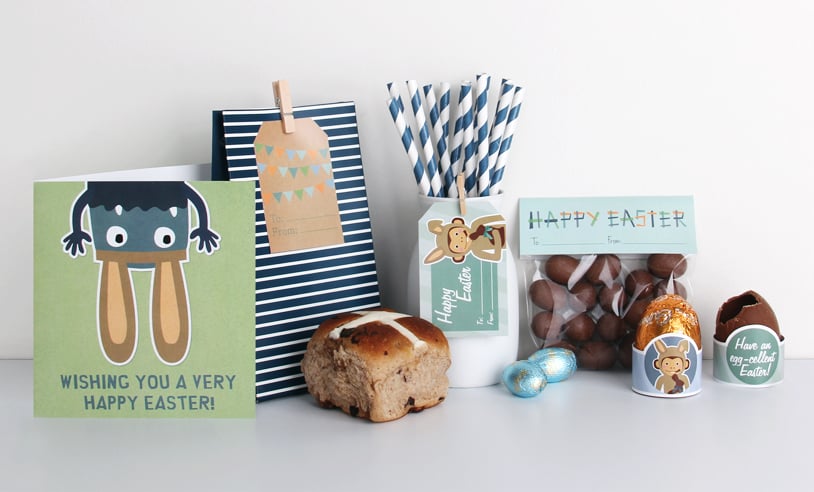 Aussie-based online design shop TinyMe has a range of free downloads in celebration of the Easter holiday. Just a Little Bit Loopy [108] features a navy and green palette with sweet characters in bunny costumes. Your kids will love this one!
Source: TinyMe [109]
Easter Mason Jar Planters
Krylon paint in a bevy of Spring shades is the key to these gorgeous Easter mason jar planters [110] by Just Another Day in Paradise.
Source: The CSI Project [111]
The Tale of Peter Rabbit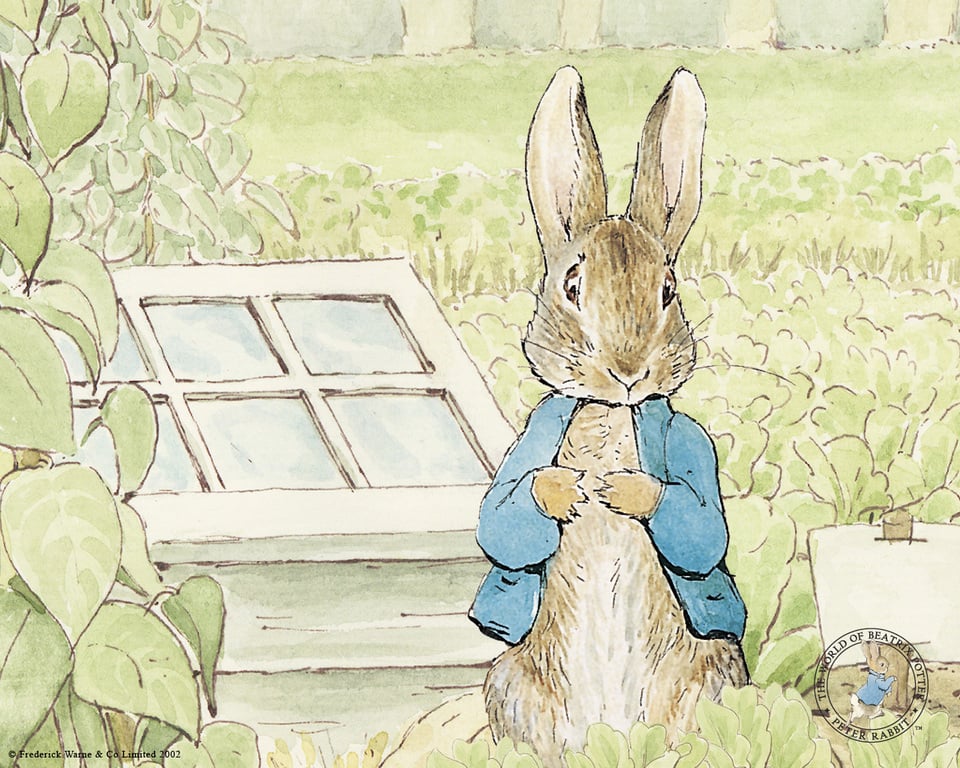 This year marks 112 years since The Tale of Peter Rabbit [112] ($7), the story of a mischievous rabbit and his nerve-racking encounter with Mr. McGregor, was first published. To celebrate, pick up this limited edition of 12 classic tales with colorful covers and notes explaining the history behind each story.
Vintage Bunny and Chick Motifs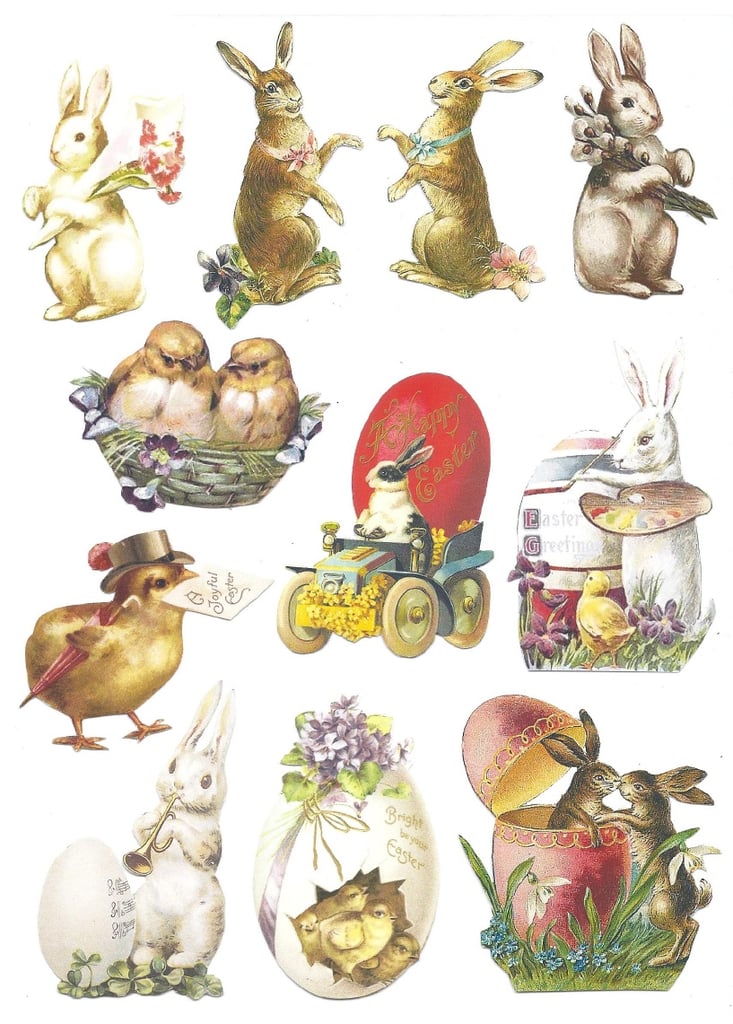 Go retro with these old-school Easter Bunny and chick motifs [113]. Print them on adhesive paper and stick to Easter eggs for a vintage vibe.
Source: Scribd [114]
Hatching Peeps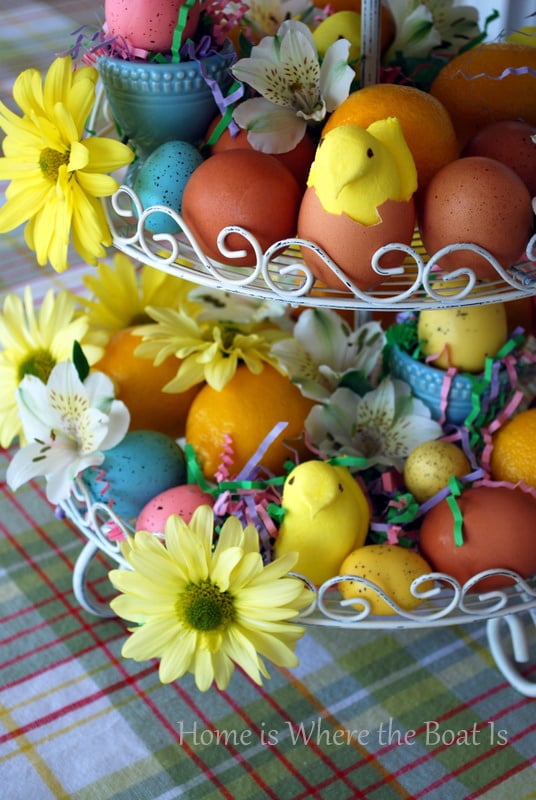 Does it get any sweeter than these hatching Peeps on a table? On Home Is Where the Boat Is [115], the marshmallow sweets appear to be coming right out of some hollowed-out eggs.
Source: Home Is Where the Boat Is [116]
For His First Neckwear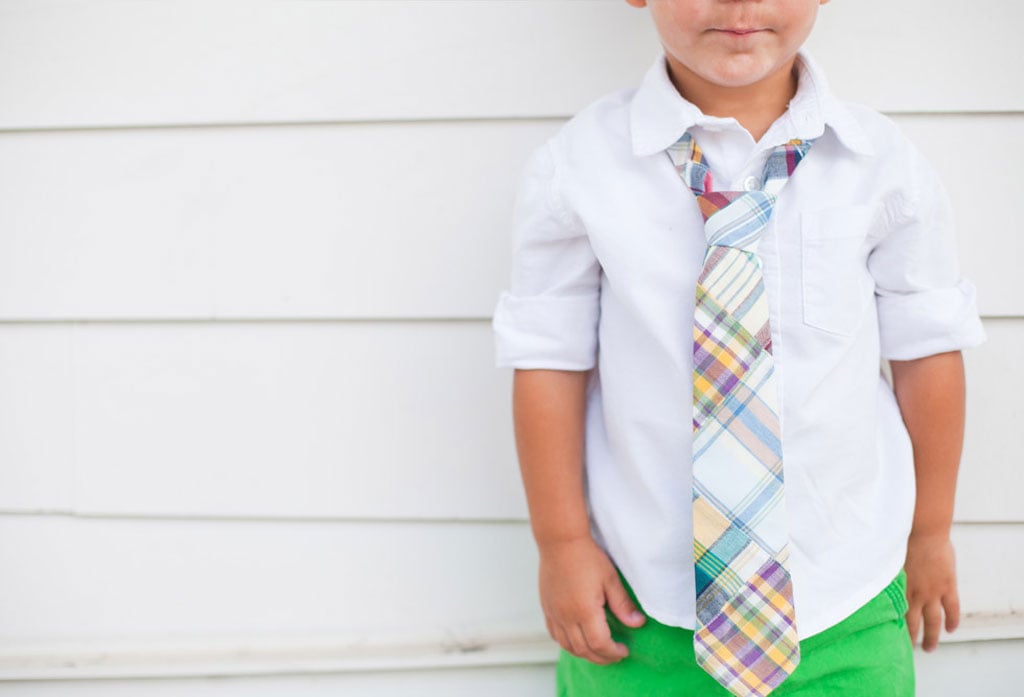 Little boys in grown-up neckwear can look off-kilter. Tadpole & Lily averts that problem by scaling its neck and bow ties down to an age-appropriate size and style [117] ($30).
Baby CZ Striped Pintuck Dress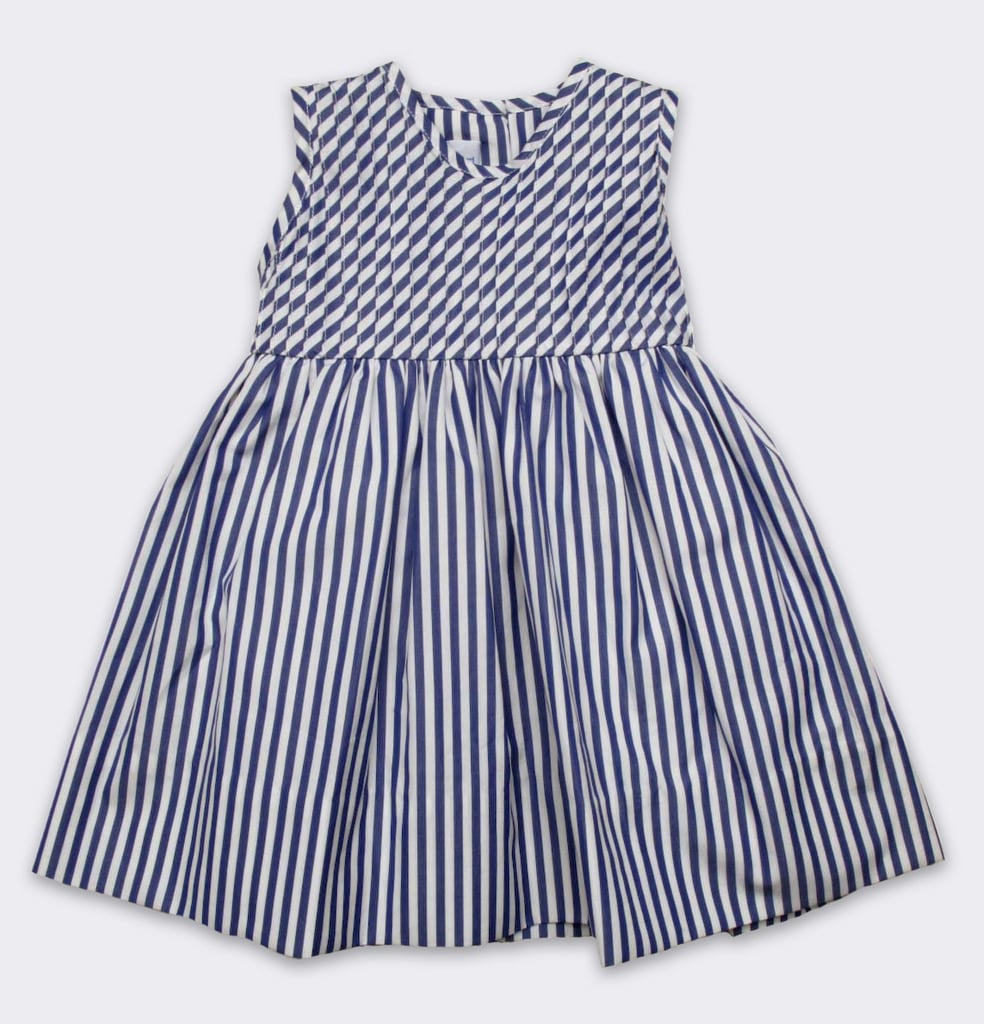 If florals and pastels aren't your thing, consider Baby CZ's Striped Pintuck Dress [118] ($166) for your baby girl.
Cadbury Easter Egg Bark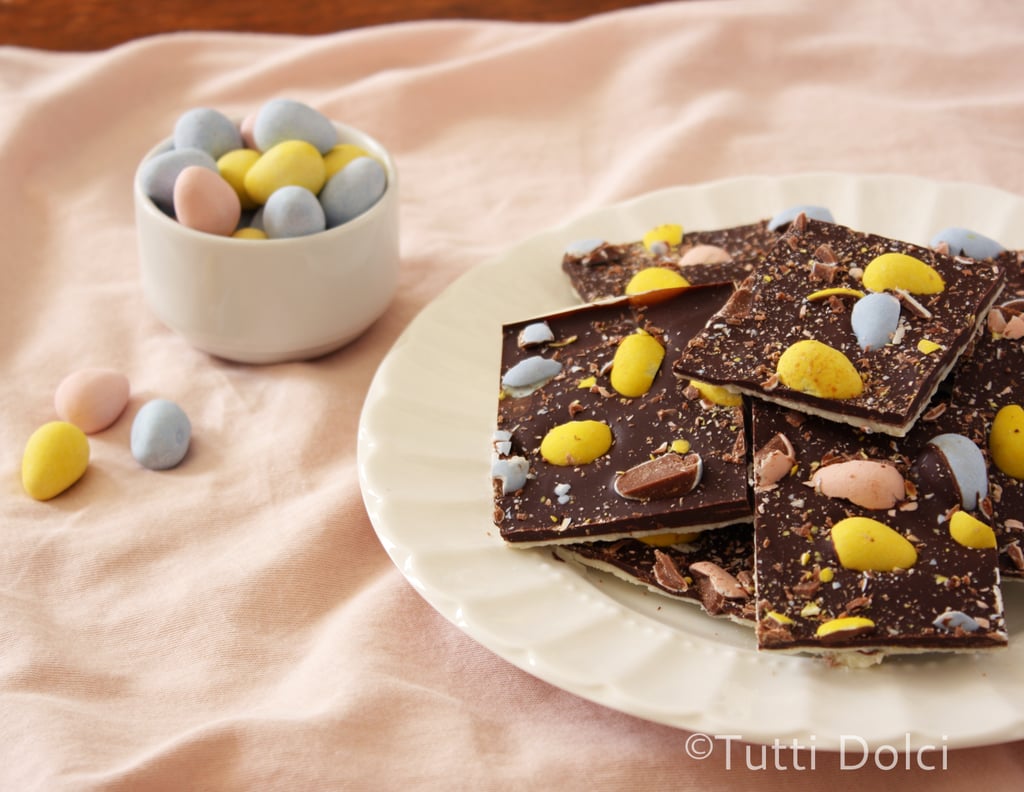 Chocolate bark [119] is a popular treat around Christmastime, and Tutti Dolci has discovered that it works just as well with Cadbury Mini Eggs as it does with crushed candy canes.
Source: Tutti Dolci [120]
CR Originals Easter Chick in Bunny Ear Hoodie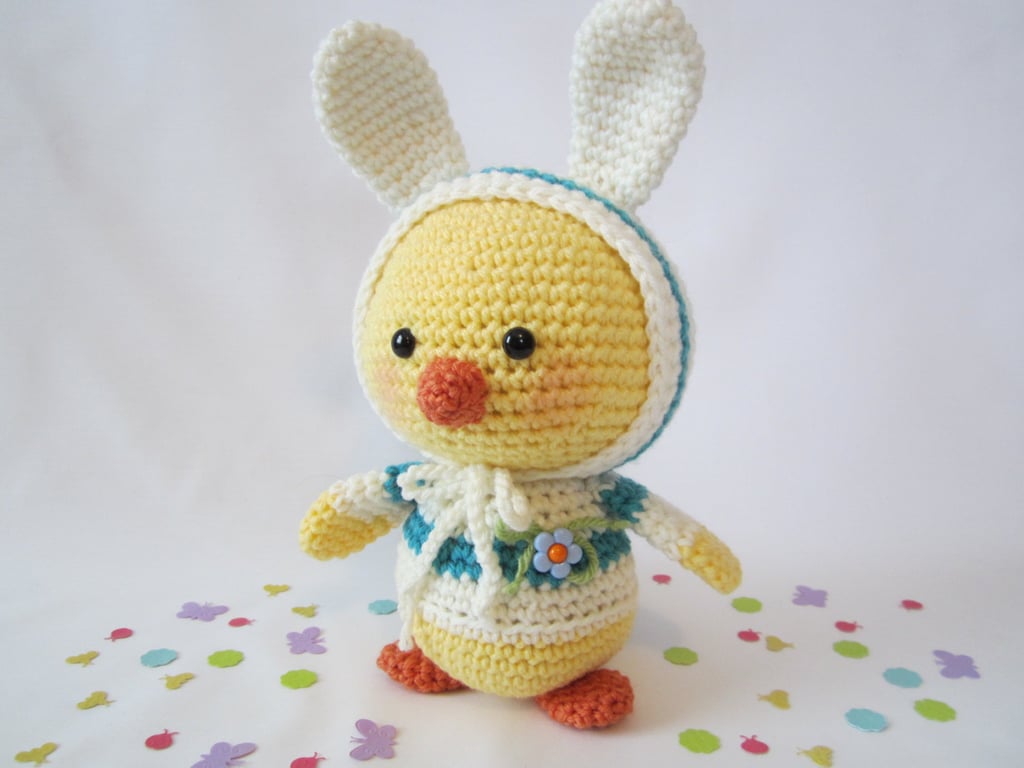 We can't imagine a cuter chick than the one created by Etsy seller CR Originals. The crocheted Easter chick [121] ($36) stands 7 1/2 inches high and comes with a removable bunny-eared hoodie in lavender, aqua, or pink.
Sweetly Sprinkled
Cake Journal's delicately sprinkled pops [122] are sophisticated enough for adults but would still make a perfect addition to a little one's Easter basket.
Source: Cake Journal [123]
Pretty Pots
Decoupaged flower pots [124] by Christine Chitnis cost just a few dollars each to make and are great gifts when paired with a plant or seed packets.
Source: Christine Chitnis [125]
Peeps Sunflower Cake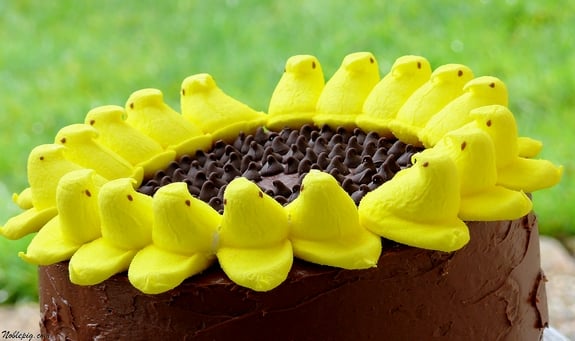 This Peeps sunflower cake [126] is a sure sign that Spring is on its way!
Source: Noble Pig [127]
Brown Sack Easter Masks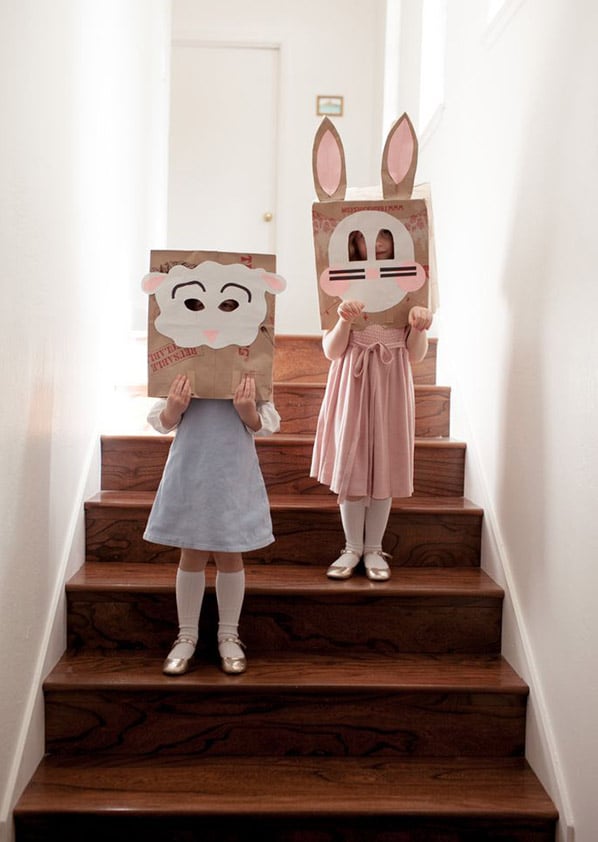 Oh Happy Day's fun Easter animal masks [128] are easy to make and oh so cute.
Source: Oh Happy Day [129]
Plastic Easter Egg Tea Cups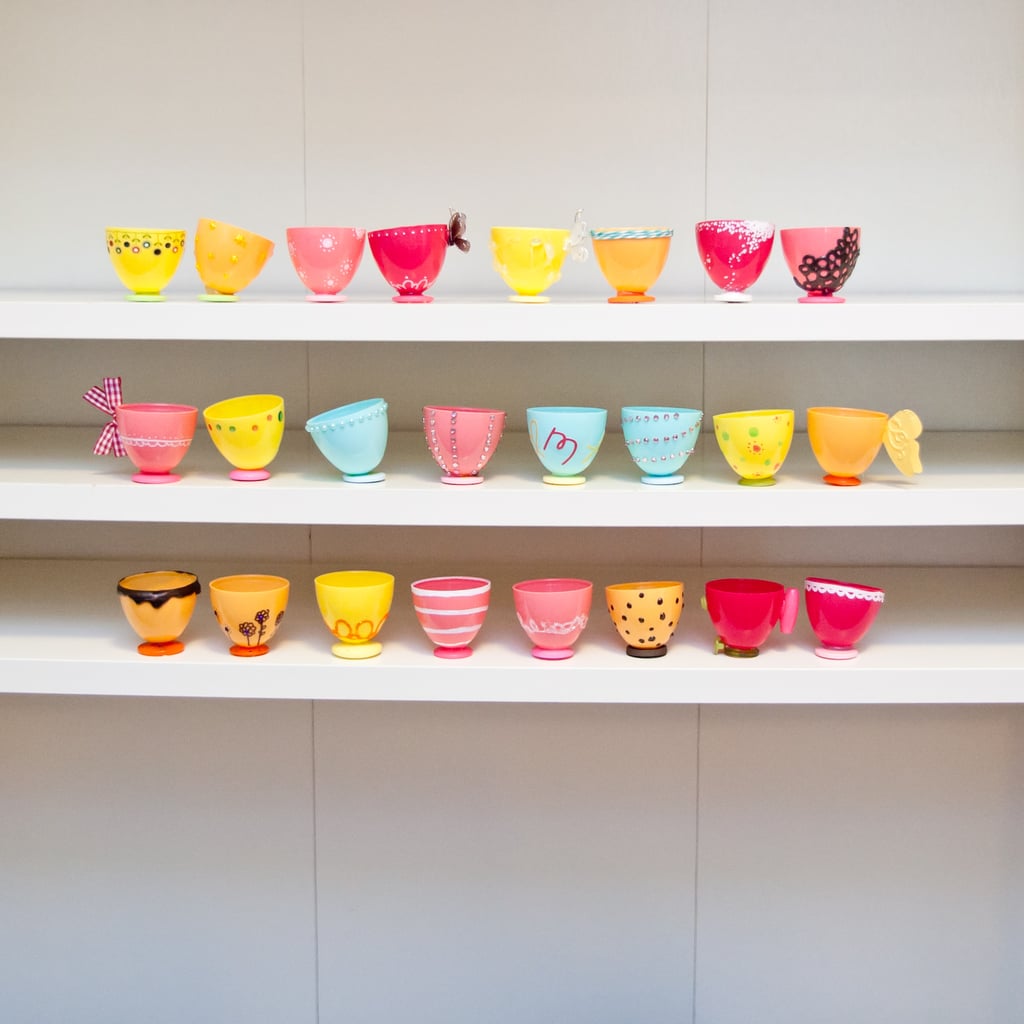 Designs by Sunghee took a creative approach to recycling plastic Easter eggs — how sweet are these tiny tea cups [130]?
Source: Creativity in Progress [131]
The Animal Print Shop Baby Chick Close-Up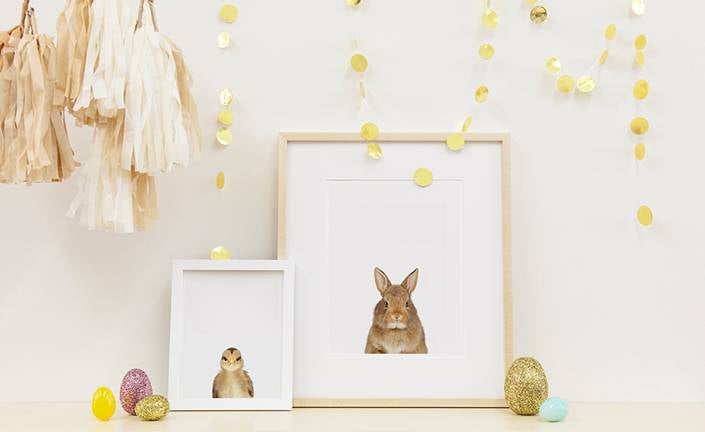 The Animal Print Shop's [132] baby chick and bunny prints ($25 each and up) are the perfect Easter present. Photographer Sharon Montrose [133] never fails to delight!
Cadbury Egg Oreo Cookie Bars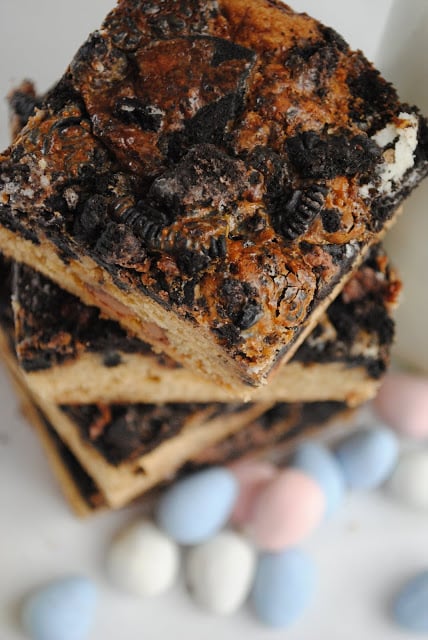 Never thought of combining Oreos and Cadbury Eggs [134] before? We suggest you give Something Swanky's recipe a try!
Source: Something Swanky [135]
Bunny Cake and Cupcake Toppers
The Celebration Shoppe's Easter Bunny printables [136] add some Easter style to cupcakes or a simple cake.
Source: The Celebration Shoppe [137]
Romp Sweet Dreams Bunny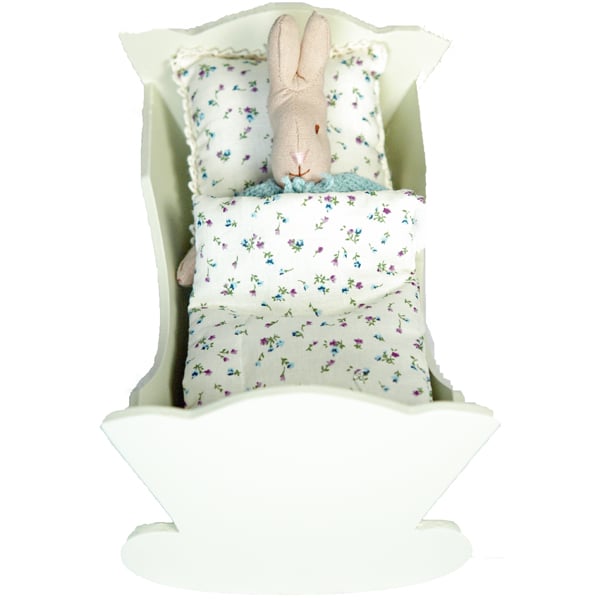 Bedtime is much more fun when there's a little bunny sleeping beside you. This sweet stuffed animal [138] comes with a painted wooden cradle — complete with patterned bedding.
A Simple Spring Basket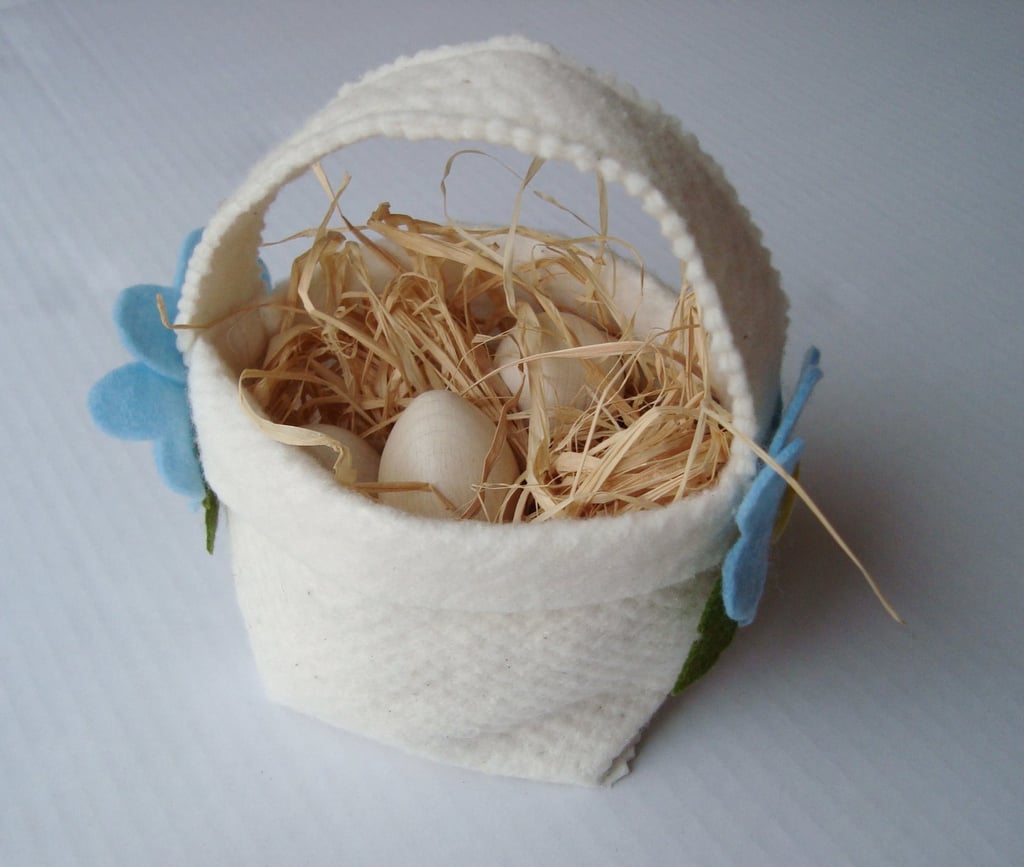 A sweet and simple felt basket [139] from Maya Made is perfect for Easter egg hunts.
Source: Maya Made [140]
Bunny Cupcakes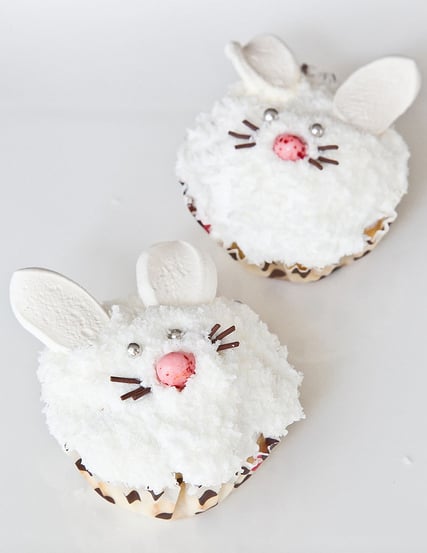 There's something delightfully whimsical and retro about these bunny cupcakes [141].
Source: Bite Delite [142]
Peeps S'mores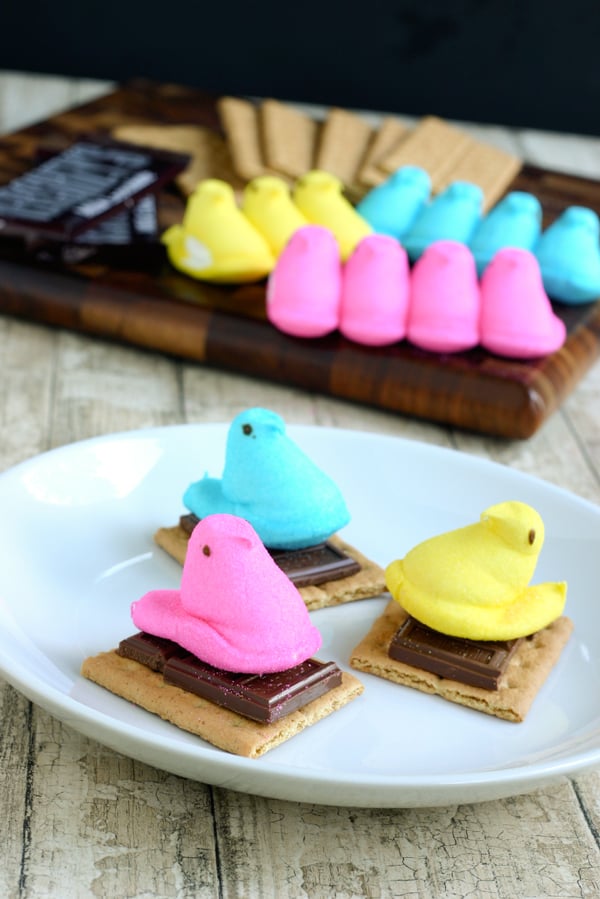 Little ones won't mind their favorite Peeps melting when they taste these yummy Peeps s'mores [143]!
Source: Eclectic Recipes [144]
Printable Spring Gift Tags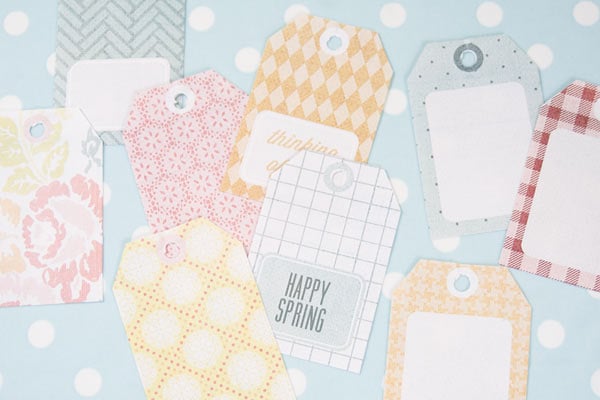 These charming Spring gift tags [145] were created by Sara of Confetti Sunshine for Whatever Dee Dee Wants and can be used well beyond Easter for birthday parties, baby showers, or hostess gifts.
Source: Whatever Dee Dee Wants [146]
Printable Bunny and Lamb Ears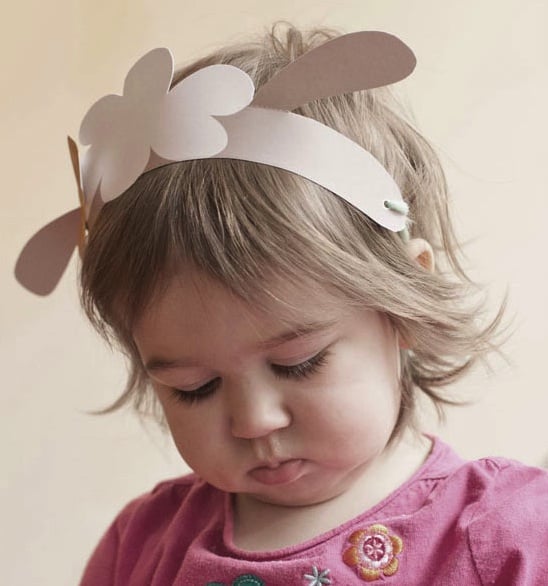 What could be sweeter than capturing your little ones' Easter photos in these easy-to-make bunny and lamb ears [147] by Ellinee?
Source: Ellinee [148]
Woodland Creatures Party Ensemble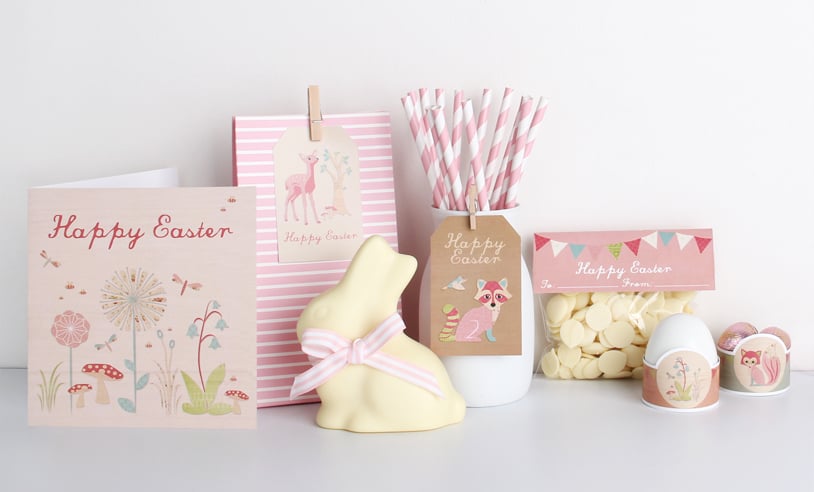 Another beautiful set of printables [149] from TinyMe, this group is inspired by woodland animals and a soft, muted color palette.
Source: TinyMe [150]
Tracy Scott Designs Easter Onesie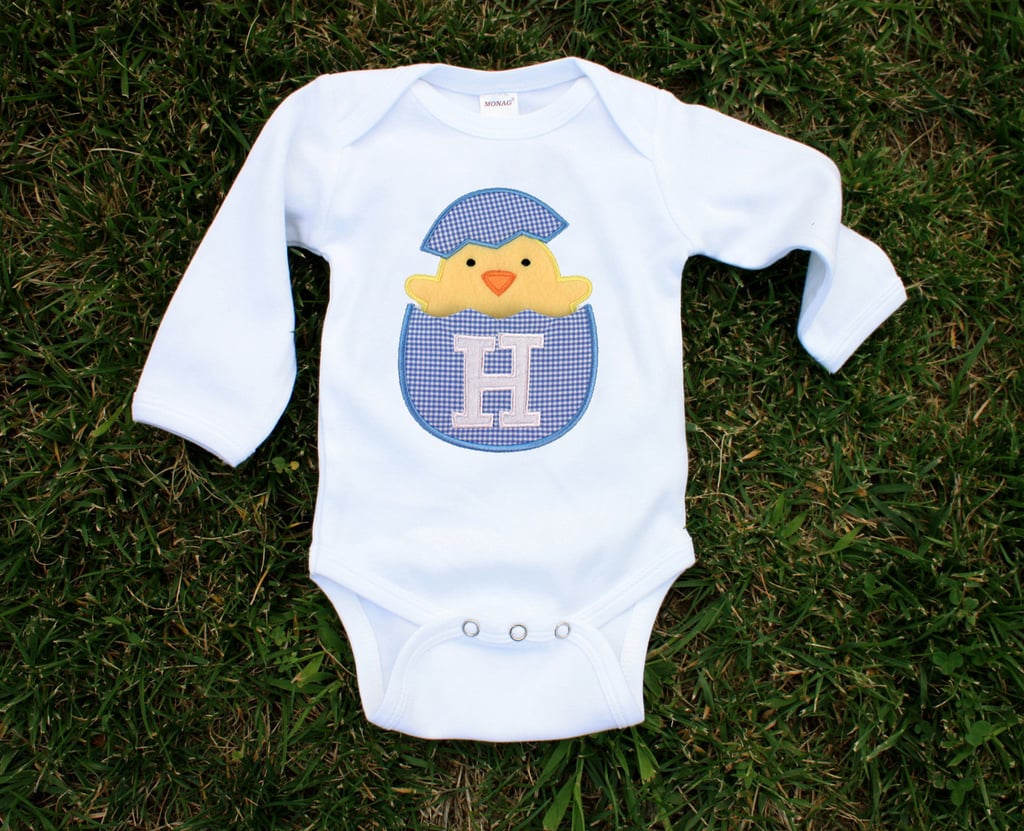 Etsy seller Tracy Scott Designs' Easter chick onesie [151] ($19) comes with short or long sleeves for babies 0 to 18 months old. The onesie features your child's first initial on an egg hatching a cute chick!
Bunnies by the Bay Beanie Hat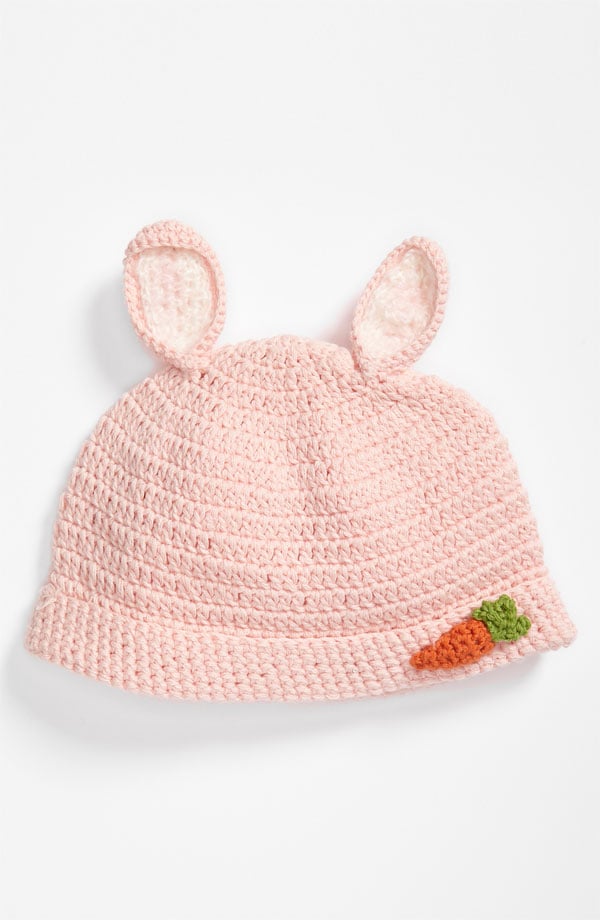 It doesn't get much sweeter than this infant beanie [152] ($14) — also available in baby blue!
For Your Boy to Wear: The Traditional Type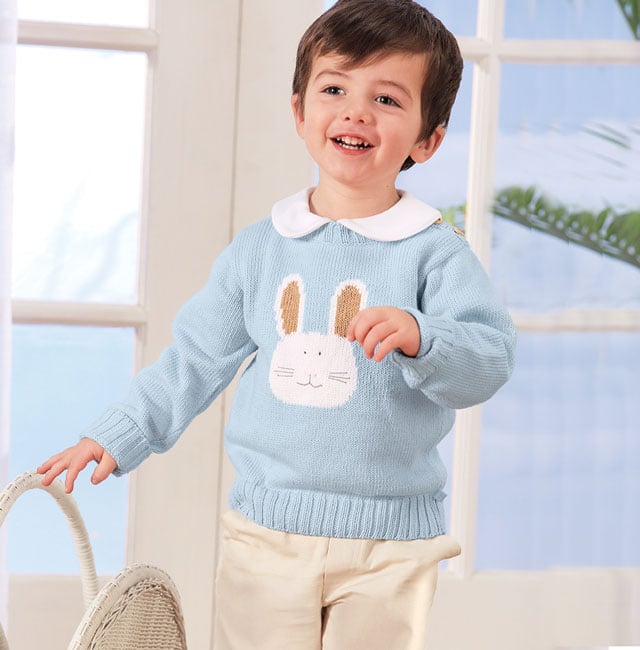 If every holiday in your household merits a themed ensemble for each family member, consider Bella Bliss's Intarsia Bunny Sweater [153] ($72) — his sister can match in coordinating pink, too!
Easy Painted Egg Cartons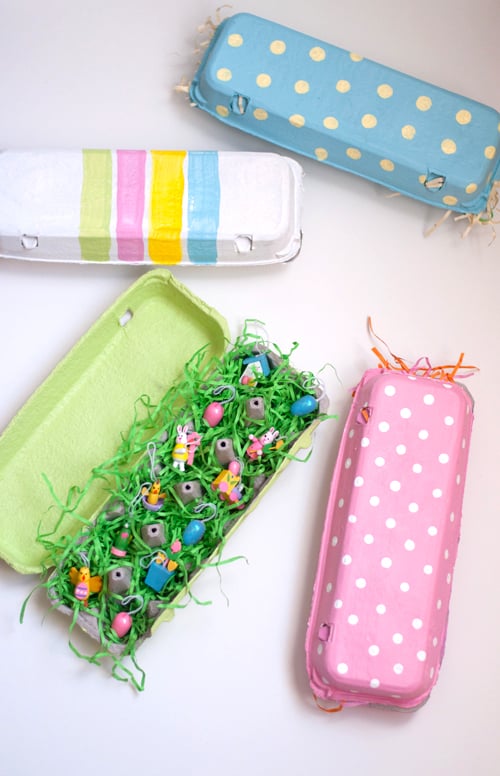 Have your kids help create Design Mom's painted egg cartons [154], then fill them with treasures for their Easter.
Source: Design Mom [155]
Paper Plate Easter Bunny Mask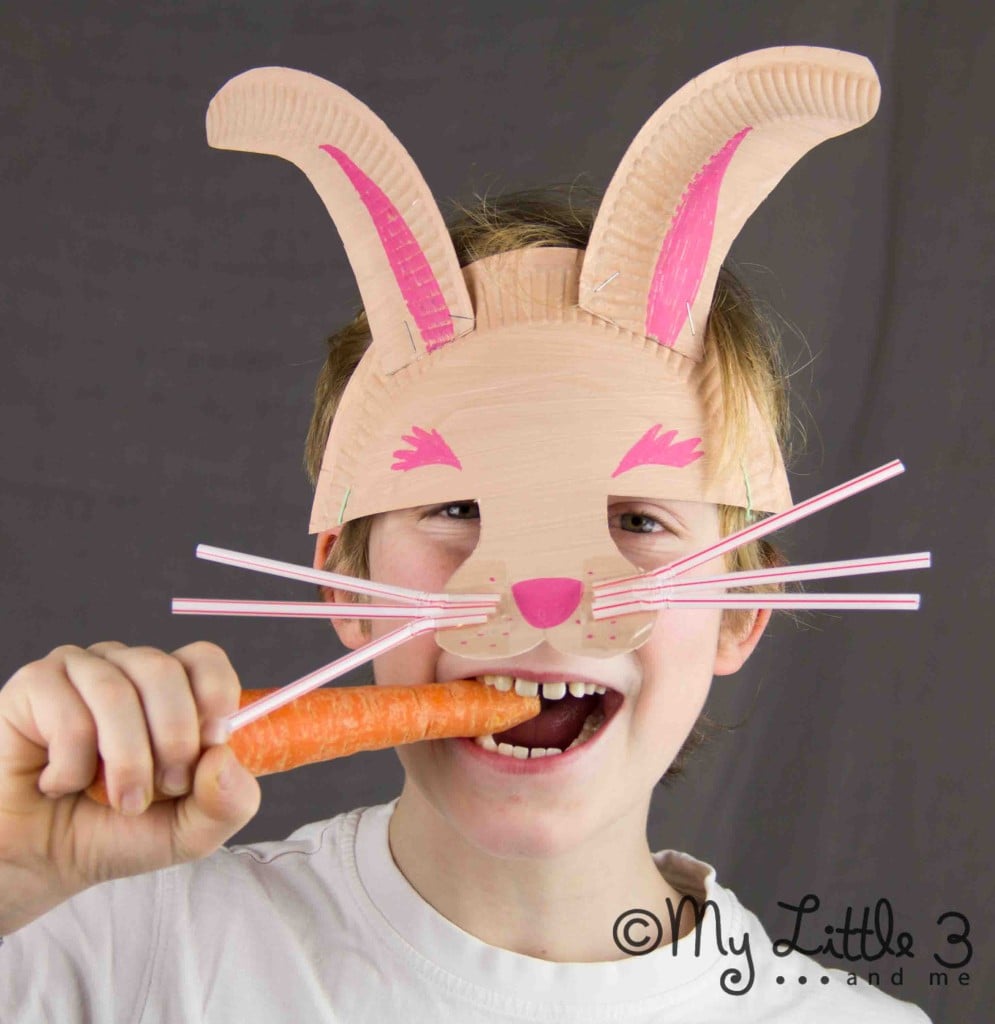 Use My Little 3 and Me's simple instructions to create your own cute bunny mask [156] using a paper plate, straws, markers, and a few other common craft supplies.
Source: My Little 3 and Me [157]
DIY Glitter and Confetti Smash Eggs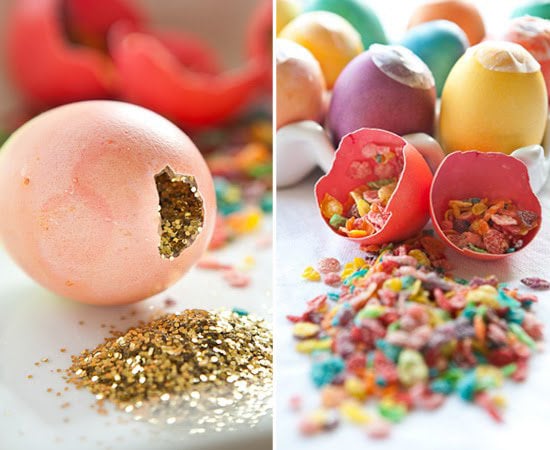 If you're looking for a fun Easter egg activity that doesn't involve candy, we highly recommend you consider making smash eggs [158], also known as confetti eggs or cascarones.
The idea is simple: hollowed-out, refilled eggs are broken over the heads of friends, showering them with confetti . . . and, according to tradition, good luck. Kids might need some simple instructions and oversight (egg-smashing etiquette requires eggs to be broken directly on a person's head — it sounds rough, but it actually makes for a gentler and safer experience). Jordan Ferney from Oh Happy Day [159] shared photos of her amazing glitter and Fruity Pebbles eggs with us. Want to make your own? Follow her easy DIY instructions [160]!
Source: Robyn Kessler for Oh Happy Day [161]
Easter Egg Terrariums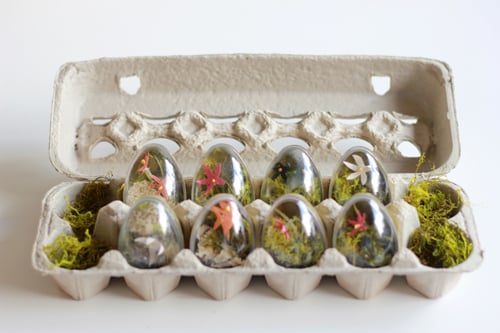 The House That Lars Built's amazing Easter egg terrariums [162] may look complicated, but they just use clear plastic eggs, moss, dirt, and gold spray paint.
Source: The House that Lars Built [163]
Felt Watering Can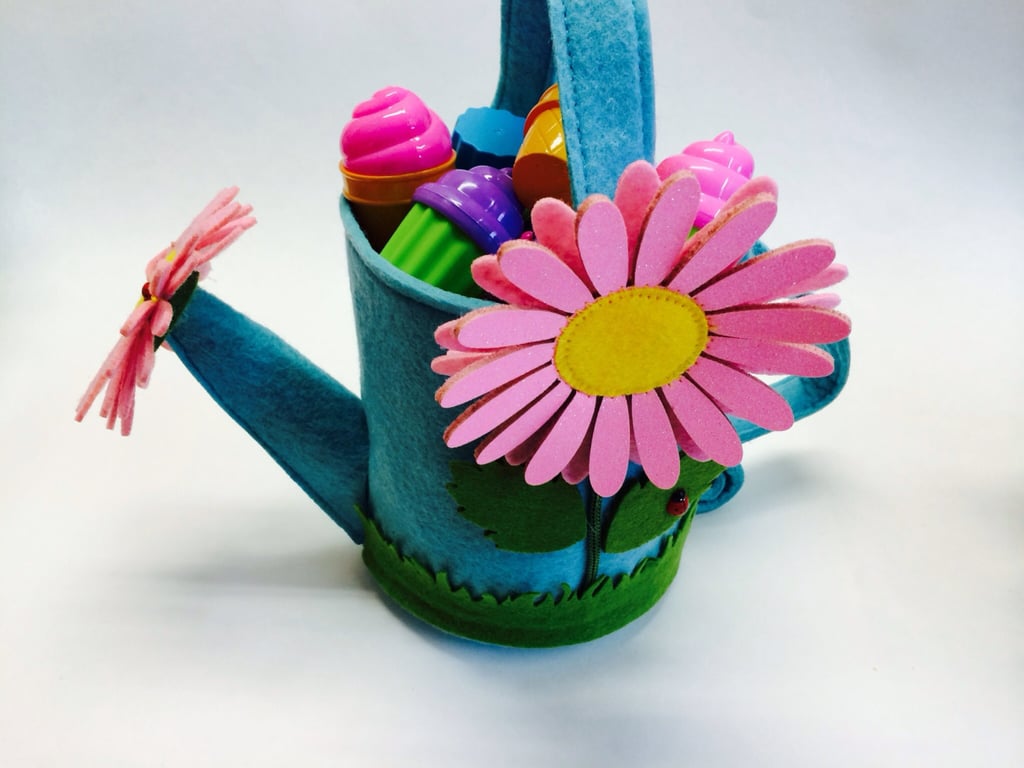 Who says your Easter basket has to be of the traditional variety? The Crafters Merchant's felt watering can [164] ($14) simply screams Spring. Note that it's smaller than most Easter baskets, so be selective in your stuffing!
The Country Bunny and the Little Gold Shoes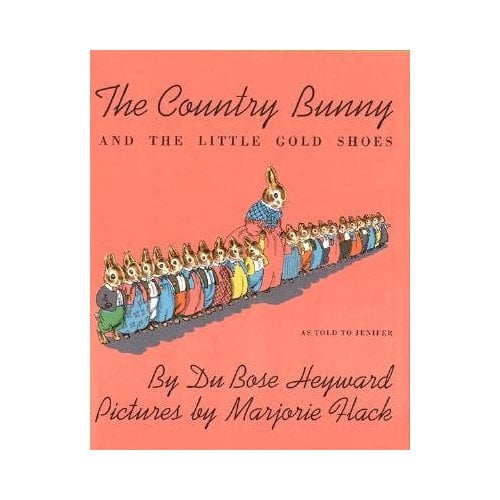 Originally published in 1939, this edition of The Country Bunny and the Little Gold Shoes [165] ($10) comes with a golden shoes charm. The classic story tells the tale of a mother bunny who dreams of being one of the official Easter Bunnies but must first prove herself.
A Bunny-Filled Easter Celebration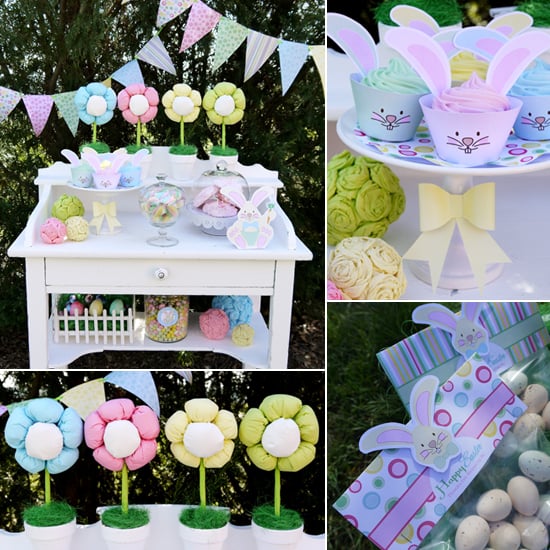 Bird's Party [166] has just introduced the most adorable Easter printable collection [167], guaranteed to please all the little bunnies in your house, and also included some awesome DIY [168] projects, including plush potted paper flowers and beautiful tissue-paper flower pomanders. Click here [169] for all the details, and get ready to be inspired to create your own adorable Easter party!
Source: Bird's Party [170]
Garden Roses Floppy Hat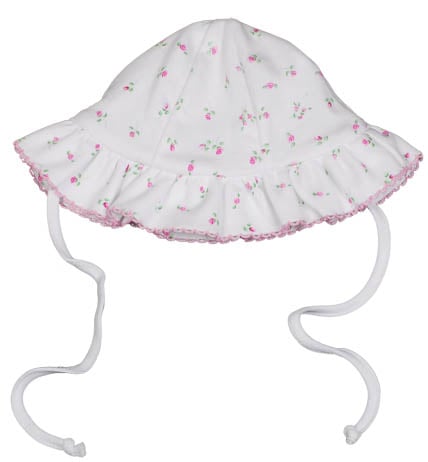 Kissy Kissy's soft, sweet floppy hat [171] ($16) is adorned in garden roses and trimmed in pink for your baby girl.
White Chocolate Puppy Chow With Cadbury Eggs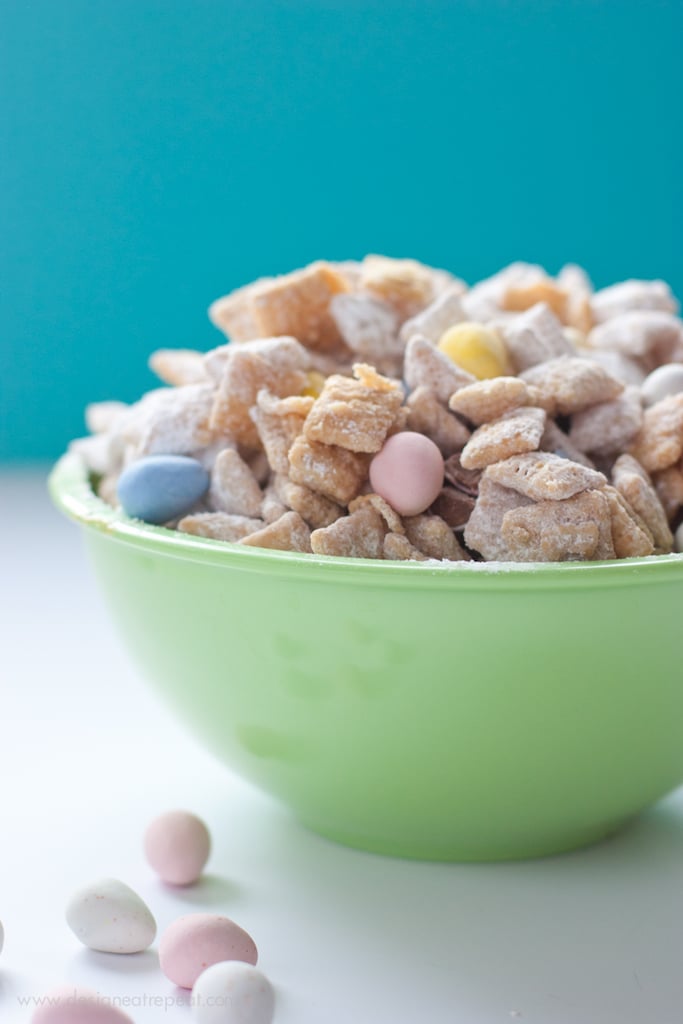 Incorporating Cadbury Mini Eggs into puppy chow mix [172] makes for an addictive Spring snack.
Source: Design Eat Repeat [173]
Bunnies For Tea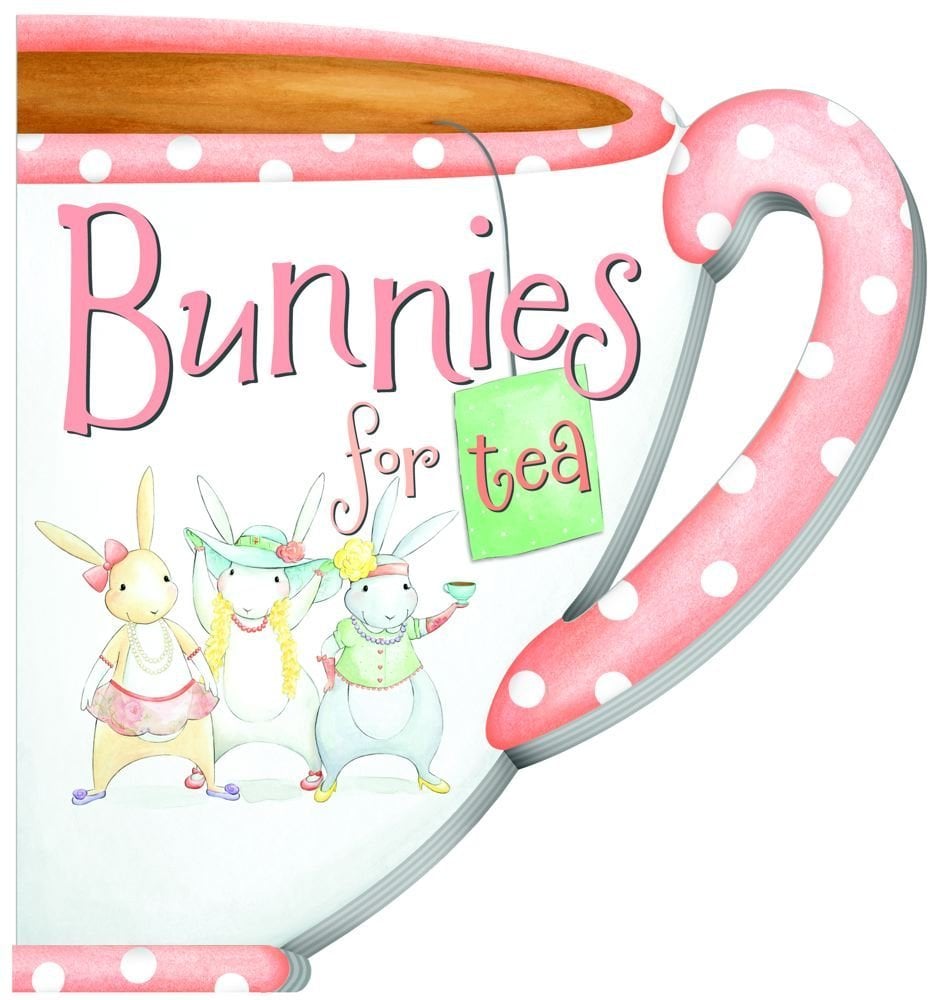 Kate Brown's Bunnies For Tea [174] ($8) comes in a cute tea cup shape and tells the story of three bunnies who dress up in their fanciest clothes to get ready for a tea party. Soft watercolor illustrations and sweet rhyming text will make this an Easter favorite for little kids.
Crunchy Birds Nests
Frosted chow mein noodles are the unexpected secret ingredient to these little nests [175].
Source: Better Homes and Gardens [176]
Easter Stickers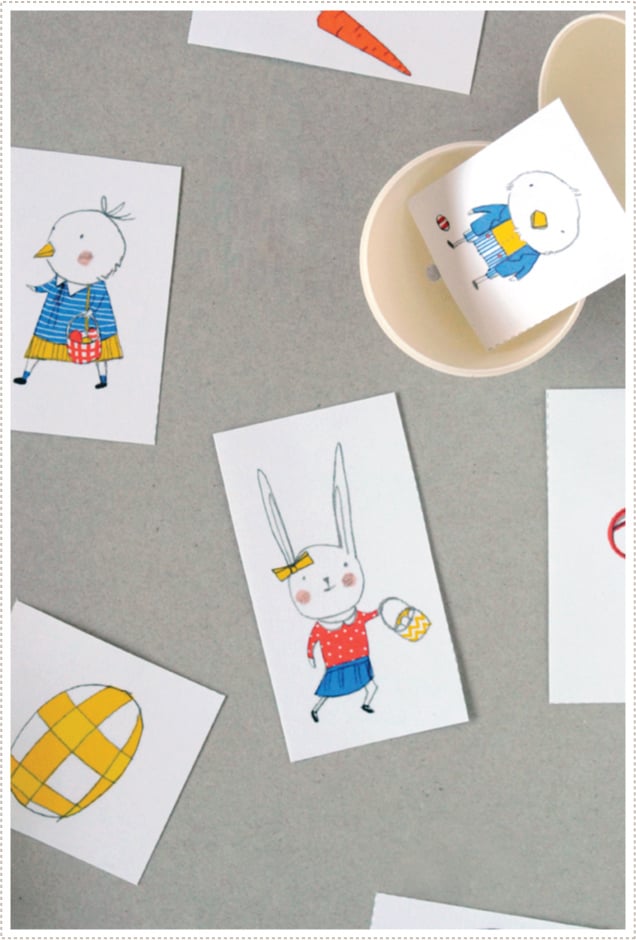 Mer Mag's sweet Easter stickers [177] are pure hand-drawn cuteness, featuring chicks, bunnies, eggs, and more.
Source: Mer Mag [178]
A Simple Spring Basket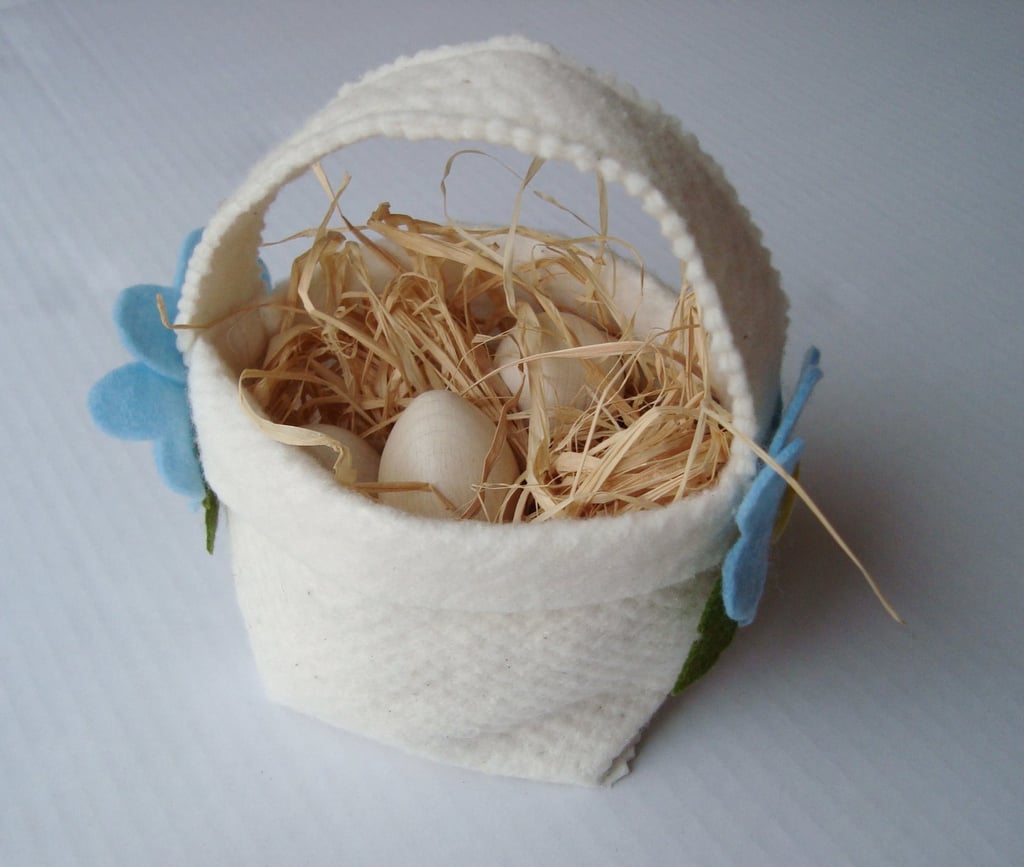 A sweet and simple felt basket [179] from Maya Made is perfect for Easter egg hunts.
Source: Maya Made [180]
Easter Bunny Cupcake Wrappers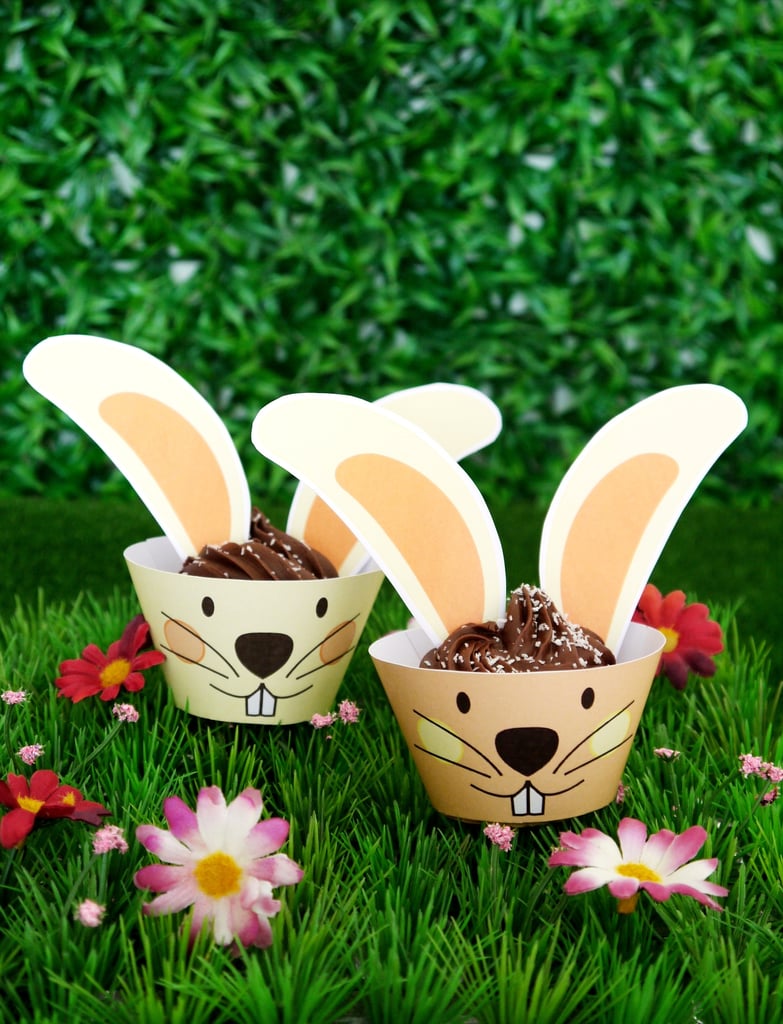 Dress up your cupcakes for Easter with these goofy, fun printable wrappers and ears [181] from Bird's Party. They're sure to bring a smile to your kiddos' faces.
Source: Bird's Party [182]
Milly Minis Neon Flecked Tweed Dress
Neon and tweed merge trendy with traditional in the case of Milly Minis' Flecked Tweed Dress [183] ($195).
Cadbury Egg Chocolate Lava Cake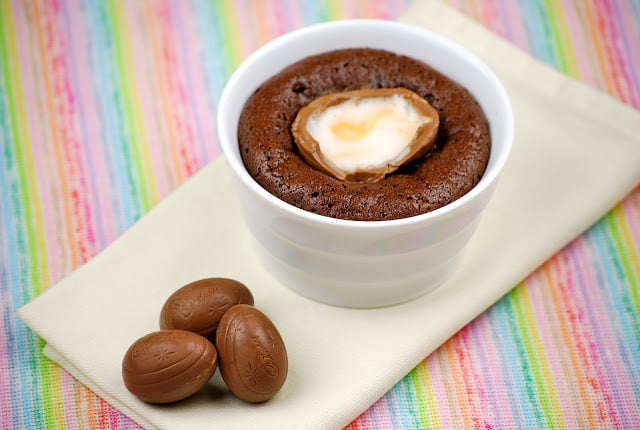 It doesn't get much more decadent than Tasty Trials' recipe for Cadbury Egg chocolate lava cake [184]. Kids will love how they can see the inside of the egg atop the luscious chocolate cake.
Source: Tasty Trials [185]
Coconut Macaroon Nutella Nests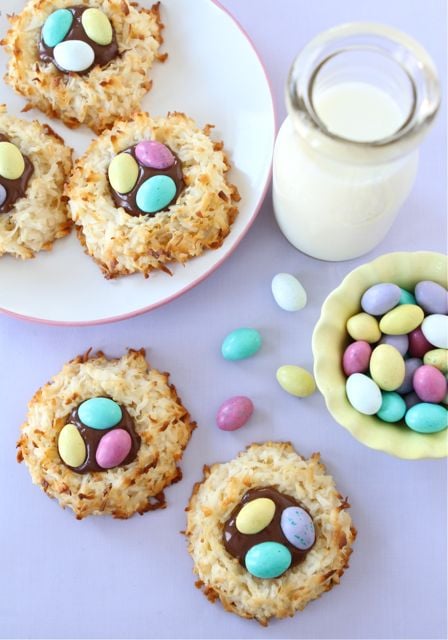 Two Peas & Their Pod's coconut macaroon Nutella nests [186] take the cake for the cutest Cadbury dessert treats. The combo of light and flaky coconut and rich, decadent Nutella complement one another perfectly.
Source: Two Peas & Their Pod [187]
For Dad's Mini Me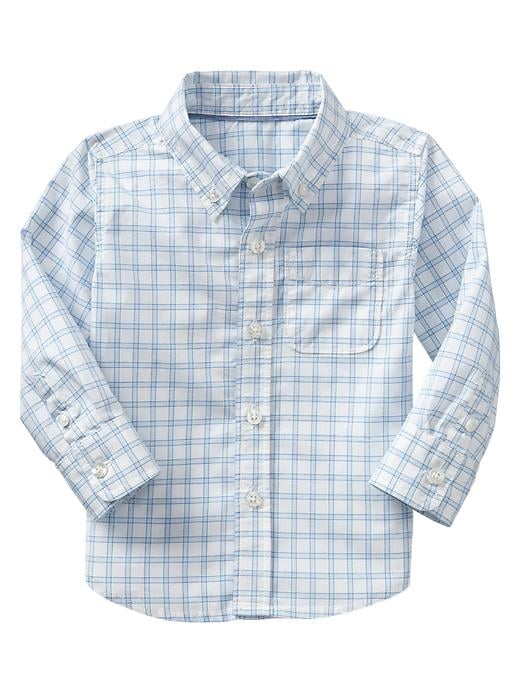 He can't go wrong with a classic checkered shirt [188] ($27) — just like his Pop's.
Pink Jute Easter Basket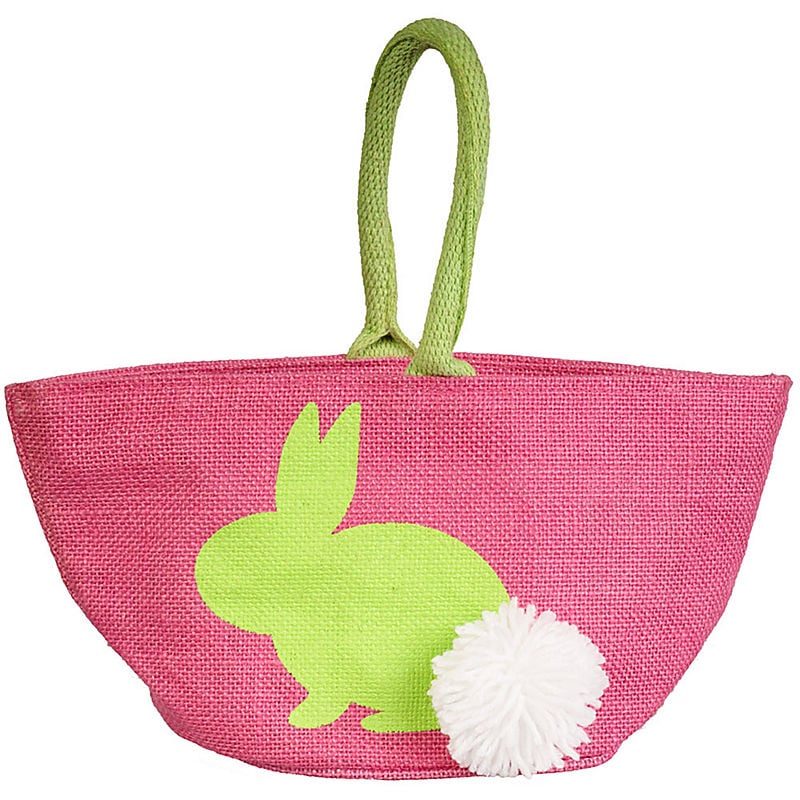 Paper Source's Jute Easter Basket [189] comes in both boy- and girl-appropriate color combos and rings in at just $10!
2 Hip Chix Designs Easter Chick Shirt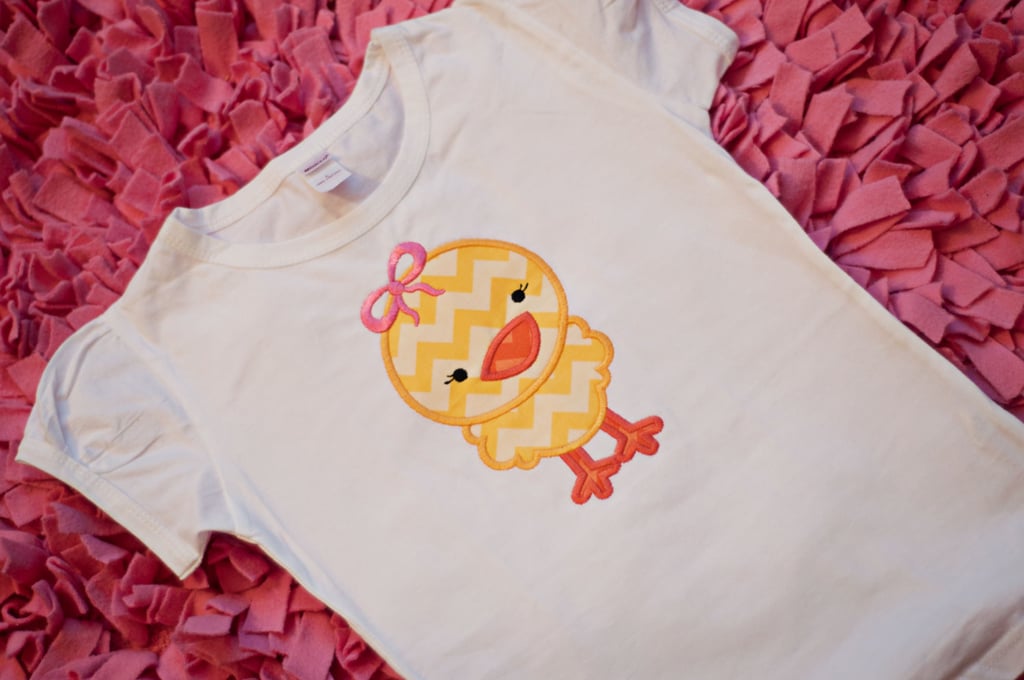 Available in sizes for girls 3 months to 6 years old, Etsy seller 2 Hip Chix Designs' Easter chick shirt [190] ($22) features a cute bow-topped chick. Add your child's name for $3. The chick design is stitched onto the garment, then fused with a protective stitch cover on the underside to make sure it's comfortable on your little one's skin.
Rice Krispie Treat Peeps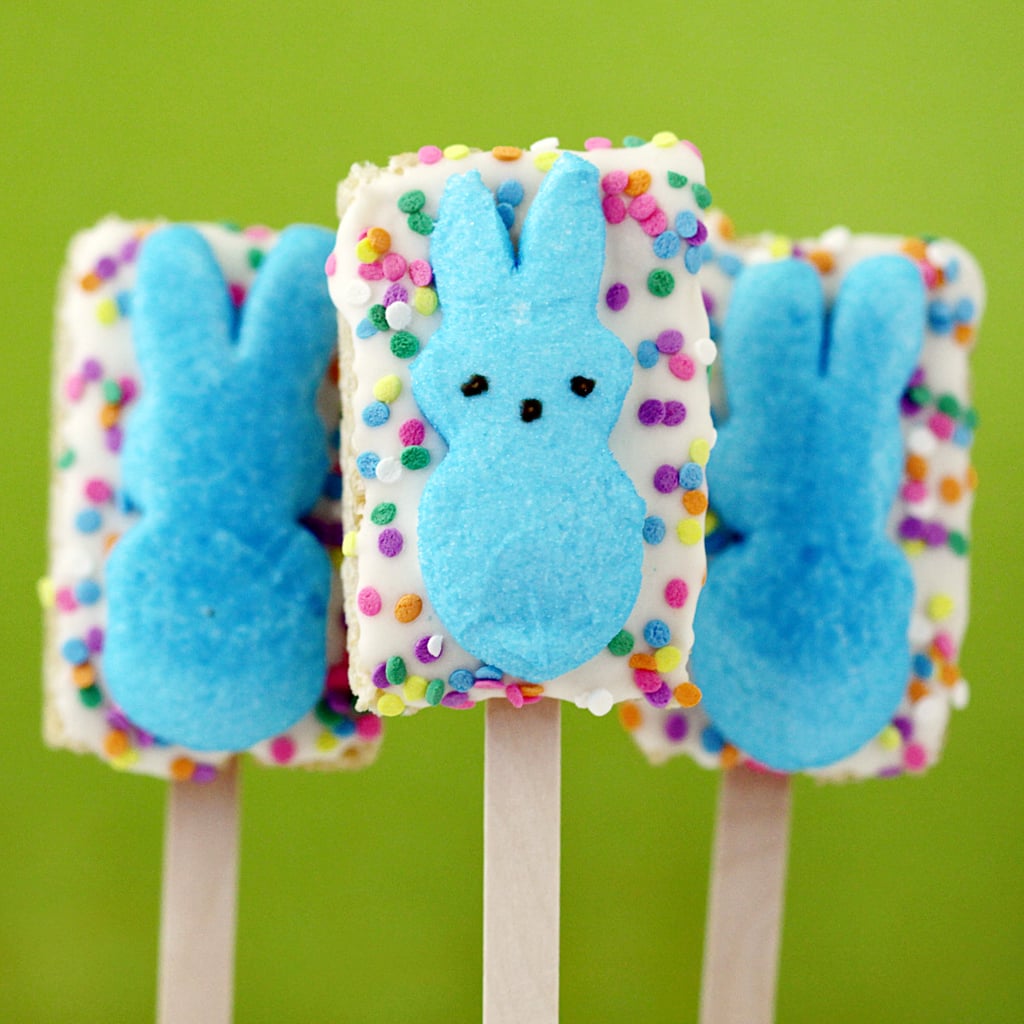 As if Rice Krispie Treats weren't sweet enough to begin with, these Rice Krispie Treat Peeps [191] will keep 'em full of sugar!
Source: Love From the Oven [192]
For Your Boy to Wear: The Trendsetter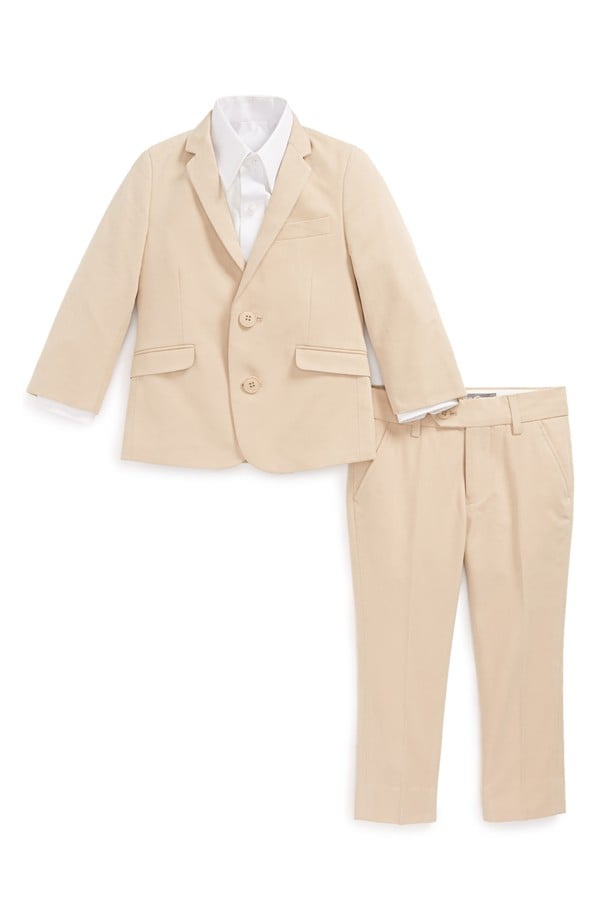 Appaman's khaki cotton suit [193] ($145) will ensure he's the most dapper dude at Easter brunch.
For Your Boy to Wear: His First Easter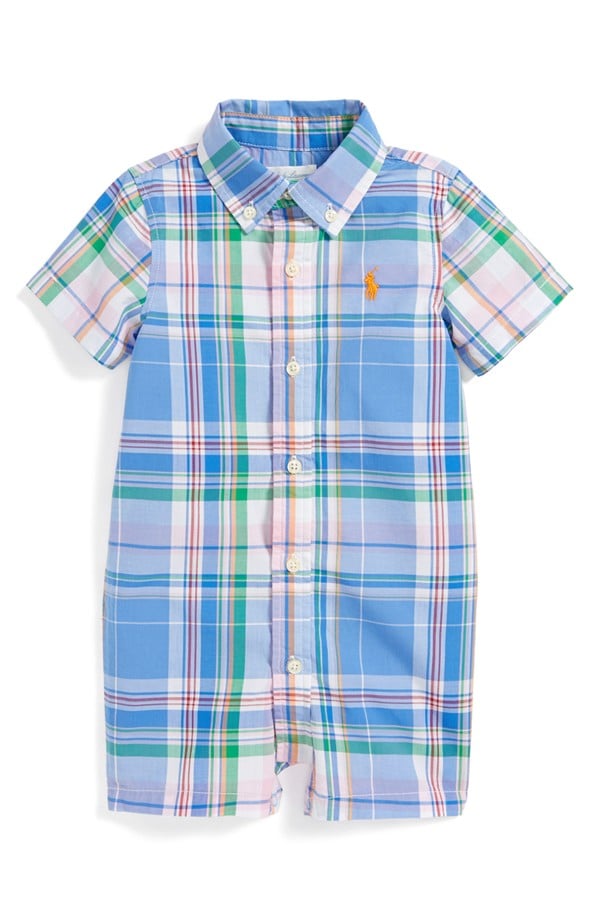 You can't go wrong with an easy-to-wear plaid romper [194] ($35) for your baby boy's first Easter holiday.
Decorate Your Own Cake Ball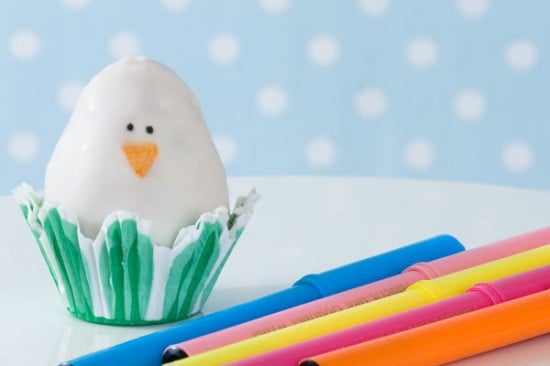 In this great Easter activity to do with your little ones from One Charming Party, food decorator pens allow budding pastry chefs to make their Easter cake pops [195] extraspecial.
Source: One Charming Party [196]
Easter Brunch Name Cards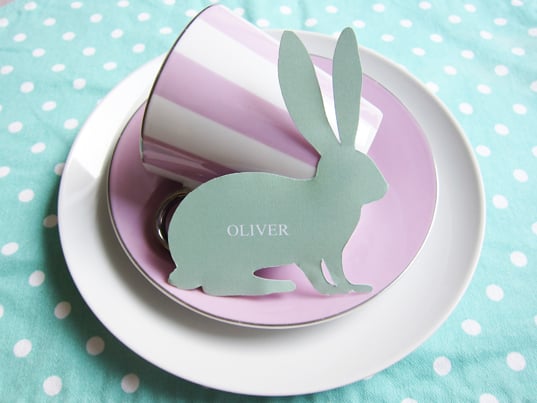 Download bunny-shaped place cards [197] from The Pretty Blog. If you have access to Adobe Acrobat Pro, you can even customize the cards with your guests' names.
Source: The Pretty Blog [198]
Egg-straordinary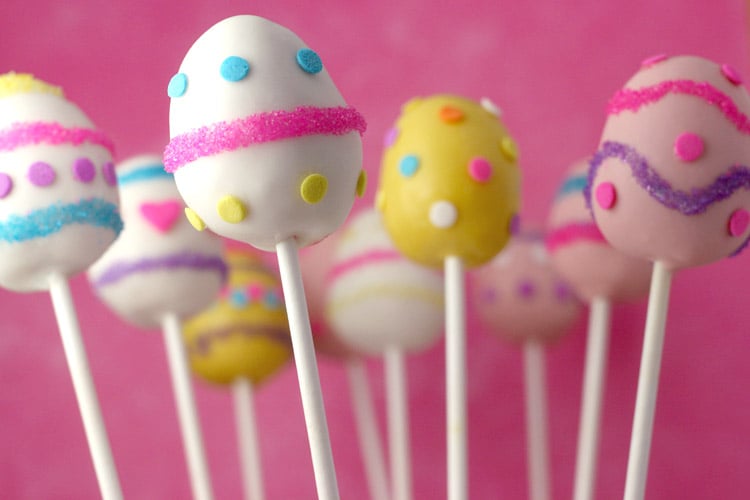 Another Bakerella fave, Easter egg cake pops [199] are as much fun to decorate as they are to eat!
Source: Bakerella [200]
A Modern, Festive Easter Party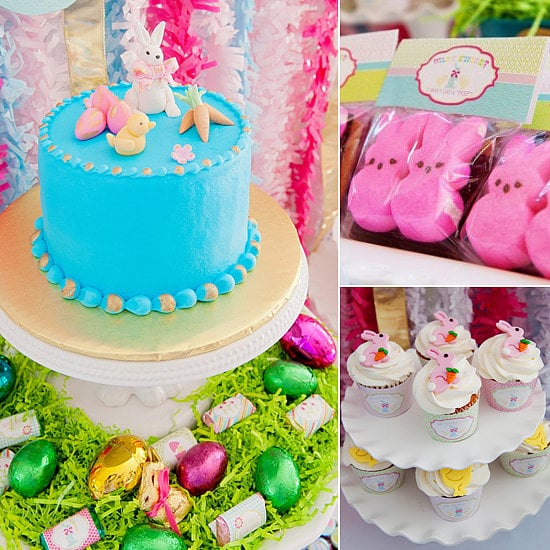 We haven't met an Anders Ruff [201] event we didn't love, and this bold Easter party is no exception. Full of awesome decor; supercute carrot-, bunny-, and chick-topped desserts; and one egg-cellent chandelier hanging over a dreamy table, this party only had one flaw: we weren't invited! But lucky for you, you can re-create this modern bash with Anders Ruff's new printables [202]. Click here [203] to check out all the "chick" details, just in time for the Easter Bunny's arrival!
Source: Anders Ruff [204]
Where Are Baby's Easter Eggs?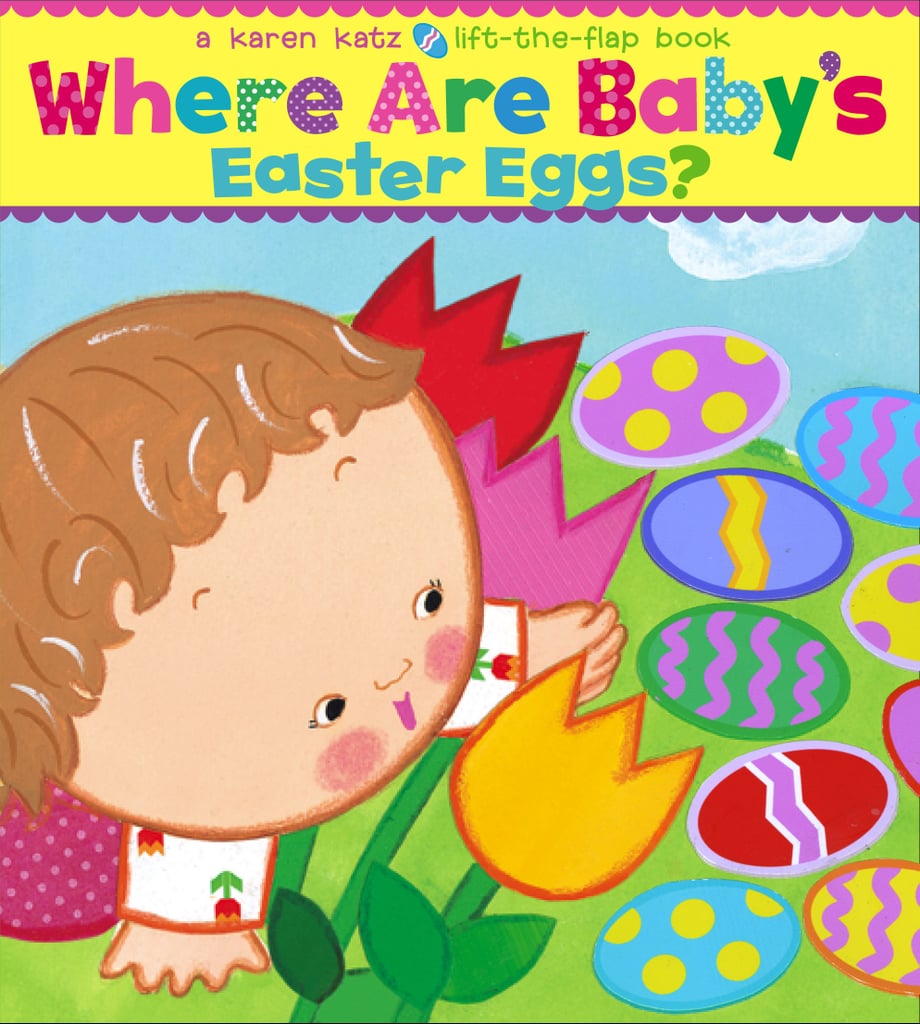 Karen Katz's Where Are Baby's Easter Eggs? [205] ($8) is a fun lift-the-flap book. Little kids will love discovering the colorful Spring objects under each of the six sturdy flaps and finding baby's Easter eggs at the end.
Peeps Toppers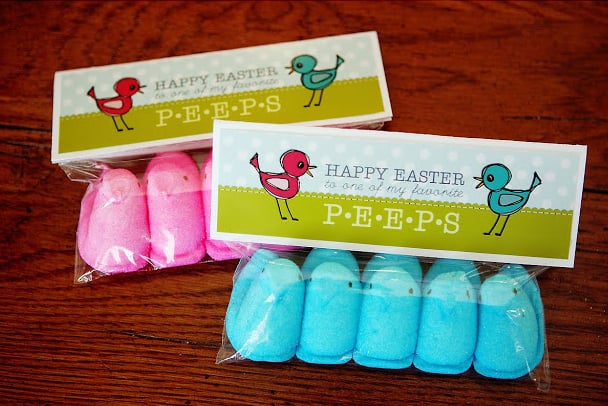 Peeps make the perfect Easter favor for kids, and they're even cuter when topped with this clever printable [206] from Eighteen25.
Source: Eighteen25 [207]
Easter Peeps Garden Centerpiece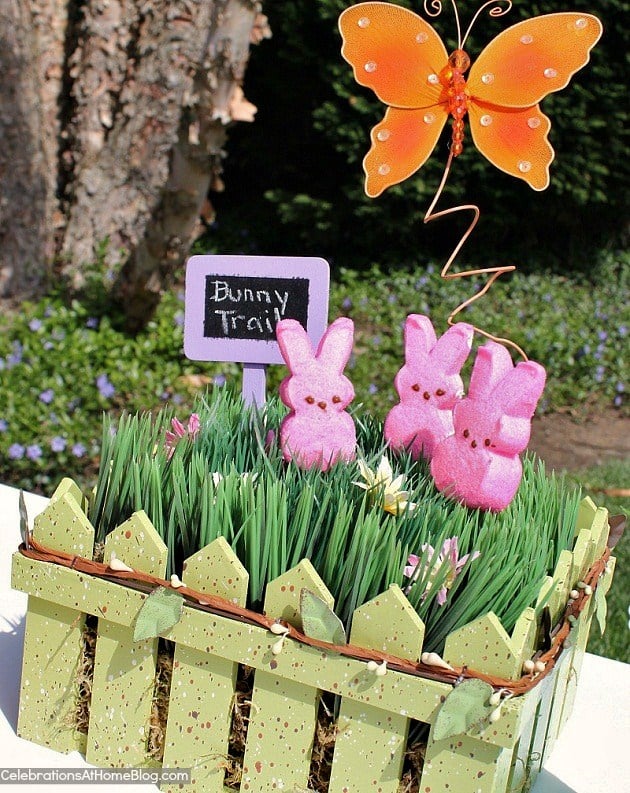 Why not put your Peeps front and center this Easter? Over on Celebrations at Home [208], the Peeps appear to be hopping along a bunny trail, making a cute centerpiece for the day.
Source: Celebrations at Home [209]
That's a Wrap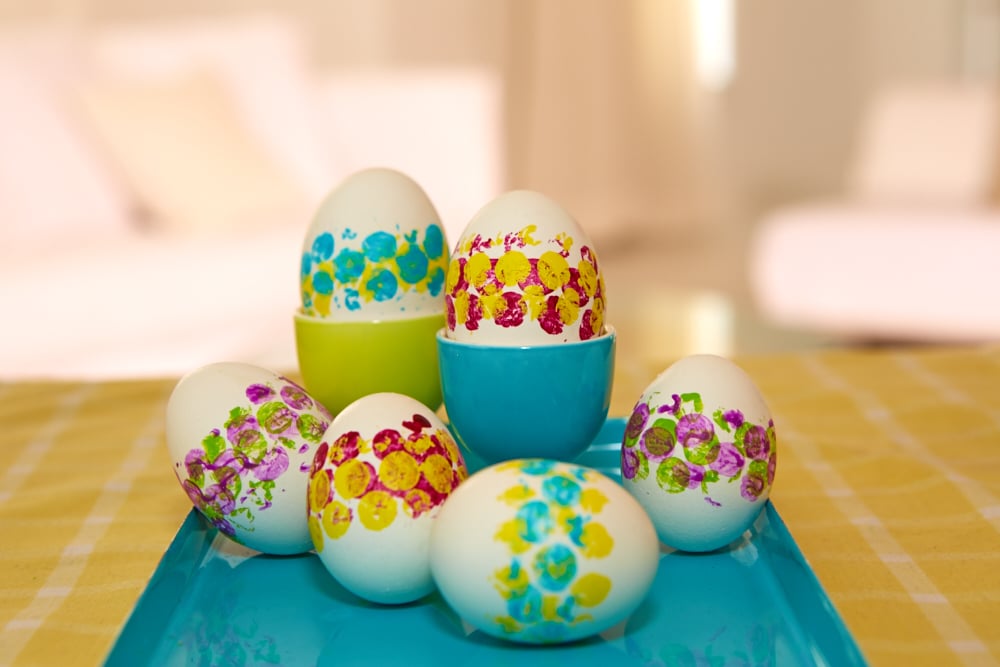 For these cool textural eggs, Robert and Cortney Novogratz [210] suggest thinly coating a piece of bubble packaging with acrylic paint, then rolling your egg over the paint. Let the paint completely dry on the egg, then repeat with another color if desired.
Source: HGTV.com/Home by Novogratz [211]
Zara Dress With Appliqué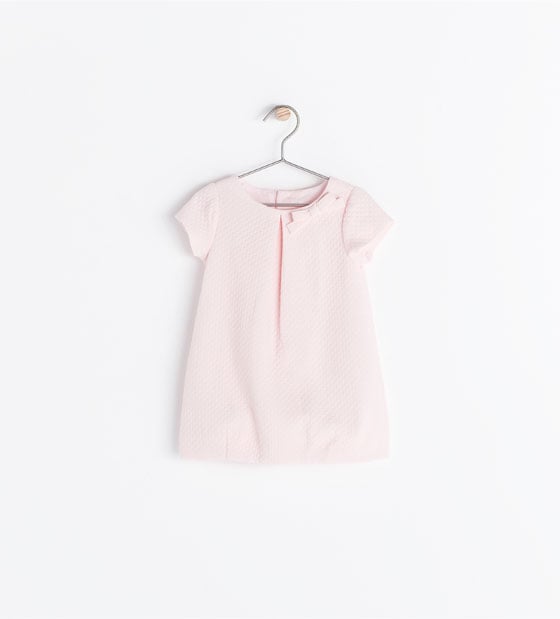 Zara Kids is the style secret that fashion-forward moms everywhere share. This soft pink quilted dress with appliqué [212] ($40) looks luxurious, but it won't break the bank.
Bunny Hop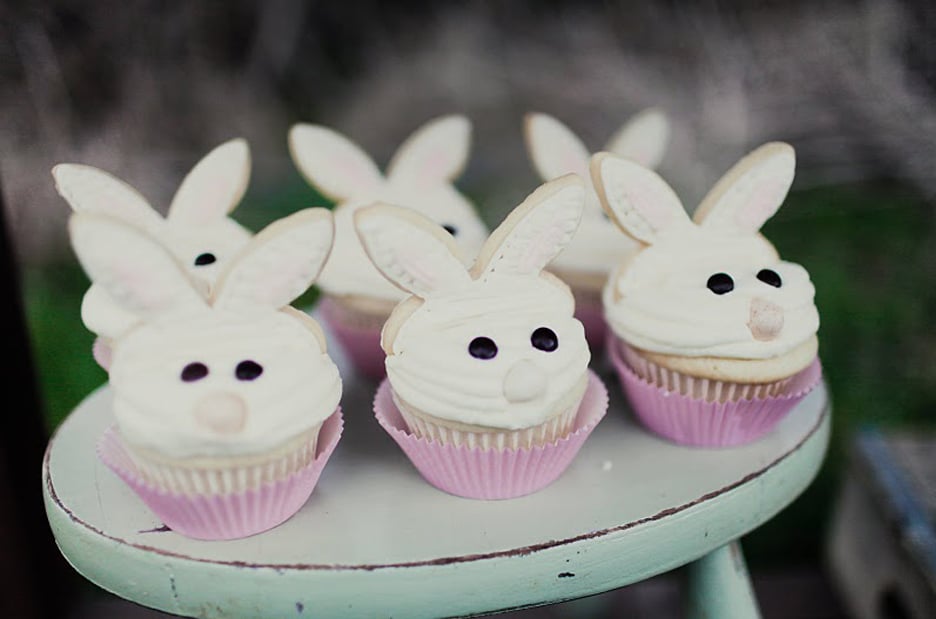 Sugar cookies make the most realistic-looking bunny ears on these cute cupcakes [213].
Source: Jenny Cookies [214]
Easter Garden Party Invitation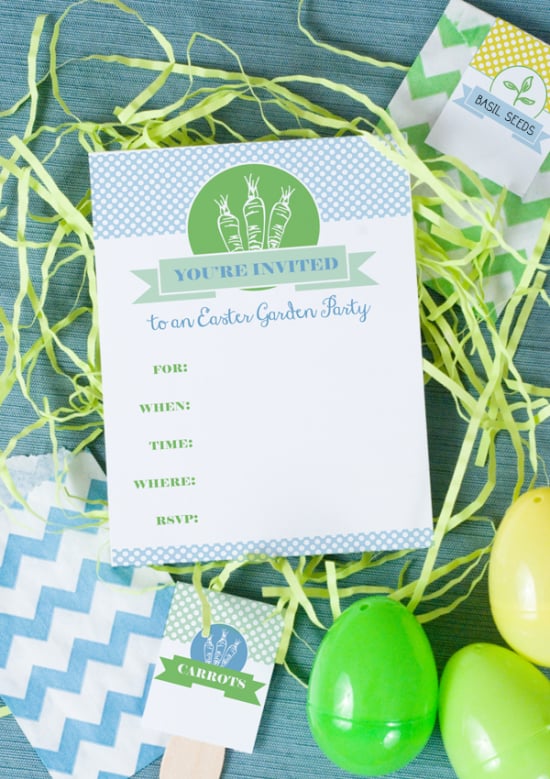 Whip up a last-minute party invite using One Charming Party's adorable garden-party invitation [215]. We also love the printable seed packets [216], which would make a great favor for guests of all ages.
Source: One Charming Party [217]
Flower Garden Easter Printable Collection
The TomKat Studio makes it oh so easy to replicate this pretty-in-pastel Easter party. You can download the printables [218] for everything shown here and shop coordinating supplies to get the look.
Source: The TomKat Studio [219]
Easter Egg Truck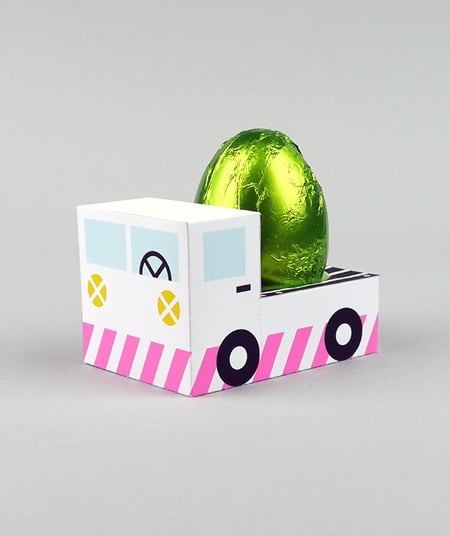 Mr. Printables' Easter egg truck [220] will be a kid favorite long after the holiday is over.
Source: Mr. Printables [221]
Paper Plate Easter Bunny Mask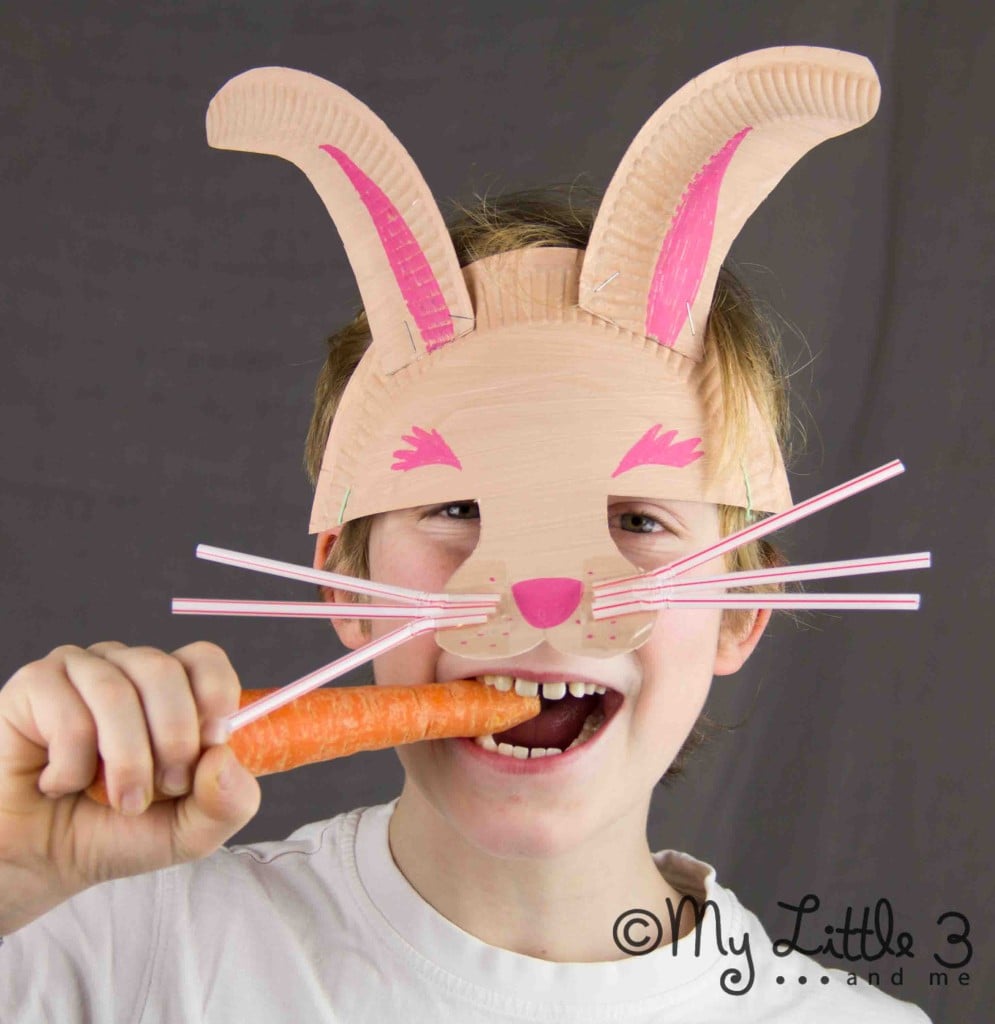 Use My Little 3 and Me's simple instructions to create your own cute bunny mask [222] using a paper plate, straws, markers, and a few other common craft supplies.
Source: My Little 3 and Me [223]
Little Peep Pal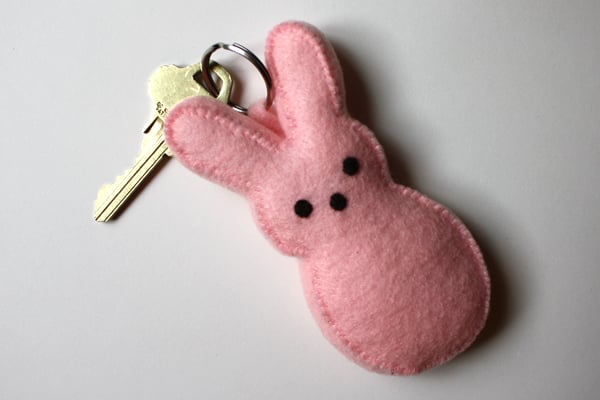 Use Michael Ann Made's PDF pattern [224] to create your own pocket-sized Peep pal!
Source: Michael Ann Made [225]
Peeps Sushi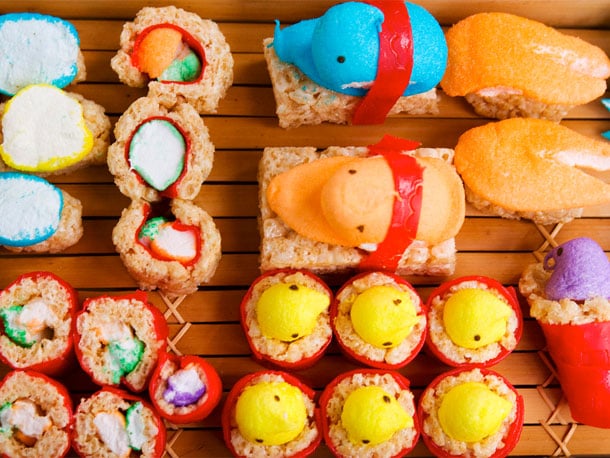 For a slightly more modern take on the use of Peeps, try whipping up some Peeps sushi [226]. Add the marshmallow chicks to Rice Krispies Treats — secured with Fruit by the Foot — for some tasty fun!
Source: Serious Eats [227]
Little Lambs
Marshmallows give these little lambs' [228] "wool" plenty of pouf.
Source: Land 'O Lakes [229]
For Your Boy to Wear: The Casual Kid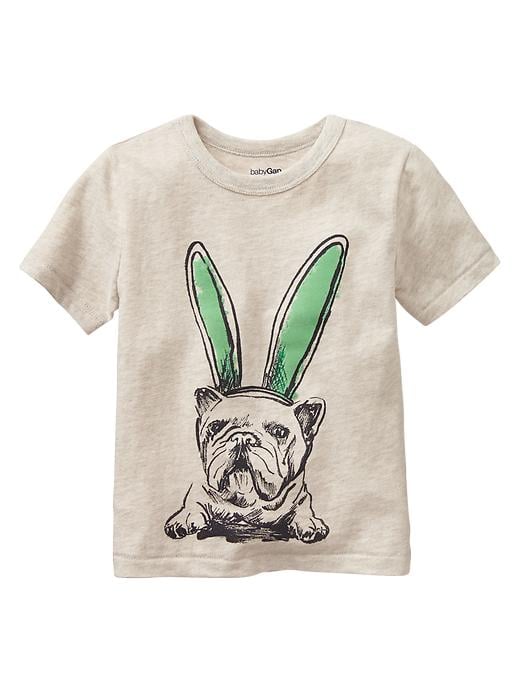 Baby Gap's Bunny Ears Graphic Tee [230] ($17) gets into the seasonal spirit — sans the pastel and plaid.
Mud Pie Lily Pad Floral Sun Hat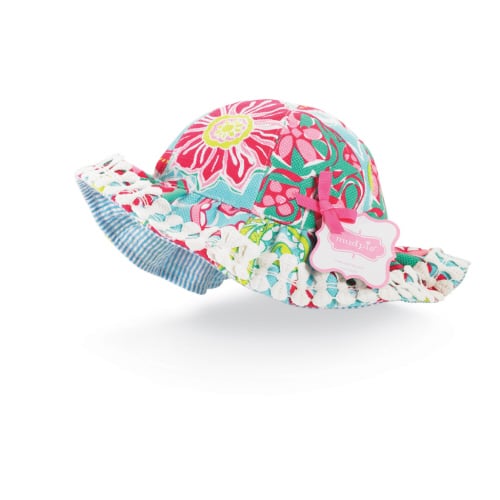 A reversible sun hat [231] ($20) features a splashy floral print on one side and teal seersucker on the other.
Floral Floppy Hat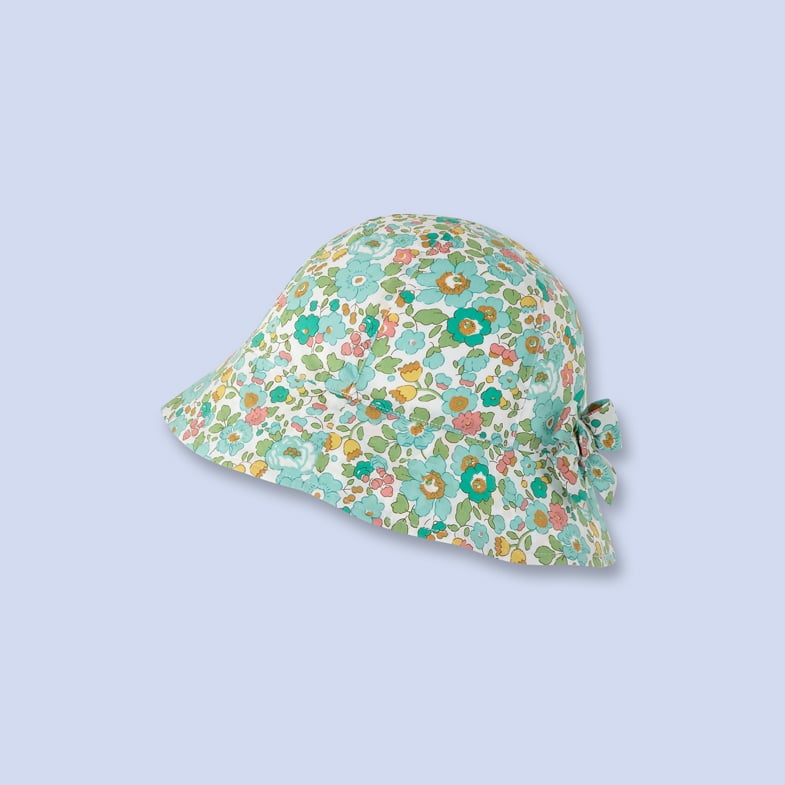 Make her head look like a garden with Jacadi's full-bloom sun hat [232] ($32).
Rabbit Ears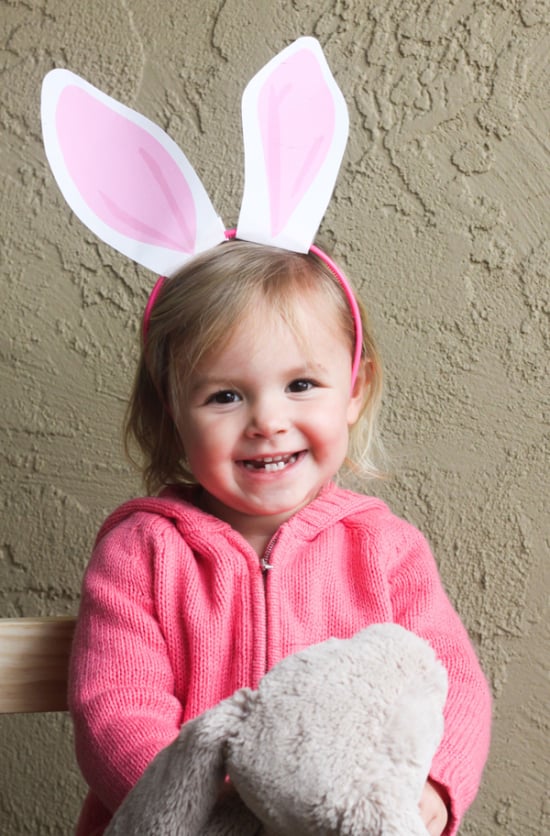 One Charming Party has a range of Easter printables, but these sweet rabbit ears [233] are guaranteed to put a smile on all your guests' faces.
Source: One Charming Party [234]
Peeps Play Dough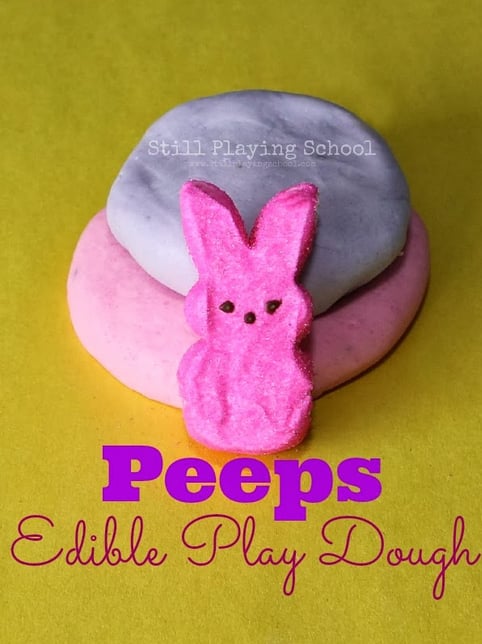 This may be one of the craziest things we've ever seen done with Peeps, but it seems to work. With a little oil and cornstarch, you can easily transform your Peeps into edible play dough [235], according to Still Playing School.
Source: Still Playing School [236]
Owen's Marshmallow Chick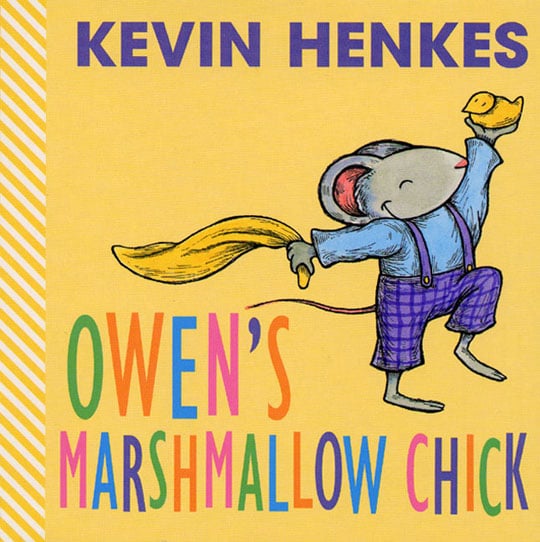 Perfect for Easter, Owen's Marshmallow Chick [237] ($7) tells the story of blanket-toting mouse Owen, who adores Easter — especially the holiday's accompanying jelly beans, gumdrops, buttercream eggs, and chocolate bunnies. But when Owen is introduced to a little yellow marshmallow chick, he finds a new favorite and spends a day playing with his sugar-covered new friend.
Bunny Silhouette Custom Burlap Bin
Not only is A Southern Bucket's burlap bin [238] ($42) perfect for stashing Easter goodies, but it's also cute enough to be used year-round for toy or book storage.
Bunny Masks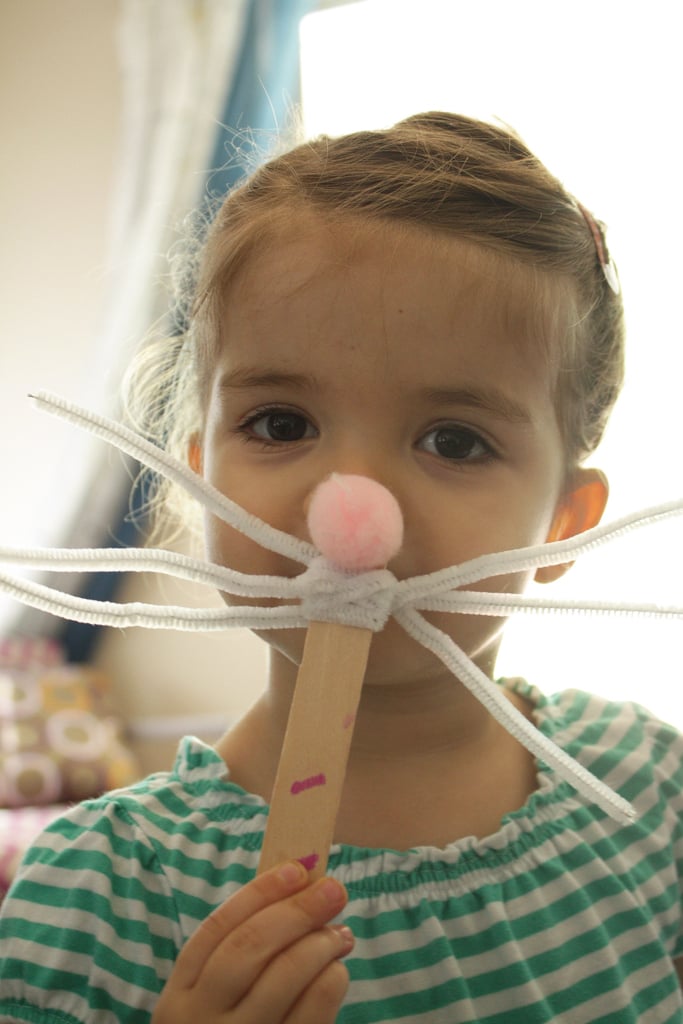 Large popsicle sticks, white pipe cleaners, and pink fluffy pom poms are the only three items needed to re-create Kailo Chic's cute bunny mask [239].
Source: Kailo Chic [240]
Nature-Inspired Eggs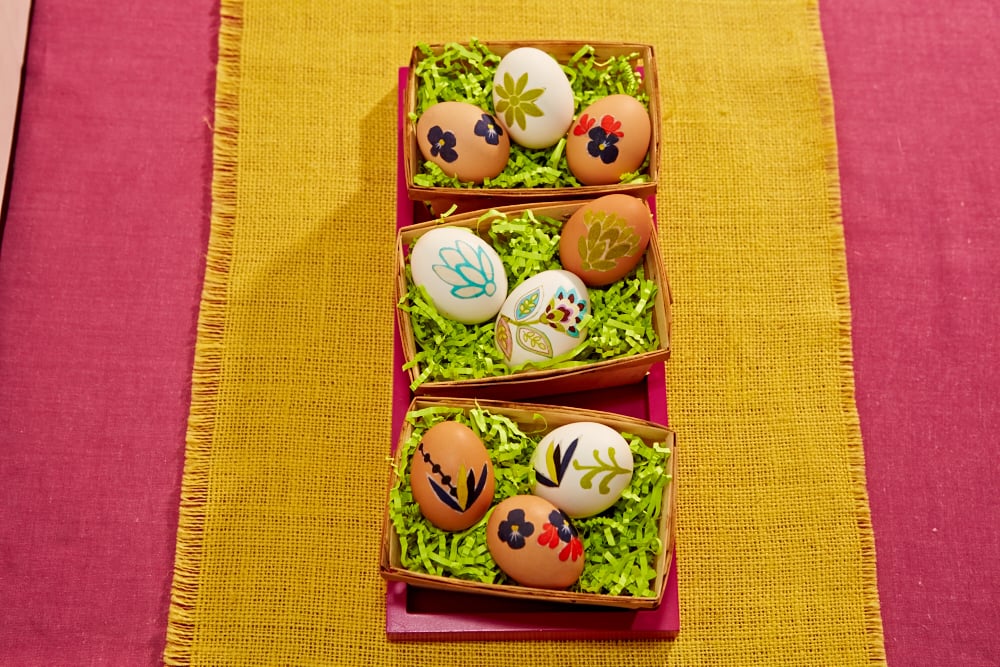 Use leaves or flowers to create a unique natural design [241]. Place your chosen found objects on the outside of an egg, and slip it into pantyhose, tightly securing the hose with a knot. Lower the egg into your chosen color. Leave eggs in the dye until you've achieved your desired brightness, then remove.
Source: HGTV.com/Home by Novogratz [242]
Easter Cake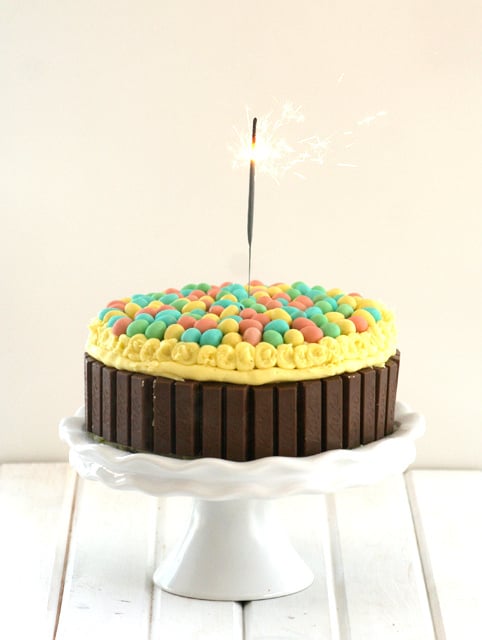 Kitchen Karate's Easter cake [243] makes a most festive centerpiece for your Easter table.
Source: Kitchen Karate [244]
Piggy Bunny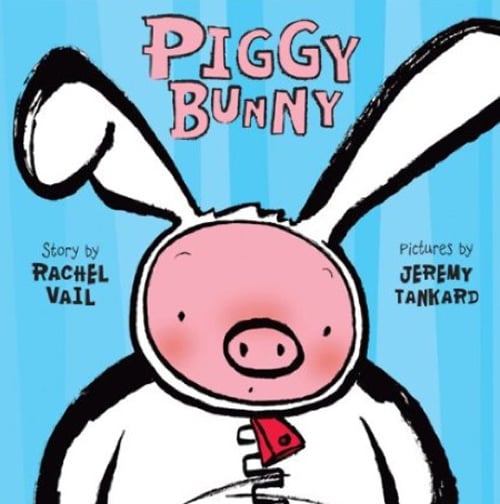 Most piglets want to be pigs when they grow up, but Liam, the main character in Rachel Vail's Piggy Bunny [245] ($15), wants to be a bunny. It will take a lot of hopping practice and salad eating to make his dream come true, but this cute story teaches kids (ages 4 to 6 will relate the best) to believe in themselves, no matter how crazy their dreams might be.
Twin-Set Simona Barbieri Dress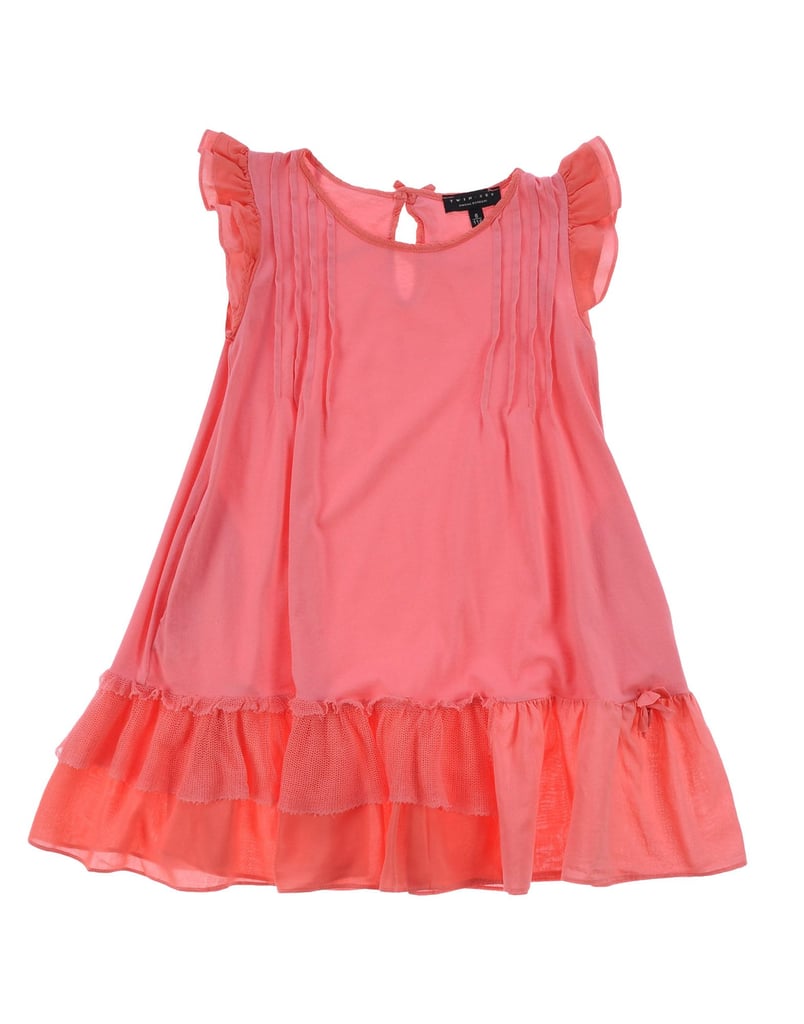 Twin-Set's ruched dress [246] ($65) comes in gray, coral, and periwinkle and is perfect for twirling (and for Easter egg hunts!).
For Your Boy to Wear at a High-Action Egg Hunt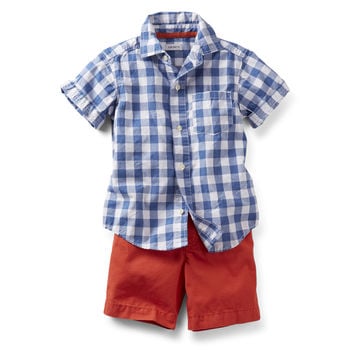 These Carter's Relaxed Checked Shirt [247] ($17) and Flat Front Shorts [248] ($18) come in a variety of different colorways, and at these prices, Mama won't freak out over grass stains.
Simply Sweet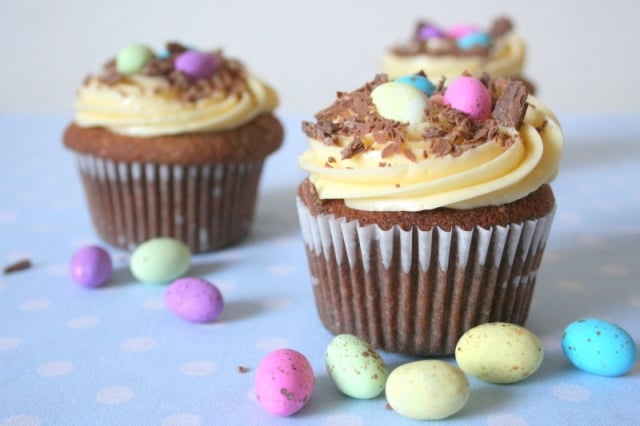 The contrast of chocolate and soft pastels makes for a pretty sweet treat [249].
Source: Bake Love Not War [250]
For Your Good Old (Baby) Boy to Wear
It's impossible to go wrong with Ralph Lauren's Seersucker Preppy Pants [251] ($33, originally $50), especially in adorable infant sizes.