Honing your lil one's hand-eye coordination is easier than you think. Many of the things we take for granted are challenging tasks for budding babes. Buttoning buttons, zipping zippers, and figuring out how to tie a shoe are all examples of how hand-eye coordination work. Honing the skill of getting your hands to work with what your eyes are seeing gets your lil one on track with developing fine motor skills [1] and exploring the fun of big gross motor movements [2]. You'll be surprised at how fun and easy it is to find ways to encourage your tot's hand-eye coordination. Click through for ideas you can enjoy today!
Magnetic Travel Boards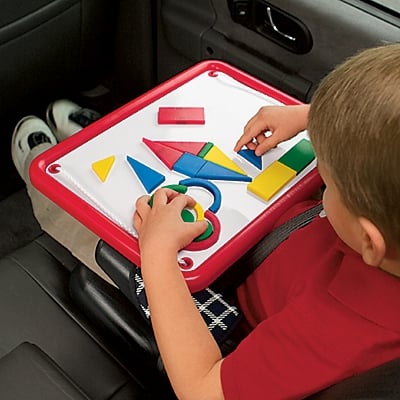 Clicking magnetic pieces together to create a pattern or unique design is a fun way to pass the time on a long car ride and a great way to hone hand-eye coordination. Pick a set that fits with your child's interest such as this basic magnetic shape travel set [3] ($25) or a travel magnetic lap desk [4] ($26) that comes with paper, crayons, and fun magnetic animals. Stash the magnetic boards in the car for long travels or even quick trips to the grocery store.
Melissa & Doug Deluxe Pounding Bench
Your tot can pound the hammer and grasp, pull, and move the pegs with this deluxe pounding bench [5] ($17). Along with being lots of fun, this toy lets your child use hand-eye coordination to focus on the spot he wants the hammer to land, and then watches as the peg is pounded into the bench. Encourage your lil one to keep his eyes on those smiling pegs and not his swinging hammer!
Play a Game of Catch
Get outdoors and enjoy a game of catch with your lil one. Tossing a ball is great for building gross motor skills and hand-eye coordination — and it is fun! Your child has to focus on the moving ball and then coordinate arms and hands in just the right position to properly catch the ball. Make things a bit more challenging by tossing a frisbee or using a lacrosse wiffle ball set [6].
Source: Flickr user Kazz.0 [7]
Lacing Toy
Not only is this handmade lacing toy [8] ($12) beautiful, but it also teaches numbers while honing hand-eye coordination. Feeding the lace through the numbered holes is a great way to encourage your lil one's budding skill and get him on track for mastering tying his shoes.
Let Your Lil One Turn the Pages
While enjoying cozy story time, let your lil one turn the pages of the book, which encourages your tot to use his fingers to grasp and move the pages — without tearing them! Just mastering this small movement boosts hand-eye coordination and encourages beginning reading development.
Source: Flickr user Lars Plougmann [9]
Do a Puzzle
Get down on the floor with your lil one and enjoy putting the pieces of a puzzle together. From big floor puzzles to smaller options like this colorful wooden puzzle [10] ($30), doing puzzles encourages your tot's hands to work together with his eyes to properly piece together the puzzle.
Splish Splash in the Bath
Bath time can also be learning time when you toss a few hand-eye coordination toys in the water! Offer your lil one plastic measuring cups, funnels, or a collection of fun scooping toys [11] that build your babe's hand-eye coordination. Watching the water move while tipping measuring cups is tons of fun and also a perfect introduction to the wonders of hand-eye coordination.
Source: Flickr user BigTallGuy [12]