Letterpress printing has captured the hearts of paper lovers everywhere for hundreds of years. An ancient printing technique that involves literally pressing words or designs with ink into thick, soft paper using a printing plate, letterpress is elegant, high-end, and fabulous. Brides are big on letterpress invitations, and now new mamas are joining in on the hottest paper trend. Check out these 10 stunning letterpress birth announcements [1], and we assure you that if you're not a letterpress fan already then you will be!
Pink and Gray Letterpress Birth Announcement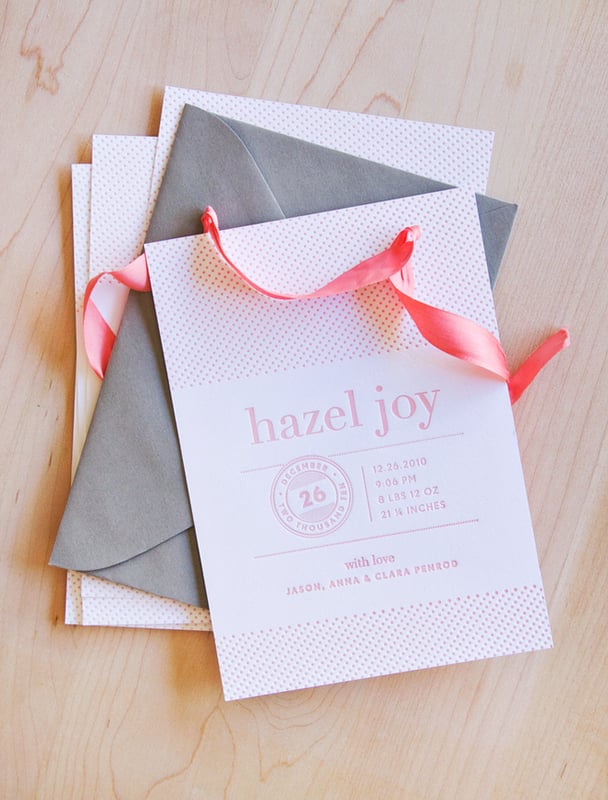 Pink and gray as a color combination makes a sophisticated duo. Pair that up with letterpress printing, and you'll have a birth announcement [2] that will get as many compliments as your new baby.
Source: Angela Hardison [3]
One of a Kind Letterpress Birth Announcements
If you're looking for a stunning one-of-a-kind birth announcement [4], custom illustration is the way to go! A custom designed, hand-printed birth announcement is as unique as the baby who's arrival you're announcing.
Source: ColorQuarry [5]
Letterpress Birth Announcement Photo Band
We've never seen anything like this birth announcement [6] before — have you? A letterpress belly band birth announcement is a unique and elegant way to announce your new baby's arrival.
Source: One Canoe Two [7]
Simply Stunning Letterpress Birth Announcement
A simple and sweet letterpress creation to announce the arrival of your bundle of joy.
Source: Tokketok [8]
Celebrate Childhood Wonder and Adventure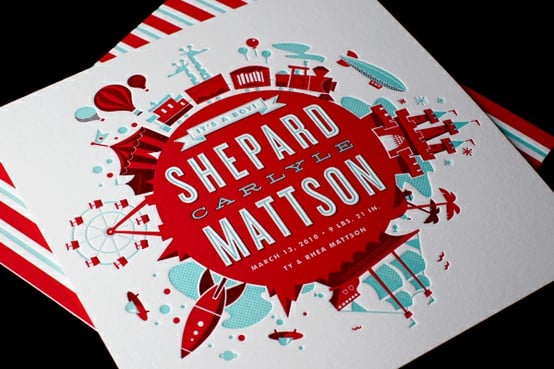 Childhood is filled with wonder and adventure. Travel back in time, and get inspired by the things you loved when you were a child.
Source: Mattson Creative [9]
A Very Personal Illustrated Birth Announcement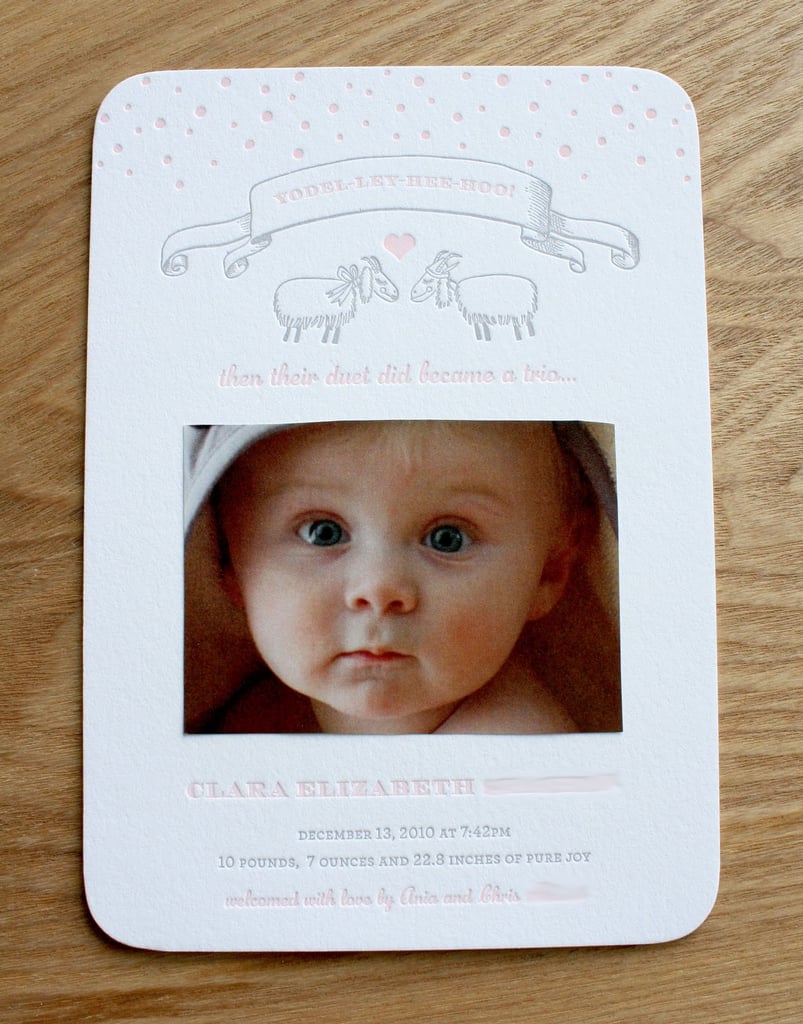 Show some love for your new arrival's place of birth! Incorporate something that represents the city, state, or country you live in — like these new parents that had the goats marionette scene from The Sound of Music illustrated onto their birth announcements [10], since they reside in Vienna, Austria.
Source: Truly Smitten [11]
Retro-Chic Birth Announcement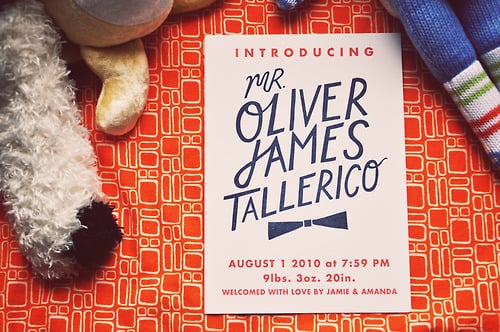 Let your style shine through! Yes, you're announcing the arrival of a baby, but that doesn't mean the birth announcement [12] needs to be pastel colored and filled with baby animals.
Source: Jaime Tallerico [13] printed by Sycamore Street Press [14]
Letterpress Printed Photo Birth Announcement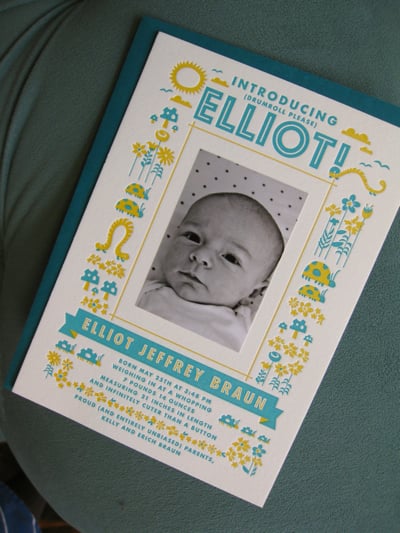 A combination letterpress printed photo birth announcement [15] is the best of both worlds. You get the elegance of letterpress printing, and the cuteness of your new baby's mug all in one!
Source:  Hello! Lucky [16]
'Tis The Season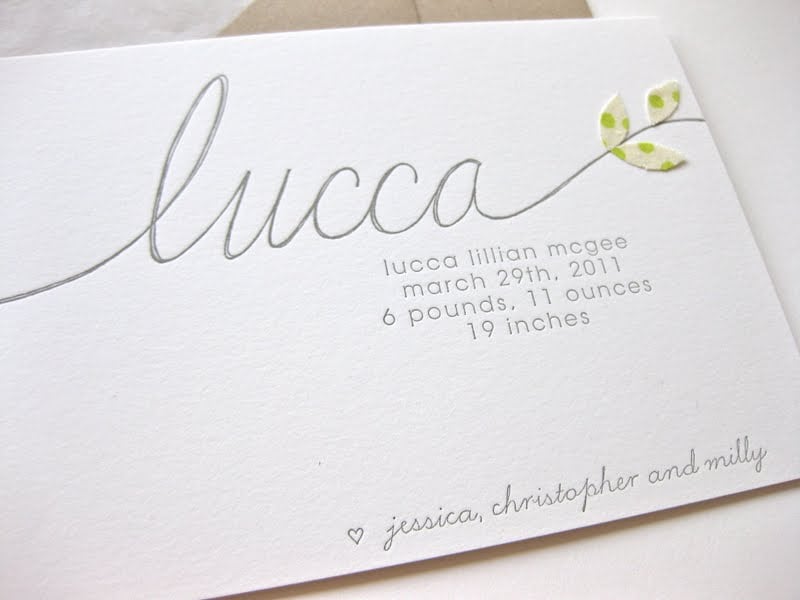 Commemorate the season your little baby was born in with a season-inspired birth announcement [17]. This Spring-inspired design even has "fresh" little leaves growing out of it.
Source: Paper and Ink [18]
Folk Art-Inspired Birth Announcements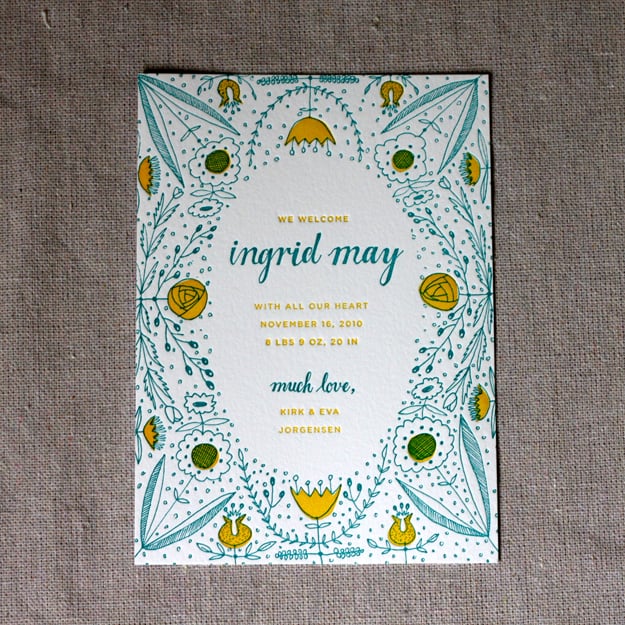 Get inspired by your heritage! These Scandinavian florals and wreaths and the hand-lettered script were all inspired by a Swedish great-grandmother.
Source: Sycamore Street Press [19]