Kids are crazy for Elf on the Shelf [1], but for parents it can be equal parts fun and formidable. Who hasn't spaced out about moving the elf one night only to be met with questions from prying tots in the morning? (One mom recently confessed that she told her kids they were too naughty that day for their elf to make the trip back to the North Pole.)
Even if you do remember, in the middle of such a hectic time, it can be almost impossible to think of a new creative spot [2] to put the lil watcher every single night! But help is here: let these 50 pics we found around the web inspire where your elf will wake up tomorrow morning! Have a great idea you'd like to add? Tag #popsugarmoms on Instagram [3], and we'll check it out!
Bubble Gum Trouble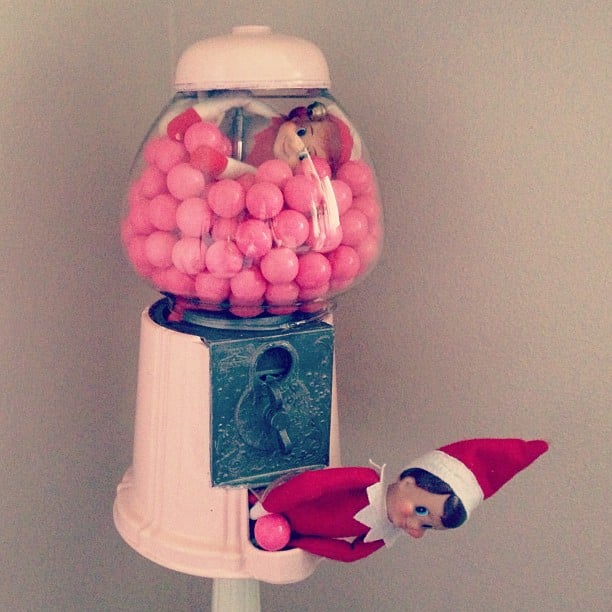 Instagram user jennycookies' [4] elves snuck into her daughter's (awesome) vintage gumball machine.
Mashmallow Excavator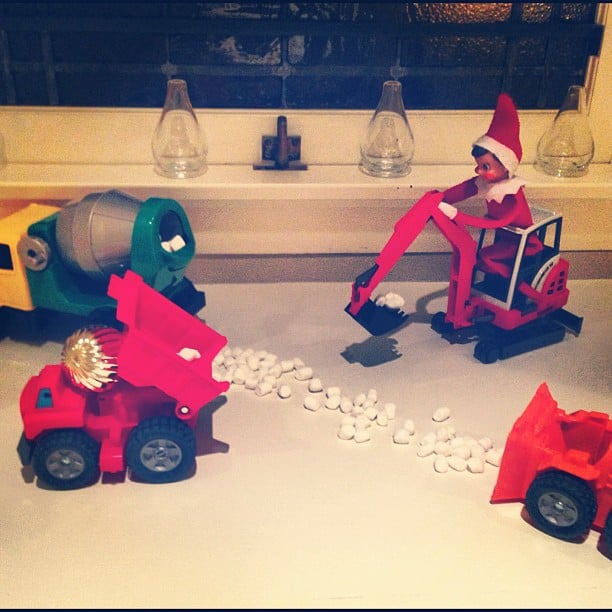 Instagram user michelebell's [5] went out to sea.
Little Drummer Boy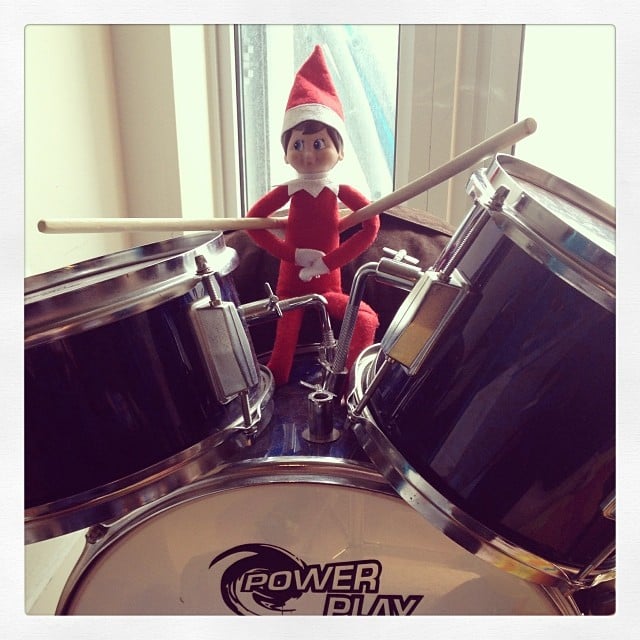 Instagram user lizbrownlee's [6] elf showed off a hidden talent: drumming!
Advent Overload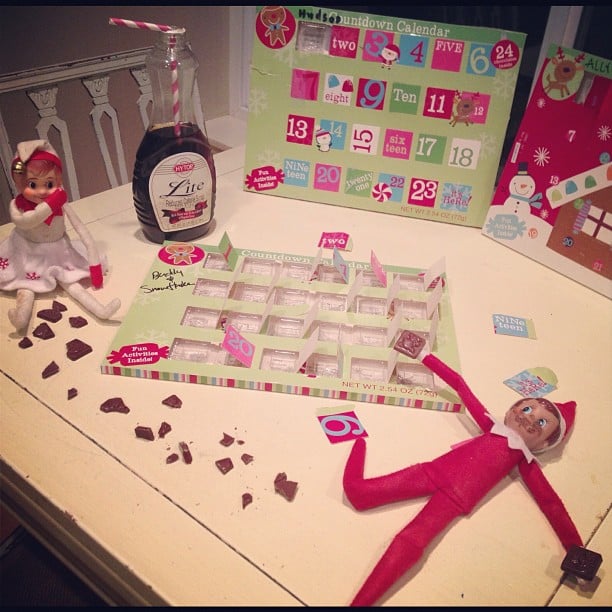 Instagram's jennycookies' [7] elf went a little crazy with his advent calendar.
Hot Air Balloon Ride
Instagram's alfieontheshelf's [8] elf went up, up, and away!
Snowflake Crafts
Instagram user jordynns_mommy23 [9] had her elf get crafty with paper snowflakes, which she hung outside of her bedroom door.
All I Want For Christmas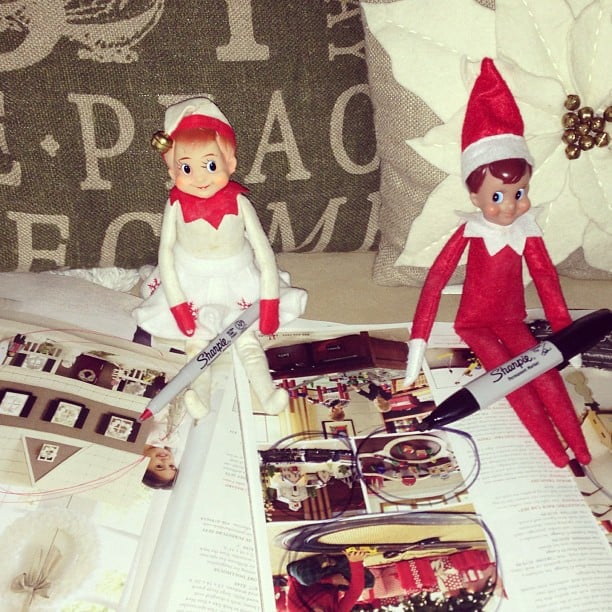 It was holiday shopping time for Instagram user jennycookies' [10] elves, who circled some of their favorite things.
Elf Treats
Instagram user jordynns_mommy23's [11] elf made some Rice Krispies Treats, and added himself to the cereal box.
Tanning Time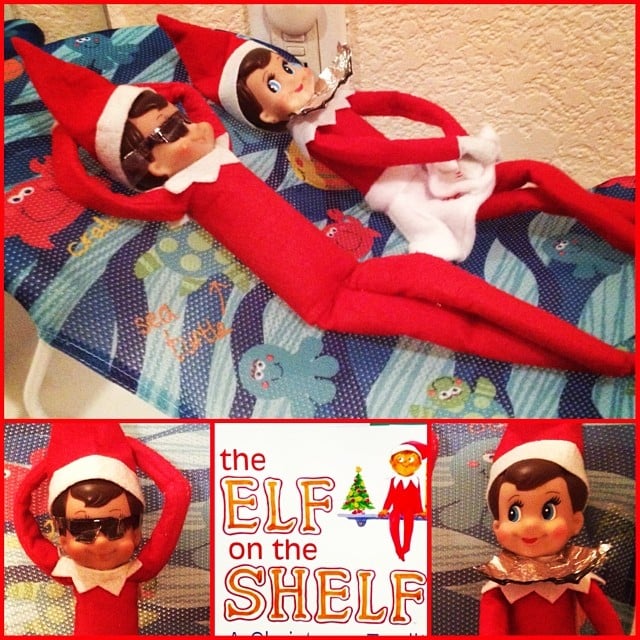 It was time to relax by the pool (or bathtub) for Instagram user jordynns_mommy23's [12] elves.
Marshmallow Bath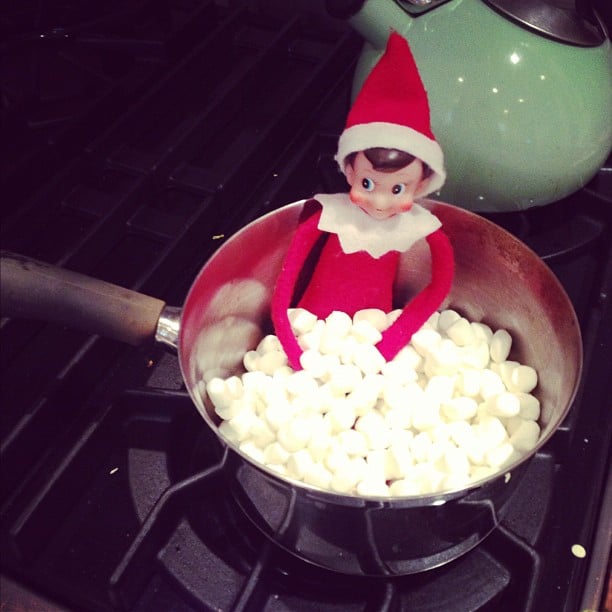 Instagram user michelebell's [13] elf took a stove-top soak in marshmallows.
Shark Attack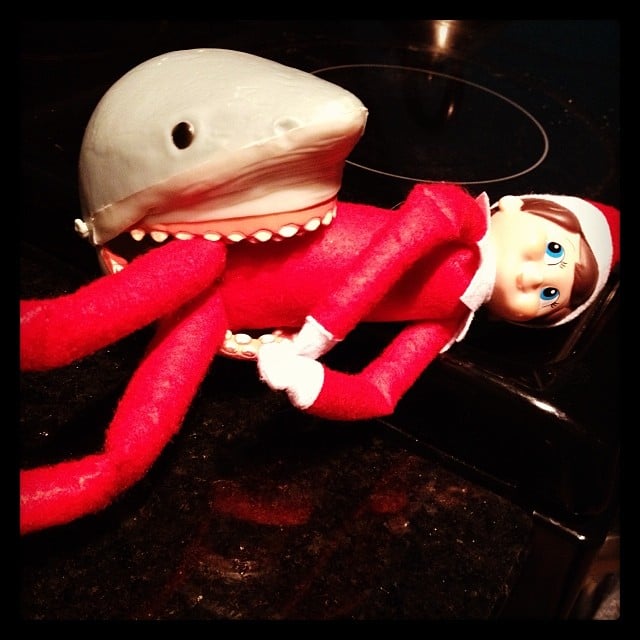 Instagram user lizbronwlee's [14] elf had a run in with a creature from the deep.
Elf Photo Shoot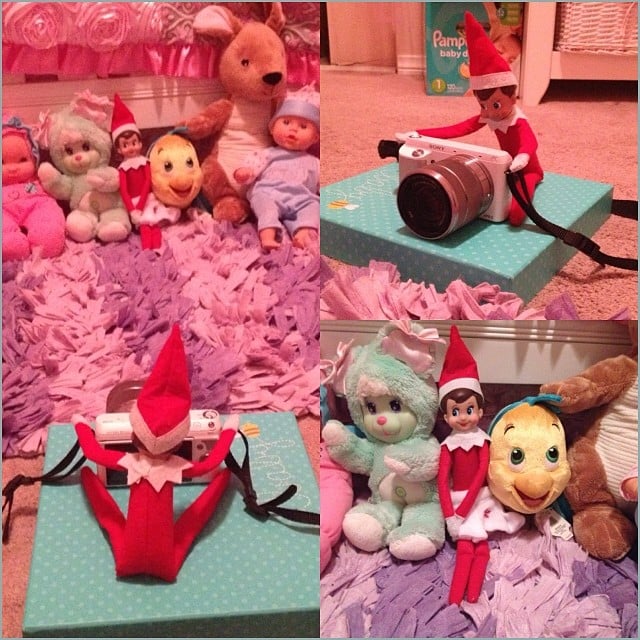 Instagram user jordynns_mommy23's [15] elves set up a photo shoot iwth some of her favorite stuffed toys and dolls.
What Does the Elf Say?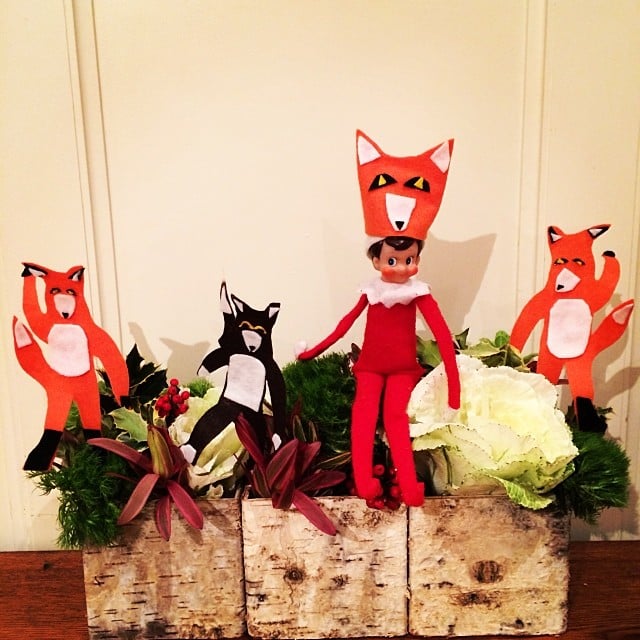 Instagram user michelebell [16] comes up with some incredibly inventive elf ideas, including this ode to "What Does the Fox Say?"
Cake Popping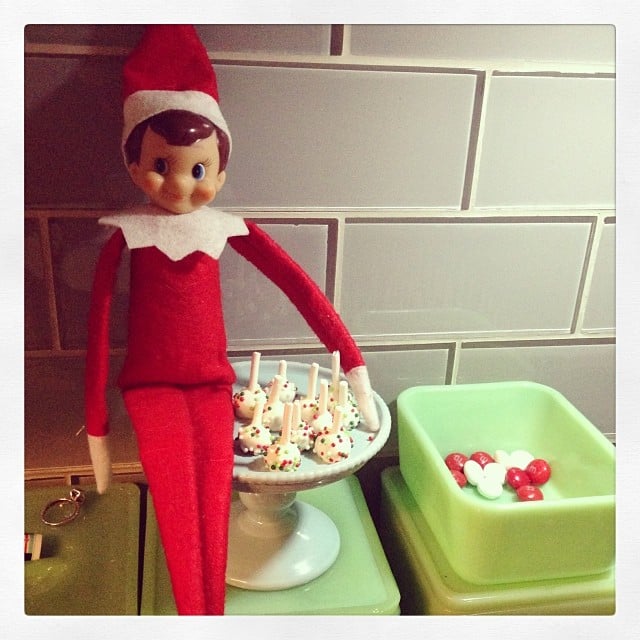 Scout Masterson's elf [17] (one half of the Guncles [18]) got ambitious with some mini cake pops.
Jewelry Heist
Intagram user alfieontheshelf [19] elf went on a jewelry heist.
Donut Thief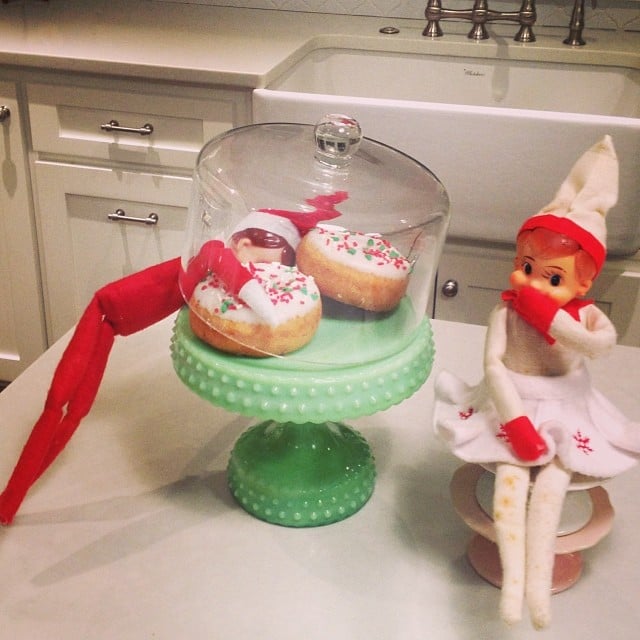 Instagram user dankellermtg's [20] elves plotted to steal some Christmas donuts.
Game Day
Instagram's alfieontheshelf [21] suited up her elf Alfie for college game day.
Making a Map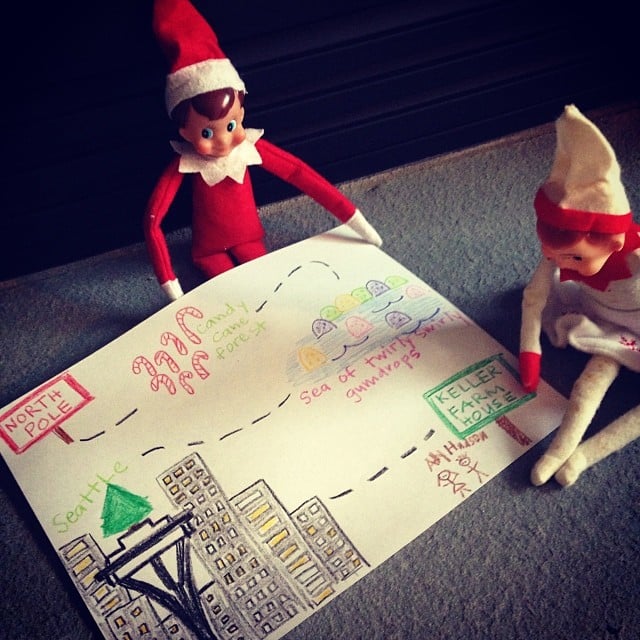 Instagram user jennycookies [22] had her elves Buddy and Snowflake draw a map from the North Pole to their family's farmhouse. Of course, they had to pass through a candy cane forest and a sea of gumdrops!
Elf Kissing Booth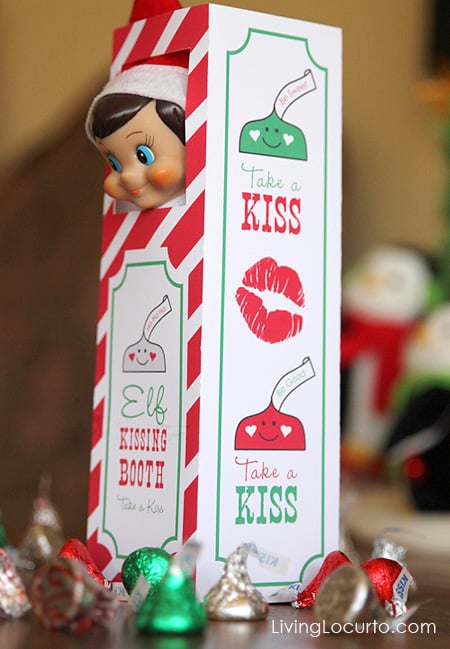 Living Locurto's printable elf kissing booth [23] is sure to make your little ones pucker up!
S'more Sweatshop
Instagram user Michele Bell [24] crafted a "s'more sweatshop," with her elf as the ringleader.
A Door of His Own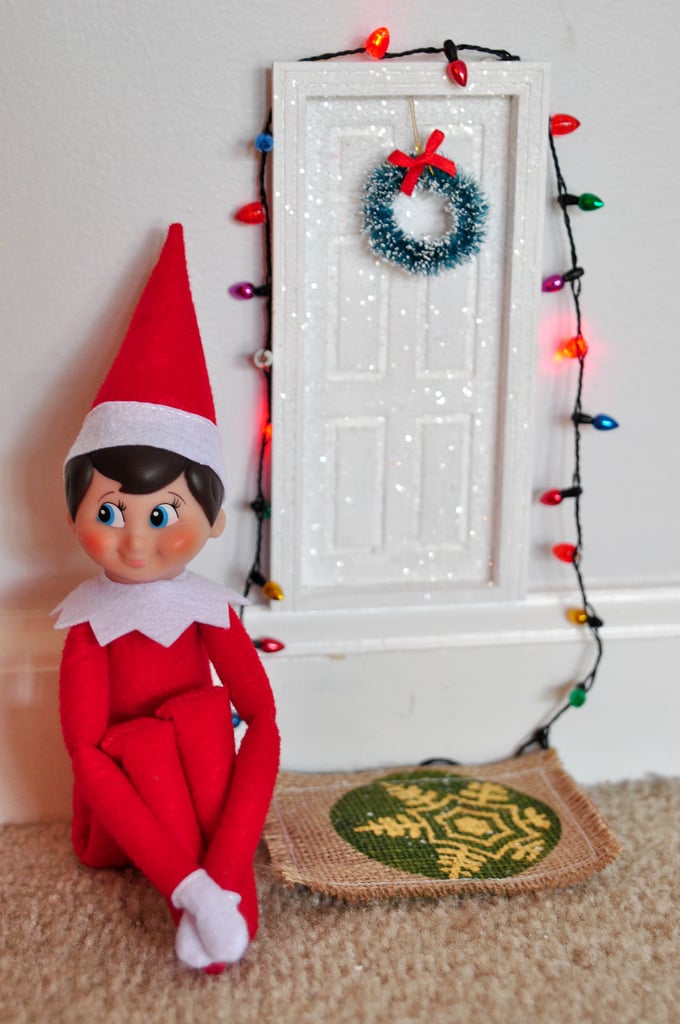 The elf belonging to Flickr user Melissa Hillier [25] got his own little door to decorate for the holidays.
Source: Flickr User Melissa Hillier [26]
Stuck in the Blender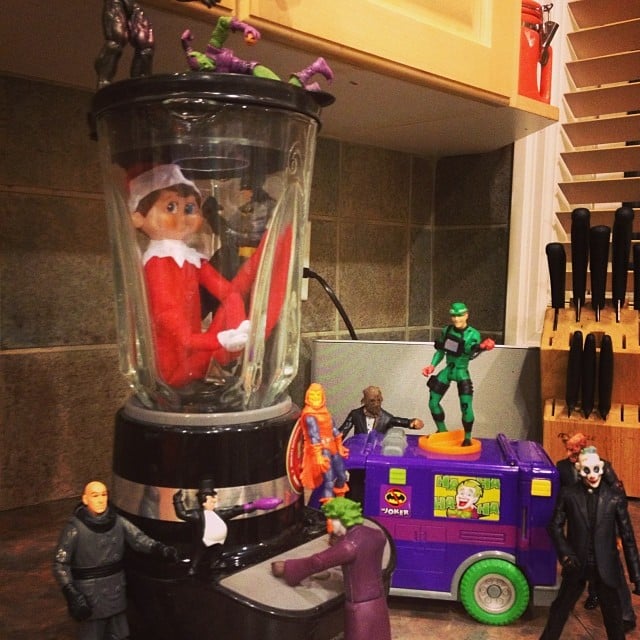 Instagram user deee_ski [27] put her elf in a very precarious position, thanks to some toy villains.
A Fruity Ride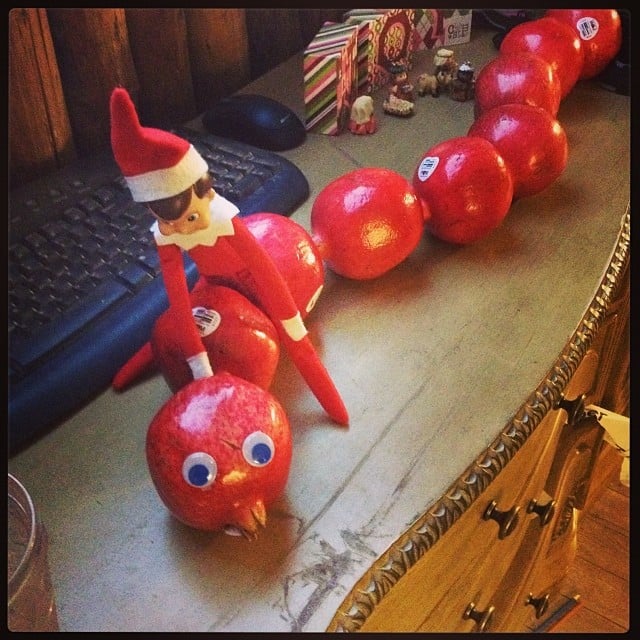 Instagram user goatgal1982 [28] had her elf ride on a caterpillar made of pomegranates. We're thinking oranges or apples would work, too!
Snow Angel Elf
Flickr user beatrice.killam [29] posted this cute pic. Easy, clever, and guaranteed to induce squeals from your little ones.
Source: Flickr user beatrice.killam [30]
Elves at Work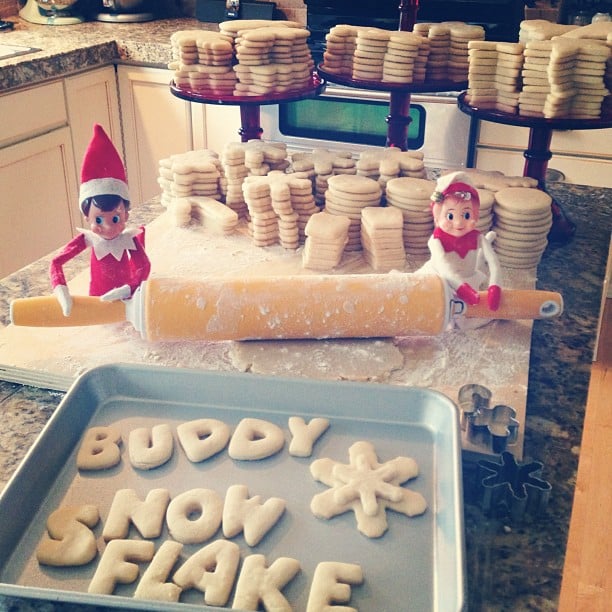 Instagram user jennycookies's [31] elves were busy baking.
It's a Hold Up!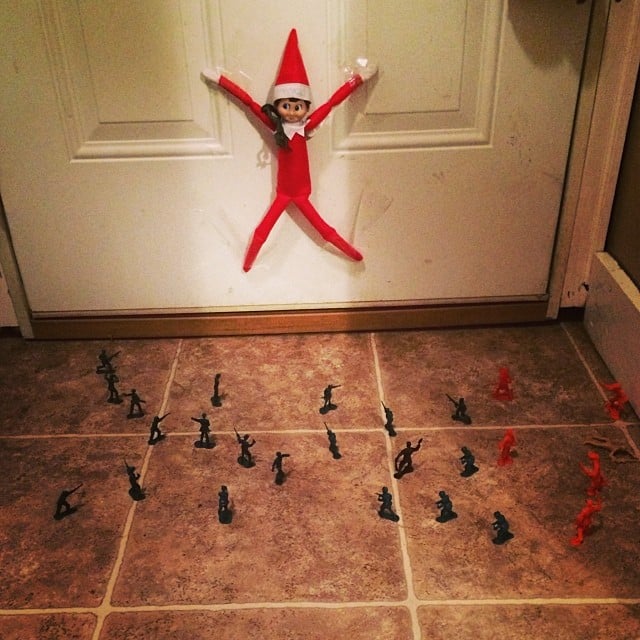 Instagram user nessarogers1981's [32] elf found himself in a precarious situation, thanks to an army of little men.
Long Winter's Nap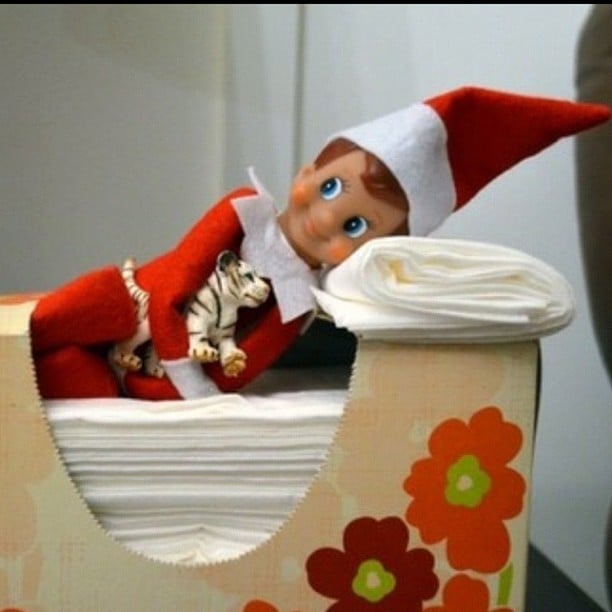 Instragram's insta_xmas_elves_ideas [33] gave an elf a cozy place to curl up for a nap — and a tiger toy to cuddle.
The Countdown Is Over!
Instagram user myselfanddi [34] posted this picture, a cute way to cap off your elf's Christmas stay.
Dr. Elf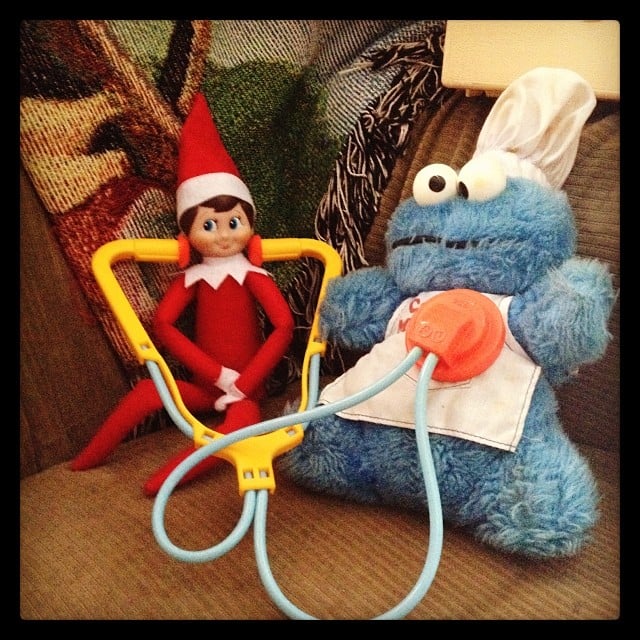 Instagram's lizbrownlee [35] put her elf to work, giving some medical attention to Cookie Monster.
Petite Pancakes, Please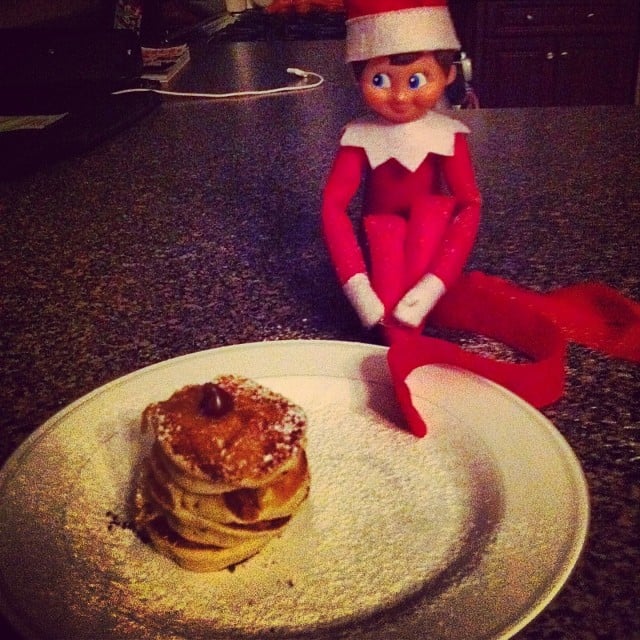 Instagram user tally_baby [36] made her elf a plate of tiny pancakes. Yum!
Getting in a Workout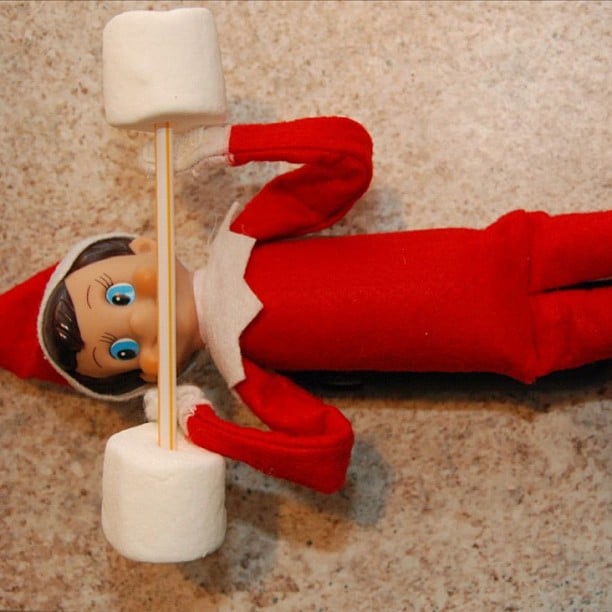 Instragram's insta_xmas_elves_ideas [37] gave an elf a marshmallow barbell workout.
Be Good!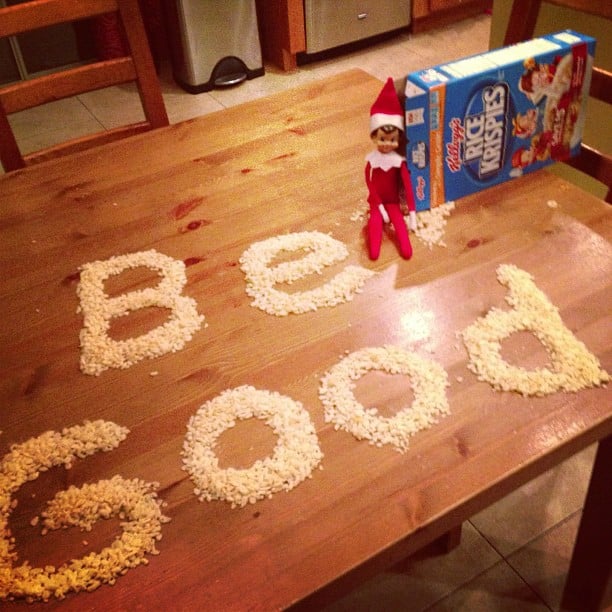 Instagram user colleens_aforkandacork [38] had her elf spell out an important message with Rice Krispies.
Facebook Love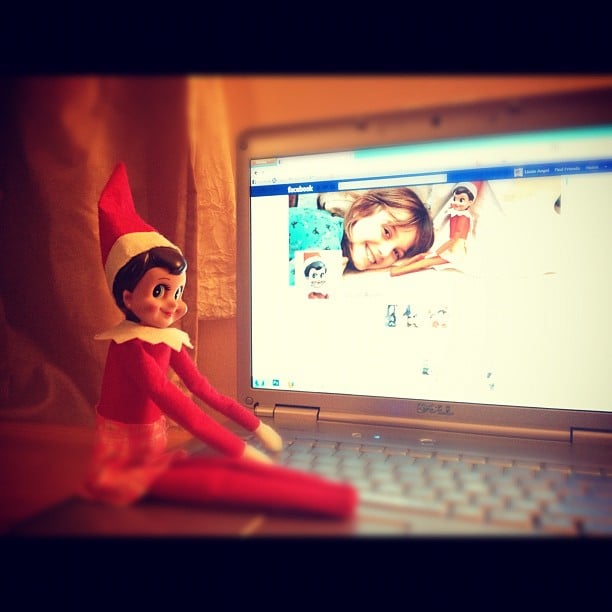 Instagram's lishajae616 [39] let her elf do a little self searching on Facebook.
Holiday Decorating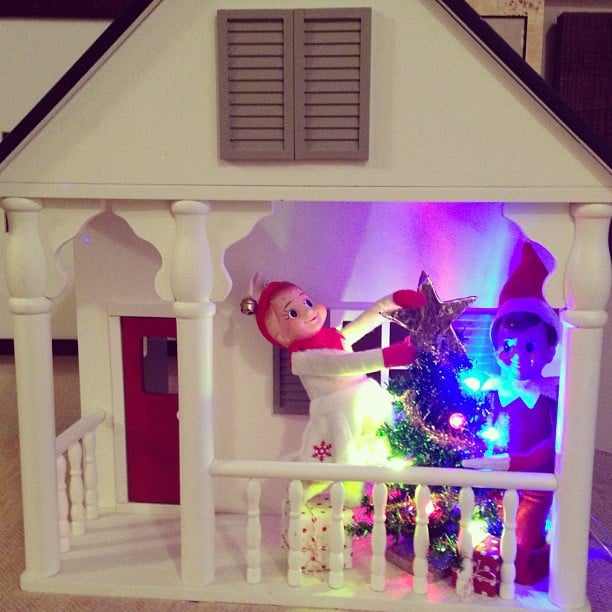 Instagram user jennycookies [40] thought her elf might enjoy redecorating her daughter's dollhouse one night.
Copy This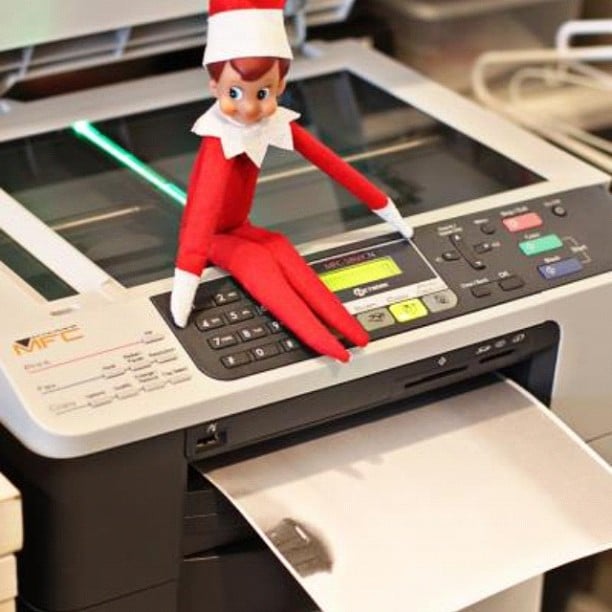 Instagram's roxygurl00 [41] let her elf get into a little trouble with the copier.
Hanging With the Stars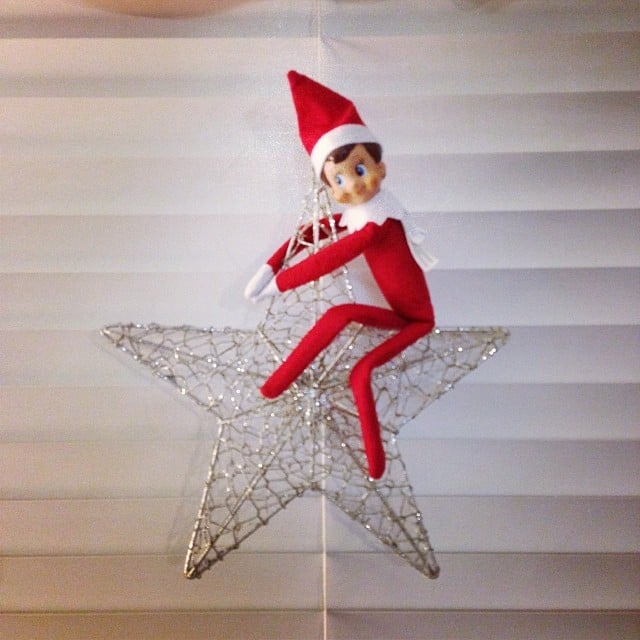 Instagram user overtiredmommy [42] (aren't we all?!) had her elf take a trip through the stars.
Game Day!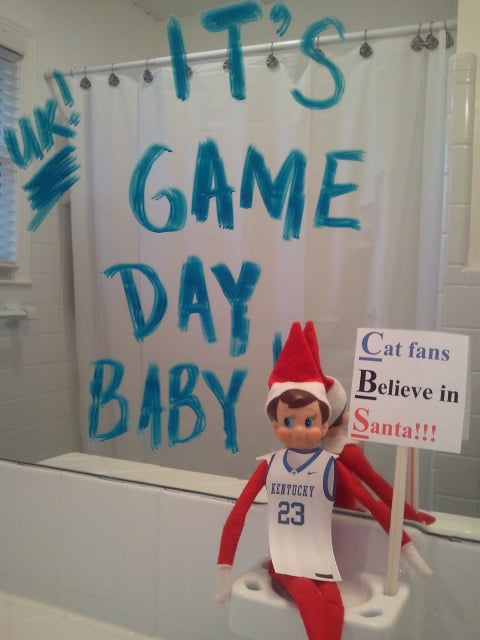 Your elf can show his non-Christmas colors and support your favorite team on game day, like Twitter user @callmemrscounsins [43].
Source: Twitter user callmemrscounsins [44]
Toilet-Papered Tree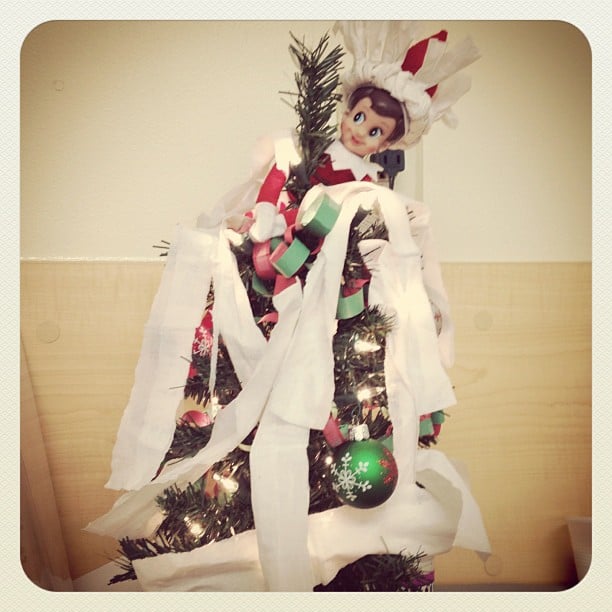 Instagram's brittblumey [45] let her elf get in a little toilet-paper trouble in her tree.
Elves Intersect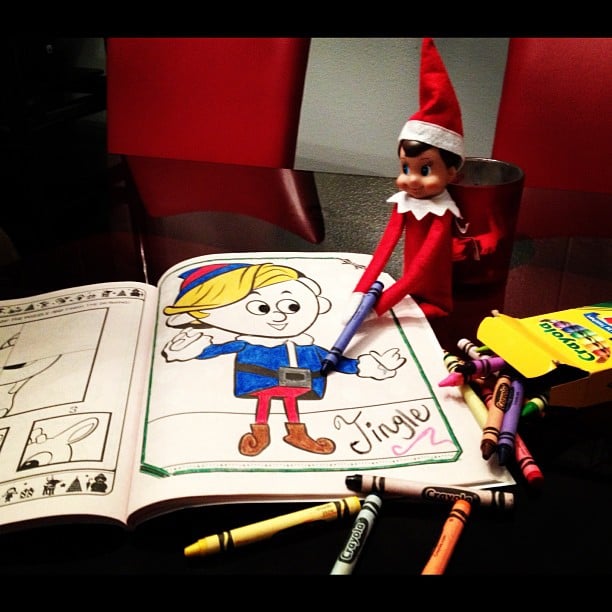 Instagram's jordynns_mommy23 [46] introduced her elf to another famous Santa's helper.
Candy Craving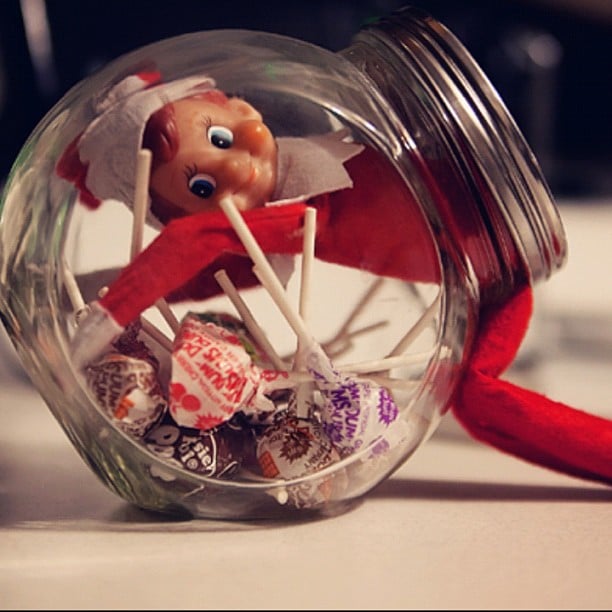 Instagram's insta_xmas_elves_ideas [47] decided to go diving for candy.
In Mom's Purse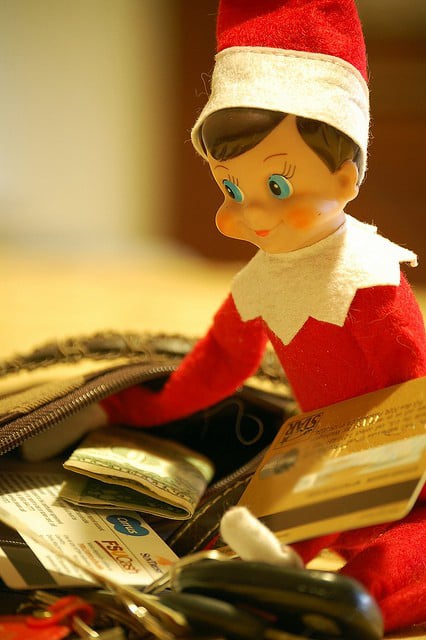 Flickr user Venita Norton [48] came up with this clever setup. Surely the elf is reminding mom it's time to do some Christmas shopping?
Source: Flickr User Venita Norton [49]
Naughty Elf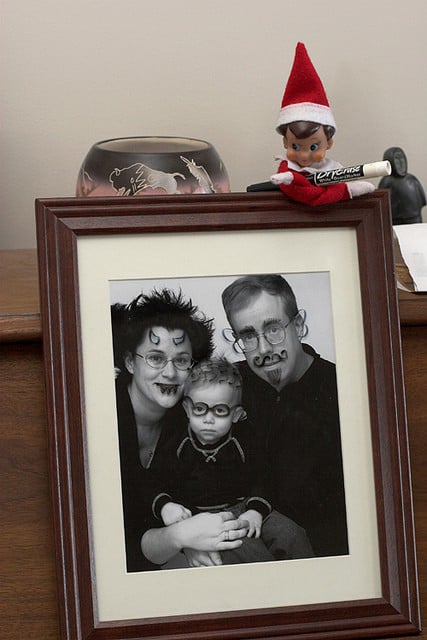 A dry erase marker makes this project, found through Design Dazzle [50], easy and super adorable.
Source: Design Dazzle [51]
Nothing but Net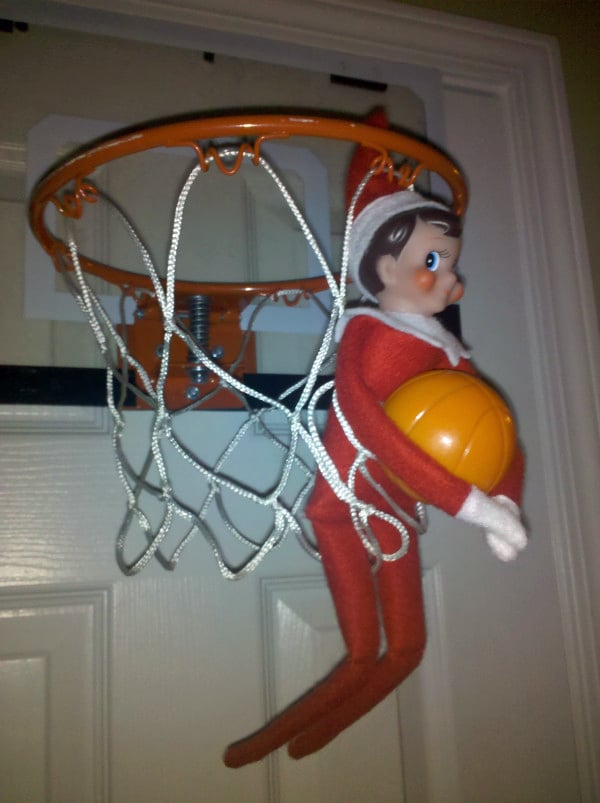 The sports theme scored two points with Twitter user @misskate92 [52]'s elf.
Source: Twitter user misskate92 [53]
The Jenga Jingle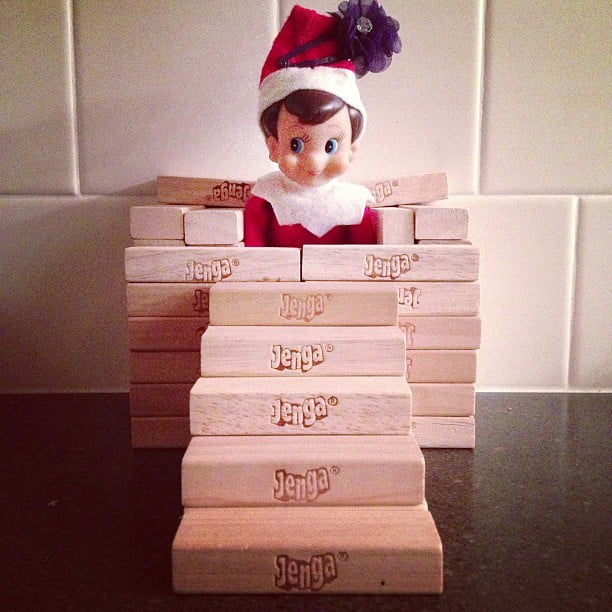 Instagram's rhi-love [54] put her elf in a Jenga box.
A Christmas Tree Classic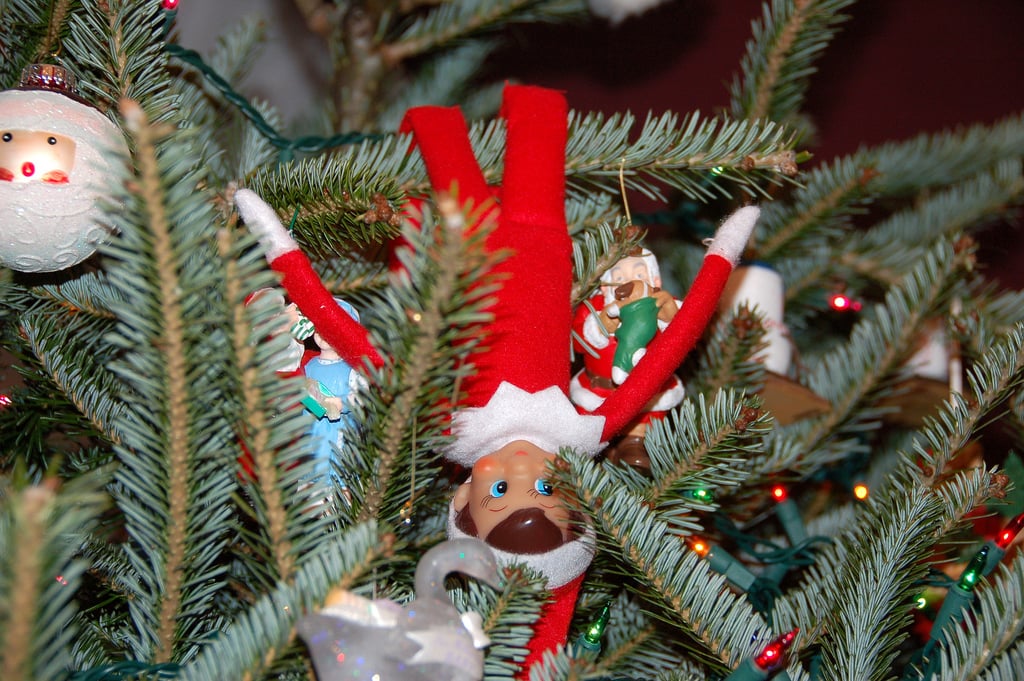 Flickr user tubesox_family [55] went for this classic pose with her elf.
Upside Down Elf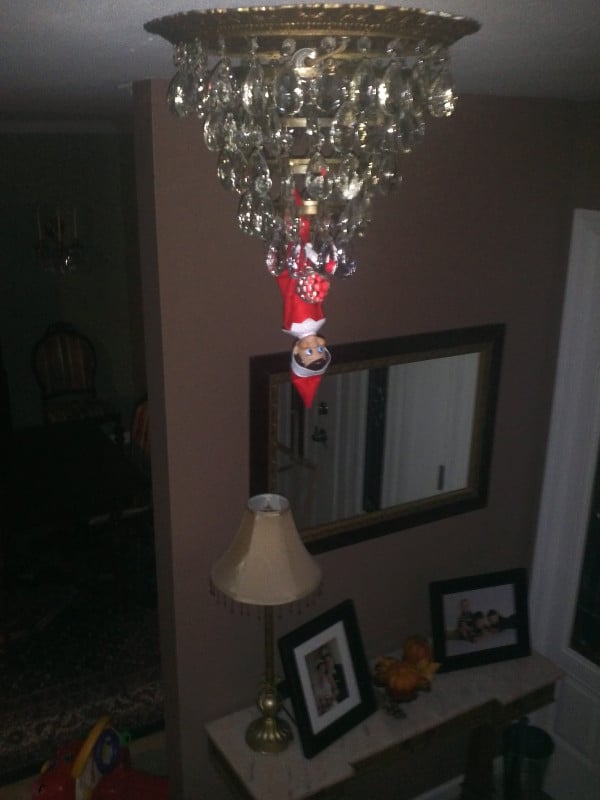 Twitter user @robvescovo [56] put his elf in a classic spot but hung him upside down.
Veggie Stop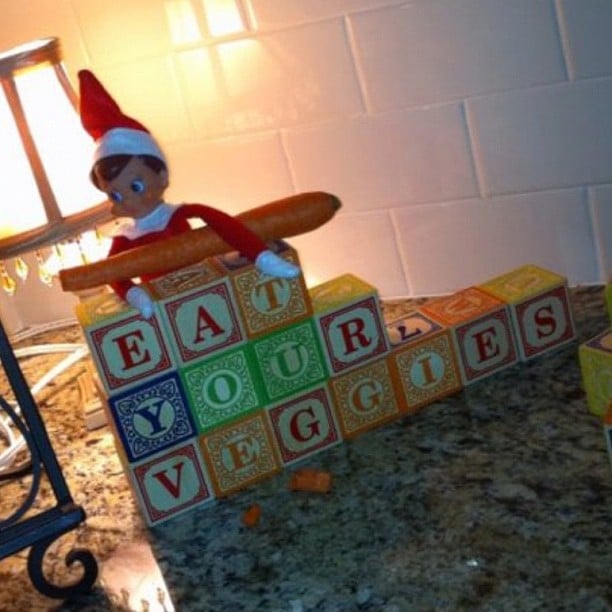 Instagram's http://instagram.com/p/SLY-P0K8E2/ [57] implored his children to eat some vegetables.
A Sleigh Ride For Two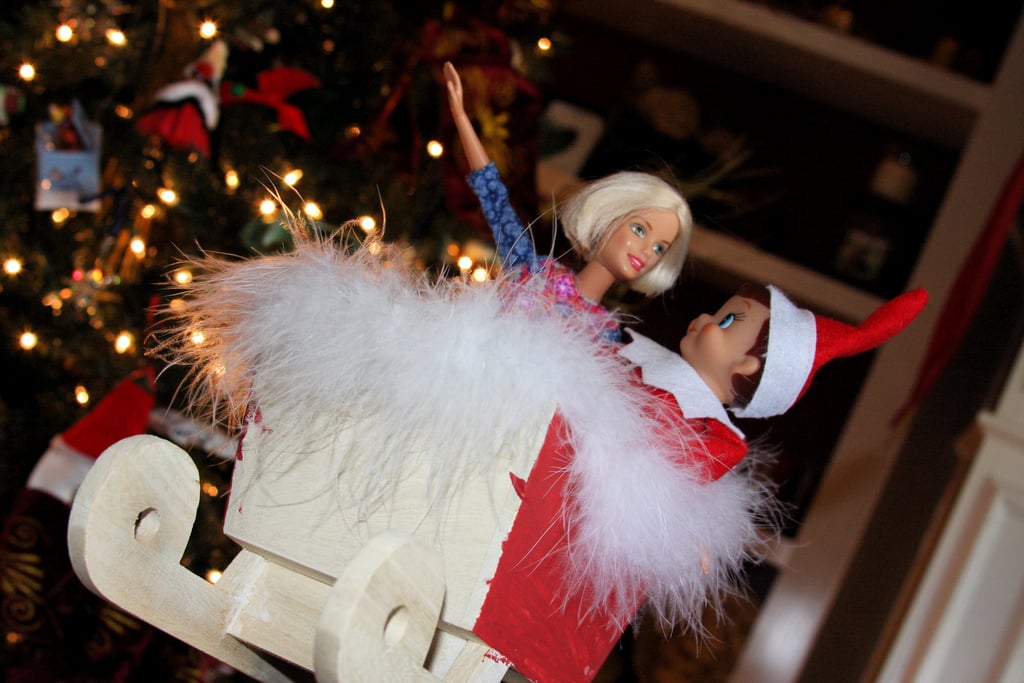 Flickr user southernsharing [58] lets the elf take a sleigh joy ride with Barbie.
Source: Flickr user southernsharing [59]
Mission Impossible?
Flickr user AngryJulieMonday [60] took her elf to the extreme on a zip line.
Source: Flickr user Angry Julie Monday [61]
Let Him Ride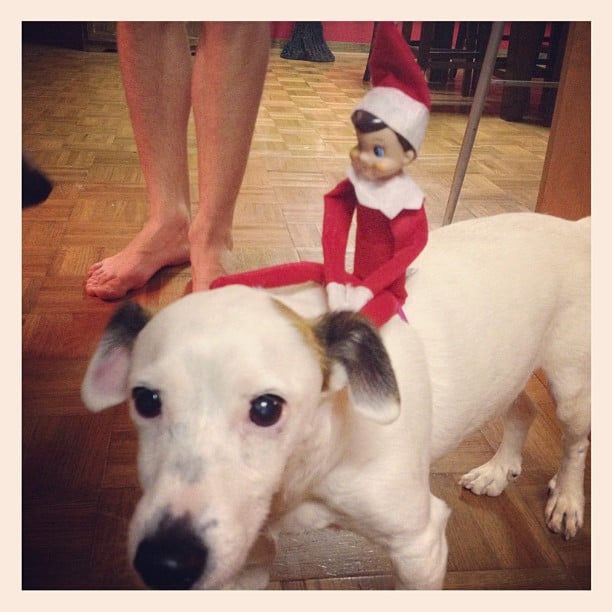 Instagram user amandadawnbrown [62] propped her elf on the back of a very patient pooch.