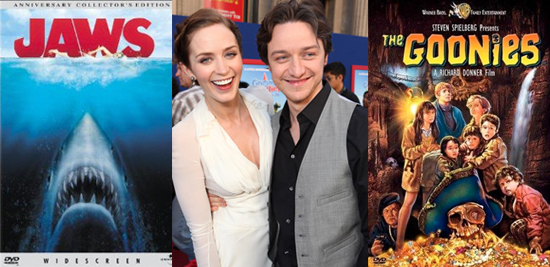 How much does your favorite movie say about you and your childhood?
Emily Blunt
and
James McAvoy
are animated in the family-friendly film,
Gnomeo & Juliet
that hits theaters February 11. But, at a recent press junket (
Disney flew me down for the event
), the actors divulged their all-time favorite flicks. Some bloggers did a double take when Blunt announced that a mechanical shark is the star of her pick. She said, "
Jaws
— I've seen that movie 30 times. It is, I think, a perfect movie — a genius movie, (and has) amazing performances. It's by far my favorite movie." McAvoy's selection involves the search for One-Eyed Willy. He said, "My favorite movie is
The Goonies
. It's a great kids' film. Get your kids watching it please — it's fantastic." People often have a soft spot for films they saw at an impressionable age — which one do you hold dear?