Stylist and designer Estee Stanley [1] has worked with some of the biggest names in Hollywood, styling red-carpet looks for Jessica Biel [2], Lea Michele [3], Ashley Olsen [4], and Penélope Cruz, designing homes for Amanda Peet [5] and Rashida Jones, and launching awesome site HomeMint [6] with Justin Timberlake [7]. So what does a woman known for her sophisticated, subtle, and always stylish designs create for her own children's rooms? "Being a designer, I've always found that everything for nurseries was so childlike . . . princesses and weird animal wallpaper," Estee says. "That's not my aesthetic. You can have a cute child's room without it looking like you're in Disneyland!" Kid-friendly but mature, the spaces Estee designed for her son, Teddy, 4, and daughter, Flora, 1, feature her design hallmarks of muted tones, artistic details, and high-end pieces mixed with vintage finds. Keep clicking to check out the details . . . including Flora's Hermès playmat! Now that's Hollywood!
Source: Estee Stanley [8]
Flora's Nursery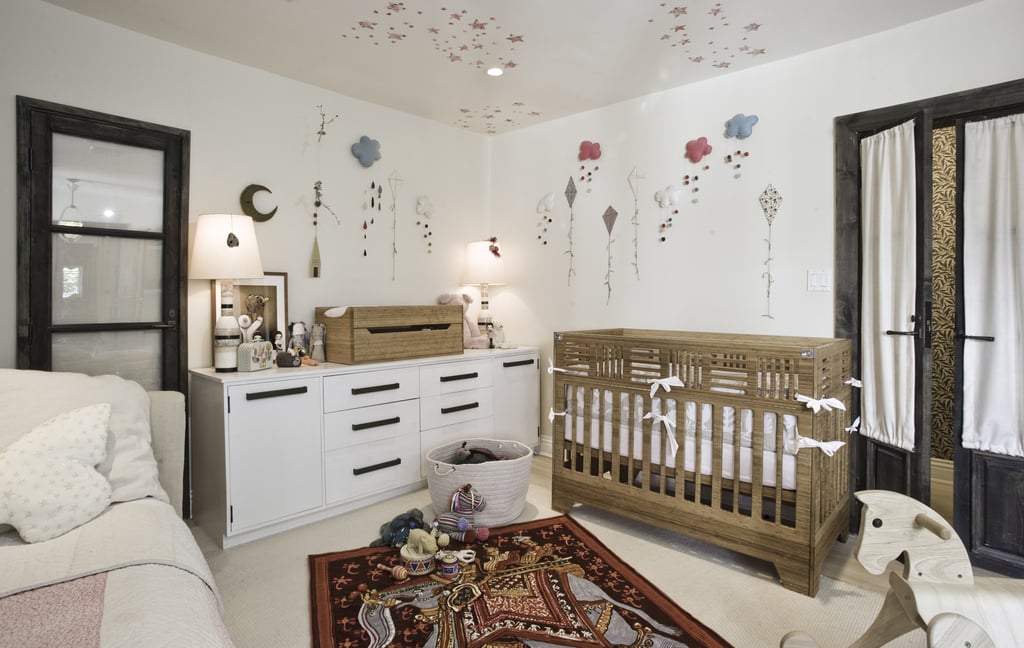 "I love the Kalon IoLine crib [9] in Flora's room," Estee says. "It's so cool and so different, and more cozy than any cribs I'd ever seen."
"The stars on the ceiling I did by myself, with a sponge I cut into the shape of a star. I was inspired by a wallpaper I found that was discontinued. It took me less than two hours, and I love how it turned out!" The DIY [10] ceiling finds its high-end counterpart with the elephant rug, actually a Hermès mat. "It was a gift, thank God," Estee says. "My girlfriend bought it for me and we use it as a playmat. We even take it to the park."
Source: Estee Stanley [11]
Clouds and Kites
"I love all the clouds and moon and kites on her walls [all from Sweet William [12]]. I love wallpaper, and this felt like a less expensive and less permanent version," Estee says. Flora's bedding is from Serena & Lily [13].
Source: Estee Stanley [14]
Dresser and Changing Table
"I designed the changing table because I could never find anything big enough for all that baby stuff. I like the cute stuff out and everything else hidden," Estee says. "I also have baskets everywhere."
Source: Estee Stanley [15]
Teddy's Room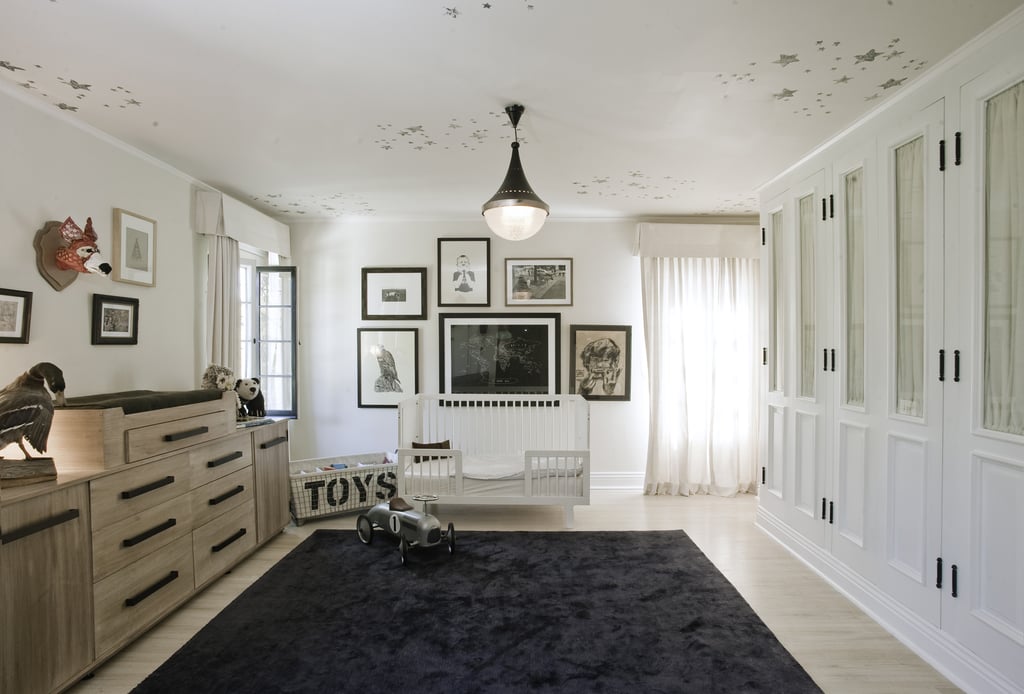 "I designed Teddy's room thinking he would grow up there; I tried to keep it cute and kid-like but still mature," Estee says. "I figure he'll like it until he's at least 6 . . . then he'll probably want some weird boat bed." Oeuf's Sparrow [16] bed and a Restoration Hardware Baby + Child toy bin [17] are all little boy, but the back wall's collection of art is decidedly grown-up.
A Lawrence of La Brea rug [18] gives Teddy a cozy place to play. "I think it's important not to fill up kids' room so much," Estee says. "I try to keep the middle area open and carpeted and cozy, so they have a big area to play."
Source: Estee Stanley [19]
Muted Tones
A custom-made dresser designed by Estee adds to the muted palette. "In my 20s and early 30s, I did a lot of colored rooms," Estee says. "In a weird way, I feel like I've already done it, so I'm more into muted colors rather than brights now. One of my favorite colors right now is Farrow & Ball's Parma Gray [20], which is like a muted blue."
Source: Estee Stanley [21]
Anne-Valérie Dupond Animal Head
"I'm obsessed with heads, and I found this artist, Anne-Valérie Dupond [22], who makes the sickest heads I've ever seen," Estee says. "I happened to stumble upon her at a gallery, and I fell in love. They almost look like they were made from an old quilt."
Source: Estee Stanley [23]
Art and Soul
A vintage light from Venice, CA's Obsolete [24] hangs over Teddy's bed. A collection of art looks grown-up, but each piece is kid-friendly. "Most of the art was given to us as gifts, and nothing is superexpensive," Estee says. "The map was given to my husband by Oliver Jeffers, who wrote this great kids' book called The Incredible Book Eating Boy [25], about a boy who literally eats books and gains all this knowledge."
Source: Estee Stanley [26]
Teddy's Bathroom
A Waterworks [27] tub, Lawrence of La Brea rug [28], vintage Blackman Cruz [29] mirror, and a collection of art prints in Teddy's bathroom.
Source: Estee Stanley [30]
En Suite Retreat
Another view of Teddy's sophisticated but kid-friendly bathroom.
Source: Estee Stanley [31]
Mark Ryden Prints
"I thought I hit the lottery when I found these Mark Ryden [32] prints for like $200," Estee says. "He's a very famous artist whose work sells for millions of dollars! These prints are so cute, childlike, and fairy-tale-ish."
Source: Estee Stanley [33]
Playroom
The playroom might be the kids' domain, but a cozy sitting area with nuLoom pillows [34] and a beautiful chandelier makes it equally appealing to adults.
Source: Estee Stanley [35]
Playroom Teepee
A canvas teepee lets Flora and Teddy get creative. "I find that people fill their homes with too much stuff," Estee says. "We buy so many toys, but kids are happy with a leaf and a straw. Seriously, my daughter could probably play with a straw for three hours."
Source: Estee Stanley [36]
Birdhouse Lights
A collection of birdhouse lights in the playroom shared by Flora and Teddy.
Source: Estee Stanley [37]