Think Super Bowl food is all about chili, chips, and dips? Not if you're hosting a kid-friendly football party [1] for some sugar-loving little ones! Keep the smallest fans happy with one of the following football-inspired desserts. From sugar cookie pops featuring the jerseys of your favorite players to cookies, cakes, and Rice Krispies treats in the shape of a pigskin, these 10 sweets are ready for game day!
Football Cake Pops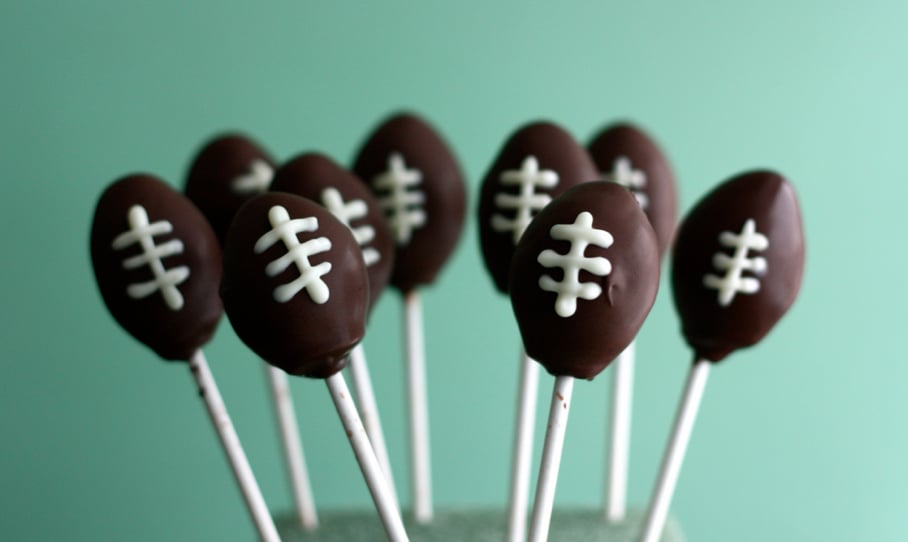 Baked With Love and Butter's football cake pops [2] are candy-coated chocolate cake yumminess!
Source: Baked With Love and Butter [3]
Caramel Rice Krispies Treats
Football-shaped Rice Krispies Treats [4] dipped in caramel and decorated with chocolate? Yes, please!
Source: Kellogg's Snackpicks [5]
Football Cake Pan
It's never been easier to make a football-shaped cake [6] than by using Wilton's First and Ten Football Pan [7] ($14).
Source: Wilton [8]
Touchdown Cupcakes
Spaceships and Laserbeams dressed up some cupcakes with football decorations and printable wraps [9].
Source: Spaceships and Laserbeams [10]
Gluten-Free Cookie Truffles
Simple Ginger's gluten-free football cookie truffles [11] use just four ingredients, including store-bought chocolate cookies, and require no baking!
Source: Simple Ginger [12]
Printable Football Cupcake Wraps and Toppers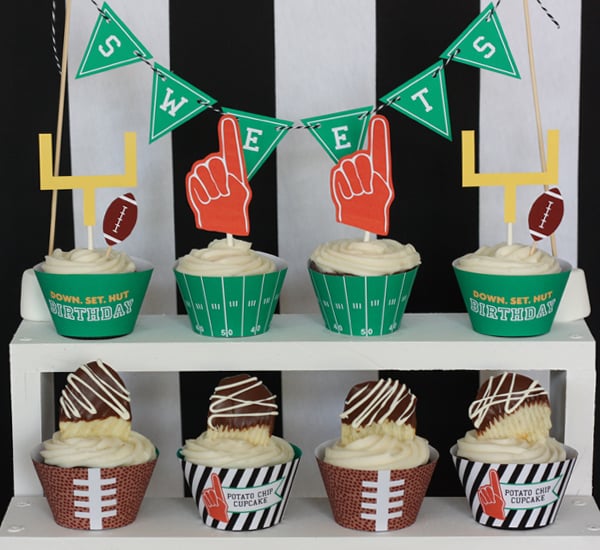 Wants & Wishes Design's printable football party collection [13] includes a ton of cute decorations, but we particularly like the cupcake wraps and toppers, which would spice up store-bought cupcakes. Perfect for the Super Bowl- or a football-themed birthday party!
Frosted Peanut Butter Cookies
We bet Betty Crocker's frosted peanut butter cookies [14] won't last until halftime.
Source: Betty Crocker [15]
Ultimate Whoopie Pies
Jen of Beantown Baker came up with the delicious combo of chocolate cake, toasted marshmallow frosting, and salted caramel sauce for her Ultimate Whoopie Pies [16].
Source: Beantown Baker [17]
Chocolate Rice Krispies Treats
Chocolate-y football Rice Krispies Treats are a dessert the whole family will enjoy. Find the recipe for the football-shaped Rice Krispies Treats, topped with melted chocolate and piped with white candy melts, here from Chef Mommy [18].
Source: Chef Mommy [19]
Jersey Sugar Cookie Pops
Bakerella always comes up with creative desserts, and these carefully decorated jersey sugar cookie pops [20] are no exception. Onesie cookie cutters helped create the shape (just cut the bottoms off), and you can decorate each cookie to represent the whole team or your favorite player.
Source: Bakerella [21]