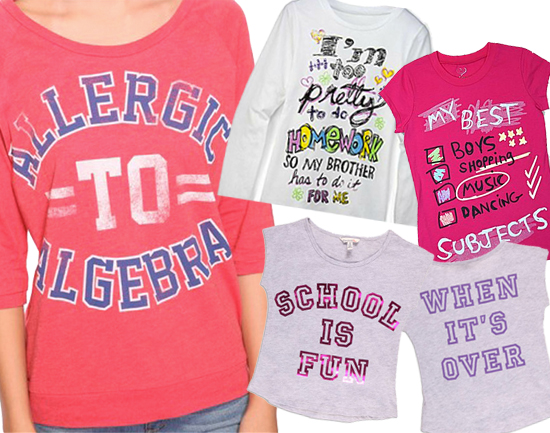 Oops, someone's done it again! Back to school is a time to get kids excited about school and learning, but if two of the nation's most popular stores with teens have their way, today's girls are just too cool for school these days. Following JCPenney's attempt to sell a t-shirt emblazoned with, "I'm too pretty to do homework so my brother does it for me" (the company pulled it after moms took to social media to deride the shirt),
Forever 21 is now featuring shirts
that read, "Allergic to Algebra" and "School Is Fun — When It's Over." ($12) There's no question that the shirts send young (and smart) girls the wrong message, but the fact that more than one store is pushing these shirts may be indicative of a larger problem. Do we have an issue with our attitude toward girls and education?