Whether you live in a place with a no-fireworks rule or just don't feel comfortable letting your lil ones near anything with imminent burn potential, it is possible to have a fun fireworks experience — minus the fire — this Fourth of July [1]. Create imitation sparklers with silver pipe cleaners, make exploding confetti balloons, or use doilies to create firework art. Keep clicking for 11 great firework crafts [2] that will keep your kids safe and smiling!
Pipe Cleaner Sparklers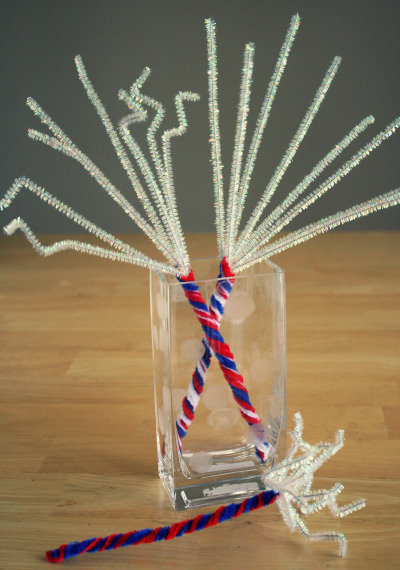 Wind together red, blue, and silver pipe cleaners to create faux "sparklers" [3] — all the fun, without the fire.
Source: Makes and Takes [4]
Fireworks T-Shirts
Grab a white tee, Sharpie markers, rubbing alcohol, a small dish or cup, an eye dropper, newspaper, and an iron, and you'll have everything you need to make a fireworks t-shirt with your lil one. It's surprisingly easy, and you can get step-by-step instructions here [5].
Source: The Butterfly Jungle [6]
Confetti Balloons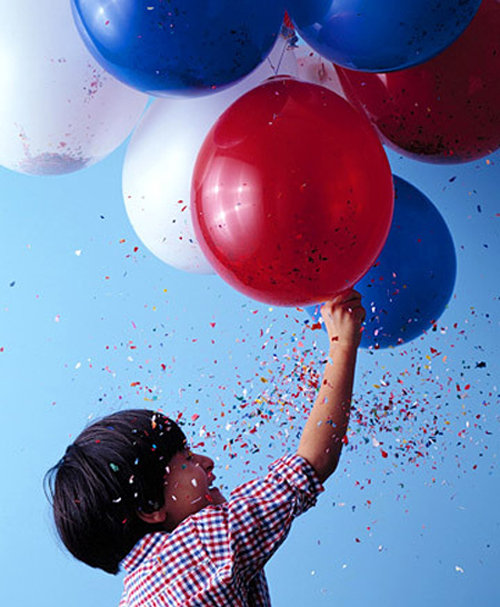 Confetti-filled balloons [7] allow a big explosion without any fire. Just use a funnel to pour confetti into a balloon until it's a quarter full, then inflate it with a hand pump. You can even pop them indoors!
Source: Martha Stewart [8]
Glue and Sand Fireworks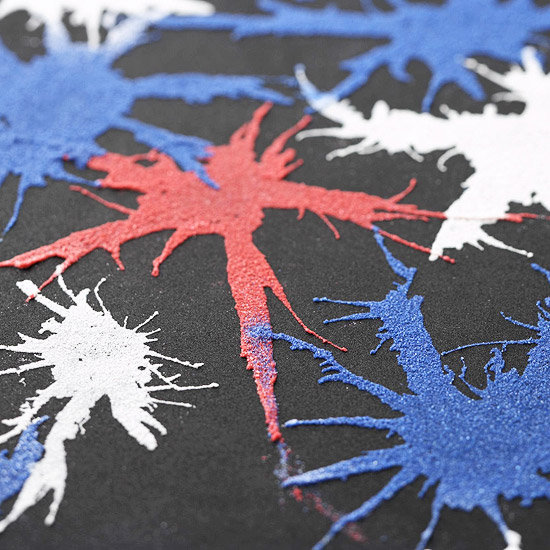 Blow diluted crafts glue through a straw onto a sheet of black foam to create starburst shapes. Then sprinkle colored sand on the glue, and voila, you have your very own fireworks display [9].
Source: Better Homes & Gardens [10]
Cupcake Liner Fireworks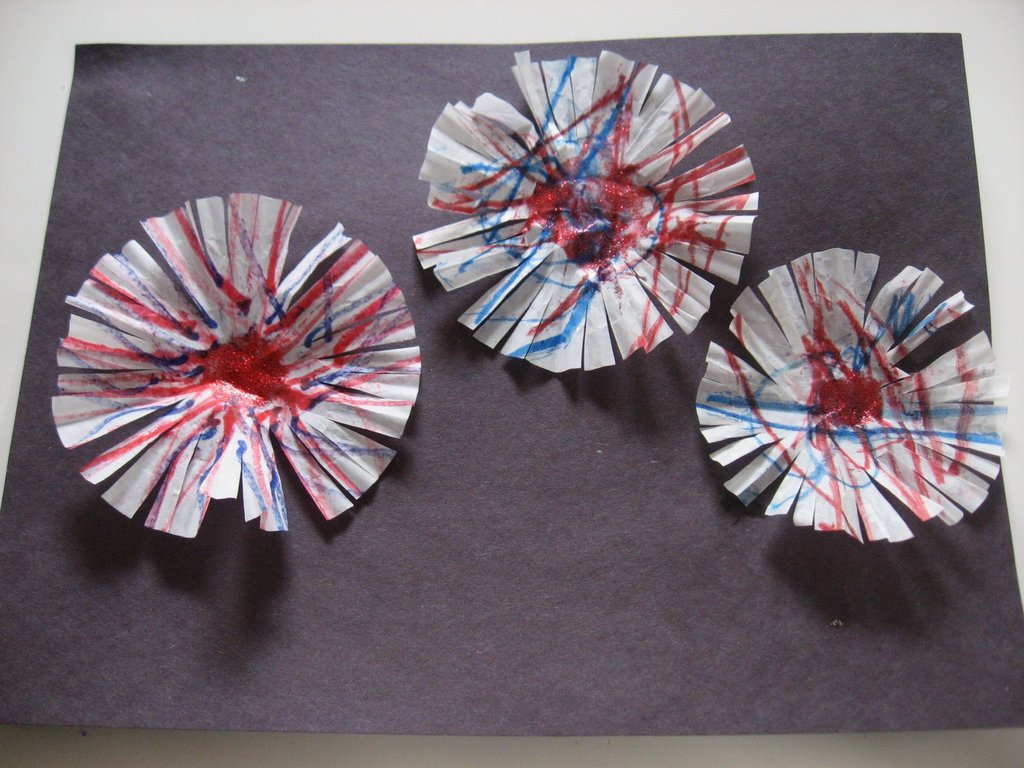 Gather black construction paper, cupcake liners, markers, glitter, scissors, and glue and follow these instructions [11] to create these cute paper fireworks.
Source: No Time For Flashcards [12]
Fourth of July Rockets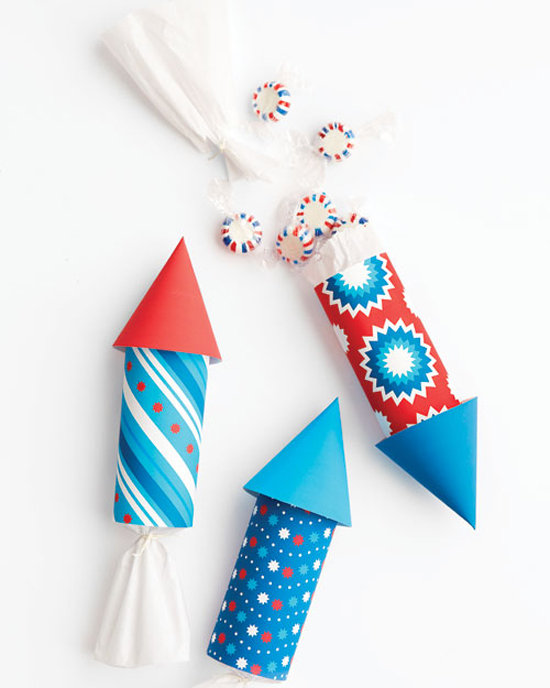 While these paper rockets [13] were designed as Fourth of July favor packages, they could also be filled with confetti or glitter to make for a firework-type explosion.
Source: Martha Stewart [14]
Fireworks Flowers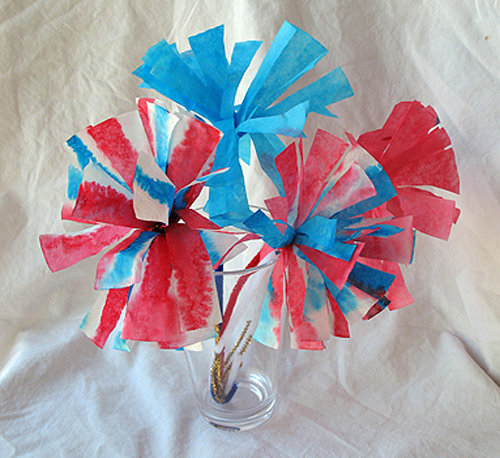 These paper flowers [15] might look like exploding fireworks, but they're actually made of watercolor-painted coffee filters!
Source: Family Corner [16]
Doily Fireworks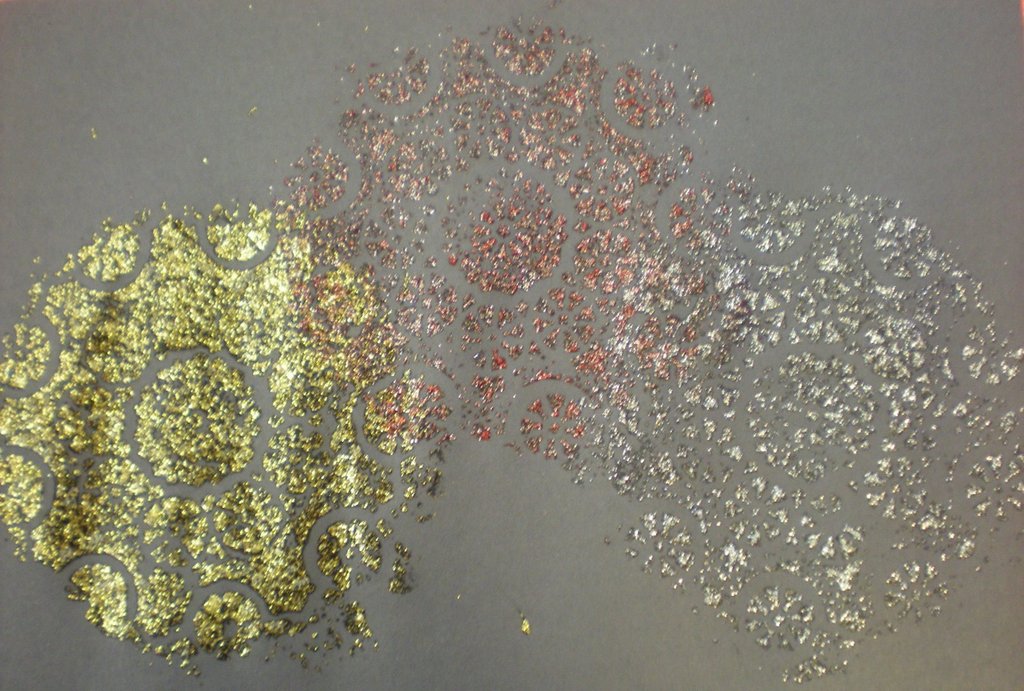 All you need to create this sparkling firework art [17] are glitter or shimmer paint, doilies, and paper. Easy and awesome!
Source: Preschool Playbook [18]
Candy Fireworks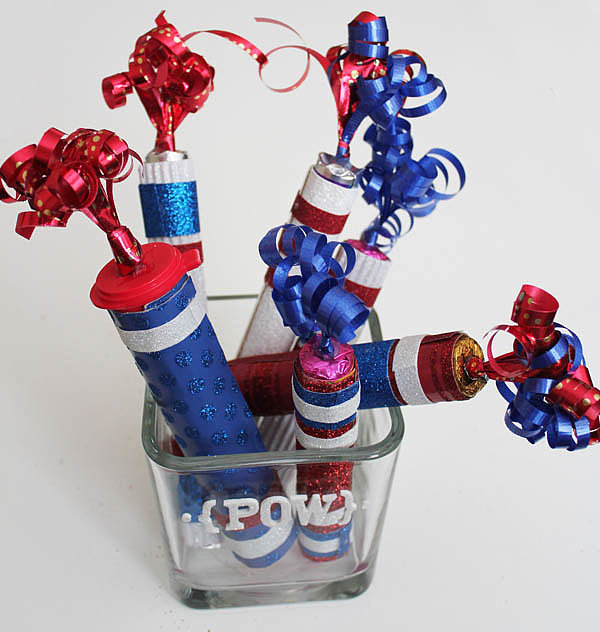 Rolls of candy like Rolos, Mentos, and Sweet Tarts are transformed into fun faux fireworks in 30 Minute Crafts' cute candy fireworks craft [19].
Source: 30 Minute Crafts [20]
Porcupine Ball Fireworks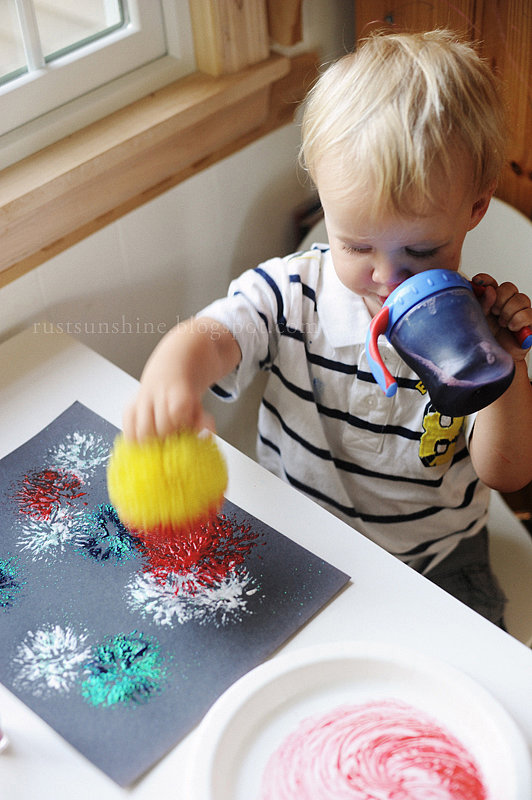 Porcupine balls, paint, and glitter turn a plain piece of paper into a crafty fireworks explosion [21], thanks to some imagination from Rust & Sunshine.
Source: Rust & Sunshine [22]
Fireworks Centerpiece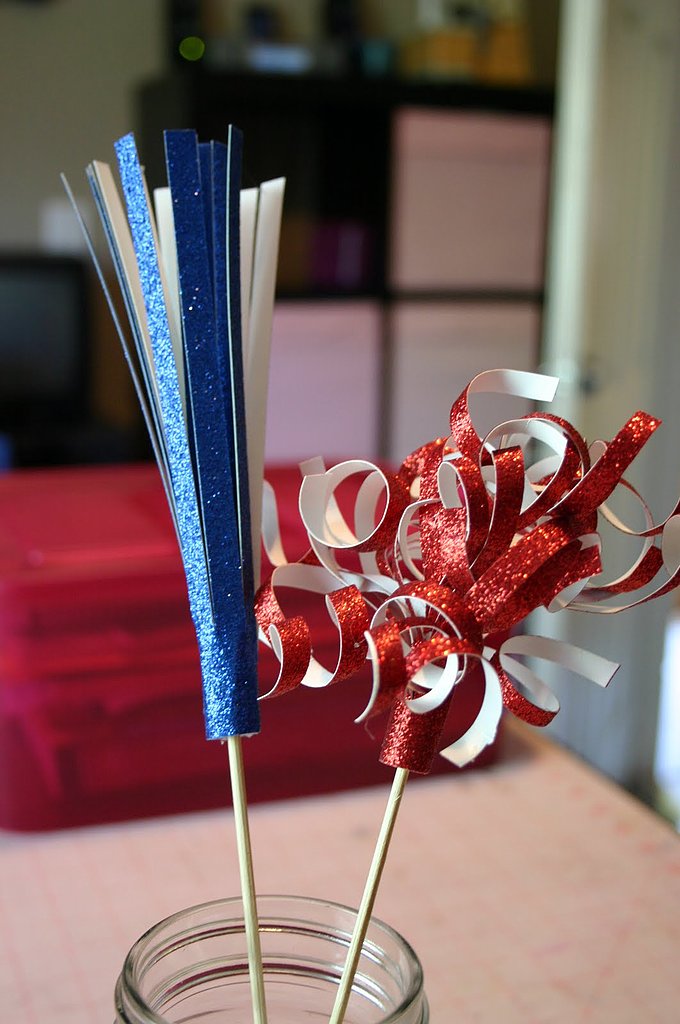 Glittered card stock, shish kabob sticks, and straws are all you need to make this cool fireworks centerpiece [23], which we're betting your kids will love to pull apart and play with!
Source: Being Creative to Keep My Sanity [24]