When you think of Fourth of July, you probably think fireworks, red, white, and blue, and, of course, good old-fashioned American pride. Crafty lady and blogger Lia Griffith [1] and her pal Lisa Frank used the latter to inspire a vintage Independence Day event that was as all-American as apple pie (which she served up next to blueberry cheesecake, red velvet cupcakes, caramel corn, and berry pies). "I am loving the look of vintage anything right now," Lia says. "When looking around at what's out there for Fourth of July parties, I didn't see much with that Americana look, and I knew that it was something I would love to create." Mission accomplished with flags, a classic color scheme, old-fashioned pinwheels and wind socks, and lots of printables [2] that make it easy for you to re-create this festive party. Keep clicking for all the vintage Americana details!
Source: Lia Griffith [3]
DIY Invitation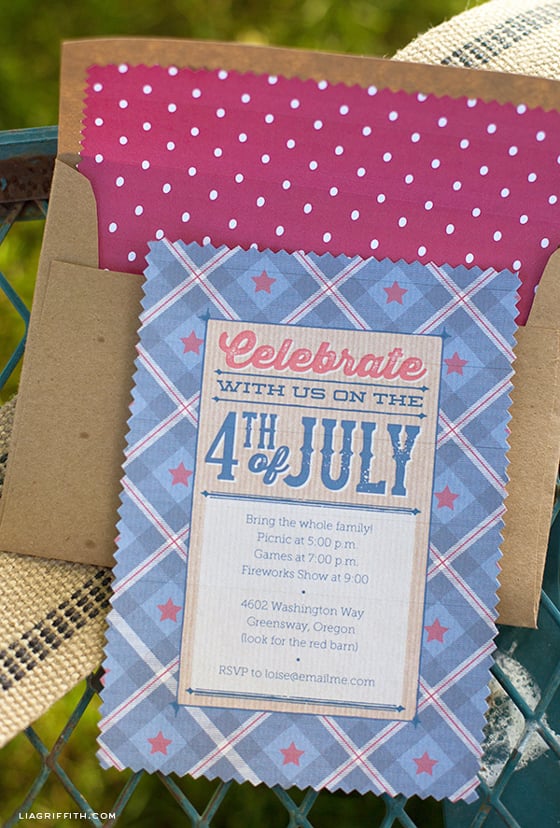 "To customize the printable invitation [4], first download the free font Museo Slab [5] and install it on your computer. Once the invitation PDF is open in Acrobat, just click on the placeholder text and type in your own. It is that easy," Lia says. "The second page of the printable is the envelope liner designed for an A6 square flap envelope. I love the red polka-dot liner with the kraft envelopes since the look coordinates with the kit. For this kit I used my pinking sheers for the zigzag edge, as it adds to the vintage style."
Source: Lia Griffith [6]
Food Table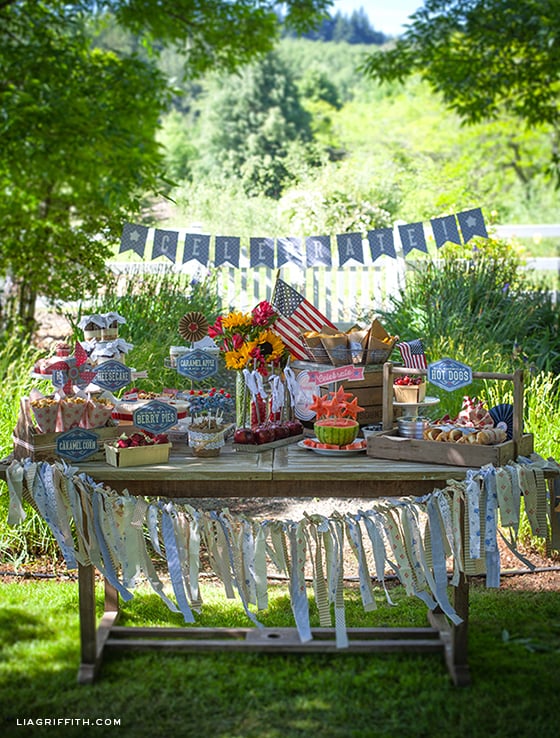 "I love the mix of the food items with the paper printables [7]," Lisa says. "The fabric bunting draped in front of the table adds so much texture, and I love the use of vintage colors rather than the strong bright colors. It just gives a feel of the 1950s family gathering."
Source: Lia Griffith [8]
Hot Dogs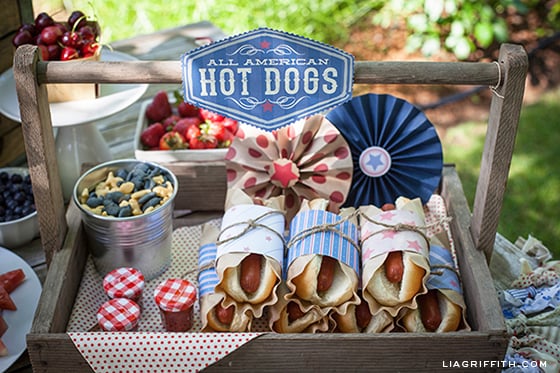 Paper- and twine-wrapped hot dogs added some style to a classic American treat.
Source: Lia Griffith [9]
Potato Chips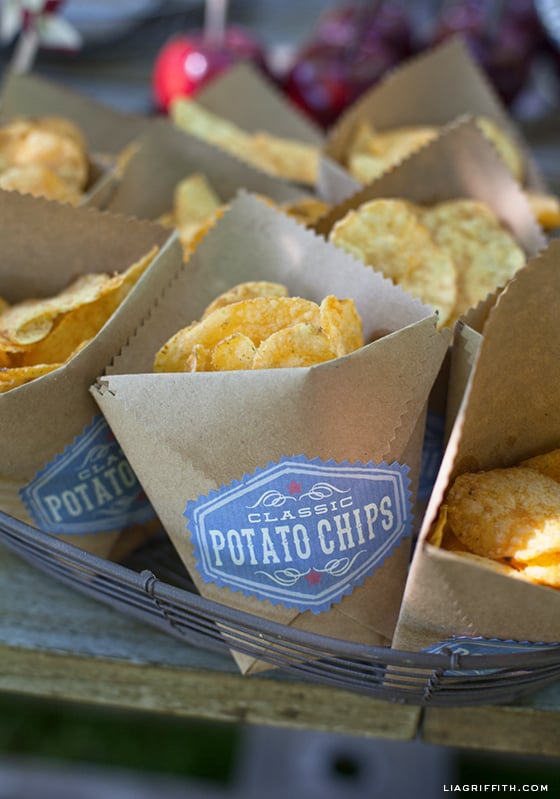 Follow Lia's tutorial [10] to make your own kraft paper potato chip bags. "There is something that kids love about having their food set up so they can pick it up and hold it with their little fingers," Lia says. "It is so adorable."
Source: Lia Griffith [11]
Sweet Table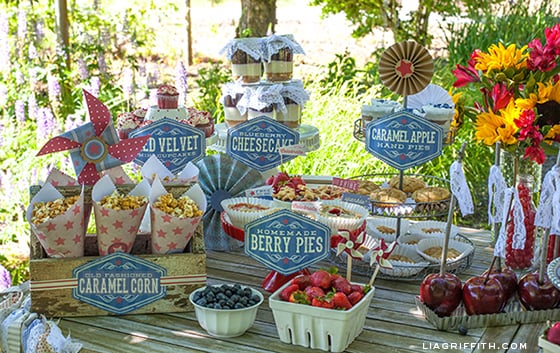 Lia served up classic berry pies, The Frugal Female's caramel apple lattice cookies [12], I Am Baker's cheesecake in a jar [13], red velvet cupcakes, and caramel corn.
Source: Lia Griffith [14]
Red and Blue Desserts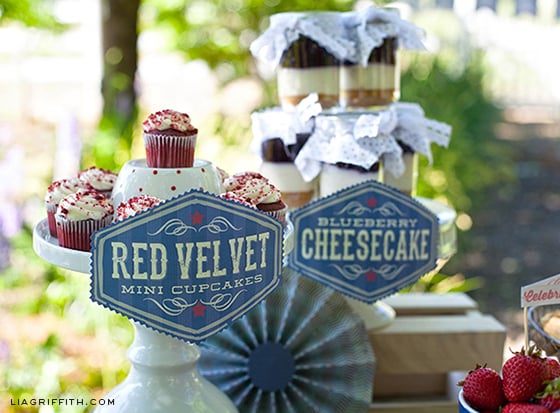 Lia stayed with the American color scheme, serving red velvet mini cupcakes and individual blueberry cheesecakes.
Source: Lia Griffith [15]
Caramel Corn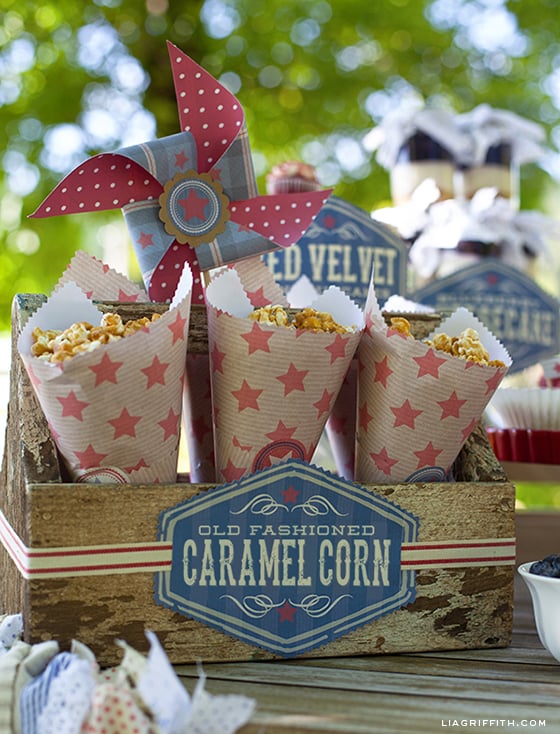 Lia used the Annie's Eats caramel corn recipe [16] and served the sweet treat in star-stamped paper cones.
Source: Lia Griffith [17]
Apples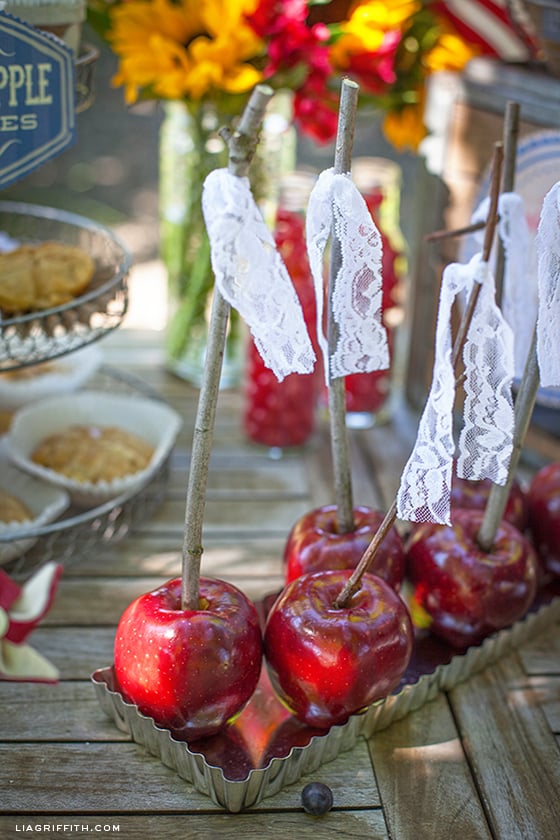 What's more American than apples?
Source: Lia Griffith [18]
Beverage Station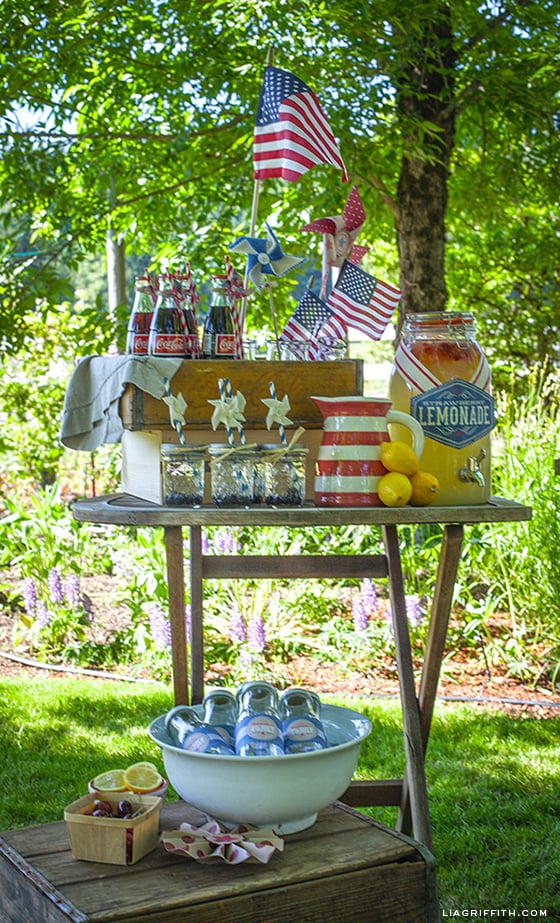 Lemonade, soda, and water mixed with American flags and pinwheels at the beverage station.
Source: Lia Griffith [19]
Lemonade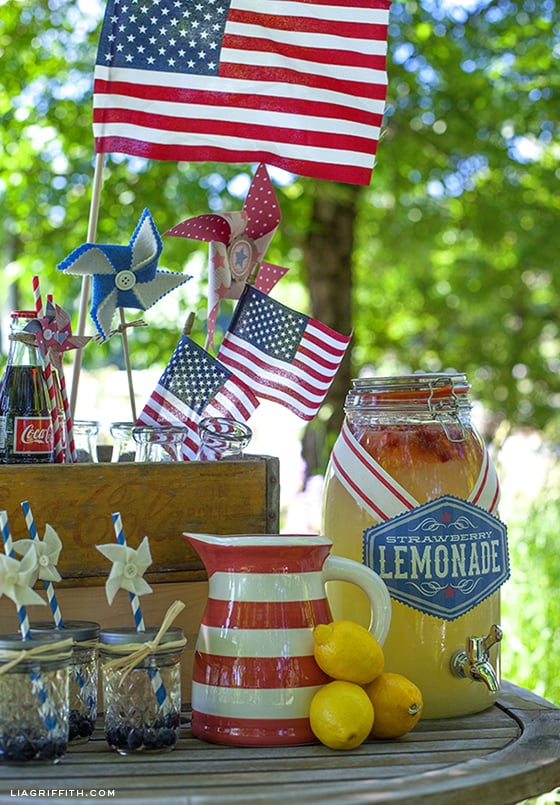 A closer look at the beautifully styled beverage station.
Source: Lia Griffith [20]
Water Bottle Labels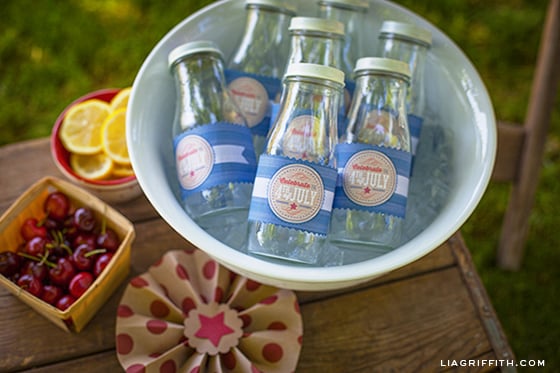 Printable labels [21] jazzed up glass water bottles.
Source: Lia Griffith [22]
Sparkler Station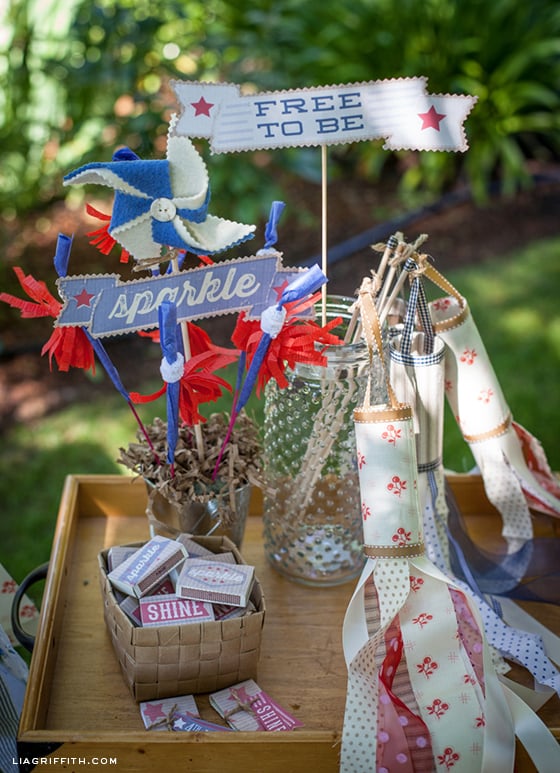 How adorable was this little celebration station Lia set up, full of sparklers, pinwheels, and wind socks, all begging to be twirled around?
Source: Lia Griffith [23]
Sparkle and Shine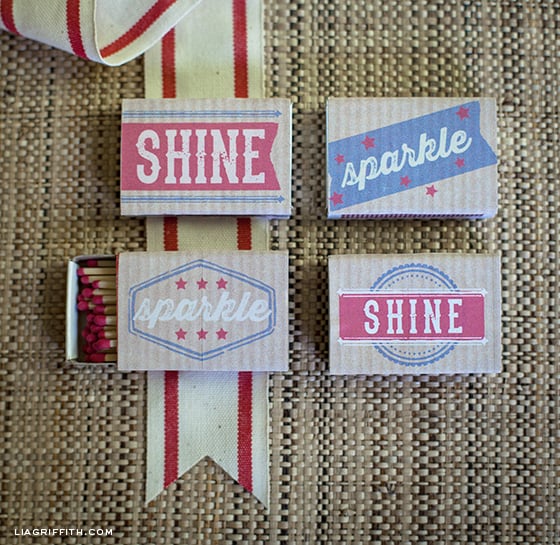 Printable labels [24] added some style to matchboxes, ready to light sparklers. "Just print the sheet of labels onto a full-page label, trim, and add this fun vintage look to both sides of your little boxes," Lia says. "One trick I use when trimming from a full sheet is to peel the back off and replace it before I cut the label shapes. This makes it easier to remove once cut."
Source: Lia Griffith [25]
Wind Socks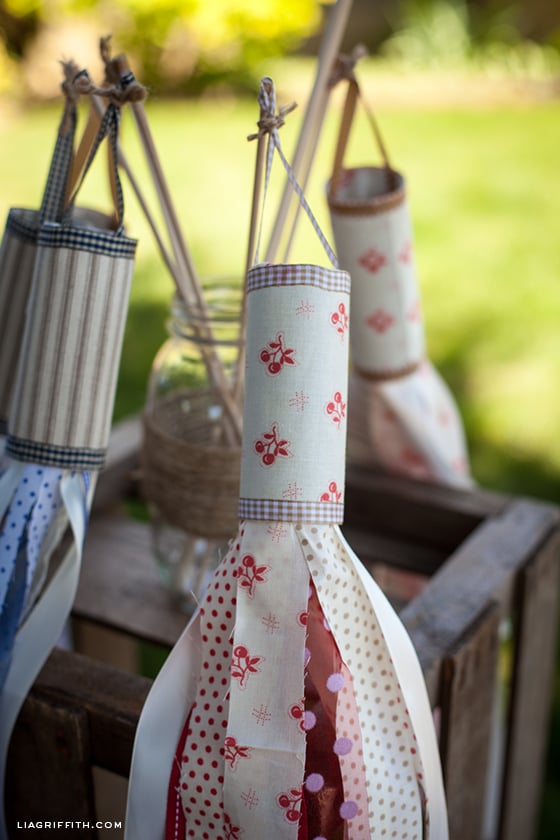 "One of the fun craft ideas Lisa created for us are these adorable wind socks," Lia says. "They can be made with recycled toilet paper rolls and leftover ribbon, fabric, and lace, or you can find coordinating Fourth of July colors at your fabric store. Any way you make them, they are sure to bring a smile." Get the tutorial here [26].
Source: Lia Griffith [27]
Pinwheels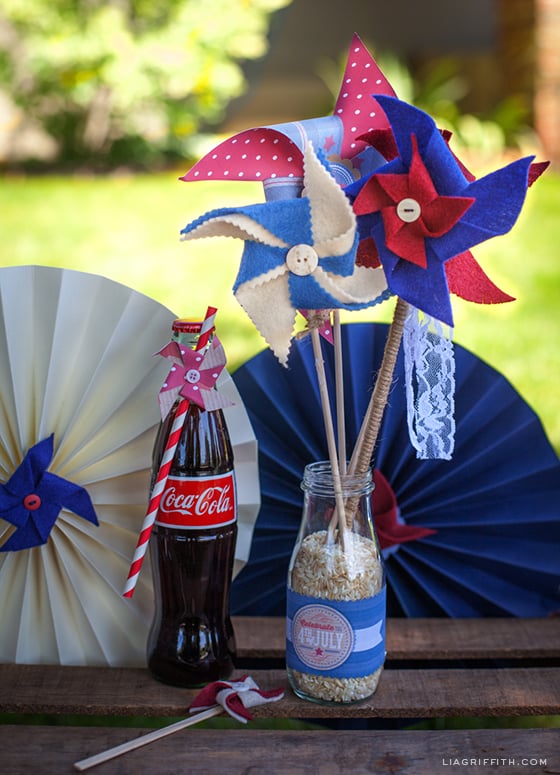 "Remember making these in grade school?" Lia says. "To add a little style to the pencils, I wrapped them in a coordinating washi tape. So cute!" Lia made two types of pinwheels for the party, paper and felt. Get the printable paper pinwheel and tutorial here [28]. Get the felt pinwheel tutorial here [29].
Source: Lia Griffith [30]
Picnic Time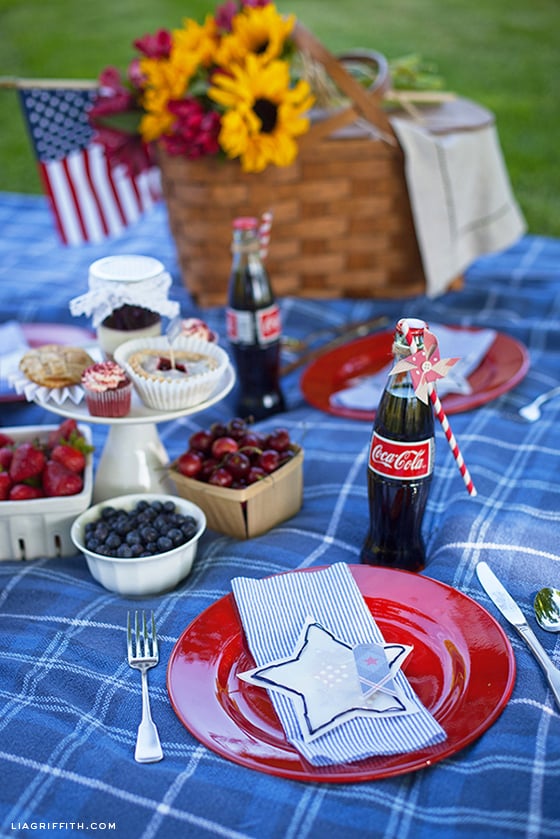 Lia's perfect picnic setup for the Fourth of July!
Source: Lia Griffith [31]