There's no mistaking all that pink: these spaces are all about the girls. From boho-chic to vintage-glam, bold and beautiful to sweet and serene, the following 35 little ladies' rooms and nurseries [1] are beyond inspirational. Created by some seriously stylish mamas and professional designers, these gorgeous rooms are the stuff little girls dream about. Keep clicking to check them all out and choose your favorite!
A Fab, Fabric-Draped Nursery
Interior designer Melodie Rubin of San Francisco-based House of Ruby [2] has a way with fabric, color, and pattern, so it's no surprise that she's created some extraordinary kids' rooms. Using a combination of trade sources (including that amazing aqua-and-red Zimmer-Rohde fabric), wallpaper from Jane Churchill and Nina Campbell, and finds from Anthropologie, Jonathan Adler, and Serena & Lily, Melodie has created a sophisticated room (and whimsical bathroom) that equally appeals to little ones and their style-loving moms. Click here [3] to check it out, and get ready to feel a bit envious.
Source: House of Ruby [4]
Pink and Gold Princess Pad
Little Crown Interiors [5], the California-based design firm created by Naomi Alon and Gerri Panebianco, has created some seriously enchanting nurseries for celebs including Laila Ali, Melanie Brown [6], and J.R. Martinez, so we weren't surprised that their latest design is beyond dazzling in gold and pink. "Gold has been making a serious comeback as the neutral of choice for nursery design," Naomi says. "We were thrilled with the opportunity to incorporate the trend in harmony with the feminine and glamorous Old Hollywood touches this new mom so craved." Full of luxe nursery furniture from Art For Kids [7] and Angel Song [8], silk crib bedding, a unique vanity, and an ornate mirror, this nursery is truly one of a kind. Check it out by clicking here [9].
Source: Little Crown Interiors [10]
A New Vintage Nursery Full of Personality and Charm
Take an ounce of NYC sophistication, a smidgen of Canadian practicality, and an ounce of LA whimsy, and you'll find yourself in the world of Tamara Kaye-Honey. The Pasadena-based interior decorator behind House of Honey [11] and mom of two recently completed work on a nursery for the 2012 Hampton Designer Showhouse [12] that showcases her signature "New Vintage Style."
Forgoing any hint of traditional pink or blue, or the more popular white-on-white, Tamara transformed the space into an ode to the more eclectic side of childhood with the dark jewel-box colors that highlight the Uptown Collection of baby furniture she designed in collaboration with Nurseryworks. Click here [13] to see how she takes dark colors and antique pieces to create a whimsical room for baby.
Source: House of Honey [14]
A Shabby Chic Nursery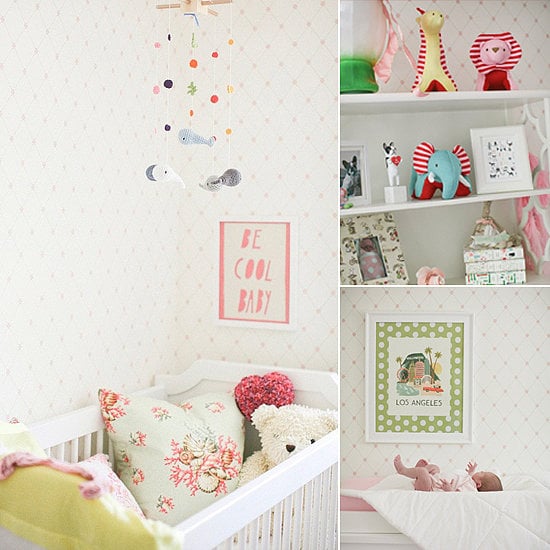 When it comes to nursery decor, creating a comfortable yet chic space can be hard — or so we thought! Blending baby with design, the above nursery does it perfectly, becoming a space we have come to covet. While it's clearly a baby's room with its soft textures and whimsical touches, it has elements that reflects not just baby, but the new parents too. Floral bedding mixed with modern accents creates a room with a story just as unique as the memories soon to be created. Get inspired and get the look for your own home [15] by clicking here.
Baby Ruby's Fanciful, Fun Nursery
Oh joy! We're thrilled to share 5-month-old baby Ruby's fanciful, fun nursery. Ruby's mom is the wonderfully talented Joy Deangdeelert Cho, the founder of the aptly named blog and creative/business consulting service Oh Joy! [16] She designs textiles, packaging, and branding collateral for her clients, so when it came to Ruby's nursery, attention was paid to every last detail. Check out the eye candy and Joy's commentary on how the whole thing came together. Click here [17] to enjoy the tour!
Source: Bonnie Tsang [18]
Gracie's Eclectic, Sweet Nursery
Interior designer and blogger Bailey McCarthy of Peppermint Bliss [19] is a young, hip mama, and her daughter Gracie's room shows off her daring design skills in spectacular fashion. Bailey even found a craftsman to recreate a Paule Marrot [20] tulip fabric (recently featured on Mad Men) that had been discontinued! An electric mix of colors, patterns, and design styles makes this nursery beautifully unique and marvelously whimsical (the gigantic daffodils are just fantastic!). Click here [21] to fall in love with Gracie's nursery.
Source: Peppermint Bliss [22]
Monochromatic Nursery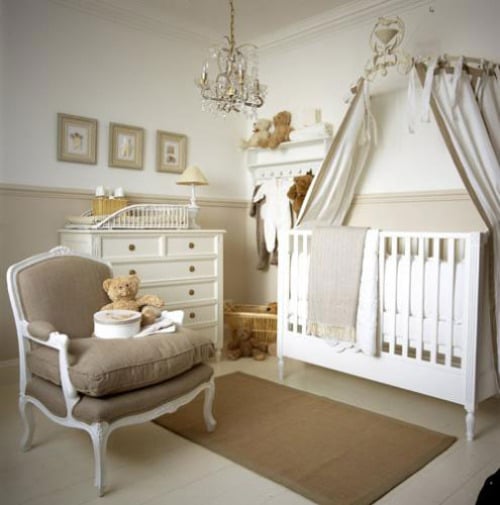 Sandy shades of beige ground the space while white trims and over-the-crib curtains maintain its charm. This nursery is pleasing to the eye thanks to monochromatic furniture and matching knickknacks — a great gender-neutral option.
Source: Chic Shack [23]
Melanie Brown's Chic Antique Nursery
Melanie Brown [24]'s pop star fame isn't her first priority anymore, and the nursery she created for her lil one proves it. Prior to the birth of baby Madison last year, the former Spice Girl (aka Scary Spice) and her husband Stephen Belafonte turned to LA's Little Crown Interiors [25] to design a quiet sanctuary. Antique silver furniture, plum crushed velvet, and ivory damask work together to create a calm oasis in the midst of that storm. Take a detailed look at the room by clicking here [26].
Source: Little Crown Interiors [27]
Four Girls, One Room
We're not the only ones who have redecorated with a little help from Pinterest [28]. When Shannon of Googie Momma [29] was brainstorming how to fit her five children (four girls, one boy) into two bedrooms, a pin from another mom-to-many blogger [30] inspired her to create a bunk room for her girls. The end result is a magical shared space [31] for four little heads to rest. Keep reading [32] to check out all the red, aqua, and striped details.
Source: Googie Momma [33]
The Ultramodern Rooms of Donny Deutsch's Daughters
Donny Deutsch, the renegade advertising exec and frequent morning television show guest, talks a big game on air and apparently at home, too. After five years of renovations, the adman opened the doors of his contemporary Upper East Side town house to Architectural Digest, revealing a light-filled home outfitted with plenty of glass and modern furniture. The shining glory of the home, the fourth floor's "princess floor," is where his two young daughters reign supreme. Check out the rooms [34] to see how you can incorporate some of the pieces into your little one's lair.
Photography by Nikolas Koenig for Architectural Digest [35]
Bethenny Frankel's Plush Pink Room For Bryn
Now that's one very pink room! Fans of Bethenny Frankel watched as the reality TV star worked with decorators and contractors to transform an open loft space into a dream home for her family of three. Moms of lil girls collectively sighed when the room for lil Bryn's, 2, was revealed on the Bethenny Ever After finale. The perfectly pink room is filled with traditional furniture and plenty of frilly accents. Click here [36] to see which furniture pieces and decorative accents Bethenny chose for the room, and her reasoning behind them!
Source: Bethenny.com [37]
Design Guru Camille Styles's Sweet and Soothing Nursery
Camille Styles has gained a tremendous following through her gorgeous lifestyle blog [38], which features well-curated ideas and inspiration on everything from entertaining and food to beauty, style, and home decor.
So it was no wonder that when it came time to design her baby girl's nursery, Camille had a well-defined and very special aesthetic in mind. Through a collaboration with Serena & Lily [39], the nursery came to life in Camille's home, on her blog, and now here! Keep reading [40] to see the beautifully styled, serene nursery.
Source: Camille Styles [41]
A Bold Aqua and Pink Baby Girl's Room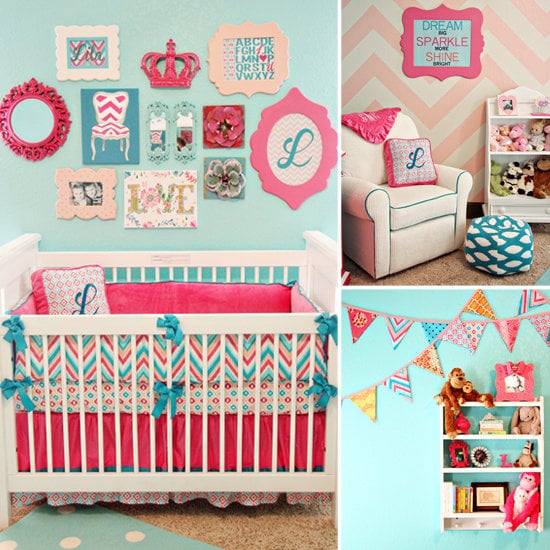 Katy Mimari, the textile-loving designer behind baby bedding company Caden Lane [42], created a bold room full of hot pink and aqua tones for her daughter, Lila. "Lila's nursery is a whimsical mix of color, print, and design. Since this is my third baby, I wanted to be a little wild and decided to make a statement with the dark pink dresser and white glider. Totally impractical? Maybe. Fabulous for design? Absolutely. It's my third . . . no rules apply, right?" Click here [43] to see all the details.
Source: Caden Lane [44]
An Eclectic Nursery For a Boho Baby Girl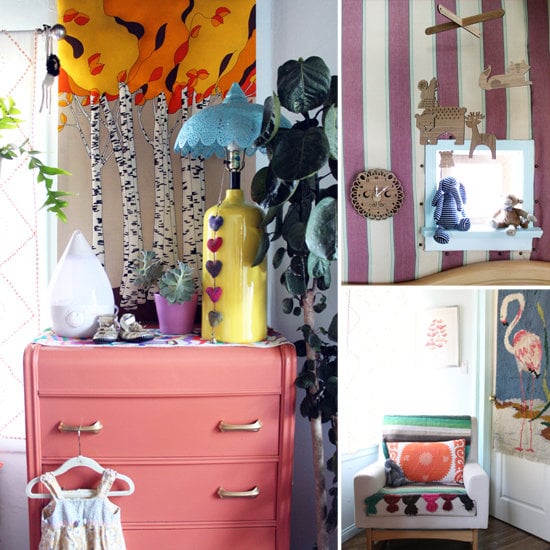 If you have a boho bone in your body, prepare yourself to fall in love with the nursery Justina Blakeney [45], a self-described "designer and maker, mover and shaker" (love that!) and popular blogger, created for her baby girl. Blakeney transformed her walk-in closet [46] into a bohemian, girlie, and truly inspiring space for her lil one. Click here [47] for all the hippie-chic details.
Source: Justina Blakeney [48]
Victoria's Pink With a Pop of Neon Nursery
We've long been fans of the beautiful work of NYC-based Sissy + Marley [49], a one-stop shop for expectant moms that handles everything from baby planning and maternity concierge services to designing exquisite nurseries and stationery.
When founder Chelsea Reale (aka "Sissy") agreed to share one of her firm's very special baby rooms with us, we were just thrilled (and you'll soon see why!). This space was designed for a baby girl named Victoria, who has three older brothers. There was no question that this time around, her mom wanted everything to be pink! Click through to check out Victoria's pretty-in-pink nursery, made modern with fun pops of neon throughout.
Source: Marco Ricca for Sissy + Marley Interiors for little ones [50]
J.R. Martinez's Emotionally Charged Nursery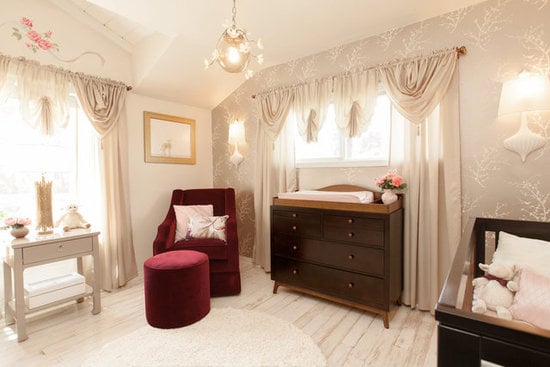 J.R. Martinez's road to victory on Dancing With the Stars was an emotional one. So it's no surprise that when the Iraq War vet and his partner, Diana Gonzalez-Jones, learned they were expecting a lil girl, he envisioned a sentimental nursery that was both comfortable and meaningful. J.R. turned to LA's Little Crown Interiors [51] to design the room of his dreams. Take a closer look at the carefully curated room by clicking here [52].
Source: Little Crown Interiors [53]
A Favorite Baby Girl's Room — All Grown Up!
Earlier this year, we shared the gorgeous pink and yellow Hawaiian-inspired nursery [54] that brand stylist and award-winning graphic designer Erika Brechtel of Small Shop Studio [55] designed for her little girl, Leighton.
Now that Leighton's 4 years old, her nursery's been transformed to an equally special "big girl" room, complete with a vintage wicker headboard for her bed. Click through [56] to see how the room's been transformed, but be prepared — this is far from your typical room makeover story. The "before" pictures are just as gorgeous as the "afters." We refuse to pick a favorite!
Photography by Sarah Lattos; Styling by Irene Lovett
A Soothing Lavender and Cream Nursery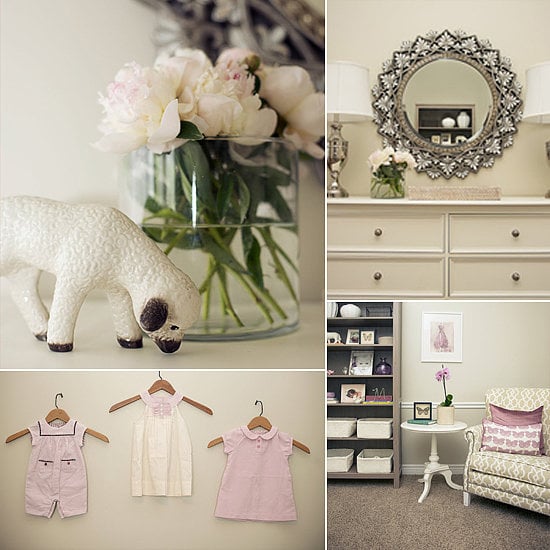 In the category of kids rooms that we'd love to have as our own, this absolutely elegant nursery by Salt Lake City-based Caitlin Creer Interiors [57] ranks at the top of the list. Employing a most soothing and sophisticated color palette of lavender and cream, Caitlin achieved a look for her client that's feminine and sweet, but mature enough for a mom with discerning tastes to appreciate. Click through to see all of the lovely, lavender details!
Source: Sara Bateman For Caitlin Creer Interiors [58]
Elegant Ivory Nursery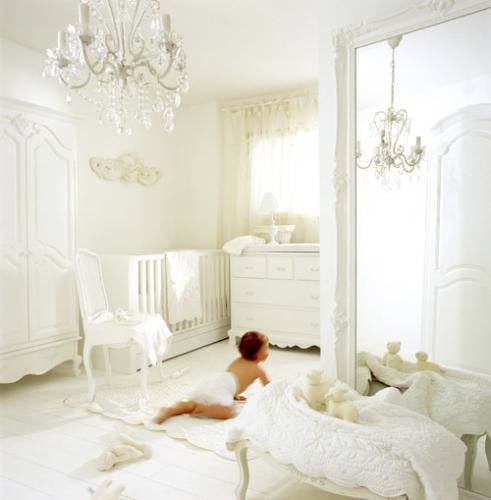 Scalloped hems, curved furniture, and a crystal chandelier give this all-white nursery a glamorous feel. A floor-to-ceiling mirror opens up the space even more while a gorgeous armoire keeps things traditional.
Source: Chic Shack [59]
Leighton's Pink and Yellow Safari Nursery
When it came time to create a nursery for her little girl, Leighton, brand stylist and award-winning graphic designer Erika Brechtel of Small Shop Studio [60] channeled her Hawaiian roots. "I found some inspiration from our trip to the Honolulu Zoo — where she [Leighton] first saw flamingos, elephants, and zebras — and a touch from the tropical regency style of the very pink Royal Hawaiian Hotel [61]," Erika says. Her goal was to create a room that not only was beautiful, but that also captured Leighton's exuberant personality. Click through [62] and check out what we think was a resounding success!
Source: Small Shop Studio [63]
Baby Zoe's Minty, Modern Nursery
346 Living [64] features style-conscious DIY [65] projects and a youthful, easy approach to interior design. So when Lizzie, the brains behind the blog, shared the news of her pregnancy, her readers knew that a fabulous nursery was just around the corner.
Baby Zoe's room is crisp, cool, and features a decidedly un-baby color palette of mint and white with pops of gold, black, and pink. "Try and use pieces you already have in your home, or pick furniture that could easily go into another space," Lizzie said. "This way you have amazing pieces that will be very versatile. Shop around at various home-decor stores, and skip the baby stores when it comes to decorating."
Click through [66] for a peek inside this chic chambre fit for a sweet baby girl, plus more advice on how to get the look from her mama!
Source: Michele Beckwith Photography [67]
Laila Ali's Whimsical Nursery
Laila Ali has styled her daughter a beautiful respite from the chaos of daily life. The former boxer and Dancing With the Stars participant gave birth to her first daughter, Sydney J. Conway, last Summer, but before Sydney arrived, Laila turned to the experts at LA's Little Crown Interiors [68], Naomi Alon and Gerri Panebianco, to create the perfect room for her tot. The result? A "whimsical, traditional" room filled with feminine pieces to make lil Sydney feel at home. Take a detailed look at the room by clicking here [69].
Source: Little Crown Interiors [70]
Marlowe's Magical, Eclectic Bedroom and Play Space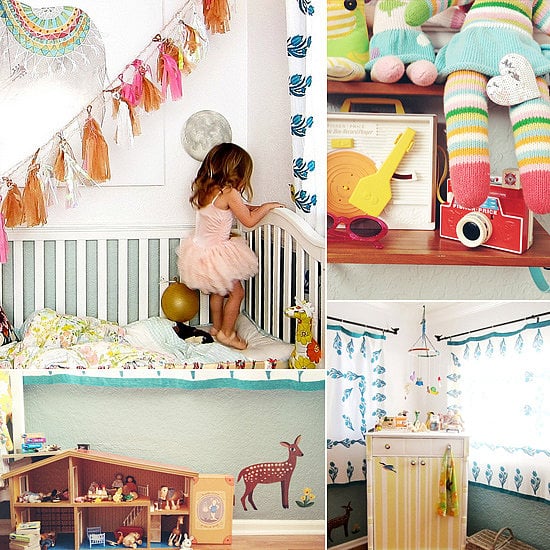 When it came time to update her daughter Marlowe's nursery [71], mom Drea of the blog Oh Dear Drea decided that it was time to lighten things up a bit. While the walls were painted with white and varying shades of blues, the room is also infused with prints, patterns, and little Marlowe's favorite color, pink.
"It's her own little magical dreaming play space," Drea said. "I'm really happy with the outcome, and I think she likes it too!" Click through to see all of the eclectic, imaginative details that make Marlowe's room truly one-of-a-kind.
Piper's Soothing White and Gray Nursery
Pastels aren't the only way to create a calm nursery for a tot. For her daughter Piper's nursery, Lauren Rauter, owner of Nashville's Rock Paper Scissors [72] (and an incredibly stylish new mama), opted for a sophisticated white and gray palette. Animals are a theme throughout, and the overall effect of the neutral color scheme is soft and soothing. Click through [73] to enjoy the journey!
Source: Rock Paper Scissors [74]
Ella Charlotte's Garden Party Nursery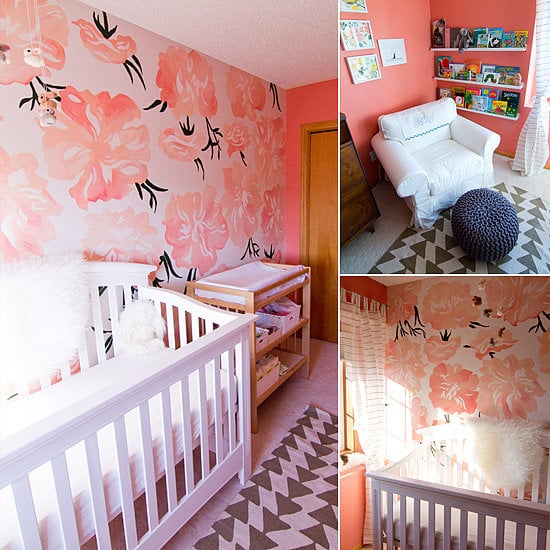 What could be more lovely than bringing the outdoors into a floral, feminine nursery for a new baby girl? "I wanted to create something that felt personal and special in the nursery too, but could live past the infant stage," said mom and graphic designer Hannah Voermans. Inspired by the creation of one of her favorite bloggers, Katie Stratton [75], Hannah hand-painted this amazing wall full of peonies for baby Ella Charlotte, who arrived on Aug. 18. Click through for a tour of Ella's inspiring space, in her mom's own words.
Click through to get Ella's rosy outlook [76]!
Source: Hannah Voermans Creative [77]
Baby Rylee's Delicate Peach and Gray Nursery
It's almost impossible to look through the dreamy images of baby Rylee's Encinitas, CA, nursery and not feel soothed and relaxed. "My idea for the room was to create a calming, dreamy space . . . infused with vintage finds, sweet little animals, and handmade details," says mom Kelli Murray [78], who is an illustrator, painter, and designer. Kelli used a muted shade of peachy pink against soft gray walls to set the tone for the delicate, feminine space. Click here [79] to see more photos!
Source: Kelli Murray [80]
A Grown-Up Girlie-Glam Room
We were wowed by the woodland bedroom [81] Traci Fleming, owner of Nurseryworks [82], created for her son, Mason. So it's no surprise that his big sister's room is equally awesome. Using a mix of vintage and contemporary furnishings and accessories, Piper's sophisticated room has a whimsical feel that's totally kid-appropriate, but it also has a sense of glamour that will work well as she grows up. We have to admit, vintage Murano lights and Asian bedside tables, a Madeline Weinrib ikat rug, and coral tones have us feeling a bit jealous of little Piper's bedroom. Click here [83] for more photos.
Source: Bethany Nauert [84]
Pink and White Nursery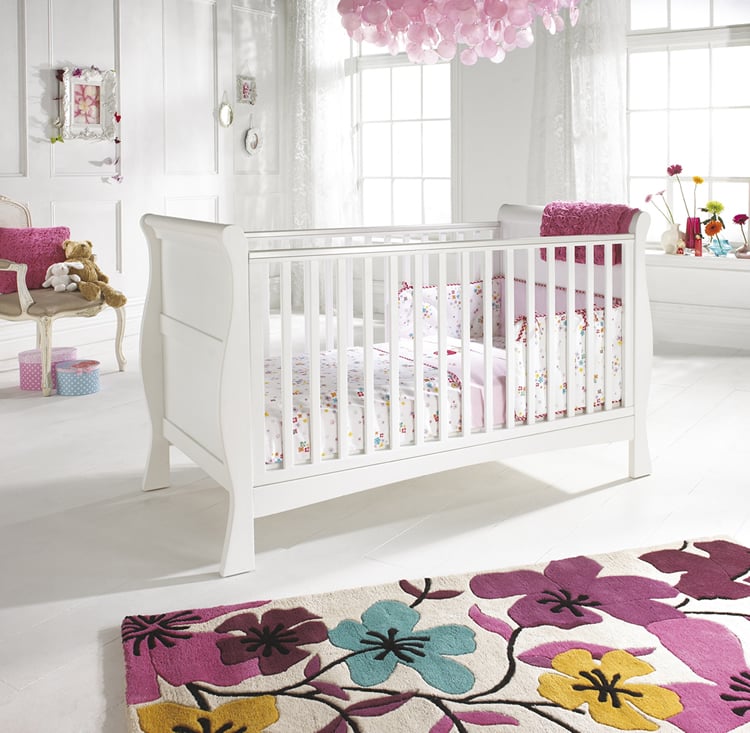 Solid white furniture and painted floors make bright pink accents stand out in this contemporary nursery. Meanwhile, the patterned rug offers a colorful, practical texture piece.
Source: My Mini Monsters [85]
From Craft Room to Baby Kate's Crib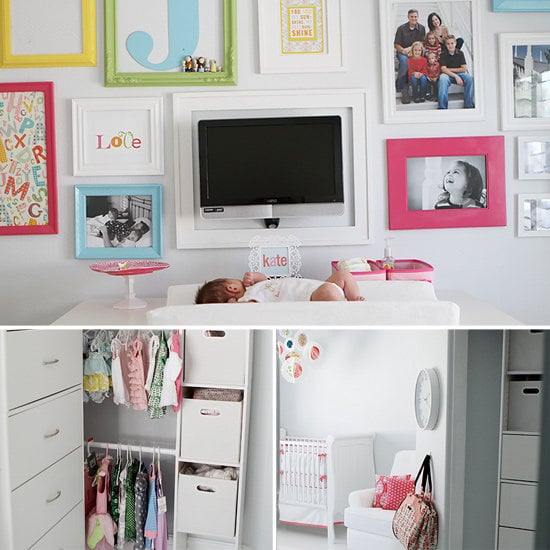 When she needed to create a special space for the family's latest addition, Jen Johnson decided to convert her rarely used crafting room into a bright, modern nursery [86]. The result of her low-maintenance makeover? A one-of-a-kind baby room with plenty of color and personality. Check it out by clicking here [Array]!
Source: Jen Johnson [87]
A Light, White Bedroom and Playroom
This light-filled white playroom is also a bedroom, but it doesn't look cluttered because the clean white backdrop keeps things simple.
Source: Apartment Therapy [88]
Kevin and Danielle Jonas's Sweet Nursery
If you loved the look of the playroom that Danielle and Kevin Jonas created [89] for their baby girl, Alena, join us on a quick photo tour of her beautiful nursery [90]. The family resides in Morris County, NJ, and worked with designer Kate McIntyre to create a soothing and feminine space for Alena to rest and play in. It's a sophisticated space that can easily grow along with their daughter.
Source: Diane Bondareff/Dreft [91]
A Candy-Colored Nursery With the Happiest Ceiling Ever!
NYC-based interior decorator Lisa Hershman's career in the design world began when she started helping out friends with their apartments for fun. But in 2010, she recognized that her flair for creating beautiful spaces was more than just a hobby, and thus, Play Chic Interiors [92] came into existence. As evidenced in this cheery, candy-colored nursery [93], Lisa's style is fresh and fun with a touch of sophistication.
Source: Raquel Bianca Creative [94]
Penelope Disick's Sweet and Sophisticated Nursery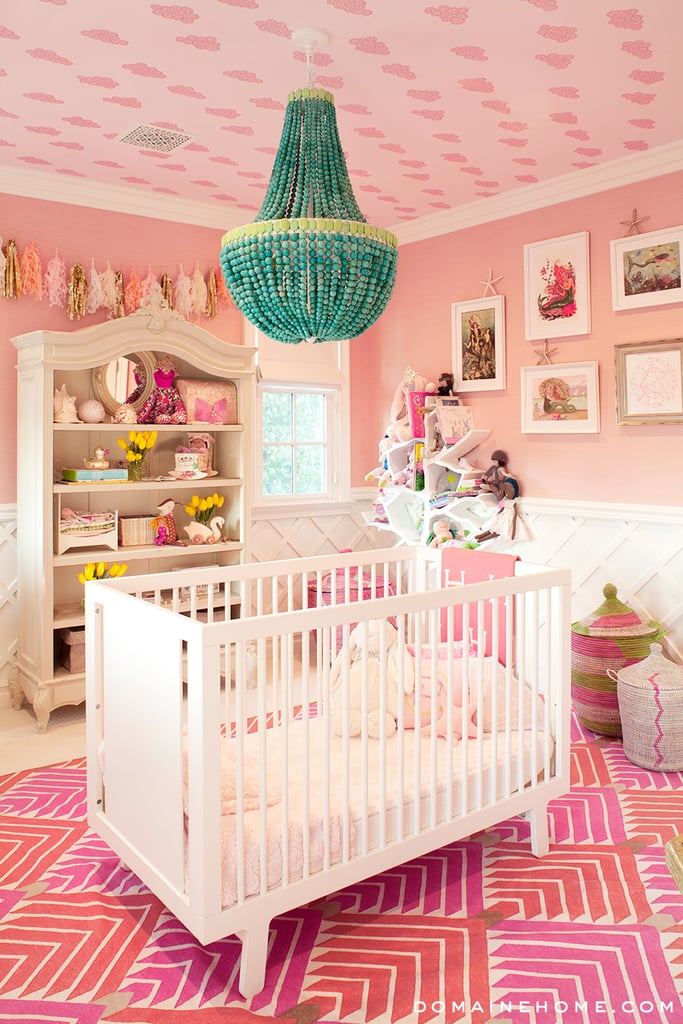 There's no doubt that this pink, pink, and more pink nursery belongs to Kourtney Kardashian and Scott Disick's little girl, Penelope. Kourtney actually designed this room herself, save the pink grass-cloth wall coverings from Ralph Lauren [95] and a rug by Madeline Weinrib [96]. From the modern Oeuf Sparrow Crib [97] and Serena and Lily's Pink Senegalese Storage Baskets [98] to the pink Hermès baby blanket [99] and Nurseryworks's White Tree Bookcase [100], the room is primarily a pink-and-white wonderland — except for the stunning Marjorie Skouras Design Turquoise Empire Chandelier [101]. But our favorite find in the sweet room is Danish toy maker Maileg's Princess and the Pea set [102].
Photo: Grey Crawford [103]
An Out-of-the-Way Focal Point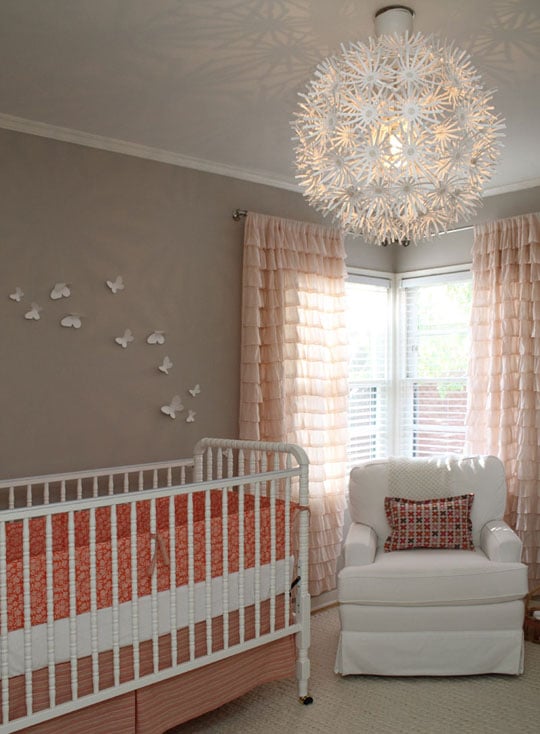 In Ave Rose's minimalist nursery, the focal point hangs from the ceiling. The Ikea Pendant Lamp [104] ($90) is a relative steal, and it serves a purpose while also adding excitement to the room without taking up an inch of floor space.
Source: Apartment Therapy [105]
A Pink Princess Butterfly Room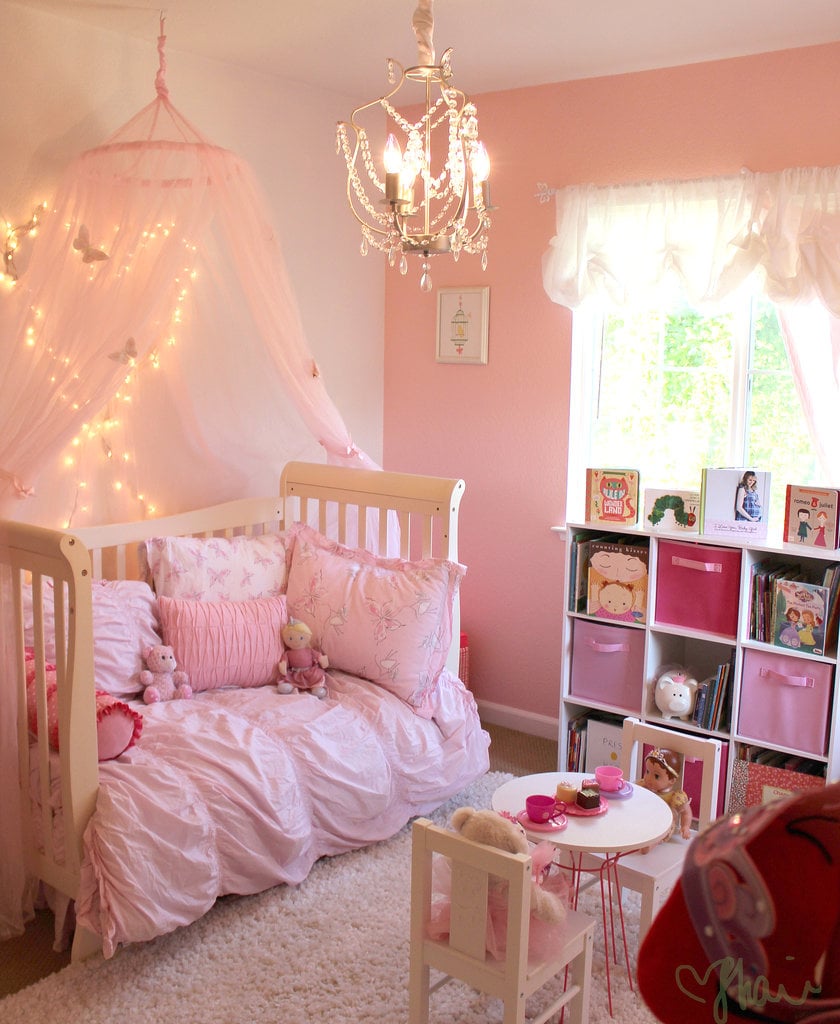 Looking for a fairy-tale room that's practical for your budget and your toddler? Take a look at this pretty-in-pink butterfly princess toddler bedroom [106]. It's fun, functional, and adorable! This room is full of sweet dreams (and tips), from a pint-size chandelier to floating butterflies to beautiful books.
---
Links:
[1] http://www.lilsugar.com/tag/kid rooms
[2] http://houseofruby.com/
[3] http://www.lilsugar.com/Red--Aqua-Nursery-Designer-Details-25134898
[4] http://houseofruby.com
[5] http://www.lilsugar.com/latest/little-crown-interiors
[6] http://www.popsugar.com/Melanie-Brown
[7] http://www.artforkids.net
[8] http://angelsonggliders.com
[9] http://www.lilsugar.com/Pink-Gold-Glam-Nursery-24664362
[10] http://www.littlecrowninteriors.com/
[11] http://houseofhoney.la/
[12] http://www.hamptondesignershowhouse.com/
[13] http://www.lilsugar.com/Nursery-Dark-Jewel-Tone-Walls-24352818
[14] http://houseofhoney.la
[15] http://www.lilsugar.com/Shabby-Chic-Nursery-31162015
[16] http://ohjoy.blogs.com/my_weblog/2012/02/rubys-room.html
[17] http://www.lilsugar.com/Baby-Girl-Nursery-Inspiration-22420478
[18] http://bonnietsang.4ormat.com/
[19] http://www.peppermintbliss.com/
[20] http://www.paulemarrot.com/accueil.php
[21] http://www.lilsugar.com/Whimsical-Girls-Nursery-23715132
[22] http://www.peppermintbliss.com/
[23] http://chicshack.net/proddetail/product/498/
[24] http://www.popsugar.com/Melanie-Brown
[25] http://www.littlecrowninteriors.com/
[26] http://www.lilsugar.com/Mel-Bs-Babys-Nursery-19129668
[27] http://www.littlecrowninteriors.com/
[28] http://pinterest.com/lilsugareditors
[29] http://googiemomma.blogspot.com
[30] http://augustfields.blogspot.com/2011/02/boy-bunk-room.html
[31] http://www.lilsugar.com/Shared-Rooms-Kids-21998955
[32] http://www.lilsugar.com/Kids-Bunk-Room-23131426
[33] http://googiemomma.blogspot.com
[34] http://www.lilsugar.com/Donny-Deutschs-Childrens-Playroom-19128474
[35] http://www.architecturaldigest.com
[36] http://www.lilsugar.com/Bethenny-Frankel-Shares-Bryn-Hoppys-Pink-Bedroom-24267812
[37] http://www.bethenny.com/post/bethenny-frankel-bryns-very-pink-room
[38] http://camillestyles.com/
[39] https://api.shopstyle.com/action/apiVisitRetailer?url=http%3A%2F%2Fwww.serenaandlily.com%2FBaby%2FMeet-Camille-Styles&pid=uid921-3589-70
[40] http://www.lilsugar.com/Camille-Styless-Nursery-26102334
[41] http://camillestyles.com
[42] http://www.cadenlane.com
[43] http://www.lilsugar.com/Hot-Pink-Aqua-Nursery-From-Caden-Lane-23544028
[44] http://www.cadenlane.com
[45] http://blog.justinablakeney.com
[46] http://www.lilsugar.com/Nurseries-Closets-22722476
[47] http://www.lilsugar.com/Bohemian-Nursery-From-Justina-Blakeney-23465572
[48] http://blog.justinablakeney.com
[49] http://sissyandmarley.com/
[50] http://sissyandmarley.com/
[51] http://www.littlecrowninteriors.com/
[52] http://www.lilsugar.com/JR-Martinezs-Baby-Nursery-Lauryn-Anabelle-Martinez-24049524
[53] http://www.littlecrowninteriors.com/
[54] http://www.lilsugar.com/Pink--Yellow-Girls-Nursery-26959102
[55] http://smallshopstudio.com/
[56] http://www.lilsugar.com/Big-Girl-Room-Small-Shop-29539228
[57] http://www.caitlincreer.com/2011/07/lavender-nursery.html
[58] http://www.caitlincreer.com/2011/07/lavender-nursery.html
[59] http://chicshack.net/proddetail/product/487/
[60] http://smallshopstudio.com/
[61] http://smallshopstudio.com/2011/02/16/fine-dining-design-and-a-sweet-view-for-dessert/
[62] http://www.lilsugar.com/Pink--Yellow-Girls-Nursery-26959102
[63] http://smallshopstudio.com
[64] http://346living.com
[65] http://www.popsugar.com/DIY
[66] http://www.lilsugar.com/Mint-Green-Baby-Nursery-25915477
[67] http://michelebeckwith.com/
[68] http://www.littlecrowninteriors.com/
[69] http://www.lilsugar.com/Laila-Alis-Babys-Nursery-Sydney-17795184
[70] http://www.littlecrowninteriors.com/
[71] http://www.lilsugar.com/Eclectic-Little-Girl-Nursery-30645966
[72] http://www.rockpaperscissor.com/blog/archives/5511
[73] http://www.lilsugar.com/Soothing-White-Gray-Nursery-22828174
[74] http://www.rockpaperscissor.com/blog/archives/5511
[75] http://www.katiespencilbox.com/2012/04/peony-paint.html
[76] http://moms.popsugar.com/Baby-Girl-Floral-Nursery-31405674
[77] http://hannahvoermans.com/blog
[78] http://www.kellimurray.com
[79] http://www.lilsugar.com/Peach-Gray-Baby-Girl-Nursery-23732951
[80] http://www.kellimurray.com
[81] http://www.lilsugar.com/Woodland-Little-Boys-Room-23364544
[82] http://www.nurseryworks.net/
[83] http://www.lilsugar.com/Pink-Vintage-Glam-Little-Girls-Room-23649665
[84] http://bethanynauert.com
[85] http://www.myminimonsters.co.uk/nursery-furniture/cots-cot-beds/izziwotnot-bailey-white-cot-bed/izziwotnot-bailey-sleigh-cot-bed
[86] http://jenjohnson.typepad.com/family/2011/06/kates-room.html/
[87] http://jenjohnson.typepad.com
[88] http://www.apartmenttherapy.com/a-bedroom-playroom-all-in-one-164392
[89] http://moms.popsugar.com/Danielle-Kevin-Jonas-Playroom-34455173
[90] http://moms.popsugar.com/node/34822508
[91] http://www.dreft.com
[92] http://www.playchicinteriors.com/
[93] http://moms.popsugar.com/node/34150109
[94] http://www.raquelbianca.com/
[95] http://www.shopstyle.com/browse/Ralph-Lauren?utm_source=sugar-brand&utm_medium=referral&utm_campaign=33537568
[96] http://www.shopstyle.com/browse/Madeline-Weinrib?utm_source=sugar-brand&utm_medium=referral&utm_campaign=33537568
[97] http://www.amazon.com/Oeuf-5SPCR01-Sparrow-Crib-White/dp/B0011WX86E/ref=as_li_wdgt_ex?linkCode=wsw&tag=wwwshopstylec-20
[98] https://api.shopstyle.com/action/apiVisitRetailer?url=http%3A%2F%2Fwww.serenaandlily.com%2FDecor%2FDecor-Storage-Pink-Senegalese-Baskets&pid=uid9636-89194-93
[99] http://usa.hermes.com/house/baby-gifts/for-walking/couverture-avalon-h-pour-bebe-2373.html
[100] http://www.laylagrayce.com/Products/Nursery-Works-Tree-White-Bookcase__NW8126W.aspx?gclid=CLTi3K7wi7wCFW3xOgodKX4AGw
[101] http://marjorieskourasdesign.com/turquoise-empire-chandelier-2/
[102] http://www.mysweetmuffin.com/item/Maileg-Princess-and-a-Pea-Set-/1210?gclid=CIvC74nxi7wCFSvxOgodoSAAKw
[103] http://www.greycrawford.com/
[104] http://www.ikea.com/us/en/catalog/products/90147465/
[105] http://www.apartmenttherapy.com/aves-neutral-coral-nurserynurs-147858/
[106] http://moms.popsugar.com/Pink-Princess-Butterfly-Room-Girls-32215504

---