Even the littlest ghouls will love playing these Halloween [1] apps that are age-appropriate without being too spooky. These fun games sneak in the learning long after the excitement of All Hallows' Eve has gone. From coloring apps that allow your child to use her finger to create a Halloween scene to fun games that encourage your tyke to use shapes to form a silly jack-o'-lantern, we've found the best budget-friendly — or free! — Halloween games to get your kids ready for the big day! Click through to find the perfect one to play today.
It's the Great Pumpkin, Charlie Brown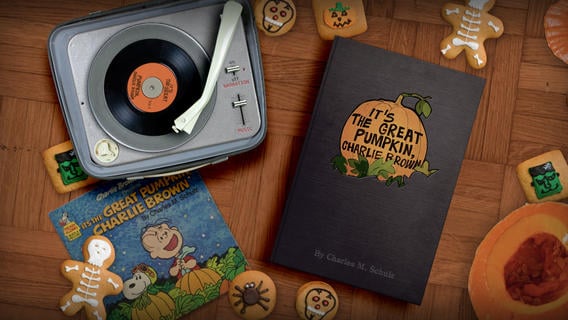 Hang out with Charlie Brown and the entire Peanuts gang in It's the Great Pumpkin, Charlie Brown [2] ($6). While Linus and Sally wait for the Great Pumpkin, you can create your own Peanuts character and join Charlie Brown at his first-ever Halloween [3] party! Choose from millions of hilarious costume combinations and dress up to trick-or-treat with Lucy, Pigpen, and the rest of the gang. Carve your own pumpkin, play a little ditty on Schroeder's piano, and bob for apples with Snoopy — just watch out for dog germs! Digitally remastered illustrations are brought to life with the voices, dialog, and music from the original 1966 animated TV special.
Peekaboo Trick or Treat with Ed Emberley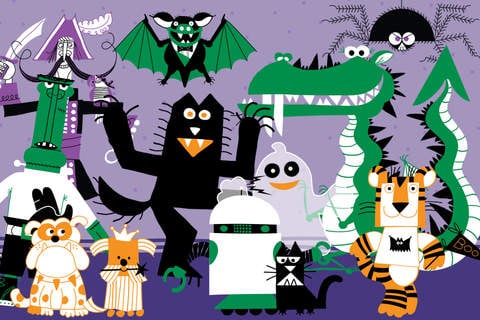 Trick or treat in a funhouse with Peekaboo Trick or Treat with Ed Emberley [4] ($2)! Kids will find 14 costumed creatures, including a puppy dressed up as a princess, a dancing ghost, and a friendly fire-breathing dragon, waiting to pop out. The app features the artwork of the Caldecott Award-winning author, Ed Emberley, whose interpretation of Halloween [5] characters like a bat and werewolf is more silly than scary.
First Words Halloween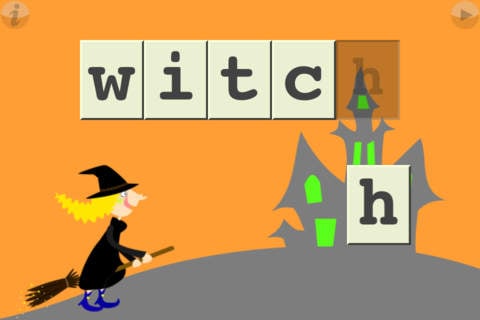 From pumpkin to ghost and so many more, your child will love learning to spell all their favorite spooky words with First Words Halloween [6] ($2). More than 50 playfully illustrated words, each matched with not-too spooky sound effects, engage your child, encourage exploration, and help them understand the relationships between letters and words.
The Little Witch at School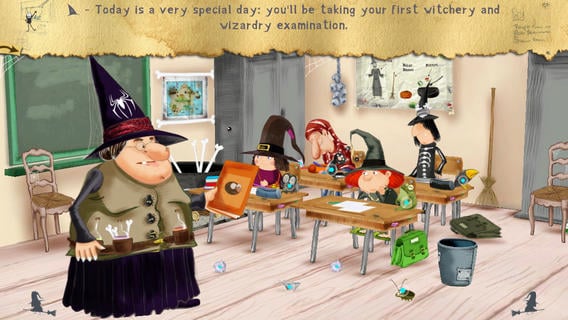 Beautifully illustrated app The Little Witch at School [7] ($4) is a blend of stories, games, and cartoons. The prequel to "The Witch with No Name," the app shows the dear witch when she was just a schoolgirl and reveals how she lost her name. Kids can also fill in a magic coloring canvas using his or her knowledge of numbers, find the right letters for the magic words, and go through an ogre's stomach following a logical sequence.
Mask Jumble Halloween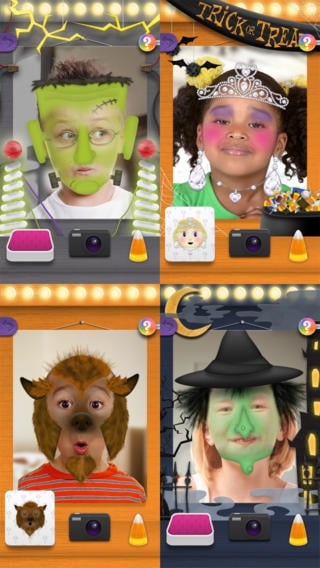 Mask Jumble Halloween [8] ($1) lets your kid make masks on top of their own face, but that's just the beginning! Kids can also play a matching game, win new masks by catching virtual candy corns in their mouths, and take the fun offline by printing out mask templates and coloring pages.
Millie's Book of Tricks and Treats, Volume 2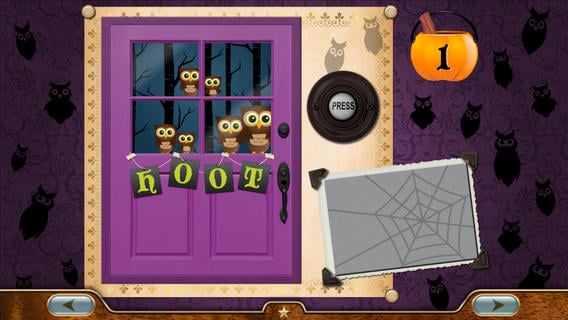 Howl-o-ween has gone to the dogs in Millie's Book of Tricks and Treats, Volume 2 [9] (free). Knock on the doors in frightfully funny dog Millie's neighborhood, and see whether she gets a delicious doggy treat or if she performs a delightful doggy trick. This sequel to "Millie's Book of Tricks and Treats" is filled with new artwork, videos, photos, and stickers.
Stella and Sam Halloween Band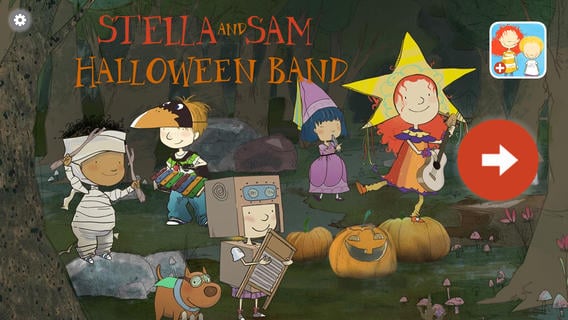 Join Stella and Sam and the rest of the gang in their Halloween [10] band! The app [11] ($1) is built around original music and allows preschoolers to explore the world of sound by choosing from up to six different instruments and playing alongside the band members onstage. Manipulate sound by moving the costumed-characters side to side or up and down to adjust their pitch or volume, and interact with spooky animations to swap band members and trigger funny animations.
Mystery Machine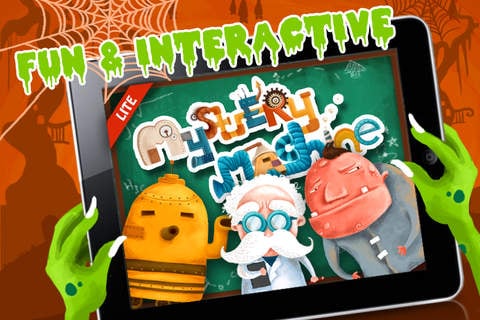 Your kids will love putting Halloween-themed objects through the Mystery Machine [12] ($1), cranking it to get it started, and seeing what pops out at the other end. Kids can nix different objects to see what comes out, and try to figure out the recipes so they can repeat their favorite outcomes.
Spooky Playtime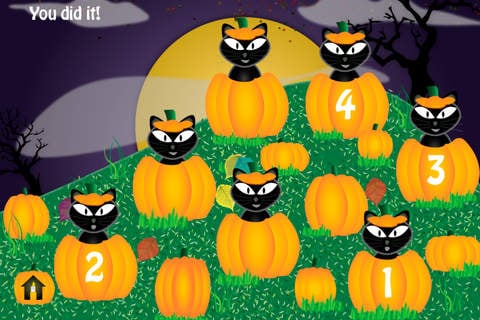 Spooky Playtime [13] ($3) lets preschoolers celebrate the fun and excitement of the Halloween [14] season through seven spooky (but not scary), fun-filled activities designed to offer them practice with fine motor skills, counting, letters, puzzles, color and shape recognition, matching, and memory.
Mickey's Spooky Night Puzzle Book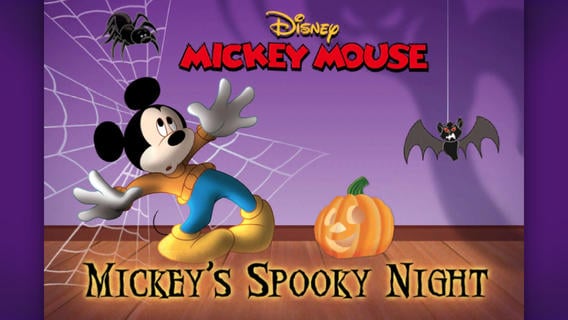 Mickey is having a Halloween [15] party, and all of his friends are invited in Mickey's Spooky Night Puzzle Book [16] ($1). But when Minnie, Donald, Daisy and Goofy get to Mickey's house, they are spooked by strange noises and a creepy ghost! Read along as your favorite Disney friends get to the bottom of this haunted house mystery, and be on the lookout for ghostly surprises! Real character voices and thrilling sound effects add to the fun.
Hazy Dell HD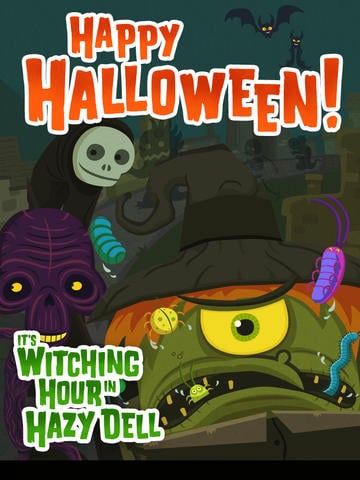 Hazy Dell HD [17] ($2) is a Halloween [18] story app including professional audio narration, fun sound effects, and mood-setting background audio. Find out what happens when the Cyclops Witch, the Willowy Reaper, the Prune-skinned Goon, and other creepy creatures wander out from the wooded outskirts of town and into the sleepy confines of Hazy Dell. The story is sure to make your little ones grin like a jack-'o-lanterns!
3-in-1 Halloween Educational Games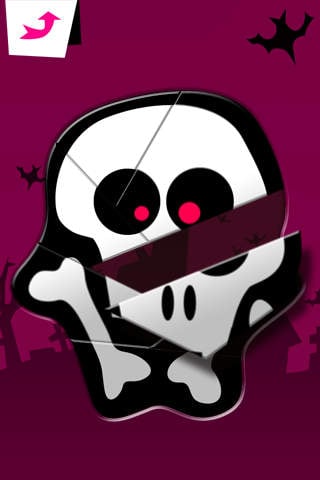 3-in-1 Halloween Educational Games [19] ($2) includes a memory game with three levels of difficulty, 10 puzzle games, and a matching three game, all on Halloween [20] theme.
ClickySticky Halloween Sticker Book
If your tot loves stickers, than here's a Halloween sticker app [21] ($1) that will keep her busy for hours. With different silly, spooky scenes, your tot can decorate by tapping and moving the stickers, which also encourages hand-eye coordination [22].
Giggle Ghosts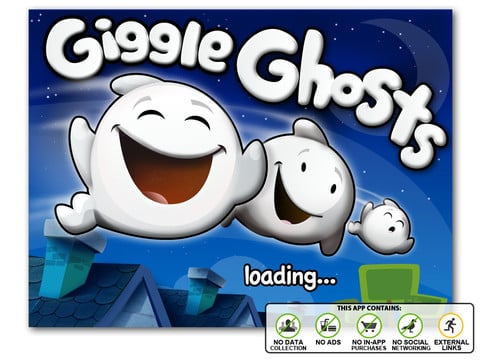 Perfect for tots learning counting and numbers, this silly giggling ghost app [23] ($1) encourages your little one to try to get all 20 ghosts where they belong on Halloween [24]. The apps' four levels teach basic math, have fun noises, make engaging music, and include vivid artwork.
Spooky Groove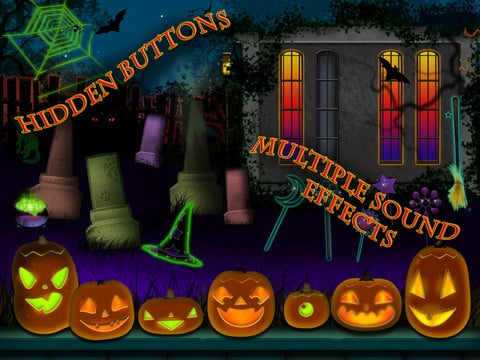 Created by a mom, this spooky music app [25] ($1) encourages tots to tap along with the beat and amplify sounds by touching different instruments. And your little ghoul can compose her own special Halloween [26] groove!
Scary Pumpkin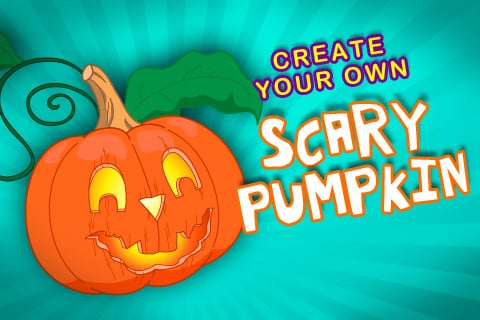 Your tot can select a background, choose different faces for her pumpkin, and create silly arrangements while playing with this pumpkin app [27] ($1). Finished creations are saved and can be printed later in color or black and white.
Funny Halloween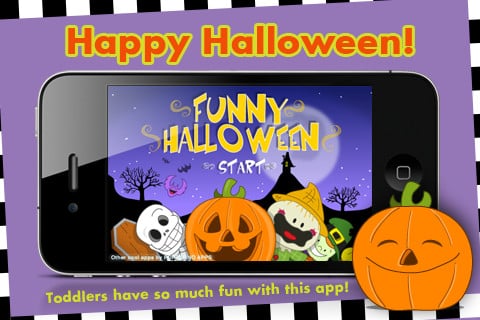 Perfect for the very little kids, this Funny Halloween app [28] ($1) has different screens filled with silly spooks that make funny noises when they are touched. Your babe will enjoy touching and seeing what happens.
The Legend of Spookley the Square Pumpkin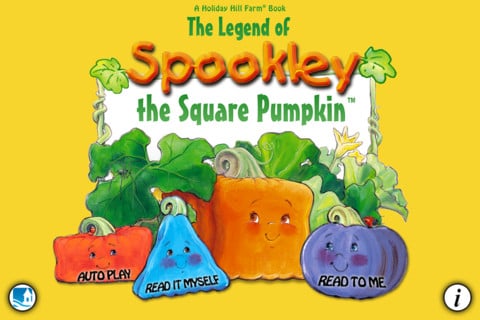 Here's a fun interactive Halloween [29] story that has something exciting on every page. Your little goblin will follow along with The Legend of Spookley the Square Pumpkin [30] ($1) and learn new vocabulary, find hidden sounds, and enjoy listening to the narrated story.
Carve-a-Pumpkin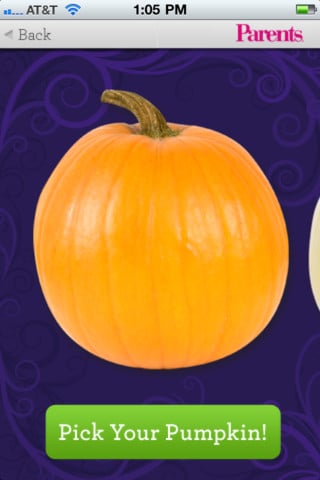 Here's a safe and easy (no knives involved!) way to carve a pumpkin with your tot. The Carve-a-Pumpkin app [31] from Parents magazine is also free, making it a great addition to your collection. Kids choose from a variety of pumpkin styles and then pick the perfect eyes, nose, and mouth to create a unique pumpkin.
Coloroodle: Halloween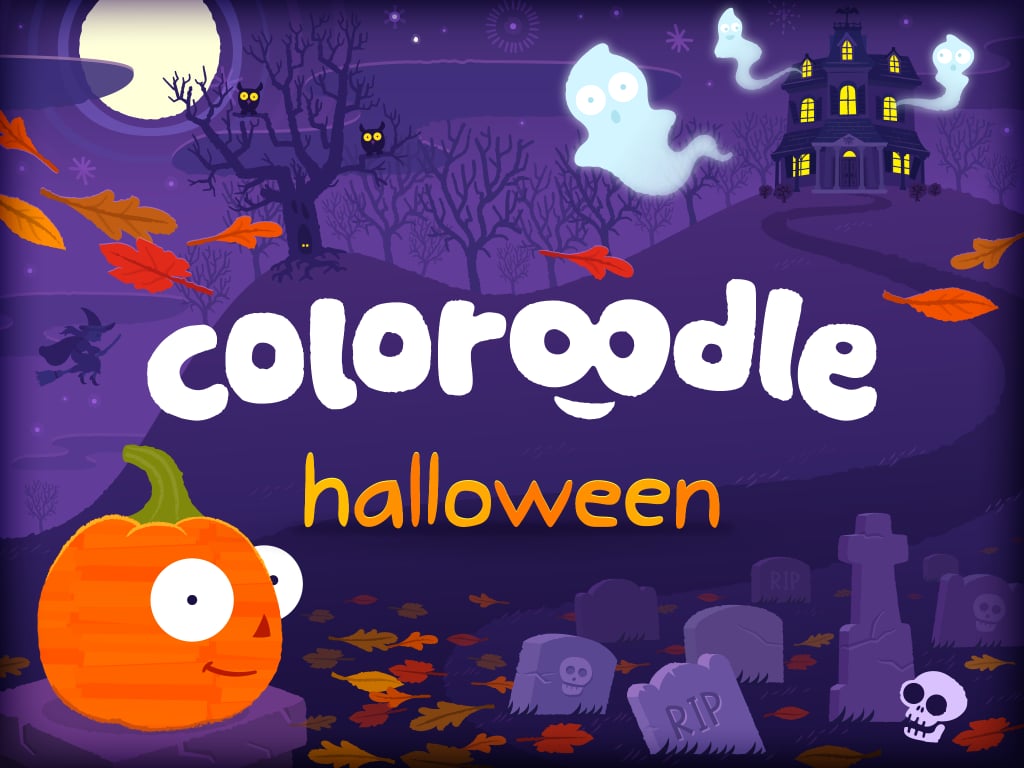 This coloring Halloween app [32] ($1) will keep your little ghoul busy creating fun, spooky scenes using her fingers as crayons. The finished spook-tacular drawings can be saved to your camera roll or posted on Facebook.