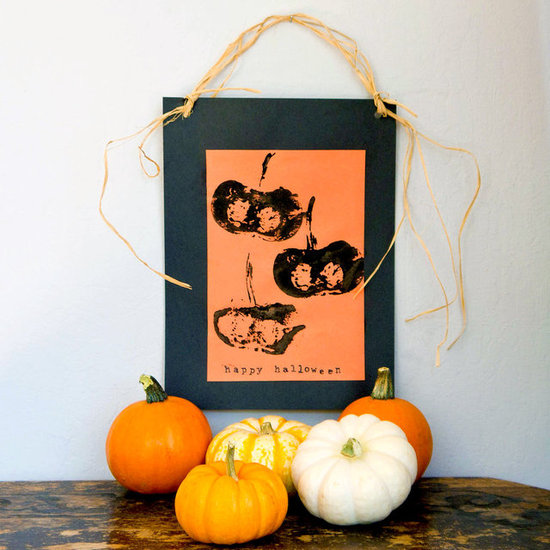 Create a really special
Halloween
decoration with the help of mini pumpkins and some black paint. This craft is seriously simple, making it perfect for kids of all ages. Along with creating something really festive for the season, your lil one will learn more about pumpkins by taking a closer look at their insides. This craft requires a bit of help from adults, making it a fun way to spend an afternoon getting crafty with your lil one.
Keep reading for the simple directions.
What You'll Need:
Mini pumpkin
Sharp knife
8 by 10 sheet of orange construction paper
Paper towel
Black tempera paint
Paintbrush
Scissors
8 by 10 sheet of black construction paper or mat board
Glue
Hole punch
Raffia
Letter stamps and black stamp pad (optional)
Directions:
Select a mini pumpkin for the project and help your tot get started by cutting the pumpkin in half from top to bottom, trying to create a straight, even cut.
Take a closer look at one half of the pumpkin, checking out the seeds and the flesh of the pumpkin. Discuss how the pumpkin seeds are what are used for planting more pumpkins and that they can also be roasted to make a tasty treat!
Fold a sheet of paper towel in half and squeeze a teaspoon of black paint in the center. Get out a sheet of orange construction paper and place next to the paint.
Invite your lil one to press the pumpkin half into the black paint, cut side down, and move it around until it is coated with paint. Your tot can also use a big paintbrush to coat the half to ensure it's completely coated.
Press the mini pumpkin half onto the orange paper and then lift to reveal the cool print. To create really detailed prints, press the pumpkin on the paper and then carefully flip, so the orange paper is facing up, and then gently rub and press with the palm of your hand.
Continue coating the pumpkin with paint and printing until your tot has a few good prints.
To create the stem for the pumpkins, carefully cut the stem away from the pumpkin and then offer to your lil one. She can use the paintbrush to coat with black paint and then press and roll the stem to create tops for her pumpkin prints.
Once the prints have dried, use scissors to cut one of the best pumpkin prints from the paper or trim to feature a few. If you've got a tot who's good with scissors, she can help with this step.
Glue the trimmed print to a sheet of black construction paper or mat board and allow to dry.
To add some extra Halloween festivity, use letter stamps to write "Happy Halloween" or something spooky around the pumpkins.
Pop a hole in the top two corners of the black construction paper and then string with the raffia. Find the perfect place to display to share the Halloween spirit!