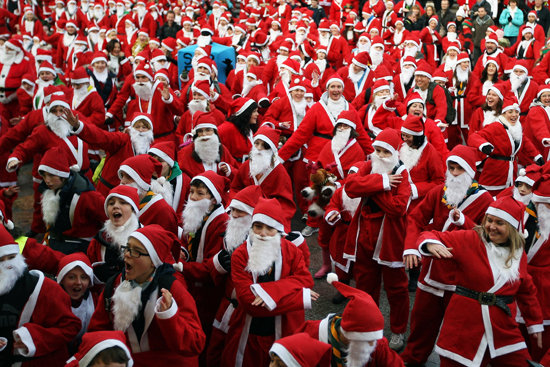 There's no Christmas like one when a child believes in Santa! Years ago, St. Nick showed up at our family gathering and pulled a red trike out for my cousin. The then-preschooler leaped from the floor with an expression so priceless I can still picture it. We all remember
the moment we found out that truth
about Santa Claus. (
I was 7
when a classmate told me she found a red suit in her father's closet.) And then as parents, we have those
close calls
with our own offspring. If you want your tots to be believers, here are some helpful hints for keeping the jolly old fellow's spirit alive. . . at least for a little longer!
Don't play Santa at school or family events. Kids know their parent despite the padded suit, white wig, and stick-on beard.
Shop solo — children notice when you try to sneak items into the cart.
Figure out a really good hiding place to stash your loot. Lil snoops will find gifts in obvious places (and perhaps even open, peek, and rewrap them).
Have Santa gift your kid an item you would never purchase. It throws even the most curious child for a loop.
Wrap gifts from Santa in a special wrapping. If mom uses the same patterned paper for her presents or a roll is laying around the house, it can raise suspicion.
Disguise penmanship on gift tags. If you normally use cursive, print or write with your opposite hand.
Excited kids can be restless. Make sure they are really asleep (hand test, breath test, etc.) before you cart out the Christmas loot. And have a backup plan if your wee one wakes!
Consume the child's offerings for Santa. Nibble the cookie and sip the milk. Putting the full glass back in the fridge or returning baked treats to the cupboard can be a big mistake.
Even if the house is heavy with mistletoe, don't let your lil one catch mommy kissing Santa Claus!
There's nothing like a report of reindeer prints on the roof or a little soot left in the chimney to confirm that Santa was indeed on the premises.
And, if your child still figures it all out, ask them to be your elf and assist in keeping the magic alive for younger siblings.