We've shown you some genius ways to repurpose your crib [1], but this week we're moving on to the changing table. These days, not everyone invests in this piece of nursery furniture, which comes with a very short lifespan (if you're lucky). But for those who do, there's no reason to throw it out with the last of the diapers. Keep reading for some of the amazing ways — some provide serious kid-entertainment, while others are for adults only — you can give your changing table a second life.
Bar Cart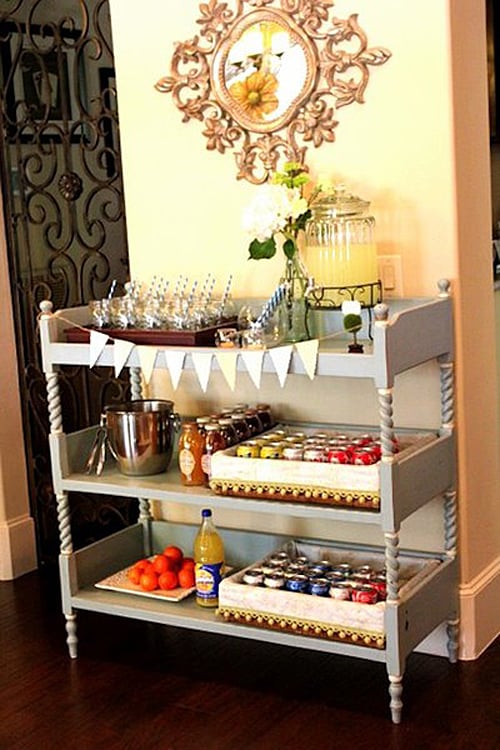 Design Indulgences [2] shared this stylish changing-table-turned-bar-cart.
Beverage Cart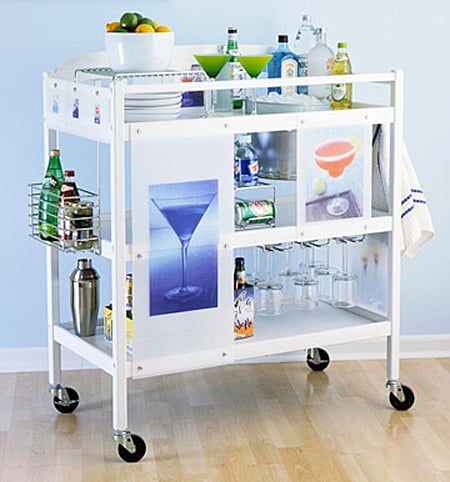 Better Homes and Gardens [3] suggested adding wheels to make the beverage cart, which could house cocktail ingredients or family-friendly fare.
Minidesk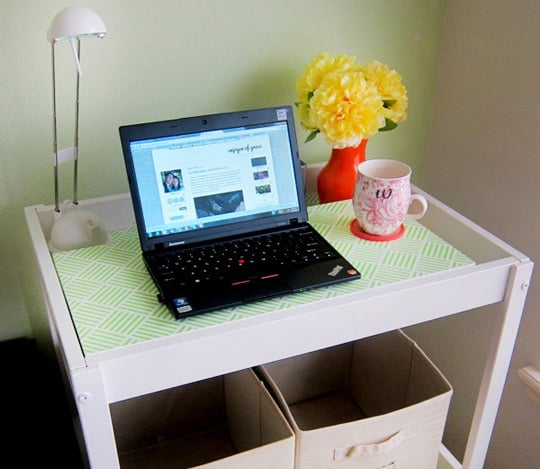 Weiya of Enjoyer of Grace [4] purchased an Ikea changing table and immediately turned it into a minidesk for quick email checks. Get her DIY [5] instructions here [6].
Stokke Desk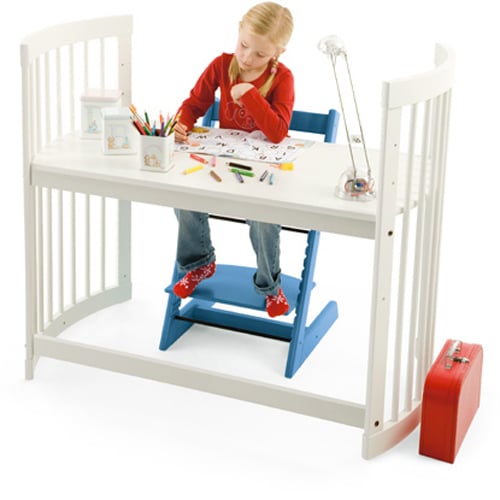 If DIY [7] isn't your thing, the Stokke Care [8] changing table ($500) is designed to be turned into a large or small desk with a conversion kit [9] ($210).
Ice Cream Parlor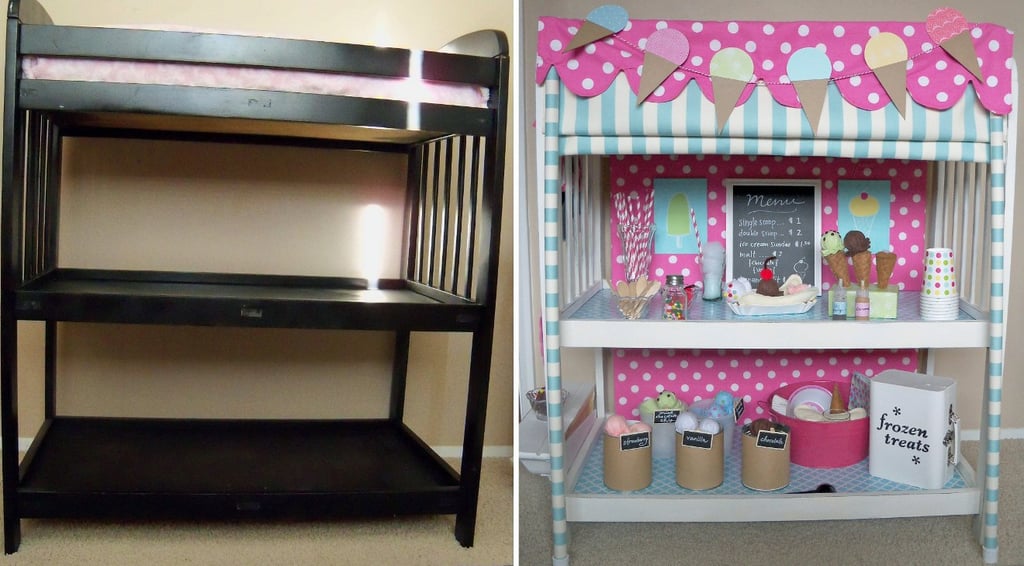 The sisters behind My Sister's Suitcase [10] turned a yard sale changing table into a kids' ice cream parlor. See the before and after (left) and get the DIY [11] instructions here [12].
Play Kitchen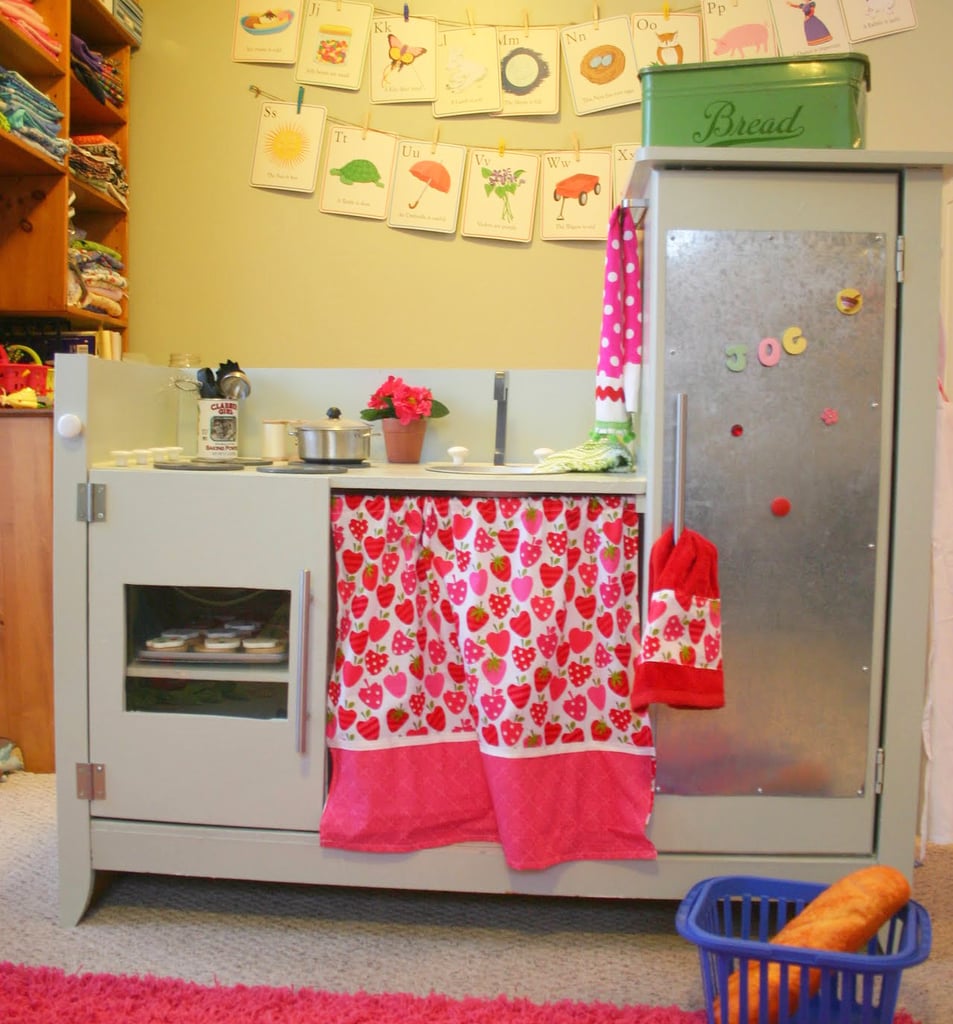 Hannah of Bonne Nouvelle [13] created this play kitchen for her daughter from an old changing table. So cute! Get the very labor-intensive instructions here [14].
Laundry Center
With shelves and drawers aplenty, your baby's changer is the perfect spot to rest an ironing board.
Planting Station
Stationed near a hose and spigot, the changer can easily be used as a potting station for plants.
Dress Up Closet
Add a curtain rod and the changer can easily transform into a closet for dress-up clothes
Play Workbench
Attach a pegboard and throw on a few toys to create a workbench for your kids.
Beverage Cart
How fabulous is this beverage cart with the shag rug and mirrored top?
Guest Bathroom Station
All of those shelves make for the perfect place to store your towels and supplies for houseguests.
Storage Station
Once you remove the baby necessities, the table makes for a very pretty (and practical) storage station.
Kitchen Island
Add on some wheels and remove the drawers to turn your changing table into a moveable kitchen island.