Editor's note: The following is a guest post written by Darcy Miller, celebrations expert and editorial director of Martha Stewart [1] Weddings. Having just thrown her daughter's third birthday, Darcy shares the original — and sweet! — way she planned the entire party around the birthday girl's favorite color.
In our house, birthdays are not only a celebration, but also a fun activity for us to do as a family. We always start with the theme (of course it is a negotiation at times), but we end up with fun celebration that we enjoy organizing together. We have done everything from a Daisy Party [2] for my oldest daughter Daisy's first birthday to Pajama Parties and Puppy Parties [3]. This year, for my youngest daughter Pippa's third birthday, her sisters decided she should have a purple party since it's her favorite color. I will admit, although I love lavender, I can't say purple is my favorite color — but purple it was! As you might have already guessed, everything from the favors to the play dough stations was purple. There was purple icing on the cake and purple bouncy balls tossed around the room. I even set up a reading station featuring purple-themed books like Harold and the Purple Crayon on a purple blanket. At Martha Stewart Weddings, we love to start with a palette, and monochromatic is a color theme we've returned to over the years.
Tower of Doughnuts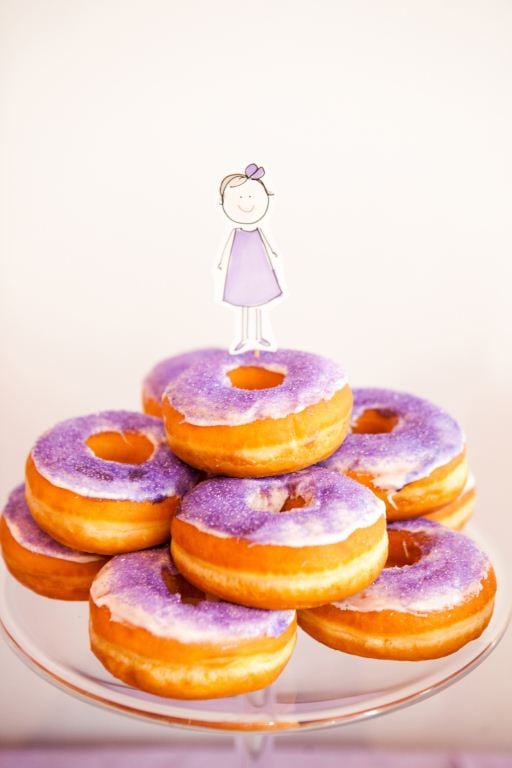 Of course there was cake involved (isn't there always?), but Darcy went one step further. "In addition to the birthday cake, a drawing of Pippa sat atop a tower of purple-glazed donuts."
Crafting Activity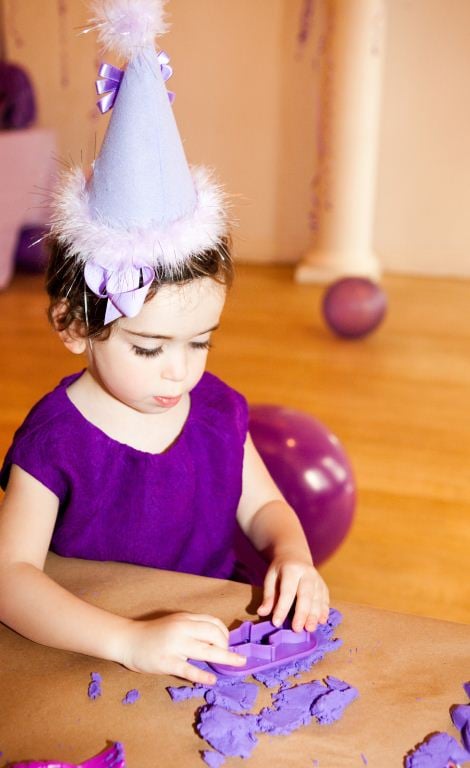 The room included a crafting area with a variety of activities for the kids. Using Crayola dough, rolling pins, and stamps [4], they cut out fun purple shapes. They also designed their own sippy cups [5] using stickers and other sparkly embellishments.
A Purple Reading Station
During some down time, there was a reading station with a purple blanket featuring purple-themed books including Harold and the Purple Crayon, Too Purply!, and Purplicious.
Decorations
Purple stuffed animals and party hats were centerpieces for the tables.
The Invitation
Darcy's illustrating talents were put to use with the adorable invitation. It let guests know the theme of the party, and everyone was encouraged to wear purple.