It starts out innocently enough. A few small bags of proudly pumped milk fit effortlessly into your freezer and refrigerator. But once you get the hang of things, it can get messy. Frozen foods face freezer elimination because you're desperate for space for your ever-growing breast milk supply. Pumping mamas can create a serious stash of milk, but their new-baby brain doesn't always have the capacity to come up with a logical organization strategy for such large quantities of breast milk. Me, I just piled mine up in the freezer, and it was a nightmare every time someone (me) went in for another scoop of Ben & Jerry's. Luckily, these Instagram moms have used some supersimple yet really great ideas for organizing all that liquid gold.
Source: Flickr user Megan [1]
In Plastic Bins
Let's just say it all together, "Why didn't I think of that?"
Source: Instagram user jennifer_kilborn [2]
In Bottles
Storing the milk in bottles may take up a little more space, but it's a great way to keep things tidy and organized!
Source: Instagram user dladyrainy [3]
In a Milk Bag Storage Rack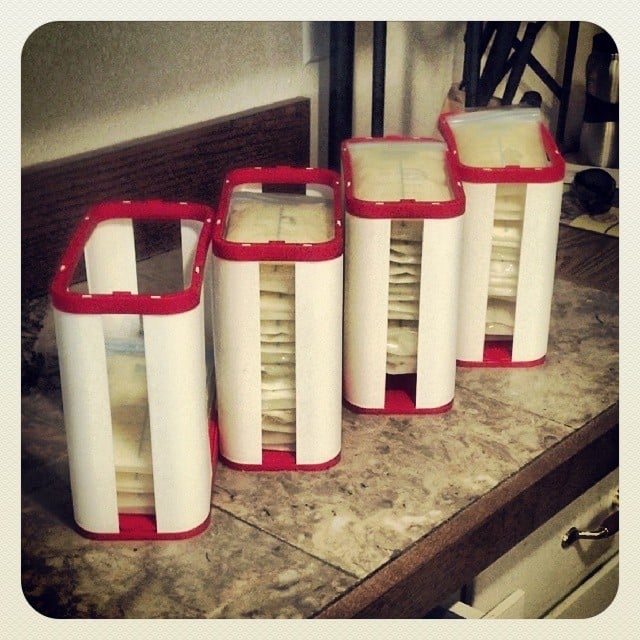 No, seriously — Milk Bag Storage Racks [4] ($9) really exist!
Source: Instagram user kassandrawoh [5]
In the Door
It's a really good idea to lay the milk bags on their side first so they freeze flat, then clear out your freezer doors and line 'em up. It's crazy how the bags fit almost perfectly standing up (and they barely take up any space).
Source: Flickr user shandrapinion [6]
In Storage Bags
Breast milk does have a shelf life, so it's a good idea to sort it by a range of dates per Ziplock bag so you don't have to dig through piles looking for the right milk to thaw.
Source: Instagram user sheedahgirl [7]
In Shoe Boxes
Turns out shoe boxes are just the right size for storing breast milk bags — and we all have a few of those lying around the house.
Source: Instagram user inkedmomma [8]
In Jars
I love the idea of storing breast milk in canning jars because you can store things on top of them, but also because the glass containers are reusable for other things when your supply dries out.
Source: Flickr user vivigracia [9]
In Storage Bags With Post-Its
This mama labeled her lots of breast milk on sticky notes and stuck them in the bags so the dates are clear. Definitely beats sifting through bags of ice-cold milk.
Source: Flickr user panvad [10]
In a Box
Storing the milk in a big box is a great idea because it allows you to take the whole thing out to look through to see what you've got and what you should use — as well as admire all your hard work!
Source: Flickr user bernadetterey [11]