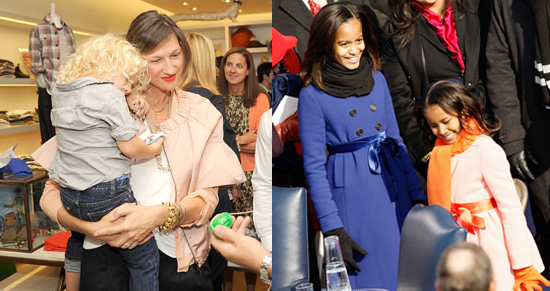 Lots of moms see voids in their children's closets, but a
select few
have the power to change them. Our girl Fab put her Lil hat on during Fashion Week and
talked to J.Crew's Creative Director
, Jenna Lyons about her source of inspiration for
Crewcuts
, an
Obama girl favorite
!
FabSugar: Crewcuts, is that how you wanted to dress (3-year-old son Beckett)?
Jenna Lyons: I think we were looking to find a way to make it feel — kids' clothes are either like Little Lord Fauntleroy or totally casual. There's really nothing in between. So, we were thinking, what would a little J.Crew girl or guy — what would you want them to look like? That doesn't mean a mini me, but that sensibility — a little bit of humor, a play on texture and color and not taking yourself so seriously — and whimsy and some surprise. And there's no surprises in kids' clothes at all. And I don't want him to look like he's going to the queen's court — I just don't get that. I'm not into that at all. So, that is definitely something...I think having a child helps a lot — kind of figuring out what you think is great about kids' clothes. What I find is missing is sort of how we add things to the line and the team that works on that is amazing. But we also cultivated a team that's from adult apparel, not kids' clothes. It makes a huge difference. It's about the way we fit it, but we don't think about designing it for a kid, you know? We just design something we think is cute and then we scale it to work.
FabSugar: Make it really small?
Jenna Lyons: Don't make that neckline too low.