Although our favorite photo app, Instagram [1], seems to be an unlikely place to find nursery inspiration, it's actually filled with great ideas that both mom and baby will love. Looking past the filter and gathering tricks from real design-savvy moms, we found 25 inspiring rooms that are loaded with good ideas, from unique color combinations to new uses for wall decals. Whether you're already a pro parent or a mom-to-be, these rooms will have you creating a space that is just as stylish and savvy as you are. Check them out and be sure to follow POPSUGAR Moms on Instagram [2] for even more inspiring images!
Go Big, or Go Home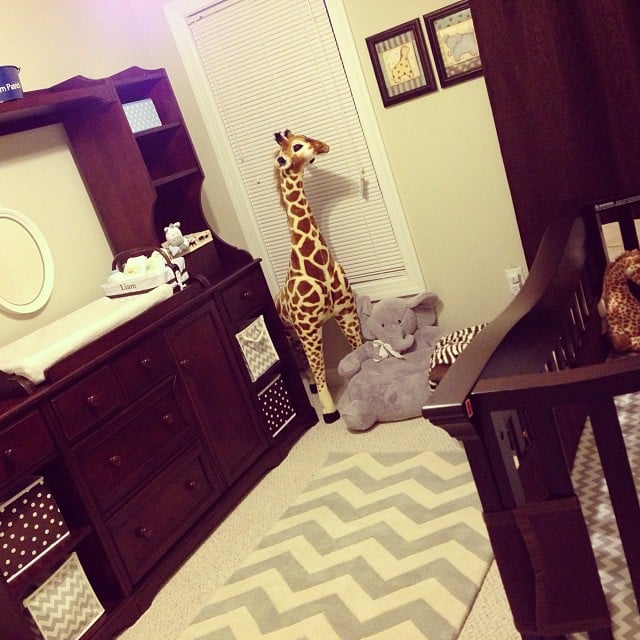 While the oversize changing table-dresser-armoire combo on the left of this nursery may seem like a big undertaking for a baby's room, it means that everything has a specific place. Keeping your baby's nursery neat and organized makes things easier for mom and will up the aesthetic appeal.
Source: Instagram user jirwinfitness [3]
Pastel Perfect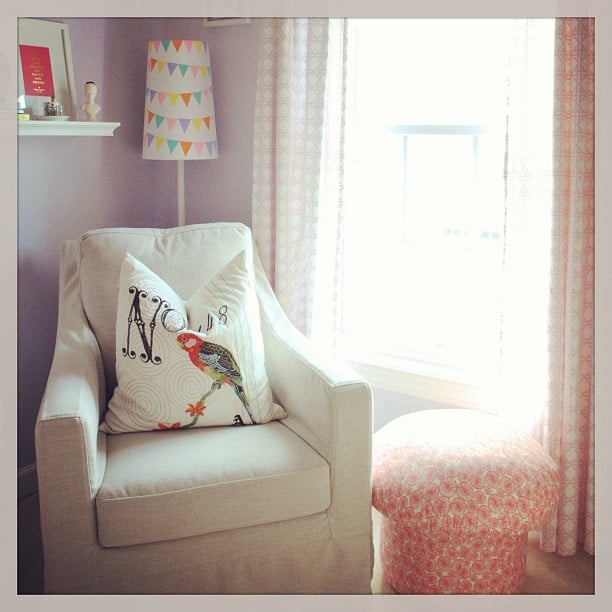 Pastels and fun accessories make this the perfect space for a little girl.
Source: Instagram user properhunt [4]
Mix-and-Match Bedding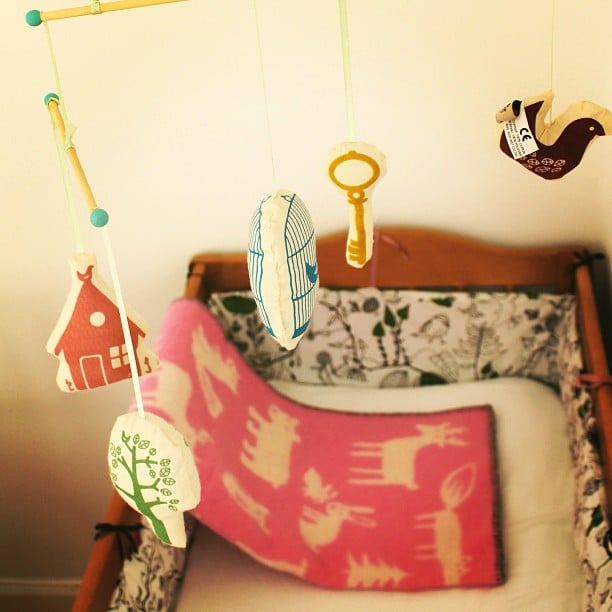 We're loving the eclectic look of this cozy crib. A plush mobile adds warmth and interest.
Source: Instagram user hobbyisten1 [5]
How the West Was Won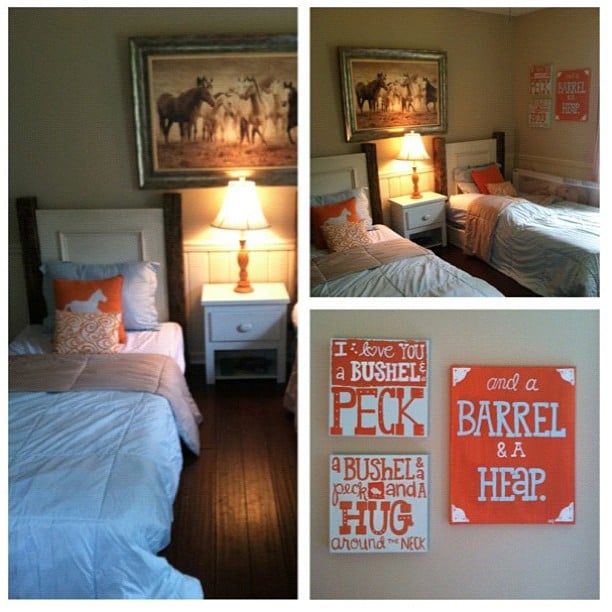 Steal the idea of incorporating favorite song lyrics into your child's wall art, as was done here with the mini gallery wall.
Source: Instagram user amysuegriff [6]
The Power of the Pattern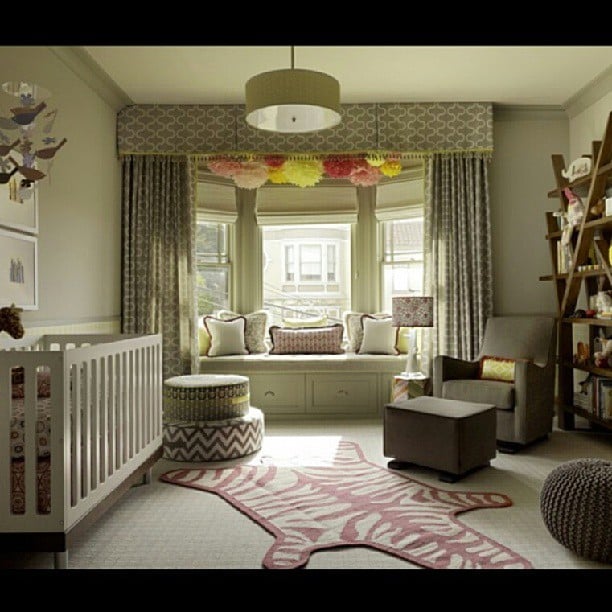 Hanging window treatments from the ceiling to the floor adds drama and actually makes the room appear larger.
Source: Instagram user studiorcarquitertura [7]
In the Works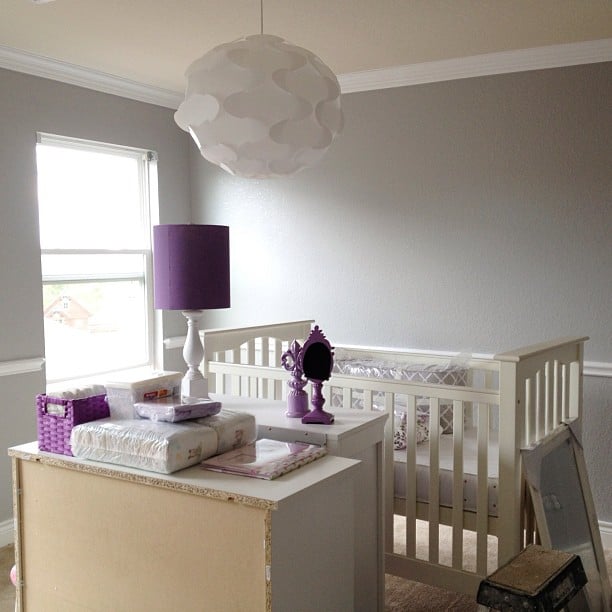 Although this nursery is in the works, we can't help but picture the finished space with its gray walls and purple accents.
Source: Instagram user jamiekubeczka [8]
Simply Classic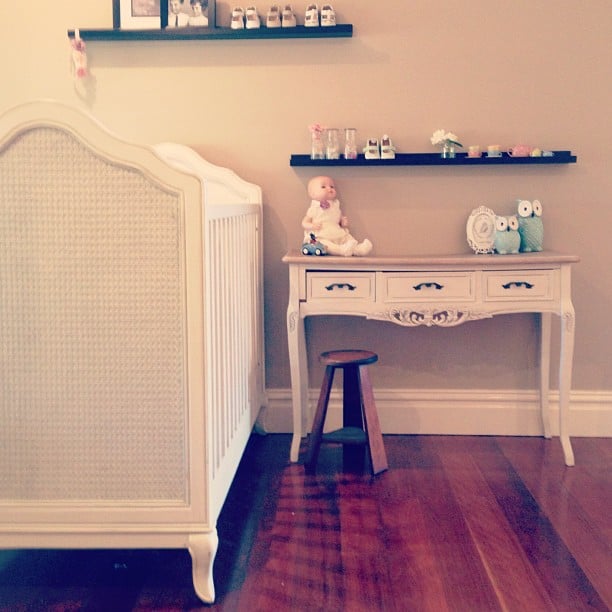 Classic pieces like a traditional crib and antique vanity create a cozy space for mom and baby.
Source: Instagram user maddieandmedesign [9]
Simply Gold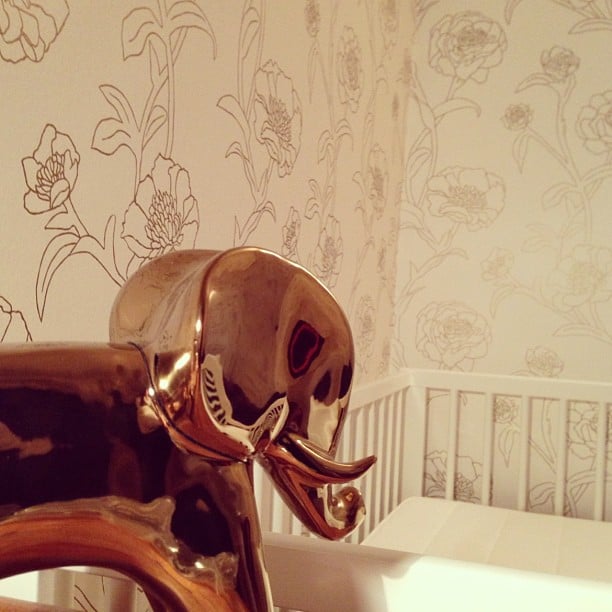 Although it's just a close-up, this nursery has inspiring gold accents.
Source: Instagram user pulpdesigns [10]
Wild Walls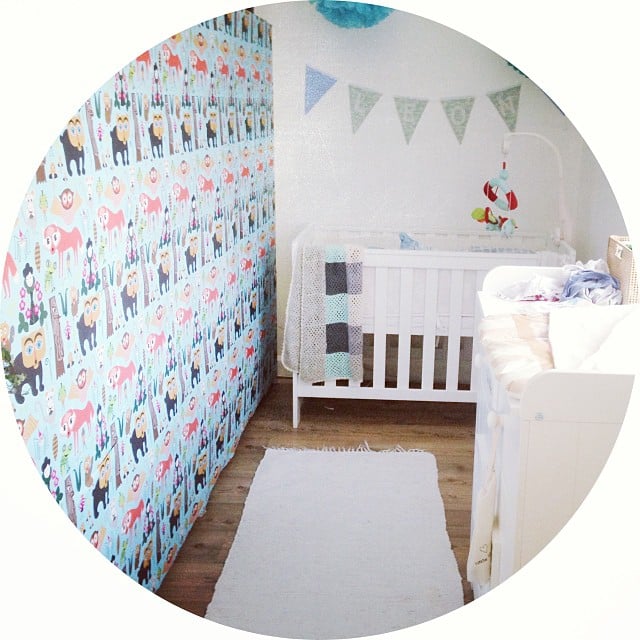 Bold wallpaper makes a statement. Limit it to covering just one wall so that it doesn't overwhelm the room.
Source: Instagram user photographer_lindapauline [11]
Ladylike Luxe
This beautiful little girl's nursery is complete with pink and gray tones that complement each other perfectly.
Source: Instagram user interiordesigninspiration [12]
Rustic Modern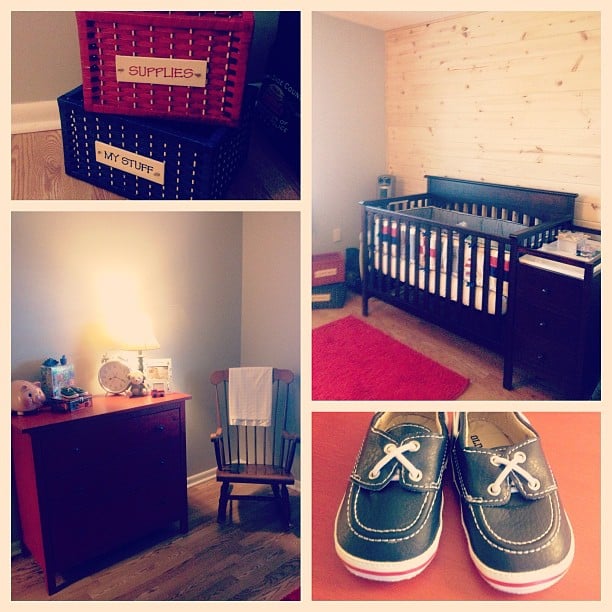 What makes this little boy's nursery stand out is the beautiful wood focal wall that allows the dark crib to pop.
Source: Instagram user jenstacey [13]
Shabby Chic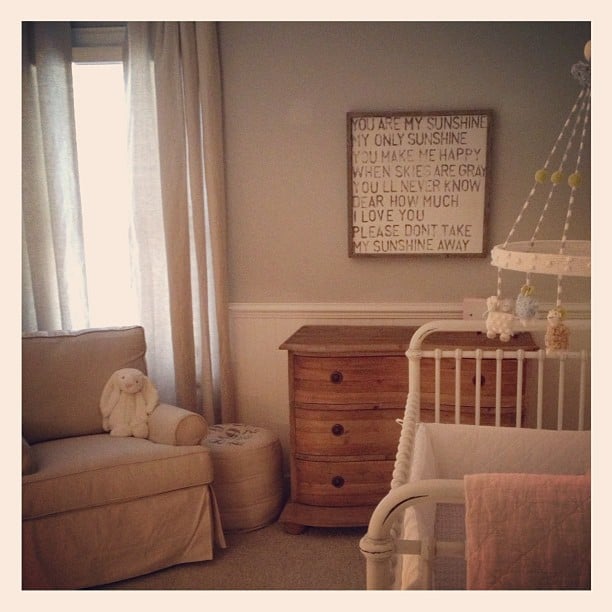 Soft colors and a vintage crib create a relaxing environment for your baby.
Source: Instagram user sallywiggins [14]
Midcentury Modern
This midcentury modern nursery has papier-maché animals and a fun bowl chandelier that sets it apart from the rest!
Source: Instagram user jennawhitemiami [15]
Bright and Cuddly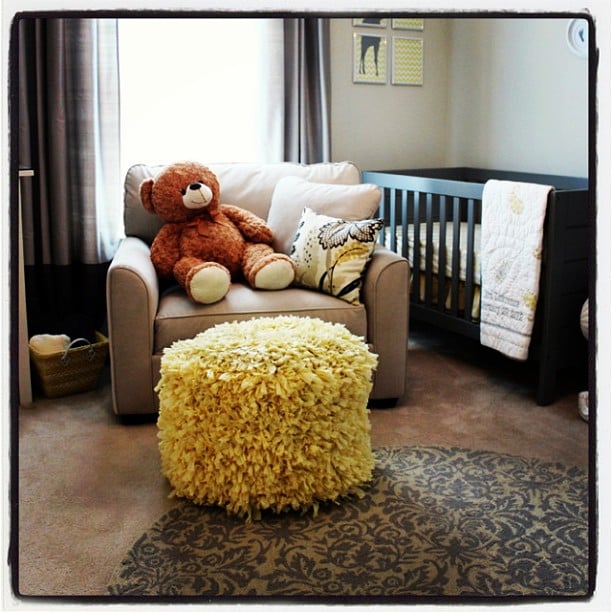 This unique ottoman adds a burst of color to the room and soft textures to cozy up against come reading time.
Source: Instagram user long_rifle_12 [16]
An Eclectic Mix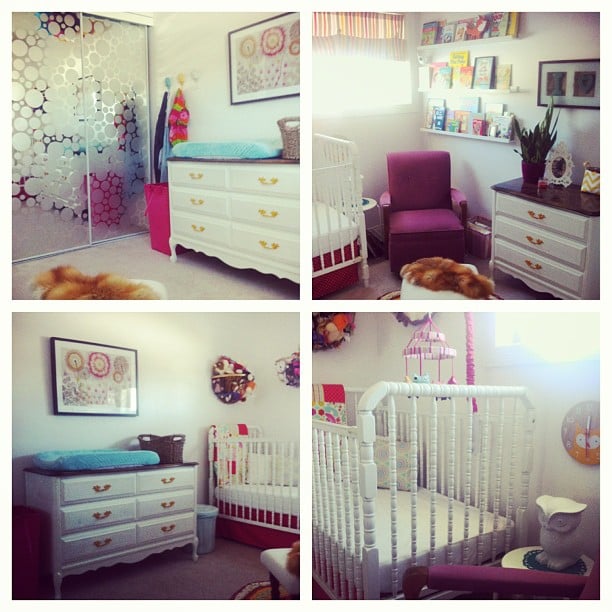 In baby Penny's nursery, a traditional Jenny Lind crib and old-fashioned dresser contrast with bold, polka-dot mirrors. Overmatching is overrated!
Source: Instagram user nikster1111 [17]
Fashion-Forward
Perfect for the budding fashionista, this room uses vintage fashion prints to create a focal point above the crib.
Source: Instagram user mjkeiser3 [18]
International Flair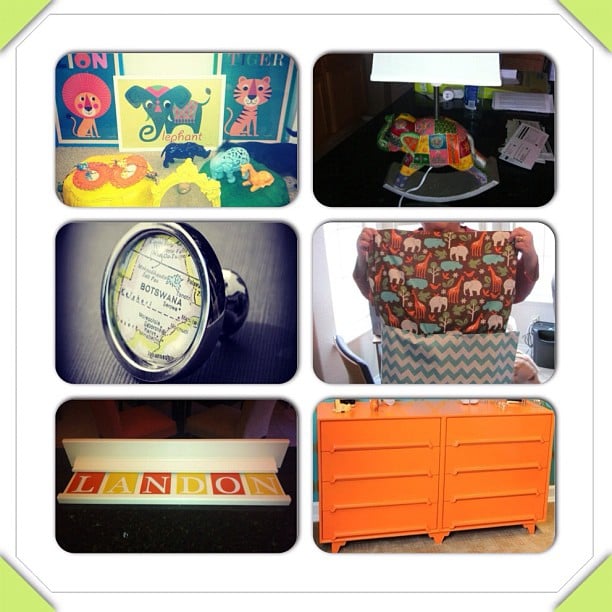 "Lamp and prints from the UK; crib linens courtesy of mom/grandma; poufs from our babymoon in Spain, accessories from Etsy, EBay and Joss&Main. Can't wait to see it all come together," said jet-set mama Kirsten Reckman. Landon is going to be one worldly baby!
Source: Instagram user kirstenreckman [19]
Singing in the Rain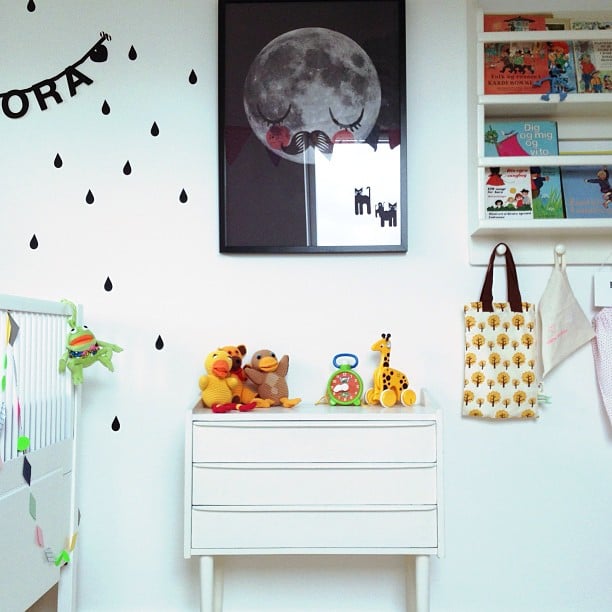 Raindrop wall decals give a gentle sprinkle above this babe's bed.
Source: Instagram user katjaandthe2cats [20]
Minimal and Monogrammed
We love the idea of using a monogrammed decal on the side of the crib for a personal touch!
Source: Instagram user annelenets [21]
Crisp and Traditional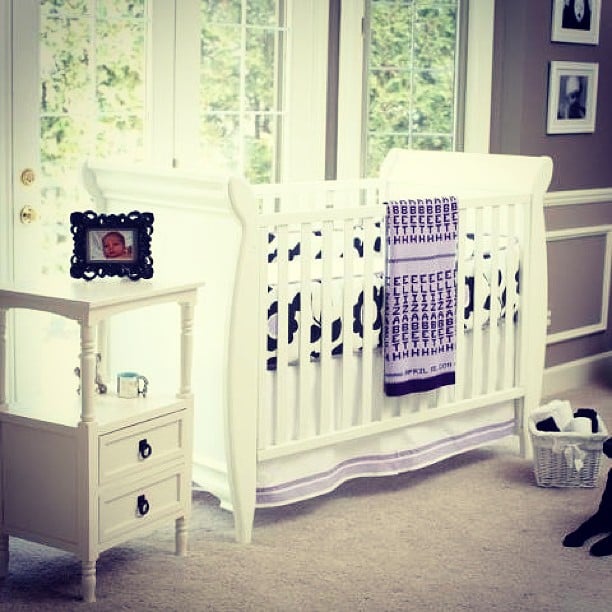 Classic white furniture and shades of purple are a great option for a baby girl.
Source: Instagram user theblanketlady [22]
Relaxing Nook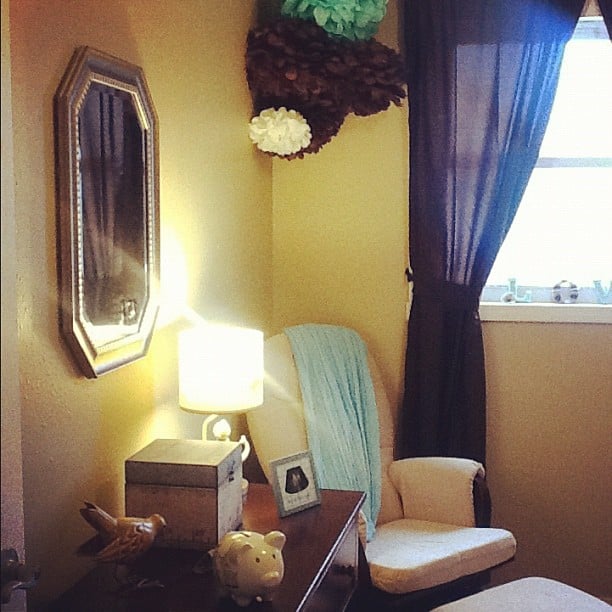 This nursery's reading nook is a relaxing space to cuddle up in during story time. The 3D flowers are an extraspecial touch!
Source: Instagram user ollie_my_son_my_prince [23]
Bursting With Color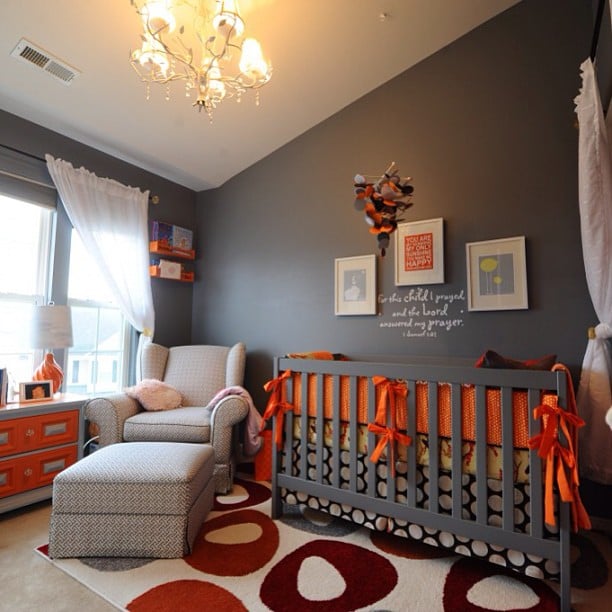 The bright orange accents of this room really stand out among the deep gray walls — the perfect nursery for a boy or girl!
Source: Instagram user maesdesalto [24]
Eclectic Accents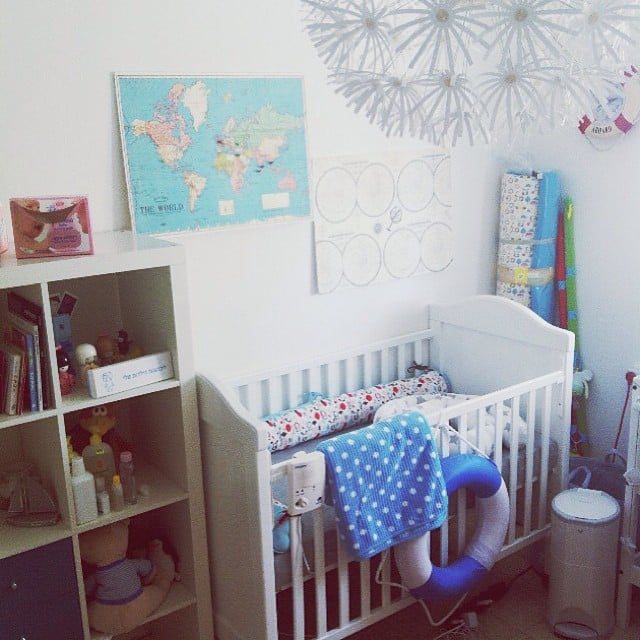 A nursery is a temporary space, so rather than driving yourself crazy with custom framing and hanging, keep the look light and easy. This room's unframed hanging wall art and a decorative life preserver add a touch of fun to the crib.
Source: Instagram user svetttt [25]
Natural Setting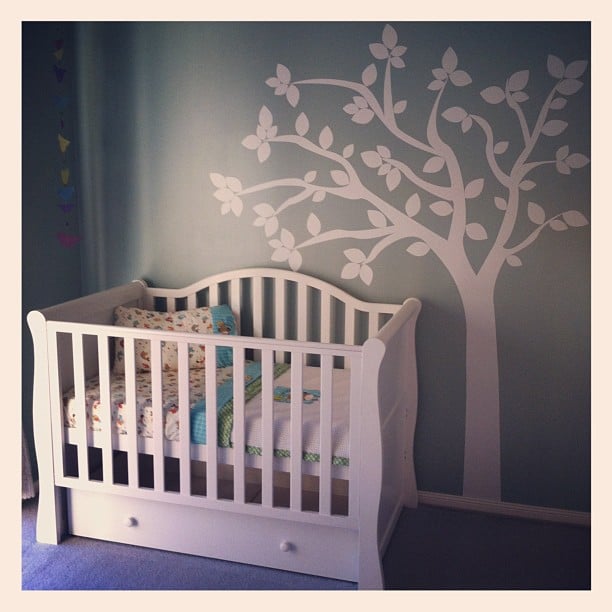 We love the oversize wall decal that frames the crib in this nursery perfectly.
Source: Instagram user oiyan_j [26]
Ahoy!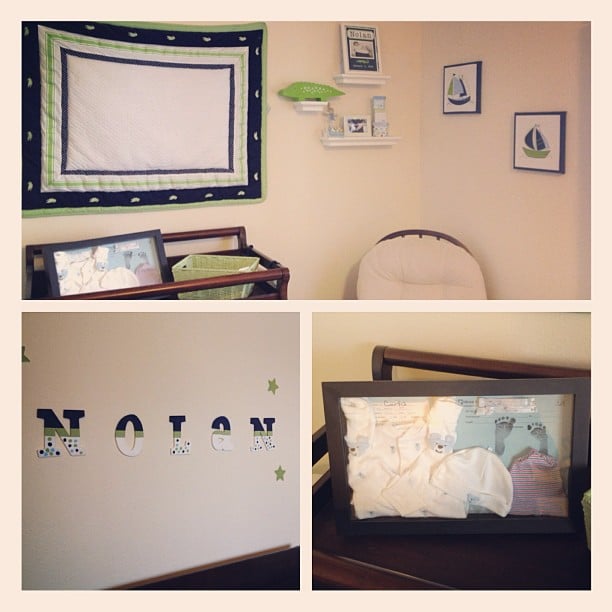 "We went for a more grown-up nursery theme . . . nautical!" said Instagramming mama hooahandhiccups. Check out the amazing shadowbox that she created with all of Nolan's newborn keepsakes.
Source: Instagram user hooahandhiccups [27]