Wondering how to involve all of the adorable offspring of friends and family into your wedding [1] day? We checked in with our readers — and a recent celebrity wedding — and got some amazing ideas on how to make little ones feel like they're part of the festivities without letting the kids outnumber the adults in your wedding party. Check out these creative ways to incorporate children into your special celebration . . . and if there's anything we may have missed, we'd love to hear your ideas as well!
Send Them On a Scavenger Hunt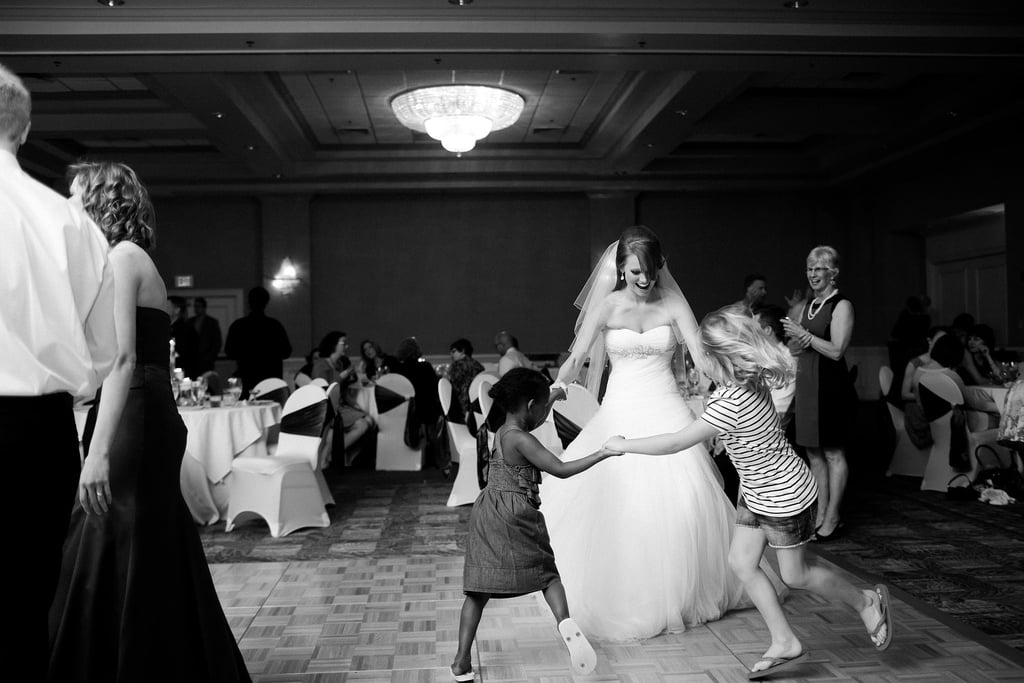 Give children a disposable camera and scavenger hunt list with tasks like someone kissing, the color red, rings, etc. It will keep them entertained through out the festivities. — Allison Waken [2] of All For the Boys [3]
Get Them to Make Crafts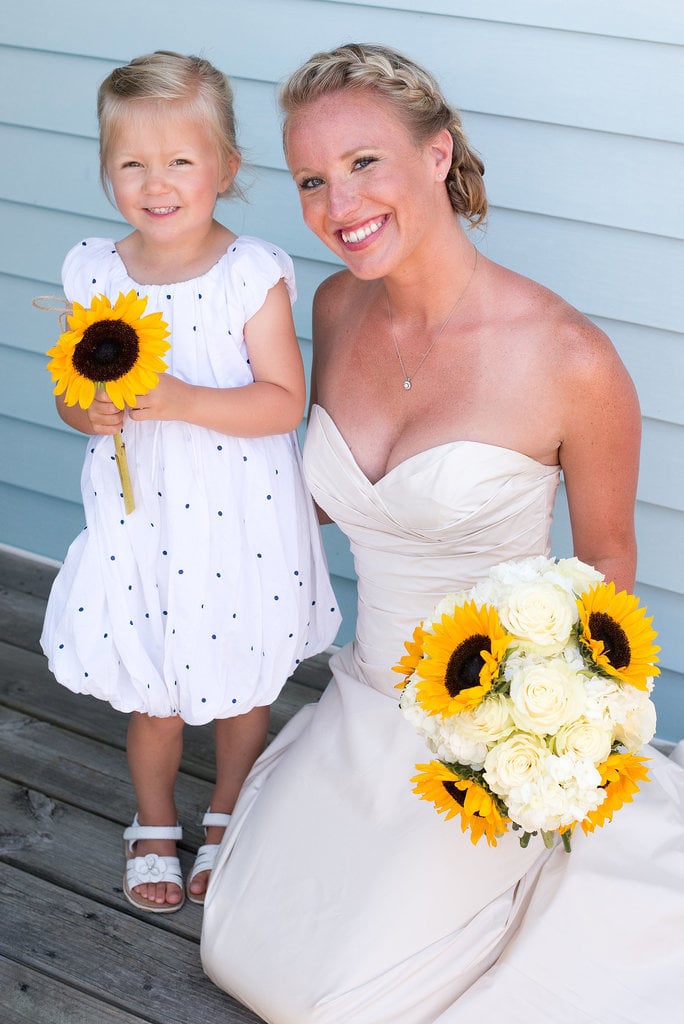 Have kids create a DIY [4] craft project you can incorporate into the wedding [5] ceremony.
Gift Them a Ring or Necklace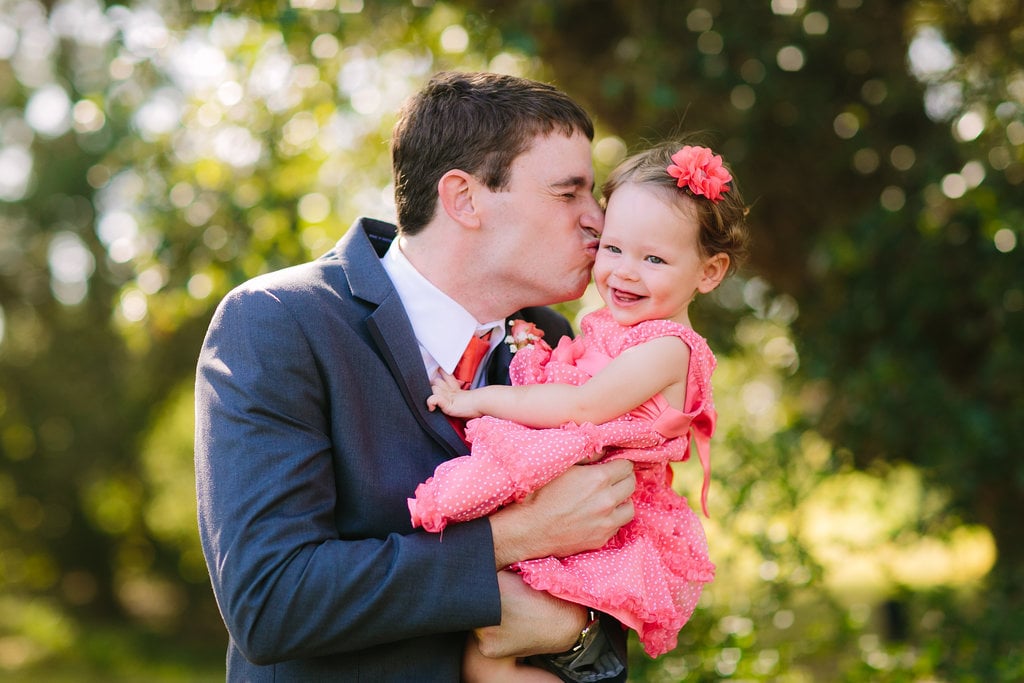 Present your kids with a ring, necklace or ring on a necklace after the groom puts one on you so they have a special token too.
Hold a Unity Ceremony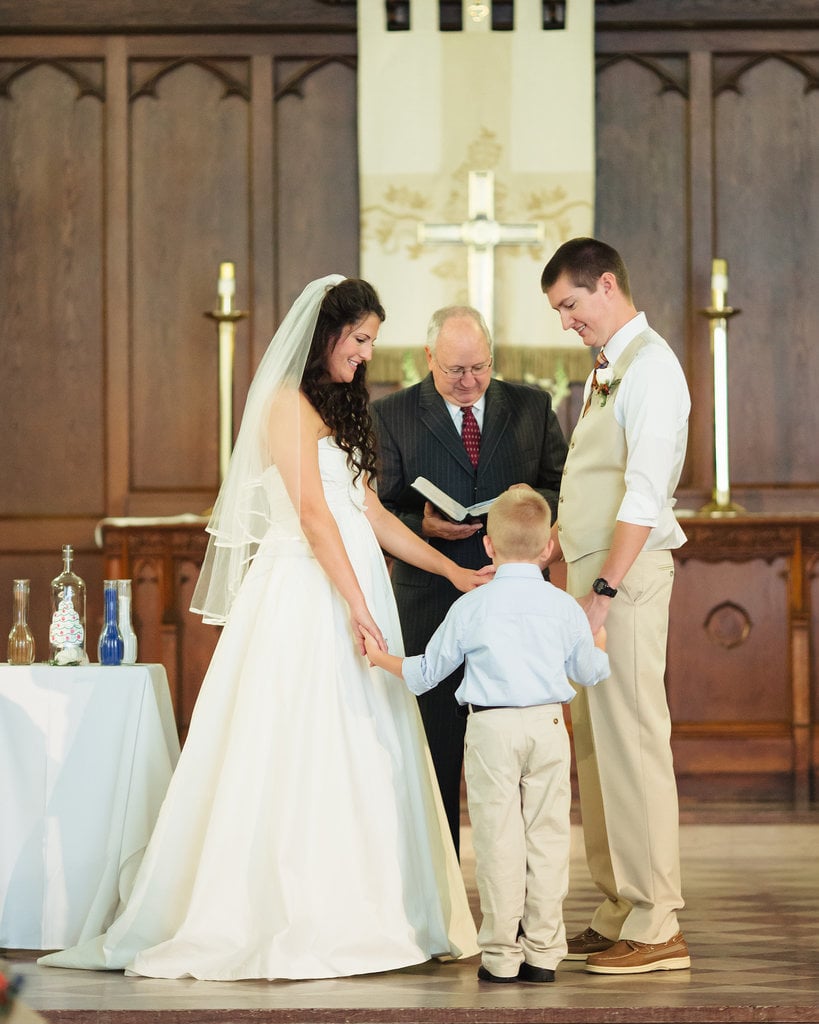 How it works: light two candles to represent the husband and wife then use the two candles to light the third one to symbolize the coming together in a marriage. Include extra candles to represent the children.
Put Them In Your Vows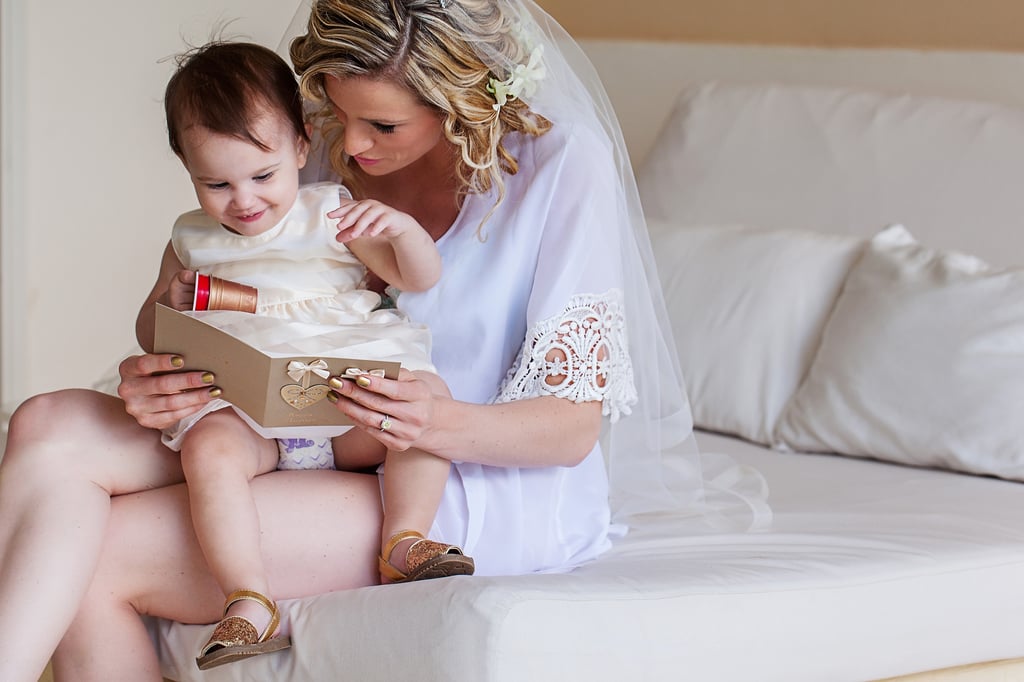 Write the children into your vows and then read it out loud while they stand next to you during the ceremony.
Flower Power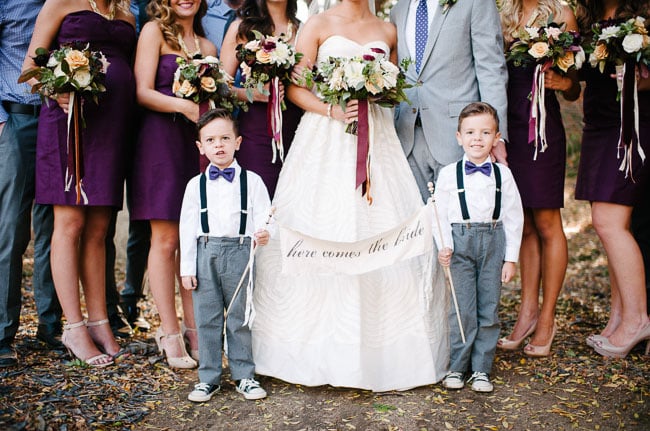 "I always loved this idea: if there are a lot of kids, why not have them all have one or two flowers. While the bride walks toward her groom, they could hand her the flowers. By the time she gets to the altar, she has her wedding [6] bouquet!

" — Dagmar Bleasdale [7] of Dagmar's Momsense [8]
Photography by: Acres of Hope Photography [9] for Green Wedding Shoes [10]
Solo Act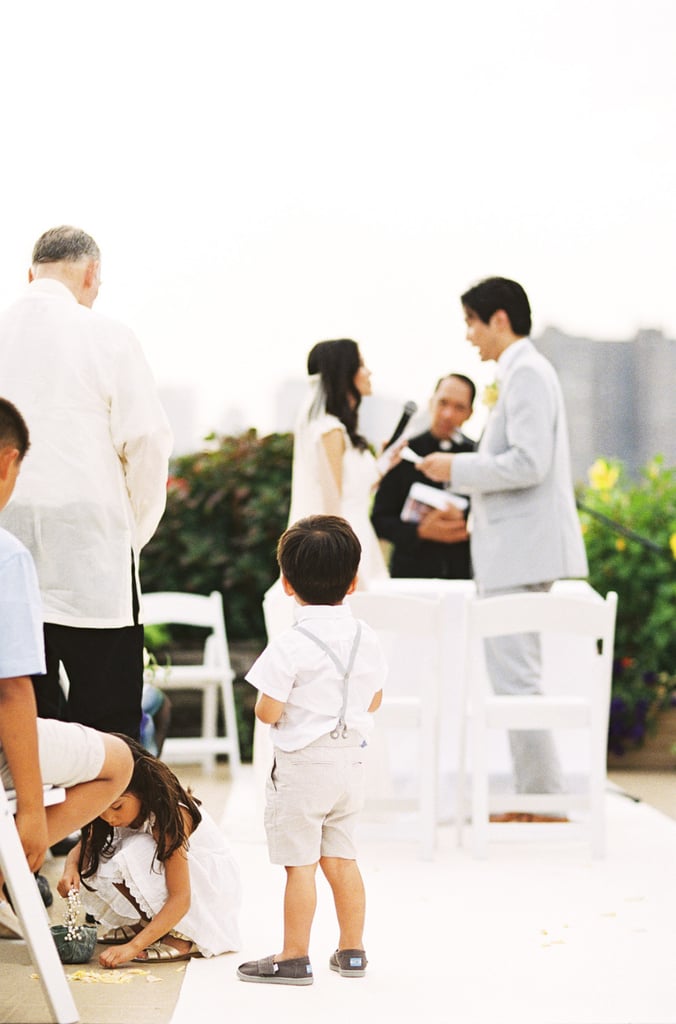 "Depending upon the age of the child, they could read a special passage from a book, or a poem that had meaning for the bride and groom. 

Or, if there is an especially talented young person who can sing or play an instrument, they could perform." — Amy Todisco [11] of Green Living Now [12]
Photography by: Alicia Swedenborg [13] for Style Me Pretty [14]
Toss It to 'Em!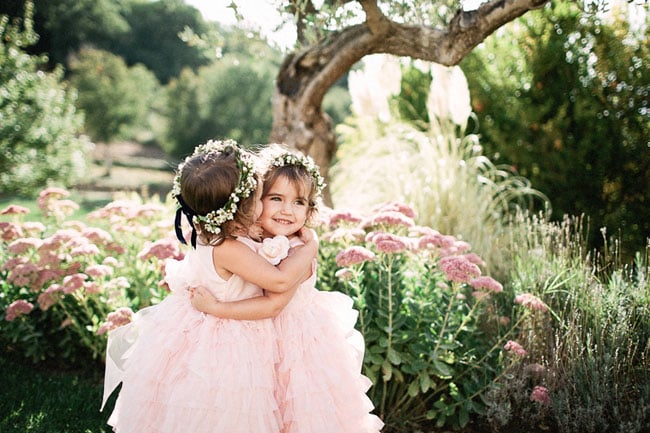 "My best friend threw a candy bouquet for the kids, and the 'real' bouquet to adults." — Nony [15] of A Slob Comes Clean [16]
Photography by: Jason + Anna Photography [17] for Green Wedding Shoes [18]
Service With a Smile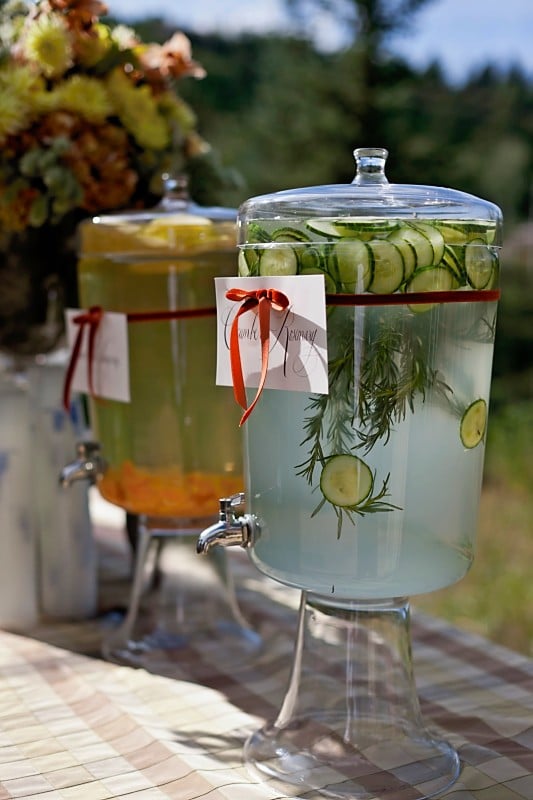 "If it's hot outside, the kids could man a lemonade stand and pass out lemonade [or flavored water] to the guests!" — Dagmar Bleasdale [19] of Dagmar's Momsense [20]
Source: Lisa Horten
Give Them a Prop With Purpose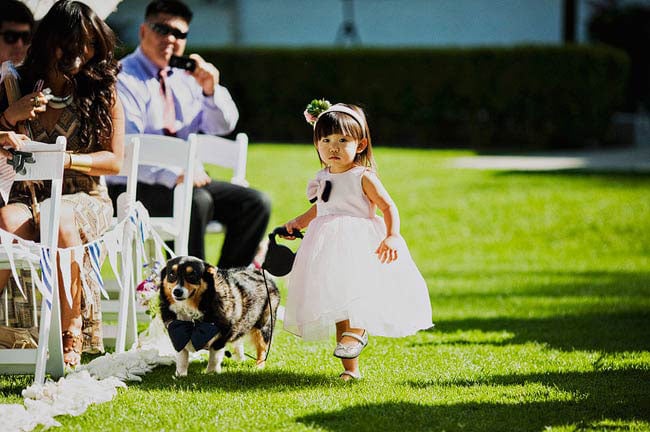 "My son's grandma got him a secondhand tricycle and decorated it with color-coordinated ribbons and flowers. He enjoyed riding it around the wedding [21] reception and he became part of the wedding [22]'s color theme, which looked great in pictures!" — Sophie Davies [23] of The Marin Scoop [24]
Photography by: Sloan Photographers [25] for Green Wedding Shoes [26]
Get Them Involved From the Start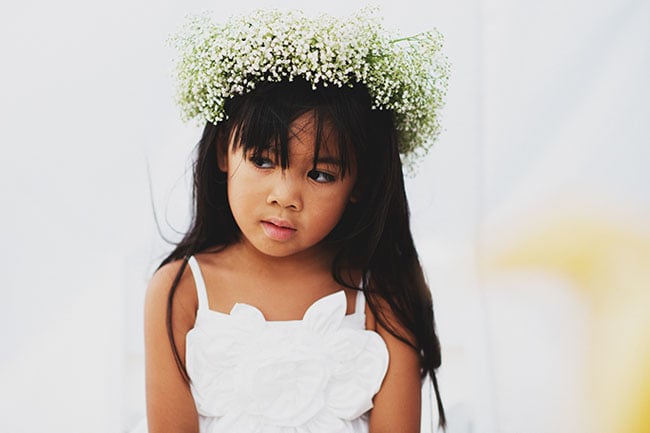 "Our daughter was the bride's partner in everything at her bridal shower. She helped open the gifts and was like a little bride. By the time the wedding [27] day arrived, my daughter knew the bridal party and felt like a part of everything. She was ready to walk down the aisle with her rose petals!" — Laura Rossi [28] of My So-Called Sensory Life: 365 Unexpected Gifts From Motherhood [29]
Photography by: Erik Clausen [30] for Green Wedding Shoes [31]
Get Them Out on the Dance Floor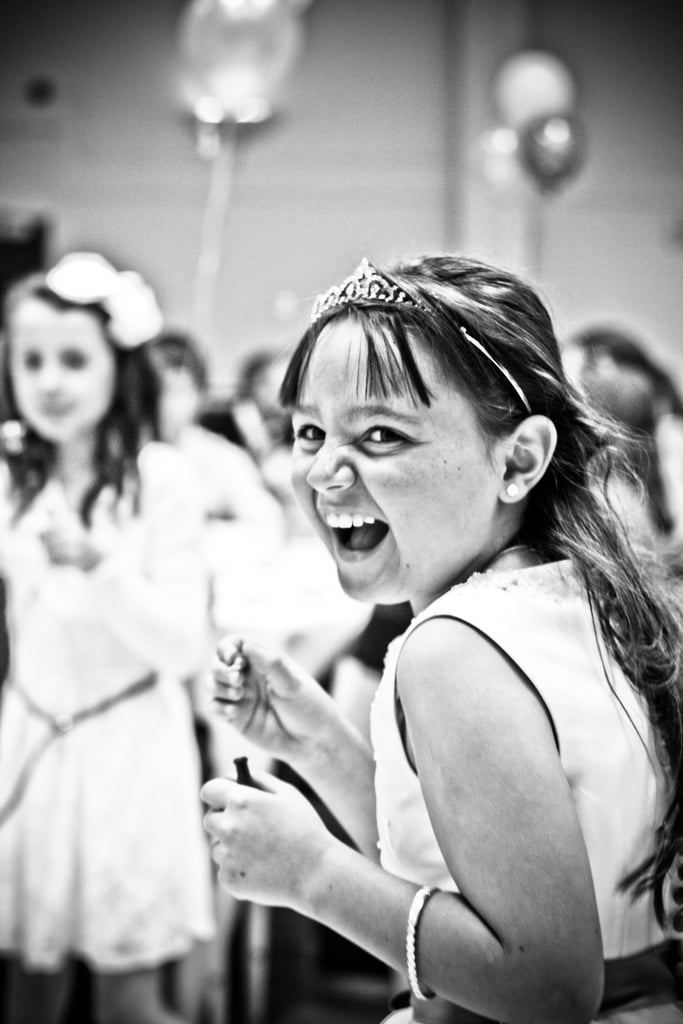 "The bride danced a special dance each with my children — one dance with my daughter and one dance with my son. I could not hold back the tears!" — Laura Rossi [32] of My So-Called Sensory Life: 365 Unexpected Gifts From Motherhood [33]
Source: Flickr user Mark McQuade [34]
Your Veil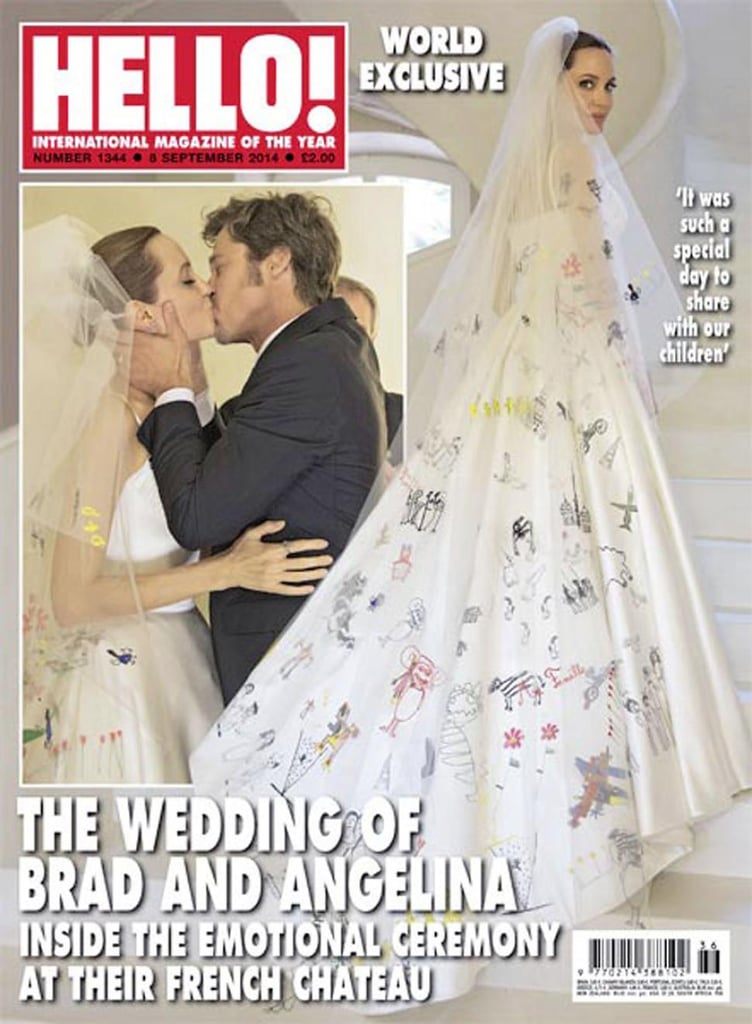 Leave it to Angelina Jolie [35] to find a truly creative way to incorporate her six kids into her big day. Take a look at her colorful veil — it's covered in her kids' artwork [36]! About their big day, Brad and Angelina said, "It was important to us that the day was relaxed and full of laughter. It was such a special day to share with our children and a very happy time for our family."
Source: Hello [37]