Opening day is just two weeks away, but for Beau Dykstra, baseball season lasts all year long! That's because his nursery is filled with enchanting little baseball trinkets and adorable details in every corner. Actress Jamie-Lynn Sigler and professional baseball player Cutter Dykstra showed off their son's fabulous nursery [1] in Los Angeles to Domaine Home, explaining that their goal was to create a "very boy" room for their now 6-month-old son. "I wanted everything to be very simple," she told the site, "and the embellishment in the accessories."
And that's just what they did. Keeping a white-and-neutral palette for the furniture and walls, they added posh details via plush blankets and poufs, as well as some leather accessories throughout. Read on to see all the drool-worthy details of little Beau's room — and how you can re-create the looks yourself!
Source: Chris Patey [2] for Domaine Home [3]
Beau Dykstra's Nursery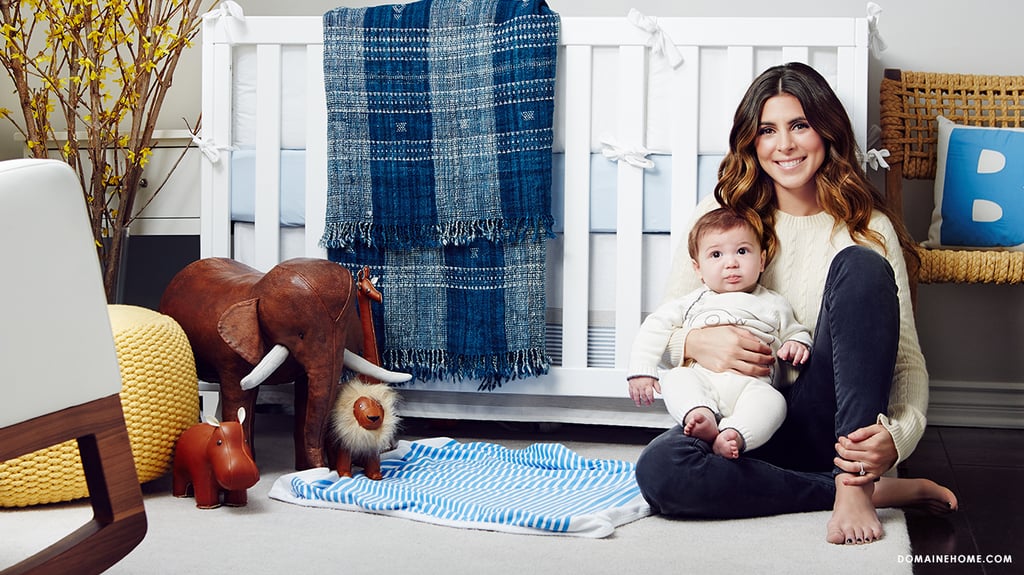 At quick glance, there's no doubt that this is the nursery of a precious little boy. Though Jamie-Lynn Sigler insisted on keeping the room comfortable, with "clean lines and nothing over the top," the room is anything but boring. She started with The Land of Nod's White Low-Rise Crib [4] ($899) as the room's centerpiece and then added in warm details, like this vintage leather elephant [5] ($1,155), a trio of Serena & Lily's Menagerie Bookends [6] ($58 each), and the luxurious Patna Bedcover [7] ($1,620). The Land of Nod's ABC "B" Pillow [8] ($19) adds some more fun to the room.
Source: Chris Patey [9] for Domaine Home [10]
A Place to Relax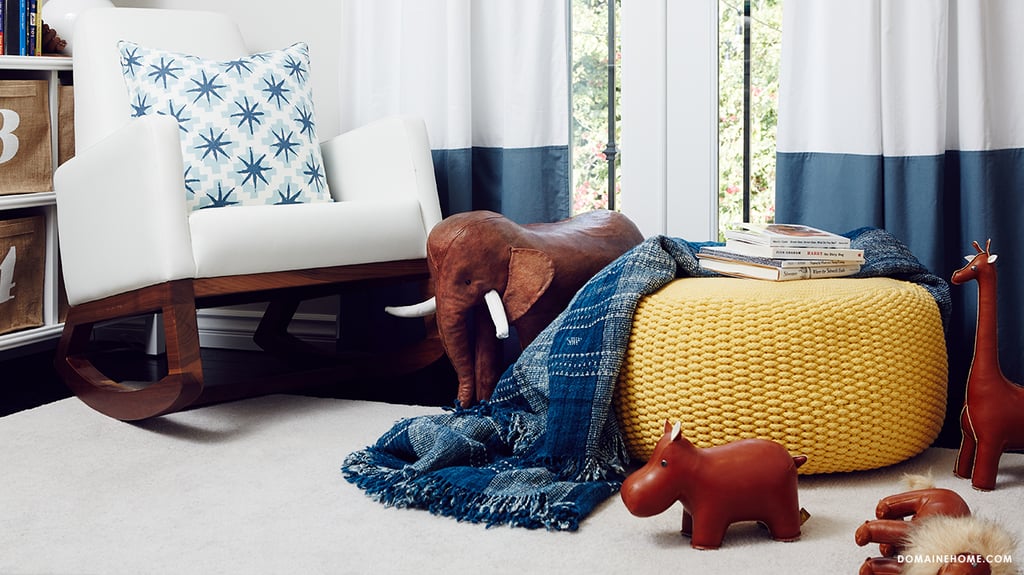 Pops of blue and yellow add some warmth to the room, while the luxe white leather Monte Design Joya Rocker [11] ($1,195) and the fun The Land of Nod Yellow Braided Pouf [12] ($129) bring in a place for Mom and tot to rest. According to Sigler, Beau "loves to stand on his pouf, and it gives me a place to put my feet up."
Window coverings like The Land of Nod's Color Edge Curtain Panels [13] ($39-$59) and the Peter Dunham Starburst Indigo Pillow [14] ($175) add some more color to the room.
Source: Chris Patey [15] for Domaine Home [16]
A Place to Store Things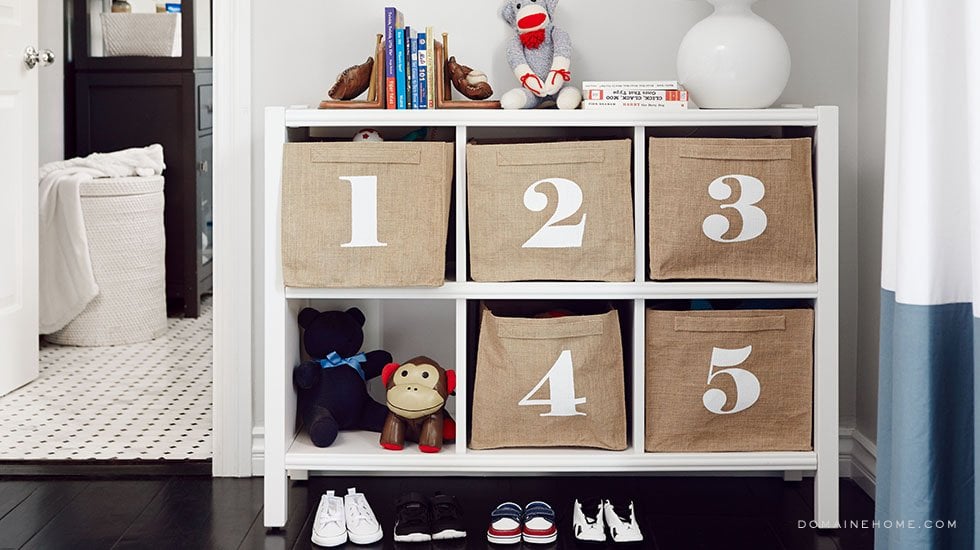 As any experienced mom knows, once you have kids, it's almost impossible to stay ahead of the clutter. As a neat freak herself, Sigler insisted on finding the right storage solution. "I'm sort of anal about being neat," she said. "I want everything to be clean and easy to find." Her solution? The Land of Nod's Six-Cube Bookcase [17] ($279) combined with Store by Numbers Cube Bins [18] ($13 each).
Also spotted in the neat room: Skip Hop Zoo Monkey Bookends [19] ($35), an adorable set of baseball-mitt bookends similar to these [20] ($40), and a Schylling Sock Monkey [21] ($18) for some added flair.
Source: Chris Patey [22] for Domaine Home [23]
Ready For Takeoff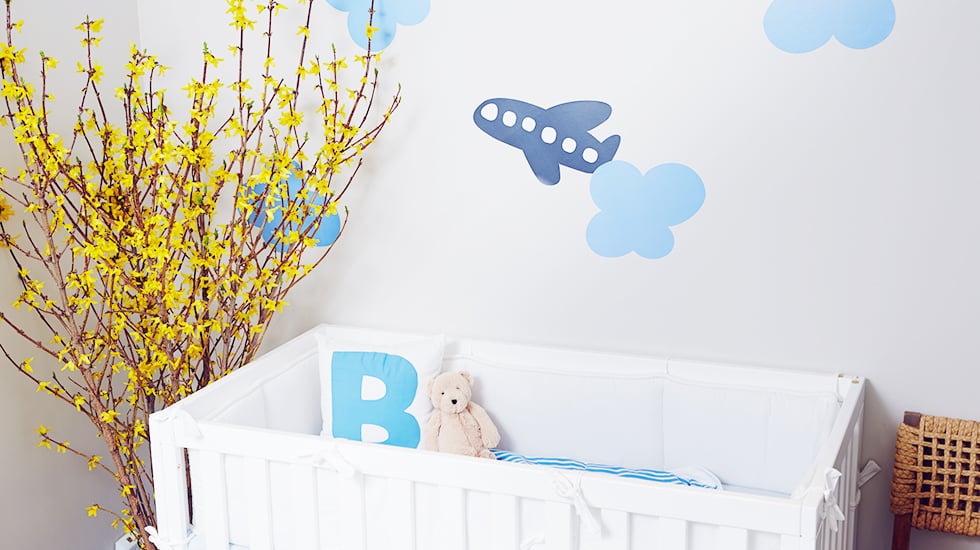 Above the crib is The Land of Nod's Leavin' on a Jet Plane Decal Set [24] ($25), adding a bit of whimsy to the room.
Source: Chris Patey [25] for Domaine Home [26]
A Place to Change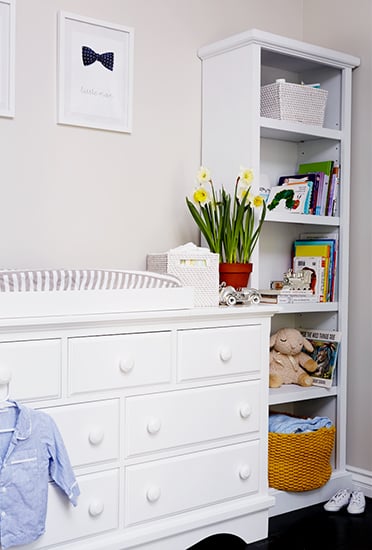 For the neat freak, organization is key, which is why Sigler loves her multishelf bookcase and her seven-drawer changing table, similar to this Jenny Lind Dresser [27] ($799). She told Domaine Home that the changing table is "an organizer's dream . . . Everything has its place." Also spotted in the room are The Land of Nod's Kneatly Knit Rope Bin [28] ($39), a Reed & Barton Race Car Bank [29] ($50) and a Silver Train Bank [30] ($30), and the Cloud B Sleep Sheep [31] ($28). The framed "little man" bow-tie prints were made and printed by one of Sigler's friends.
Source: Chris Patey [32] for Domaine Home [33]