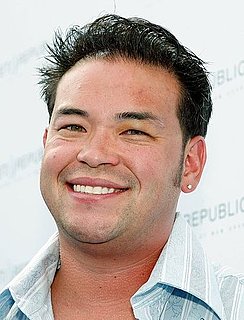 Jon Gosselin stayed silent for a while, but now he's telling all. The famous
father of eight
sat down with Chris Cuomo and dished about everything from being abused by his soon-to-be ex-wife to the other reasons why their relationship is permanently broken. A teaser ran on
Good Morning America
today highlighting tidbits from the three-hour interview, which has has been turned into
an episode of Primetime: Family Secrets
and airs tonight. Check out what
Jon had to say
:
On the unfair way he is portrayed on magazine covers: "Let's finish what we need to finish and get on with our lives."
On what happened to his 20s: "I was married at 22. I had twins at 23. I had sextuplets at 27. Bye Bye 20s."
On what really broke up the marriage: "I was verbally abused. I was beaten down. She separated me from my family. She used to hold the kids over my head and say, "'Don't spend time with your mom. Spend time with your kids.' Why can't I spend time with my mom and my kids together? I'm not going back to that lifestyle."
On despising Kate: "I can't sit on the sofa with that woman — with someone I despise."
On their wedding rings: "I think she (Kate) still wears the ring for public perception. I don't wear my ring because she took my ring."