When all three Kardashian sisters join forces for a major event, two things are for certain: you'll be dazzled by the over-the-top fabulousness that surrounds them, and hilarity will ensue. Earlier this week, the trio partnered up with Babies "R" Us and Operation Shower [1] to host a blowout baby shower for 65 deserving military moms-to-be.
"It kind of releases that burden of not knowing where to start [with the baby gear]," Khloé said. "These women might not have family because they're in a different city or country than they originally would be. [Operation Shower] has gifted over 2,000 families, and really changed a lot of people's lives. For us, we love to help out any way that we can, so we really just wanted to be involved."
Keep reading to see what else the Kardashian klan had to say about the joys — and not so glamorous elements of motherhood.
How Kim's Pregnancy Made Motherhood Seem Easy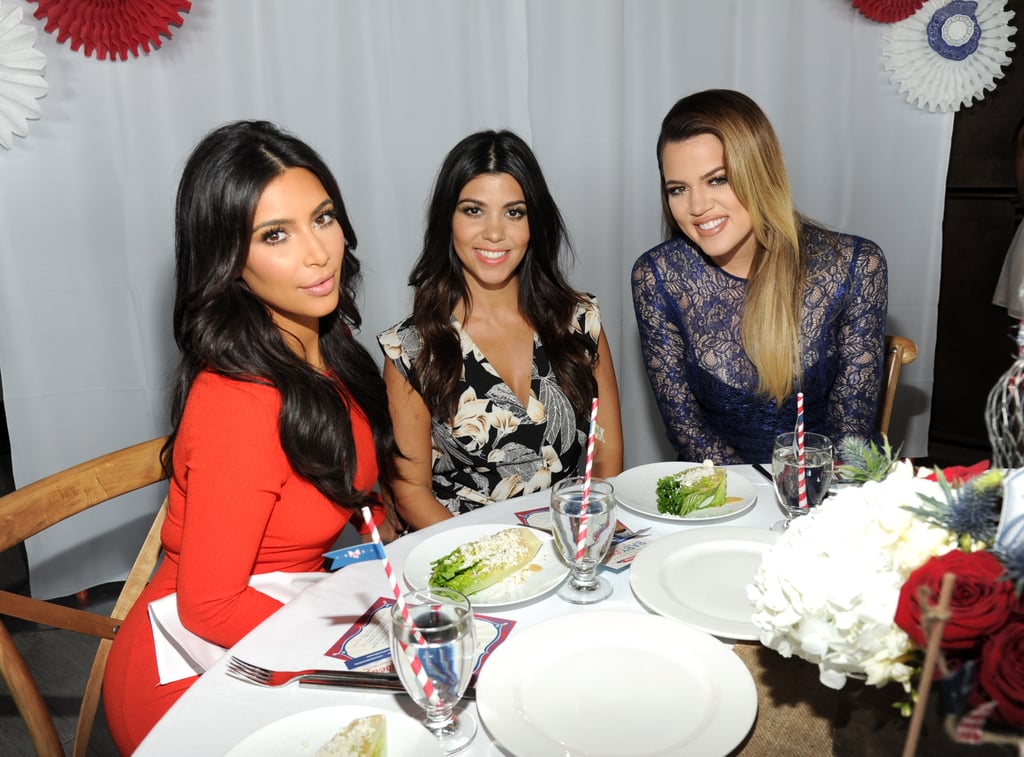 "I had such a hard pregnancy, going into this, I was a lot more scared than I had anticipated being. Growing up, [I always thought], 'Oh I want so many kids, just like my mom.' And then when I got pregnant, I was just overcome with fear, almost in denial, for the entire pregnancy (not that you could miss me!).
Now I really love being a mom and how much nothing really matters. I just like to stay home and hang out with my daughter. Like everyone says, it's the most rewarding job in the world and you just can't understand it unless you have kids. I feel that."
And How Becoming a Mom Turned Kourtney's World Upside Down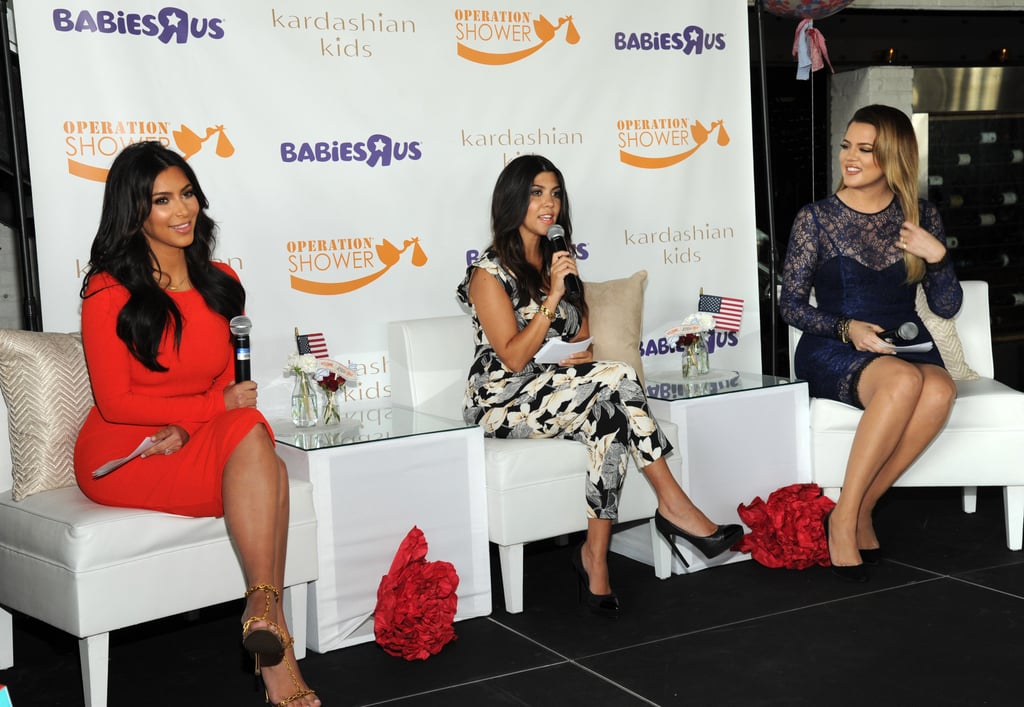 "I literally didn't think one thing about becoming a mom, even when I was pregnant," Kourtney said. "The whole pregnancy was just about designing the room and picking out clothes, I never thought about like, what am I going to do [with this baby]?"
"Never. That's why when she became pregnant, we were all like . . . (gasping noise!)" Khloé added.
"It totally changed my life, but in such a positive way, and I think I just embraced motherhood. I love it. It's just the most important thing. It just came so naturally to me," Kourtney said.
It Takes a Lot to Shock Khloé, but This Did It . . .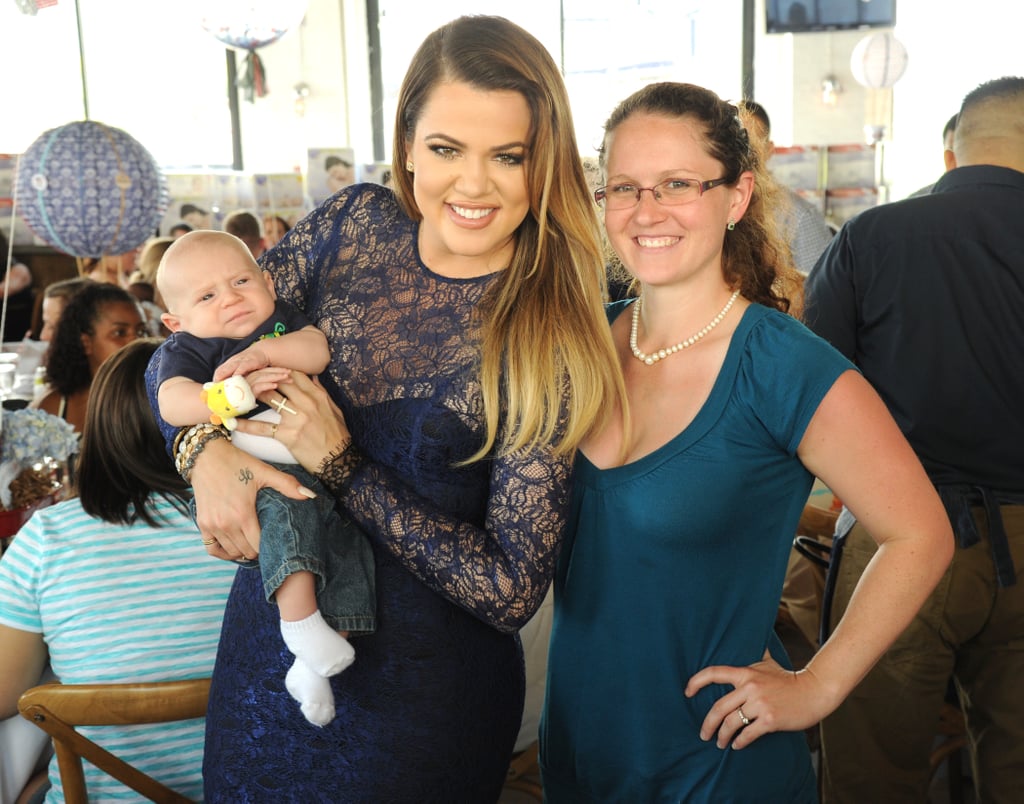 "Nipple shields saved my life!" Kim said. "It's this clear thing that you put over [your nipple to breastfeed]. All of my friends would complain about having the craziest problems, but for me, using that [made nursing] seem just like using a bottle. And the Lansinoh nipple cream. Oh my God! That's the best." When a horrified Khloé responded with a sarcastic, "That sounds wonderful . . ." Kim kept going. "Wait till I tell you about the pad, well, the diaper, that you have to wear for a good month."
A Day in the Kardashian-West Household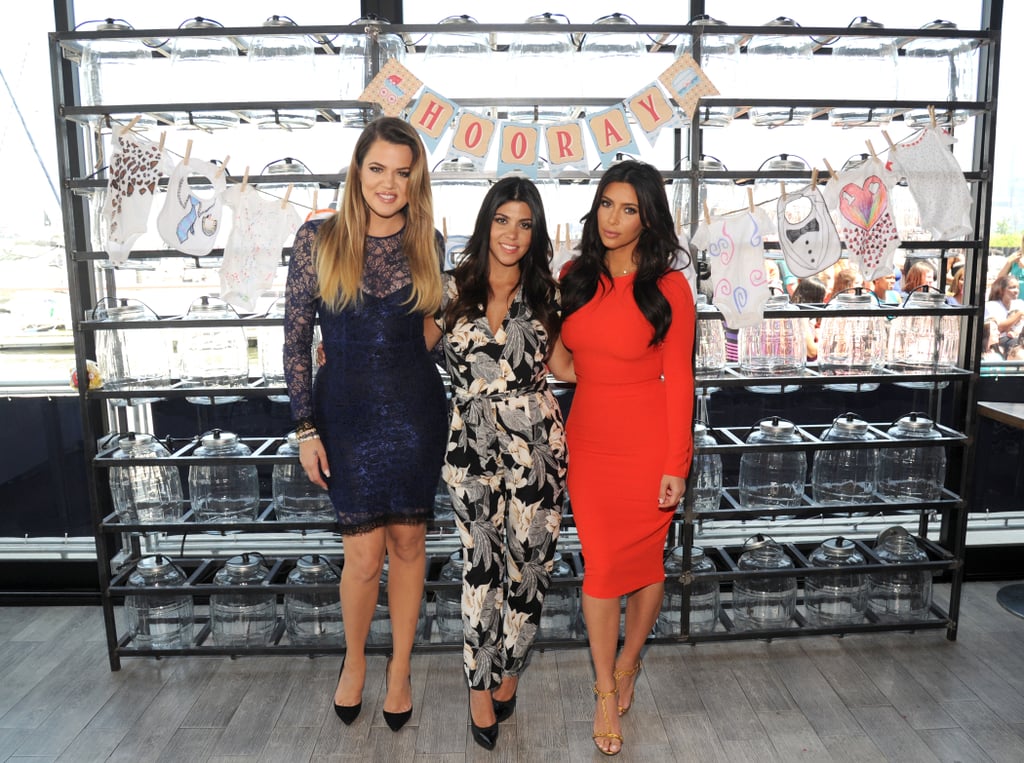 "My number one [newborn] essential is my Moses basket. North was so tiny," Kim said. "She was in it, all wrapped up, swaddled in her little basket. I would cook dinner, and she'd be on the couch with Kanye. We'd watch movies, and she'd sit between us in that basket. Every day was movie day."
Highlights of the Shower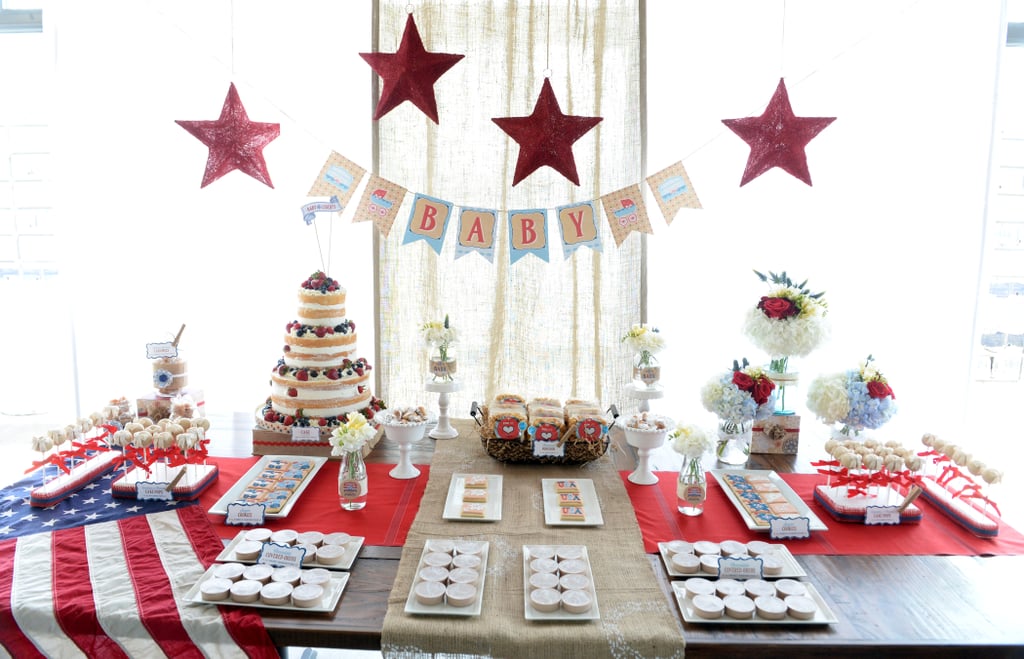 "We're going to do a Q&A, and that'll be fun," Khloé said. "We also decorated onesies and bibs with fabric markers . . . and they all get to decorate their own, too. Penelope colored a onesie — she was very artistic!" Khloé added.
Kim's Rallying For a Revolution in Baby Clothing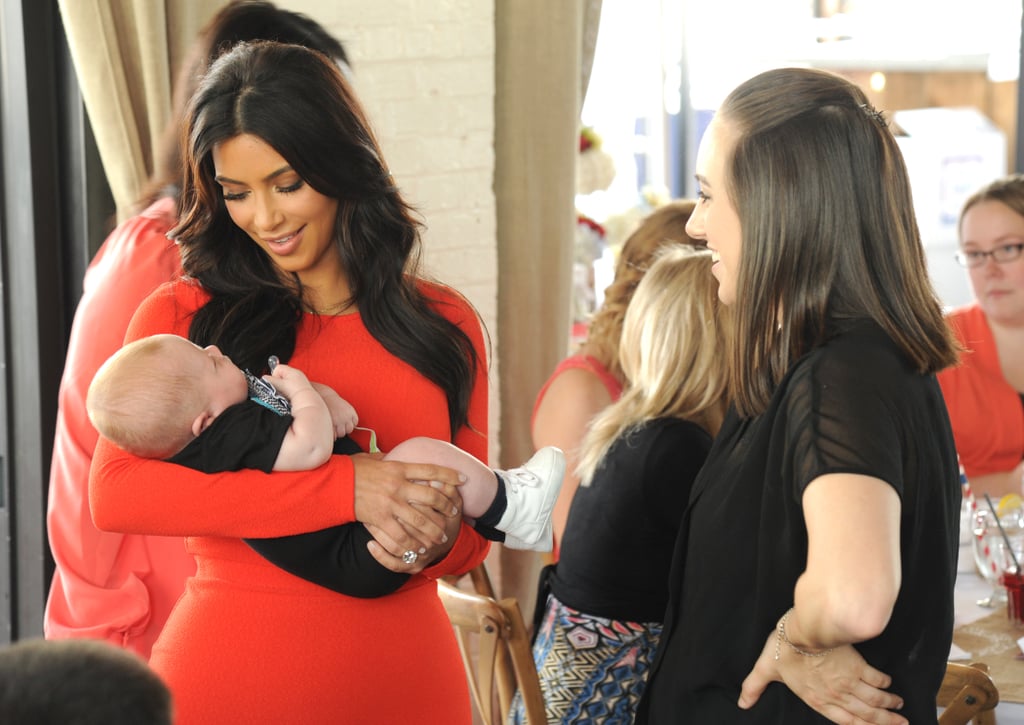 "Sometimes when I'm looking for things online or in stores, I see the most ridiculous patterns for babies. I don't know why they think the babies like them, because they don't know what's going on, and in 10 years, they're going to look back and see these pictures of themselves in the most awful things," Nori's mom said. "I'm a really basic kind of person. I like a neutral color palette and really simple things, and you would be surprised — it's so hard to find anything simple when it comes to baby clothes. It always has to have frills and pink or blue.
We're really proud of our new tribal collection — it's all faux leather and moccasins — just really, really cute. It's superaffordable, because I don't care how much money you have. Your baby is going to spit up 500 times, and you're going to have to throw it into the wash again and again and again, so it needs to be that way."
"She's so passionate about this!" Khloé chimed in.
The Guests All Received Kardashian Kids Gear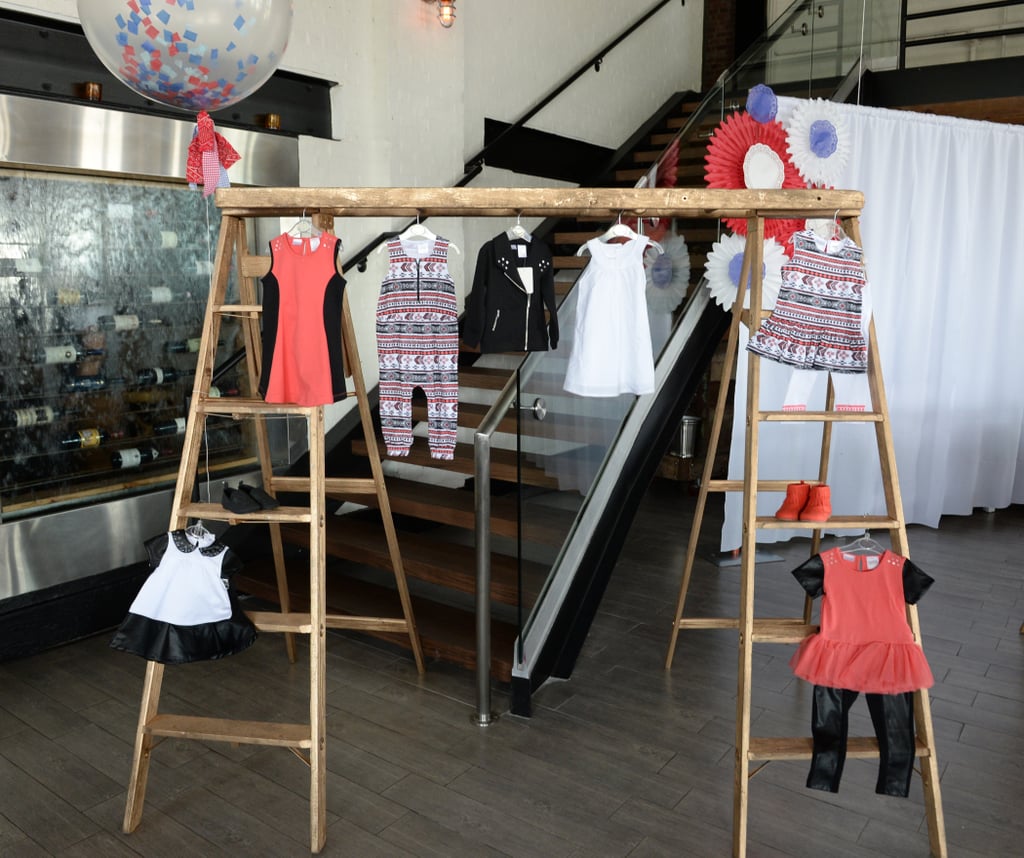 "I think our love of kids' line began when Kourtney opened up a kids' clothing store years ago," Kim said. Kourtney's first store was called Smooch and had been inspired by her grandmother, who had owned and operated a children's clothing store for 35 years in La Jolla, CA. "We grew up working in her store," Kourtney said.
"I think the thing I felt was missing was high-fashion clothing at an affordable price, so that was what we were hoping to bring with our collection at Babies "R" Us. We're very involved in the details as far as the snaps and how the clothes function — feeling all the fabrics and making sure that everything is practical but functional and high fashion at the same time."
On Kourtney and Kim's "Mom Must Haves" List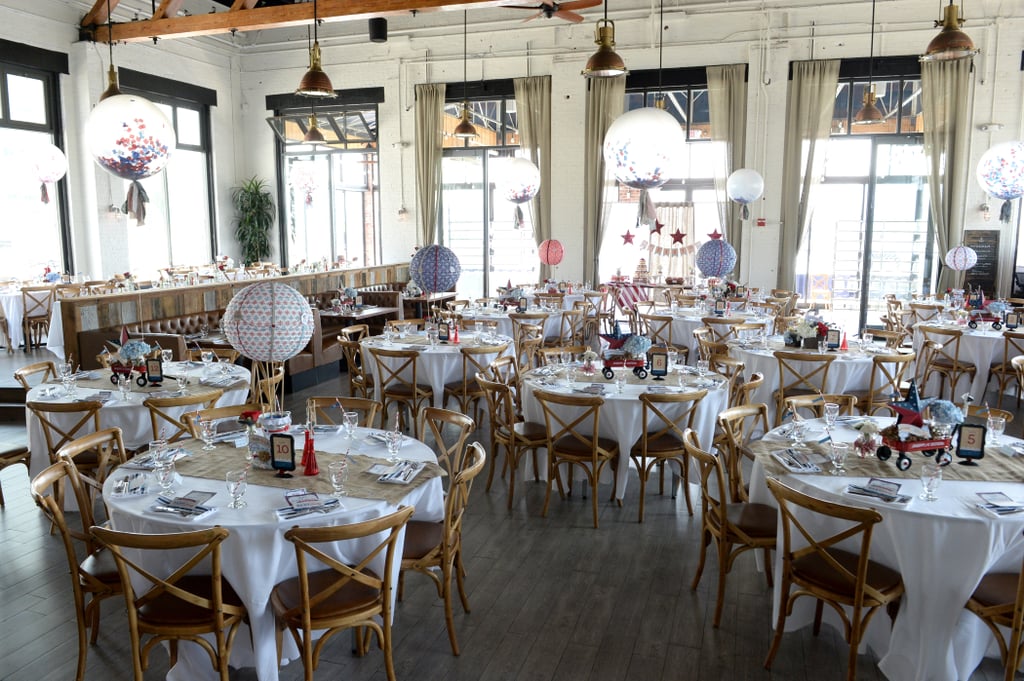 The Ubbi trash can [2] — "It just conceals everything. You have no idea diapers are around!" — Kim
Mustela baby wash and cream [3] — Kim
Earth Mama Angel Baby [4] — "It's all-natural and smells so good." — Kourtney
The Monte Glider [5] — "I think you really need a comfortable rocking chair or glider. I've had the Monte with both of my kids in Miami, New York, and everywhere else I go, and that's because it's so comfortable. I still have it, so think that's what I'll keep for number three!" — Kourtney
"I love my wipe warmer, but that's not an essential, it's a luxury." — Kim
"I love my Stokke crib [6]." — Kim