Prince George is about to become a big brother! Kate Middleton and Prince William announced their exciting pregnancy news [1] earlier today, according to the palace, and royal watchers everywhere are celebrating! If we had to crown a modern-day style icon, Kate would be it. Always dressed to the nines in pieces that are contemporary yet classic, Kate never fails, and her nine months of pregnancy fashion did not disappoint. Sticking to wardrobe staples like hats and coats, Kate showed how versatile key pieces can be over the course of nine months.
Check out some of the duchess's most fab maternity fashion moments throughout the next nine months — we can't wait to see what she has in store for round two. (Once she feels better! As with her first pregnancy, Kate is again being treated for hyperemesis gravidarum [2].)
Source: Getty / Max Mumby/Indigo [3]
Bright in Blue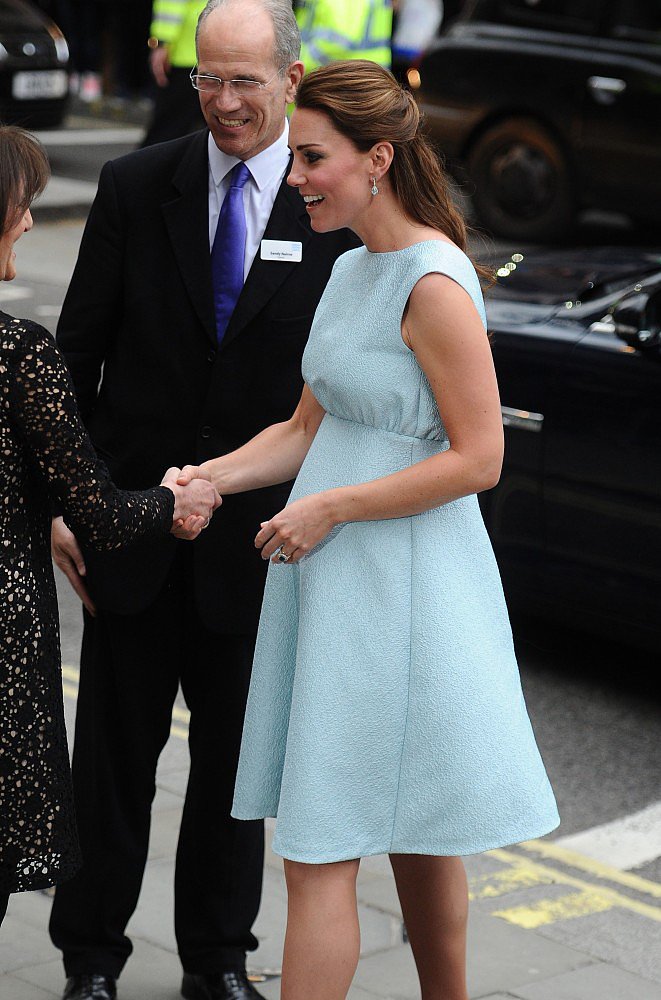 A cinched waist showed off Kate's bump, which was often covered up, in this shimmery blue Emilia Wickstead dress on April 24, 2013. One of our favorite looks of her first pregnancy!
Blue and Beaded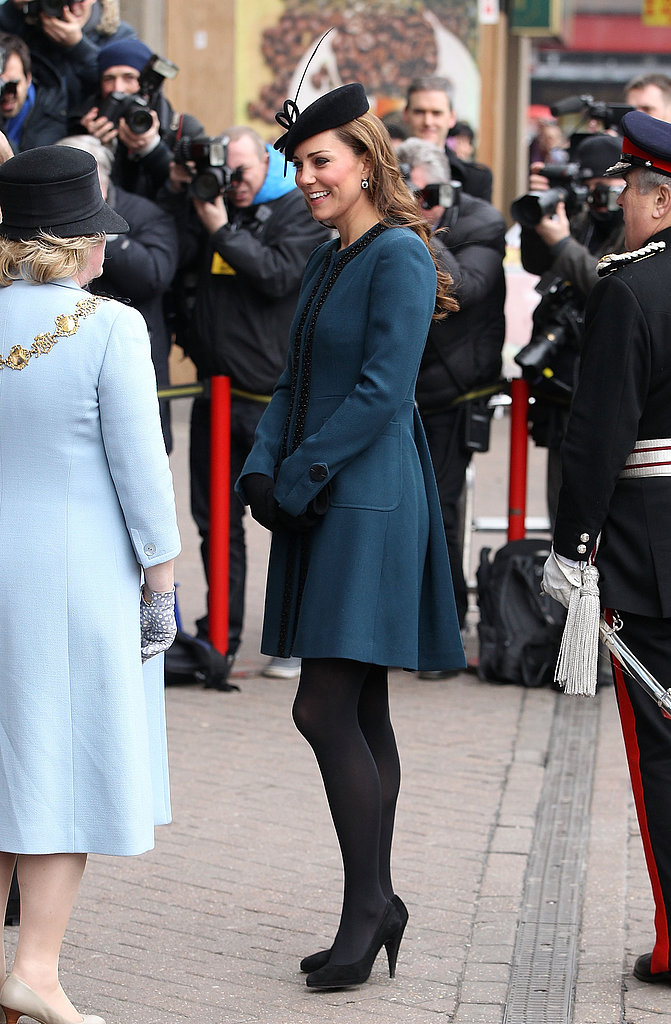 To mark the 150th anniversary of the London tube on March 20, 2013, Kate dressed up in a beaded teal coat and a black James Lock hat. This look was quite formal for the day but expected, since she was joined by the Queen of England!
Pretty in Polka Dots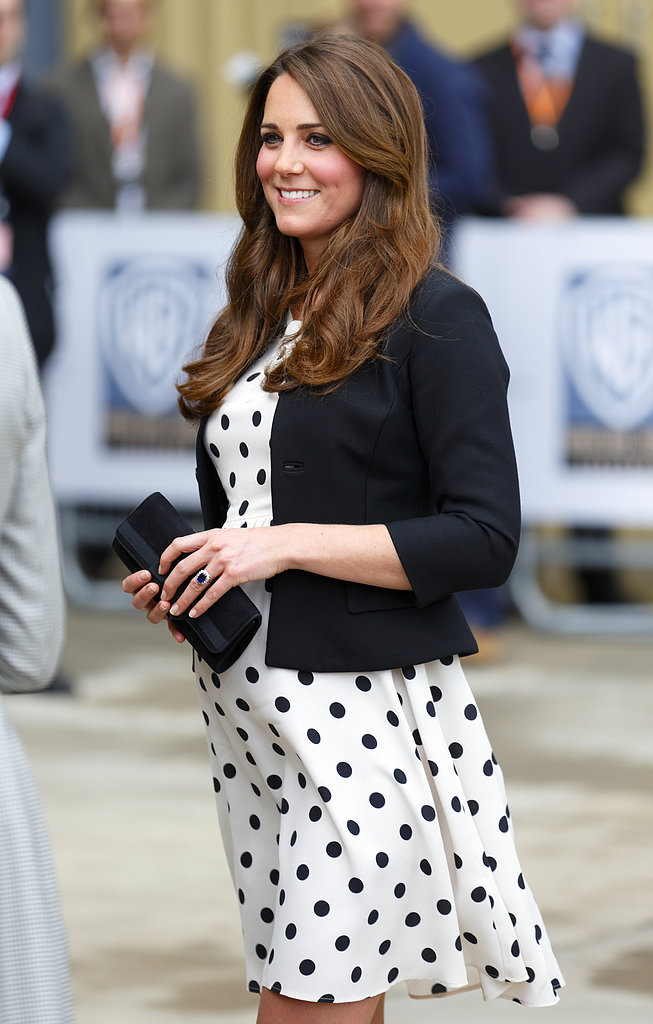 At the inauguration of the new Warner Bros. Studios in London on April 26, 2013, Kate mixed high with low when she paired a polka-dot Topshop [4] dress with a black Ralph Lauren [5] jacket, proving you can be stylish on any budget.
Recycling the Red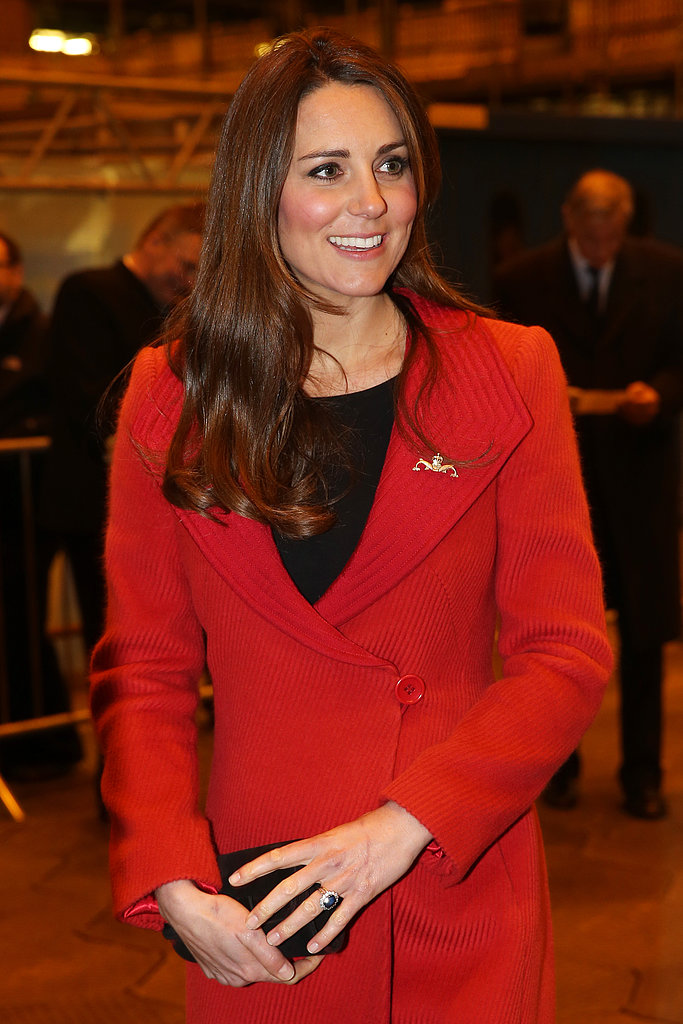 Not afraid to wear the same thing twice, Kate wore this red Armani [6] coat on April 5, 2013, during a two-day tour of Scotland. She also wore this jacket in December 2006 to watch her then-boyfriend, William, in the Sovereign's Parade. Glad to see pregnancy didn't alter the princess's style one bit!
Keeping It Comfy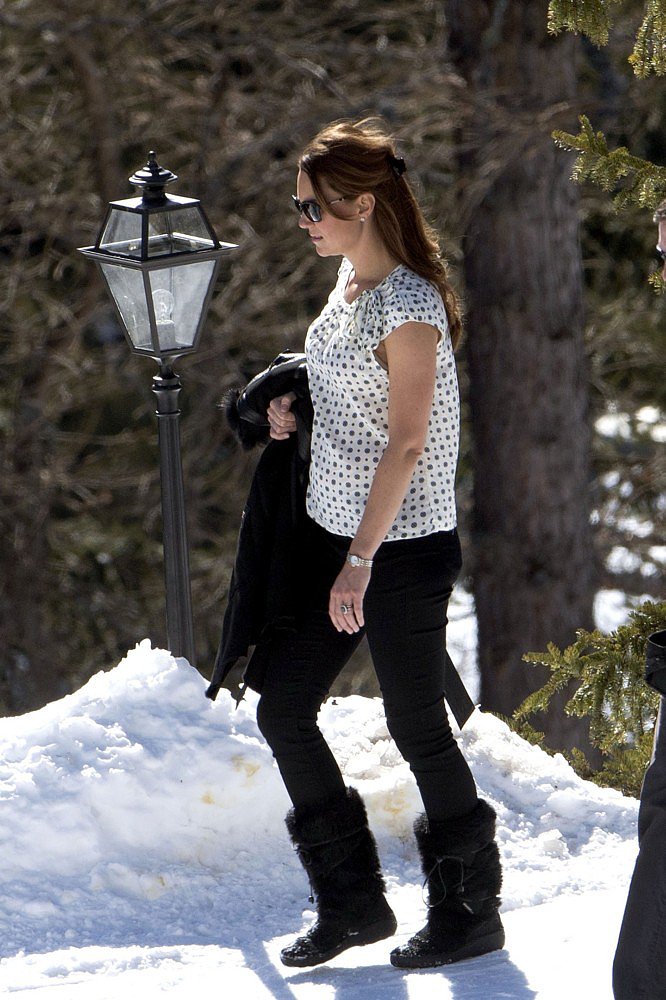 During a visit to the Swiss Alps, Kate kept comfy in a patterned top and leggings. This go-to look was complete with boots and classic sunglasses.
Wedding Wear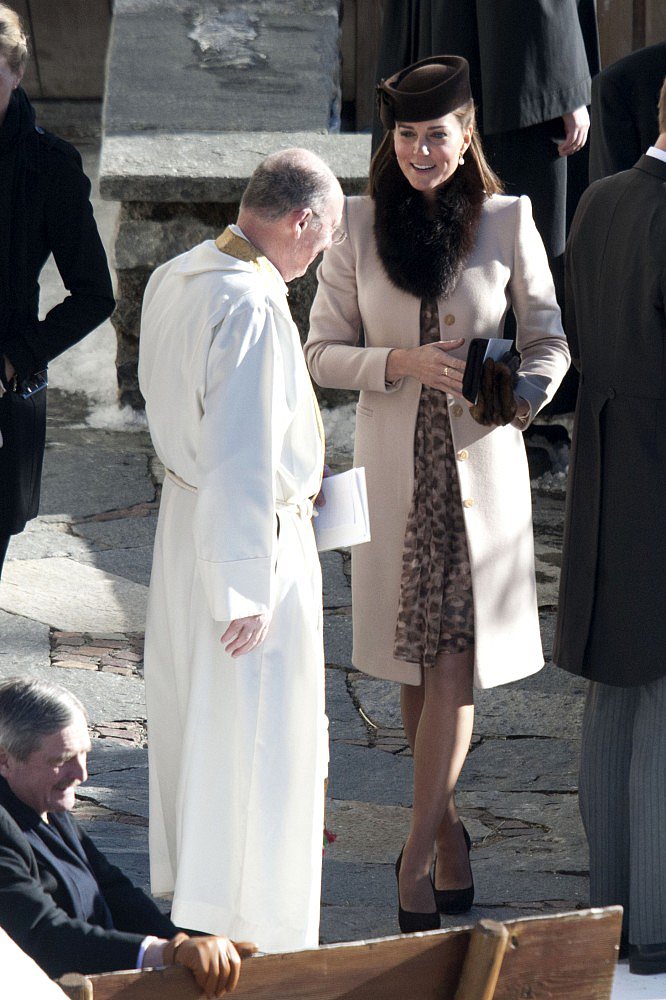 Attending a friend's wedding [7], Kate was stylishly bundled up in a printed Max Mara [8] dress and a fur-trimmed hat and coat. For this look, the accessories were key and kept the outfit from looking too stiff.
Simple in a Shift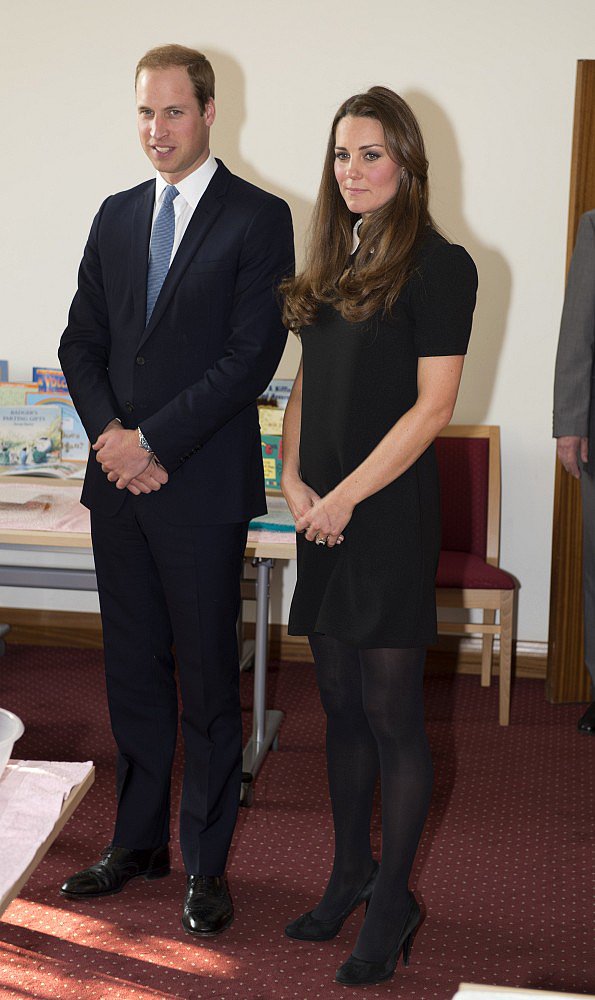 Rather than opting for her usual wrap dress, Kate kept her growing bump discreet in a basic shift dress during a visit to the offices of Child Bereavement in Saunderton, Buckinghamshire.
Not Always Maternity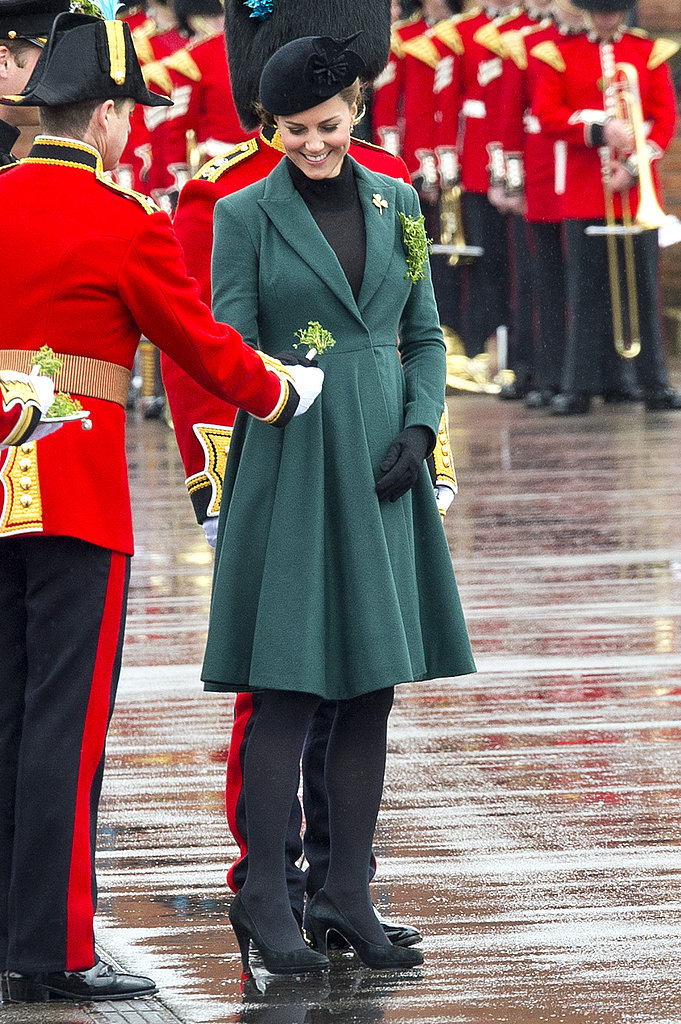 Although Kate was expecting, she didn't part with her entire wardrobe. For St. Patrick's Day in 2013, Kate donned the same green Emilia Wickstead coat that she wore for the previous year's festivities. Coats can be wardrobe staples that transition well into pregnancy.
Cape Casual
Shopping for maternity clothes in London, Kate kept it casual in a cape, flat riding boots, and a scarf in February 2013.
Source: Topstar Pictures [9]
Weekend Wear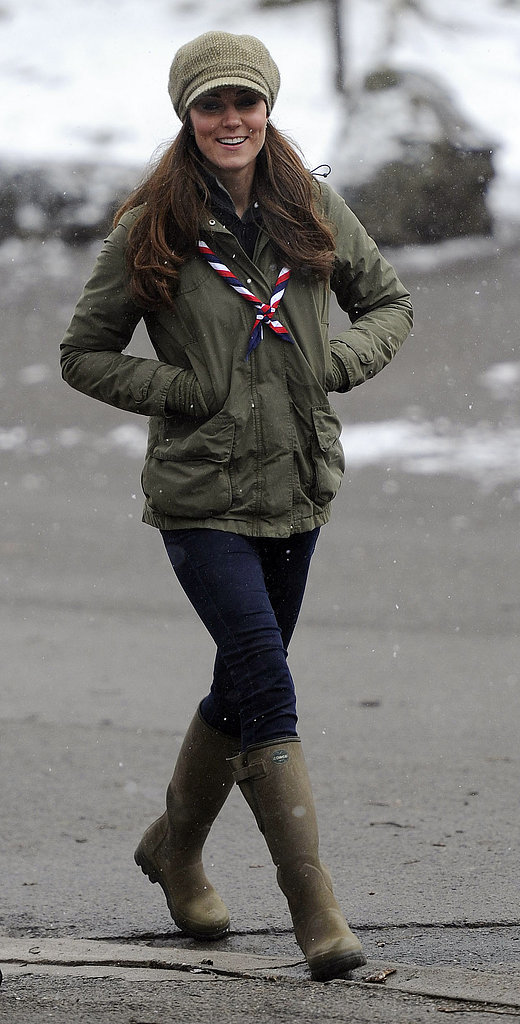 Although she's a princess, Kate isn't afraid to rock the casual wear. Visiting Cub Scouts in March 2013, she bundled up in a warm coat and Le Chameau boots and accessorized her look with a red, white, and blue UK National Scouts scarf.
Old Favorites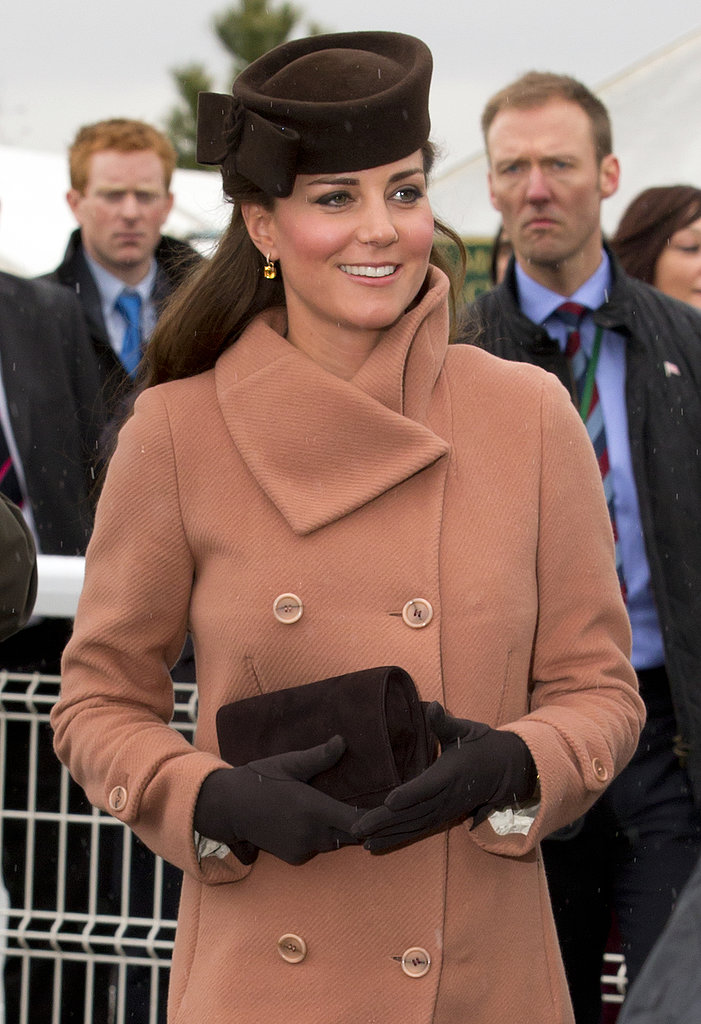 Nothing beats the versatility of classic pieces. For this look she wore to the Cheltenham Festival in England, Kate adapted old favorites for her growing babe. She paired her Lock & Co brown hat with a tan coat, likely a favorite since she's been sporting it since 2007.
Basic in Black
On a maternity shopping spree in London, Kate kept her look classic in an all-black ensemble. Kitten heels and an oversize tote kept the look practical yet pulled together.
Source: Simpson/Bushell [10]
Rocking the Wrap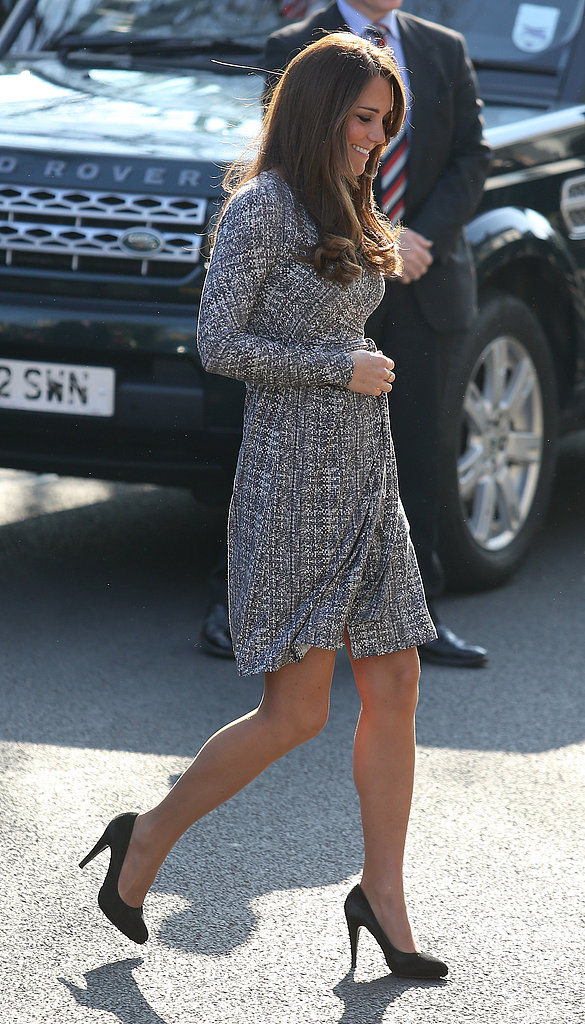 Pregnant or not, you can't go wrong with a wrap dress. Kate showed a hint of her growing baby bump when she wore a Max Mara [11] dress, one of her favorites, to Hope House in London.
Minty Green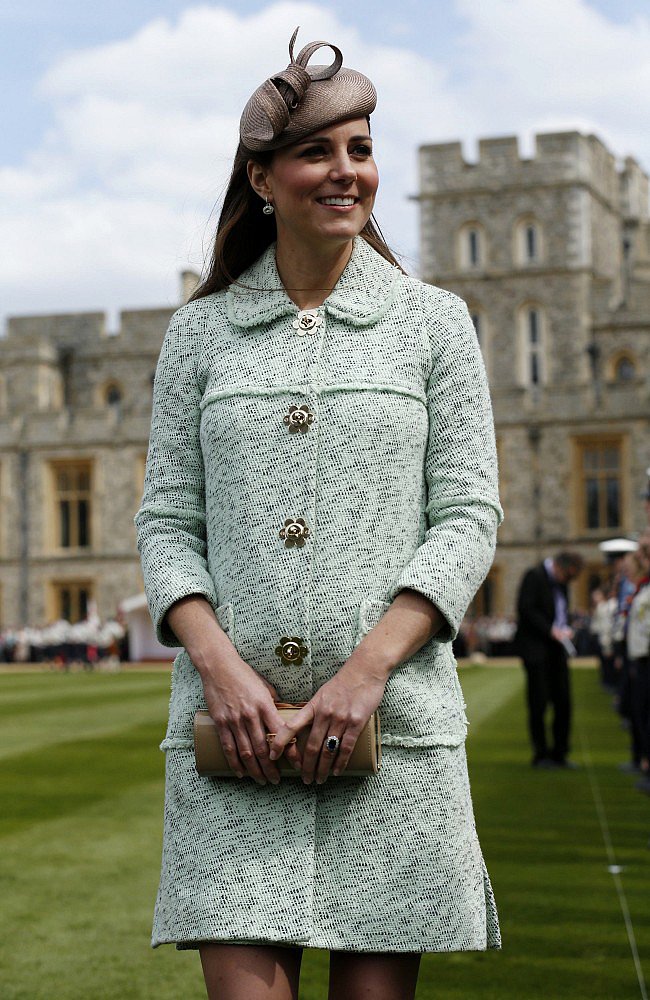 Rocking a playful, mint-green Mulberry coat, Kate attended the National Review of Queen's Scouts on April 21, 2013. In fine form, she matched her taupe hat with her clutch and shoes — classic Kate!
Nice and Neutral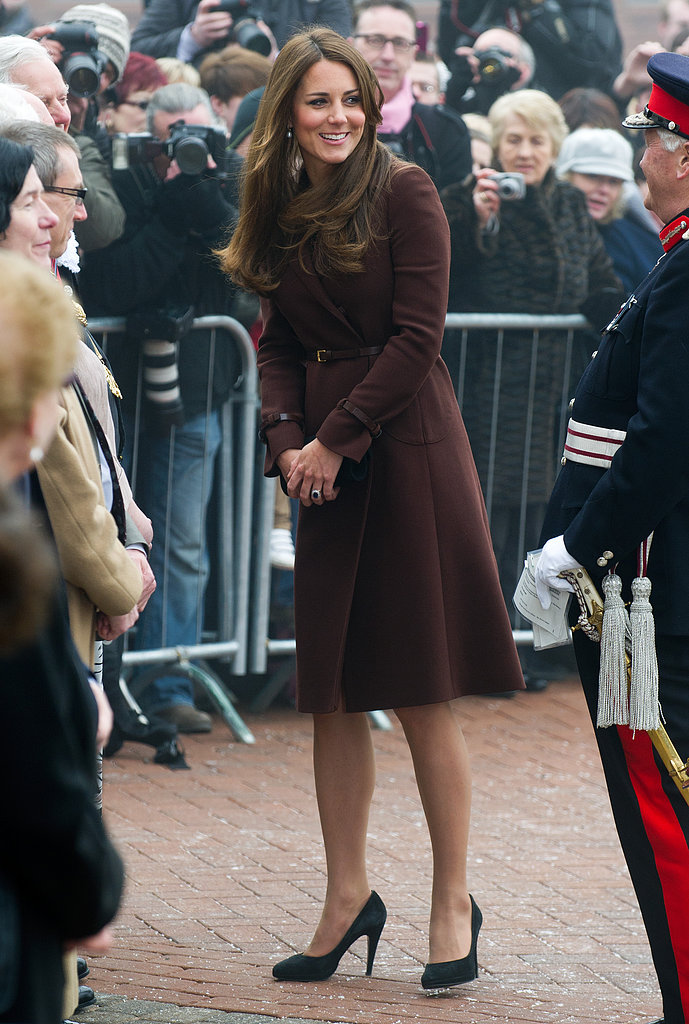 At the National Fishing Heritage Centre in England on March 5, 2013, Kate wrapped her bump in a brown Hobbs coat and wore basic black pumps. A belt kept the coat fitted, keeping with her signature tailored style.
Playing With Prints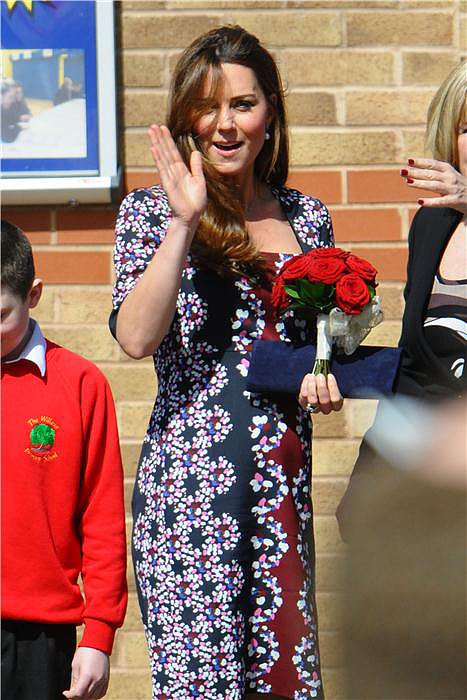 When done right, prints can be very flattering. Kate's printed Erdem [12] dress flattered her figure and kept her look casual during a school visit on April 21, 2013. Just don't forget to keep the accessories minimal (like a basic clutch) when wearing patterns.
Black and White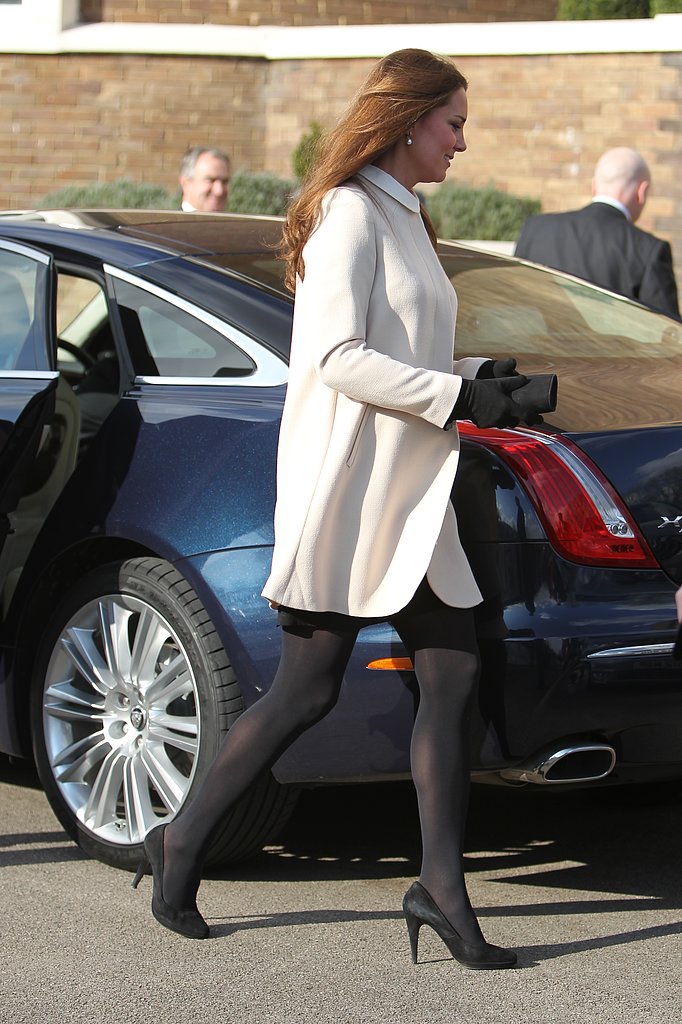 Making an appearance with her husband, Prince William, Kate wore a white shift coat — a great day look for Spring.
Pretty in Plaid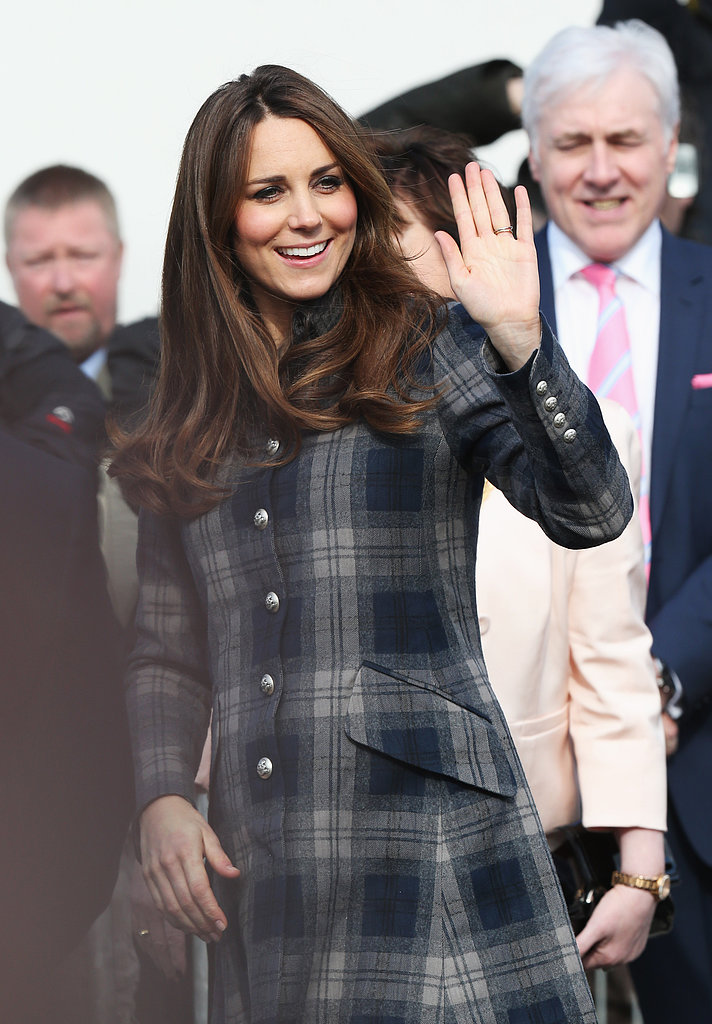 Coats are Kate's style staple. She got in the Scottish spirit when she wore a blue and gray plaid coat by Moloh on March 4, 2013, that slightly showed off her bump.
Royal in Red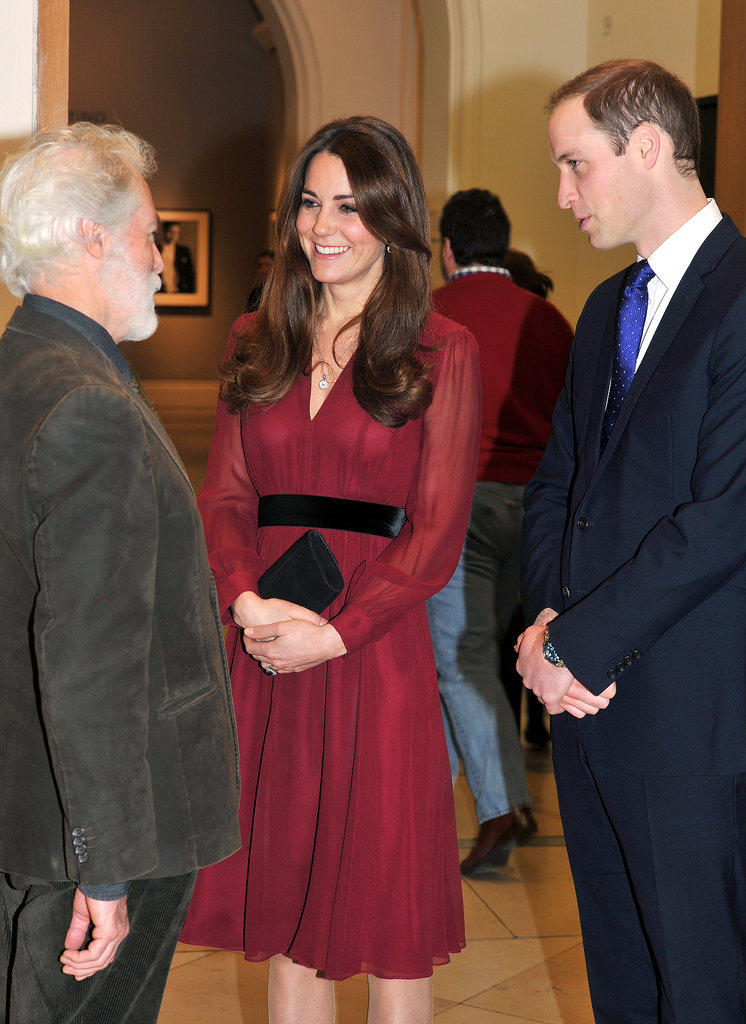 Kate Middleton smiled with artist Paul Emsley and Prince William when she attended an unveiling of her official portrait [13] at the National Portrait Gallery on Jan. 11, 2013. Her barely visible bump was highlighted by a belt at her waist.
Peachy Keen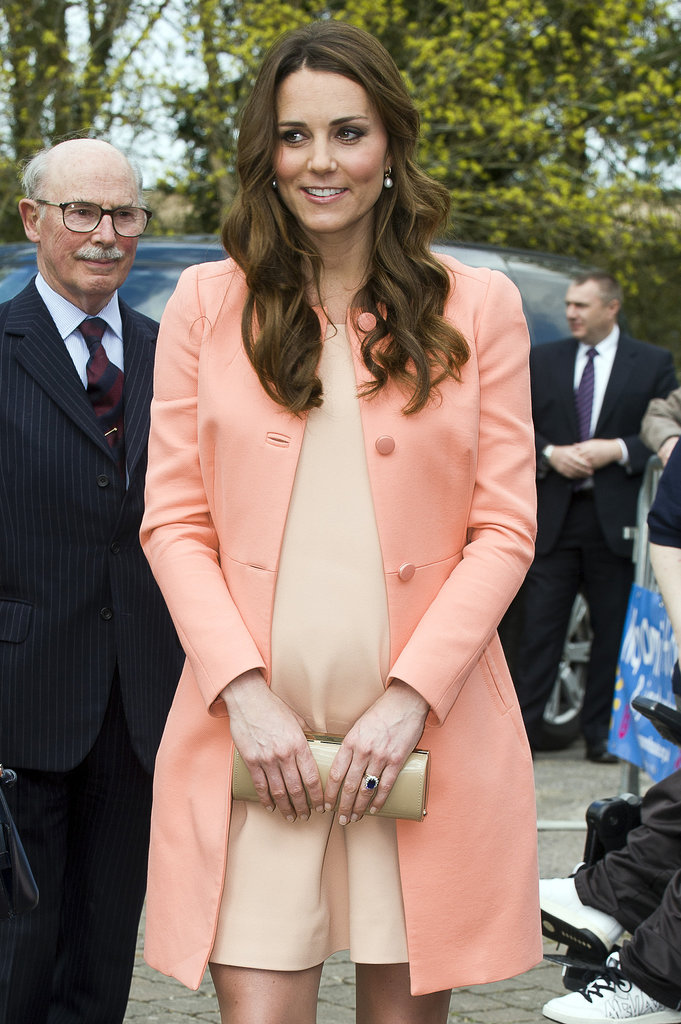 Kate Middleton celebrated her wedding anniversary [14] on April 29, 2013, by visiting the Naomi House Children's Hospice in Hampshire, England. She wore a tan shift and a peach Tara Jarmon [15] coat for the occasion.
Mellow Yellow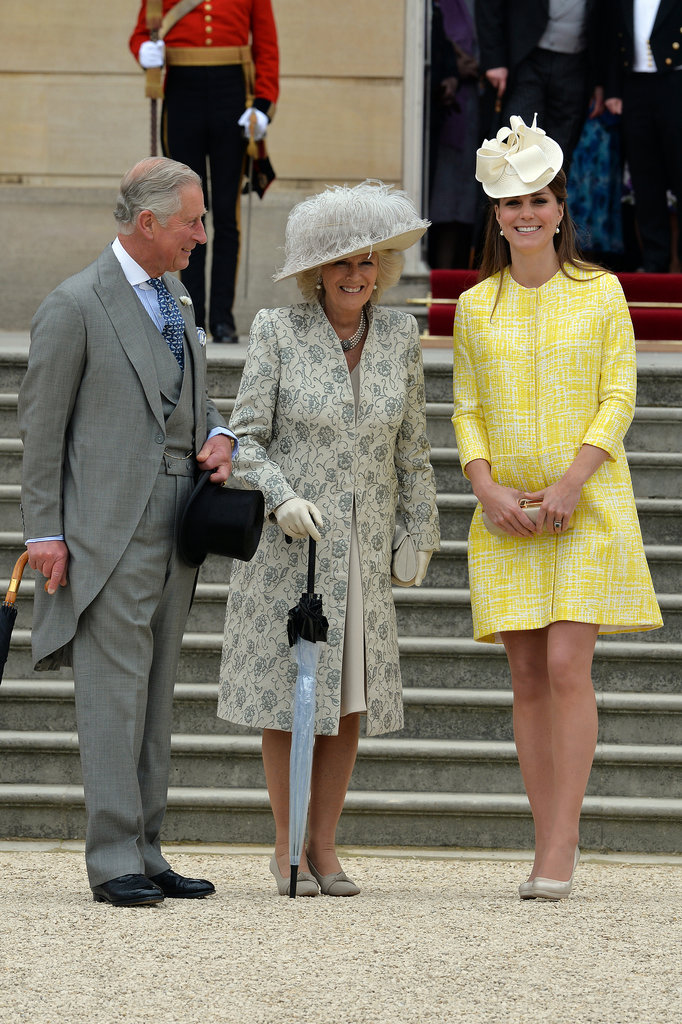 Kate Middleton joined Prince Charles and Camilla, Duchess of Cornwall, at Queen Elizabeth II's annual garden party on May 22, 2013, in London. For the occasion, Kate wore a yellow tweed Emilia Wickstead coat, topped off with a Jane Corbett headpiece.
Covered in Spots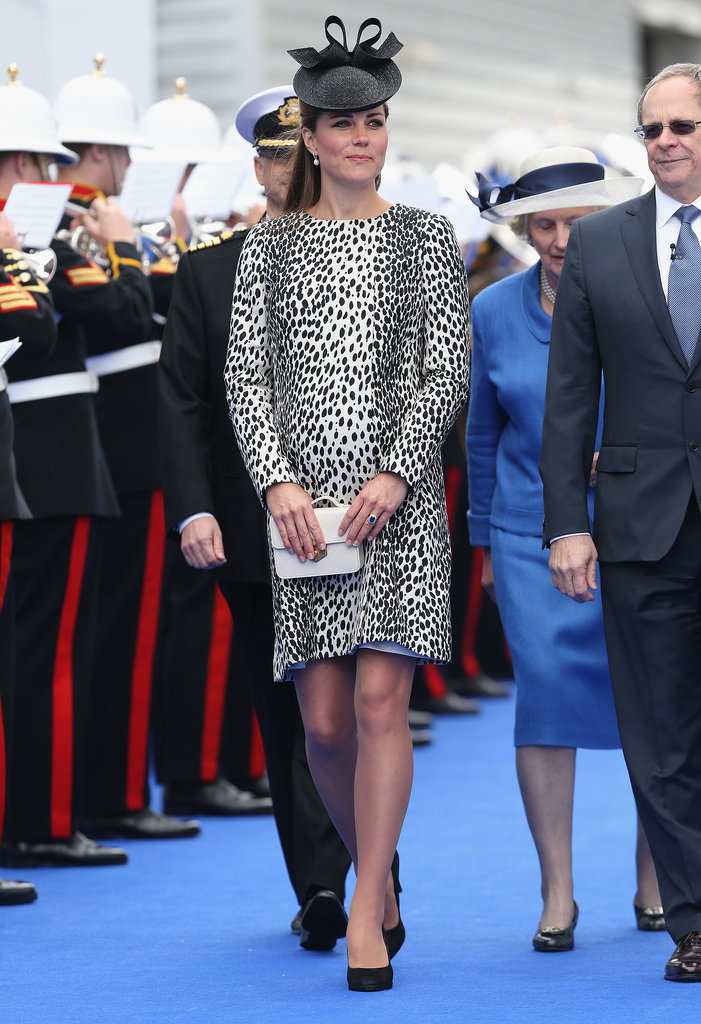 Returning to the animal-print look that she wore to debut her bump, Kate Middleton wore a dalmatian-print Hobbs shift coat to the christening of a Princess Cruises ship in Southampton, England, on June 13, 2013 — her final solo official appearance before she gave birth. The coat, a common wardrobe pick throughout her pregnancy, graced her bump as she made her way through the ceremony.
Kate Middleton attended Queen Elizabeth II's 60th coronation anniversary [16] service at Westminster Abbey in London on June 4, 2013. She donned a Jenny Packham [17] daisy-lace dress with silver gray ribbon detail and a peach silk shantung jacket by the same designer.