It may come as a surprise to some, but all kids don't love burgers. A large patty of ground beef sitting on a huge bun can be intimidating to tiny hands and small mouths. Yes, you can cut them into halves or quarters, but if you want to give tots the full burger experience, size them down to sliders! Cooking With My Kid [1]'s Rebecca Coleman did just that to entice her burger-phobe son to try the all-American dish. Using the smaller slider buns, and creating "meatballs" prior to grilling, she created a burger-lover almost overnight. For National Burger Month [2], the chef and blogger shared three of her favorite recipes with us, including the ultra-healthy Black Bean Quinoa version shown here. Best of all, her recipes include step-by-step photo instructions showing how her lil one helps her make them. Check them out!
Black Bean Quinoa Burgers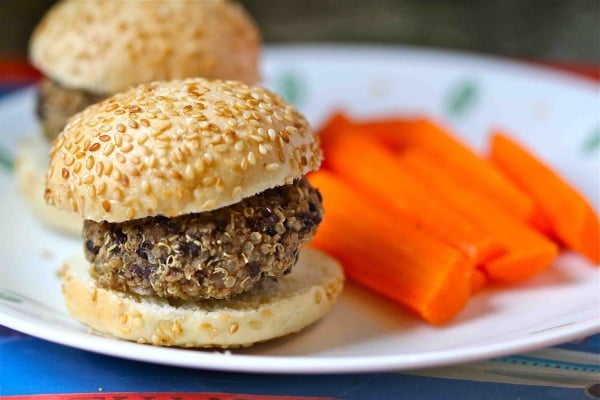 These Black Bean Quinoa Burgers [3] may not have traditional ground beef in them, but they are made with beans and today's superfood quinoa for a protein-packed patty that the whole family can enjoy.
Hide and Seek Burgers
These are the sliders that started it all in Rebecca Coleman's household. A traditional patty with a hidden surprise (a square of cheese) for tots that make their way into the center of the burger. Called Hide and Seek burgers [4], you'll want to make extras for lil ones who can't get enough of the game!
Mini Mediterranean Burgers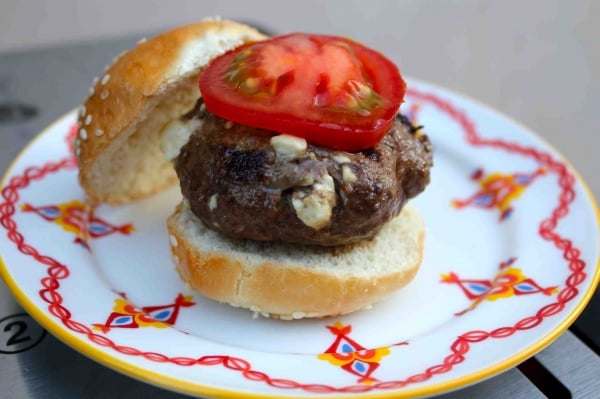 A little spice and some different cheeses transform the burger completely. These Mini Mediterranean Burgers [5] are yummy as is, and would probably be tasty if made with ground lamb too!