After several Internet searches and hours of debate, you and your family have decided to embark on a cruise for your next vacation [1]. After all, nothing sounds better than basking in the sun while your kids play in the nearby pool. But before you book your cabin and review the cruise etiquette [2], you need to decide which ship is right for your family. Each of these eight cruise lines offers a unique experience for every child — from babies to teens. Take a look before you sail away!
Source: Shutterstock [3]
Royal Caribbean Cruise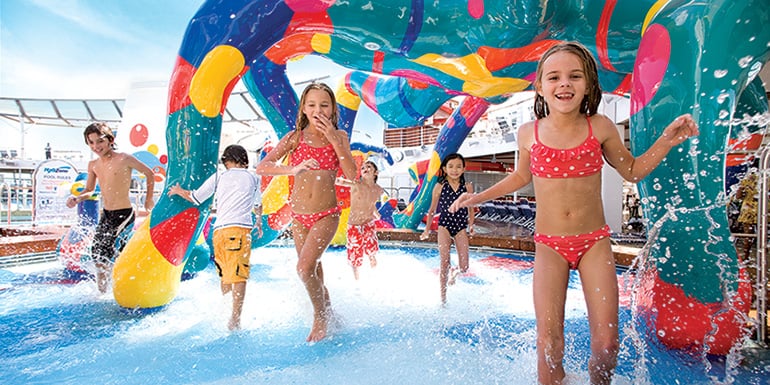 Where It Sails: Travel from North America to Asia, and anywhere in between, on Royal Caribbean [4].
Child Care: Sitters can be reserved from 8 a.m. to 2 a.m. through the Guest Relations Desk, provided they receive a day's notice. Sitters can look after as many as three children for $19 per hour. But be warned: this is a first-come, first-served basis.
For Tiny Tots: In addition to traditional kids' club activities, Royal Caribbean offers something special for little girls — the Barbie Premium Experience. For $199, girls enjoy a variety of Barbie-themed activities, from dance classes to fashion shows. They walk away not only with memories but also an assortment of Barbie swag.
For Tweens and Teens: During the day, teens can hang ten at H2O Zone's surf simulator or enjoy some R&R at the YSpa. At night, they can bust a move at the teen-only nightclub or play a few games at the arcade.
Source: Royal Caribbean International [5]
Celebrity Cruises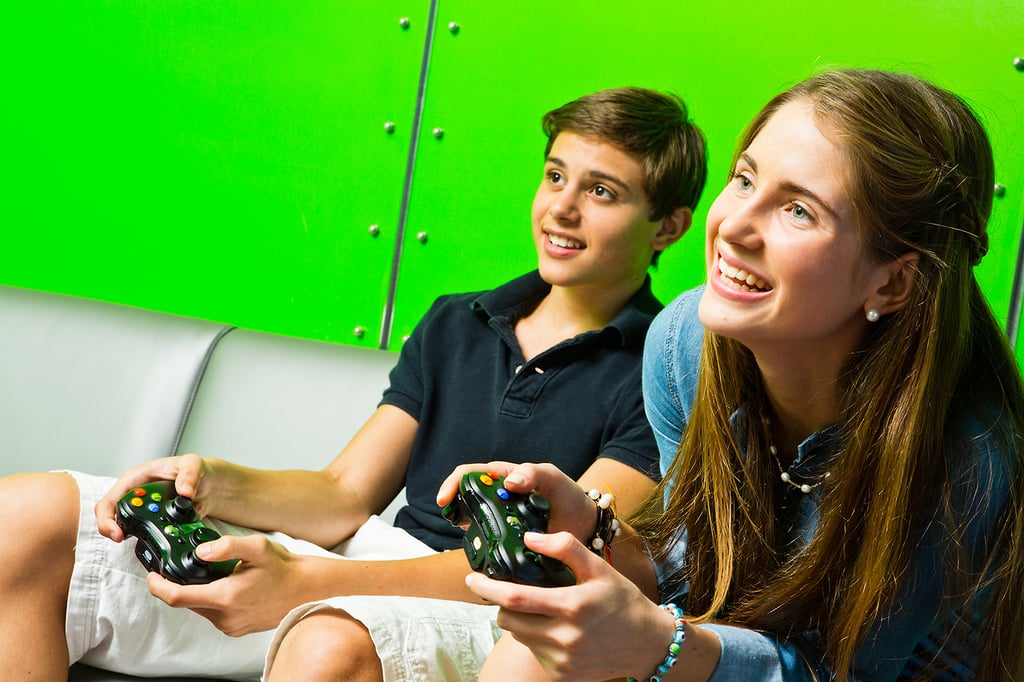 Where It Sails: In addition to beautiful beaches, Celebrity Cruises [6] offers trips to Europe and South Africa.
Child Care: Babysitting services are available to children over 1 year old in both the kids' club and in staterooms for $19 an hour. Older children can spend their day at the Fun Factory, free of charge.
For Tiny Tots: Little gamers will love the ship's larger-than-life Xbox experience. Thanks to dedicated Xbox stations and mobile consoles, kids can play their favorite games anywhere on the ship. They can even partake in some of Celebrity's tournaments and game nights.
For Tweens and Teens: In addition to the typical lounge areas, Celebrity Cruises offers iTake to its teen passengers. In this introduction to directing, teens create a story concept and film and edit it using high-tech gear. They then show their film at the XClub Film Festival & Award Ceremony, where they are awarded amazing prizes for their work.
Source: Celebrity Cruises [7]
Holland America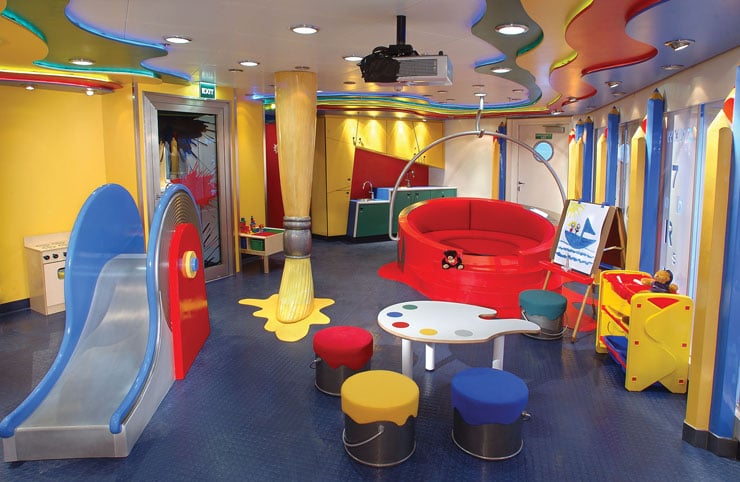 Where It Sails: The Holland America [8] takes passengers to all seven continents.
Child Care: Babysitting services are available from 10 p.m. until midnight for children 3 years old and up for $5 per child. To arrange babysitting for other hours or for children under the age of 3, parents must contact the front office. The cost is $10 per hour for the first child and $7 per hour for each additional child.
For Tiny Tots: Does your child have some culinary skills? Then they will love Holland America's Culinary Arts Center, where the ship's chefs teach them how to make tasty treats. During these free 45-minute classes, kids will learn how to make a variety of items from fruit leather to cookies. If you prefer more traditional activities, kids can visit Club HAL for storytelling, crafts, and other age-appropriate activities.
For Tweens and Teens: Specifically for kids 13 to 17 years old, The Loft is a place for teens to call their own. Here, they can enjoy music, games, and movies or just lounge. If they follow a secret passageway, they will find themselves at The Oasis — a teen-only deck.
Source: Holland America [9]
Disney Cruises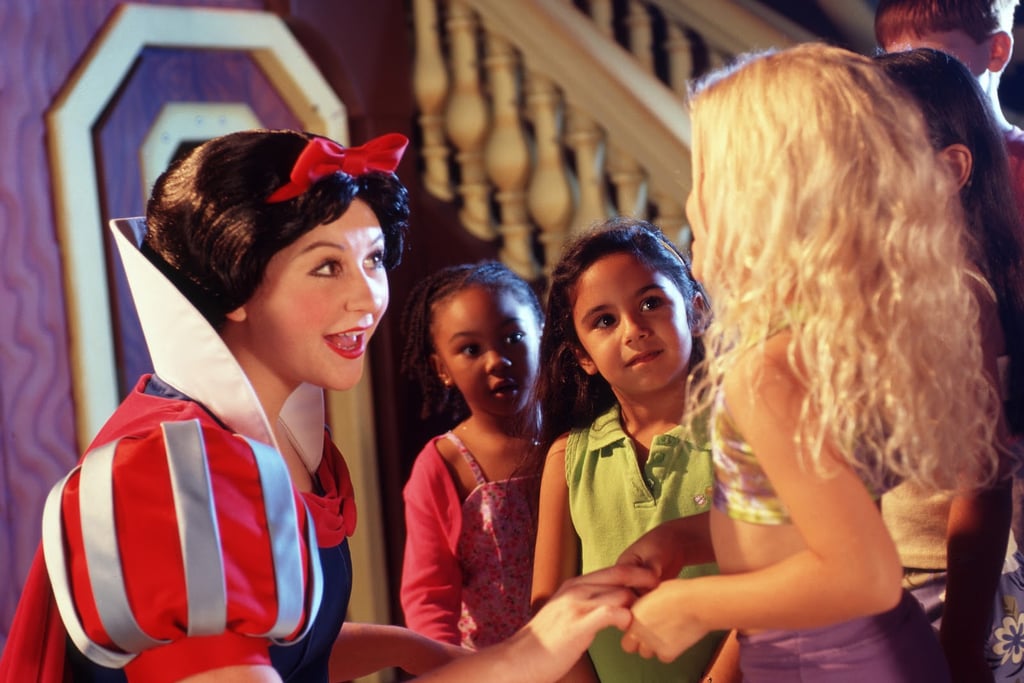 Where It Sails: From the California coast to the Panama Canal, you and your family can explore a variety of places during your Disney Cruise [10].
Child Care: For $9 an hour ($8 per hour for a second child), families can reserve spots in the ship's nursery for children 3 months to 3 years old.
For Tiny Tots: The most magical part of any Disney cruise is interacting with the characters. Take in one of 11 shows that feature everyone from Mickey and Minnie to the cast of Toy Story. For a more one-on-one experience, kids can meet their favorite "stars" during the ships' designated Character Greetings.
For Tweens and Teens: Has your teen been working hard throughout the school year? Reward them with a treatment at the Chill Spa. Exclusively for 13- to 17-year-olds, your child can receive facial treatments, massages, and mani-pedis. Afterward, they can head to Vibe Sundeck — a teen-only area complete with comfortable lounge chairs, splash pools, and hot tubs.
Source: Disney Cruises [11]
Carnival Cruise Lines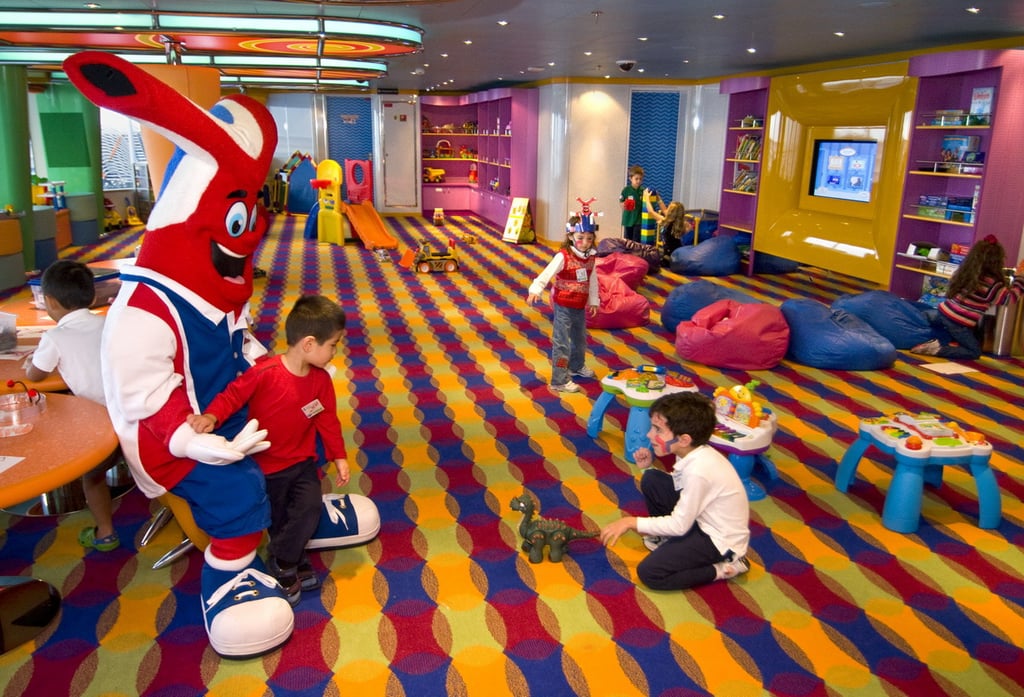 Where It Sails: Carnival Cruise [12] sails domestically and internationally, including trips to Australia.
Child Care: If you and your partner want to enjoy a shore excursion, drop the kids off at Camp Carnival. For no additional cost, counselors provide a variety of entertaining and educational activities designed for children in three different age groups: 2 to 5 years old, 6 to 8 years old, and 9 to 11 years old. If you want some postsunset alone time, simply pay a small fee for the same care.
For Tiny Tots: Whether your child wants to slide down hundred-foot waterslides or play a few rounds of mini golf, there are plenty of fun things for them to do without leaving the ship. If your child loves Dr. Seuss, then they're in luck! Carnival recently launched Seuss at Sea, an on-board adventure that brings Seuss's beloved books to life with interactive story time, art activities, character breakfasts, and more. Though this is only a fixture on the Carnival Splendor, the company hopes to add it to the rest of its ships by mid-2015.
For Tweens and Teens: Older kids can take a break from their family at Club O2. Here, they can watch movies, play video games, enjoy pool parties, and more with fellow teens. For an additional cost, they can even participate in teen-only shore excursions.
Source: Carnival Cruise Lines [13]
Princess Cruises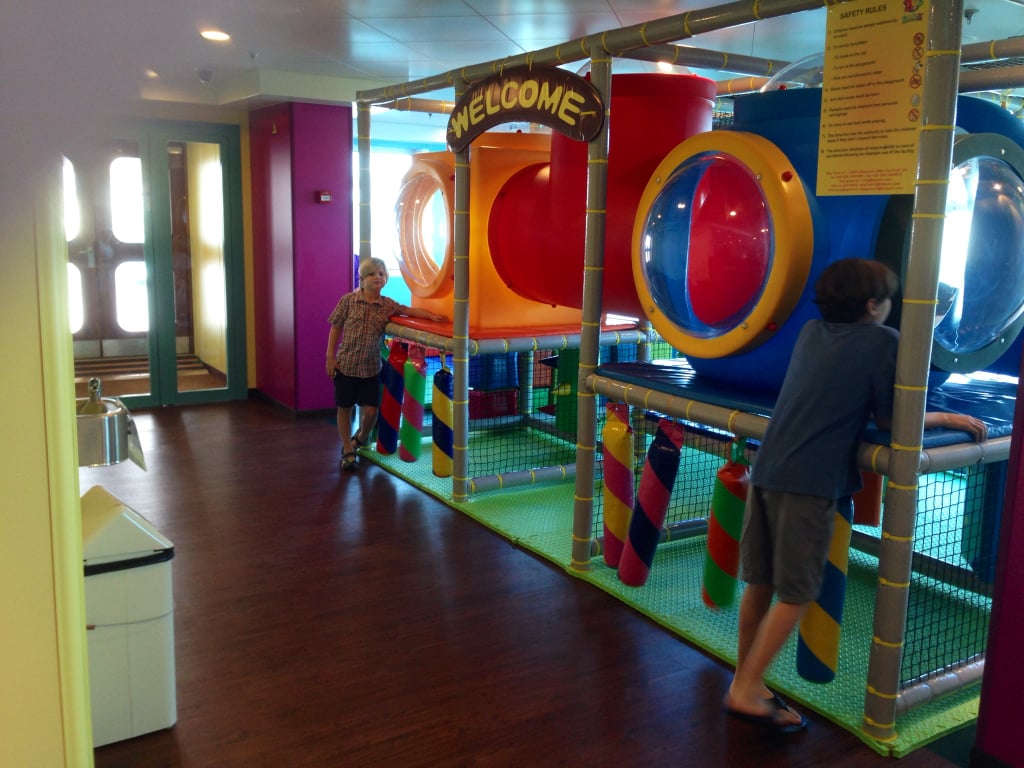 Where It Sails: From Alaska to New Zealand, there are no location limits on Princess Cruises [14].
Child Care: The Princess kids' clubs offer free child care during the day. At night, however, parents have to pay a $5 per hour, per child fee.
For Tiny Tots: Kids between the ages of 3 and 7 years old can enjoy crafts, cartoons, pajama parties, and more at Princess Pelicans. For children ages 8 to 12 years old, there's Shockwaves. This club offers a Science on the Seas workshop for curious minds, talent shows for creative minds, and much more!
For Tweens and Teens: Does your teen dabble in hip-hop? Do they want to learn how to spin records? Would they enjoy sipping a mocktail while receiving a makeover? These are only some of the activities teens can enjoy in the ship's teen lounge, Remix.
Source: Kiddy Travel [15]
Cunard Cruises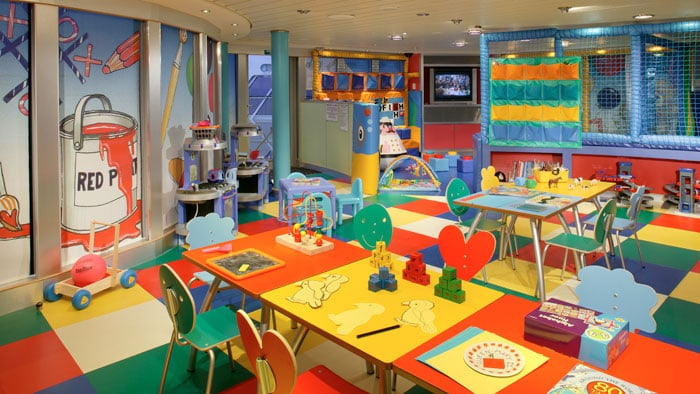 Where It Sails: Cunard cruises [16] take you all over the world, including tours along the Mediterranean and throughout the Middle East.
Child Care: While there are no babysitting options, children can be left with the ship's nannies in the nursery (where their diapers are changed and they are bottle-fed) once they are 1 year old for no charge.
For Tiny Tots: Children between the ages of 2 and 7 years old can create a craft, read a book, play a game, and more at The Play Zone. Kids under the age of 2 can enjoy the same activities, as long as they are accompanied by an adult.
For Tweens and Teens: Any 8- to 17-year-old can spend time at The Zone, where they can enjoy sport competitions, table tennis tournaments, and more. Don't worry, parents — there's plenty of supervision.
Source: Cunard [17]
Norwegian Cruise Line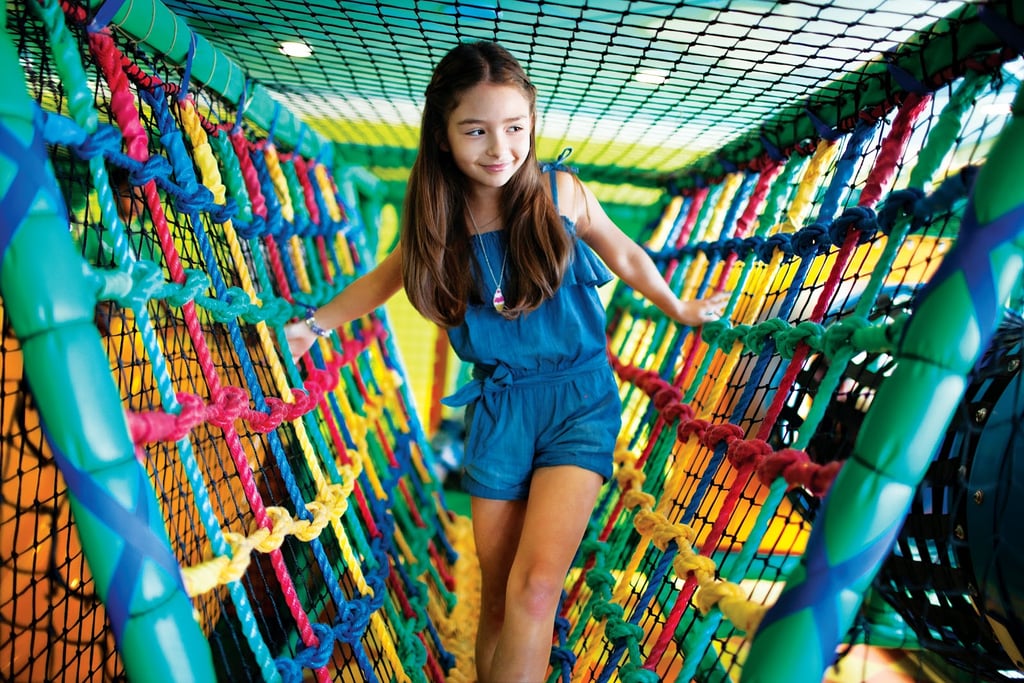 Where It Sails: Norwegian Cruise Lines [18] take your family all over North America and Europe.
Child Care: To enjoy some parents-only time during the day, drop your tots off at Port Play, the ship's free day care. Utilize the Late Night Fun zone after 10:30 p.m. for a small fee. But make sure to sign up a day in advance!
For Tiny Tots: Who wants to juggle? In addition to traditional activities, Norwegian's Splash Academy offers circus classes for its youngest passengers. Once they've perfected their skill, kids are invited to perform at the Big Top at Sea show.
For Tweens and Teens: Your child can still learn, even if they are on vacation. At Entourage, Norwegian's teen program, creative teens can participate in theater and fashion workshops. More-competitive teens can enjoy one of the 20 sporting events the ship offers, including basketball, ultimate frisbee, and rounders.
Source: Norwegian Cruise Lines [19]