Ramen With Farm-Fresh Egg and Spring Vegetables
Farm to Table Family [2]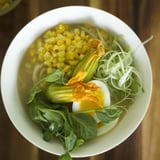 Ingredients
1 leek
6 pieces of ginger, freshly sliced
4 cloves of garlic, unpeeled
1/2 cup of soy milk (optional)
6 cups chicken broth (fresh or store bought)
4 servings ramen noodles
2 cups corn
4 eggs
Salt
Pepper
Olive oil
Sesame oil
Extras:
Pea tendrils
Scallions
Squash blossoms
Directions
Cut 1 leek into fourths and then halves. Sauté garlic, ginger, and leeks with olive oil over medium heat until dark brown, about 20 minutes.
Add 6 cups of chicken broth (fresh or store bought) and simmer together with the sautéed ingredients for about 1 hour. Strain broth, and add some salt to taste and 1/2 cup of soy milk.
For a perfect medium-boiled egg, gently add eggs to a boiling pot of water and cook for 7 minutes. Transfer to an ice bath for 4 minutes, making sure it's completely cool before removing it. Peel and then slice.
Cut scallions as desired. Or to curl scallions as we did in the video, cut lengthwise into very thin strips. Add to an ice bath and refrigerate for about 1 hour, or until they begin to curl.
Sauté two cups of corn (or your favorite vegetables!) with olive oil and a little sea salt. Other vegetables that we like to use are spinach, pea tendrils, sliced onions, and bean sprouts.
Cook ramen noodles until they are slightly firmer than the final consistency you want, since they will continue cooking after you remove them from the water. Final texture should be not too hard and not too soft.
Assemble bowl! Add noodles and broth, and finish with toppings.
Information
Category

Main Dishes, Soup

Cuisine

Japanese

Yield

4 servings