If you're lucky, family trips to the farmers market are a year-round affair. No season, however, is as satisfying as the start of Spring. With spinach, strawberries, asparagus, and avocados taking center stage, it's tempting to fill bag after bag with the farm-fresh fruits and veggies. Here, 10 kid-friendly recipes that take advantage of the season's best produce, and the whole family can enjoy together.
Strawberries and Rhubarb: Homemade Pop-Tarts
Kids love store-bought pop tarts, but parents hate the sugar and preservatives. Inspired by a Bon Appetit recipe, the editors over at POPSUGAR Food put their own twist on these strawberry rhubarb pop-tarts [1]. Make them over the weekend, then pop them in the toaster all week long for a tasty school morning breakfast treat.
Avocado: Grilled Hot Dog Skewers With Creamy Avocado Dip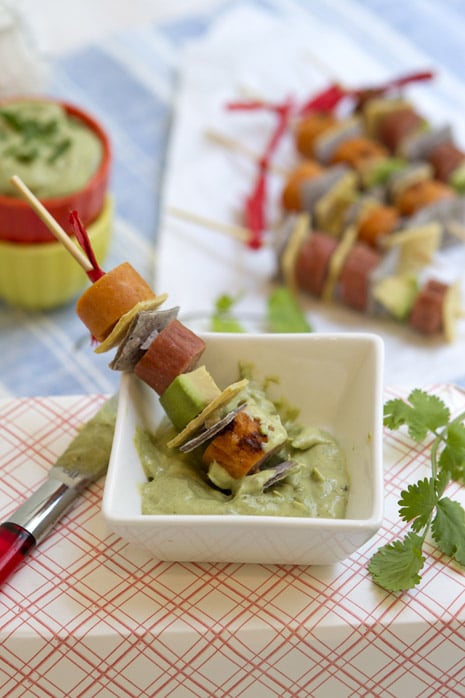 Keep the hot dog flavor that kids love while knowing that they're getting a healthy alternative. This inventive recipe [2] from Family Fresh Cooking Swap swaps buns for tortilla squares and uses farm fresh avocados to make a creamy and rich, but healthy veggie dipping sauce.
Source: Family Fresh Cooking [3]
Spinach: Green Morning Smoothies
Melissa d'Arabian, host and author of 10 Dollar Dinners, sneaks that seasonal star — spinach — into green morning smoothies [4], an AM staple in her household.
Artichoke and Asparagus: One-Dish Artichoke Chicken With Asparagus
You only need one baking pan to make this recipe for artichoke chicken with asparagus [5]. Put the dish together in advance, keep it in the fridge, and pop it in the oven when you get home from work — dinner is served!
Source: POPSUGAR Community Member TheFitCookie [6]
Strawberries: Strawberry Sorbet
Even if you're typically a health food stickler, warmer weather screams for ice cream. Upgrade your expected vanilla or mint chocolate chip with a batch of refreshing, homemade strawberry sorbet [7] instead.
Source: POPSUGAR Food [8]
Strawberries: Strawberry Chia Pudding
Put those plump, sweet strawberries to use in all-natural strawberry chia pudding [9]. Chia is a great source of omega-3s, and strawberries are full of vitamin C and other antioxidants.
Source: Love Raw [10]
Peas: Salmon Teriyaki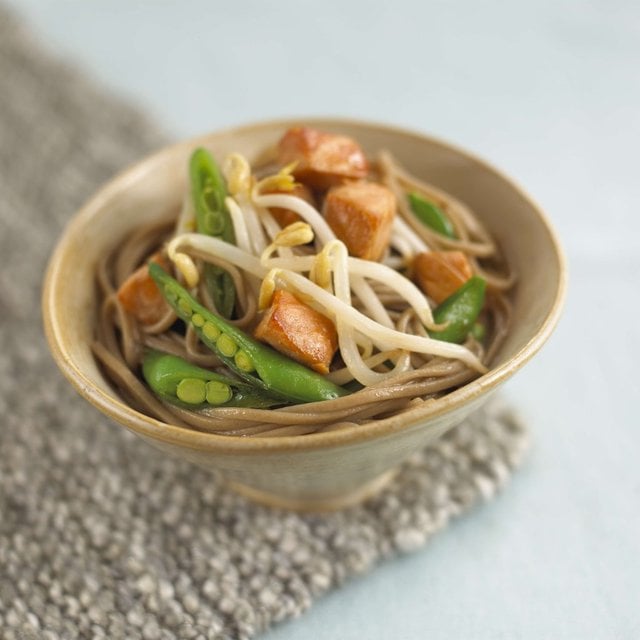 An Asian-inspired salmon teriyaki [11] is made especially for Spring with the addition of crunchy, green snow peas.
Source: Annabel Karmel [12]
Asparagus and Potatoes: Spring Veggie Frittata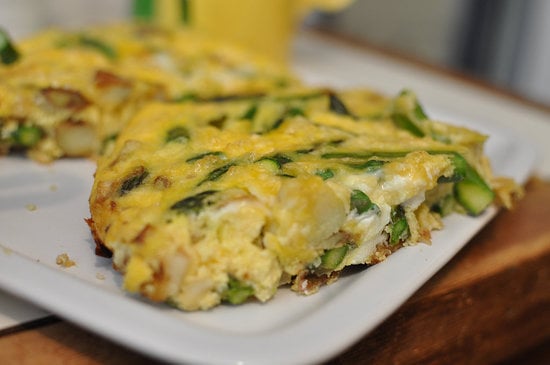 This veggie-packed recipe for a Spring frittata [13] swaps out much of the expected cheese for seasonal greens — a great way to kick off your kids' days.
Source: POPSUGAR Food [14]
Artichokes and Peas: Whole Wheat Orzo With Artichokes and Peas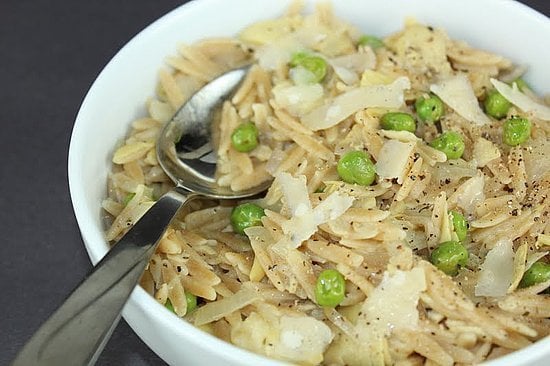 A hearty, healthy dinner that's ready in just 15 minutes is sure to perk up the ears of most any busy mama. Flavorful artichokes and English peas play the starring role in this veggie-packed orzo recipe [15].
Source: POPSUGAR Food [16]
Spinach: Spinach Pesto
Transform a bag full of deep green spinach leaves into an unexpected pasta sauce. Spinach pesto [17] also incorporates fresh lemon, pine nuts, and parmesan — yum!