Warm weather may mean it's time to break out the BBQ, but it also means putting some of those standby soups, stews, and other hearty meals on the back burner for the season. If you're searching for Summer dinner inspiration for your family, look no further. These 25 recipe ideas feature seasonal ingredients and are sure to satisfy parents and kids alike. Eat up!
Tropical Hot Dogs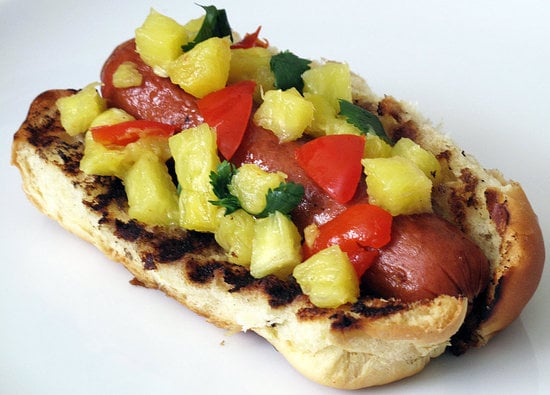 Skip the mustard and ketchup and go for tropical toppings instead with these pineapple, pepper, and cilantro-topped hot dogs [1].
Source: POPSUGAR Food [2]
Mexican-Style Chicken Sliders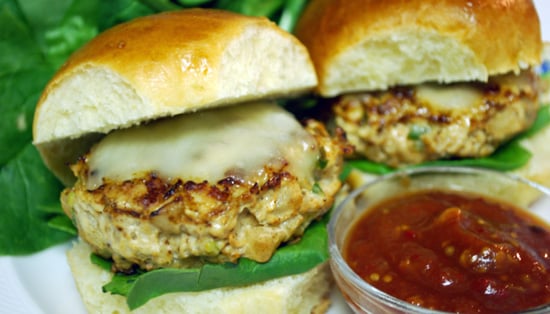 Head south of the border with a lighter patty recipe using ground chicken and a variety of spices. Our Mexican-style chicken sliders [3] will have lil ones shouting ole!
Pasta With White Beans and Tomatoes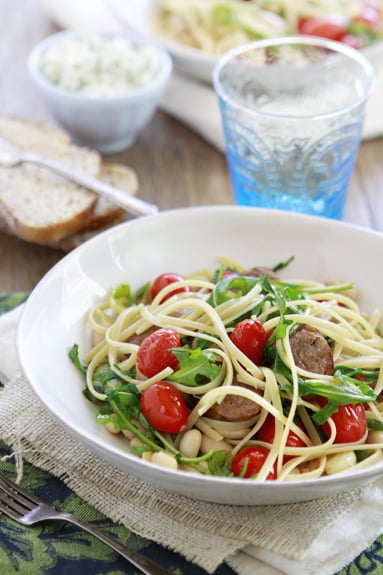 This simple pasta recipe [4] has seasonal favorites like arugula and white beans for creaminess. Adding sausage is a fun way to break away from the usual meatballs.
Source: Good Life Eats [5]
Tuscan Grilled Rib Eye
Karista [6] of Karista's Kitchen [7] says her Tuscan Grilled Rib-Eye combines the flavors of rosemary and garlic with fresh olive oil for a perfect pairing to any red wine.
Get Karista's Tuscan Grilled Rib-Eye recipe>> [8]
Roasted Vegetable Pasta Salad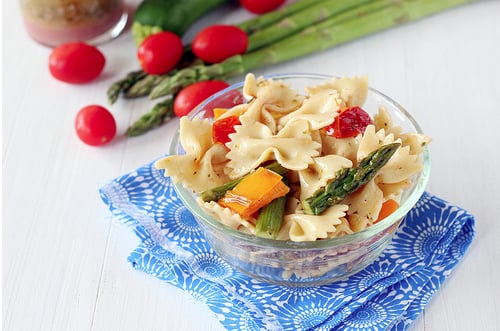 Nothing beats the heat like a light pasta salad for dinner. Thanks to its tangy taste, this pasta salad [9] is sure to be a dish you and the little ones will enjoy. Try adding your own twist using fun shaped pasta.
Source: Sunny Side Up [10]
Best Ever Grilled Chicken
"This recipe for Best Ever Grilled Chicken Marinade is our favorite way to prepare grilled chicken or flank steak. It's easy to throw together and really delicious! The fresh lime juice in the marinade tenderizes the meat and gives it a great flavor." —Amee L. [11] of Amee's Savory Dish [12]
Get Amee's Best Ever Grilled Chicken recipe>> [13]
One-Dish Artichoke Chicken With Asparagus
You only need one baking pan to make this recipe for artichoke chicken with asparagus [14]. Put the dish together in advance, keep it in the fridge, and pop it in the oven when you get home from work — dinner is served!
Source: POPSUGAR Community Member TheFitCookie [15]
Cheese-Stuffed Burgers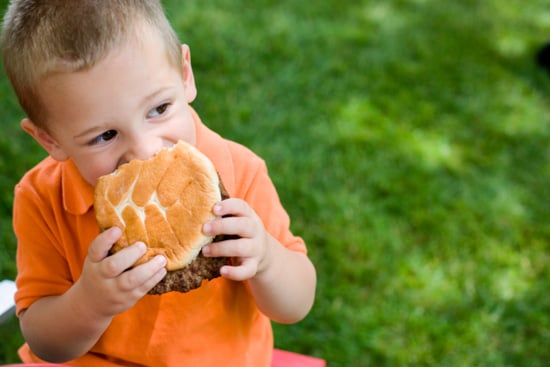 Who says the cheese must be placed on top of the patty to be enjoyed? This recipe for cheese-stuffed burgers [16] will give tots, and adults, a gooey surprise when they bite into the all-American classic.
Spice-Crusted Salmon With Watermelon Salsa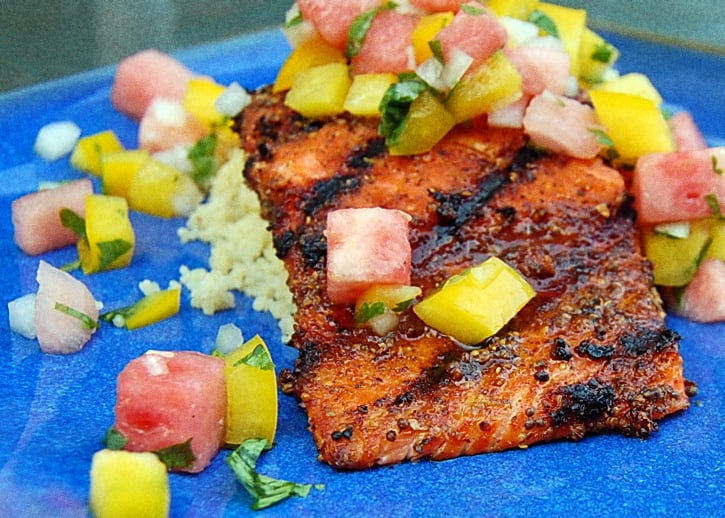 "I love spice-crusted salmon grilled and topped with a refreshing watermelon salsa. It's so very summery and so very tasty!" —Rebecca R. [17] of It's Not Easy Eating Green [18]
Get Rebecca's Spice Crusted Salmon With Watermelon Salsa recipe>> [19]
Spring Veggie Frittata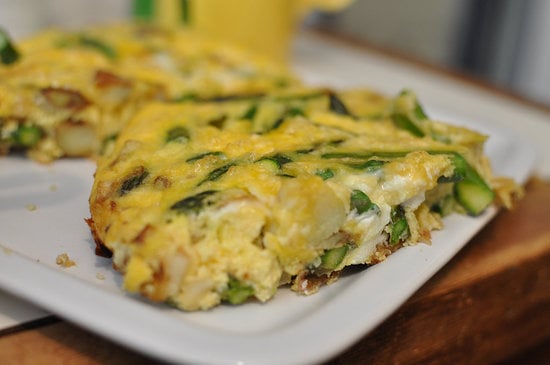 This veggie-packed recipe for a Spring frittata [20] swaps out much of the expected cheese for seasonal greens — a great "breakfast for dinner" recipe.
Source: POPSUGAR Food [21]
Annabel Karmel's Healthy Hamburger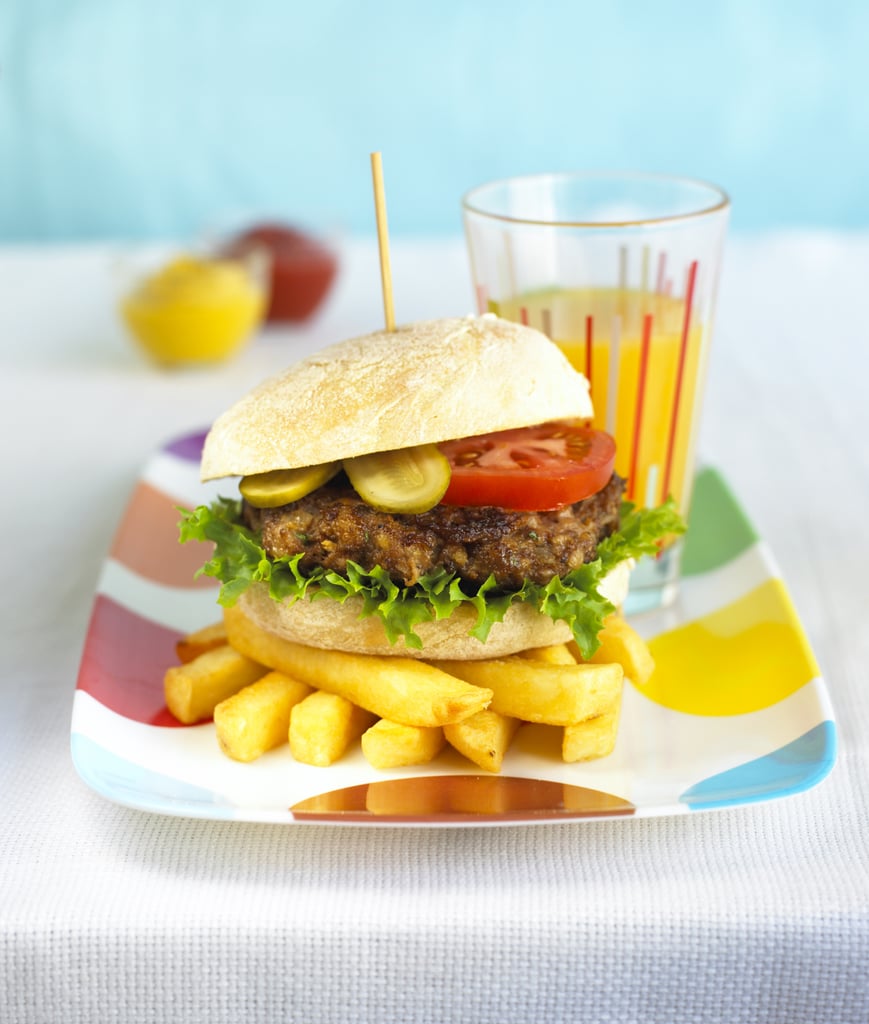 To get tots to eat healthy, Annabel recommends making "Healthy Junk Food" — taking their favorite meals and making them over using high-quality, low-fat ingredients. Using organic ground beef, this traditional hamburger [22] can be healthy part of a lil one's dinner routine.
Zesty Taco Salad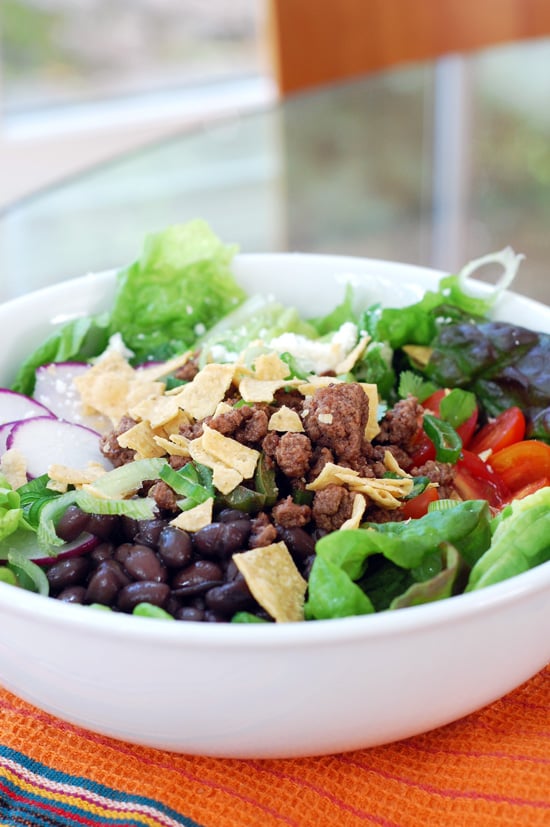 Give family taco night a healthy, lighter spin with an easy recipe for Zesty Taco Salad [23] from our friends at POPSUGAR Food. Olé!
Pepsi BBQ Chicken
"My family's favorite recipe when it's time to grill is our Pepsi BBQ Chicken with Dill Potato Salad." —Amy W. [24] of Kitchen and Kids [25]
Get Amy's Pepsi BBQ Chicken recipe>> [26]
Grilled Hot Dog Skewers With Creamy Avocado Dip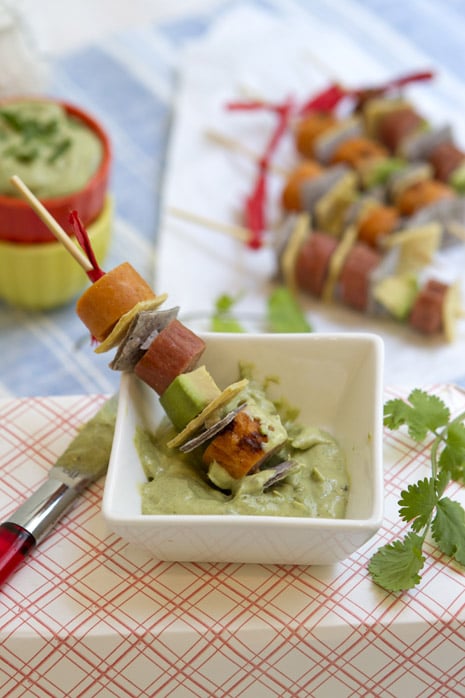 Keep the hot dog flavor that kids love while knowing that they're getting a healthy alternative. This inventive recipe [27] from Family Fresh Cooking Swap swaps buns for tortilla squares and uses farm fresh avocados to make a creamy and rich, but healthy veggie dipping sauce.
Source: Family Fresh Cooking [28]
Annabel Karmel's Vegetable Burgers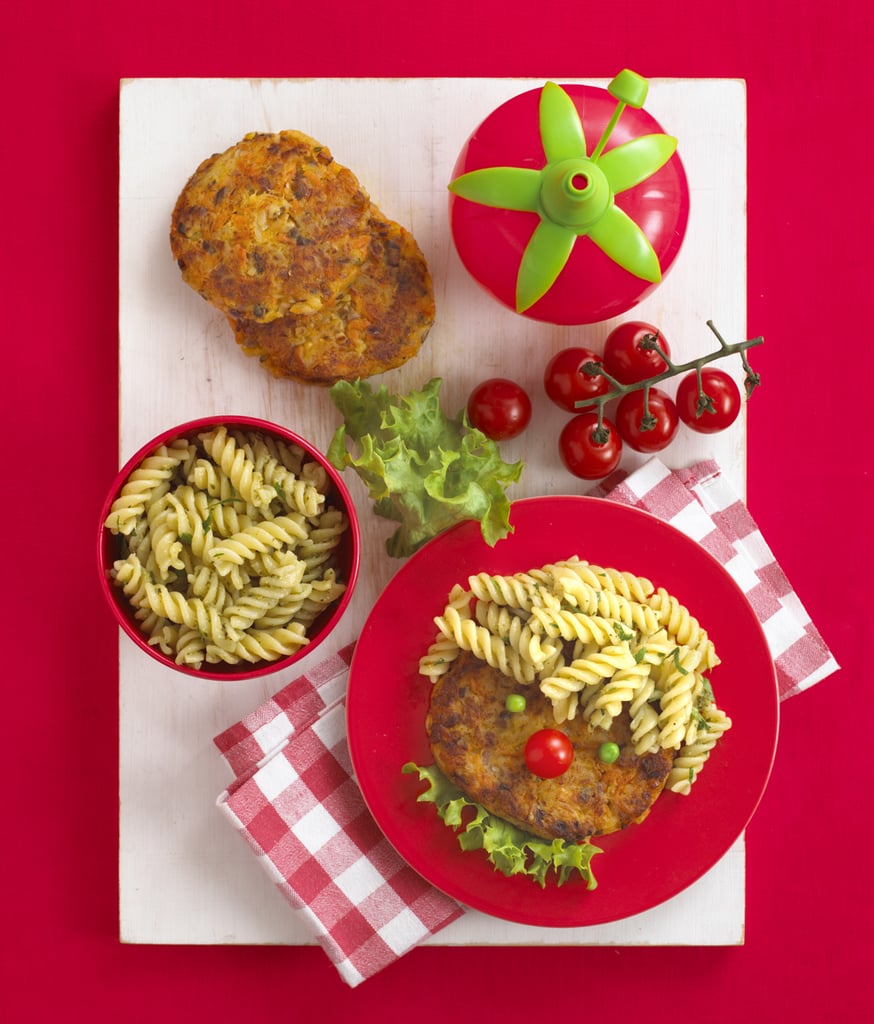 Making veggie burgers is a great way to increase lil one's vegetable intake. Annabel's video demonstration for making vegetable burgers [29] shows just how easy they can be. The mushrooms, carrots, leeks, and onion all disappear when mixed with Gruyere cheese, cashews, and brown rice.
Salmon With Tangy Dill Butter Sauce
"We love to grill fish, especially salmon. This Salmon With Tangy Dill Butter Sauce is our favorite. Easy to do, healthy, and flavorful, too." —Abby R. [30] of Manila Spoon [31]
Get Abby's Salmon With Tangy Dill Butter Sauce recipe>> [32]
Grilled Center-Cut Pork Chops With Bell Peppers
"We love these grilled center-cut pork chops and I learned a way to get them super juicy in culinary school — brine them!" —Jackie O. [33] of CAFE [34]
Get Jackie's Grilled Center Cut Pork Chops With Bell Peppers recipe [35]
Whole Wheat Orzo With Artichokes and Peas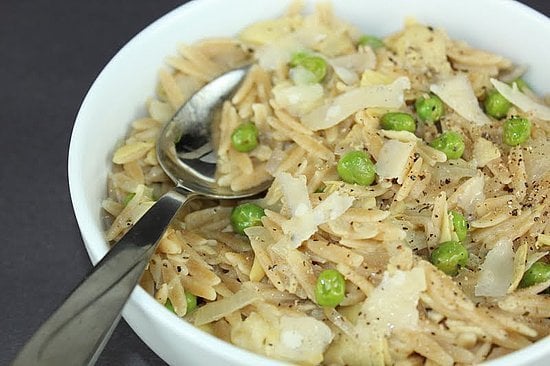 A hearty, healthy dinner that's ready in just 15 minutes is sure to perk up the ears of most any busy mama. Flavorful artichokes and English peas play the starring role in this veggie-packed orzo recipe [36].
Source: POPSUGAR Food [37]
Fresh Garden Harvest Grilled Panini
"We love these grilled vegetable panini. First you grill the vegetables, and then tuck them between bread and grill again. Often, we use vegetables and herbs we harvest from our own garden! Fresh, healthy, and scrumptious." —Caroline L. [38] of Whipped [39]
Get Caroline's Fresh Garden Harvest Grilled Panini recipe>> [40]
Whole Wheat Pasta Salad With Feta and Peas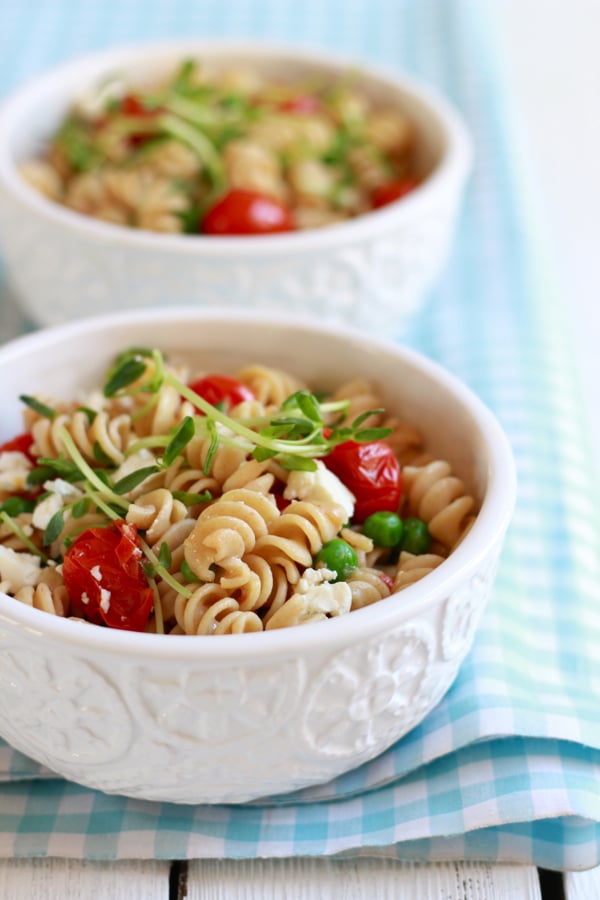 Make this kid-friendly pasta salad [41] at lunch and serve through snack time; it actually tastes better the longer it sits. The whole wheat pasta is a filling option and the pea shoots give it a nutritious crunch. It's a quick recipe you'll find yourself returning to throughout the Summer.
Source: The Clever Carrot [42]
Pasta Pesto
"Pasta pesto [is] great for kids and adults. It can be made ahead and is great at room temperature." —Caitlin T. [43] of TheRoomMom [44]
Get Caitlin's Pasta Pesto recipe>> [45]
Salmon Teriyaki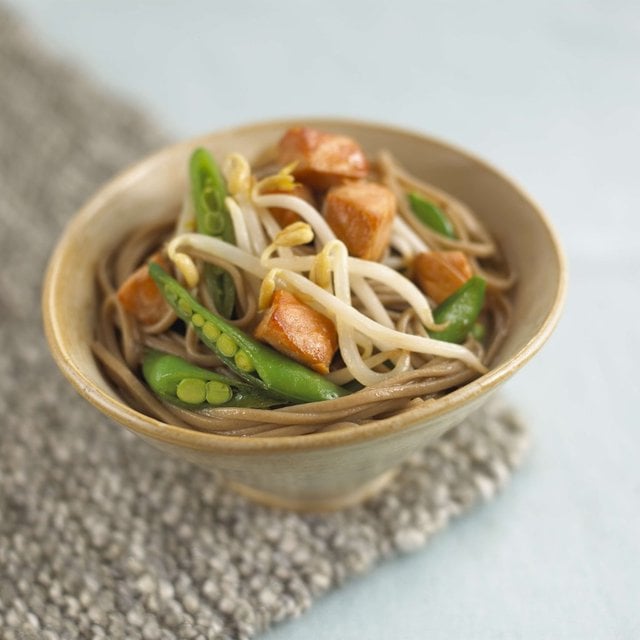 An Asian-inspired salmon teriyaki [46] is made especially for Summer with the addition of crunchy, green snow peas.
Source: Annabel Karmel [47]
Kabobs
"A do-it-yourself shish-kabob bar is the perfect family grilling meal. Put out different proteins, vegetables, and fruits, and everyone can make their own kabobs. The cage kabob holders make it so easy that anyone can do it and the food won't fall off." —Donna S. [48] of Donna Sawyer Celebrating Life & Food [49]
Get Donna's DIY kabob recipe>> [50]
"Around our house, we celebrate summer with kabobs! If we can put it on a skewer then we grill it up. One of my favorites is Bacon-wrapped shrimp skewers!" —Jennifer [51] of Real Posh MOM [52]
Get Jennifer's Bacon-Wrapped Shrimp Skewers recipe>> [53]
Jessica Seinfeld's Brainy Salmon Burger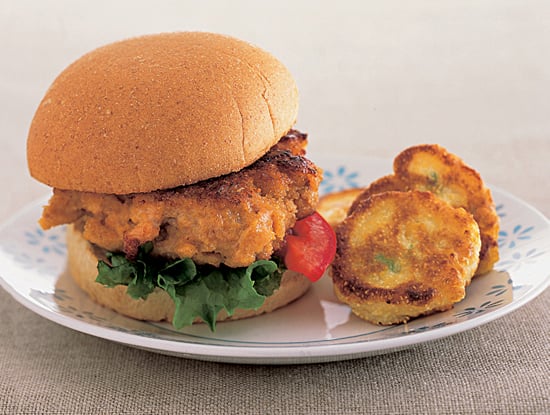 Ground beef does not a burger make! Jessica Seinfeld shares a recipe for Salmon Burgers [54] that are more than a fish on a bun. They're omega-3 fatty acid-filled brain boosters!
Grilled Peanut Butter Chicken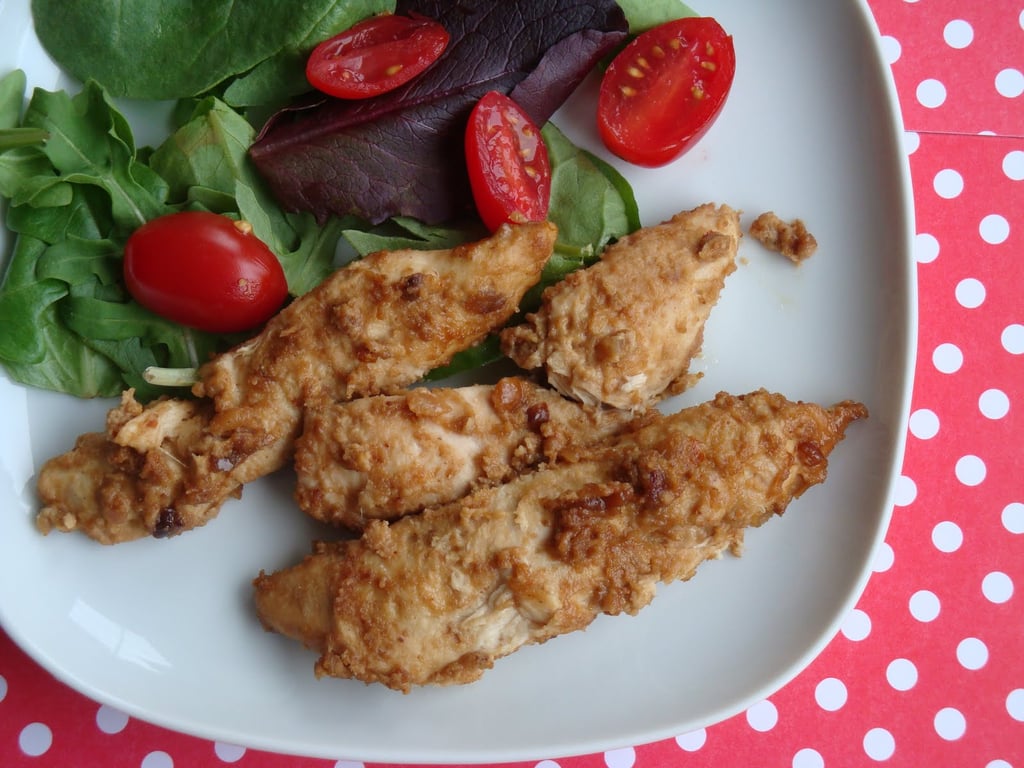 "People always ask for this recipe when I make this! Grilled Peanut Butter Chicken is a fan favorite when grilling season hits." —Alida [55] of Alida's Kitchen [56]
Get Alida's Grilled Peanut Butter Chicken recipe>> [57]