Kourtney Kardashian has just announced that she's expecting baby number three [1], and at this point, the mom-to-be has her signature maternity style down to a science. Throughout her first two pregnancies, Kourtney stayed true to her trendsetting ways [2], keeping things glam on the red carpet with flowing goddess gowns and pops of neon color. On the street, it was all about leather leggings, boho tops, and her best accessories: Mason and Penelope. Join us for a look back at Kourtney's best maternity looks and a hint of what's in store for the next nine months.
Sources: Instagram user kourtneykardash [3] and Getty [4]
Guilty Pleasures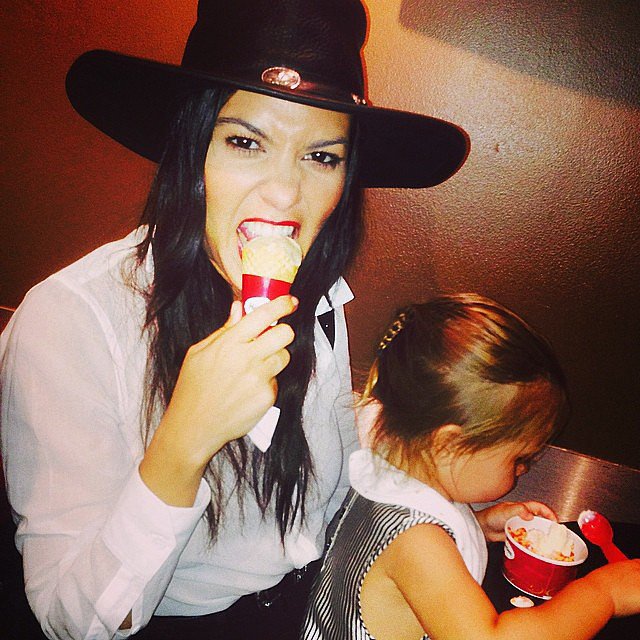 Kourtney shared this snap with almost-2-year-old Penelope from her sister Kim's recent pre-wedding extravaganza in Paris. Her chic fedora was the perfect topper for the face of pure indulgence!
Source: Instagram user kourtneykardash [5]
Neon Brights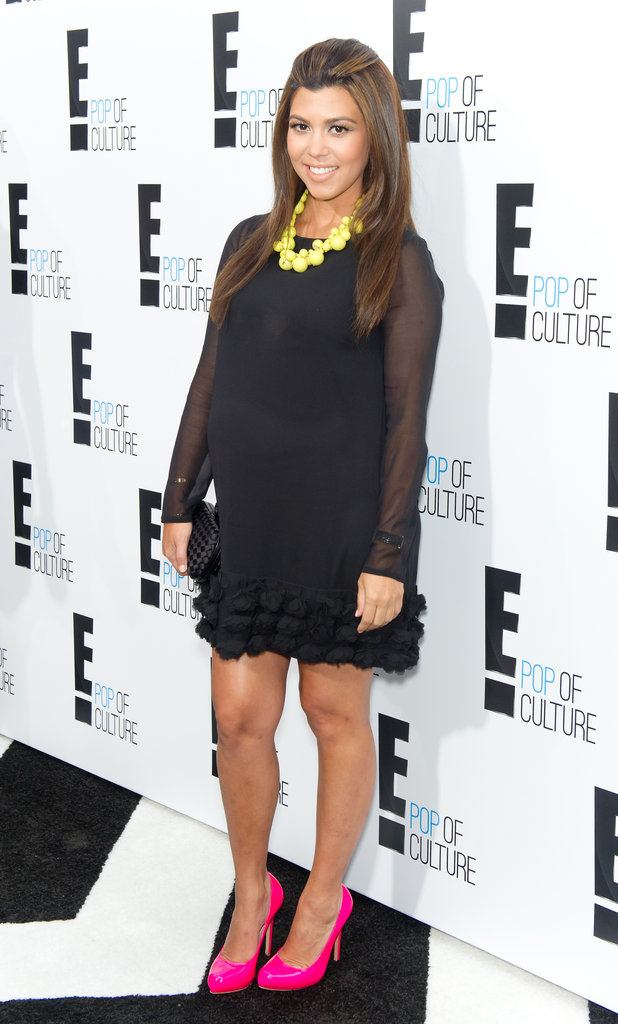 While she was pregnant with baby Penelope, Kourtney attended the E! Upfronts in New York City wearing a simple-chic black Gomez-Gracia dress and neon accessories, including Alexander McQueen [6] shoes and a DIY [7] necklace.
E! Promo Pics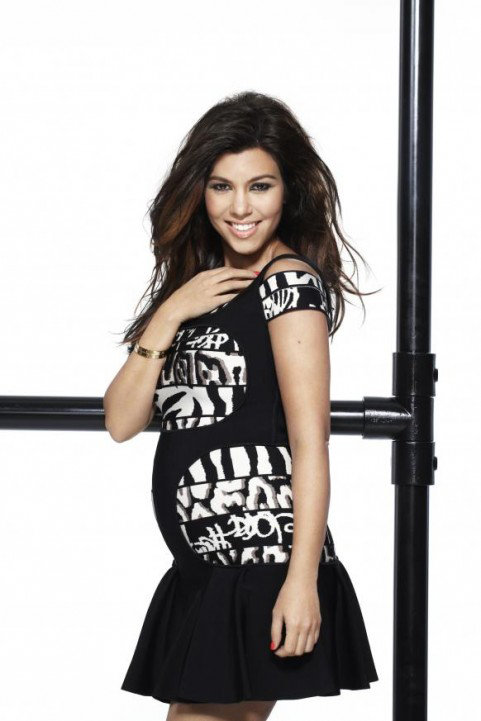 For the promo photos for a new season of Keeping Up With the Kardashians, Kourtney wore a bump-hugging printed minidress.
Source: E! Online [8]
Goddess Gown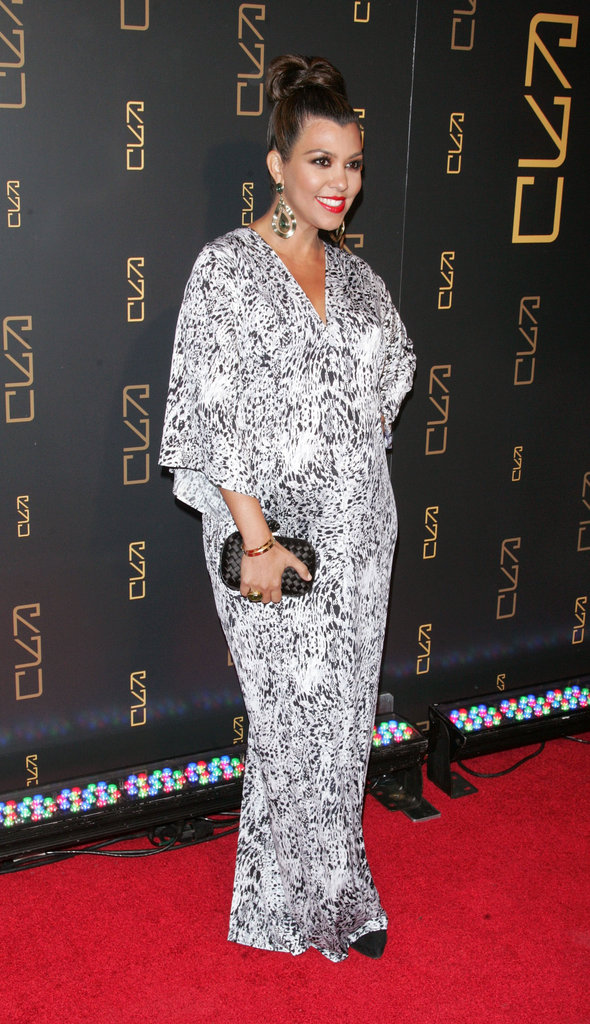 For boyfriend Scott Disick's restaurant opening, Kourtney wore a comfy but chic T-bags [9] dress and a Bottega Veneta [10] clutch. Her earrings were from her very own Kardashian Kollection.
Shoulder Pop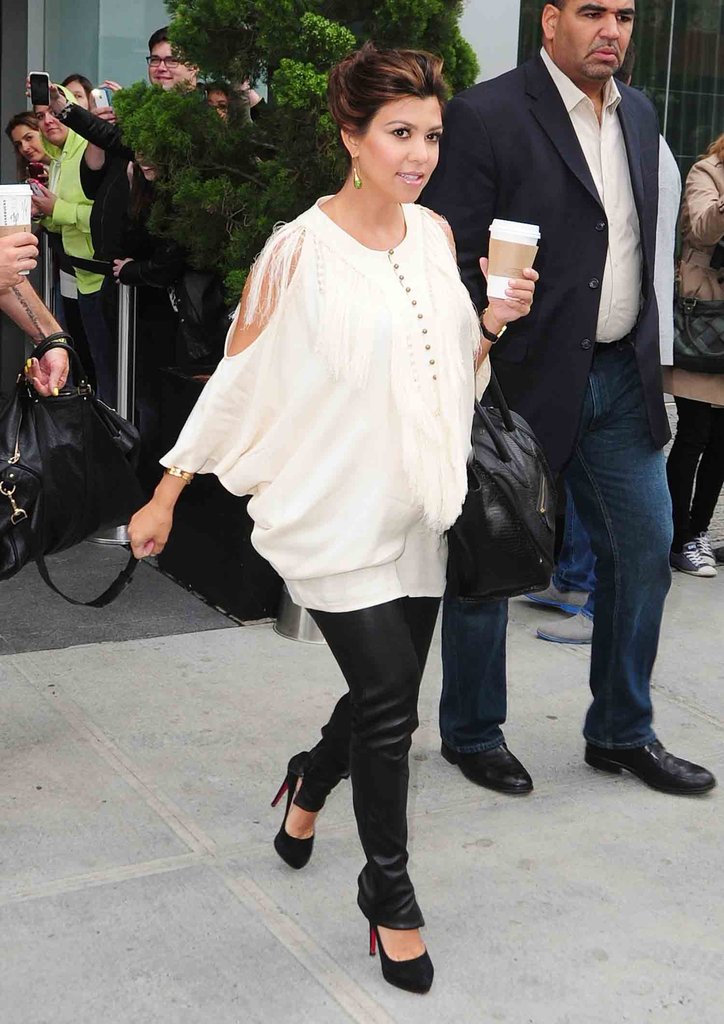 For a taping of Rachael Ray [11] in New York, Kourtney wore a Cynthia Vincent [12] dress over Mason leather leggings with Christian Louboutin [13] pumps.
Lady in Red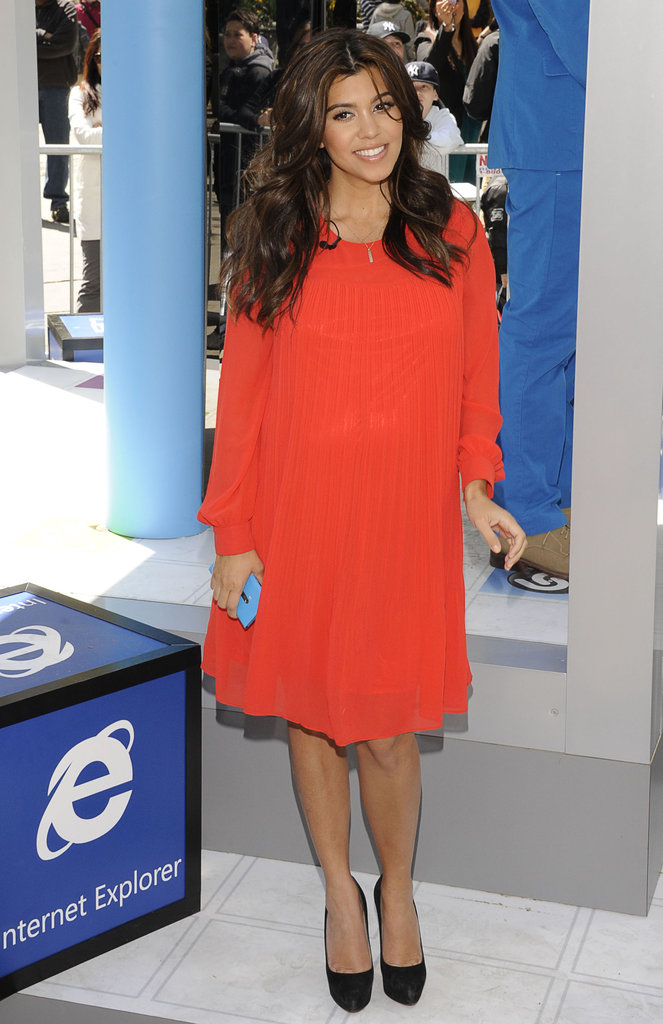 In NYC while pregnant with Penelope, Kourtney wore a ladylike Pinkyotto dress, Christian Louboutin [14] pumps, and a Celine bag.
Boho Brood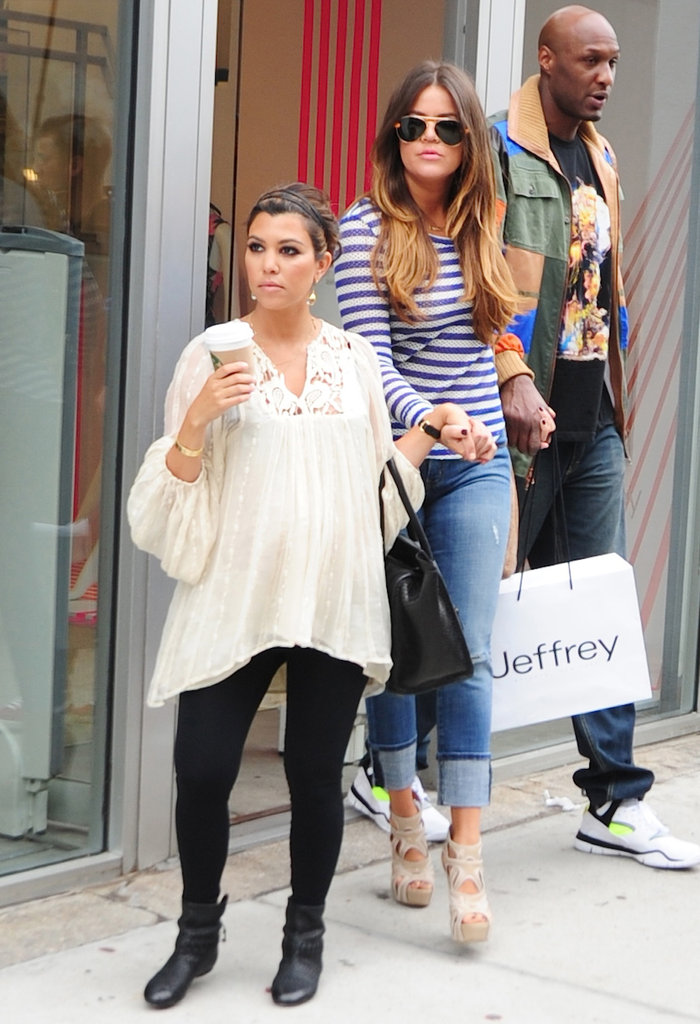 While shopping in NYC with Khloe and Lamar Odom, Kourtney wore a boho Tt Collection top, Alice + Olivia leggings, Chanel boots, and a Celine bag.
Oscar-Ready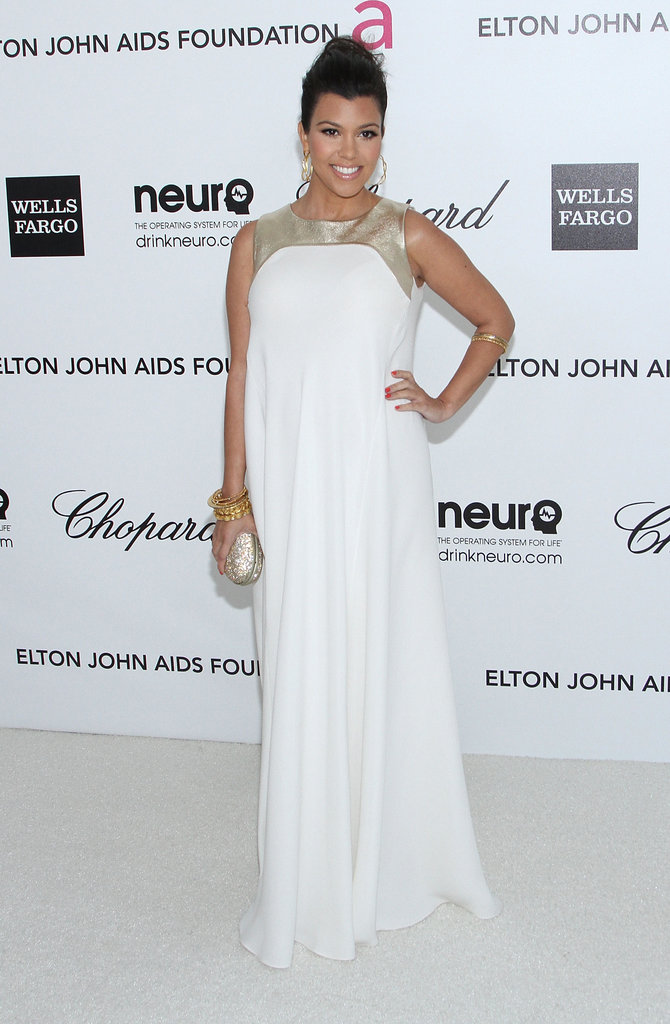 Kourtney wore a white and gold Raoul gown to Elton John's 2012 Oscars viewing party.
Ruffled Up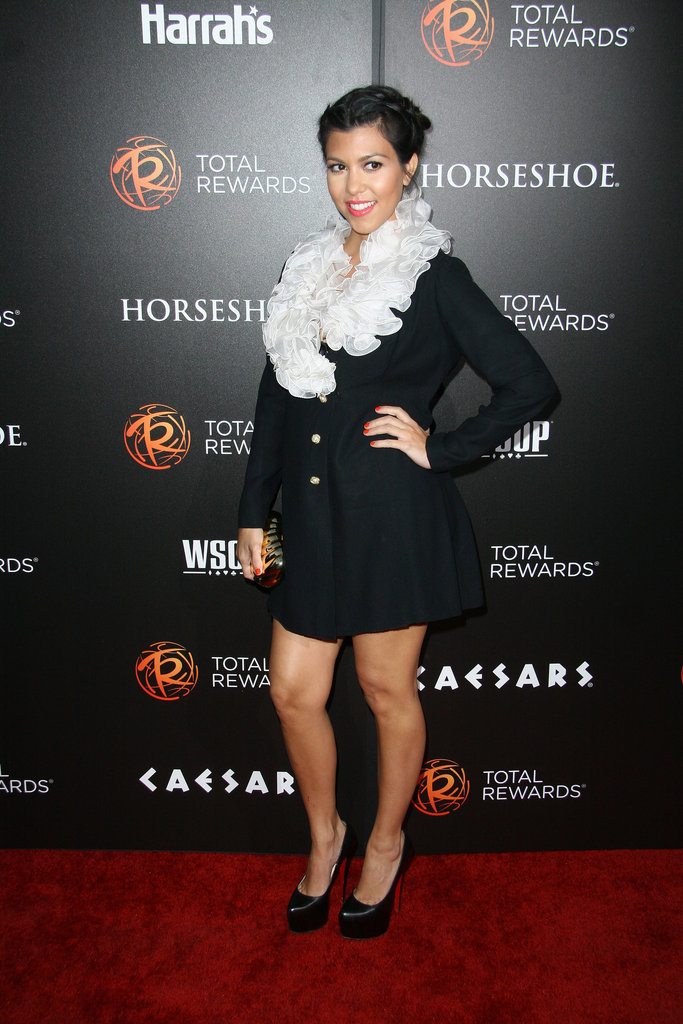 For an event in Hollywood, Kourtney went old-school with a vintage Janey Lopaty dress, vintage clutch, and brand-new Christian Louboutin [15] pumps.
Modern Vintage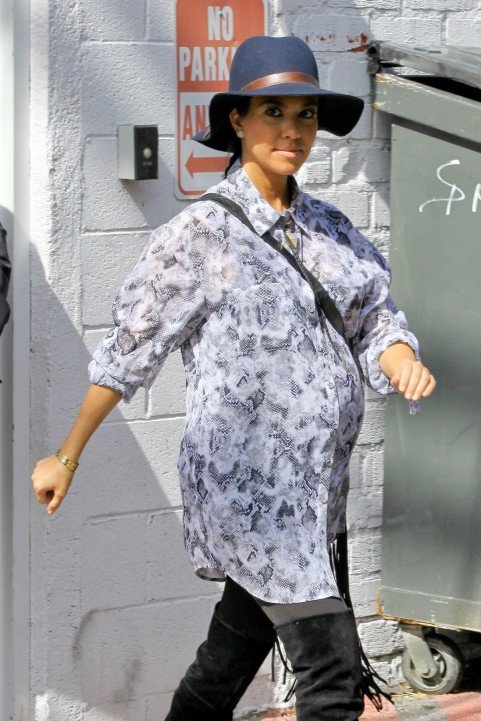 While pregnant with Penelope, Kourtney was spotted wearing a Kardashian Kollection top, Donna Karan [16] leggings, Jimmy Choo [17] boots, her dad's vintage bolo tie, a vintage fringe bag, and a Hat Attack hat.