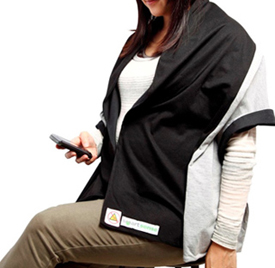 Well, it's better than wearing one of those drapes they give you when you go for an X-ray! Speculation about health issues tied to cellphone and laptop use isn't conclusive, but studies do show a correlation between
heat emitted from a laptop and damaged sperm
. It's enough to make some expectant women seek cover when typing away or talking on their mobile phones.
The soon-to-be released SmartShawl ($35) is a scarf-like cotton garment lined with thin stainless steel metal fibers that are designed to block radiation. Created by sisters who were worried about their kids sitting in front of a microwave, the shawl is big enough to cover a pregnant woman's chest and belly, and can also be used to cover a device, like a microwave, when it is in use.
Would you take extra precaution and use a SmartShawl while pregnant?